The 10 Best Indoor Golf Simulators for Home 2023. Reviews & Guide
Last updated:
July 19, 2023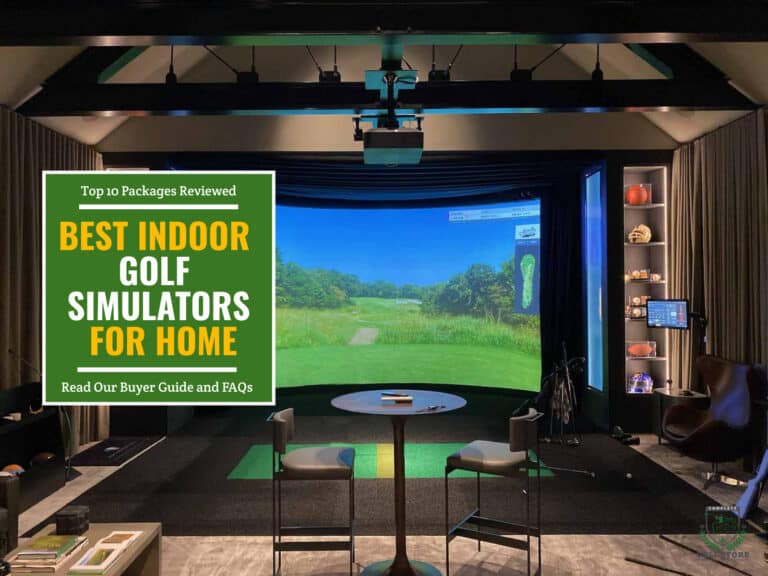 Disclaimer: We may earn a small commission from some of the links on our website, however, our reviews and comparisons remain fair and unbiased. Our goal is to help you make the best choice. For more information, please see our
disclosure statement
. Thank you for your support.
Key Takeaways
Foresight Sports Sim-in-a-Box Birdie Plus has passed our tests as the best choice for home use, followed by the GCQuad Home Golf Simulator Package, while the SkyTrak SIG12 / SIG10 Simulators ranked in the third position thanks to the quality and performance they provide for a good value for money.
We also found that the Mevo+ SIG12 Package is the best alternative to the SkyTrak SIG12 when it comes to indoor use. SkyTrak Flex Space Package took the fifth spot as the best space-saving setup with a remote-controlled retractable screen enclosure.
As for the low-budget option, we still love OptiShot 2 as one of the most affordable golf simulators that do not compromise on quality and accuracy.
Today, there are (almost) unlimited options when it comes to golf simulators for home use, with different price tags, features, sizes, etc., which further complicates the choice of the best package for you!
Rest assured, we are here to help you make the choice of the best indoor golf simulator, based on different factors like budget, space, use scenarios, etc. We assure you that by the end of this article, at the very minimum, you will have a few options in mind that meet all your needs and preferences.
Please, keep reading for more.
The 10 Best Indoor Golf Simulators For Home
The following is our list of the best home golf simulators. We have tested a lot of packages from various manufacturers to only provide you with the best simulator setups that you can use at home.
Please bear in mind that all the products we have reviewed were tested exclusively for home use. In other words, our main focus was on simulator packages that you can use at home, and even if some may be used outdoors, in the garage, or in any other different locations, they were tested (and approved by our testing team) for home use.
Buyer's Guide: Things to Consider
Now that you have an idea of what we consider to be the best home golf simulators, please don't rush to order a specific package, as there are a few factors you need to consider before making the final decision. These will help you further narrow your options so that nothing is left to chance.
Those factors are as follows:
Size
Just imagine the excitement of having your new golf simulator setup delivered to your door! You can't wait to try the whole virtual experience, but then you encounter a huge problem: your dedicated room, shed, garage, or any other space is not wide enough, deep enough, or high enough to accommodate the full setup! That would be a bummer, to say the least.
That's why it's crucial to make all the necessary measurements to ensure you have enough room to install the simulator package and play comfortably.
Every golf simulator manufacturer provides a specific minimum space requirement for their products; so make sure the dedicated space meets or exceeds those requirements. Having more room can only make the experience more comfortable and enjoyable. Check out our full guidelines on golf simulator room size requirements in this guide.
Budget
You must have a clear idea about how much money you are willing to invest in your new simulator package, as this will help you narrow the options by omitting packages that are way over or below the budget.
You can select all the packages that fit into your budget and compare them to see which suit your preferences or specific needs.
Quality comes at a price, and usually, pricier packages are better and offer additional features over cheaper models. Still, you need to look for a package that provides the best bang for your buck!
So, whatever your budget is, try to find one package that offers more (in terms of software features, components, quality, etc.) than the competitors.
Technology & Features
The technology used by your golf simulator is another factor to consider since it has a direct impact on the performance, accuracy, and price of the package.
Golf simulators that use Infrared technology for detection and tracking are usually the cheapest and work better for shorter distances. Still, they are a bit less accurate and usually provide fewer software features than other technologies.
Radar Doppler-based [3] golf simulators are more accurate than those using Infrared and provide a longer list of features, but they are also much more expensive options. Radar technology performs better and is more accurate outdoors because it requires more distance to provide the most accurate readings of your shots. This may be an issue for a home golf simulator, especially if installed in a small space.
Photometric technology uses high-speed cameras to track your golf ball and club and provide instant feedback on your shots. Photometric simulators provide a lot of features like video recording and playback with data overlay to help you understand your strengths and weaknesses. They are usually very accurate and work perfectly indoors, despite being relatively more expensive.
Keep in mind that launch monitors and golf simulators are two different things. Understanding how each launch monitor's type of tracking technology works will definitely help you find a simulator that best suits your needs!
Quality
This one goes hand in hand with budget, as quality normally costs more money. Therefore, more expensive simulators are usually made with better materials and include better quality software and hardware components.
That's why we will always encourage our readers to invest in the best quality golf simulators they can afford. These will be sturdier and more durable and serve them for a long period of time.
Ease of Setup
Virtual golf is supposed to be fun. That's why you need to opt for a package that is easy to set up.
If installation feels like hard work, then the package most probably failed to achieve one important objective: Spend less time installing and fiddling and more time enjoying your investment.
Here's a montage video (50 seconds) from Full Swing Golf of the installation of an indoor golf simulator that allows for a full swing.
Portability
This factor may not be very relevant in the case of a purely home golf simulator, one that you solely intend to use at home.
However, if you are planning to take your package with you during your vacations or trips or to use it both indoors and outdoors, then it will be a good idea to opt for a more portable system.
Portable golf simulators are usually easier to install and disassemble and use lighter components to enhance their portability.
Accuracy
Thanks to modern technology, we can confidently say that all simulator packages available today are at least minimally accurate. So, when you buy a certain product, you can expect it to be accurate in terms of simulation and tracking, at least to a certain degree.
Try to pick the most accurate package that fits your budget; The most accurate packages usually use the best technologies and materials, which translates into a higher price point.
We encourage you to invest as much as you can to get the most accuracy out of your investment.
Frequently Asked Questions
You may be asking yourself some questions while trying to find the best simulator setup for your home. That's why we are more than happy to provide answers to make the task a bit easier and simpler.
Final Thoughts
In this article, we have reviewed our collection of the best golf simulators for home use. Our list contains packages from a wide range of price points to ensure everyone will find the perfect package for him/her regardless of their preferences and needs.
Of course, some of the packages tested here can be used as commercial golf simulators or in other use scenarios, but we insist that the common feature between all of them is that they can be used at home without issues.
We hope that we could help you find your favorite home golf simulator. If you still have any queries or comments, please feel free to contact us!
You May Also Like