Foresight Sports GCQuad Launch Monitor Review
Last updated:
June 26, 2023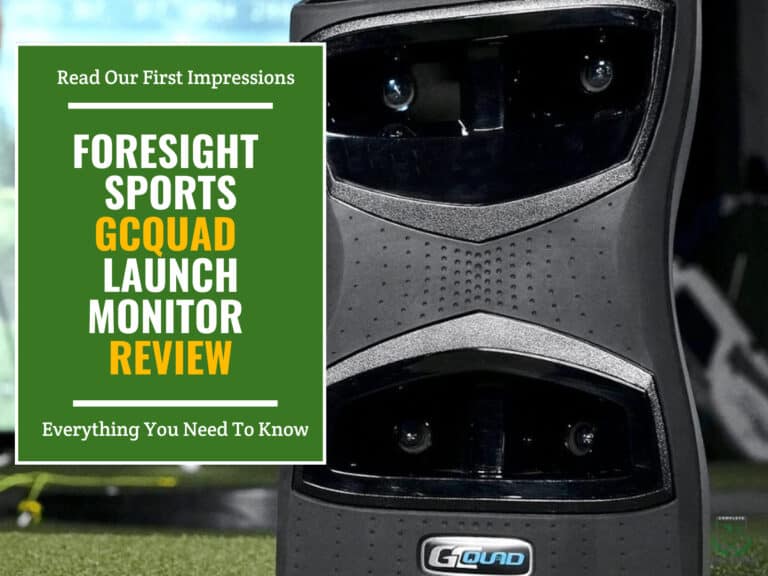 Disclaimer: We may earn a small commission from some of the links on our website. However, our reviews and comparisons remain fair and unbiased. Our goal is to help you make the best choice. For more information, please see our
disclosure statement
. Thank you for your support.
Key Takeaways
We were simply impressed by this piece of technology during our tests! The Foresight Sports GCQuad is the company's greatest launch monitor to date.
It is not an affordable unit, but it offers the best in terms of accuracy, portability, performance, and compatibility with most simulation software, including FSX 2020 (& FSX Play), Trugolf E6 Connect, Creative Golf 3D, etc.
We highly recommend the GCQuad for those seeking professional-grade performance.
In this article, we'll unveil what's so grand about the hyped Foresight Sports GCQuad launch monitor and how it can be the answer to your needs.
The GCQuad is not an inexpensive investment considering its promising potential. But you are getting a lot for your money with this piece of equipment, which is meant to deliver tour-level feedback through a comprehensive suite of data. This can assist players in making significant changes to their swing, which contributes to the success of the Foresight Sports GCQuad.
Product Overview
At impact, the GCQuad's four cameras will shoot a total of 200 photos from a variety of angles. This enables elements of the golf club and the ball to be targeted and provides data on the stroke in what seems like an instant.
The GCQuad, in contrast to radar-based launch monitors such as the Trackman 4, the Flightscope X3 or the Full Swing Kit, takes images of the clubface and the ball. These pictures provide accurate information about the club path, lie angle, angle of attack, and strike location of the ball. After that, you'll be able to analyze the data and do the math to figure out why you keep hitting that dreaded hook or how you might add more spin to your approach shots.
The GCQuad, unlike other types of launch monitors, does not need to be calibrated before use. As a result, it can be quickly and easily set up on the driving range, on the practice green, or even out on the course. It has a weight of little under 4 kilograms or 7.5 pounds and comes equipped with an ergonomic grip on its back, which makes it very simple to lift and transport. The unit also has a kickstand at the bottom to help it be stable on uneven ground.
After your practice session is over, you will be able to retrieve all of the information regarding your swing by logging into the Foresight Sports cloud system, where the monitor will have uploaded and stored all of the data it has collected.
This monitor also features a detachable battery, built-in WiFi, and a hitting area that is six times larger than its little sibling- the GC3.
GCQuad Tracking and Simulation Technology
The GCQuad is the only launch monitor on the market that makes use of quadrascopic imaging, which contributes to its extraordinarily high level of accuracy and adaptability. Because of this, it can provide the most precise and detailed image of the performance analysis of both the ball and the club head.
As a result, it is able to provide you with the tools that you need to translate this knowledge into actionable measures that will enhance your golf game.
The data that can be found in the GCQuad has been shown to be dependable and repeatable in both indoor and outdoor settings. It is, in fact, a high-end launch monitor that is at home at the pinnacle of the business alongside names like TrackMan.
The technology of the quadrascopic camera system results in four cameras monitoring the impact zone from four separate points of view. This allows the movements of the ball and the club to be tracked.
Various kinds of data, including information on the ball (including its speed, launch angle, and total backspin RPM), as well as information about the club (including its angle of attack, closure rate, impact point, and speed) are provided with pinpoint accuracy.
To make sense out of your collected data, the included FSX2020 software includes powerful tools. After hitting the ball, go to the "Data Analysis" option from the unit's menu. From there, you can either choose "Ball Data" to get everything related to your shots (either the last one or an average of all your shots), or you can check everything related to your club through the "Club Data" tab (The Club Analysis addon is required to get those). You can also get all your data combined in Tabular Form, and you can share it or print it in PDF format.
Set-Up & Ease of Use
The fact that the GCQuad is so simple to operate is a factor that makes this our favorite launch monitor. Place it where you like, then push the "Power" button and you're good to go. Because the onboard display provides information on both the ball and the club, you won't have to connect any more devices if you don't want to.
Do the following steps to ensure the GCQuad is properly connected:
Place the unit at a distance of 22" from the hitting area and make sure it is level with the hitting surface.
That's it; the GCQuad can track the ball within a surface of 14″x16″. Just ensure it's perpendicular to the hitting area.
Install the FSX software on your PC, IOS or Android device (We recommend PC because of instability issues noticed with portable versions). Navigate to the settings and check the device status tab says "Connected".
You are going to need to place reflective dots on the face of the club if you want the GCQuad to provide you with comprehensive club data. The GCQuad comes equipped with a sticker dispenser, which simplifies the process significantly.
The buttons on the GCQuad allow you to make adjustments to a few different settings and parameters. You have the ability to choose between imperial and metric measurement systems, as well as adjust the presentation of spin and face angle data.
In addition to that, there is the possibility of exchanging some of the club data for a hitting area that is significantly greater. Even while we want to have access to all the info possible, there are times when having a broader hitting area can be helpful.
Another significant improvement over the GC2 is the capability of connecting the GCQuad to the FSX PRO app running on a mobile device. My experience with the GC2's Bluetooth connection was, at best, inconsistent. Knowing that the device relied on this technology was frustrating at times.
Because the GCQuad generates its very own wireless 5GHZ network, the connection between devices is far more reliable. For the purpose of golf simulation or data collecting, your GCQuad can also be connected to a personal computer.
First Impressions
Golfers that require pinpoint accuracy with input on their golf swing, impact conditions, ball flight, and distances can benefit from using a launch monitor like the GCQuad, which is designed for use at the professional level.
When compared to mid-range launch monitors like SkyTrak and SkyTrak Plus, the GCQuad offers a significant improvement in terms of accuracy for golfers who are interested in using it in a golf simulator setup (an FSX license is necessary).
To put it another way, if you have a budget of approximately $11,000 or more for a launch monitor (or approximately $25,000 for the setup of a simulator), the GCQuad launch monitor is the one you should opt for. It is the closest Trackman alternative you'll get to without spending twice as much.
Data Parameters and Accuracy
The accuracy of the GCQuad is on par with that of the market-leading Trackman product in the first three categories (swing, impact, ball flight). And while the Trackman (which follows the ball throughout its entire trajectory) is the clear winner when it comes to measuring distance, the GCQuad comes remarkably close.
Backspin RPM
It is reasonable to anticipate that a photometric launch monitor will excel at providing accurate readings of backspin, and the Foresight GCQuad did not fail to meet this expectation. Every measurement was right in line with the averages we have gotten in the past.
Launch Angle
The GCQuad's four cameras undoubtedly improve the accuracy of the device's measurements of the constituents of the impact zone. We found no issues with the launch angle values because the difference between our previous averages was only one millimeter.
Carry Distance
In terms of accuracy, the GCQuad has been performing exceptionally thus far. This is the beginning of the portion of the test that deals with distance. The pattern of correct measurements was maintained as we moved on to the next topic, which was the carrying distance. The carry distances throughout the bag were consistent with what we would anticipate seeing on a typical day.
Total Distance
The total distance was the last piece of information we wanted to present to you. And, once again, the GCQuad functioned extraordinarily well, providing us with the overall distances.
It is clearly obvious, after examining the statistics and the accuracy of the GCQuad, that it is one of the top performers available on the market. Because of this, it is worthy of a high price, and golf equipment manufacturers, instructors, and tour players all put their faith in it.
Full List Of Measured Metrics
Here is the full list of the data that can be provided by the GCQuad:
Ball Data:
Spin
Side spin
Ball speed
Vertical and horizontal launch angles
Carry distance
Club Data: (Require the use of club markers & the Club Analysis addon)
clubface impact location
lie & loft at impact
club head speed
smash factor
club path
angle of attack
face angle
closure rate
Putting Data: (Putting analysis addon needed)
spin-tilt axis
impact location
ball velocity
horizontal launch direction
vertical launch angle
putter speed
putter path
smash factor
angle of attack
sidespin
backspin
total spin
impact face angle
impact lie
GCQuad Golf Simulation
Currently, there are four (official) options for golf simulation to choose from when using the GCQuad. These options are FSX 2020, FSX Play, E6 CONNECT, and Creative Golf 3D.
E6 Connect
E6 CONNECT is relatively new and can only be used by those who have a valid software license. The software comes packaged with additional web capabilities, such as the possibility to track every shot, as well as the ability to filter shot history and trace every shot taken under a specific profile.
It is compatible with a variety of systems like SkyTrak, Vista, Approach R10, Uneekor, and FlightScope, and as a result of its high quality and extensive features, we have given it a high ranking on our list.
In addition to the regular driving range and practice area, there is also the option to play complete courses, engage in minigames, compete against other players in real time, and participate in online tournaments.
E6 CONNECT provides access to more than 90 different courses, including 30 of the "Greatest Courses" in the world.
The courses to which you have access are determined not just by the platform that you are utilizing but also by whether or not your subscription is basic or expanded. For instance, the SkyTrak package includes access to 27 base courses (PC), and users have the option to pay an additional fee to play additional courses.
Courses such as Firestone, Bethpage Black, Bay Hill, Mauna Kea, Torrey Pines, and Pinehurst #2 are considered to be among the best in the world. This software utilizes a laser scanning technology called LiDAR to provide extremely accurate recreations of the courses.
Getting full access to E6 Connect on any GC launch monitor costs around $2500, but you still need a license for FSX2020 to integrate it, which costs an additional $3000. Integrating E6 Connect with the GCQuad will be expensive, but you get the best in terms of graphics, realism and software features.
Luckily, many online retailers offer financing options to make the investment more affordable.
FSX Play
The newest version of FSX Play, which is the other product that Foresight Sports develops in-house, is based on the FSX 2020 platform and is intended to deliver a golf simulation experience that is as accurate as possible.
FSX Play makes use of the High Definition Render Pipeline (HDRP) Technology and is driven by the Unity graphics engine. The user interface has been modernized, and the simulation also features 3D grass and foliage, rich textures, atmospheric gliding, improved lighting, and other innovations.
Another feature that sets FSX Play distinct from similar simulations is its straightforward user interface design, which presents key details without any unnecessary distractions.
It is important to note that at the time this article is being written, FSX Play does not have as many features as we would want, and the development team is currently working on adding new games and updating existing ones. Additionally, they are planning to make all of the FSX 2020 courses playable in the software, so make sure you stay up to date.
FSX Play is capable of supporting resolutions up to 5K. Because it provides a unique and original experience that is distinct from that offered by FSX 2020, we strongly suggest that you give it a shot.
FSX 2020
Foresight Sports' proprietary software solution, FSX 2020, is designed to work with the company's GC range of commercial launch monitors.
Their first edition of the software was titled FSX 2018, but they have since made available an improved version of the software titled FSX 2020. Upgrades are available at no extra cost to customers who already have the 2018 edition.
FSX 2020 is an all-inclusive software solution that offers practice ranges, full course play, different game modes, skill challenges, and opportunities for you to compete against other players from around the world. Additionally, real-time data for practice or club fitting can be viewed by the user.
The Old Course of St. Andrews, Pebble Beach, Spyglass Hill, Carnoustie, and Doral Blue Monster are just a few of the world-famous courses that have been faithfully recreated in this software along with many other courses.
Other simulator software, such as E6 CONNECT and The Golf Club 2019, have superior graphics to FSX 2020, despite the fact that FSX 2020 is a great piece of software in terms of its functionality and capabilities.
Purchasing a license is necessary in order to receive any golf simulation with the GCQuad.
Creative Golf 3D
This is another very recent integration, and it is a fantastic alternative for those individuals who are unable to afford E6 CONNECT. To be more precise, it is just 48 percent of the total cost. However, it does require a software license for FSX 2020 to be purchased as well.
The initial release of Creative Golf 3D includes recreations of 15 different golf courses. You can access over 130 additional courses to play for an additional cost of $600.
You can also take part in a worldwide competition series and see where you stand compared to other players from all over the world.
Golfisimo is one of the additional packages that can be purchased and included in the Creative Golf 3D software. This software is the most affordable of them all (it costs less than one thousand dollars), and it sets itself apart from the competition by concentrating on providing an experience that is enjoyable for all ages and suitable for families.
Golfisimo is designed to be entertaining and provides games suitable for players of all ages and levels of expertise. Legos, underwater golf, darts, target golf, and demolition golf are some of the game types that are included.
Creative Golf 3D and Golfisimo are two options that can be used as cost-effective substitutes for E6 CONNECT by consumers who do not require the sense of authenticity provided by that product.
GCQuad Price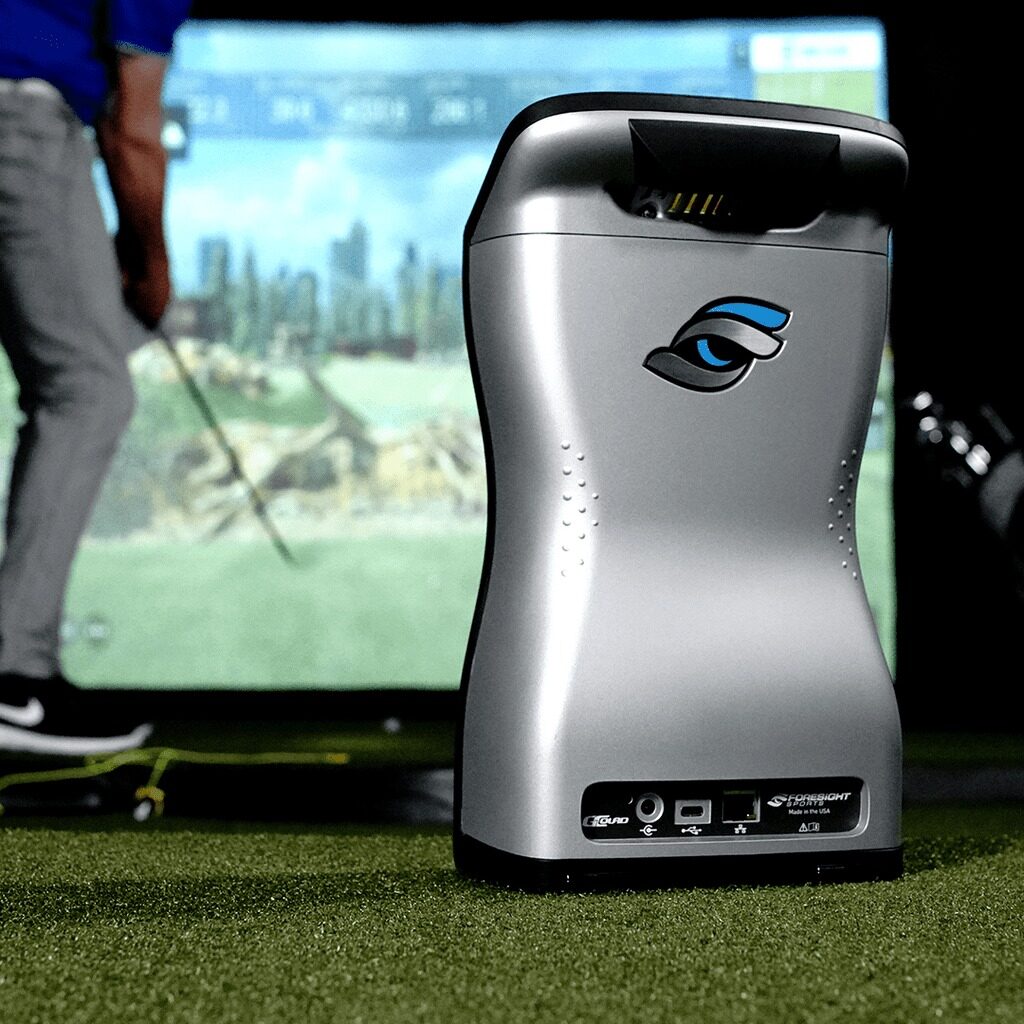 The pricing of the GCQuad launch monitor will differ from one vendor to the next and will be influenced by the add-ons that are included in the package. It is vital to read below, as some of the items may appear to be at a low price. However, it is quite likely that they come without the FSX software license; if this is the case, you will not be able to use it in a simulator configuration.
You should budget $11,000 for the base unit, which does not include any optional upgrades. The cost of an FSX license is $3,000, bringing the total cost to $14,000.
The club head measurement add-on and an FSX license bring the price up to $18,000, which is what the majority of customers choose to purchase.
In addition, if you would like access to the putting analysis, it will cost you a total of $20,500.
What Your Purchase Includes
Check what is included from each particular provider, as we indicated earlier. Expect to pay an additional $3000–$4000 for the club measuring add-on if you need it. No FSX license? It would help if you also planned on spending $3000. The Essential Putting analysis add-on costs approximately $2,500 and is the least important of the available options (As not crucial to the whole experience).
Therefore, if you are building a simulator package, you will want to confirm that the GCQuad (or the golf simulator it's bundled in with) includes the FSX license and club measurement add-ons at the very least. This is because the GCQuad was designed to work specifically with a golf simulator.
You will receive the following items with the purchase of any GCQuad:
A long 2-year warranty
Essential power cables, adapter, and USB-C cable
Alignment stick
Club marker dispenser
Where To Buy The GCQuad?
Shop Indoor Golf, Rain or Shine Golf, and Top Shelf Golf are the three online retailers that, in addition to the FS website, offer the GCQuad at the most competitive prices. These deals come with the FSX 2020 software, and furthermore, you have the option to purchase any add-ons you like.
It would help if you made your purchases of additional software integrations such as FSX Play, E6 CONNECT, Creative Golf 3D, and Golfisimo through the official Foresight Sports store.
If you intend to use the GCQuad indoors, another thing that you should think about investing in is a complete golf simulator setup, which includes a screen, an enclosure, and a projector. Thanks to this, you will be able to have the greatest possible experience when using the software.
GCQuad Cons
There are always going to be a few consumers who are not happy with a product, regardless of how fantastic the product is or how many raving reviews it receives, and the GCQuad launch monitor is not an exception to this rule.
Although a lot of people find this device to be on the pricier side, it is important to bear in mind that a quality launch monitor can cost anywhere from a few hundred dollars to as much as forty thousand dollars or even more.
When viewed in this light, the price tag of around $14,000 is still a significant amount of money but appears to be somewhat more affordable. You should also bear in mind that in order to run your launch monitor, you will need software. This software typically requires a subscription cost that is paid on a monthly or yearly basis in order to ensure that it is always functional and up to date.
GCQuad Alternatives
Here are some GCQuad alternatives that are worth considering:
Foresight Sports GC3
The GC3 is a performance-oriented launch monitor that precisely measures a variety of club and ball data metrics by utilizing a combination of infrared object tracking and high-speed camera systems.
The GC3 was unveiled in 2021 and utilizes a photometric camera system. In order to obtain data that is direct rather than calculated, three high-speed cameras are positioned vertically and record thousands of images per second to construct a complete 3D model of the club and ball at impact.
The GC3 is a sleek and portable launch monitor, and its design is quite comparable to that of the GCQuad in many respects. It features an output that is sent directly to the unit's screen, and in contrast to the GCQuad, the display supports touch input. The GC3 is intended to bridge the gap between the original ball-data-only GC2 and the high-level data insight provided by the GCQuad. Its development was driven by this objective.
The GC3 not only provides you with the crucial ball and club data you need to improve your game reliably, but it also powers a virtual golf experience that is as lifelike as it gets. It is available with the FSX 2020 and FSX Play simulator options from Foresight Sports with a variety of software to play virtual courses of the highest quality and compete in a variety of challenges and competitions.
FlightScope X3
The X3 is the most cutting-edge launch monitor that FlightScope has to offer. It is the newest model in a range of products that also includes the X2 and the X2 Elite.
It was introduced at the beginning of 2017, and it is intended to deal with the most strenuous and demanding golf applications, such as those that are a part of practice sessions, golf lessons, and club fitting. PGA Tour professional golfers like Bryson DeChambeau have used it to prepare for competitions, and they have found it to be reliable.
FlightScope's X3 is one of the most advanced monitors available for analyzing every facet of your game, from the tee box all the way to the green, with precise measurements and metrics of your swing and ball.
Because it is wireless, portable, and very lightweight, you are able to carry it with you to any location, whether indoors or outdoors, where you have sufficient space to swing a club freely.
Using the built-in 5GHz WiFi hotspot, the FlightScope X3 makes it simple to transfer data to a laptop or tablet device of your choosing. You can then obtain instant feedback on every shot, allowing you to evaluate what adjustments need to be made in order to optimize your next swing.
The FlightScope 3D motion tracking device monitors over 50 variables related to the golf ball, club path and impact in order to simplify the process of evaluating your golf swing and the effect that it has on the trajectory of the ball.
The obtained input is extremely beneficial to golfers of all skill levels, including those who compete professionally. The use of these technologies has become increasingly important in golf instruction as a means of refining the swing.
Uneekor QED
Launch monitor and golf simulation technology provider Uneekor emerged on the market in 2019. Since then, they have been one of the most promising new brands of launch monitors available on the market today.
Uneekor has established itself as the go-to system for premium launch monitors priced at less than $10,000, thanks to its cutting-edge technology and pinpoint precision.
It was the Uneekor QED launch monitor that "started it all," as the saying goes. It was Uneekor's debut product and the first launch monitor to use dual high-speed cameras in addition to infrared technology.
The QED was developed to be hung above the user, enabling a virtually hands-free experience. It provides in-depth data analysis tools for both the ball and the club, as well as video records at the moment of impact.
Another important advantage is the speed with which these launch monitors detect the shot being hit. The QED and EYE XO will have all of your shot data gathered, and your shot tracer will be displayed in just about as much time as it takes for you to move your head up toward the target after contact.
This is a significant factor that contributes to the authenticity of your experience. It doesn't matter if you're hitting balls into a screen indoors; it feels exactly the same as if you were hitting out onto a driving range. It seems incredibly realistic, both in terms of the timing of when you strike the ball and the speed at which the shot tracer is presented.
Final Verdict
Choosing a golf launch monitor can be challenging because each monitor has a unique set of features and benefits, and the right one for you depends on what you're looking for in a launch monitor.
When it comes to providing you with accurate insights about your game and having a high level of quality overall, this product by Foresight Sports is in a league of its own. The Foresight Sports GCQuad is a personal launch monitor / golf simulator that can be used at home, provides you with crucial insights into your game, and is manufactured from high-quality materials, so you can be sure it will last for a long time.
Thanks for reading!
WRITTEN BY

My name is Jacob, a self-diagnosed equipment and golf enthusiast. I've been golfing since I was 15. Golf has always been my passion. I'm a bit of a golf equipment nerd and I've been that way since the moment I picked up a club for the first time. As someone who's been on both sides of the game, I know what it takes to be a good golfer. Of course, you need good equipment, but you also need to know how to use it. I hope sharing my experience with you will help you improve your game.
You May Also Like