The 7 Best Trackman Alternatives - Reviews & Guide
Last updated:
October 9, 2023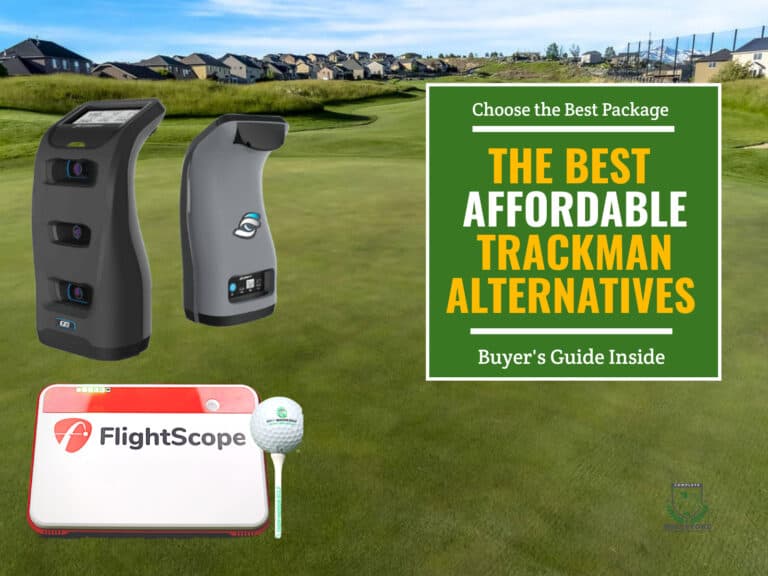 Disclaimer: We may earn a small commission from some of the links on our website. However, our reviews and comparisons remain fair and unbiased. Our goal is to help you make the best choice. For more information, please see our
disclosure statement
. Thank you for your support.
Key Takeaways
Our top pick for the Best Trackman Alternative is the FlightScope X3. It is a powerful and advanced launch monitor that tracks a wide range of data factors relating to both the club and the ball. It provides over 50 data points, including essential information such as ball speed, carry distance, club head speed, and club path. The X3 is also extremely accurate, with measurements that are very similar to TrackMan, the gold standard in launch monitors.
The eye or even some cameras can't decipher the codes that are hidden behind a pure stroke. However, you will be able to track your swing, the contact point, and the ball's path after it has been struck if you use a launch monitor that features advanced technologies.
Trackman offers the world's most advanced technology in golf devices. But if you're looking for something less pricey, consider looking at these alternatives, brought to you by our testing team.
Trackman Launch Monitor Overview
When it comes to cutting-edge technology, the name TrackMan is already well-known and respected. Any item produced by the industry leader in golf technology is sure to be a best-seller for obvious reasons. The TrackMan 4, on the other hand, is an especially well-made device that has been in the works for more than three years. It is a portable launch monitor that is primarily utilized by teaching and touring professionals.
Launched for the first time in 2015, the Trackman 4 has undergone consistent development and is now in its third generation. It has developed into an innovative camera/radar hybrid solution that features Artificial Intelligence (AI), a completely redesigned user interface, and a Virtual Golf 2 simulator for use in competitions and games.
Technology
Because of its proprietary OERT (Optically Enhanced Radar Tracking) mechanism, the Trackman 4 is considered to be one of the best launch monitors, and it is also the launch monitor of choice for some of the best golfers in the world. The previous TrackMan versions each included a single radar system; however, TrackMan 4 features not one but two radar systems, making it an improvement over its predecessors.
In order to provide accurate time-synchronized data for genuine 4D silhouette clubhead tracking, it makes use of multi-sensor technology, which consists of a Dual-radar and an HD camera. This makes it possible for there to be three separate sensors. This offers the best of both worlds, putting an end to the discussion of whether camera or radar is superior since, quite simply, it is both. In addition, it accomplishes all of this without requiring any marks or stickers to be attached to the clubs or balls.
In addition, it includes more than one hundred different simulator courses, comprehensive putting analysis, club fitting software, swing video software, online competitions, ability testing, kid-friendly games, and on-course practice—all of which are accessible from a single device. This comprehensive array of features is not offered by any other launch monitor.
Then there's Tracy, the AI assistant that comes with the Trackman. Tracy does an in-depth analysis of any and all shot patterns, and then provides prioritized and individualized suggestions for ways in which you can improve crucial aspects of your game so that you can get better more efficiently.
Data Points
The Trackman offers a wealth of shot data including:
Face angle
Ball speed
Club path
Attack angle
Side spin
Side angle
Launch angle
Back spin
Angle of Descent
Smash factor
Roll
Flight path
Carry
Total distance
Impact location
Club path
Dynamic loft
Accuracy (Indoors and outdoors)
The unit provides immediate input on the club delivery, launch, ball flight, and landing position.
The TrackMan 4 golf launch monitor measures and displays the full trajectory of any shot. It can track the landing position with an accuracy of within a foot per 100 yards. The range of this monitor's measurement begins at 6-foot (2 m) pitches and extends to 400-yard (365 m) drives. In addition to this, it generates a real-time map of the shot's three-dimensional path, complete with all impact and launch data.
Trackman Launch Monitor Price
Starting at $19,000, Trackman 4 offers one of the best radar systems on the market. The advanced technology that underpins it results in an exceptionally high price tag despite its relatively compact size. Dual radars monitor your swing and where you hit the golf ball and then provide a ton of statistics that can be analyzed to provide insight into your performance.
The 7 Best Trackman Alternatives
Your golf coach will be able to pinpoint the aspects of your golf swing that need the most work (i.e., distance control) if you use a launch monitor, and a club fitter will be able to offer you the clubs that are the best fit for the way you swing the club. However, the issue is that many professional launch monitors can cost up to $30,000!
The following are some of the best Trackman alternatives in the market right now that you can utilize during your practice sessions:
1. FlightScope X3
Flightscope offers a comprehensive selection of launch monitor configurations to choose from, so you can find one that fits both your budget and your requirements. Their most advanced model, the FlightScope X3, provides you with 50+ data points in addition to the essential information that you require.
We would strongly recommend checking out the X3 Launch Monitor if you are an aspiring professional golfer or a high-level golf coach and need data that is accurate with plenty of it.
Technology
The X3 is a strong and advanced launch monitor that tracks a wide range of data factors relating to both the club and the ball. It makes use of a unique technology called Fusion Tracking, which blends high-speed picture processing with three-dimensional Doppler radar tracking.
Those seeking the most advanced launch monitor technology on the market with the most comprehensive data, as well as the best dependability and accuracy, were the intended audience for its creation. This group may include club fitters, educators, coaches, and Tour professionals.
The X3 is a great alternative for practice and self-evaluation, and it is compatible with a range of golf simulator software options.
Data Points
The utilization of cutting-edge industrial electronics in conjunction with the FlightScope 3D radar motion tracking technology makes it possible to carry out data point measurements.
The proprietary phased array tracking technology that is utilized in each and every FlightScope radar unit is the most cutting-edge technology that can currently be found in the industry.
Your whole swing, chipping, pitching, and putting data parameters may all be analyzed with the help of the X3 software, which can help you determine the areas in which there is room for improvement.
The points of data that can be measured cover:
Ball parameters:
ball speed
carry distance
roll distance
total distance
smash factor
spin rate
spin axis
launch angle
launch direction
vertical descent
lateral landing
apex height
flight time
curve
shot type
shot dispersion
skills distance to the pin
skills score
The club parameters are:
club head speed
club path
face to path
face to target
angle of attack
spin loft
dynamic loft
vertical swing plane
horizontal swing plane
club speed profile
club acceleration profile
low point
The putting & chipping parameters are:
club head speed
distance to pin
roll distance
skid distance
total distance
smash factor
lateral position
launch speed
launch direction
in-miss range
putter path
putter face to path
putter face to target
putter head speed
Accuracy (Indoors and outdoors)
The measurements are extremely similar in comparison to TrackMan, which is regarded as the king of launch monitors.
Nevertheless, one of the most significant distinctions between the two launch monitors is that the X3 takes measures at the point of contact, whereas the TrackMan takes data at the point where the golf ball has experienced the greatest amount of compression. As a result of this, the reading taken from the club head speed sensor on the X3 will often be slightly higher than normal.
Outside, the X3's accuracy and general performance are virtually unrivaled by anything else on the market. It is still very good when used inside, although the photometric GCQuad most likely performs somewhat better than it does in that environment.
Cost
The FlightScope X3 launch monitor can be purchased for a price of $14,995. This includes a paired-down iOS version of E6 CONNECT, the radar device, metallic stickers, a backpack, an AC adapter, an Ethernet cable, and a USB cable.
2. Foresight Sports GCQuad
The year 2010 marked the beginning of Foresight Sports' voyage into the world of manufacturing golf simulators for use at home and outdoors, launch monitors, and various forms of simulation.
Since that time, they have been a leading brand in this sector, and every year they produce the most cutting-edge, reliable, and trustworthy performance analysis solutions, as well as the greatest overall golf simulator materials that can be found in the golf market. Foresight Sports is quickly becoming one of the most well-known brand names in the golf community that delivers a unique golf course experience.
Launch monitors such as the GC2, GC3 and GCQuad are assisting golfers in improving their game by providing results that are accurate and consistent. The list also improves in length and quality with each passing year.
Technology
Launch monitors by Foresight Sports utilize a combination of infrared object tracking and high-speed, high-resolution camera technology. This allows the launch monitors to precisely measure every component of the clubhead and ball launch performance.
This combination uses the Quadrascopic high-speed camera system to capture thousands of photos per second, which are then used to construct a virtual three-dimensional model for analysis.
The data obtained is used to generate a picture that is as exact and comprehensive as possible of how your ball and club head operate, providing feedback in a timeframe that is nearly real-time.
Data Points
When measuring club head data, it is important to do it based on the face plane of the club. This ensures accurate tracking.
Standard data points provided:
Ball speed
Horizontal & vertical launch angles
Total ball spin data
Spin rate
Sidespin
Carry distance
Data points that require upgraded software:
Clubhead speed
Smash factor
Angle of attack
Club path
Loft at impact
Lie & face angle at impact
Impact location on the clubface
Please note that the GCQuad is also capable of providing data points for your putts with the optional Putting Analysis Addon.
Accuracy (Indoors and outdoors)
When taking into consideration the cost, the image clarity and sharpness just cannot be improved upon at this point. There are four cameras, and each one of them contains high-speed optical sensors with a high resolution. They all function together. In addition, the combination of these cameras enables a level of accuracy and control that is unparalleled by any other launch monitor.
You will also obtain an exceptional level of accuracy. It is even more astonishing than the GC2 and GC3 launch monitors that were produced by the same company.
You can obtain roughly 95 percent accuracy in your output by ensuring that your setup and swing are correct.
Cost
The Foresight GCQuad also represents a significant financial commitment, but significantly less than Trackman. Although the starting price is $11,000, this number is somewhat tricky. If you do not already own the FSX 2020 program, you will be required to pay an additional $3,000 to acquire it. The club head measurements are an additional $4,000, and the putting module is an additional $2,500. These costs are in addition to the base price.
3. Full Swing Kit Launch Monitor
Tiger Woods is the one who put the Full Swing KIT through its paces, gave it his stamp of approval, and is the one who recommended it to others. It is designed to be portable and comes with a protective cover that is small enough to fit within a golf bag. A direct-to-screen output is also included, and it is the only launch monitor available with a fully programmable OLED display of all colors.
Technology
The Full Swing KIT is a personal launch monitor that is based on Doppler radar and can be used both outside and inside as well. The Full Swing KIT provides you with sixteen distinct data points that you can use to fine-tune your game. In case that isn't enough, the launch monitor also has a camera with a 4K resolution incorporated into the device so that it can capture each swing.
Data Points
The Full Swing KIT Launch Monitor is capable of measuring a total of sixteen different data points including:
carry distance
total distance
spin rate
spin axis
face angle
face to path
angle of attack
launch angle
ball speed
club speed
smash factor
club path
apex height
horizontal launch angle
offline carry distance
offline total distance
Accuracy (Indoors and outdoors)
The speed and simplicity with which the Full Swing KIT can be set up are one of the aspects that won us over the most. After it has been fully charged, set the Full Swing KIT ten feet behind where you will be hitting. Whether you use it indoors or outdoors, Full Swing suggests that the ball travels a distance of at least eight feet. Turn the machine on, choose your club, and you're all set to go.
It is around the size of a contemporary tablet and employs a radar system to track statistics like spin rate, carry distance, total distance, smash factor, club speed, face angle, and apex height, among other metrics. The E6 Connect simulation program, which is included with the Full Swing KIT, creates an extremely realistic simulation environment for the user.
Although the E6 software suite does include some entertaining game modes that can be used for leisurely purposes, we got the distinct impression that the Full Swing KIT was primarily intended for serious practice. Because of this, it is likely to be most beneficial for competitive scratch players and mid-handicappers who are serious about developing their game.
Cost
The Full Swing KIT is an absolute beast when it comes to the value it provides. At a price that is a quarter of what its competitors charge for professional quality products, it provides a very wide array of measurements and a very high level of accuracy. In addition to this, it is of the utmost need to point out that the actual price is $4,000. It is not necessary to pay more money in order to unlock features, as it is with some other launch monitors.
4. Foresight Sports GC3
Foresight Sports has created a new golf launch monitor, the GC3, to close the technological gap left in the GC line by the retirement of the stereoscopic GC2 system and the introduction of the cutting-edge GCQuad. Its primary advantage is its capacity to deliver accuracy, versatility, and portability comparable to the GCQuad while being substantially more economical, with software included costing well under $10,000.
The GC3 has a modern, portable design and comes equipped with a touchscreen display as well as data output that is sent directly to the screen. The launch monitor functions exactly the same whether it is used indoors or outside.
Technology
The GC3 employs a triscopic photometric camera system, which has three cameras in total. This is one more camera than the stereoscopic system used by the GC2, but one fewer camera than the quadrascopic system used by the GCQuad.
In order to obtain data that are direct rather than calculated, three high-speed cameras are positioned vertically and record hundreds of images per second. Using these images, a complete 3D model of the club and ball at impact can then be constructed.
The GC3 is svelte and portable, and its design is quite comparable to that of the GCQuad in many respects. It features an output that is sent directly to the screen, and in contrast to the GCQuad, the display supports touchscreen input.
Data Points
The GC3 launch monitor utilizes a mix of infrared object tracking and high-speed cameras in order to measure a wide variety of data metrics pertaining to both the club and the ball.
There are a total of 10 different data metrics that may be measured for the club and the ball, and these include the following: ball speed, club head speed, launch angle, side spin, side angle, smash factor, and angle of attack.
Accuracy (Indoors and outdoors)
The accuracy of the GC3 is comparable to that of the GCQuad to a large extent. In terms of percentages, I discovered that the readings of the ball data are within 0–3 % of those of the GCQuad while I was conducting my experiments. This is going to be a very close call. The measurements of the ball's speed, in particular, are virtually identical.
In a similar vein, club data measurements typically fell within a margin of error of 0–4% in comparison to those of the GCQuad. Nothing about any of this should come as a surprise given that both launch monitors use exact identical flight algorithms and recording approaches.
Cost
The GC3 has a retail price of $7,000, which is admittedly out of reach for the majority of golfers. However, for that price, not only do you receive more data than you would with other personal launch monitors, but the data that you do receive is truly reliable. Foresight gives users access to a large number of data points through the use of the GC3, including the most essential and pertinent information that users require.
5. Bushnell Launch Pro
In environments where other units suffer from sensitivity to ambient light and insufficient capture capabilities, the Bushnell Launch Pro launch monitor is able to deliver unrivaled precision and dependability in either an indoor or outdoor setting. You are now able to practice each facet of your game, wherever you are and whenever you choose.
One of the Launch Pro's cool features is that it delivers a true-to-life simulation, which includes playing the top courses in the world and fine-tuning your game on the driving range with unrivaled ball flight data. This feature is exclusive to the Launch Pro. It is the solution, regardless of whether you want a simple installation in your garage or a fully customized area within your home for your simulator.
Technology
The Bushnell Launch Pro launch monitor makes use of an infrared camera system that is both high-speed and high-resolution. You will be able to obtain Tour-level accuracy and performance with this three-camera system that auto-calibrates to see the impact as you've never seen it before, giving you the confidence to trust your swing when you're out on the golf course.
Because of its three-camera setup (identical to the GC3), the Launch Pro is capable of capturing and measuring thousands of frames per second, which enables it to deliver the most dependable and accurate information regarding launch conditions and ball flight. When you combine the data-driven software of Foresight with the accuracy of Bushnell optics, you will get readings that you can put your faith in.
Data Points
Launch Angle
Side Angle
Ball Speed
Total Spin
Back Spin
Side Spin
Spin Axis
Carry Distance
Club Head Speed
Smash Factor
Club Path
Angle of Attack
Accuracy (Indoors and outdoors)
The Launch Pro monitor from Bushnell measures the data that is most important for both the ball and the club. You should strive to get the most out of each and every practice round and use the knowledge you get there to improve your performance on the course. When measuring the data for a ball launch, images of the ball are recorded and used to predict its flight in real time. Then, the data from one acquired image is compared to the data from the next captured image to identify exactly what the ball is doing after impact.
Cost
The Launch Pro, which was developed in collaboration with Foresight Sports, can be utilized both inside and outside, and it can be combined with a variety of software packages to provide you with the ability to play or practice wherever you are and whenever you want.
The suggested retail price is around $3,500.
6. SkyTrak Launch Monitor
When compared to all of the previous models that came before it, the SkyTrak launch monitor represents a huge innovation in the golf launch monitor market.
The SkyTrak Launch Monitor may be purchased for close to $2,000. If you are a golfer wishing to get better and enjoy some simulated golf but can't afford to do so, then the SkyTrak is a wonderful choice for you to consider. It has a long history of serving as an inexpensive and dependable instrument that can assist you in improving your game. It has been utilized for a number of years by golf instructors, professionals, club fitters, and average golfers alike.
This multipurpose product may be utilized both indoors and outdoors, and it is compatible with The Golf Club 2019 (TGC) simulation software (among other options), which enables it to deliver an amazing, lifelike simulation experience.
Technology
SkyTrak makes use of a photometric system, which is camera-based. The machine is able to produce measurements with an accuracy that is comparable to that of considerably more expensive commercial systems as a result of the utilization of a high-speed camera that captures photos of the ball for a few feet beyond the point of impact.
SkyTrak is promoted heavily for use as an indoor launch monitor, and this is the setting in which it should be utilized whenever it is practical to do so. If you are unable to utilize it indoors, it can be used successfully outside. But keep in mind to keep it out of direct sunlight.
Data Points
Skytrak directly measures several aspects of the ball, including its speed, back spin, launch angle, side spin, and side angle. The modeling of these factors allows for the calculation of accurate approximations of other data, such as carry, roll, and total distance, clubhead speed, and angle of descent. After that, Skytrak will create a 3D model of the flight path.
Accuracy (Indoors and outdoors)
Although there is one major drawback to SkyTrak's photometric technology, the system is, on the whole, very precise and reliable. According to our observations, the data provided by SkyTrak is astonishingly accurate virtually all of the time, and it is typically not more than 1-2 percent off from the readings provided by more expensive devices such as the Foresight Sports GC3 or the FlightScope X3.
One of the many factors that contribute to SkyTrak's widespread acceptance is the fact that users may get the same level of precision with the product at a savings of thousands of dollars.
The accuracy of SkyTrak, when used outside, is its lone significant limitation. SkyTrak is marketed as an indoor/outdoor launch monitor; however, we do not normally recommend it to customers who plan to use their launch monitor primarily outside. This is because SkyTrak is not designed to withstand the elements. When utilized in the open air, our experience has shown that the accuracy of SkyTrak suffers pretty dramatically with some shots being completely unregistered as a result.
Cost
Not only do you receive an accuracy that is comparable to that of commercial systems that cost 10,000 dollars or more, but you also get a ton of options that you can use to tune in your game at a price that is only a few thousand dollars.
The compatibility offered by the SkyTrak is among the highest you will find. It is compatible with a vast variety of specialized software solutions, such as E6 Connect and TGC 2019, among others.
The SkyTrak is more than just a launch monitor since it is one of the only launch monitors that comes with a driving range simulation pre-installed.
Good news! A new version of the popular launch monitor - Skytrak + was launched in 2023. The new version kept the same software formula as the original Skytrak, but made huge improvements to the hardware compartments. The Skytrak + launch monitor now uses a combination of photometric and Doppler radar technologies to improve accuracy and is now capable of tracking both the golf ball and club. Check out our detailed review of the new Skytrak Plus launch monitor!
7. FlightScope Mevo+ Launch Monitor
The Mevo+ is FlightScope's newest 3D Doppler tracking launch monitor, designed to assist golfers in improving their game by allowing them to use it both indoors and outdoors.
The Mevo+ is a golfing device that was introduced last January of 2020 at the PGA Merchandise Show in Orlando. This monitor provides 15 data metrics, the choices for golf simulation, as well as an integrated camera for sensor alignment.
You may purchase this launch monitor with comparable performance for a price comparable to that of the SkyTrak, and this monitor will perform better outside than the SkyTrak does. In general, the obstacle presented by the Mevo+ is the required depth when operating in an indoor environment.
The Mevo+ is also compatible with the FS Skills app, which offers a variety of skill tests to evaluate different aspects of the game and awards points based on your performance, which you can then use as a benchmark to set a higher standard for yourself the next time around. You may even make your own challenges and test your skills against those of professional players on the PGA Tour.
Technology
The Mevo+ is equipped with a radar-based 3D Doppler system. This device makes use of the Doppler effect; it sends out a microwave signal, which is then reflected back by the club and the ball, which enables the unit to calculate a variety of data points. It is not impacted by lighting conditions, which is one of the most significant advantages of this method, in contrast to photometric systems (which are camera-based).
Data Points
The Mevo+ launch monitor measures 16 data parameters. They are:
ball speed
club head speed
carry distance
total distance
roll distance
smash factor
spin rate
spin axis
spin loft
vertical launch angle
horizontal launch angle
apex height
flight time
lateral landing
angle of attack
The Mevo Plus provides a 3D ball projection in addition to breaking down the data to show you ball speed, clubhead speed, spin rate, and an additional 13 launch characteristics. Importantly, the Mevo Plus provides data on both the spin axis and the lateral launch.
Spin axis and lateral launch are extremely helpful in explaining why your ball starts and curves in a particular direction. This allows you to adjust your swing path and clubface, improving your impact position and enhancing your accuracy.
Accuracy (Indoors and outdoors)
This device is suited for usage inside, where it is necessary to put a metallic sticker on the target side of the ball for the Mevo+ to fully track shots. However, this is something that you would quickly become accustomed to doing when using the device.
As a radar unit, you can expect the Mevo + to be most accurate outdoors, where it has unlimited ball flight to better track your ball flight characteristics.
Cost
The FlightScope Mevo+ pushes the limits of what should be expected from a launch monitor in this price range, earning it the title of Editor's Choice from Golf Digest in 2021 as the best launch monitor available for less than $2,000.
Flightscope launched an enhanced version of the Mevo+, namely the Mevo + 2023 Edition, which has an improved battery life, an enhanced kickstand and a new FS Golf software included (now compatible with PC).
How To Decide What Is Best For Your Situation?
In the end, it all comes down to your money and the features and capabilities you want out of your launch monitor. Each of the launch monitor choices that were discussed before provides an outstanding value for the price.
We have provided you with the data you require to make a choice; nevertheless, it is now entirely up to you to take the necessary next steps.
The feedback that is supplied by these golf launch monitors has the potential to completely alter your golf game.
If you record your swing using your smartphone in conjunction with the data from a launch monitor, you will be able to make adjustments to your technique that will allow you to become more consistent and an overall better ball striker. In addition to this, the amount of fun you can have with your loved ones and friends while using your golf simulator setup is hard to surpass.
Final Verdict
Knowing how far you hit your clubs on average can make a significant difference for amateur golfers, who struggle greatly with maintaining distance control over their strokes.
If you want to get to where you want to be in terms of improving your golf game, you need to know where you are, to begin with in your practice sessions, as well as each step along the route. Only then will you be able to get to where you want to be.
If you don't have the budget to invest in a premium launch monitor like Trackman, any unit from our list will provide the necessary data you need to improve your game. These belong to a wide range of budgets, so everyone will find a launch monitor they can afford.
Thanks for reading!
WRITTEN BY

My name is Jacob, a self-diagnosed equipment and golf enthusiast. I've been golfing since I was 15. Golf has always been my passion. I'm a bit of a golf equipment nerd and I've been that way since the moment I picked up a club for the first time. As someone who's been on both sides of the game, I know what it takes to be a good golfer. Of course, you need good equipment, but you also need to know how to use it. I hope sharing my experience with you will help you improve your game.
You May Also Like