FlightScope X3 Launch Monitor Review
Last updated:
June 26, 2023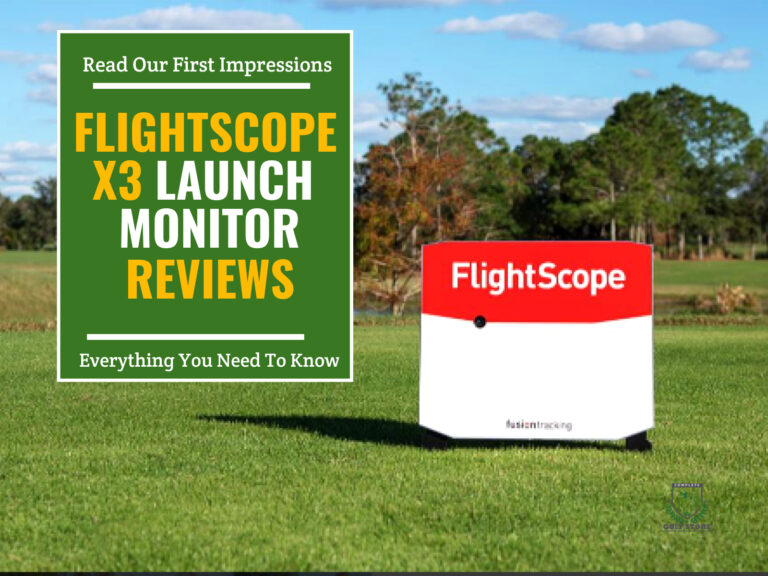 Disclaimer: We may earn a small commission from some of the links on our website. However, our reviews and comparisons remain fair and unbiased. Our goal is to help you make the best choice. For more information, please see our
disclosure statement
. Thank you for your support.
Key Takeaways
The FlightScope X3 launch monitor is a great choice; it is highly accurate and compatible with many apps and golf simulation software that allows you to factor weather conditions into measurements. It also combines camera and radar-based tracking and benchmarks all the parameters you could be looking for.
At the professional level, a number of famous launch monitors are used: Trackman, Foresight Sports, FlightScope, and FullSwing.
Although Trackman's partnership with the PGA Tour and its hefty price tag have given the impression that it is the best of the best, FlightScope provides products that utilize the same technology at significantly lower costs. And the Flightscope X3 launch monitor is their flagship product that uses the company's latest and greatest technology to give competing tour-level monitors a run for their money.
In this article, we will explore the ins and outs of the excellent Flightscope X3, covering its hardware and software components, tracking technology, data points, features, and supported simulation software.
Product Overview
The FlightScope X3 Launch Monitor provides unrivaled data accuracy due to its combination of 3D tracking radar and image processing. The X3, which is used and trusted by professionals, gives you access to the tools you require to take your game to the next level.
The X3 can track over 50 parameters about different aspects of your game, including the complete swing, ball flight, chipping, and putting. The X3's capability to record D-Plane data gives you essential new information about how you should be playing your wedges.
Tracking and Simulation Technology
The 3D Doppler ball-tracking technology is used to evaluate bowling speed for cricket; pitching, hitting, and pop time analyses for baseball, chair-umpire scoring methods for ATP tournaments for tennis, and, of course, the club head and ball metrics in golf, which are essential to us.
The FlightScope X3 is one of the most cutting-edge systems now on the market for monitoring every aspect of your game, from the tee box to the green, regardless of whether the concern is with the ball or your swing. It is designed to help you improve your game in every way.
Because it is wireless, portable, and very lightweight, you can carry it with you to any location, whether indoors or outdoors, where you have sufficient space to swing a club freely.
Using the built-in 5GHz Wi-Fi hotspot, the FlightScope X3 makes it simple to transfer data to a laptop or tablet device of your choosing, with the possibility to connect your PC via Ethernet. You can now obtain instant feedback on every shot, allowing you to evaluate what adjustments need to be made to optimize your next swing.
The obtained input is highly beneficial to golfers of all skill levels, including those who compete professionally. The use of these technologies has become increasingly important in golf instruction as a means of refining the swing.
Set-Up & Ease of Use
To get started with the setup, click the release button located under the X3 unit to free the leg, then pull it downwards (and outwards) until it is fully stretched.
Put the device down on the ground, and then switch it on. The X3 will automatically change its tilt depending on the slope of the ground surface as soon as it finishes starting up.
After that, select your tee position and determine where your target line will be. The X3 should be positioned behind the tee location, and the hole for the internal camera should be aligned with the target line. This hole is located on the left part of the front panel when looking at the device head-on.
Now is the time to align the X3 using the FlightScope VX app alignment feature. This application is compatible with both Android and IOS devices.
Using the app in alignment mode, adjust the X3's orientation so that the center vertical line of the app covers the target line as well as the ball.
You will be required to define the units of measurement to use in the application (metric or Imperial). In addition to this, you will need to know the precise distance between the head of the X3 and the tee, your location's altitude, and the height of the hitting surface above the ground.
Finally, you need to choose a play mode from the available ones; somehow, you specify what the unit needs to track. These include 6 different modes:
Outdoor: for unlimited ball flight, like on the driving range or golf course.
Indoor: For a ball flight ranging between 13' and 120'.
Short indoor: Limited flight of 8' to 13'.
Normalized: Unlimited but restricted ball flight (like in a netted practice range)
Short game chipping: Track chipping on the green.
Short game putting mode: Tracking putting strokes.
Additional things to remember include the following:
Before using the unit for the first time, bear in mind that it should be recharged for 7 to 10 hours; you can check the level by pressing the "on" button while the rear leg is closed.
To get the best possible accuracy, the balls need to be marked with (the included) metallic stickers; these need to be facing the target. The unit automatically turns on if the leg is opened and auto shuts down if you close it.
The unit must be kept away from heat sources or water; it is still possible to use a slightly damp cloth for cleaning. Make sure the distance between the X3 and the ball is not obstructed by anything.
First Impressions
The X3 is a robust and advanced launch monitor that tracks a wide range of data factors relating to both the club and the ball. It makes use of a unique technology called Fusion Tracking, which blends high-speed picture processing with three-dimensional Doppler radar tracking.
Those who are looking for the greatest launch monitor technology on the market with the most detailed data, as well as the most reliability and accuracy, were the target audience for its development. This demographic may include club fitters, teaching professionals, coaches, and Tour pros.
The X3 is an excellent choice for practice and self-evaluation, and it is compatible with a wide variety of software options for golf simulators.
The lightweight panel-style build makes it extremely portable, and it combines the best aspects of two different technologies (radar and camera).
What's Included With Purchase
Charging cable
Backpack
FlightScope X3 Launch Monitor
Ethernet and USB Cables
Metallic Stickers
Data Points and Features
The X3 measures at the point of contact; because of this, the X3's club head speed sensor readout is often greater than normal. In addition, the X3's outside accuracy and performance are unmatched. It's still good indoors, but the photometric GCQuad probably performs better.
Compared to Trackman, the readings and accuracy of both units are very close, even though the reading of the club head speed is usually a tad higher on the X3 because it uses the point of impact for tracking, while Trackman uses the point of max ball compression.
The following are the data points that the X3 tracks for you:
Ball parameters:
ball speed
carry distance
roll distance
total distance
skills distance to the pin
skills score
launch direction
vertical descent
lateral landing
apex height
flight time
smash factor
spin rate
spin axis
Ball launch angle
curve
shot type
shot dispersion
Club parameters:
face to target
angle of attack
spin loft
club head speed
club swing path
face to path
club speed profile
club acceleration profile
low point
dynamic loft
vertical swing plane
horizontal swing plane
Chipping and putting data:
club head speed
distance to pin
roll distance
skid distance
total distance
putter path
putter face to path
putter face to target
putter head speed
smash factor
lateral position
launch speed
launch direction
in-miss range
In any case, you should consider the fact that professional golfers on the PGA Tour, such as Bryson DeChambeau, have used the X3 to guide their shots. Simply looking at that should give you all the information you require.
FlightScope Apps
The following are the FlightScope Apps you can enjoy after you obtain the X3:
FS VX App
This is an app that covers all aspects of teaching, club fitting, and training, including three-dimensional images of ball flight and data on clubs. Users of the VX app have access to a comprehensive three-dimensional analysis of their swing that includes shot groupings, trajectories, and more.
This is the primary FlightScope app that pairs with the X3 (available for iOS and Android), and it is the one that we recommend you use first. This is especially true given that it features sensor alignment and other essential tools like D-Plane data screens, speed and acceleration profiles, driver optimizer, custom shot comparison, elliptical shot groupings, environmental Optimizer, split-screen video analysis, etc.
According to the software's description, "the most comprehensive teaching, fitting, and training app for FlightScope tracking radars" is what the VX app offers.
FS Short Game App
You can take a comprehensive look at your chipping and putting performance with FS Short Game (available for iOS and Windows), which may be used for teaching purposes or to enhance your overall game.
Some features include tracking the putting face and path, wedge data, and slider-controlled pin location for practicing putts of varying lengths.
The application can show up to 13 data parameters, but you may customize the user interface to show only the ones you wish to see by dragging and dropping the parameters.
Speed graphs, putt trajectories, and putt groupings are also presented, and users can show several camera swing records or other peripherals.
FS Skills App
With the FS Skills app (available for Android and iOS devices), golfers may put their skills to the test by hitting shots ranging from 20 to 260 yards to multiple virtual targets.
A score is assigned to each shot based on how close it was to the center of the target. Once all the targets have been displayed, a total score for the session is determined. The users have granular control over the various features of the targets, and they also have the ability to set a time limit for themselves.
FS Video App
The goal of FS Video, whether running on iOS or Windows, is to combine data with video. It includes a totally customizable user interface, with a range of video and data screen combinations, mental training and pressure shift, sketching tools, screencasts with voiceovers, and the ability to pick different pieces of equipment.
You can also upload videos to MyFlightScope.com and save them there if you purchase a membership to use those features.
FlightScope PC Software
The personal computer software offered by FlightScope is adaptable to a wide range of different uses. You are able to do the following and more when using it:
Side-by-side video comparison and analysis using sketching tools
MyFlightScope.com allows you to monitor things like rankings, progress and results.
The pressure center & weight shift capture ability.
Examine and compare the varying shot dispersions produced by your clubs and get average club performance metrics.
Examine the stats of various players.
Ball performance comparison.
Obtain a comprehensive evaluation of your chipping.
Practice your swing without actually hitting any balls.
The program offers a full-screen mode as well as a short interior mode that needs only 16 feet of space to operate properly. It is recommended to have a PC with an Intel Core i5 and 8 GB of RAM.
Environmental Optimizer
Using this excellent tool will help you have an idea of how environmental conditions impact your shots. The following variables related to weather and climate are customizable:
wind speed
humidity
altitude
air temperature
the relative height of the landing
wind direction
After that, you can see how the change affects the data. This way, you can get accustomed to a wide range of weather conditions while remaining in the same convenient place.
The X3 will also be getting data margins in the near future. You will be able to improve your consistency by setting minimum and maximum values for each data parameter in the app.
MultiCam
Video may be automatically recorded and synced with the X3 from a number of different camera sources.
The FlightScope Video and MultiCam apps give you the ability to mix video and data on a single screen while providing a user experience that can be entirely customized. Tracking of balls and clubs, as well as speed and acceleration profiles, trajectories, sketching tools, and screencasts with voiceovers, are among the features.
Wedge D-Plane Data
D-Plane is generated by the club head's three-dimensional direction and the club face's orientation. It represents the correlation between the movement of the club's CG (center of gravity) and the blade at impact.
Know that the wedge D-Plane data that the X3 presents provides in-depth insight into your wedge play by offering a 3D view of the angle of attack, club path, dynamic loft, and face angles. This information can greatly help you improve your wedge game.
The degree of accuracy and consistency that the X3's D-Plane data possesses will, at the end of the day, make it easier for you to improve your ball-striking consistency.
X3 Golf Simulation Apps
The following are the golf simulation apps you can access through the X3:
The Golf Club 2019
The Golf Club 2019 is a good choice for the X3 because it offers a huge course library to choose from, many features, outstanding graphics and lighting, and it is exclusively available on the PC. In addition, the price is not excessively high.
Several other types of game modes can be played, such as stroke play, match play, stableford, four ball, skins, and alternate shot. The TGC 2019 features a great function that allows up to four players to hit their shots at the same time in a multiplayer session.
Thousands of different courses are available to choose from in TGC 2019, many of them created by users. The included rating system allows players to rate the quality of the courses, which allows you to choose the best ones to play.
You can create your own course with only a few clicks. You have the ability to make minute adjustments to anything, from the setting to the landscape to the layout, thanks to a specialized editor. If you believe that this is something you enjoy doing, you might wind up using your X3 to play a course you have designed and built yourself.
E6 CONNECT
The TruGolf E6 CONNECT is currently regarded as one of the most visually stunning simulator software packages available today. It comes with a variety of incredible features that golfers can rely on to take their swinging and putting talents to the next level.
These features include online events and tournaments, practice modes, full course play, customization options, club fitting, virtual coaching, etc.
If you want to become a better golfer, this product can be exactly what you need because it has over 40 different multiplayer practice modes.
The TruGolf E6 CONNECT can provide you with many hours of useful practice directly in the comfort of your own home, as well as a number of different courses to choose from.
The X3 comes with a limited version of the software supporting IOS only, but you can upgrade to other plans and enjoy plenty of additional content. You can purchase the full version for PC or the Extended subscription plan and practice in single, multiplayer or online modes on over 90 world-renowned courses.
Awesome Golf
Awesome Golf is compatible with launch monitors made by FlightScope (the X3, Mevo Plus, and others). It emphasizes the importance of having a good time and being entertained with your loved ones.
The people behind Awesome Golf thought that the existing golf simulator softwares were too dull and uninteresting, so they decided to develop their own software that is exciting, simple to operate, and pleasurable to use.
This is not a conventional piece of golf simulator software, but it is quite reasonably priced and will keep you busy for a considerable amount of time. Additionally, it provides a version that is tailored specifically for use on driving ranges.
In contrast to previous apps, Awesome Golf is not intended to simulate the actual world. Instead, it has the charming appearance of a cartoon, nearly like something you'd find in The Simpsons or South Park.
This was done on purpose since the developers intended to set themselves apart from the competition when it came to simulator software.
The software includes multiple game modes and features, including Range (for practice sessions with readings and analysis of every shot), challenges (long drive, target golf, skills challenge, and closest to the pin), Virtual golf (course play on imaginary golf courses), and Shootouts (Mini games specifically designed for kids - like Boat Blast and Super Splash).
GSPro
GSPro has cutting-edge ball mechanics and 4K graphics, all of which contribute to its ultra-realistic design. It has been integrated with the X3 very recently.
The Uneekor and FlightScope launch monitors are the only ones that are now compatible with it, but more integrations are planned in the future. In addition, the creators provide an OpenAPI interface, which users with sufficient technical knowledge can employ to combine the software with other systems unofficially.
GSPro makes an effort to set itself apart from competing software by providing robust community features, such as a course builder and the opportunity to participate in online virtual tours via integration with the Simulator Golf Tour (SGT) service.
The graphics in GSPro are on par with those in TGC 2019 and E6 CONNECT, which is to say that they are quite good. It's great that it supports 4K resolution. The roughness of the grass and the crispness of the foliage are two aspects of the landscape that really appeal to us.
However, we do find the lighting to be a bit flat, and despite their claims regarding the ball physics, the roll of the ball may feel fairly unnatural, especially on slow greens. This is especially true if you play on a course that features a number of different elevation changes throughout the course.
Creative Golf 3D
Creative Golf 3D puts less emphasis on realism and more focus on family-friendly entertainment.
The initial release of Creative Golf 3D includes recreations of 15 golf courses in different countries. Over 130 additional golf courses are available to play if you pay an additional $500. Game modes include practice, course play, mini-games, challenges, and tournaments.
This software is even more affordably priced than TGC 2019, and if you so desire, you can supercharge it with the Golfisimo software, which adds a variety of attractive and amusing activities for children and non-golfers to enjoy as well.
If you bought Creative Golf 3D and Golfisimo at the same time, the main menu will have a section that is only devoted to Golfisimo. You'll have access to various exciting games from that location, like darts, barrels, bridges, demolition golf, grand slam, and battlefield.
Creative Golf 3D and Golfisimo are two outstanding options that can be used as cost-effective substitutes for E6 CONNECT by consumers who do not need the premium experience that E6 provides. You can purchase this software for the price of $700 for CG and $500 for Golfisimo.
Indoor and Outdoor Use
Because it can be used both indoors and outdoors, the FlightScope X3 ensures that you will always be able to train with a purpose, regardless of weather conditions. The minimum space required for playing indoors is 8 feet behind the tee point and 8 feet of ball flight. To accommodate everything, you'll need up to 16 feet of room length.
Metallic stickers are required whenever the X3 is used inside, as this ensures that the spin of the ball is reliably measured.
Pricing and Software Plans
The FlightScope X3 launch monitor can be purchased for a price of $14,995, but is currently discounted to a little less than $13,000 on all major golf equipment vendors (a great time to grab the device before the offer ends). This includes a pared-down iOS version of E6 CONNECT, the radar device, metallic stickers, a backpack, an AC adapter, an Ethernet cable, and a USB cable.
The following is a list of the costs that are currently connected with the various software alternatives that are compatible with the X3 and are subject to change:
There may be a variety of add-ons available for purchase, such as premium courses for E6 CONNECT.
Because of the enormous course selection and the fact that you receive all features for a one-time payment of less than $1000, we generally recommend that golfers grab TGC 2019 with the X3 (and any launch monitor that supports it).
Where To Buy The Flightscope X3
Shop Indoor Golf, TopShelf Golf, Rain or Shine Golf are the online merchants we recommend you get the X3 from. They offer outstanding support crews that always do their best to ensure everything is set up correctly for you and that their customers are fully satisfied.
They also provide simple finance options for you to pay for the launch monitor over a year or even a longer period. Moreover, Shop Indoor Golf is a retailer that sells permanent licenses for E6 CONNECT as well as TGC 2019.
Purchases of Creative Golf 3D, Awesome Golf, and GSPro need to be made through the separate websites of the three companies.
A whole golf simulator setup, complete with a projector, screen and enclosure, is something else that you want to think about purchasing if you intend to utilize the X3 inside. This way, you will be able to have the very best experience possible with the launch monitor.
Alternatives
The following are some X3 alternatives you may consider:
SkyTrak Golf Launch Monitor
SkyTrak is a photometric golf launch monitor that takes a series of photos of the impact that occurs between the golf ball and the clubhead.
These photographs are input into the tried-and-true algorithms that SkyTrak employs to determine the ball's trajectory and offer data that is precise to within two yards at the endpoint. Every single shot is logged, and the information is saved in the database for further use.
If launch monitors follow the ball for the entirety of its flight, the data they collect may be influenced by the wind speed (and wind direction) present at the time. The SkyTrak launch monitor allows you to adjust the conditions in order to get a better idea of how the weather and wind will affect the path that your golf ball takes.
The weather does not influence SkyTrak's technology in any way because it relies solely on images taken at the precise moment of impact. The appliance is suitable for use either inside or outside.
For a full review of SkyTrak, click here.
Foresight Sports GCQuad
The stereoscopic camera system that was included with the GC2 has been replaced with a quadrascopic camera system in the GCQuad.
It is possible to obtain direct rather than computed data, thanks to four high-speed cameras positioned at the four corners at the front of the device. These cameras take thousands of pictures every second, which allows them to construct a detailed three-dimensional model of the club and the ball as they come into contact with one another.
The technology available in the Foresight Sports GCQuad is remarkable. Some of the best golfers in the world, such as Bryson DeChambeau, Phil Mickelson, and Rickie Fowler, have been seen using Foresight Sports' GCQuad, which is the company's flagship model and sits above the more affordable GC3. The GCQuad has seen a significant uptick in sales as a result of this.
Overall, the GCQuad and the X3 have similarities and differences that set them apart, but they are both professional-grade monitors that offer pinpoint accuracy of a huge number of ball and club metrics. Choosing one over the other will be a matter of personal preferences, needs, budget, etc.
Foresight Sports GC3
The Foresight Sports GC3 provides unrivaled accuracy and performance, regardless of whether it is being used indoors or outdoors. More than a decade has passed since the first release of the GC2, which was widely regarded as one of the most advanced golf launch monitors available at the time of its introduction.
The new GC3 was constructed utilizing the same cutting-edge photometric technology that was used in the development of the GCQuad. It comes equipped with a three-camera system that is capable of accurately measuring ball and club performance data in both outdoor and indoor settings.
The GC3 is capable of tracking both the golf club and the ball with an accuracy of less than one millimeter. This indicates that the feedback is exceptionally accurate and trustworthy. It stands about 30 centimeters (11.8") tall and weighs slightly more than two kilograms (4.41 Lbs), making it one of the best portable launch monitors.
The GC3 generates detailed information about the ball, including its speed, launch, spin, and carry distance, in addition to detailed information about the club head, including its speed, efficiency (smash factor), club path, and angle of attack. The GC3 is an extremely helpful piece of equipment if you want to understand your swing and improve your overall game.
The FSX software that displays the performance analysis has a slightly old appearance, but it has made significant progress and now displays all of the measured metrics, with the data for the club and the ball being displayed separately, as well as the trajectory of each shot.
Trackman 4
If you have $19,000 to spare and are interested in gaining tremendous insight into your golf swing and ball flight, this will be your top choice alongside the FlightScope X3.
The TrackMan 4 launch monitor is the most advanced and accurate launch monitor that Trackman has ever created. You will receive additional information regarding your swing as a result of the dual-radar system's greater accuracy in data capture.
TrackMan 4 is capable of measuring and displaying the whole trajectory of each shot, from pitches of 6 feet to drives of 400 yards. Not only does it pinpoint the landing spot with an accuracy of 1.5 feet at 160 yards, but it also maps out in real-time every detail about the swing, including the spin rate, launch angle, carry distance, smash factor, and other details. If you are more concerned with your short game, Trackman provides settings specifically for chipping and putting.
In addition to the huge amount of information that is at your disposal, you also have access to an ever-expanding library of game modes that test your abilities. Some examples are the combined test, the driving challenge, and capture the flag. By using Virtual Golf 2, you can also compete on a variety of well-known courses.
If money is not an issue for you and you want the same technology that the finest golfers in the world use, this is the golf launch monitor that you should buy because it is the best one available. Otherwise, the Flighscope X3 is still one of the top alternatives to Trackman you can get.
Final Verdict
The FlightScope X3 launch monitor is a great choice; it is highly accurate and compatible with many apps and golf simulation software that allow you to factor weather conditions into measurements. It also combines camera and radar-based tracking and benchmarks all the parameters you could be looking for.
The FlightScope X3 can be used for any purpose, whether you want to get pinpoint-accurate data, play indoors in a golf simulator, or carry out club fitting or coaching sessions.
You can record your swing and email it to your coach so that they can analyze it and give you comments on what areas of your game require the most improvement.
On the network that FlightScope maintains, there is a wide selection of golf courses that can be used for hosting worldwide contests with the golfing community.
I am still confident that the Flightscope X3 is a better choice than TrackMan 4. Based on the data output and during my tests, I can say that the X3 outperformed Trackman in some cases. Also, with TrackMan 4, you're not only paying a premium price for the brand name, but you also have to pay an extra $6000 to use it outdoors.
WRITTEN BY

My name is Jacob, a self-diagnosed equipment and golf enthusiast. I've been golfing since I was 15. Golf has always been my passion. I'm a bit of a golf equipment nerd and I've been that way since the moment I picked up a club for the first time. As someone who's been on both sides of the game, I know what it takes to be a good golfer. Of course, you need good equipment, but you also need to know how to use it. I hope sharing my experience with you will help you improve your game.
You May Also Like