Skytrak Plus 2023 Launch Monitor Review
Last updated:
October 6, 2023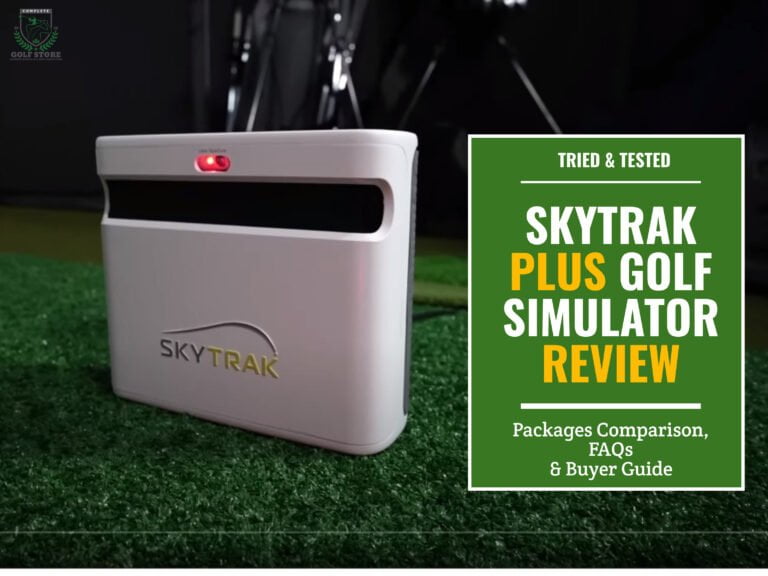 Disclaimer: We may earn a small commission from some of the links on our website. However, our reviews and comparisons remain fair and unbiased. Our goal is to help you make the best choice. For more information, please see our
disclosure statement
. Thank you for your support.
Key Takeaways
The SkyTrak+ Launch Monitor is a significant improvement over the original SkyTrak.
It features a sleek, modern design, is sturdy and well-built, and is compatible with a range of devices.
The SkyTrak+ is incredibly accurate and provides detailed data on each shot.
It can be used indoors and outdoors, and has improved performance in both conditions.
The SkyTrak+ is a great investment for golfers of all skill levels who are looking to improve their game.
It features a dual Doppler radar system and high-speed cameras for accurate shot tracking indoors and outdoors.
The SkyTrak+ Launch Monitor has been designed with golfers of all skill levels in mind. From professional players to amateurs, everyone can benefit from using this device. Its easy setup allows users to start tracking their shots within minutes, while its intuitive user interface offers detailed insights into each swing without needing any prior knowledge or experience with technology.
In this review, we'll go over what makes this launch monitor so special, its features and performance, as well as how it compares with other launch monitors in the same price range.
Skytrak+ Launch Monitor Vs Skytrak - What's New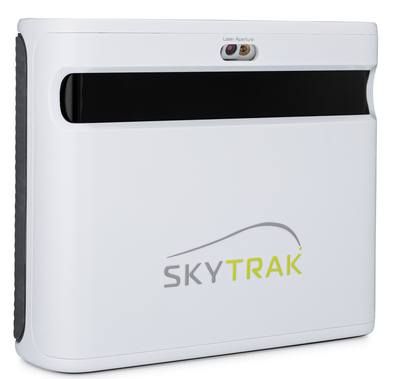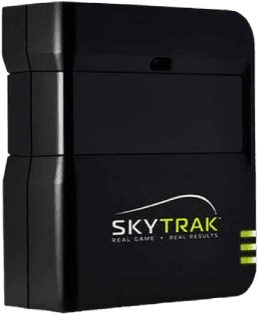 The SkyTrak+ Launch Monitor and SkyTrak both offer comprehensive shot data measurements, but they differ in terms of technology and compatibility.
The SkyTrak+ utilizes high-speed cameras and Doppler radar technology while the SkyTrak relies only on photometric (camera-based) technology. In addition, the SkyTrak+ is suitable for indoor as well as outdoor use, whereas the SkyTrak is designed primarily for indoor play (but can still be used outdoors).
The two launch monitors are compatible with PCs, iOS devices, and Android devices, and they support the same simulator software solutions, including TGC 2019, E6 Connect, WGT, and GSPro software.
Both provide an array of shot data including carry distance, total distance, clubhead speed, ball speed, smash factor backspin rate, side spin rate, spin axis, spin loft, horizontal launch angle, vertical launch angle, lateral landing, roll distance, apex height, flight time, and shot shape.
The main tracking difference is that the new ST+ model is now capable of tracking the club (without requiring club face stickers) and providing actual data (not estimates) thanks to the radar detection module.
Both models measure all necessary parameters needed to fine-tune your golf game; whether you're looking for something that's better suited for indoor or outdoor use or just want more options when it comes to compatible software programs then SkyTrak+ might be the right choice for you.
First Impressions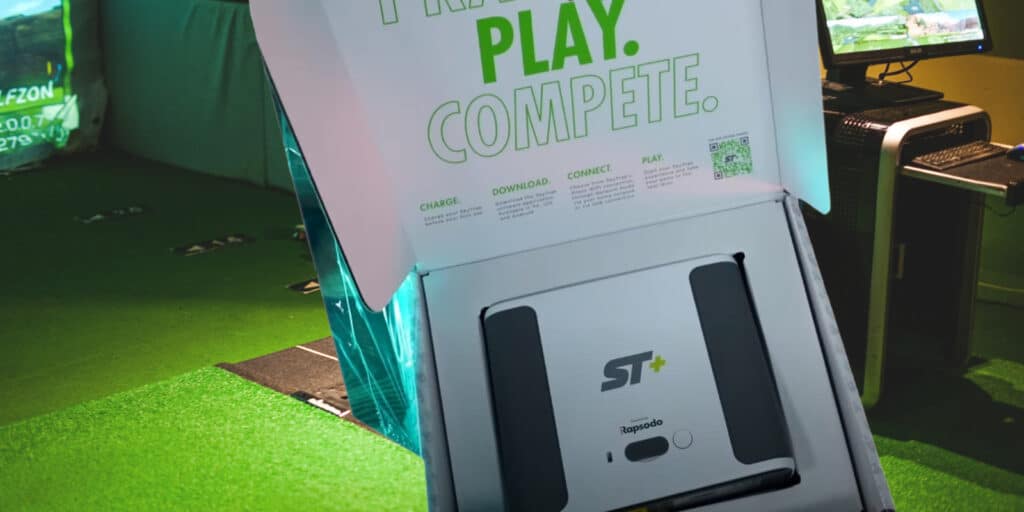 I think the design and durability of the Skytrak+ Launch Monitor are great - it's sturdy and looks really good.
Connectivity and output data are also really good - it's compatible with a range of devices and provides lots of useful information.
Accuracy is where it really shines though - it's incredibly precise and offers great value for money.
I'd say that the Skytrak Plus built on the huge success of its predecessor, and somehow managed to provide everything that was missing in the original unit.
Design & Durability
The Skytrak ST+ is an impressive piece of hardware. Its sleek, modern design with a white body and lime green accents makes it look more eye-catching than its predecessor.
The unit itself feels solid in your hands, and I have no doubt that it will stand up to the rigors of golf practice or even outdoor use without issue.
Additionally, the charging block and two USB-C cables included help you connect the device to the computer and to the charger.
When it comes to usability, the app provided by SkyTrak really helps bring out the best in this product. All metrics such as total distance, carry, launch angle, backspin, ball speed, club speed, side spin and club path data are clearly displayed which makes understanding each shot easier for all levels of players.
Furthermore, the optical system does not require too much space compared to other Doppler devices so you can place it right next to the ball if necessary.
Of course, at $2995, it isn't cheap, but there are reasonably priced subscription options available for additional features and support that should help offset some of those costs over time.
Connectivity & Output Data
The Skytrak ST+ is also incredibly capable when it comes to connecting and outputting data.
It has a USB-C port output. The port is also capable of fast charging the device.
The monitor also has 5GHZ WIFI connectivity so that the connection with all your devices (PC, Android, IOS) is much more stable; it also allows for much higher data transfer rates, which provides all the necessary metrics and makes it easier than ever to track your progress.
You can even use the app provided by SkyTrak to view these stats in real time, which makes understanding each shot much simpler for players of all skill levels.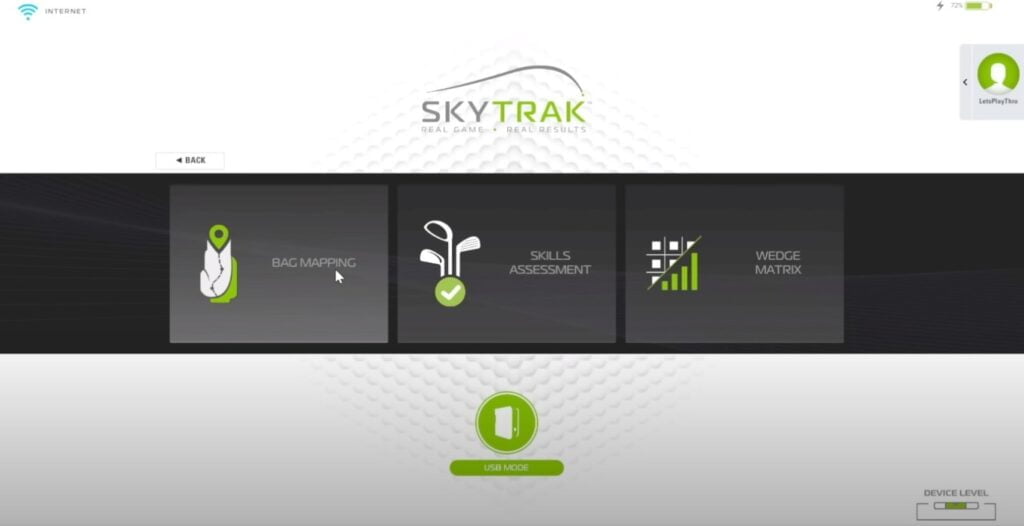 The all-new and optimized shot optimizer provides a 3D render of your shots with data displayed with a color-coded system to show you which aspects were better and which were worse. You even get face-to-target data to show you the exact part of the club head that hit the ball.
Accuracy & Price
The Skytrak ST+ is incredibly accurate, which is something we expected from the successor of the widely popular and accurate Skytrak.
Its optical system ensures that the readings are precise and reliable so you can use them with confidence. Also, the new model has a higher accuracy rate than its predecessor, making it even more dependable.
The hitting area has also been improved and is now 40% larger than that of the original device.
When it comes to price, the SkyTrak ST+ may seem pricey at $2995 (for the basic Practice Range model); however, this cost includes two USBC cables (one longer and one shorter) as well as a charging block - all of which make using the device much easier.
The Game Improvement Plan costs an additional $149, while the Play & Improve Plan (with WGT) costs $249 more. The software plans are the same as those of the original Skytrak.
Additionally, there are subscription options available for additional features and game improvement starting at just $99.95 per year for the Game Improvement tier, and $199.95/ year for the Play & Improve.
This makes it an attractive option for those who want to get their hands on top-notch golf technology without breaking the bank. The Skytrak + is one of the cheapest launch monitors available that combine photometric and radar technology.
The Skytrak ST+ proves itself to be an incredible investment thanks to its impressive capabilities and accuracy along with its reasonable pricing options.
Indoor And Outdoor With Radar And Camera Systems
Since the new Skytrak + uses both Doppler radar and high-speed cameras for extremely accurate tracking and data, it will be interesting to know how each of the tracking methods performs both indoors and outdoors. That's exactly what we're about to do!
Indoor Performance
The indoor accuracy was excellent; data about spin, speed, angles, and distances (carry & total) were spot one and actually reflected my real-life distances and numbers.
The SkyTrak+ launch monitor is a great innovation when it comes to indoor golfing. Not only does the radar and camera system allow you to get accurate distances on your shots, but also it allows you to practice like never before with its compatibility with the top golf simulation software programs available.
The combination of Doppler radar and high-speed photometric cameras makes it possible for you to use the SkyTrak+ indoors as well, allowing for unparalleled accuracy in shot tracking even if you can't hit at an outdoor range or course.
Outdoor Performance
Once again, the Skytrak+ performed outstandingly and was as accurate outdoors as it was indoors. That's a huge improvement over the original launch monitor!
Using the SkyTrak+ launch monitor outdoors is just as beneficial as it is indoors. With Doppler radar and high-speed photometric cameras, golfers can get a precise read on their shots even when they're not at a range or course.
The included Doppler radar technology in the new Skytrak + means a much better performance outdoors, be it on the driving range or on the actual golf course.
We all know that radar loves outdoor practice sessions because they provide unlimited ball flight and allow the radar device to track the ball much more accurately.
Practice & Play - Software Features
When it comes to the software options, the first thing we noticed was that the company decided to keep the same software plans of the older device; no need to change a formula that works (flawlessly)!
Accurate Data
Practicing with a SkyTrak+ launch monitor is an incredibly accurate and satisfying experience. With every swing, you're able to get immediate feedback on exactly what's going on in your game - from shot tracers that show where the ball went, to camera views that help you analyze spin rate, launch angle, and more.
And if environmental conditions change during your session or when traveling elsewhere, you can easily adjust the settings accordingly – keeping your readouts precise every time. You'll never have to guess how far a club is hitting again!
Skills Challenges
You can also practice using multiple Skills Challenges like Target Practice, Closest to the Pin, Longest Drive Contest, etc. to make practice even more purposeful.
This helps you benchmark performance, measure progress over time, or let SkyTrak choose random targets for each shot. It's like having a personal coach right at home!
Bag Mapping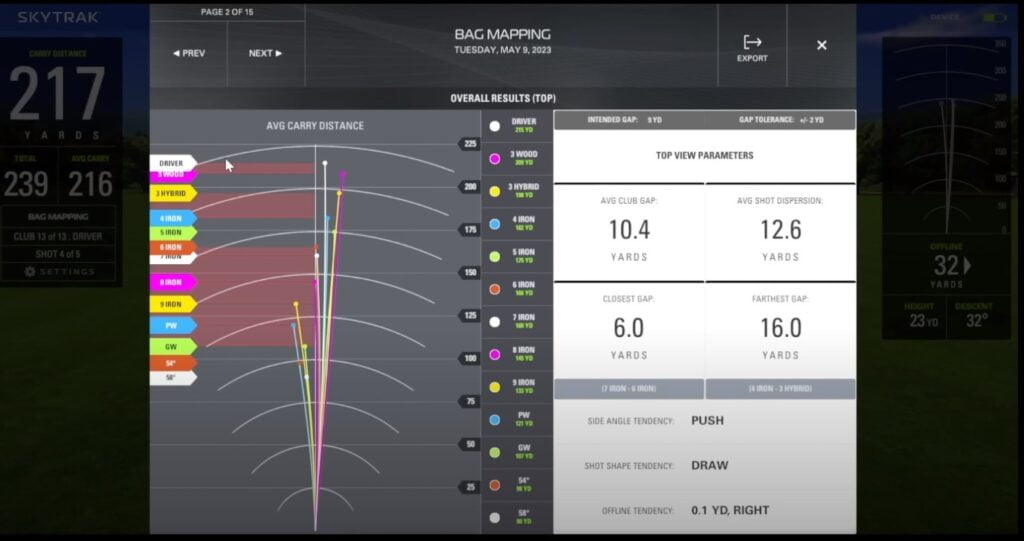 Bag Mapping helps you identify discrepancies in the distance between clubs, which can help you make better decisions while playing outside.
With SkyTrak's Bag Mapping feature, you can plot carry and total distances for each club in your bag so that you're able to measure progress over time or find any weak spots in your game.
This will give you an even deeper understanding of what's causing errant shots - making practice sessions much more purposeful.
Improved Club & Ball Flight Data Metrics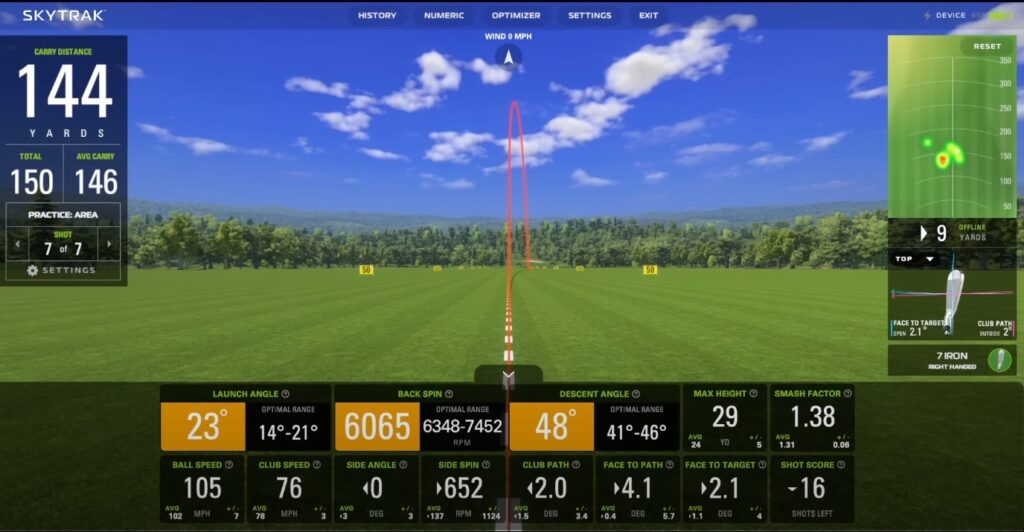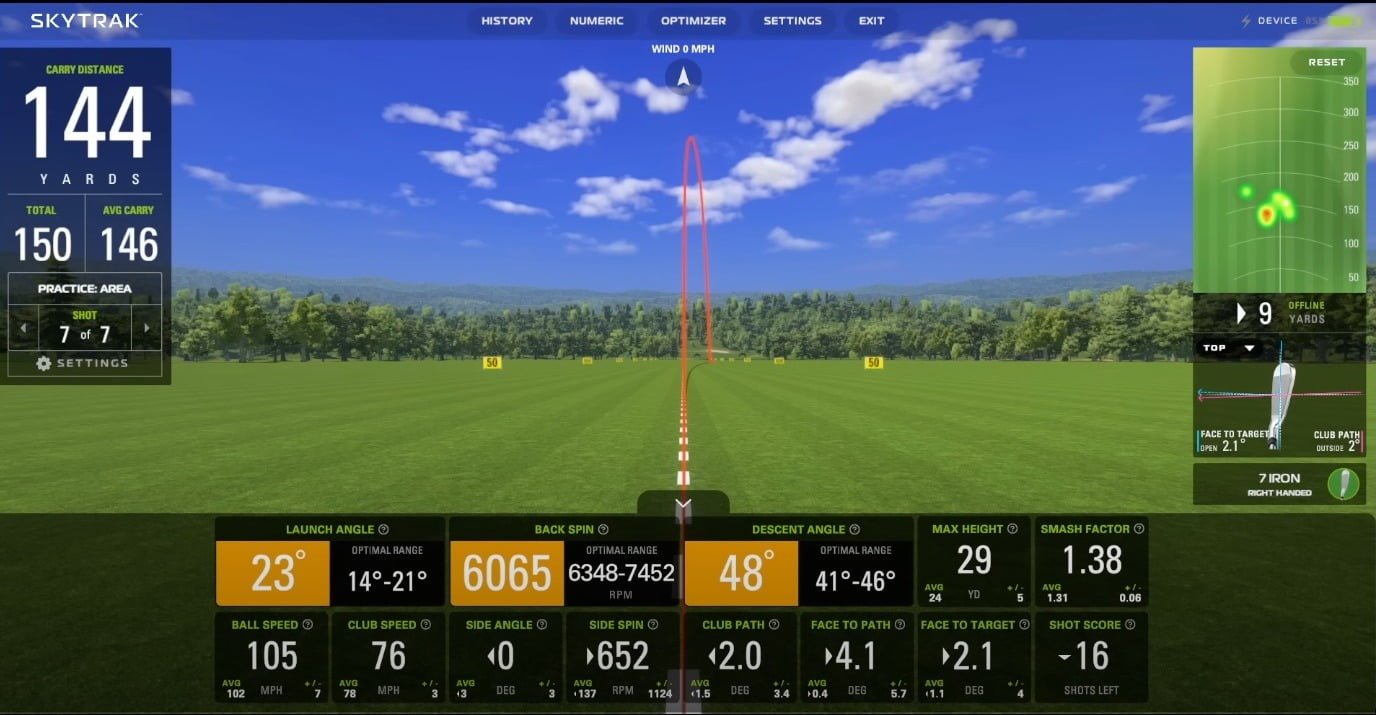 The biggest improvement over the original Skytrak is that the new device allows for tracking both the golf ball and club, while previously, only the ball could be tracked. This is done without the need to mark the balls or use club stickers; the combination of camera and radar is what allowed for such big improvement. Let's start with Club Head Speed, which is the speed of the club head at impact.
Here is the full list of the data points that Skytrak + can measure:
Club Data
Face to target
Face to path
Club path
Club speed
Smash Factor
Ball Data Points
Total distance
Carry distance
Launch angle
Ball speed
Back spin
Side spin
Side angle
Total spin
Descent angle
Max height
The challenge was to keep the data as accurate as possible, especially knowing the degree of accuracy and popularity of the previous model, which really raised the bar very high. The Skytrak Plus managed to achieve accuracy that is even superior thanks to its newer technology and increased processing power.
Trusted Accuracy - Increased Processing Power
The SkyTrak+ Launch Monitor is a revolutionary tool with its dual Doppler radar technology and improved camera system, guaranteeing unmatched accuracy in its class.
The processing power of SkyTrak+, combined with Its proprietary machine-learning algorithms is the driving force behind its unmatched accuracy. They process data quickly and accurately. Knowing this, users can rest assured that the data they receive from SkyTrak+ is highly reliable and trustworthy.
What's Included With The Skytrak+
Customers who purchase the Skytrak+ will receive the unit, a USB type C cable, a USB splitter cable, a Quick Start Guide, and a user manual.
Out of the box, the launch monitor comes with the Basic Driving Range software, which allows you to practice on the virtual driving range and display all the tracked data points and the possibility to compare different shots.
Upgrading to other software plans gives you access to additional features, game modes and virtual courses (with the possibility to play in multiplayer and online modes).
In addition to its hardware components, users can also download the SkyTrak app that provides real-time shot data analysis and skill-building games like virtual driving range.
It is easy to set up and use so you can get started right away without any hassle.
Skytrak+ Software Plans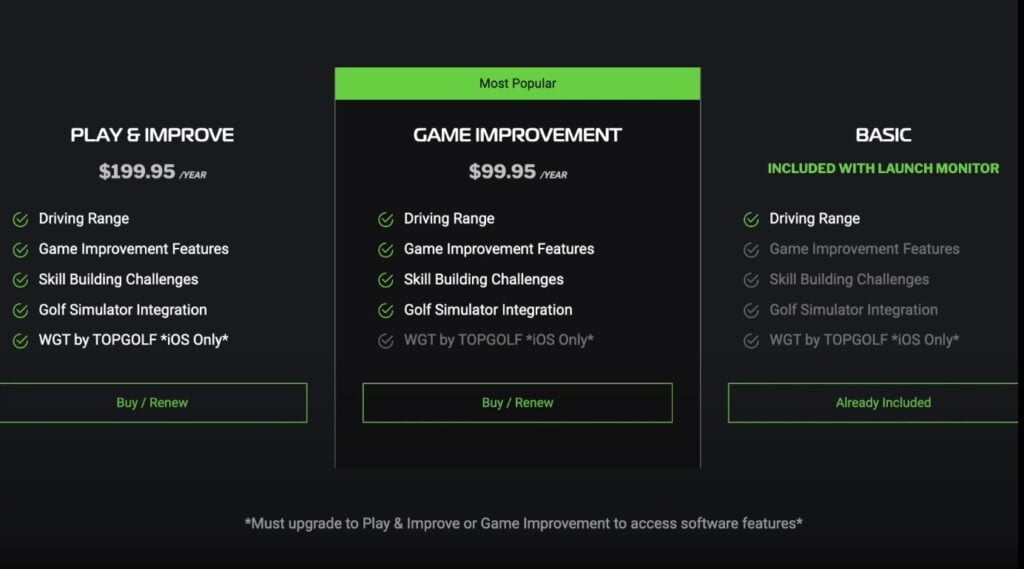 SkyTrak+ offers three software plans that give golfers of all levels the ability to improve their game.
The Basic Practice Range Plan is perfect for beginners who want to get up and running quickly with a launch monitor, USB cable, SkyTrak+ Companion App, and warranty activation. This plan provides 3D practice range simulations with shot tracer technology as well as ball and club performance data and shot replay capabilities.
The Game Improvement Plan adds an additional layer of features including longest-drive competitions, closest-to-the-pin contests, target practice, skills assessments, bag mapping for club fitting, and progress tracking via the SkyGolf 360 Mobile app. It also includes access to the 3rd party software like TGC 2019 and E6 Connect platforms (for additional subscription fees).
Finally, players looking for even more realistic gameplay can opt for the Play & Improve Package with WGT, with WGT course and online play working exclusively on iOS devices. It has everything included in the Game Improvement Plan plus a WGT Play & Improve subscription featuring full course play on eleven world-class courses.
Where To Buy Skytrak+ Online
The Indoor Golf Shop, Rain or Shine Golf, Carl's Place and Top Shelf Golf are the most reliable retailers to buy the launch monitor from, with various packages to choose from (some even provide a metal protective case).
All of these vendors have excellent customer service teams at hand who will go above and beyond in setting you up correctly. Third-party software should be purchased directly through the official SkyTrak store.
Final Verdict
I was really impressed with the SkyTrak Plus Launch Monitor. The device was easy to set up and use, and I found that it accurately tracked my shots and gave me detailed data.
I can confidently say that Skytrak delivered on all its promises and made its extremely popular launch monitor even better. I'm convinced the Skytrak+ will be a worthy successor to one of the industry's most popular launch monitors that provided great value.
Skytrak has now taken the competition to a higher (and more expensive) category. Bushnell, Foresight Sports, Flightscope, Full Swing, and all the big names should be worried; there is a new player in town!
WRITTEN BY

My name is Jacob, a self-diagnosed equipment and golf enthusiast. I've been golfing since I was 15. Golf has always been my passion. I'm a bit of a golf equipment nerd and I've been that way since the moment I picked up a club for the first time. As someone who's been on both sides of the game, I know what it takes to be a good golfer. Of course, you need good equipment, but you also need to know how to use it. I hope sharing my experience with you will help you improve your game.
You May Also Like