Bushnell Launch Pro Launch Monitor Review
Last updated:
April 6, 2023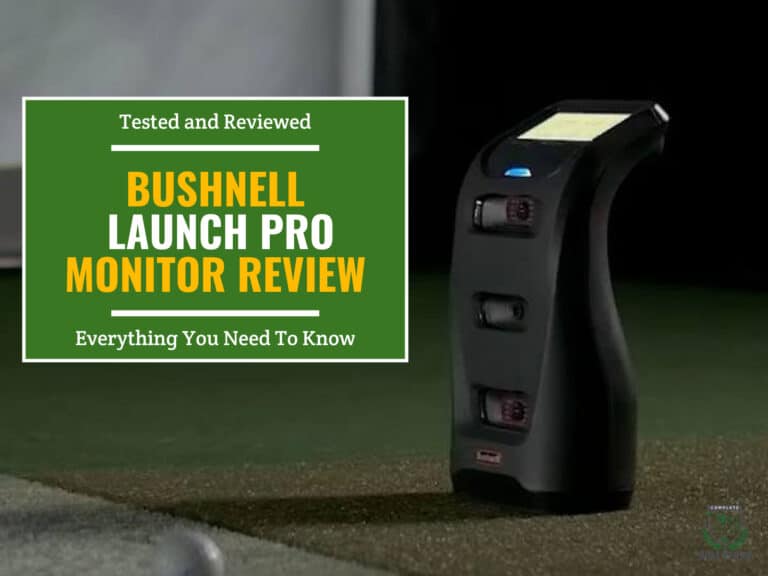 Disclaimer: We may earn a small commission from some of the links on our website. However, our reviews and comparisons remain fair and unbiased. Our goal is to help you make the best choice. For more information, please see our
disclosure statement
. Thank you for your support.
Key Takeaways
With its impressive tour-level accuracy, the Bushnell Launch Pro is an excellent golf launch monitor that provides performance and metrics comparable to those of Trackman, X3, GCQuad, GC3, etc. while costing a fraction of their price. You get plenty of ball and club metrics and support for virtual golf simulation without paying a premium. Consider buying the Launch Pro as getting a much cheaper GC3!
As a result of an acquisition, Foresight Sports and Bushnell Golf are now under the same roof - Vista Outdoor. Consequently, tour-level launch monitor figures and simulations are now accessible to amateur golfers with their custom indoor simulator setups who are ready to pay for the most accurate technology in these devices, namely a camera-based system.
The Bushnell Launch Pro was released late in 2021. In this review, we will delve into the specifics of the Launch Pro to assist you in determining how this piece of technology will help you improve your game with its unmatched ball flight data.
First Impressions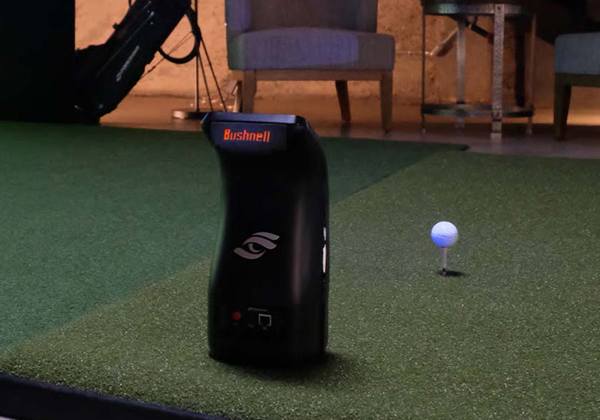 The Bushnell Launch Pro is a professional-grade launch monitor. As such, many of its features and usability considerations are oriented toward professionals instead of amateur golfers
Similar to the GCQuad, getting the most accurate club data requires the application of stickers on the club face. The stickers are durable and simple to apply.
You can label each shot with tags for club fitters. During a driver fitting, this may be the name of the club or shaft, or the weight or hosel setting. If you forget to make a change, you might alter the tags after the fact, which is a sensible feature.
The Bushnell Launch Pro is a significant step in making professional-grade launch monitors accessible to the general public. It reduces the cost of Tour-level data by better than half, allowing more golfers to improve their swing and equipment.
This is a good time to add a launch monitor to your arsenal, if you've been waiting to do so.
Product Overview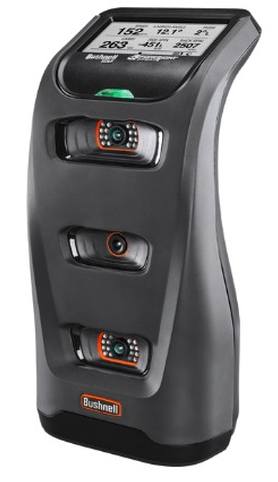 The usual launch monitor employs radar equipment that is positioned behind the golfer and the ball and then depends on algorithms to guess what happened after the golfer stroke the ball. The Bushnell Launch Pro combines the company's exclusive high resolution/ high speed cameras with infrared which have been optimized for optimal tracking and detection.
This three-camera system is auto-calibrating to see impact like never before, providing you with Tour-level accuracy and performance so you can trust your golf swing on the course.
What's Included with Purchase
Launch Pro Device
Club Markers (28)
USB-C Cable
Power Cord & adapter
Alignment Stick
1st Year of Basic Software Package
Quick Start Guide
Launch Pro offers a range of Software packages from Foresight Sports ($249/year after 1st year) 30-Day FREE Trial of Gold Software Package powered by Foresight Sports.
Not Included: Gaming PC (Required to power FSX Play Software, including Silver and Golf Packages). The PC System Requirements for both FSX2020 and FSX Play are as follows:
Operating System: 64 Bit Windows 10 or greater. iOS, Linux not supported.
Processor: Intel i5, i7, or i9 processors (7th Gen or greater). AMD CPU not recommended.
RAM: 8GB system memory. 16GB+ recommended to use Swing Camera/Swing Catalyst features.
Video Card: Nvidia GeForce GTX 3060 or greater.
As you may have noticed, the simulation software does require a beefy PC configuration, especially on the graphics card side; but this is expected, as the FSX software are some of the most visually stunning simulations available on the market today!
Set Up and Ease of Use
The user-friendliness of the Bushnell Launch Pro is one of the main reasons to choose it. Press the blue power button and place the device on the ground to begin practicing. You can do it without specifying the club you're using and without an application.
The Launch Pro's touchscreen allows you to manage a variety of features, including club tracking and backlighting. For more comprehensive instructions, you may refer to the user manual provided [1].
Here is a short video (41 sec.) that shows you how easy it is to set up and calibrate the unit:
Parameters and Features
The dataset is not quite as strong as that provided by the GC Quad, but you should not expect it to be given the price differential.
Foresight Sports does not compromise on accuracy; therefore, in addition to the more robust hardware, the quantity of metrics given distinguishes the GC Quad from the Launch Pro.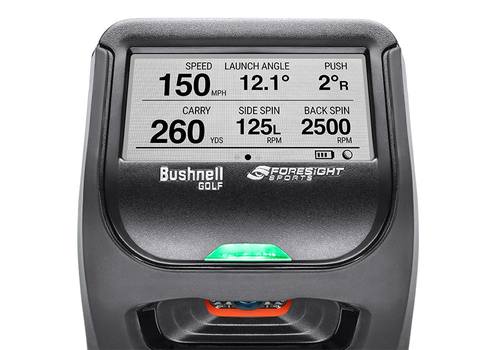 Launch Pro Ball Data Metrics
Ball Speed
Total Spin
Back Spin
Side Spin
Spin Tilt Axis
Side Angle
Vertical Launch Angle
Horizontal Launch Angle
Carry Distance
Total Distance*
Offline Distance *
Descent Angle *
Peak Height *
Club Performance Data Metrics
Clubhead Speed
Smash Factor * (Efficiency; ball speed divided by club head speed)
Club Path
Angle of Attack *
* accessible through FSX or FSX Pro Software only.
Accuracy
The Launch Pro captures and measures thousands of frames per second to deliver the most reliable and accurate launch condition and ball flight. Combining the data-driven algorithms of Foresight Sports with the precision of Bushnell optics enables you to obtain reliable results.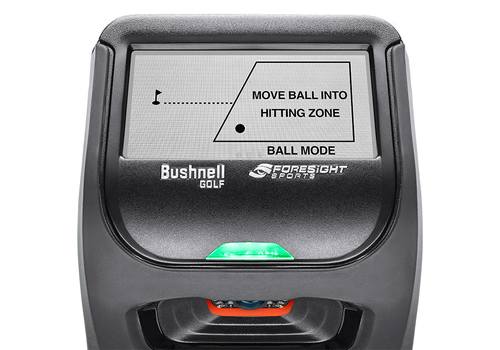 A customizable target line is an incredible feature that the Bushnell Launch Pro shares with the GCQuad. This may be accomplished in only seconds using the provided reflective alignment rod. You can place the rod on your desired line and wait for the beep. This eliminates issues regarding the unit's alignment with the target.
The reality is that camera-based systems are invariably more precise indoors and in confined airspace. They can also capture spin rates in any scenario with greater precision. A camera-based system will be the superior option for most golfers seeking a personal launch monitor.
Whereas competing launch monitors struggle with ambient light sensitivity, narrow hitting windows, and insufficient performance capture capabilities, the Launch Pro provides unparalleled precision and dependability both indoors and out.
Subscription-driven
The Bushnell Launch Pro is available with subscription options to accommodate your specific needs. Each item includes a complimentary one-year subscription to the Basic package and a 30-day trial of the Gold package, which grants you access to the following virtual courses: Willow Crest, Teton Pines, Kinsale, The Farms, Tall Pines, Butterfield, Blue Bayou, Broken Tree, Linfield National, and Beaver Hills. There is also the possibility to purchase additional courses individually.
The features of a simulator require a gaming PC and display. Note that subscriptions are regulated and paid for by Bushnell.
Get full launch monitor performance data with the Launch Pro out-of-the-box and a free one-year basic package plan for around $4,000. Multiple iterative plans augment capability and simulation (with free trials).
Bushnell Launch Pro Subscription Options
Refer to the table below to learn more about the subscription options for the Launch Pro.
| | | | |
| --- | --- | --- | --- |
| Basic Subscription | Silver Subscription | Gold Subscription | Unlocked |
| First year free, $99/year after the first yearEnables the saving of sessions, the creation of a player profile, and the recording of up to 14 clubs.Contains 2D ball flightiPad is required for FSX Pro program installed for Basic Subscription | With $399/year this subscription includes everything in Basic Subscription. Includes Foresight Range and multiplayer options for up to 4 players.Includes 5 courses and a Simulation option.The configuration of the FSX Pro program for Silver Subscription requires a gaming PC. | $799/year (30-Day free trial)Includes everything in Silver Subscription. Includes Foresight Range and multiplayer option for up to 8 playersIncludes 5 additional courses (10 in total) and a Simulation option | $3,995 one-time fee, includes everything in the Gold Subscription with no annual payments; ownership is permanent. |
For those who are more interested in fun-oriented simulation or spending time with the family, two game addons can be purchased separately: Zombie Golf and Foresight Fairgrounds. These offer fun and fast paced modes that give a break from the serious sessions of virtual golf and/ or teaching / fitting routine. The two addons cost 125 dollars each and surely provide a lot of fun, especially for younger golfers.
Bushnell Launch Pro: Pros and Cons
This is a quick rundown of the pros and cons of the Launch Pro.
Pros
GC series accuracy and quality for a fraction of the price
Extremely accurate
Very well-built
Professional metrics with both app and simulator functionality
Freedom to invest in a specific simulation software that suits your needs.
Cons
Subscription model is rather costly
Requires a gaming PC for all simulator features
Bushnell Launch Pro vs. Foresight GC3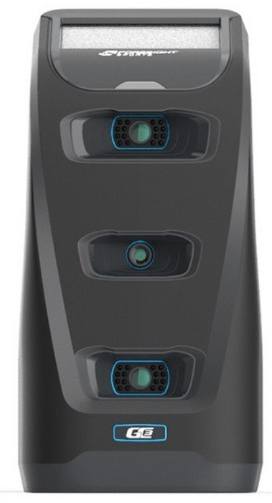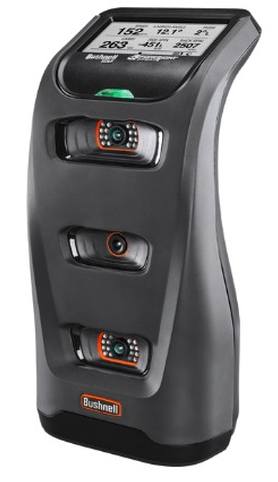 You may be hesitant between the Bushnell Launch Pro and the Foresight GC3 if you need a professional-level experience for club fitting, intense practice sessions, or a permanent at-home practice or simulator solution.
Let's start with the technical details. Foresight Sports manufactures both the GC3 and the Launch Pro. The San Diego-based company's offices, where the new launch monitors are manufactured, were recently extended. They can produce more than 200 units daily to meet the projected demand.
The primary physical difference between the two is that one's badges read "Foresight Sports"/"GC3" while the other's badges read "Bushnell Launch Pro"/"Foresight Sports." The circuits, the cameras, and the entirety of the gear and software are identical.
The other differentiating characteristics are pricing and functionality. You can pay $4,000 for the Launch Pro and receive limited data, in addition to subscribing to a plan tier for which you will receive additional metrics and data. Otherwise, you may pay $7,000 for the GC3 and receive everything for life.
The Foresight GC3 is a fully working, out-of-the-box, one-time-payment device. It provides access to all the golf ball and club head data points the device can capture, together with fully working FSX simulation and practice software with course bundle, Foresight's Fairgrounds gaming package, and online play.
Check Also: Foresight Sports GC3 Launch Monitor Review
Where to Buy?
Customers may take advantage of free delivery choices through online retailers such as Shop Indoor Golf, Rain or Shine Golf, Top Shelf Golf, and Amazon, where the item is available at a reasonable price and with free shipping options.
Pricing may vary per retailer, however consumers may frequently discover discounts and special offers.
The only way to verify that the Bushnell Launch Pro Golf Launch Monitor is covered by the manufacturer's warranty is to purchase the device from an authorized retailer.
Frequently Asked Questions
This section contains common questions related to the Launch Pro.
How Much is the Bushnell Launch Pro?
The Bushnell Launch Pro is priced at $3,999, which is more than many golfers can afford, but at least we're in the ballpark. It makes expensive camera-based launch monitor technology substantially more affordable to golfers.
Certainly, $4000 is a significant increase from the $500 (give or take) price point of entry-level, radar-based (small doppler) systems, but as we've been saying for years, solid accuracy comes at a price far higher than $500.
How Much Space Do You Need for the Bushnell Launch Pro?
When using the unit indoors (with a custom indoor setup), we recommend that you allot 13 feet of room depth to track ball flight, at least 10 feet of width, and enough ceiling height to safely swing a club (8 to 9 feet). The more available space, the better!
These spacing requirements are solely dedicated to the amount of space you can safely swing a driver, not the space required for the Launch Pro to read shots. The Launch Pro is positioned around 2' in front of the ball and requires a few inches of ball flight to track your shot accurately.
How Much Space Do You Need for the Bushnell Launch Pro?
When using the unit indoors (with a custom indoor setup), we recommend that you allot 13 feet of room depth to track ball flight, at least 10 feet of width, and enough ceiling height to safely swing a club (8 to 9 feet). The more available space, the better!
These spacing requirements are solely dedicated to the amount of space you can safely swing a driver, not the space required for the Launch Pro to read shots. The Launch Pro is positioned around 2' in front of the ball and requires a few inches of ball flight to track your shot accurately.
Can you use the Bushnell Launch Pro with GSPro golf simulator software?
Yes, even though GSPro is not officially supported on the Bushnell Launch Pro, it can still be used through their Open/API that allows for the integration of the GSPro on any launch monitor and simulation software.
It does take some fiddling around, but a lot of owners reported that they used GSPro with the Launch Pro and had no problems so far. I tried it myself, and everything seems to work just fine. Just bear in mind that you'll need, at the very least, a basic subscription plan to be able to integrate GSPro.
Do You Need to Connect the Launch Pro to WIFI?
You can connect your launch monitor to a computer via WIFI or through any of the available interfaces, namely ethernet or using the included USB cable.
However, the device must perform an online validation of your subscription every 45 days, so you need to connect it to the Internet a minimum of once every 45 days.
Who is Bushnell Launch Pro For?
The Launch Pro  is best suited if you satisfy the following criteria:
- Accuracy is the most crucial component.
- You intend to use it primarily in a permanent simulator or practice arrangement at home.
- You are a professional golf instructor.
- You are a golf club fitter.
- It is within your budget
- It is essential to have visual data on the launch monitor itself so that you do not always need to use an app.
Final Verdict
Do we believe the personal launch monitor and home golf simulator Bushnell Launch Pro is worth the $4,000 plus annual membership fees? For accuracy? Yes, of course!
Are you the type of golfer wanting to invest in previously unattainable tour-level performance and accuracy? You will not find a reliable and accurate launch monitor for a comparable price.
This is owing to the established photometric technology of Foresight Sports, which places it on par with the GC Quad at a fraction of the cost.
You can take your practice sessions with this impressive launch monitor to the next level. The Launch Pro gives you true-to-life simulation and lets you enjoy the best courses. The triple camera system operating at thousands of frames per second will be the all seeing eyes that don't miss any details of your shots!
Reference
[1] Bushnell Golf (n.d.). Launch Pro User Manual. Retrieved from: https://www.bushnellgolf.com/content/product/Support/User-Manual-Launch-Pro-Launch+Monitor-Model-501000.pdf
WRITTEN BY

My name is Jacob, a self-diagnosed equipment and golf enthusiast. I've been golfing since I was 15. Golf has always been my passion. I'm a bit of a golf equipment nerd and I've been that way since the moment I picked up a club for the first time. As someone who's been on both sides of the game, I know what it takes to be a good golfer. Of course, you need good equipment, but you also need to know how to use it. I hope sharing my experience with you will help you improve your game.
You May Also Like