Foresight Sports GC3 Launch Monitor Review
Last updated:
June 26, 2023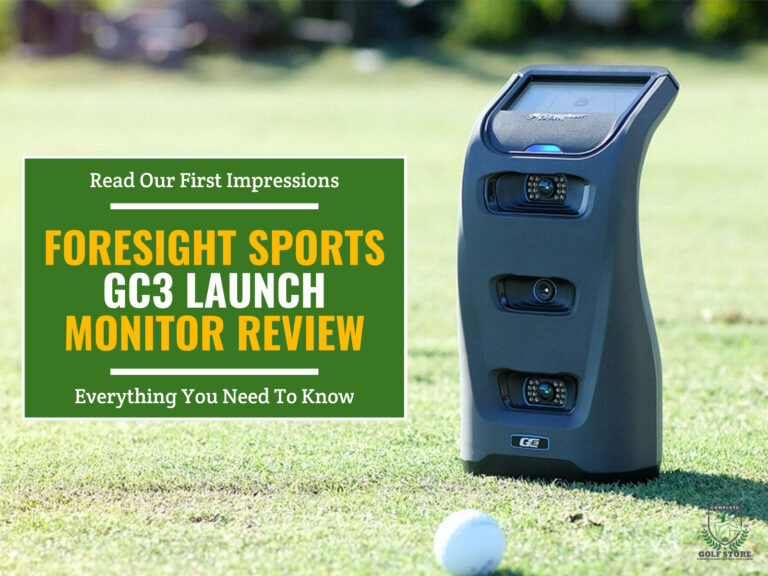 Disclaimer: We may earn a small commission from some of the links on our website. However, our reviews and comparisons remain fair and unbiased. Our goal is to help you make the best choice. For more information, please see our
disclosure statement
. Thank you for your support.
Key Takeaways
The Foresight Sports GC3 is a triple-camera system that provides more than enough ball and club data points with pinpoint accuracy. In addition, it comes with the FSX 2020 simulation software and has a respectable battery life that allows it to be used for 5 to 7 hours.
Overall, the GC3 is an excellent launch monitor that provides accuracy, versatility and portability comparable to the GCQuad while being considerably cheaper!
Released on October 3, 2021, the GC3 has been considered by many golfers as a superior alternative to many other launch monitors currently available on the market.
According to Rick Cuellar, the Director of Sales for Foresight Sports in the U.S.A, the GC3 was developed from the ground up to fill the gap between their original ball-data-only GC2 and the unparalleled data insight provided by the GCQuad.
The GC3 provides golfers with the critical golf ball and club data they need to improve their game and powers a true-to-life golf simulation. At this price point, no other product on the market even comes close to giving the same variety of options, let alone the same level of accuracy indoors and outdoors.
Let's explore the GC3's capabilities and see what makes it one of the best launch monitors ever manufactured.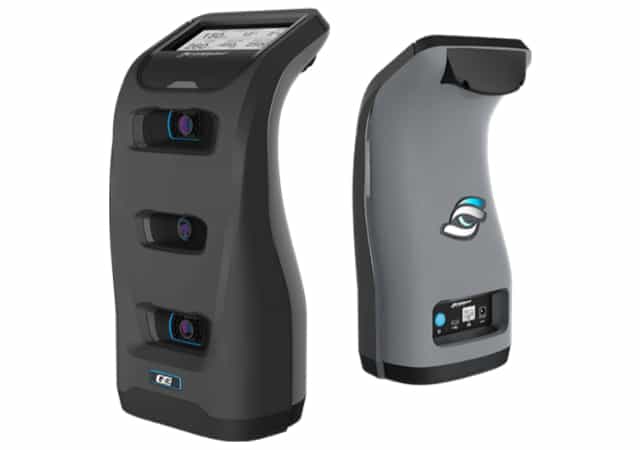 First Impression
The Foresight Sports GC3 launch monitor is an offering designed to address the lack of accuracy that many golfers experience while using other devices. Some golfers may view the Foresight GC3, which has a higher price point than most others in its category, as a more pricey alternative to consider. However, it does come with a few amenities that make it a worthy buy overall.
To get things started, this launch monitor provides a considerable amount of data. The data users receive is also improved, making it more accurate and helpful. Because of this, the Foresight GC3 is an option that golfers of all skill levels will find to be rather trustworthy. Customers will benefit from the extremely high degree of precision offered by GC3's multiple data points.
The metrics that it provides are typically absent from launch monitors that are more reasonably priced. A barometric sensor is also included in the GC3's hardware. This sensor can assist golfers in maintaining their performance regardless of where they are in the world or of elements such as altitude, humidity, and temperature.
The barometric sensor in the GC3 is what provides you with the incredibly precise data you need for any course. Despite the personal launch monitor's premium price point, it is still an option worth considering, mainly due to its high level of dependability.
You can use the GC3 for teaching purposes, as a supplement to any class, and profit from the extremely accurate readings it provides.
Product Overview
You can use the GC3 launch monitor outside on the course or inside with your home simulation system. It has three precise cameras that can scan golf club and ball data, a touchscreen display that can assist you in keeping track of your shots, and it is easily portable.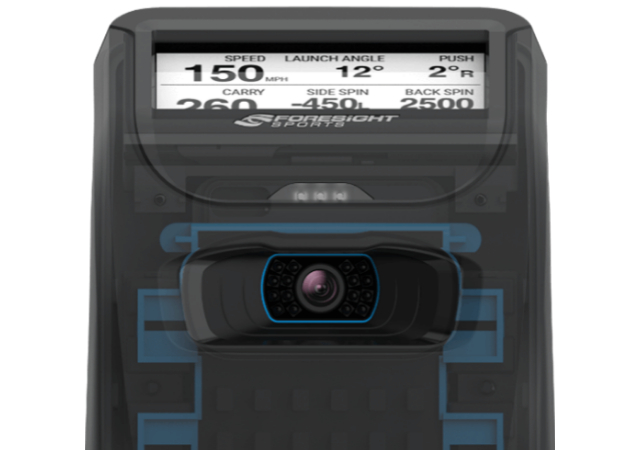 Set Up and Use
Connect the GC3 to an outlet and let the battery fully charge before you begin using it. In the Settings menu, the battery level may be checked.
When you initially turn on the GC3, you'll be given the option of connecting via Wi-Fi or Ethernet. Afterward, you'll need to use the QR code shown on the display to register the device.
A two-foot distance from the hitting area is ideal for placing the GC3. At address, the unit should be perpendicular to your aim line and slightly forward from your golf ball. Ideally, the GC3 should be at the same height as the hitting surface to be able to track your shots accurately.
This positioning of the GC3 allows it to keep track of ball and club data within a tracking area of roughly 7"x10".
Once the device detects the ball in the hitting zone, the word "Ready" is displayed on its screen and the LED light turns blue or green.
If you need to track your golf club as well, then you'll need to apply the provided club markers to the face of your club.
To make sure the device is properly setup and connected, you can check it via software:
If you are using FSX2020, install it on your (Windows 7 or later) PC and then navigate to FSX settings, device and then "Connect the GC3". The software should display "connected" in green color.
With the Trugolf E6 Connect software, install it on your (Windows 10 or later) PC along with the E6 Installer and follow the steps displayed on the screen. Activate the software with the code you get with your purchase, and then go to the software settings to connect the GC3 and create (or connect) your E6 account.
Please bear in mind that you will need to periodically re-validate online connectivity (every 45 days). So if the unit asks you to re-validate, it's perfectly normal. To keep the unit in top condition, it is recommended to store it in a cool, dry location, and only clean it using a slightly damp cloth.
In case you need more information about the GC3 setup and features, you may refer to the user manual.
Here's an overview (5 minutes 32 seconds) of the settings of the Foresight GC3 Launch Monitor.
Pricing & Software Plans
The GC3 launch monitor has a starting price of around $7000, and this price includes an FSX 2020 software license that comes with 10 different courses.
However, the GC3 is only available for purchase if it is included in either the Essentials Plus Bundle or the Players Plus Bundle.
The Essentials Plus Bundle is the more affordable option of the two bundles, coming in for $7499; however, in addition to FSX 2020 with 10 courses, it also includes the latest version of the FSX Play software which features the La Jolla Pines golf course. The FS Performance Fitting App and the FSX Pro program, both of which can be used for fitting and coaching, are also included.
The Players Plus Bundle comes with everything included in the Essentials Plus Bundle, as well as ten additional courses for FSX 2020. Many of these courses are well-known all over the world, such as Pebble Beach, the Old Course at St. Andrews, Carnoustie, and Spyglass Hill. The price of the Players Plus Bundle is $8999.
Additional golf courses, either premium or normal, can be purchased for FSX2020 at a price ranging between $95 and $900 each. To integrate the E6 Connect software, you will have to pay $2500 and a subscription fee.
If you combine GC3 with the FSX2020 performance and gaming package, you will have access to 5 Courses (Teton Pines, Broken Tree, Linfield National, Willow Crest, and Bayou Golf & Fishing Club) that will help you enhance your skills while competing with players from across the world.
Surely, Foresight Sports had to make a few more sacrifices to get the price down, such as a non-metallic finish, a fixed battery, a smaller hitting zone, and the lack of functionality of Bluetooth, but we think it's a minor tradeoff that won't affect the majority of users at all. It's a tradeoff that's worth considering.
Because of the significant amount of money you will save by purchasing a GC3 (compared to Trackman, X3, or the GCQuad), you will have a great deal of leeway to design an outstanding golf simulator set up complete with an enclosure, impact screen, projector, hitting mat, and other components.
Data Parameters Measured
Launch Angle
Side Angle
Ball Speed
Total Spin
carry
Side Spin/Spin Axis
Club Head Speed*
Smash Factor* (Efficiency)
Club Path*
Angle of Attack*
*Parameters related to the golf club, possible to track after applying the clubface marker!
Pros
Photometric technology with a high degree of accuracy
Integrated touchscreen within the display of the monitor
Rich textures, 3D grass and vegetation, improved lighting, an upgraded user interface, and other elements create one of the finest simulation experiences to date.
Cons
The price is relatively high
Performance Analysis Tools
In order to take full advantage of the accuracy and multitude of readings provided by the GC3, you will need to figure out what those numbers mean, what they reflect and how you can use them to improve your game.
This is where the provided software shines, as it provides performance analysis tools for better usage of the recorded data (and videos).
The included FSX software is where you can go to figure out all your tracked data and numbers. Using the driving range of the FSX 2020, we will try to see what things look like.
After hitting the ball, the unit tracks all your metrics; all you need to do is go to "Data Analysis" in the menu and choose "Ball" tab to view data about dispersions and ball trajectories. You get to choose to see data relative to your last shot, or an average reading of all your shots.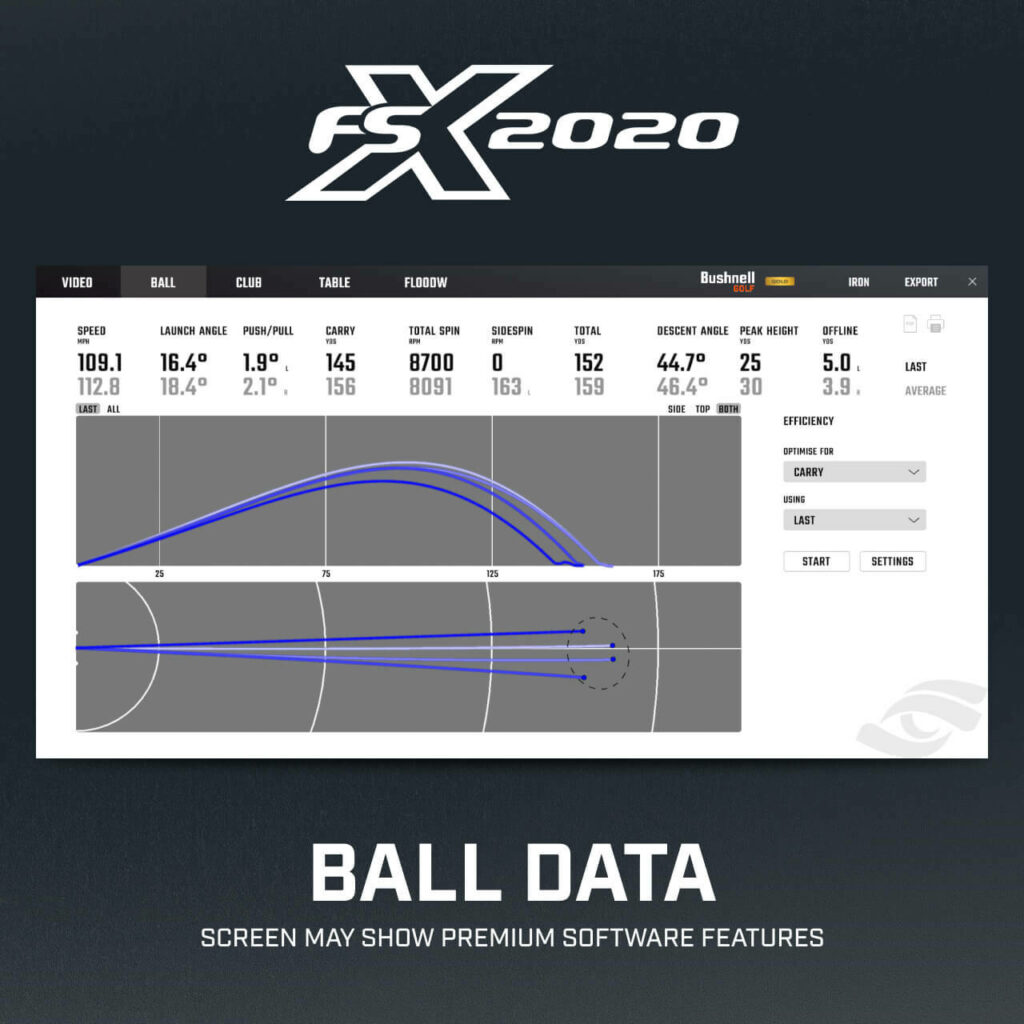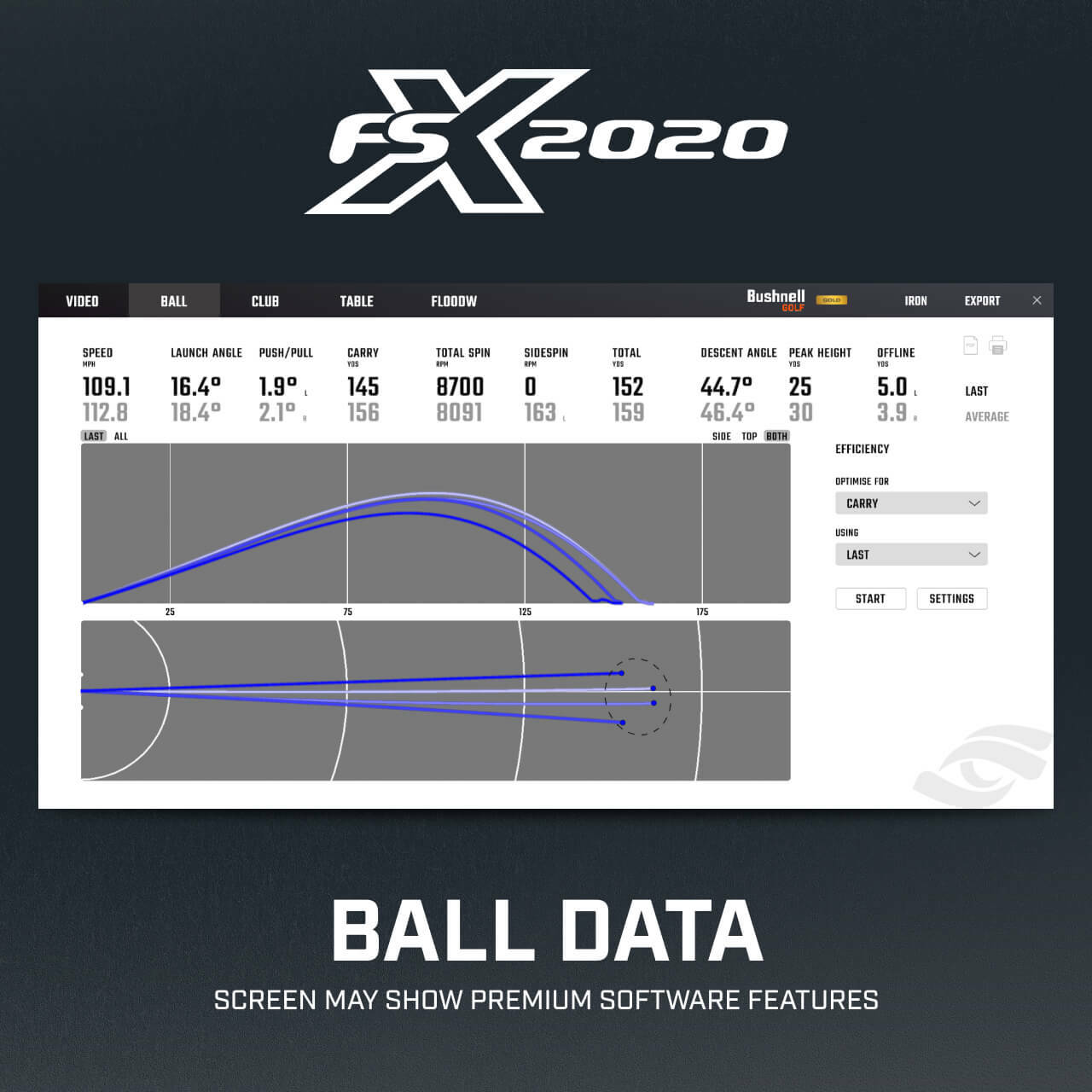 Going to the "Club" tab will open a graphically impressive interface with all the data related to your golf club, including side angle, side spin, spin axis, etc. However, you may notice that some metrics are missing, like impact location, loft and closure rate; these are reserved for the pricier GCQuad, and won't be displayed while using the GC3 since they aren't tracked.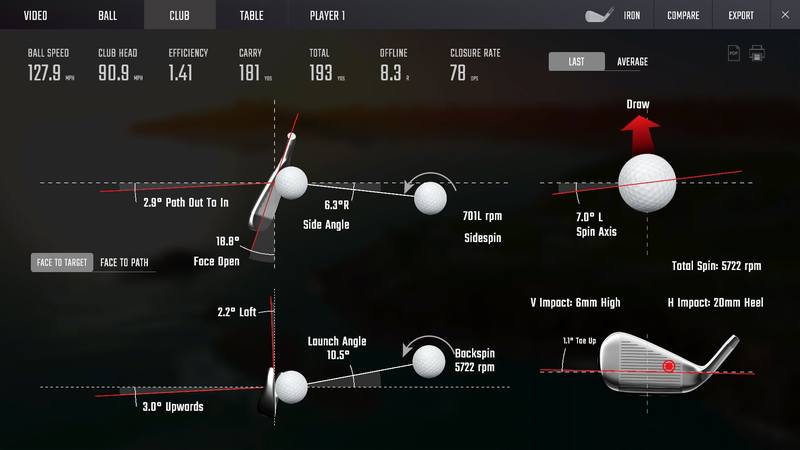 If you record any videos during your practice sessions, these can be found under the "Video" tab. The recorded metrics are also displayed on top, and you get to use markers to analyze your swing video, change the speed of playback, etc.
By navigating to the "Table tab", you can analyze and compare data for each individual shot in a tabular format. The data can be saved as a PDF, printed, compared to previous rounds, and exported to other applications or devices.
The level of detailed analysis provided by the GC3 tracking system is unparalleled, as demonstrated by the Table tab. While not quite as in-depth as the analysis provided by the GCQuad, the GC3 is still incredibly comprehensive and provides a wealth of insights for golfers looking to improve their game.
Simulation Capabilities
The GC3 is officially compatible with three major simulation software- FSX Play, FSX2020 and E6 Connect.
FSX Play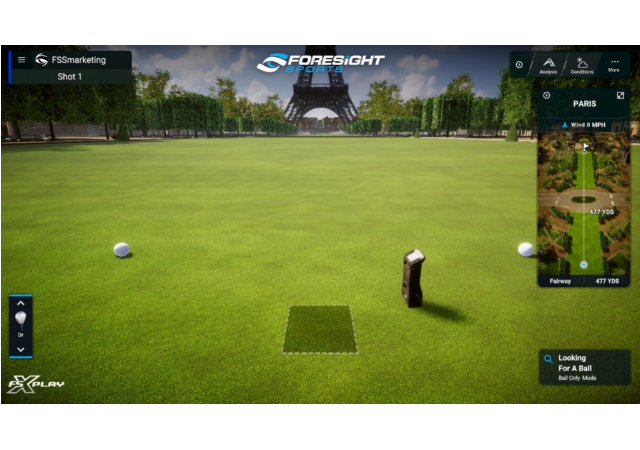 FSX Play is Foresight Sports' latest simulation software; it provides enhanced graphics (up to 5K resolutions), rich textures, 3D grass, and an improved minimalistic UI. The software builds on FSX 2020 but uses better technologies like High Definition Render Pipeline (HDRP) and the Unity Graphics Engine. The result is truly stunning.
There are three game modes in FSX Play: Full course play with full customization, Practice (to play in unique places, like in front of the Eiffel Tower) and Games (challenges like closest-to-the-pin, long drive, etc.).
FSX Play is the company's attempt to improve the quality of its simulation software, as it brings along a new user interface to make the displayed data less distracting. The development team has been working relentlessly to bring all the golf simulation features and playable courses of the FSX 2020 to the new simulation software.
FSX 2020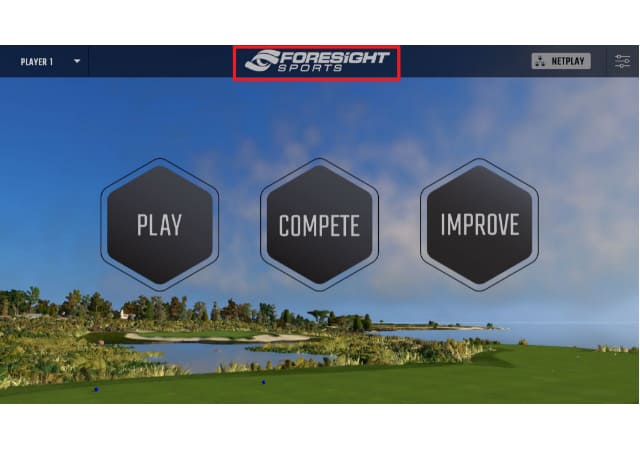 This is the company's in-house complete simulation software that comes with all their commercial launch monitors. It includes multiple driving ranges and fully playable virtual courses.
The three main game modes are: Play (full courses with up to 4 players), Complete (increasingly difficult challenges, and the possibility to share results with other players online) and Improve (Serious practice and fitting purposes - real-time data displayed for your clubhead and ball performance).
Compared to the FSX Play, FSX 2020 provides plenty of features, game modes and metrics to help you improve your golf game, but the graphics are lower than those of the FSX Play.
E6 Connect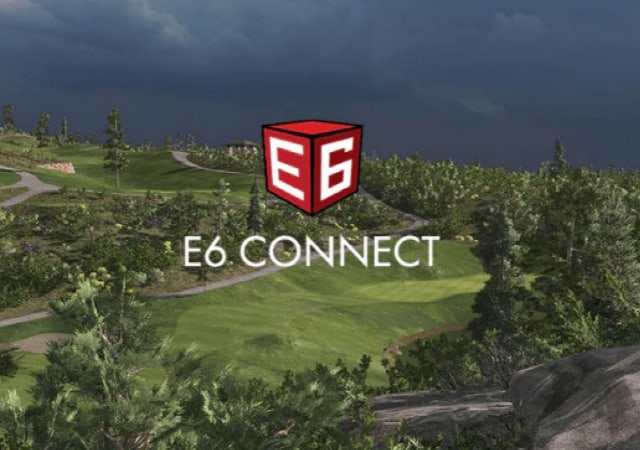 Using the E6 Connect software on the GC3 requires a license for FSX2020. This is one of the most realistic and graphically stunning software on the market today. Also, it allows for many online features like shot history (for every single shot you make), tracking shots under different profiles, etc.
The E6 Connect has different game modes and challenges, including a full practice range, multiplayer competition modes, online events and tournaments, adjustable gameplay settings, and a multitude of mini-games.
The extended subscription to the E6 Connect software gives you access to more than 68 additional virtual courses playable in jaw-dropping graphics that make the experience more realistic and immersive.
E6 Connect is not a cheap option (as it comes at an additional cost), but it is the best and most powerful golf simulation to date, and being able to play it on your GC3 system is awesome.
The fact that the FSX2020 license (required for E6 Connect integration) is already included in the price of the GC3 is a good thing in case you want to spend more to enjoy the best virtual golf experience possible today.
Where to Buy the GC3?
Shop Indoor Golf, Top Shelf Golf, and Rain or Shine Golf are, in addition to the Amazon website, the few online retailers that, in our opinion, offer the GC3 at the most competitive prices. These sellers offer an opportunity to upgrade to the Players Plus Bundle when purchasing the Essentials Plus Bundle, which contains everything else that is included in the package.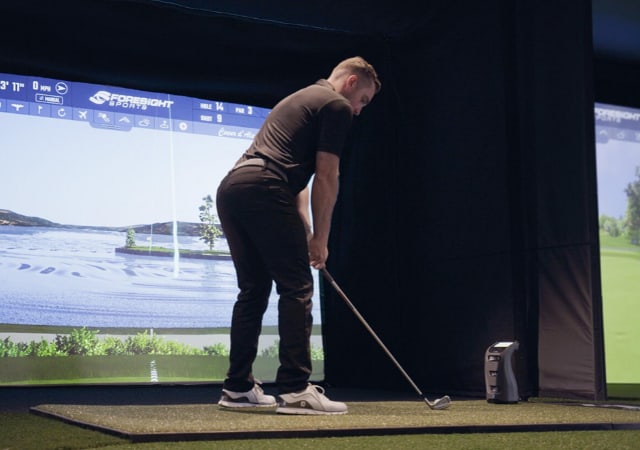 Your preferences will determine which of these vendors is the best fit for you. These companies offer fantastic customer service teams that will go above and beyond to ensure that all of your needs are met.
If you plan to use the GC3 with a complete sim package, then we suggest considering the official setup- the Sim-In-A-Box Birdie Plus Package; it's all made by Foresight Sports and includes the GC3, a gaming computer with FSX2020 already installed, a landing pad turf, projector, full enclosure and hitting screen, hitting mat and strip, and computer cart. The Birdie Plus was our top pick among the best indoor golf simulators.
You may also pair the GC3 with some of the best golf simulator studios available today, including the SIG12, SIG10, Perfectbay, or Swingbay. These are the best in business, and will pair beautifully with the GC3.
Alternatives
If you are still considering your options, the following devices may help you decide.
Foresight GCQuad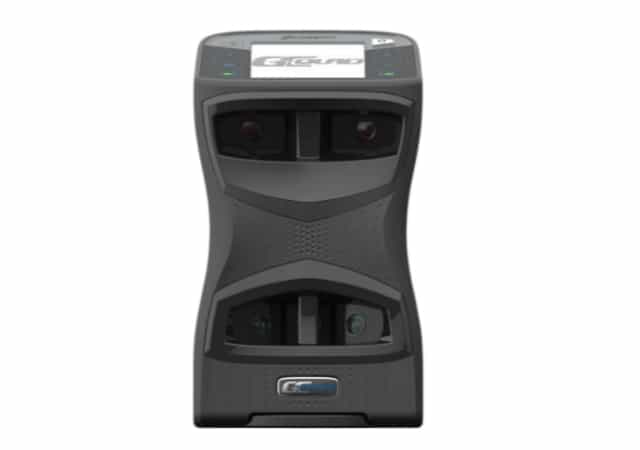 Without a doubt, the GCQuad is one of the most cutting-edge and powerful launch monitors now available on the market. It is now the most expensive portable launch monitor in the GC line, at the time this article was written.
Using a mix of infrared object tracking and high-speed camera systems, the GCQuad accurately records the performance characteristics of both the club and the ball. This capability is shared by the other GC launch monitors manufactured by Foresight Sports.
The GCQuad, which was introduced in 2017, makes use of a quadrascopic camera system, which is an improvement over the stereoscopic camera system that was used by the GC2.
It is possible to obtain data that are direct rather than computed thanks to four high-speed cameras positioned at the four corners of the device. These cameras capture thousands of photos per second and generate a comprehensive 3D model of the club and the ball during impact.
Parameters Measured
ball speed
carry distance
spin
side spin
horizontal & vertical launch angles
The following metrics are able to be taken thanks to the club data add-on that is available for the GCQuad:
club head speed
smash factor
club path
angle of attack
face angle
closure rate
clubface impact location
lie & loft at impact
The putting add-on for the GCQuad allows for the following measurements to be taken:
putter speed
putter path
smash factor
angle of attack
spin-tilt axis
impact location
ball velocity
horizontal launch direction
vertical launch angle
sidespin
backspin
total spin
impact face angle
impact lie
When it comes to accurate measurements of ball and club data, the Foresight Sports GCQuad launch monitor continues to be one of the most popular options on the market. As long as you configure the device correctly, the accuracy is pinpoint. You will receive everything necessary to have a thorough comprehension of your game.
Bushnell Launch Pro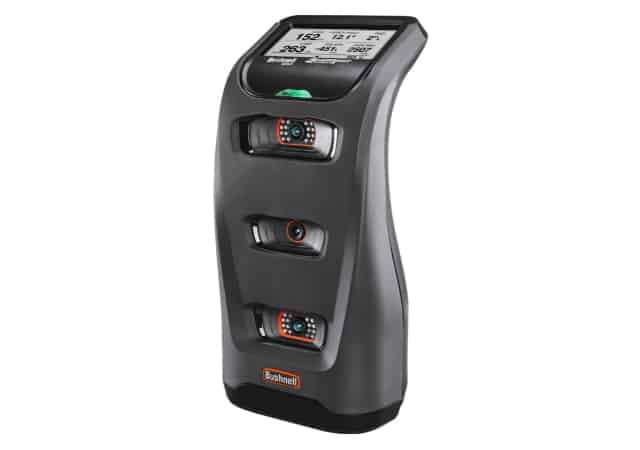 Vista Outdoors, the parent company of Bushnell, made the acquisition of Foresight Sports around the end of the year 2021. By completing this purchase, Bushnell has demonstrated a significant commitment to the rapidly expanding launch monitor and golf simulation industries.
The GC3 is an all-inclusive plan that does not call for further subscriptions to be purchased. You can play golf virtually by using FSX 2020, the FSX Performance App (which features a 3D driving range and a variety of data analysis views), and even Foresight Sports' brand-new FX Play software, which is a golf simulation program that has all new and improved graphics.
With the Bushnell Launch Pro, the only thing you receive without a membership is the device's own on-screen numeric data display. There is nothing else available. If you do not subscribe to either of the top two tiers of the service, you will not have access to the simulation feature, and you will also be missing certain data points such as Club Path and Attack Angle.
In order to provide tour-level measurements in a package (or packages) that is more inexpensive for the everyday golfer, the Launch Pro is marketed by Bushnell Golf, even though it is being built by Foresight Sports.
Parameters Measured
carry distance
total spin
horizontal launch angle
backspin
side spin
ball speed
vertical launch angle
spin tilt axis
Launch monitors such as the Bushnell Launch Pro and the Foresight Sports GC3 are nearly indistinguishable from one another in terms of their technological capabilities. Both of these devices utilize a high-speed, triscopic camera configuration, which is the primary factor that contributes to their remarkable degree of accuracy.
SkyTrak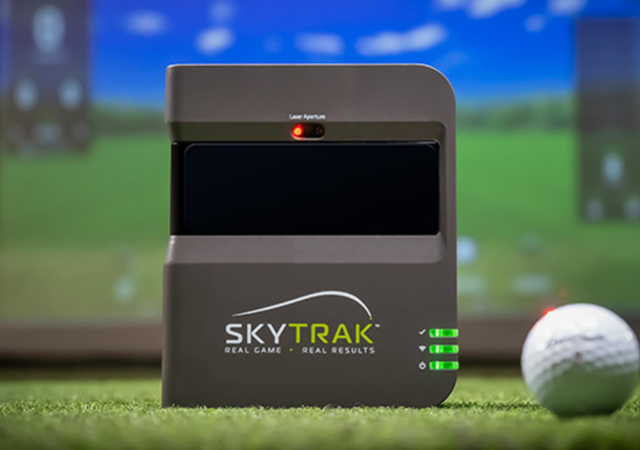 SkyTrak was the first accurate launch monitor to be released into the market at a price that was less than $5,000 and was accessible to the average golfer. It was released before the end of 2014.
SkyTrak makes use of a photometric system, which is camera-based. The machine is able to produce measurements with an accuracy that is comparable to that of considerably more expensive commercial systems as a result of the utilization of a high-speed camera that captures photos of the ball.
SkyTrak is promoted heavily for use as an indoor launch monitor, and this is the setting in which it should be utilized whenever it is practical to do so. If you are unable to use it inside, it can be used successfully outside; however, the camera lens should not receive direct sunlight.
Parameters Measured
ball speed
launch angle
backspin
side spin
side angle
The software is able to derive six additional metrics with the help of this data.
carry & total distance
club head speed
roll
flight path
offline
angle of descent
This turns out to be plenty of data for most golfers.
SkyTrak gives you the ability to discover countless game improvement and practice tools without ever having to leave the convenience of your own home.
Does the GC3 work with an iPad?
You can play famous courses from around the world without ever having to leave your house if you connect the GC3 to a computer or iPad. In addition, you will have access to more data than you ever have before, allowing you to improve your swing even more.
Final Thoughts
If you are looking for a launch monitor with a high level of accuracy, Foresight's GC3 is one option to take into consideration.
The fact that the Foresight Sports GC3 can deliver accuracy, versatility, and portability that is comparable to that of the GCQuad while being substantially more economical is its primary selling point. It can be purchased for well under $10,000 with excellent software included in the price.
The GC3 has a modern, portable design and comes equipped with a touchscreen display as well as data output that is sent directly to the screen. The launch monitor functions exactly the same whether it is used indoors or outdoors.
The GC3 is one of the most popular and recommended monitors on the market. We were simply amazed by how powerful, accurate and portable the unit is. We recommend getting one if you need tour-level performance for your practice sessions or if you are a professional coach or club fitter. You will benefit greatly from its numerous features!
WRITTEN BY

My name is Jacob, a self-diagnosed equipment and golf enthusiast. I've been golfing since I was 15. Golf has always been my passion. I'm a bit of a golf equipment nerd and I've been that way since the moment I picked up a club for the first time. As someone who's been on both sides of the game, I know what it takes to be a good golfer. Of course, you need good equipment, but you also need to know how to use it. I hope sharing my experience with you will help you improve your game.
You May Also Like