The 17 Best Golf Launch Monitors of 2023 Reviews & Buyer Guide
Last updated:
September 3, 2023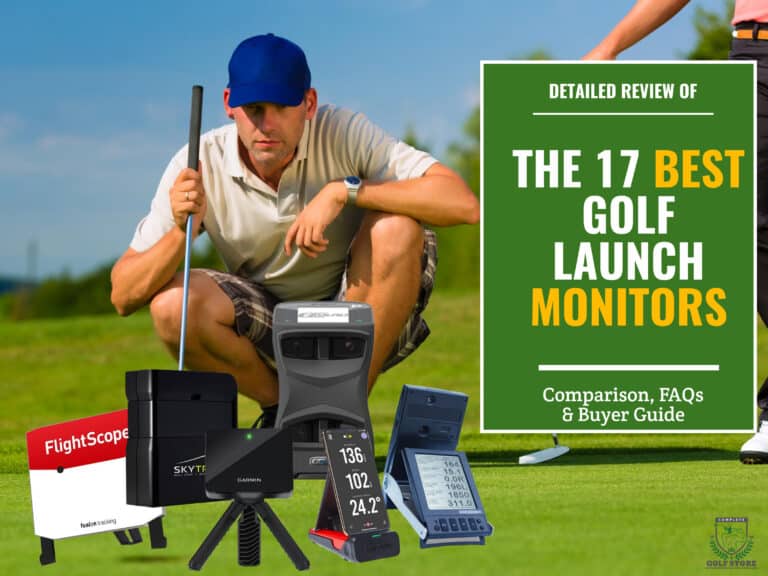 Disclaimer: We may earn a small commission from some of the links on our website, however, our reviews and comparisons remain fair and unbiased. Our goal is to help you make the best choice. For more information, please see our
disclosure statement
. Thank you for your support.
Key Takeaways
Based on our tests, research, and experience, our top pick for the best golf launch monitors of 2023 are Uneekor EYE XO/EYE XO2 launch monitors, which are designed for those who demand the best performance without any complexities. The Uneekor QED launch monitor is our overall best pick, offering in-depth ball and club data at an affordable price. For left and right-handed golfers, the Foresight Sports GCHawk launch monitor provides unmatched performance with its state-of-the-art object recognition and imaging technology. Other notable options include the SkyTrak+ launch monitor, FlightScope X3 launch monitor, Foresight Sports GCQuad launch monitor, and Full Swing Kit launch monitor. Keep reading for more details...
The future of golf is looking up. The sport is expected to grow in the years to come. And it's only natural that we all look for the best technology to improve our game.
Launch monitors are the most critical part of every golf simulator, your friend at the driving range, and the holy grail of golf technology today.
Not everyone can afford premium-grade launch monitors that cost five figures. Fortunately, as launch monitor technology has evolved, many affordable options have appeared on the market for more attractive prices.
Finding the best launch monitor for your game can be challenging; that's why we've compiled a list of the best golf launch monitors available today.
We tested them all, From straightforward devices that cost under $500 to complex premium-grade systems over $15,000. We've also put together a buying guide to help you choose the right one for your needs.
At a Glance: Here are our picks

Best for your indoor Simulator setup

Best for Outdoor (and indoor) Use
Best Portable (Personal) Monitors Under $1000
Our Picks of The Best Golf Launch Monitors in 2023

Based on our own testing, research, and experience, the following are our top picks for the best golf launch monitors divided by sections:
Buyer Guide: Features to consider in a launch monitor
The price tag of a golf launch monitor is generally in the range of $300 to around $15,000, and choosing the right one can make all the difference in your game. Still, making the right choice can be a bit overwhelming.
Here are the most important factors and features to think about when choosing your personal launch monitor:
1. Parameters and metrics the device tracks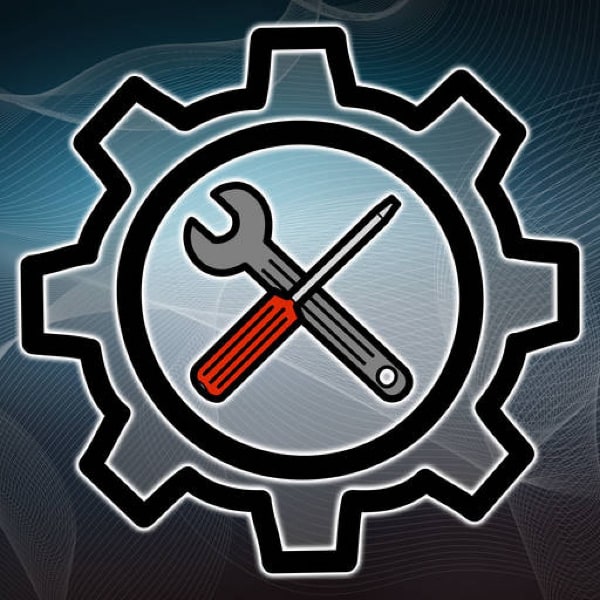 What ball parameters does the launch monitor track, and what data do you want to see?
In essence, everyone wants to know their swing speed, how fast their ball travels, and how far they hit their clubs. In this case, a simple swing speed monitor can be sufficient to measure simple metrics. However, things get complicated in terms of more advanced data metrics such as axis points, side spin, smash factor, etc.
The number of measured parameters is one of the things you lose when using less expensive monitors. We all need advanced metrics like distance and ball speed, and nearly every launch monitor offers these metrics at the very least.
However, depending on how much information you require, your choice of launch monitor will be a bit narrower. Generally, the more expensive and advanced the launch monitor, the more parameters it measures. Therefore, you should ensure the launch monitor you buy provides all the data you need.
2. Accuracy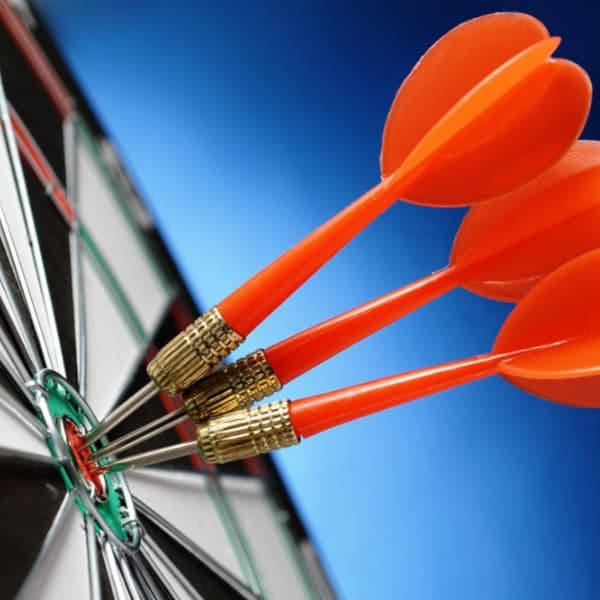 It is essential to find a golf launch monitor with the right features, and the most crucial element of a golf monitor is the accuracy of the provided data.
Sensor and tracking technology on smaller, cheaper devices will generally be inferior to larger ones. Some units are off by a few yards, degrees, or miles per hour.
The smaller, more affordable units sometimes return outlier numbers that don't align with where the ball goes, especially if you don't line them up properly or if the simulator is used indoors with space restrictions.
Please note that the ratings and features described on launch monitors less than $500 are restricted to their category and should not be compared to commercial-grade packages. These are generally less accurate than more expensive models like the Uneekor EYE XO, Uneekor QED, or FlightScope X3.
However, even within the affordable class, accuracy can vary; SkyTrak, for example, has been known for a few years to provide top accuracy for less than $2,000 and has been voted the Best Value Golf Launch Monitor and Simulator by Golf Digest for four years running. Garmin Approach R10 and Rapsodo MLM also generate highly accurate metrics based on our tests and customer launch monitor reviews across different platforms.
If you want to know more about how accurate golf simulators and launch monitors are, feel free to visit our detailed article on this page.
3. Usage Type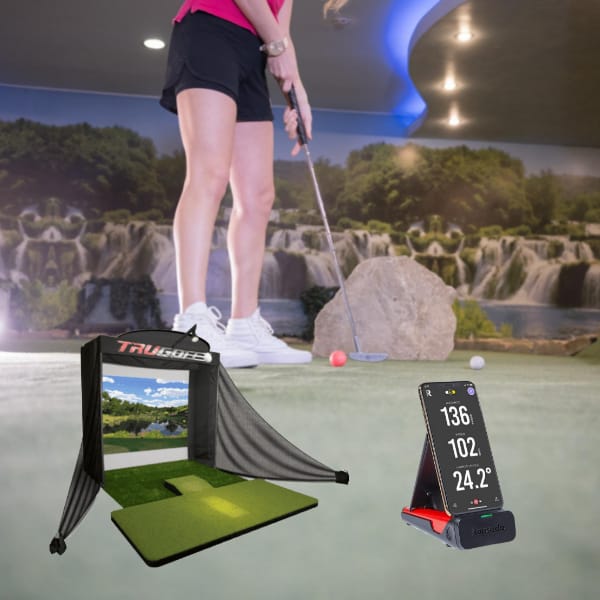 Do you intend to use your launch monitor indoors, outdoors, or both?
Some launch monitors work best outside (e.g., on the range), where the ball can travel to its maximum distance. For example, the Flightscope X3 and Foresight Sports GCQuad are commercial-grade monitors with the best indoor-outdoor flexibility (with the X3 being a better outdoor option thanks to its radar-based tracking).
On the other side, The Uneekor EYE XO, QED, or ForeSight Sports GCHawk are overhead launch monitors. They have fixed ceiling-mounted bars that provide top-notch output quality and are best used indoors with a simulation system.
If you are looking for a launch monitor with a hitting net, check how much clearance and minimum ball flight it needs to work. If you have a dedicated space at home, in your garage, basement, or attic, your first step is to get a unit that fits in that space and is compatible with the most popular consumer packages.
The last thing you want is to discover later that the monitor you bought is incompatible with your intended use.
3. Ease of Use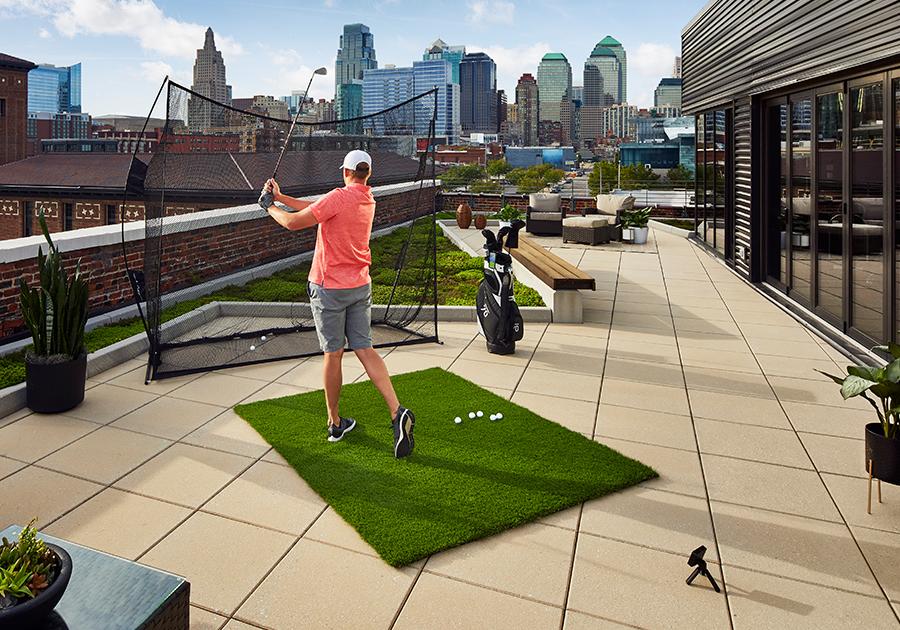 The monitor should be easy to use and simple enough for anyone to set up without having to spend too much time configuring and connecting the unit.
Not all golfers are tech-savvy. They don't want to waste precious time setting up and calibrating the device. Instead, they just want to hit balls as fast as possible.
You should be able to read your metrics and data easily, preferably through an integrated display or a user-friendly app.
A well-designed portable launch monitor should also be small enough to fit in a bag or backpack, be used anywhere, have a good battery life, and be flexible enough to work indoors and outside. If used outdoors, make sure the display is easily readable.
The monitor should also allow you to store and organize your data. For example, you may want to compare your tracked stats over time, your results against a friend, or even the USGA average scores.
The unit should also be easy to calibrate and provide clear instructions to guide you through the process. Integrating audio feedback, voice command, automatic video recording, club recognition, etc. will also make the entire experience much simpler and easier.
Check the unit you want to purchase to make sure it doesn't require too much fiddling to work properly!
4. Features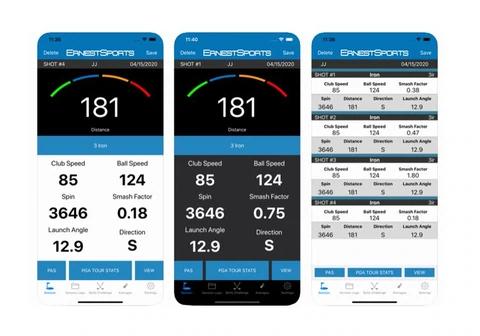 A good golf launch monitor should allow you to read your performance metrics and understand your data in an easy-to-follow, user-friendly manner.
The best golf launch monitors will also allow you to store and organize your data. For example, you may want to track your stats over time, compare your results against a friend, or even to the USGA average scores.
Some golf launch monitors will also record your swing video, which allows you to review your performance and see exactly where your swing needs improvement.
Finally, your monitor should be compatible with popular golf simulation software, such as E6 Connect, TGC2019, FSX2020, etc. Each offers its share of features, game modes and challenges.
Launch monitors differ greatly in terms of the features they provide. Compare them, decide which features are crucial for you and which you can do without, and then make your final decision accordingly.
Frequently Asked Questions About Launch Monitors

Now it's time to go through some of the most frequently asked questions related to launch monitors.
What Is the Appropriate Golf Launch Monitor for Me?
The appropriate launch monitor for you is one that works for you and helps you improve your game. It meets your requirements, needs and preferences, and includes all the features that you consider to be essential in a monitor. 
Additionally, the monitor must be compatible with your favorite golf simulator software. It's important to know what you're looking for before you set out to buy one.
First, aim for the one that fits your budget and needs. Remember that a high-quality launch monitor that will give you good readings may cost a bit more money. There are some great items on the market, but an average monitor will do the trick for most casual golfers. 
So, before buying your new launch monitor, ask yourself what you want to achieve, which metrics are a must-have for you, and which can be overlooked. This will help you strike the best possible balance between price and performance.
Why Are Golf Launch Monitors so Expensive?
Launch monitors are expensive because they use expensive components and cutting-edge technology. They also employ advanced accurate sensors to detect things like club speed, launch angle, and ball speed. All of these sensors are sold at a high price.
They are far more than just yardage calculators. There are today some incredibly complex devices, with high-speed cameras, precise sensors, and powerful hardware. Those high-tech parts don't come cheap. Most launch monitors are made to precise specifications, which drives up the price.
Another reason launch monitors are so expensive is popularity and demand, as they are essential equipment in any serious golfer's arsenal. Also, many golf instructors use launch monitors to get the necessary data to improve their students' techniques. It does not take much to understand why these devices are so popular and in demand.
With that said, the latest technological advancements have made launch monitors accessible to a wider range of golfers. Today, you can get a decent launch monitor for as low as 400 or 500 dollars, as well as those using bleeding edge tech costing tens of thousands of dollars.
What Launch Monitor Do the Pros Use?
Here is a list of the top golf launch monitors used by the top players in the world.
Foresight Sports is quite popular among professionals when it comes to instruction and teaching sessions. Most of the top instructors such as Martin Hall, Butch Harmon, and Michael Breed use it. Ricke Fowler is another huge supporter of the GC2 and has this unit set up in his house.
Most professionals use Trackman as a launch monitor instead of using it as a simulator. Professionals like Justin Rose, Dustin Johnson, Rory McIlroy, Francesco Molinari, Sergio Garcia, Justin Thomas, and Jason Day use it. Trackman was also used during the 2019 US Open tournament.
Ben Crane uses Ernest Sports ES14 for playing and practicing during the offseason. This unit is also popular among club professionals, coaches, and PGA Professionals.
Professionals like Justin Rose, Jason Day, Jordan Speith, Tiger Woods, Jim Furyk, and Brandt Snedecker have Full Swing Golf launch monitors in their houses. This is a convenient option for those looking for indoor setups.
Is There a Launch Monitor App that Can Be Used on The Phone Only?
Almost all launch monitor manufacturers out there provide apps for their products to connect to modern smart devices, but how about turning your own smartphone or tablet into a launch monitor without the need for any additional hardware?
Bridgestone Golf's B-FIT was the first launch monitor app that does not need an expensive launch monitor to track your swings. You only need your iPhone (or tablet) to get the data while playing the game.
The Bridgestone BFIT app uses your iOS device as a virtual launch monitor to track the launch angle, club head speed, distance, and ball speed. Over the past 5 years, Bridgestone has analyzed over 2 million swings and completed over 350,000 ball fittings to develop the BFIT app. Android users need not wait much longer, as an Android version will soon be released into the market.
Final Thoughts
The best golf launch monitors for the future are those that give you instant feedback on how your swing is performing in real time. There is no better way to learn than to see how your game works for yourself.
Choosing a golf launch monitor can be confusing. Fortunately, We've done the hard work for you and provided all the information you need to make an informed decision.
Each of the golf launch monitors reviewed here offers outstanding value for the price, and they each have their own strengths and weaknesses.
I hope you enjoy the tips that I have shared with you. Let me know how your golf game improves with the help of this article. Do you have any questions? Let us know in the comments section below.
Happy Golfing!
You May Also Like