The 10 Best Golf Launch Monitors Reviews & Buyer Guide
First Published:
December 30, 2020
Last updated:
January 7, 2022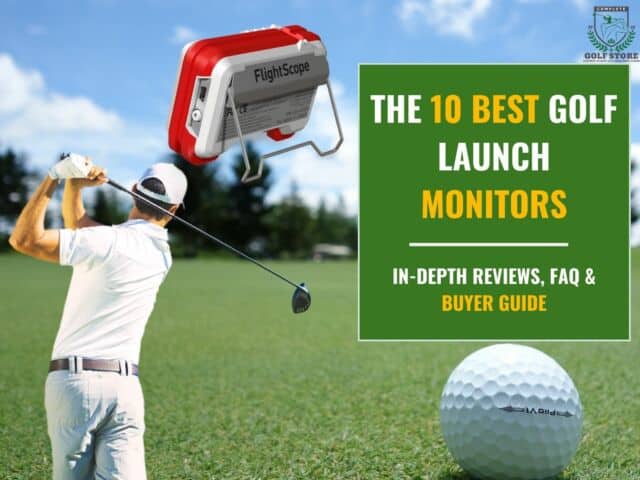 The future of golf is looking up. In fact, the sport is expected to grow in the years to come. And it's only natural that golfers are going to look for the best technology available to improve their game.
Launch monitors are the most critical part of a golf simulator, your best friend at the driving range, and the holy grail of golf technology today.
Launch monitors have revolutionized the game industry by providing golfers with crucial data about their swings and helping them identify their mistakes. Before launch monitors, golfers mainly relied on their eyes and a subjective opinion from the golf instructor.
Whether you play for some fun or trying to improve your game, you will need to measure how you swing before taking the steps you need to improve. The challenge is to find the best golf launch monitor that will help you achieve your goal.
In this article, we'll discuss what launch monitors are, how they work, and what features you should be looking for in your purchase, and to make things even easier, we have put together a list of the 10 best golf launch monitors that are proven to give excellent results.
What Is the Difference Between a Golf Simulator and Launch Monitor?
The main difference between a launch monitor and a golf simulator is that a launch monitor provides numerical data related to your shots. It measures the ball speed, launch angle, spin rate, and other essential factors influencing the shot. This ball data helps you correct any technical issues and improve your game. 
A launch monitor is somewhat more basic training equipment designed to provide real-time feedback on swing speed, backspin, sidespin, and other golf swing key elements. This information can assess how you are hitting the ball and evaluate your swing to make adjustments as necessary.
On the other hand, a golf simulator is a complete system that not only measures data but also simulates your ball flight in various virtual software environments. It also allows you to play virtual courses and golfers of varying skill levels to enhance your performance. The top models are designed to provide a realistic golfing experience, including realistic sounds, lighting, feel, etc., on actual courses.
Golf simulators allow you to practice your swing using a hitting net and watch how the shot would play out on a virtual golf course on a screen.
Golf Simulators and Golf Launch Monitors' main distinction is that all golf simulators are launch monitors, while a launch monitor can not necessarily be a simulator. That is the most important distinction that needs to be made.
Check Also: Is a Golf Simulator Worth It?
How Does a Golf Launch Monitor Work?
A golf launch monitor is a piece of technology that measures and evaluates several things related to a golf club and the ball.
They were initially invented by the US military to test various weapons technology.
For years, most golfers relied on their naked eye, guesses, or the courses' markers to determine how far they hit the ball. Today, however, a new generation of golfers use launch monitors to precisely measure their distance, speed, and trajectory. However, how they work is another matter. Let us explore the two types of technology available: Doppler and photometric.
Doppler Radar: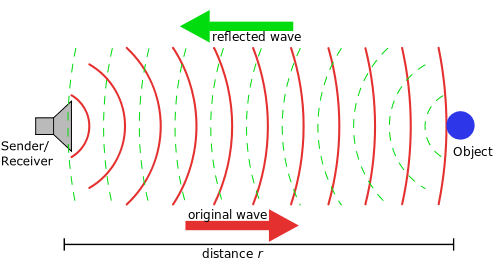 Doppler radar is a well-established technology that has been used for over a decade and is in use in fields ranging from meteorology to medicine. It's most commonly known for its use in weather detectors, which are used to track precipitation and, more recently, wind speed and turbulence. Golf launch monitors, however, use it to analyze a golf ball's spin, trajectory, and speed.
Doppler radar is synonymous with weather forecasting, but some golfers are surprised to learn that it is also the technology behind recent advances in swing analysis.
The same mathematical equations that allow meteorologists to track wind speed also allow golf launch monitors to calculate the speed at which a ball leaves the tee. These calculations give golfers a more accurate picture of their swing and let them see how changes to their swing can affect their ball speed.
Photometric Camera: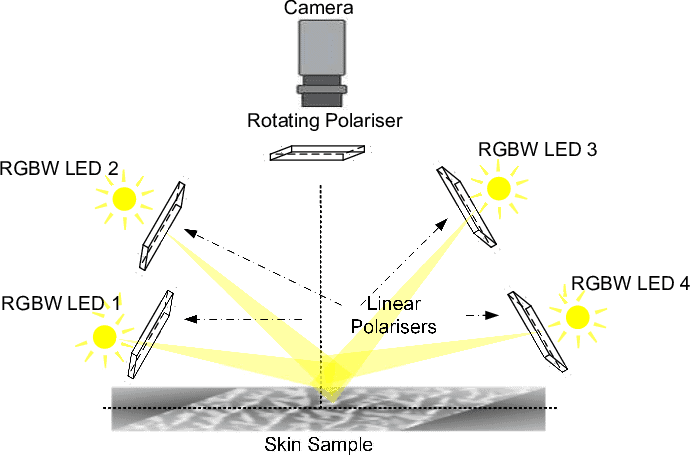 In the last few years, the best golf launch monitors have begun to use something other than a doppler radar to measure the speed of the golf ball at launch. These monitors instead use a high-speed camera paired with a photometer. How does this work?
This technology uses a very high frame-rate camera and a USGA approved lighting system to capture the ball in flight and measure the clubhead's position and velocity throughout the swing. The clubhead's position and velocity are used to calculate the launch angle, launch speed, and spin rate of the ball.
To make this technology work, a light source is placed outside the camera range, which illuminates the ball at different times during the swing. The camera is then able to capture a sequence of images of the ball using complex algorithms.
The most commonly used technology in golf launch monitors is the photometric camera. This technology is used in over 90% of the best golf launch monitors.
What Does a Launch Monitor Tell You?
A launch monitor is an electronic training aid that helps you track your ball's different aspects when it's hit with a club. For Example, You can learn how far you hit each club, control the distance, identify any weaknesses you may have, and correct them. Launch monitors can also help you in comparing other golf equipment (Irons, drivers, balls, wedges, etc.).
It enables the golfer to improve his swing as part of the learning process and also helps with the custom fitting procedure when the player gets a new set of clubs. They are commonly used by golf retailers, PGA Tour professionals, and even golf enthusiasts who wish to improve their performance to hit low scores. Though the professional launch monitors brands of the market have a price tag that goes beyond $10,000, you will also find budget-friendly alternatives in the market.
Here is a short video from Golf Monthly's Joel Tadman highlighting some reasons why you need to use a launch monitor to improve your game. Even though he uses the Foresight Sports GCQuad in his demonstration, which is a pricey professional simulator, the products we reviewed in this article offer incredible value for the money, great options for every average golfer, as they are able to provide enough stats that you can buy at a very reasonable price.
Check Also: How To Build Your Own DIY Golf Simulator
How Accurate Are Golf Launch Monitors?
It's no secret that launch monitors are among the most expensive golf products on the market. A good launch monitor system can run you thousands of dollars, and it's not uncommon for a single launch monitor to sell for $3,000 or more. So, it's pretty easy to understand why golfers are concerned about their launch monitor measurements' accuracy.
Golf launch monitors provide highly accurate data when measuring both the initial and final launch conditions of a golf ball. However, several factors can cause inaccurate information, such as poor calibration, quality and type of equipment, etc.
Info such as clubhead speed, club angle, ball speed, and launch angle are the most critical pieces of information. Inaccurate ball speed will result in incorrect distance information and wrong launch monitor readings.
Launch monitors' accuracy varies based on the ball, swing, quality, and setup. Players and researchers have reported that the golf launch monitors used on simulators have an accuracy level of 85 to 90%. This is valid only if you run the simulator using a good-quality launch monitor. If you make a proper swing with the right setting, you can get accurate results up to 90 to 95%. However, note that not all golf launch monitors will give accurate results like the top-end models. Each golf launch monitor tier offers more data, better measurement, and more refinement depending on their quality/price ratio.
You May Also Like: How To Build The Best Golf Simulator for Under $1000
 10 Best Golf Launch Monitors Reviews
With the advancement of technology, numerous golf launch monitors with various features are now available in the market. Wondering which launch monitor is suitable to make 2022 your best golf year ever? Before you decide, make sure you go through our comparison and reviews to choose one that's perfect for your game.
You May Also Like: The 17 Best Golf Simulators of 2022
#1

SKYTRAK GOLF LAUNCH MONITOR
SkyTrak is a trusted company by the R&D teams at every major golf equipment company and is renowned for the accuracy of the data it provides. Their device is a notable advance in the golf launch monitor market, it offers the best experience thanks to its real-time golf practice system. SkyTrak has been the talk of golf launch monitor groups and forums for many years because of its incredible value and accuracy for the price.
As the device is light in weight, it's portable, and you can connect it wirelessly to your PC or laptop. It gives the player the ball launch data instantly and provides visual feedback of the ball flight as you hit the ball.
SkyTrak displays amazing accuracy among other launch monitors, making it the most preferred option among everyday golfers. Studies show that the SkyTrak golf launch monitor for home offers 90% accuracy at an affordable cost.
Due to the shot tracer technology, you can view the ball flight on your smart gadget and get feedback on the spin rate, angle, distance, shot shape, and other points. These details enable you to make improvements and enhance your game.
With a dimension of 10" width, 9" height, and 10" length, you can place it in any room with sufficient space that enables you to swing your club safely. This unit is suitable for both game improvement and entertainment purposes. With a rechargeable battery that allows you to play continuously for five hours, you don't have to worry about your game getting interrupted in between.
SkyTrak Launch Monitor tracks the following parameters: Back Spin, Side Angle, Roll Distance, Ball Speed, Club head Speed, Launch Angle, Total or Carry Distance, Flightpath, Angle of Descent, Side Spin, and Distance Offline.
SkyTrak Launch Monitor Package includes: The Basic Practice Range Software, Launch Monitor, The App, The user manual, USB Cable, and Quick Start Guide.
Check Also: SkyTrak Golf Simulator Review
Pros
Perfect for swing speed training In addition to its other functions
Comes with a wireless connection
Easy to use and setup.
It does not consume much space when kept indoors.
Integrates well with top softwares.
Cons
More than one player cannot play at the same time.
Not suitable for playing outdoors.
Have to change settings while switching between left and right-hand players.
SkyTrack unit comes with a user-friendly interface making it easier for even the technically challenged players. Professional and regular players use this game improvement tool to be more accurate and powerful than the typical pocket-sized, inexpensive units.
#2

 RAPSODO MLM LAUNCH MONITOR
A few years back, it seemed quite impossible to have a launch monitor that you can carry in your pocket wherever you go. With the introduction of the Rapsodo launch monitor, you get consistent results and perfect accuracy. This makes it the ideal choice for both beginners and professional players.
Rapsodo combines the technology of professional-grade machine learning on your smartphone. All you have to do is connect your smartphone with this launch monitor and hit the ball to get instant video analysis feedback. With a size similar to or slightly thicker than your smartphone, Rapsodo operates with the help of a rechargeable battery. It makes use of a mobile app that you can connect to using Bluetooth.
This unit uses your smartphone's GPS to determine where the shots have landed on the range or actual course. With the smart club recognition feature's help, you don't have to change your clubs manually. Just use the club changing sensor option and display the chosen club in front of the camera. By using bag mapping, you can select which club to use for hitting off the range. This is possible due to each club's ball flight's visual feedback that you can view on a distance map.
Rapsodo MLM Launch Monitor tracks the following parameters: Ball speed, Launch angle, Shot distance, Shot shape, Club speed, and Launch direction.
Rapsodo MLM Launch Monitor Package includes: MLM Launch Monitor, Carry Box, USB-C Cable, Storage space for 100 videos, Quick Start Guide, and Free mobile app for your smartphone.
Pros
Can review your ball shots using video feedback.

Can post your shots data on your social media accounts.

Stores all your shots data so that you can review it over your lifetime.

Simple and easy to set up within 30 seconds.
Cons
Only for IOS. Not suitable for Android users.
With many fun features it offers, Rapsodo becomes one of the best personal golf launch monitors that has earned a great deal of appreciation from numerous PGA players. As the app is compatible only with iOS gadgets, this launch monitor works only using iOS devices. The app is user friendly, and the latest version displays a dark theme.
#3

FORESIGHT SPORTS GC2 LAUNCH MONITOR
Foresight Sports GC2 offers the best precision making it the best-selling golf ball launch monitor. It makes use of the latest technology to track and measure numerous data. This device is easy to set up and use with a simple and elegant look within a few minutes.
The LCD screen shows the results even under the sunlight, making it suitable for outdoor practices. Moreover, it's placed appropriately so that you don't have to bend down to check the results every time. With the stereoscopic high-speed camera system used, it can capture 10000 fps (frames per second).
The launch monitor works well even on uneven surfaces due to the internal accelerometer functionality adjusting to the surroundings. The Head Measurement Technology (HMT) helps track the clubhead data with great precision and comprehensively analyzes the swings. Using certain club add-ons, you can measure the impact location on the clubface, track loft, face, and lie angle at impact. Foresight Sports GC2 offers excellent accuracy, which is quite consistent irrespective of the game's clubs. With a dimension of 3" height and 10" length, you can easily fit it into your golf bag.
Foresight Sports GC2 Launch Monitor tracks the following parameters: Vertical launch angle, ball speed, Sidespin, Horizontal launch angle, Carry distance, Dynamic loft, Club head speed, Smash factor, Impact location, and Horizontal club path, all with HMT add-ons.
Foresight Sports GC2 Launch Monitor Package includes: The GC2 launch monitor, the software - FSX 2020, USB cable, the app, Power cable, cord, and User guide.
Pros
Can connect using both USB cable and Bluetooth connection.
Suitable for both outdoor and indoor practice.
Provides instant feedback of each shot.
Offers data along with HMT add-ons
Cons
Quite expensive.
Integrates with only FSX 2020 software.
GC2 launch monitor comes with a NiMH Rechargeable Battery that works for 6 to 8 hours continuously. As it weighs less than 2kg, you can carry it around and play anywhere you like. Moreover, the unit comes with a 1-year warranty in case of any manufacturing defects or damages.
#4

ARCCOS CADDIE SMART SENSORS LAUNCH MONITOR
Arccos Caddie Smart Sensors Launch Monitor makes use of artificial intelligence and GPS systems to enhance your game. This unit is one of the first artificial intelligence platforms that are suitable for golfers of all levels. This is because it combines different systems like automatic shot tracking and smart distance club averages to make smart decisions.
These features enable you to shoot quickly and get low scores. With the AI-powered GPS Rangefinder, you can adjust the unit for humidity, slope, altitude, temperature, and wind in real-time to get precise yardage. Personalized Caddie Advice uses AI to help you make strategic decisions.
This golf ball launch monitor contains 14 sensors that you can attach to the golf club handles. Once it's screwed onto the clubs, follow the instructions and start tracking your shots. You don't have to keep tapping the buttons after each shot, like it's automatic, making it convenient for the player.
Using the short detection algorithm, you will be able to track your shots from the end of each golf club. Additionally, this launch monitor is a live tracker that gives you the data as you play. With digital course management and great shot recommendations, you can also lower your score on the course.
Arccos Caddie Smart Sensors Launch Monitor tracks the following parameters: Club details, Distances, and Score breakdown.
Arccos Caddie Smart Sensors Launch Monitor Package includes:14 Smart Sensors and Quick Start Guide.
Pros
Simple to set up for those who are technically challenged.
Provides recommendations on which club to use.
Equipped with a free Android or iOS app.
Has a built-in battery that will last for five years.
Great tool for learning different strategies
Cons
Must have an iPhone that is 5s or above.
Shot capturing is not perfect.
Not suitable for indoor practices.
Arccos Caddie Smart Sensors uses advanced analytics to give a breakdown of your performance. This helps you to make the right equipment choices and practice well. It comes with a user-friendly app that provides handicap statistics and real-time data on current performance.
#5

GARMIN APPROACH G80 LAUNCH MONITOR
The Garmin Approach G80 would be an amazing choice if you're in need of a new launch monitor. This gadget is a combo of golf radar and launch monitor. Hence, it enables you to improve your game by providing the right distance towards your target. The launch monitor of G80 monitors the swing tempo, ball speed, club head speed, smash factor, and even the estimated distance.
The GPS in this monitor displays a full hole view and provides accurate distances of more than 41,000 courses. It also displays a complete hole layout and tells where the bunkers are present. The Approach G80 loads quickly, so you don't have to wait to find out where to hit. The green view on G80 allows you to zoom in on the greens and locate the yardages easily.
No more worries about playing on a hilly golf course. With the advanced distance features, G80 provides the target distance for the slopes as well. The unit comes with a long-life battery that can last around 15 hours while using the GPS mode. If you feel like your swing levels are not getting better, Garmin G80 will help you practice more effectively and advance to the next level.
By using the target mode, G80 enables you to practice along with other players. Here, you get to select a few players with whom you can hit various yardages and targets that you choose.
Garmin Approach G80 Launch Monitor can be used on grass or mats, it tracks the following parameters: Head speed, Swing tempo, Ball speed, Estimated shot distance, and Smash Factor.
Garmin Approach G80 Launch Monitor Package includes: Garmin Approach G80 Premium GPS, Launch Monitor Radar, USB Cable, Lanyard Carabiner, Cart or trolley Mount, PlayBetter Portable Charger, and Protective Hard Case.
Pros
Portable and easy to hold in your hand.
Has a super slim design.
The touchscreen display is readable even under sunlight.
The Garmin package includes a mini charger with which you can charge all your golf gadgets, including the launch monitor. The unit comes with a lanyard carabiner and cart mount, which helps you attach the gadget to the cart. This enables you to navigate through the course smoothly.
#6

FLIGHTSCOPE MEVO LAUNCH MONITOR
Flightscope Mevo is one of the best affordable portable golf launch monitors, making it apt for outdoor and indoor practice. This unit has a 3D Doppler radar technology design, which provides all the data you require to enhance your game skills. The Mevo provides instant feedback about the ball flight metrics and your complete swing. As this unit is compatible with iOS and Android platforms, you can connect it to your tablet or smartphone to monitor real-time data.
By using Flightscope Mevo, you can evaluate your game by saving the data of the practice sessions. You can also upload and share these details on your social media account after saving.
These gadgets are also capable of showing you how far you have improved after each practice. Additionally, the automatic video clippings and storage enables you to optimize your performance on the course. As it provides the minute details of your golfing data with incredible accuracy, players will be more enthusiastic about enhancing their practice sessions. By using Mevo, you can also incorporate swing adjustments as you practice. This helps you to view how your swings impact your stats.
Flightscope Mevo Launch Monitor tracks the following parameters: Carry Distance, Ball Speed, Smash Factor, Launch Angle, Flight Time, Spin Rate, Club Head Speed, and Apex with the maximum height of your ball flight.
Flightscope Mevo Launch Monitor Package includes: Mevo Launch Monitor, 50 Metallic Stickers, USB Charging Cable, Free App For Mobile Gadgets, and Carrying Pouch.
Pros
Light in weight. 

Rechargeable battery that lasts for 4 hrs. 

Clips and stores the video clips automatically. 

Measures real-time performance data. 

Available at an affordable price range.
Cons
It gives inconsistent results when metallic dots are absent.

May not give accurate results.

Not durable. 
The Mevo is available at a reasonable price range, making it the most affordable launch monitor for beginners and even those on a limited budget. This unit uses a Li-Polymer rechargeable battery type that runs for about four hours after each recharge.
#7

VOICE CADDIE'S SWING CADDIE SC300 LAUNCH MONITOR
Searching for a good quality launch monitor that's portable? Voice Caddie has made this possible by introducing its Swing Caddie SC300 model, which is suitable for golfers of all levels.
This gadget utilizes the Doppler radar Technology and calibrates with the atmospheric pressure sensors to provide precise data. Giving a lot at a reasonable price range, this outstanding tech can compete with the other professional launch monitors.
This launch monitor has a voice output option that reads aloud each of your data points after every shot, making it easier for improvements. To further enhance user convenience, you can operate the unit using the remote control system.
Voice Caddie SC300 displays the total height or apex readings of each shot. This figure helps you decide if you need to play using a new ball or another club or whether you need to change your swing to hit it high. If your ball flight is too low, you may not hold too many greens.
This golf ball launch monitor comes with a rechargeable Li-Polymer battery that lasts for around 12 hours after each recharge. If you are an advanced player or have been practicing for some time, this launch monitor would be the perfect option for you.
Voice Caddie SC300 Launch Monitor offers extra statistics when compared to its predecessor model, the Swing Caddie SC200 Plus, by tracking the following parameters: Ball Speed, Launch Angle, Total or Carry Distance, Apex -the max height of the ball flight, Swing Speed, and Smash Factor.
Voice Caddie SC300 Launch Monitor Package includes: SC300 Portable Launch Monitor, USB Cable, SC300 Remote Control, User Manual, and USB Cover.
Pros
Display screen results are easier to read.

Available at a reasonable cost.

Displays a sleek and neat design. 

Provides every detail of your ball trajectory. 

Comes with a 1-year warranty for manufacturing defects.
Cons
Lacks options for choosing lob wedge.

Too much data may confuse beginners.
The SC300 can be easily connected to your tablet or smart gadget using a Bluetooth connection. This enables golf enthusiasts to monitor the real-time data of their golfing skills. Additionally, the SC300 uses an app that's compatible with both iOS and Android platforms.
#8

ERNEST SPORTS ES14 LAUNCH MONITOR
Ernest Sports ES14 unit will help you improve your golf game to the next level by accessing the technology that professionals use. This launch monitor is available in two classic shades of white and black when it comes to appearance. It has a dimension of 5.5" width, 8.25" height, and 1.85" depth and weighs around 2 pounds. This monitor has the ability to analyze every aspect of your performance, compared with other personal launch monitors, using numerous statistical data points.
If you connect the Ernest Sports App and the monitor, you will be able to analyze your shots better using features like club averages, skills challenge, and audible feedback. ES14 can be easily connected to your smart gadgets using a Bluetooth connection and is compatible with both iOS, Windows, and Android devices. It comes with a standard 9v battery that has a battery life of 14 hours.
Ernest Sports ES14 makes use of the Doppler radar Technology to monitor various metrics and shows them on a clear LCD screen immediately. Using the free Ernest Sports app, you get visual feedback and the audio data feedback of each shot you make. Due to the audio feedback, you don't have to keep going to the simulator to check your results after each shot.
Ernest Sports ES14 Launch Monitor tracks the following parameters:Launch Angle, Total Distance, Spin Rate, Ball Speed, Smash Factor, and Club Speed.
Ernest Sports ES14 Launch Monitor Package includes: ES14 Pro Launch Monitor, Activation Code, Carry Pouch, 9V Battery, and ES14 User Guide.
Pros
Easy to set up even for the technically challenged players.
It helps you enhance your club fitting experience
Last for long and is made using good quality components.
The price tag is affordable, making it the perfect option for beginners.
Cons
Will not monitor the horizontal launch angle. 

Not resistant to outdoor weather conditions. 

Does not have multiple or single-playe simulation.
ES14 launch monitor works great for those who wish to play both indoors and outdoors. These units give additional accurate information when playing indoors. So if you are a player who prefers to practice more indoors, this is the perfect launch monitor for home. As it's light in weight, you can take it along with you to play anywhere you like.
#9

SWING CADDIE SC200 PLUS LAUNCH MONITOR
Do you spend more time practicing your favorite game and wish to get feedback to improve your skills? Swing Caddie SC200 Plus has excellent features that allow you to track your shots with precision. This model is an upgraded version of the original SC200 monitor and comes with an added practice swing mode.
By using the practice swing mode, golf enthusiasts can analyze their swing speed numbers without even hitting the ball. This will enable the players to boost their club head speed even if they lack a hitting net or driving range.
The SC200 Plus uses the Doppler Radar Technology and calibrates it with the atmospheric pressure sensors to give incredible accuracy. This gadget is apt for practicing as the Voice output integration of distance enhances convenience for golfers. The SC200 is a compact, pocket-sized unit making it portable to carry it around. It helps you to measure your ball swings and provides instant feedback.
The package comes with a remote control that allows you to change the club you are using without making any monitor adjustments. The ball metrics appear on a clear 4" display screen, and the data is easy to analyze and understand. The gadget dials your club at precise distances enabling you to set a specific range for your clubs. This will help you to play more precisely and gain low scores.
Voice Caddie SC200 Plus Launch Monitor tracks the following parameters: Swing Speed, Carry Distance, Smash Factor, and Ball Speed.
Voice Caddie SC200 Plus Launch Monitor Package includes: SC200 Plus Launch Monitor, SC200 Plus Instruction Manual, Remote Control, and Doppler radar sensor.
Check Also: Optishot 2 Review
Pros
Provides uncompromised and incredible accuracy.
Comes at an affordable price range.
It has an operating temperature that ranges from 14 - 122°F.
It has 3 swing modes, which include random, target, and practice.
Cons
Does not monitor the launch angles and spin rates.
Does not provide top-end data.
Has only a basic design.
The SC200 Plus is an awesome launch monitor for the money! It will give you all the benefits of an incredible launch monitor without having to break your bank. When it comes to the setup process, it's very quick and simple. All you have to do is switch on the unit, wait for some time to let it calibrate, and then you can start hitting your balls.
#10

ERNEST SPORTS ES12 PORTABLE LAUNCH MONITOR
ES12 happens to be the initial launch monitor launched by Ernest Sports and is well known to offer quality for the price paid. It comes with a free app that gives you precise data points of the total distance, club head speed, and ball speed.
Ernest Sports ES12 helps you to improve your game by providing the exact feedback instantly after each shot. You can view the ball metrics on the LCD screen right after making a shot. This unit can be easily connected to your tablet or smartphone via Bluetooth connection and can log about 2000 shots. The Ernest Sports app is free to download and works on both iOS and Android gadgets.
Ernest Sports ES12 uses Doppler technology to give you accurate information concerning every swing you make. When it comes to the layout, it contains only two buttons-one for powering up and the other for switching the clubs. In order to hold the launch monitor in position, you can release a pair of kickstands from the cover. For making the most of the shots, you can use a 60° kickstand, whereas, for extremely high shots, you need a 45° kickstand.
It's recommended to place your ES12 launch Monitor - 14" down range and 14" laterally away from your ball. Based on the club you're using, you need to adjust the unit's position to get precise results.
Ernest Sports ES12 Launch Monitor tracks the following parameters: Ball Speed, Club Speed, and Distance.
Ernest Sports ES12 Launch Monitor Package includes: ES12 Launch Monitor, 9V Battery, Activation Code, ES12 Instruction Manual, and Carry Case.
Pros
Very cheap.
Makes use of advanced technology.
Has an Excellent app that's easier to navigate.
Operating temperature ranges from 25 to 125°F.
Cons
Software update and Bluetooth issues need improvement.  

Reposition the gadget for hitting high shots using wedges.
This Golf launch monitor is not complicated to set up, and you can start hitting your balls within a few minutes. It gets powered up using a 9V battery that can be easily recharged. This gadget comes in a durable rubber boot and fits easily into your golfing bag.
What Is the Best Golf Launch Monitor for Me?
After reading several golf reviews online, it's easy to feel overwhelmed. Some launch monitors are portable, and others aren't. Some will store data for up to 20 individual users, while others are designed to store data for up to five. Some golf launch monitors allow for multiple types of ball, while others can only be used with one type. The amount of information you need to look for when choosing a golf launch monitor may seem overwhelming, but it's important to know what you're looking for before you set out to buy one.
The best golf launch monitor for you is the one that fits your budget and needs. Keep in mind that a high-quality golf launch monitor that will give you good readings shouldn't cost more than five hundred dollars. If you want to spend more, there are some great items on the market, but an average launch monitor will do the trick for most casual golfers.
A launch monitor can give critical information about your swing. It has two primary purposes: accurately determine the clubhead speed, the golf ball speed for each shot taken and provide a continuous visual display of swing data. The first purpose is helpful for golfers who are serious about improving their game, as these numbers can help determine if a club is appropriate for the player. The second purpose can help golfers analyze swing mechanics and adjust them to reduce/increase clubhead speed and/or ball speed.
Why Are Golf Launch Monitors so Expensive?
Golf Launch Monitors have only been around for a few years, but they have quickly become the most popular choice for golfers who want to be able to practice their golf swing indoors. 
Golf launch monitors are far more than just yardage and handicap calculators. There are today some incredibly complex devices, with high-speed cameras, precise sensors, and powerful computers. Those high-tech parts don't come cheap. The majority of launch monitors are made to precise specifications, which then drive up the price.
Golf Launch Monitors use expensive components. For example, a high-speed camera capable of capturing the ball at 60 frames per second. They also need accurate sensors to detect clubhead speed, launch angle, and ball speed. All of these sensors are sold at a high price.
Another reason why launch monitors are so expensive is popularity and demand, as they are essential pieces of equipment in any serious golfer's arsenal. Also, many golf instructors use launch monitors to get the necessary data to improve their students' techniques. It does not take much to understand why these devices are so popular and in demand.
What Launch Monitor Do the Pros Use?
Here is a list of the top golf launch monitors used by the top players in the world. 
Foresight Sports is quite popular among professionals when it comes to instruction and teaching sessions. Most of the top instructor's such ass Martin Hall, Butch Harmon, and Michael Breed use it. Ricke Fowler is another huge supporter of GC2 and has this unit set up in his house. 
Trackman Launch Monitor:
Most of the professionals use Trackman as a launch monitor instead of using it as a golf simulator. Professionals like Justin Rose, Dustin Johnson, Rory McIlroy, Francesco Molinari, Sergio Garcia, Justin Thomas, and Jason Day use it. Trackman was also used during the 2019 US Open tournament.
Ben Crane uses Ernest Sports ES14 for playing and practicing during the offseason. This unit is also popular among club professionals, coaches, and PGA Professionals. 
Full Swing Golf Launch Monitor:
Professionals like Justin Rose, Jason Day, Jordan Speith, Tiger, Jim Furyk, and Brandt Snedecker have Full Swing Golf launch monitors set up in their house. This is the best launch monitor for those looking for in-home setups. 
Is There a Launch Monitor App that Can Be Used on The Phone Only?
Bridgestone's B-FIT was the first launch monitor app that does not need an expensive launch monitor to track your ball swings. All you need is your iPhone to get the data while playing the game.
Bridgestone BFIT app uses your iOS device as a virtual launch monitor to track the launch angle, club head speed, distance, and ball speed. Over the past 5 years, Bridgestone has analyzed over 2 million ball swings and completed over 350,000 ball fittings to develop the BFIT app. Android users need not wait much longer, as an Android version will soon be released into the market.
Conclusion
Golfing is all about practice and precision. By using a golf launch monitor, you will be able to improve the trajectory of your ball. Once you take golfing seriously, the launch monitor becomes an essential accessory. Our best choice goes to SkyTrak Launch Monitor. This is mainly due to its commercial-grade accuracy level, which enables you to improve your game.
This unit also provides visual feedback on your ball flight and launch data. Also, you get to save your previous games' data, which allows you to monitor your progress. The package comes with a rechargeable battery that you can use continuously for five hours. Moreover, the unit is compatible with both iOS and Android platforms. Among the numerous choices, consider picking the best monitor that suits your requirements. In case of any queries, feel free to comment in the section below.