Garmin Approach R10 Launch Monitor and Simulator Review
Last updated:
July 10, 2023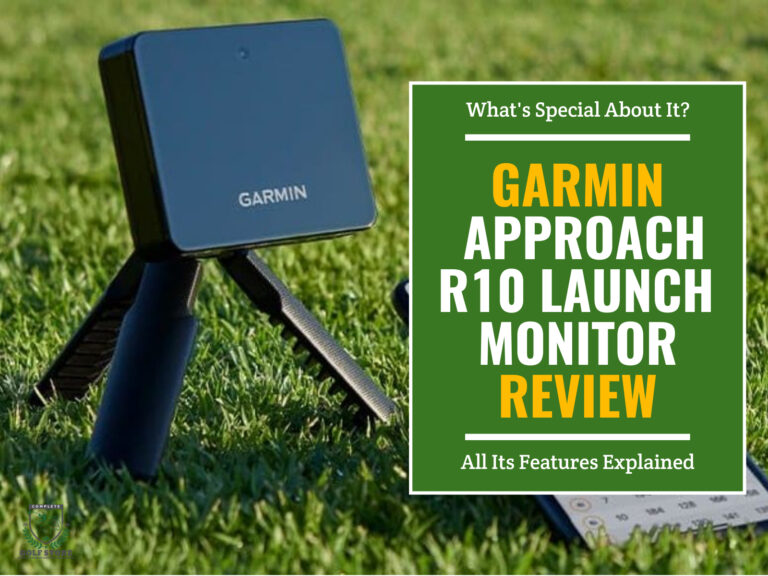 Disclaimer: We may earn a small commission from some of the links on our website. However, our reviews and comparisons remain fair and unbiased. Our goal is to help you make the best choice. For more information, please see our
disclosure statement
. Thank you for your support.
Key Takeaways
The Approach R10 was the first launch monitor in its price of $599 to include golf simulation features from Garmin.
With its well above-average accuracy, the ability to track your ball and club using Doppler Radar and provide metrics usually found in much pricier models, this little monitor surely made a splash in the world of golf. Also, it is extremely portable and has a staggering battery life of up to 10 hours.
For all these features and many more, the Garmin Approach R10 is an excellent deal for its current price.
Skytrak and Mevo+ have reigned over the value launch monitor market for several years, but today, the two seem to have encountered some serious competition in the form of Garmin's new popular portable golf launch monitor - the Approach R10.
In this article, we will review the Approach R10, which is the first monitor in its price category of $599 to include golf simulation features. Some even predict the R10 will influence the launch monitor market the same as Skytrak did when it was first introduced in 2014.
Taking this device with you is as simple as putting it in your purse or backpack. Set it up, and begin hitting balls. Players that are constantly on the go will appreciate the R10 for its simplicity and portability.
Keep reading to see why you might consider getting the Approach R10 as your new golf companion.
What Is Special About the Garmin Approach R10?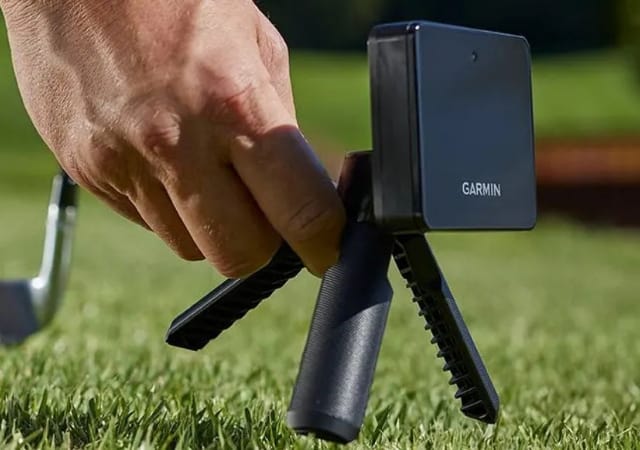 As one of the first manufacturers to completely support GPS, Garmin is one of the most well-known manufacturers of GPS equipment. Earlier in 2021, Garmin debuted the Approach R10 launch monitor to improve its position in the virtual golf equipment market.
Using Doppler radar technology, the Approach R10 generates velocity data for objects in the distance. The target's velocity may be accurately measured in a matter of seconds, thanks to this variation. It is worth noting that the results are more predictable and reliable when using Doppler technology outside than those achieved indoors.
However, when establishing a customized virtual golf setup, launch monitors/simulators can cost between $10,000 and $100,000.
This is the most cost-effective option for professional or average golfers who want to practice constantly and in all weather conditions. The best features of this golf simulator are its low cost, extensive club and ball data, and golf simulation capabilities.
Setting up the Garmin R10
Getting familiar with the R10 is a good first step.
The R10 includes a logo, and a single LED on the front of the device to display the unit's current status. This will let you know whether or not the R10 is ready to take a shot.
As you view the back of the device, you will see the following:
USB port with weather cap
Alignment line
Power button
Battery Status LED indicator

Flashing red means that the unit is charging
Solid red means that the unit is fully charged
The basic setup is straightforward; you just need to follow the steps below:
The Garmin App Installation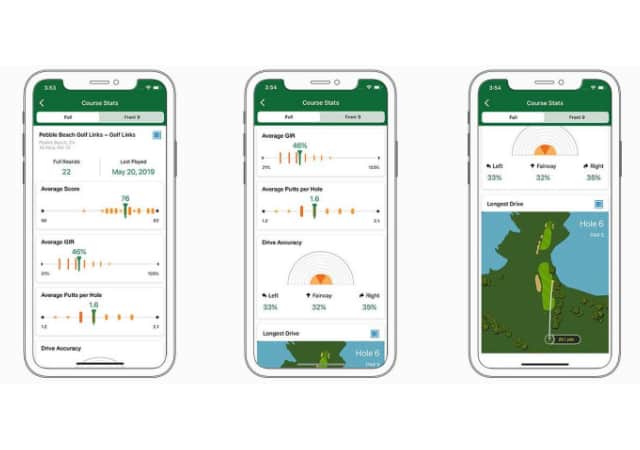 The amazing Garmin Golf app is a significant element of the Garmin Approach R10's appeal.
The driving range function, which the vast majority of golfers will utilize most of the time for practice, is remarkable. Additionally, you can personalize the data display inside each mode to reflect the parameters that are important to you.
We prefer this in the range view, where it is simple to observe the ball flight trajectory and monitor three parameters at the same time, such as Carry Distance, Smash Factor, and Total Deviation.
For full utilization of the Garmin Simulator app, you can unlock additional functionality in the app for a small monthly fee. The app is available for free download and does not require in-app purchases to use.
You and your friends can play virtual rounds on your local course or any of the 42,000 golf courses accessible worldwide with your premium Garmin Golf app paid subscription.
You can also participate in a weekly tournament with a worldwide scoreboard on Garmin's Home Tee Hero. If you buy the Approach R10, you get a 30-day free trial.
With the "Home Tee Hero" feature, you may play virtual rounds of golf at practically any course in the world using GPS to prioritize the course closest to your current location.
Tripod Mount
It is recommended that you use the included tripod stand with caution because the stand's magnet may interfere with the operation of electrical devices like computers and tablets. Note that improper positioning will compromise the R10's ability to deliver accurate measurements.
There is only one way to mount the tripod. Make sure that all three legs are fully extended before inserting the tripod into the R10 unit.
Hit a Shot and Calibrate
First, position your ball on the tee. Ensure that it is at least eight feet away from the net when playing indoors.
Then, position the R10, with the tripod stand, 6 to 8 feet behind the tee position with the front of the R10 towards the ball.
If using a mat, ensure that the bottom edge of the R10 is elevated. Ensure that the R10 is positioned so that the red alignment line is aligned with the ball's position and the intended target line. Check this with a golf club or an alignment stick.
The tee can be shifted to either side of the target line by up to one foot if necessary. Again, the R10's accuracy will be compromised if you use it in an incorrect position.
Start a game mode in your smartphone's Garmin Golf app. When the LED indicator on your R10 starts blinking green, take your shot.
Here's a short video (3 minutes 29 seconds) from Garmin Retail Training on setting up your new Garmin Approach R10.
What Data Does the Garmin R10 Measure?
In essence, the R10 is a launch monitor that keeps track of a variety of data points related to the club and the ball in order to help you improve your golf swing speed and consistency. It calls itself a "portable launch monitor that takes the course to you," which is what it actually is.
Ball Speed
The ball's velocity as it leaves the clubface after impact is what the Garmin R10 measures. Attainable launch angles [1] and spin rates are directly related to a golfer's club's kinetic energy output, strike quality, and equipment quality.
Ball speed affects how far the ball flies, but it's not the sole factor.
Spin Rate
There are launch monitors that display spin as a total spin rate and a spin direction (the spin axis), while others display both back and side spin.
The spin axis [2] shows that the golf ball is actually only rotating in one direction.
Spin Axis
The combination of backspin and side spin indicates the direction of spin imparted to the ball at impact. The ball's spin axis will not change during its flight.
Garmin R10 also shows you a total spin rate [3] and a spin axis by combining back and side spin.
Launch Direction
The angle at which the ball begins its flight in relation to a straight target line is known as the launch direction [4], also known as the horizontal launch angle, side angle, or 'azimuth.'
Launch direction is the word used by Garmin to describe this setting. Using the launch direction, you can tell if you're launching the ball in the air or on the ground.
Launch Angle
This is a measurement of the angle at which the ball takes flight from the ground. It is possible to master the art of hitting high and low shots with the help of the Garmin R10.
To get the most out of your driver, you'll want to get the best launch angle possible. Using a launch angle that is either too high or too low will result in a ball that rises fast, spins excessively, and then falls short of its full potential.
Carry Distance and Total Distance
The Garmin R10 radar technology feeds data into its own software and algorithm to provide a carry distance and total distance. All launch monitors arrive at carrying and total distance in essentially the same way.
The discrepancy between the two values represents the projected speed at which the ball will travel. This is because shots that have a lower launch angle and less backspin roll more, resulting in an increased disparity in carrying and distance.
Apex Height
It's important to note that the apex height [5], which the Garmin R10 provides as a launch parameter, refers to the highest point the ball will reach mid-flight.
Golfers can use this to practice trajectory control and play in the wind, among other things.
Deviation Distance
Depending on whatever launch monitor you use, you may hear about deviation distance (also known as distance offline or lateral landing) as another Garmin R10 data characteristic. A golf shot's distance from the central target line is called a "distance".
Shot shape, beginning direction, wind, and topography all affect deviation distance.
Club Head Speed
Golfers can use the Garmin R10 to track their clubhead speeds, which are the speeds of their clubs at the time of impact with the ball.
Aside from the quality of your swing, launch angle, and spin, club speed is a significant component in deciding how far your golf ball will fly.
The speed of your golf club and that of the ball are intimately related. A fast-moving club is likely to produce an even faster shot than a slower-moving one with an efficient swing.
Club Path
Advanced club data such as face angle, face to path, and club path were promised by the Garmin R10 when it was released. These are key metrics generally reserved for the most expensive launch monitors.
As a result of advanced club data like these, golfers are better equipped to understand how to rectify a slice or shape their strokes at any time.
A golf club's path [6] is the path it takes through impact in a two-dimensional plane. It is possible to characterize the course of the club by using terms like "square," "in-to-out," or "out-to-in," depending on the club face angle.
Face Angle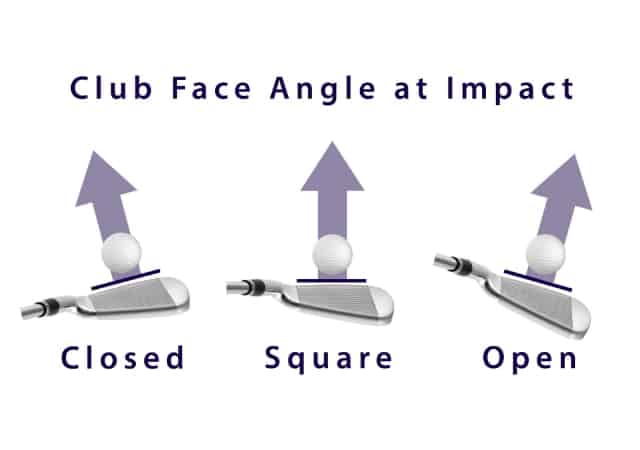 Face angle [7] informs you of the direction the clubface is pointing when it makes contact with the ball (either left or right), and it is measured in relation to the target line.
For a clubface to be perfectly aligned with the target line, it needs to have an angle of zero.
Face to Path
With the Face to Path calculation in Garmin R10, you can see how much of a discrepancy there is between the face angle and the path of the club.
To produce a fade, the face of the club must be open in relation to the path of the club; to do a draw, the face must be closed.
Attack Angle
The club's angle of attack, as measured by the Garmin R10, indicates whether the club is traveling upwards or downwards toward the golf ball.
A positive or a negative attack angle is possible. You can use this information to improve your ball striking.
Deviation
You can assess deviation by how far your latest shot was from your average shot. You'll need to gather a number of previous shots.
Tracking club and ball metrics is just one feature of the R10, however. On top of that, it can use your phone camera to record swing video clips of each shot and provide golf simulation with Home Tee Hero and E6 CONNECT.
A phone mount that attaches to your bag is included to make the entire process much easier.
Garmin R10 Battery Life and Autonomy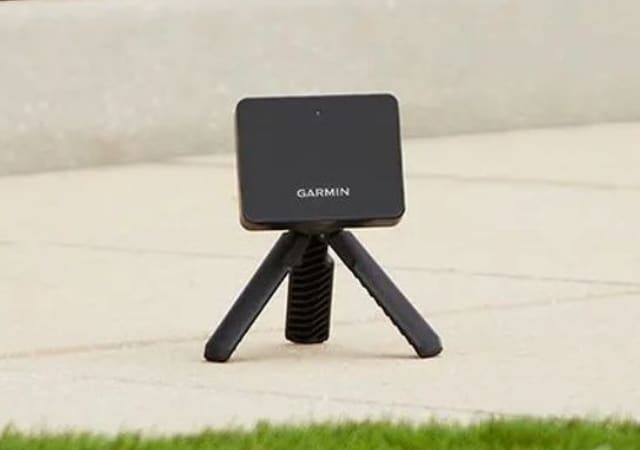 With up to 10 hours of battery life, Garmin equipped the R10 for long runs. Additionally, it comes with a handy travel case that makes it simple to safely move from your home to the range and back again!
The R10's IPX7 waterproof rating means that you may practice even when the weather is bad. Additionally, it integrates with the E6 Connect content library, and you get five free courses on the iOS version of E6 Golf when you purchase the Approach R10.
You can get a full day of golfing and more out of a single full charge on the Garmin Approach R10, whether you take the unit outside for several sessions or play indoors for hours on end.
Your battery life won't interfere with your efforts to enhance your golf game.
Garmin R10 Accuracy
Another amazing benefit of the launch monitor is that it is great for both indoor and outdoor use. We found the R10 to be marginally more accurate outdoors than it was indoors during our testing.
Doppler radar-based launch monitors frequently exhibit this behavior. The more room a radar-based launch monitor has to work with, the better it can track the ball.
This is a fantastic monitor for $600, but it's realistic to say that the R10 doesn't quite measure up to more expensive options when it comes to accuracy. However, this is an acceptable compromise for many golfers because of the low cost.
Whatever the case may be, the Approach R10 has received high praise from virtually every major golf publication and critic, so you know it's good.
A Note On Spin Calculation
The Approach R10 ball spin rate reading has been upgraded in software version 3.80.
To measure spin directly by radar, the ball must be seen for more than 20 meters and be traveling at least 90 mph. Otherwise, spin is calculated.
Indoors, the R10 calculates spin using radar data as inputs. Outdoors, the R10 measures ball trajectory to compute spin.
In order to get reliable spin readings, you should avoid marking balls (such as by using stickers) in any way. In addition, headwinds and tailwinds affect measurement accuracy.
Golf Simulation With the Garmin R10
The Approach R10's support for golf simulation setups sets it apart from other launch monitors in its price range.
Do take note that there is a difference between launch monitors and golf simulators.
Driving Range Mode
Garmin Golf's Driving Range Mode allows you to mimic your shot on a virtual driving range and gives you the full set of data metrics after each shot.
Home Tee Hero
You will be able to play your own course with the help of the home tee hero. If you're looking for a course near you, Home Tee Hero has more than 42,000 genuine courses in its repertoire.
Many cheap launch monitors have a delay of up to three seconds between the moment you hit your shot and the data appearing on your screen. To increase realism, the R10 provides a much faster display of the shots.
Here's a video demonstration (14 minutes 45 seconds) on how the Home Tee Hero works with the Garmin Approach R10.
The Golf Club 2019 Software
The Golf Club 2019 is another new R10 software integration.
This has always been our top recommendation for golf simulation software since it contains more than 150,000 courses to choose from, a wide range of features, and excellent visuals.
TGC 2019's visuals are comparable to E6 CONNECT in their authenticity. Stroke play, match play, Stableford, four-ball, skins, and alternate shots are just a few of the available game variants.
Using TGC's multi-shot capability, up to four players can simultaneously hit their shots.
E6 CONNECT software
Compared to Home Tee Hero, E6 Connect has better visuals. Home tee Hero can't compare in terms of fun and course quality.
Even though both programs allow you to play real-life courses, E6 Connect is more realistic. If you play at Harbour Town, you'll feel like you're on the actual thing!
Awesome Golf
Awesome Golf has recently added support for the R10. It's a third-party golf simulator software geared toward social play and precious time with friends, relatives, and even young children.
If you are planning to use the Garmin Approach R10 launch monitor to build your own golf simulator setup, check out our detailed guide on how to build your DIY system.
Additional Features
The Garmin Approach R10 is packed with exceptional features you can enjoy including:
Swing Recording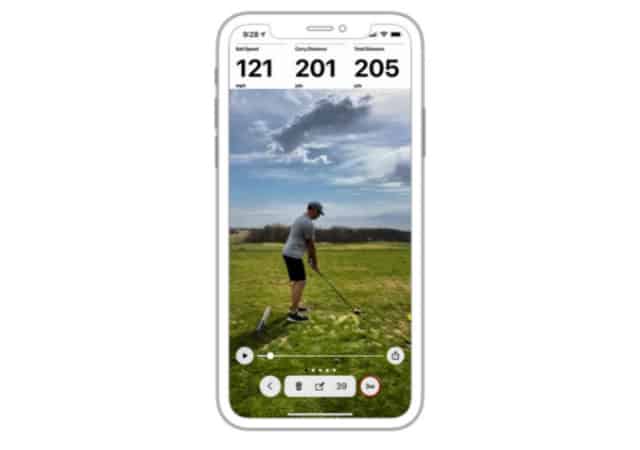 With the R10, you may use your phone's camera to record video of your shot from behind the hitting area. On top of each film, you can see your stats, such as ball speed, carry, and total distance. In addition, the club you use is also indicated in the swing recording.
You can pause and skip to different points in each clip if you choose. These video recordings can also be stored in the cloud with a Garmin Golf Premium Subscription.
Tournaments & Sharing
You can review stats and leaderboards in the Garmin Golf app by uploading your scorecards.
There are over 42,000 courses in Home Tee Hero, and you can track your progress in real-time against the global weekly leaderboards.
Alternatively, you can organize your own tournaments and ask your friends to join in the fun.
Club Performance
With video capture, you can observe how each club performs throughout a driving range session. You see a top-down shot dispersion map when you view your club's performance, including the following:
total number of shots
the number of shots each club is capable of producing
the longest, shortest, and average carrying lengths for each club
This feature will help you better comprehend your data. You should hit at least ten shots with each club in your bag if you're using the R10 so that you can get an idea of your typical distances and make smarter club selections while playing.
Garmin Approach R10 Best Alternatives
Check out how the Approach R10 to some well-known launch monitors in the market.
Garmin Approach R10 VS SkyTrak
Camera and Doppler radar-based launch monitors are the most common in use today.
SkyTrak is a camera-based launch monitor that utilizes photometry. The ball is captured and analyzed at impact using high-speed cameras. Finally, after a few algorithms and equations, you'll have your results.
SkyTrak's photometric technology is extremely accurate and dependable. We've found that SkyTrak's data is almost always accurate, with errors of less than 2% compared to more expensive devices like the Foresight Sports GC3 or FlightScope X3.
One of the main reasons SkyTrak is so popular is the fact that you can achieve this level of precision for less than $1000.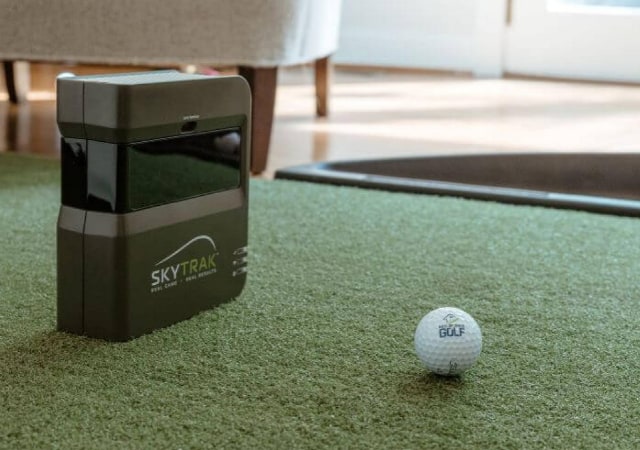 Garmin Approach R10 and SkyTrak aren't exclusively for pros and low handicappers anymore. Golf brands like SkyTrak and Garmin are developing personal golf launch monitors and home simulators that amateur players may purchase.
But why choose Approach R10 over SkyTrak?
A good launch monitor at a reasonable price is what the R10 is all about. Although it may not have the most comprehensive set of advanced metrics, the launch monitor is nonetheless competitive with more expensive models.
The simulation feature Home Tee Hero is just one of many enjoyable ones to choose from. Practicing with them is more fun, and it helps you improve your skills.
The attack angle and club path can both be found on the Garmin R10. However, none of these features are available on Skytrak.
Check out our comprehensive review of the SkyTrak launch monitor and packages to better understand its perks and features.
Garmin Approach R10 VS Flightscope Mevo+
Since its debut at the 2020 PGA Show in Orlando, the Mevo+ has swiftly become a favorite among golfers.
While it's more than double the size of the Mevo, the Mevo Plus nevertheless has a very thin body. As a result, even though the Garmin R10 is a smaller unit, the FlightScope Mevo+ actually feels a little more portable because of a considerably thinner carrying case.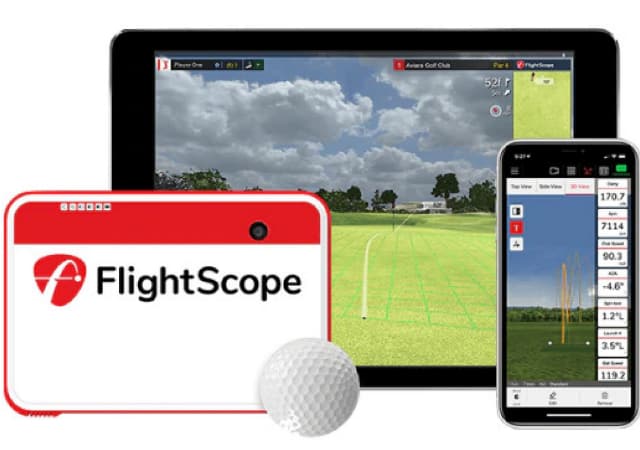 But why choose Approach R10 over the Mevo+?
For those who plan to spend a day at a range, the Approach R10 is a must-have, especially since the Mevo+ takes 3-4 hours to recharge.
The Garmin, with its 10-hour battery life and much lower charge time, seems like a better option for a day of improving your play.
Furthermore, everything for the R10 is accomplished through the Garmin golf app, which is a terrific ecosystem.
When it comes to actually setting up the device, Garmin has the upper hand. It's a one-size-fits-all system, with little room for personalization.
The Mevo+, on the other hand, comes close to becoming a professional-level gadget, and as a result, offers greater customization choices that can be quite confusing.
Where To Buy Garmin Approach R10?
You may purchase the Garmin Approach R10 on selected online shopping platforms such as Shop Indoor Golf, Top Shelf Golf, Rain Or Shine Golf, and Amazon.
Based on your preferences, you can choose from any of these merchants. All of them offer outstanding customer service departments ready to respond to any queries or problems you might have.
Frequently Asked Questions
Here are some frequently asked questions related to the Garmin Approach R10:
How Much Space Do You Need to Use the R10?
Indoor use of the Garmin R10 requires a minimum space of 15 feet long by 8 feet wide by 8 feet high (4.6 meters by 2.4 meters by 2.4 meters).

Position yourself so that you can swing comfortably. Otherwise, you will likely see just limited distances.

The R10's recommended dimensions of 18 feet in length, 15 feet in width, and 10 feet in height, as well as its center aim point, provide a more pleasant experience.

You must ensure that the R10 is aligned and tilted properly so that the radar can see the ball adequately. This involves having sufficient space behind you (and, consequently, interior room length) to position the R10.

Learn more about the space requirements for any indoor golf simulator in this article.
Is the Garmin Approach R10 Portable?
Yes, the Approach R10 is a compact and easily transportable launch monitor that takes the course to the driving range.

The game can be played anywhere, including at home, indoors, and on the driving range.
Does the Garmin R10 Work Outside?
Yes, the Garmin Approach R10 works outside, beautifully. In fact, it is more accurate outdoors than it is indoors thanks to the unlimited ball flight time.

When used indoors, the R10 uses a machine-learning model that incorporates inputs from collected radar data to determine the spin. The R10 uses the trajectory of the ball to measure spin when playing outside. If you want to get accurate spin readings, don't put markings such as stickers on your golf balls.
Does the Garmin Approach R10 Get Constant Software Updates?
Yes, the Garmin Approach R10 receives software updates from time to time. These updates can provide new features, improve performance, fix bugs, or enhance the overall user experience.

When you connect your Approach R10 to your computer, Garmin Express automatically checks for and offers software updates.
How Much Does Garmin Approach R10 Cost?
The Garmin Approach R10 personal launch monitor costs $599.99.
Final Verdict
Launch monitors are an expense, but they are also extremely useful tools if used correctly.
The Approach R10 is the only launch monitor we are aware of under $1,000 that has golf simulation functionality, and Garmin is adding compatibility for more high-quality software.
It measures an astounding number of data points that you would normally only receive at the $2000 SkyTrak/Mevo+ level and higher.
This is one of the few hyped-up golf devices that actually delivers well beyond the hype.
It is a great choice for anyone interested in golf simulation, whether you're a data geek or want to pass time during the long winter months.
---
References:
What is Launch Angle? TrackMan Golf. Retrieved from https://blog.trackmangolf.com/launch-angle/
Spin Axis. TrackMan Golf. Retrieved from https://blog.trackmangolf.com/spin-axis/
What is Spin Rate? TrackMan Golf. Retrieved from https://blog.trackmangolf.com/spin-rate/
Launch Direction. TrackMan Golf. Retrieved from https://blog.trackmangolf.com/launch-direction/
Max Height. TrackMan Golf. Retrieved from https://blog.trackmangolf.com/max-height/
What is Club Path? TrackMan Golf. Retrieved from https://blog.trackmangolf.com/club-path/
What is Face Angle? TrackMan Golf. Retrieved from https://blog.trackmangolf.com/face-angle/
WRITTEN BY

My name is Jacob, a self-diagnosed equipment and golf enthusiast. I've been golfing since I was 15. Golf has always been my passion. I'm a bit of a golf equipment nerd and I've been that way since the moment I picked up a club for the first time. As someone who's been on both sides of the game, I know what it takes to be a good golfer. Of course, you need good equipment, but you also need to know how to use it. I hope sharing my experience with you will help you improve your game.
You May Also Like