Difference Between A Launch Monitor And Golf Simulator - Explained
Last updated:
December 12, 2022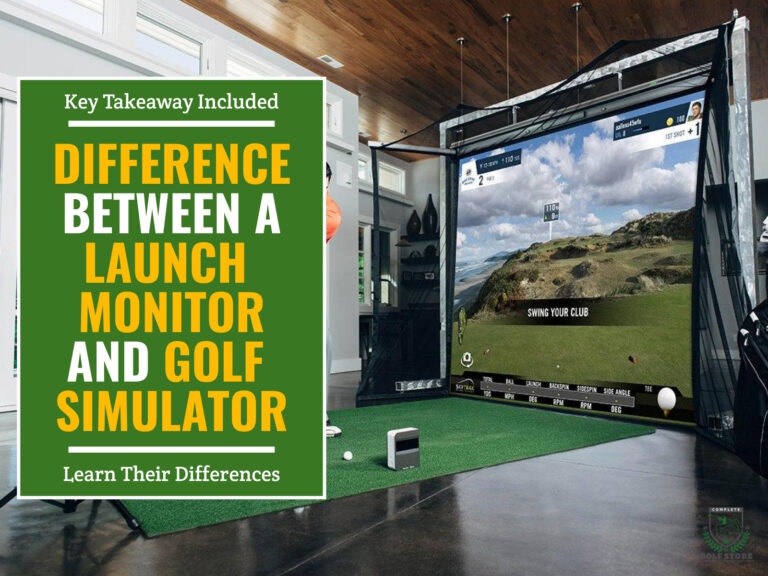 We are supported by our readers and we may earn a small commission when you click on some of the links at no additional cost to you. Our full disclaimer can be found
here
. Thank you.
Key Takeaways
The key difference between a launch monitor and a golf simulator is that the first is a single unit that tracks your golf ball and/or club to provide valuable metrics and help you improve your game; Some are portable and use a built-in battery to be used both indoors and out, while others - like overhead monitors - are designed to be used strictly indoors.
On the other hand, a golf simulator is a full package that includes a launch monitor for tracking but also uses a computer and simulation software to turn the gathered data into a virtual simulation of your shots that is then displayed on a projector screen, a laptop or smart device.
When it comes to your golf shots, launch monitors and golf simulators both provide great practice opportunities and crucial feedback.
But how are the two different? While a launch monitor gives numerical data relating to your shots, a full-fledged golf simulator is a comprehensive system that not only measures data but also simulates your ball flight in a virtual software environment.
These two types of technologies are very different, but many golfers still get them confused. So, if you're going to buy either, know what you're getting yourself into first.
To help out, we've outlined the differences and similarities between golf simulators and launch monitors.
The Difference
The main fundamental distinction you need to make is that all Golf Simulators are Launch Monitors, but not all Launch Monitors are Golf Simulators. Launch monitors deliver numerical data related to your shots, while golf simulators are the whole system that not only measures data but also simulates your ball flight in a virtual software environment, playing it out on a screen, projector or laptop.
Golf simulators use different software technologies to simulate the playing conditions of the course. The best simulators have the latest 3D technology that allows users to experience a virtual reality similar to what they experience at the actual course.
On the other hand, launch monitors use tracking technology and provide valuable data to help the golfer improve various areas of their game.
Let's explore more of their differences below.
Launch Monitors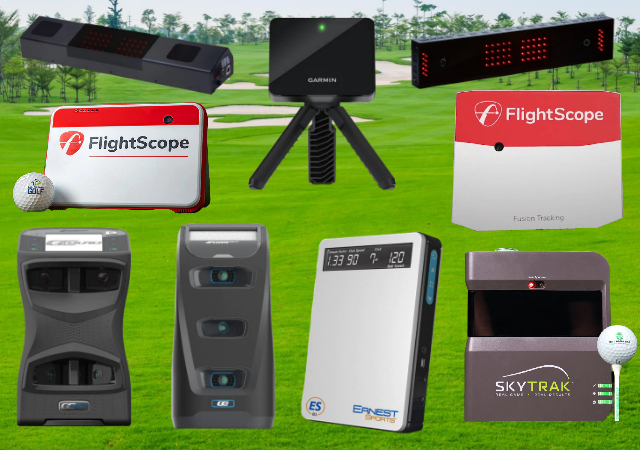 Launch monitors are tools that golfers use to understand the mechanics of their shots better. Carry distance, spin, ball speed, and club head speed are among the most common measurements provided. Golfers utilizing launch monitors are supplied with numerical statistics following each shot they take.
Check Also: Best Golf Launch Monitors
Doppler radar and photometric technologies are used to get the data they need. The ball is tracked with Doppler radar using microwaves, while the path is examined with photometric technology using a sequence of high-speed photographs.
They Are Affordable
As launch monitors perform a restricted number of functions, such as measuring the various club and ball properties upon impact, they cost far less than comprehensive simulators.
Several launch monitors can be purchased for less than $1000. However, there are several launch monitors that cost significantly more than this, even in the five-figure range. For instance, you can get yourself a device from the Foresight Sports GC series. The GC3 launch monitor is priced at $7,499 and includes a software license for FSX 2020 with 10 courses.
Some Launch Monitors Are Portable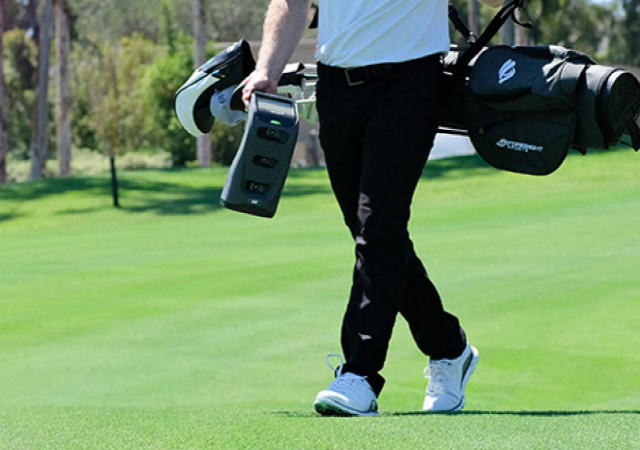 For the data-driven golfer, a launch monitor is a must-have piece of equipment. In addition, a certified golf instructor can then use the shot data to describe what you should be working on during your time with one.
When compared to ceiling-mounted launch bars, portable launch monitors, such as the GC3, GCQUAD, X3, R10, etc... are far more convenient and can be utilized on the range, on the course, or even at home. Costs for pocket-sized portable launch monitors can be as little as $300 and as high as over $10,000 for professional models.
The number of data points, accuracy, technology, size, and weight is only a few factors that contribute to a good portable launch monitor. The Swing Caddie SC200 PLUS launch monitor, for example, is so small that it can fit in your pocket.
They Are Compatible with iOS and Android
You can use smartphones and tablets running iOS or Android to operate a large number of launch monitors. All you'll need to do is download a golf app like ES Range or FS Golf to get started.
Some launch monitors, such as the Garmin Approach R10, require a smartphone app to be utilized to function properly (in this case, the Garmin Golf app). This is primarily due to the lack of an electronic display on the actual launch monitor. Companion applications offer images rather than raw data, so they are more useful for developing your play.
Check Out: Garmin Approach R10 Review
Golf Simulators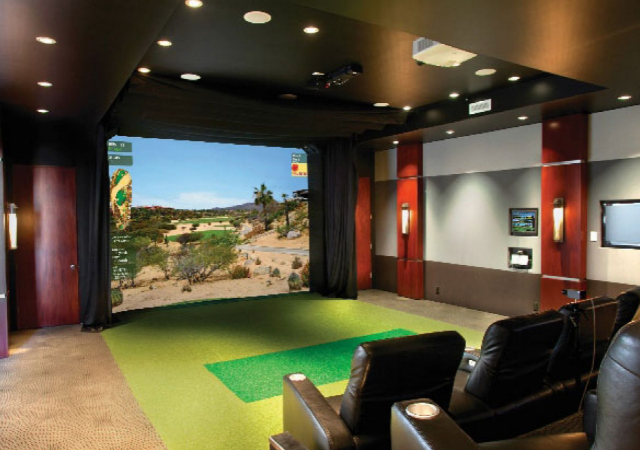 Golf simulators utilize launch monitors for data processing and presentation. A simulator consists of multiple technologies, including projectors, screens, hitting mats, and enclosures.
On this page, you can learn more about how all these components make golf simulators work.
Tools in this suite analyze golf shots and represent the results as virtual golf shots on display. They simulate the golf course with realistic graphics and make practicing more dynamic than launch monitors alone.
You May Also Like: Best Golf Simulators
Golf Simulators Are Expensive
Golf simulators are typically far more expensive than launch monitors because they obviously contain a launch monitor and typically everything needed for a complete virtual golf experience.
While the Mevo launch monitor costs about $500, a simple SkyTrak simulator bundle can cost more than $4000, so let's look at an example. One of the most expensive launch monitors on the market is the GCQuad from Foresight Sports, which costs a minimum of $14,000.
In order to capture, analyze, and project your golf shots onto a screen, golf simulators must have various high-quality components. Although the initial setup of a golf simulator is expensive, you can start off with a simpler model and gradually expand it as your budget permits.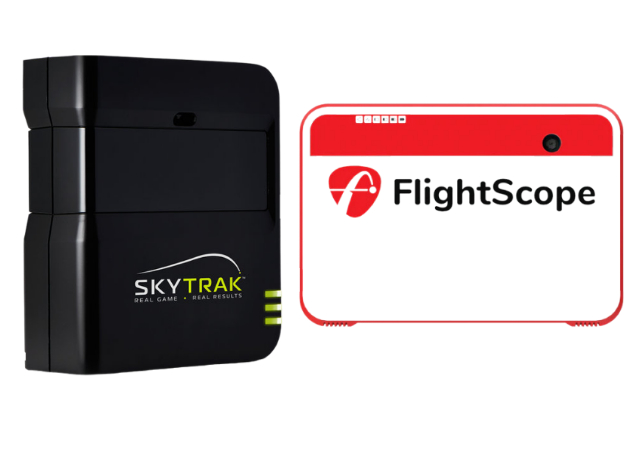 An expensive golf simulator can be expected because it is composed of several different parts. Golf simulators and launch monitors can range in price from $500 to low-medium budget options for less than $5,000, to commercial grade units costing more than $70,000, depending on the features they include.
If you're looking for golf simulators for less than $1000, check out this article.
Simulators Are Larger and Require More Space
Why would you want a launch monitor if you already have a golf simulator? Convenience is the answer.
On one hand, simulators tend to be larger and bulkier, making them a more comprehensive piece of gear. You'll have a hard time getting it to the range, and you'll probably have no way of taking it out on the course with you.
When you play with real balls on a golf simulator, you usually need your own property and a place with a ceiling height of at least 8 feet and to secure a comfortable play, 10 feet is recommended.
While installing golf simulators in some flats and condos is possible, the lack of available space and the potential for noise disturbance make it more difficult. If the landlord does not allow golf simulators, you would need to confirm this with them beforehand.
It's possible to build a golf simulator shed, but you'll need to possess property, such as a backyard. With launch monitors, on the other hand, a net and a hitting pad may be quickly set up in any area.
Related: Golf Simulator Room Size Requirements
They Come With a Different Software
Golf simulators, as opposed to launch monitors, use software that provides a plethora of options. A driving range is a bare minimum in any golf simulator. In addition, they may provide faithful recreations of well-known courses, multiplayer modes, minigames, and skill tests. E6 CONNECT and The Golf Club 2019 are two of the top simulator software options currently available.
Although certain launch monitors can be converted into a full golf simulator with little effort, the majority of them are not compatible with simulation software.
Final Thoughts
Professional golfers, competition golfers, and competitive amateurs will benefit from using launch monitors and golf simulators. When the weather isn't cooperating, and you can't get out and about, you can utilize these indoors.
There are a lot of places for both of these technologies on the market, and which one you choose will come down to personal preference, as you can see from our article.
Enjoy your practice!
WRITTEN BY

My name is Jacob, a self-diagnosed equipment and golf enthusiast. I've been golfing since I was 15. Golf has always been my passion. I'm a bit of a golf equipment nerd and I've been that way since the moment I picked up a club for the first time. As someone who's been on both sides of the game, I know what it takes to be a good golfer. Of course, you need good equipment, but you also need to know how to use it. I hope sharing my experience with you will help you improve your game.
You May Also Like