The 6 Best Projectors for Golf Simulators
Last updated:
November 11, 2023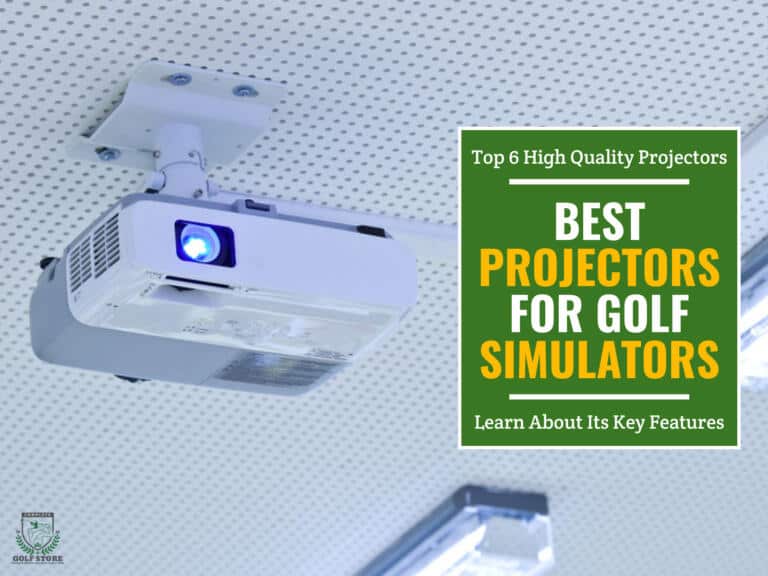 Disclaimer: We may earn a small commission from some of the links on our website. However, our reviews and comparisons remain fair and unbiased. Our goal is to help you make the best choice. For more information, please see our
disclosure statement
. Thank you for your support.
Key Takeaways
The Panasonic SOLID SHINE PT-VMZ50U is our top pick for the best projector for golf simulators. It offers an extended large image with bright, vivid, and crisp images thanks to its WUXGA resolution (1920 x 1200 pixels), high contrast ratio (3,000,000:1), and brightness level (5,000 lumens). It is also whisper-quiet and durable, with a lens life expectancy of 20,000 hours. Installation is a breeze thanks to the keystone vertical, horizontal and corner correction as well as lens shift functions.
It is safe to say that your simulator setup can only be as good as its weakest component. You can buy one of the top golf simulators with the best possible components, except a single one. You can be sure the whole experience will be ruined because that single component is too weak to match the others.
Your golf simulator projector is the link that connects virtual golf to reality by displaying the processed output on the hitting screen. It is the final step before the golfer receives the output. Unfortunately, having a bad-quality projector is a mistake many golf simulator buyers still make.
That's why we decided to help you avoid that mistake by testing the best projectors on the market and providing a list of the 6 best golf simulator projectors from a wide range of prices. We also provided the crucial factors to consider before making your final decision.
Keep reading for the details!
No time to read the whole article? No worries. We've done the work for you and compiled a list of the top performers.
| Product | Features | Our Rating | |
| --- | --- | --- | --- |
Do You Need A Projector For Your Golf Simulator?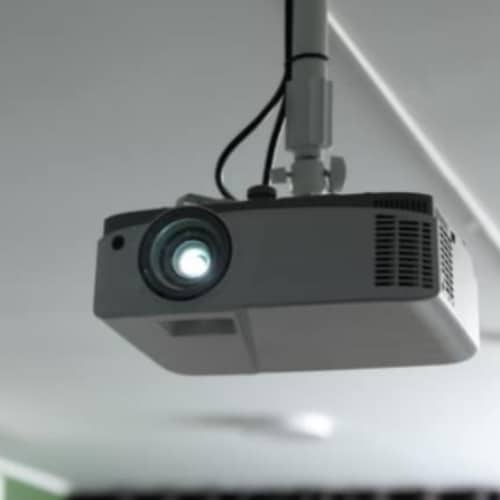 Simply put, a projector is not a must to use your golf simulator. You can use your Big screen T.V. as a display for your simulator. Both usually share the same connection interfaces (Usually H.D.M.I.).
Still, we don't recommend using your T.V. (or even computer monitor) as the main display for your simulator because it provides a smaller image size and may be hit and destroyed by errant balls.
Most golf simulator packages in the market include a projector. Golf simulator projectors provide multiple benefits over any other display options; these include:
The display size is much larger than other options, which improves realism.
A good projector makes the experience more immersive. You feel like you are playing actual golf.
They offer customizable display sizes, allowing the image to fit different screen sizes.
They are budget-friendly, as they offer a much lower cost per inch than T.V.s.
They are compact in size and do not take much space. With the golf simulator and launch monitor taking up floor space, projectors that are mounted on the ceiling free up space and are safe from any accidental hits.
Eye comfort is guaranteed because the displayed images and texts are perfectly visible.
You can easily adjust the brightness level of the projector, which makes it easier to see the ball's flight path.
It is more durable than other options, so it won't get damaged easily.
They also have less heat generation, which is important, especially when simulating long indoor virtual golf sessions.
The 6 Best Projectors For Golf Simulators
We have tested a plethora of options to come up with our list of the best golf simulator projectors one can buy today.
We took into consideration factors like budget, image quality, resolution, throw distance, projector technology, features, etc.
In the end, we assure you that all the projectors in our list are the best of the best (in their categories); so, whichever you end up choosing, you will get an excellent product that will serve you well (and for a long time) to enjoy your favorite sport at home.
The following are our top selections based on our own testing, research, and experience:
Best Overall: Panasonic Solid Shine PT-VMZ50U
This is our choice for the best all-rounded golf simulator projector. The Panasonic PT-VMZ50U managed to strike a balance between price, build quality, performance, image quality, and features.
The projector offers an extended large image thanks to its WUXGA resolution (1920 x 1200 pixels). Also, the high contrast ratio and brightness level of 3,000,000:1 and 5,000 lumens, respectively, will guarantee a bright, clear image projection with the best graphics quality of your simulated golf sessions.
The projector is whisper-quiet and durable, with a lens life expectancy of 20,000 hours at the highest possible color and brightness accuracy (thanks to implementing Panasonic's SOLID SHINE Laser Light Source [1]).
Installation is a breeze thanks to the keystone vertical, horizontal and corner correction as well as lens shift functions allowing for perfect projection even at the most unusual angles. You can connect the projector using multiple interfaces with the available HDMI (X2), VGA (X2) and RCA ports.
Features:
Extended WUXGA projection size.
Direct power off power management function.
16:10 aspect ratio.
ECO Management Function
Stress-free installation and adjustment.
Bright, vivid, and crisp images with high contrast.
1.6x zoom function.
Remote control included.
Pros
Excellent image quality.
Possibility to pass sound through the projector to your sound system (and avoid using any additional cables).
Can connect wirelessly or using a Digital Link cable to transmit uncompressed data.
Adjustable image with correction features.
Cons
Still on the pricey side.
Panasonic's PT-VMZ50U projector is an excellent product that provides a good bang for the buck. It offers features and hardware that ensure optimal image quality and graphics for a more accurate golf simulator experience.
Read more about the accuracy of golf simulators here.
Another equally well-rounded projector that offers excellent performance for a relatively affordable price tag is the Optoma GT1090HDR. It is slightly cheaper than the Panasonic but is a decent competitor. Make sure you check both products out before you make your final decision on which projector to buy!
Best 4k Option: BenQ LK936ST
If you are looking for a premium-quality golf simulator projector with ultra-high-definition capabilities, then the BenQ LK936ST is the perfect choice for you.
This 4K DLP (Digital Light Processing [2]) short throw projector provides ultra-immersive and realistic image quality and graphics.
The resolution of 3840 x 2160 pixels, coupled with a contrast ratio of 3,000,000:1 and 5100 lumens will ensure everything projected on the screen will be crispy clear with vivid, true-to-life colors regardless of any surrounding ambient light.
This laser projector has been specifically designed with golf in mind, as it has an exclusive golf mode that perfectly reproduces and mimics the amazing blue and green colors of the golf course.
In addition, the H/V lens shift feature allows you to manually shift the lens up to 60% vertically and 23% horizontally to align the image with the screen size. Once the image is aligned properly, the setting can be saved to preserve the perfect displayed image for your future sessions.
Moreover, when the projector is mounted on the ceiling at a distance of 10 to 15 feet away from the screen, it can produce images that are larger than real life (projected images can be up to 10 feet tall). As a result, the projector can be placed behind and above the hitting area, avoiding any undesired shadows that may affect the whole experience, as well as avoiding any accidental hits while fully swinging your driver.
Besides its outstanding performance and image quality, the BenQ LK936ST is also durable; you can be sure it will serve you well for a long time. It sports the IP5X dust guard certification that ensures the unit is much less prone to failure compared to other similar products.
This is because the projector uses enclosed light engines and sealed laser modules that prevent dust from getting into the insides and causing any failures or undesired spots on the projected image (because of the dust particles).
Features:
Low maintenance thanks to IP5X certification translates into a 20,000+ hour laser life expectancy.
Unique golf mode setting that optimizes the display for your virtual golf sessions.
Incredibly realistic image quality.
Very high contrast ratio for better image quality.
The 5100 ANSI lumens provide bright images with vivid colors.
Uses BenQ's revolutionary Bluecore Laser Technology that ensures unparalleled projection quality from any angle, 360° rotation, and dynamic installation (on the ceiling, wall, floor, etc).
Pros
HDMI 2.0 and Display Port interfaces are supported.
SPDIF connectivity for surround sound.
The image quality, innovation, and packed features are hard to compete with.
HDBaseT connectivity support [3] for hassle-free installation and operation.
The included DLP chip guarantees long operation periods of up to 100,000 hours.
Included adjustment tools like Lens Shift, corner fit, 3D Keystone correction, Digital Shrink, etc. all ensure easy installation and perfect projection.
Cons
The BenQ LK936ST is an excellent short-throw laser projector that uses state-of-the-art technology to provide the best possible image quality using different connectivity options. It is a high-end projector that is also extremely durable, providing an excellent return on investment value.
The only downside of this outstanding projector is its price: At around 4,500 dollars, it is (very) expensive, and not everyone can afford to buy it. Still, if you can afford it, you won't regret it, as it is by far the best 4K golf simulator projector we have tested and reviewed.
Still, if this projector is too pricey for you, we have a good alternative in the form of the Optoma HD28HDR; it supports 4K inputs and a 120hz refresh rate and costs much less money (despite having a lower lumen count). It will certainly get the job done!
Best FHD Option Under $1000: Optoma EH200ST
If you trying to find a projector from a reputable brand that offers decent performance and good image quality without breaking the bank, then the Optoma EH200ST is the projector for you!
For a little under 1,000 dollars, you can get an all-digital short-throw projector to fulfill all your entertainment needs thanks to its 1080P resolution and 0.5:1 short-throw projection. The result is a large projection surface with clear graphics and vibrant colors.
The Optoma EH200ST offers the connectivity you need for today's digital world, including two HDMI ports with MHL support [4], VESA 3D sync port, 12V output, and Audio out (via a 10-Watt speaker), super-quiet operation, etc.
For a long lamp life and a low cost of operation, the EH200ST incorporates Optoma's Eco+ technology [5].
Features:
The 3000 ANSI lumens ensure a good brightness level.
High contrast ratio of 20,000:1.
Auto power-off function to save power (You can set the period for auto power off).
The integrated speaker provides a decent-quality sound.
144HZ refresh rate for a lag and stutter-free simulation.
True 3D content support for your movies, games, etc. using Optoma's 3D glasses.
Pros
Competitively priced
Provides good image quality
Short throw projection distance (Producing a 100-inch image from 3.5 feet away from the screen)
MHL support connecting and displaying contents from your smart portable devices.
Cons
Could use a higher brightness level.
The Optoma EH200ST is hands down the best golf simulator projector that you can buy for under 1,000 dollars if you are building a DIY setup. It is packed with features and provides everything you need to indulge in your favorite virtual activity.
Still, if you are planning to use it somewhere with a lot of ambient daylight, like during the day in your garage (with the door open), then the projection quality will be seriously affected because of the brightness level limitation. Otherwise, this is a very good product that we highly recommend.
Another equally impressive projector that can be an excellent alternative is the BenQ TH671ST Gaming projector. Just like the Optome, it sports 3000 lumens, Full HD support and a price tag under 1000 dollars. It also comes with a three-year manufacturer warranty.
Best Lamp-Based Option: Panasonic PT-VZ580U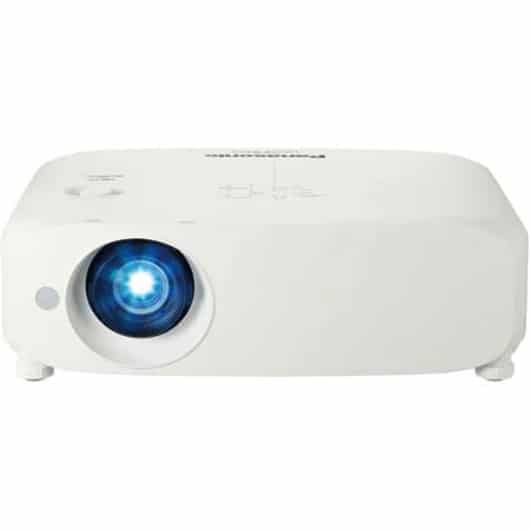 This is a lamp-based projector from Panasonic with a staggering 5000-lumen brightness level and 16,000:1 contrast ratio. This helps make the projected images crispy clear, with vibrant and true-to-life colors.
Despite the high brightness level, Panasonic managed to make the cooling fan noise tolerable at around 29 decibels, making it hardly noticeable (allowing you to focus more on your golf game). We didn't even notice the noise during our tests.
Panasonic's proprietary Daylight View Basic technology allows for the projector to enhance picture details and fine-tune it to make it visible even in daylight. Everything is done automatically thanks to an integrated sensor that measures ambient light and sets the daylight View basic accordingly.
Moreover, the PT-VZ580U supports a WUXGA resolution of 1920x1200 pixels that provides clear and detailed images.
The projector also offers a multitude of connectivity options, with an RCA composite, two HDMI and two VGA ports, analog audio input and output, etc. The projector can be connected to multiple devices at the same time, and switching between sources is a breeze thanks to the included remote control.
Installation is easy with the support of lens shift, 1.6x zoom, and keystone correction (vertical, horizontal, corner) to help avoid image distortion no matter how and where you decide to install it.
The extended lamp life of 7,000 hours (using Eco2 mode) and a reusable dust filter (that can be washed and reused twice) help reduce the maintenance required to keep the unit working flawlessly.
Features:
7,000 hours estimated lamp life
Bright display with 5000 ANSI lumens
16,000:1 contrast ratio
ECO Management
Automatic power-off function
Easy installation
Quiet Operation
WUXGA Resolution
Deep Imaging Power
Possible lens shift of +/- 40%
Pros
High brightness level makes images visible even during daylight.
Plenty of connectivity options.
Automatic image adjustments.
Image correction features for unusual mounting positions.
Cons
If you intend to use the projector with an extra-long VGA cable (longer than 20'), we recommend using a powered SDI converter to avoid losing the signal or having a distorted image.
The Panasonic PT-VZ580U is an amazing projector that is packed with useful features to make your virtual golf experience as simple and enjoyable as possible.
It offers a very high brightness level without sounding like a jet engine thanks to Panasonic's innovative cooling solutions.
We highly recommend this projector, as it is the best we have tested in the lamp-based category.
Best For Under $500: ViewSonic PA503W
If you are on a really tight budget, this is the projector for you. It will offer good performance for a lower cost.
The PA503W is a lamp-based projector offering high brightness thanks to its 3600 lumens.
As you would expect from a projector with this price point, it is a regular throw that can project an image size of up to 120" from a 15 feet 8 inches throw distance (requiring a considerable room size and depth). With the Eco mode activated, the lamp can last you up to 15,000 hours of use.
The PA503W offers enough connectivity options, with an HDMI port, two VGA ports, audio in and out, etc. You can connect it to any device you like.
The projected image is bright and clear with HDTV compatibility and a supported resolution of up to 1080P (1920x1080 pixels) with 3D Blu-Ray Ready HDMI Input. Moreover, controlling the projector is easy, thanks to the included remote.
Features:
Amazing color accuracy.
Guaranteed brightness in any environment.
Reduced input latency.
Vertical keystone correction.
3D BluRay ready.
Pros
Extremely competitive price.
High brightness level and good image quality.
Available in four different models, with the highest Full HD model costing around $549.99.
Cons
Reported issues with HDMI 2.1 devices
The built-in speaker is almost useless.
The ViewSonic PA503W is an affordable projector that offers many useful features.
It is recommended for those who are on a really tight budget and are trying to keep their golf simulator setup under $1000.
The performance exceeds what you'd expect from such a low-priced projector.
Best Ultra Short Throw Golf Simulator Projector: Optoma CinemaX P2
This ultra-short-throw projector is ideal for very small spaces, as you can use it to get a 120" image size by placing it a few inches away from the screen. It is a favorite among many virtual golf enthusiasts, thanks to the performance it offers.
The image quality is outstanding with support of 4K UHD resolution and HDR10 [6]. The 3,000 lumens offer enough brightness, and the 2000000:1 contrast ratio combines with it to make projected content crispy and clear with vivid colors.
Also, the projector includes a six-segment color wheel that you can use to adjust color settings so that they fit the content you are displaying (whether it is a game, movie, or golf simulation).
Ease of installation and use is ensured thanks to Optoma's easy image setup and Smart Fit app. You can use your smartphone for hassle-free image alignment and autofocus functionality.
What's more, the projector can be voice-commanded through Amazon Echo and Google Home devices.
In addition, the projector offers IFTTT support [7] and can be connected to a multitude of smart devices around the house. For instance, if connected to your smart doorbell, the projector automatically switches to mute function as soon as someone rings the bell.
The Optoma Cinemax P2 offers a gaming mode that bypasses the image processing and motion compensation engine to provide a direct path from the video source to projection and deliver smoother and more responsive gameplay. Moreover, the included built-in 40-watt soundbar delivers clear and detailed sounds with Dolby Digital support.
Finally, peace of mind is guaranteed with an estimated 30,000-hour laser life and an extended 5-year warranty or 12,000 hours of high-quality projection (whichever comes first).
Features:
Ultra short throw.
4K HDR 10 support with wide color Gamut support.
Easy connection with other smart devices around the house.
Built-in, premium soundbar.
Simple image alignment through your smartphone.
Guaranteed durability and reliability.
Pros
Stunning image quality.
The amazing sound is built-in; no need to buy an extra sound system.
Setup and use are extremely easy and simplified.
Good price point for the performance and quality you get.
Cons
Could use more lumens (Still, image quality and brightness are outstanding).
The Optoma Cinemax P2 is our favorite ultra-short-throw projector for golf simulators since it provides everything you need to get an unforgettable virtual golf experience (4K, HDR, Dolby Digital sound, multiple connectivity options, etc.).
It's not a cheap product, but compared to the number of features it provides, it is certainly a winning investment for your golf simulator setup.
We suggest using a projector shield enclosure to protect your investment because it will be placed really close to the hitting screen.
Key Features To Consider When Choosing A Projector For Your Golf Simulator
There are many factors you need to consider before making the final choice on which specific projector will be good for you.
We will be exploring those factors individually to help you find the best product to use with your home simulator package.
Throw Distance
Throw distance refers to how far the projector needs to be placed from your screen to get the best possible image quality. There are three main throw distances that determine the placement of your projector.
Long-throw: This type of projector requires to be mounted at least six feet away from the screen to prevent the projected picture from looking too small (Usually they need to be placed further).
Long-throw projectors are not recommended for use with golf simulators as they usually cause shadows on the screen that affect the whole experience (to the point of making the simulator unusable).
Besides, this type is usually used inside large spaces such as halls or for business use (presentations) or even home theaters, where there is usually much less movement and fewer shadows visible on the screen.
Short-throw: This is the recommended type of projector to use with a golf simulator. It is usually placed between three and eight feet away from the screen without affecting the projected image size.
The fact that this projector type can be placed much closer to the screen helps get rid of any undesired shadows or eye glare that can affect the graphics quality and the whole experience.
In addition, short-throw projectors don't require a large room and can be used in much smaller areas (compared to long-throw).
Ultra-short throw: This type requires even less mounting distance vis-a-vis the screen without affecting the size of the projected image.
Ultra-short throw distance projectors can be mounted anywhere between zero and four feet away from the screen, virtually eliminating (not reducing) any shadows or eye glare from the lens.
Furthermore, ultra-short-throw projectors allow for more mounting options (on the wall, downwards under a table, etc). Still, the recommended mounting to use with a golf simulator is on the ceiling.
Finally, before buying a new projector, you need to take into consideration the depth of your room to know exactly which type of projector will be the best for you.
Short Throw vs. Long Throw
So, how can you determine which throw distance will work best for you?
You need to take into consideration things like the room size and depth and see what options will work. If you have a lot of space and depth, then you may consider a normal throw projector and save some money (since short-throw projectors are much pricier than long throw ones).
However, if you have space restrictions, then you have no other option but to opt for a short-throw projector that can be installed much closer to the screen and still provide a good image size.
To make things even easier for you, we suggest going to the following Throw Distance Calculator [8] and easily get a recommended throw distance based on the data you provide.
Throw Ratio
Throw ratio is the correlation between the projector's throw distance (between the lens and the screen) and the width of the projected image. To simplify how the throw ratio works, you can use the following formula:
Throw ratio = throw distance / image width
In order to determine the best throw ratio for your available space, you need to decide what the ideal placement (throw distance) of your projector will be from the screen. After that, you need to divide that number by the width of your screen (not diagonal).
For instance, if your screen is 12 feet wide, and you'd like to place the projector at a 6-foot throw distance, then the ideal throw ratio for you will be 0.5:1. That's the highest throw ratio that will work for your desired setup. Any throw ratio below 0.5:1 will work just fine.
Resolution
The resolution refers to how many pixels [9] (picture elements) can be displayed both horizontally and vertically (width and height). This is the main factor that determines the clarity of your simulated graphics and image quality. The higher the supported resolution, the better image quality and graphics you will get, and vice versa.
Still, you won't be able to choose a simulator with the highest available resolution unless you can afford it because the higher the resolution, the more expensive the projector will cost. As a result, you need to strike a balance between resolution and budget to get the highest possible resolution for your money.
It is of utmost importance to consider the supported resolutions on both your projector and computer at the same time; otherwise, there will be a mismatch between the two.
For example, if your projector supports a max resolution of 1080p and your computer hardware is operating at a lower resolution, then you won't be able to see 1080p quality on the projector.
Moreover, you need to note that a higher resolution requires more powerful hardware to process the images faster. If your computer hardware is not powerful enough to run the resolution you choose, you'll end up with bad stuttering and lag issues.
Here are the most common available resolutions that you can find in different types of projectors today:
HD resolution: Also referred to as 720p (high definition), this is a display resolution that measures 1280x720 pixels. This is the lowest (and cheapest) resolution available today, as HD projectors are much cheaper than higher-resolution models.
Full HD resolution: Also called 1080p, this is a display resolution of 1920 x 1080 pixels. This resolution provides a much better image quality compared to 720p but costs more money (which makes sense).
4K resolution: Also referred to as UHD (Ultra High Definition), this is a growing resolution that is supported by more and more projectors today (and other display devices). The term 4K simply means that this display resolution can measure four times the 1080p one. 4K refers to any resolution that is at least 3840 pixels in width or higher. You get the best possible image quality and clarity with 4K, but it is also still very expensive.
8K resolution: We can confidently say that 8K is a glimpse into the future. It is not a very common resolution simply because any display device that supports this resolution will be out of budget. There are some available 8K projectors that you can use with your simulator, but it will be hard to pay anywhere between 17,000 and 25,000 dollars (or higher) for the projector only! 8K resolution is any resolution that equals or exceeds 8000 pixels in width.
Aspect Ratio
This factor is closely related to the resolution. It refers to the ratio of the width of the image to its height and is usually expressed using two numbers separated by a colon (Width:Height).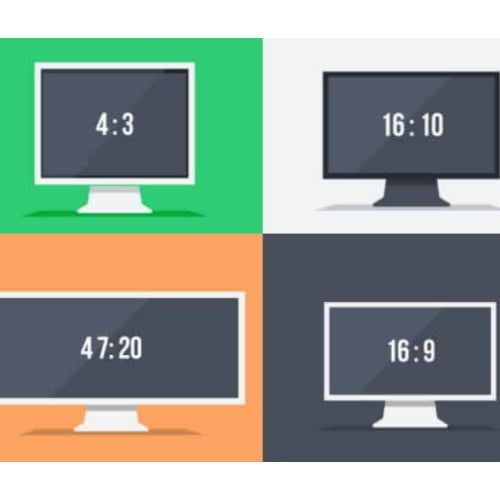 There are established aspect ratios commonly used that give us an idea about the shape of the displayed image; these are as follows:
4:3 aspect ratio:
This aspect ratio produces an almost squarish image because the height and width are almost identical. This ratio includes two different resolutions: XGA and SXGA.
XGA has a resolution of 1024x768 pixels. It was widely used by computers, so it is common to connect computers to XGA projectors.
SXGA refers to Super XGA and sports a higher resolution of 1280x1024 pixels.
16:10 aspect ratio:
This is a ratio that is used with extended wide screens (as it produces a wide image). There are multiple resolutions that fall under this category of aspect ratio, including WXGA (Wide Extended Graphics Array with 1280x800 pixels, WUXGA (1920x1200 pixels), as well as other resolutions (1440×900, 1680×1050, and 2560×1600).
16:9 aspect ratio:
This is the most common widescreen aspect ratio that is used by standard HDTV's and projectors. The most widely used 16:9 resolutions include the standard Full HD resolution (1920x1080 pixels) and 4K resolution (3840 x 2160 pixels).
To sum up, choosing the display aspect ratio of your projector is important and related to the space you intend to use it in.
In short, a 4:3 aspect ratio can be used in tighter spaces where a nearly square image is possible. The 16:9 ratio produces wide images and can be used in wider spaces. The 16:10 provides an extended image width. The right aspect ratio is the one that fits your screen dimensions (height & width).
Please refer to this detailed guide to learn more about aspect ratio and why it's vital to choose projector and screen size.
Lumens
The number of lumens in a projector directly affects how bright it is. It refers to the light output of the projector and the brightness of the image.
A projector with more lumens will be usable in different lighting conditions: Indoors, outdoors, at night, or during day time. The projector image is bright enough to be seen.
Conversely, a low-brightness projector (with fewer lumens) requires a darker place with lower ambient lighting for the projected image to be seen (making it practically unusable in daylight, especially outdoors).
For rooms with little to no ambient light, a minimum of 1500 lumens will work for you; but in a room with windows or a lot of ambient light, you will minimally need 3000 lumens or more.
Contrast Ratio
Contrast ratio refers to the ratio of the luminance of the brightest shade (white) to that of the darkest shade. To get a contrast ratio, you need to divide the brightest luminance by the darkest luminance. The result is then expressed in terms of candelas per square meter (cd/m2).
A higher contrast ratio will produce sharper image quality with darker black and gray colors. As a result, a higher contrast means that any black or dark scenes will be more realistic and life-like and not look washed out.
Sound
If you are setting up your projector (and simulator package) in a garage or a place where there are no available speakers, then choosing a projector with built-in speakers will be a good option. Just make sure the sound quality is good on the included speakers.
Some high end projectors come with their own speaker system. If you are looking for a projector that comes with its own speakers, make sure they are adequate for the size of the room you plan to install them in.
You may also wish to invest in some external speakers if you plan to play music from your computer or other devices or get the best sound experience. These will add extra expenses to your investment, but they will provide a sound quality that no integrated speaker will ever match.
We believe that if you want to get a good sound for your virtual golf / home theater / gaming experience, investing in a good quality dedicated speaker system will be your best bet. You can choose a stereo or surround system from a reputable brand like Sony, Yamaha, etc.
Noise Level
While not strictly necessary, having a quiet projector is always nice. A projector with very loud fans or motors will be intrusive while you try to enjoy your virtual golf round.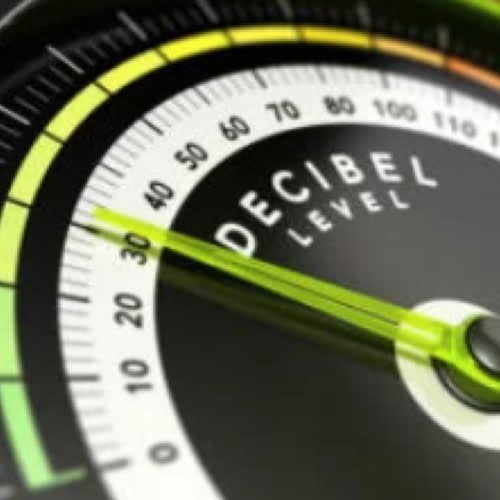 This is a serious issue, especially for lamp-based projectors that use a bulb to display content on the screen. The brighter the projector, the bigger the bulb it uses and the more heat it produces.
To keep the projector bulb cool, active cooling is used, in the form of a fan (or multiple fans). To dissipate heat more effectively, the fans may need to spin at high-speed levels, with their motors causing a considerable amount of noise. Some of us will simply not tolerate that noise!
If fan noises are a serious issue for you, to the point of ruining the whole experience, then we recommend you stay away from lamp-based projectors. As a result, you will be left with one and only one option: a laser projector.
Laser projectors offer a plethora of benefits over lamp-based projectors, like providing a better picture quality, needing much less maintenance, producing much less heat, and consequently running much quieter than lamp-based projectors.
The only problem is that all the benefits of laser projectors come at a price since they are much more expensive than lamp-based ones. However, you may consider it a winning investment in the long run.
Mount Type
Nowadays, projectors can be mounted in different placements. You can mount them on the ceiling, on the floor (under your hitting mat), or opt for an offset setup. You need to check if your chosen projector supports your preferred mounting position. Here are the three main mounting options you can choose from:
Floor-mounted: The best projector for this type of mounting is a short-throw projector. It can be mounted under the hitting mat using a special floor mount enclosure. The benefit of such an option is that the projector is positioned in front of you, eliminating any accidental shadows or eye glare.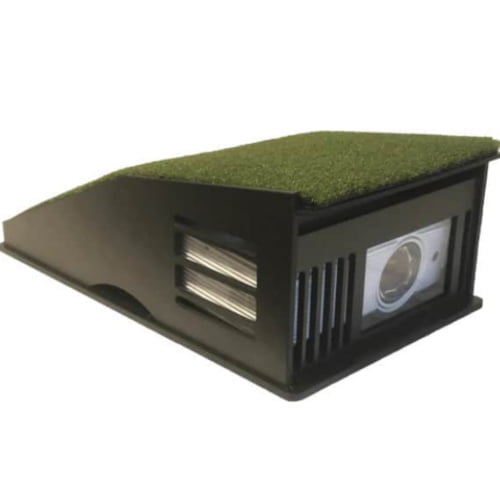 Ceiling-mounted: With a ceiling mount, your projector is out of sight and out of mind. This setup requires a bit more room height.
You can use a short-throw projector with a ceiling mount, and make the whole experience much more immersive because there is practically nothing between you and the screen.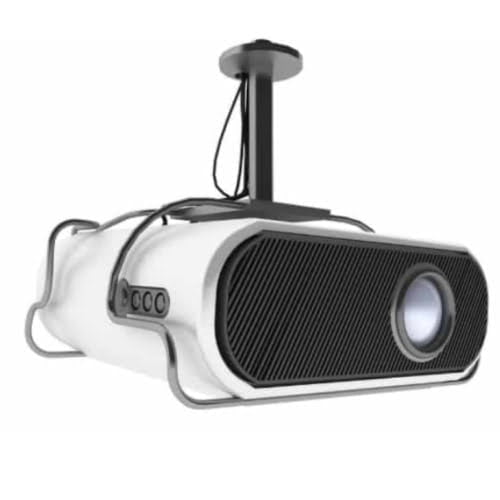 Offset setup: This is a hybrid mounting setup, in between floor and ceiling mounting. The projector is out of sight, as it is mounted behind you (to the right or the left), so there is nothing between you and the screen. At the same time, the projector is always accessible in case you want to make any settings adjustments.
Some golfers even opt for wall mounting, while using offset adjustments and lens shift to align the image with the screen (even if the center of the projector lens and screen are not aligned).
Connectivity
Connectivity is another major factor to consider while choosing a projector. The more connectivity interfaces it provides, the better because it will be compatible with a wide range of devices. The used connectors include the following:
HDMI, VGA & DVI-D (used for HD content).
Component, Composite & S-video (older connectors providing SD image quality).
12V trigger (used to coordinate the projector's power cycle with the screen's drop and rise functions) & USB.
3.5mm output, RS-232 & network.
RCA, 3.5mm input & optical.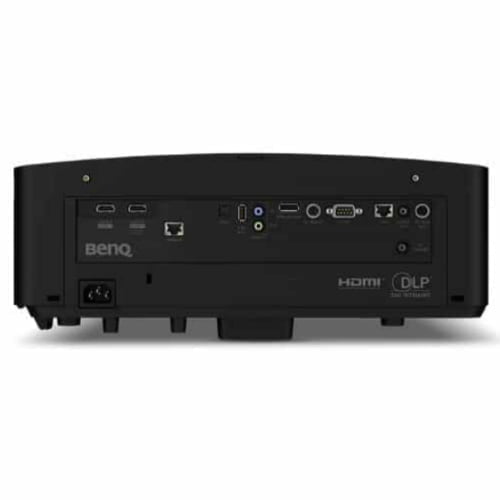 To ensure compatibility with most modern devices, you need to ensure that your projector supports HDMI (High Definition Media Interface) connectivity because this is the most common display interface used by almost all hardware today (including computers, Blu-Ray players, game consoles, etc.).
Also, if the HDMI ports support MHL (Media High Link), they can be connected to portable devices like smartphones or tablets and directly display content from them.
Another huge benefit of HDMI is that it is a video and audio interface at the same time. In other words, if you want to use your projector's built-in speakers, you won't need to run any extra cabling (HDMI carries audio and video signals). This means fewer cables to run through the room!
Laser Vs. Lamp
This is another crucial factor to consider before buying a new projector: Should you buy a laser-based projector or a lamp-based one?
Before we answer this question, we should point out that there is another option: LED-based projectors. We decided to rule out LED projectors because we don't recommend them for golf simulators because of their lower brightness levels (as most LED projectors usually max out at around 3,000 to 3,500 lumens).
Now, to decide which projection technology to choose, we need to explore the benefits and drawbacks of each one to compare them and see which is better.
Lamp-based projectors use a bulb to project images onto the screen. This technology has been around for a long time, so it is the tried-and-true projector technology. They are reliable and relatively cheaper.
Despite their affordability, lamp-based projectors may not be a good investment in the long run, as they require frequent maintenance and bulb replacements (to be added to the initial investment).
Moreover, they perform lower than laser-based projectors in terms of image quality, contrast levels, colors, start-up time, durability, etc. but the biggest downside is that the bulb produces a lot of heat that is dissipated using fans; as the fans spin higher to cool the bulb down, the noise levels can become intolerable and annoying for some players.
Laser-based projectors use lasers instead of bulbs to generate light. These projectors are much more expensive than lamp-based ones, but they have several advantages over lamp-based projectors:
They produce very bright images, even when compared to LED projectors.
They do not emit too much heat, making them quieter than lamps.
They provide high-resolution images with excellent color reproduction.
They offer a much longer lifespan than traditional projectors.
The downsides of laser-based projectors are that they are much more expensive than those based on lamps. Also, they require additional equipment such as cooling systems to keep the temperature of the laser low enough to prevent overheating. Finally, they are also heavier than lamp-based projectors, making them harder to move around.
In the end, it seems that your budget will be the determining factor here: If you have enough money, we recommend going for a laser projector. However, if you are on a really tight budget, a lamp-based projector will be a decent choice (if noise is not a big issue for you).
Your Budget
Your budget is definitely a crucial factor in determining which projector to go for. Not everyone can (or wants to) spend thousands of dollars to buy a golf simulator projector.
Luckily, there are options out there for different prices, and everyone can find a projector within his/her dedicated budget.
Unfortunately, the overall quality of a projector is linked to its price point: the more money you spend on your projector, the more features and quality you get. The less you pay, the less you get.
The problem is that the price of a product affects some vital components. In other words, a cheap projector will most probably offer fewer features: less connectivity, a lower native resolution, image quality, contrast, brightness, durability, and even higher throw distance (as short-throw distance costs much more money).
As a result, by cheapening out your golf simulator projector, you may be unconsciously ruining the whole simulation experience.
That's why we recommend investing as much money as you can in premium-quality projectors despite them costing a lot of money. Luckily, our partners at shopindoorgolf.com provide multiple financing options on golf simulator packages and accessories, allowing you to pay over a period of 12 months with interest rates as low as 0%.
We believe this is a good option, as you will be able to pay overtime for a very good projector instead of buying a lower-quality projector due to any budget limitations you may have.
Frequently Asked Questions About Projectors For Golf Simulators
Now, it's time to go through some of the most frequently asked questions about golf simulator projectors:
Can Any Projector Work For Golf Simulators?
Theoretically speaking, the answer will be "yes", any projector can work for your golf simulator, as long as it has the necessary connectors. Still, the proper question to ask is: How well will it work?
What Kind Of Projector Do I Need For A Golf Simulator?
This is related to the available space that you have. If you don't have any space constraints, then you should get a projector that supports a wide display ratio like 16:9 or 16:10. This type of display will provide a realistic and immersive image. You can then adjust the settings to get a 4:3 image with letterboxing.

Moreover, if you have no budget limitations, you can opt for a high-end laser projector that is superior in every aspect to lamp-based projectors.

If you are on a tight budget, you can do with a lamp-based projector that will provide decent performance for a much lower price.

Speaking of throw distance and projector placement, it all depends (again) on your room space. If you have enough room depth, you may buy a long-throw projector and save some money by placing it a bit further from the screen.

However, if you have space limitations, then a short-throw projector will work better for you (despite being a bit pricier).
How Far Should The Projector Be From The Screen?
If the projector is too close to the screen, then the image will appear small and fuzzy. On the other hand, if the projector is too far away, then the image will look blurry.

Ideally, you should follow the instructions provided by your projector manufacturer to see its optimal positioning. However, a rule of thumb would be to place your projector somewhere between 122 and 133 inches (around 10.5 feet) from the screen. This is what can be done in case you have enough room for installation.

If you have space restrictions in your room, then measuring the room depth and size is a must before you purchase any specific model. In such a case, you will need to buy a short-throw projector that works in the space you have without affecting image size and quality.

You can check earlier sections for details on how to check things like throw distance, throw ratio, etc. 
What Is The Best Aspect Ratio For A Golf Simulator?
The best aspect ratio for a golf simulator is 16:9, which is the same as HDTV. This gives you a better view of what's happening on the course.

A projector with a 16:9 aspect ratio, coupled with a hitting screen that sports a 16-foot width and 9-foot height viewable display area means that the totality of a standard HD (or even FHD or 4K) will be entirely shown without any kind of distortion.

This has always been my go-to setup with golf simulators (widescreen image with wide hitting screen).

Some players opt for a 16:10 aspect ratio, which offers an even wider image size, and customize the settings so that the final output is a 4:3 ratio with letterboxing.

While I'm not a big advocate of this practice myself, I can think of some reasons why some golfers do it. For instance, the display provides a more focused playing area and will increase realism and make the game more immersive (theoretically).

The 4:3 aspect ratio is mostly used in tighter spaces, where it is not possible to install a widescreen. It looks and feels a tad less realistic and immersive (compared to widescreen), but sometimes, you just have to do with what you got!
How Do I Protect My Ceiling Mounted Projector?
To protect your valuable investment from any hits by your driver or errant balls, you need to make sure it is well protected, especially if it is mounted on the ceiling of the room.

First, if the projector is a regular throw, it is usually mounted behind the player, meaning that it is relatively safer from any accidental hits. If you need extra peace of mind, you can choose our recommended enclosure below (usually used with short-throw projectors). 

However, if the projector is a short-throw, then it is placed in a dangerous position. To ensure its protection, you can buy a dedicated ceiling mount enclosure to use with your ceiling mount and which provides an (almost) 360° protection for your precious projector.

The protection will never be total, as the lens mustn't be obstructed so as not to affect the projected image.
Final Verdict
As one of the most important components of your golf simulator package, the projector must be chosen carefully to get the best possible product that fits your budget. You need to choose a projector that helps immerse you in the virtual golf experience by providing the best image quality and performance.
We have tested a long list of simulators suitable for use with golf simulators to come up with our final list of products that we consider to be the best in terms of budget, projection technology, throw distance, max resolution, etc. The goal was to provide products that will satisfy golfers with different needs and preferences.
In the end, whichever product you choose from our final list will certainly serve you well. Every one of them was tested and compared to other projectors of the same category to ensure your satisfaction with the one you end up picking.
Now, it's time for you to get a projector to enhance your golf simulation experience!
If you still have any questions or comments, please don't hesitate to contact us. We will be happy to assist you the best we can.
---
References:
Solid Shine Laser projection | Visual System Solutions. Retrieved from https://business.panasonic.co.uk/visual-system/solid-shine-laser-projection
Digital Light Processing - an overview | ScienceDirect Topics. Retrieved from https://www.sciencedirect.com/topics/engineering/digital-light-processing
HDBaseT. https://en.wikipedia.org/wiki/HDBaseT
What is MHL & How Do I Use It. Retrieved from http://www.mhltech.org/consumer.aspx
ECO+ | Optoma Asia. Retrieved from https://www.optoma.com/ap/eco-plus-tecnhology/
What is HDR10+? Everything you need to know about the new HDR format. https://www.digitaltrends.com/home-theater/what-is-hdr10-plus-hdr-formats/
WTF is IFTTT? https://ifttt.com/explore/new_to_ifttt
Projection Calculator Pro - Projector to Screen Distance. Retrieved from https://www.projectorcentral.com/projection-calculator-pro.cfm
What is pixel? - Definition from WhatIs.com. https://whatis.techtarget.com/definition/pixel
WRITTEN BY

My name is Jacob, a self-diagnosed equipment and golf enthusiast. I've been golfing since I was 15. Golf has always been my passion. I'm a bit of a golf equipment nerd and I've been that way since the moment I picked up a club for the first time. As someone who's been on both sides of the game, I know what it takes to be a good golfer. Of course, you need good equipment, but you also need to know how to use it. I hope sharing my experience with you will help you improve your game.
You May Also Like