Uneekor EYE XO Launch Monitor Review
Last updated:
December 15, 2022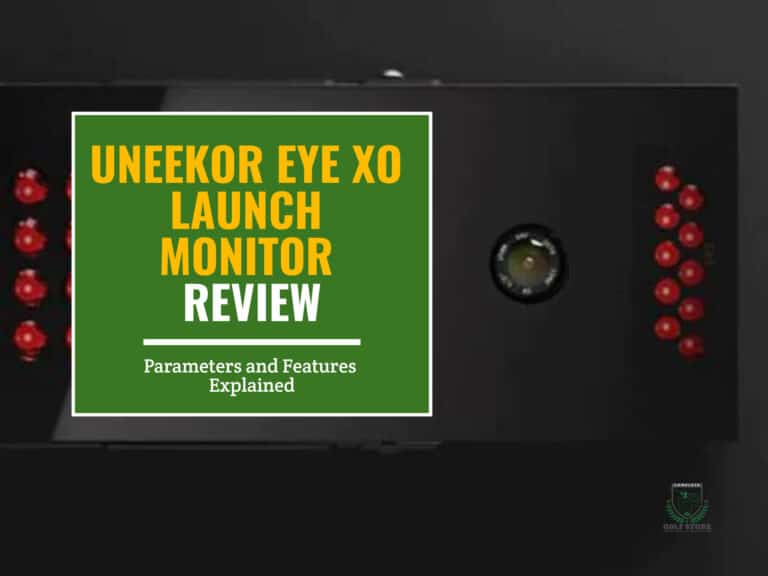 We are supported by our readers and we may earn a small commission when you click on some of the links at no additional cost to you. Our full disclaimer can be found
here
. Thank you.
Key Takeaways
The Uneekor EYE XO performed very well in our tests. It is a very powerful photometric unit that relies on its dual high-speed camera system to track your ball and club and provide amazingly accurate data without any kind of marking, making it a huge improvement over the older QED.
Uneekor's in-house simulation software plans are all flawless and provide an excellent virtual experience. And the support for third-party software like E6 Connect, GSPro, Creative Golf 3D, and our favorite value software- TGC2019 - is the cherry on top.
We were impressed by the EYE XO's accuracy, design, power, and overall performance.
The EYE XO, released in 2020, was designed to be Uneekor's fastest, most advanced, precise, and data-rich launch monitor. It is the second launch monitor from the Korean brand and is intended to be an improvement over the QED.
The Eye XO is an overhead launch monitor, and very few products compete in this relatively new market (overhead monitors).
We tested the hardware and software components of the Eye XO and provided a detailed review of this magnificent piece of equipment.
Keep reading for the details!
First Impression
Whether you want to focus on hitting longer drives, more accurate iron shots, better putts, or all of the above, a precise and quick launch monitor can help you achieve your goals. With accurate ball analytics and a comprehensive collection of club data, you can make measured judgments and smart modifications for rapid and consistent progress.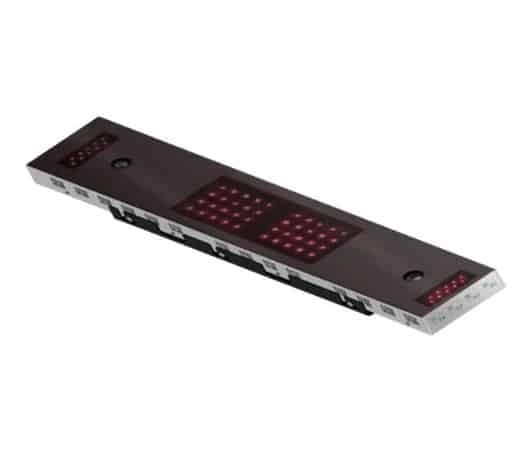 The EYE XO can accommodate even the most discerning golfers. It enables a hands-free, uninterrupted experience with seamless left- and right-handed switching after a single installation.
Product Overview
The EYE XO overhead launch monitor is designed for golfers who want to take their game to the next level without the complications of this challenging but rewarding sport. Their revolutionary non-marked ball technology with twin high-speed camera-based tracking enables players to collect a comprehensive variety of precise data using any ball of their choosing. The twin high-speed camera system is coupled with an improved version of Club and Swing OPTIX, Uneekor's photographic validation technology, and gives a recorded replay of the clubhead hitting the ball through impact.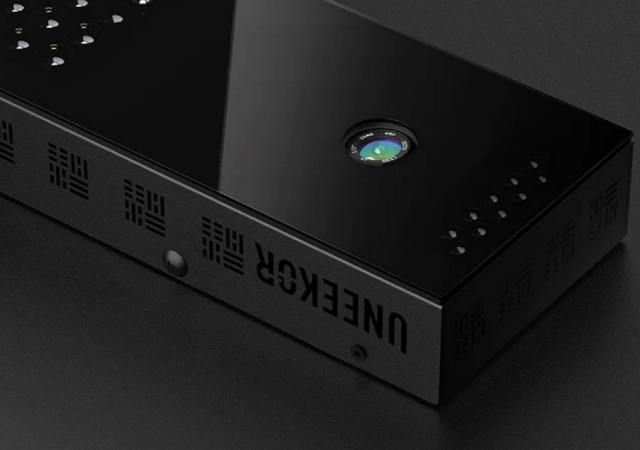 This is a significant improvement over the Uneekor QED, which needs marked balls.
With real-time clubhead and ball statistics, the Uneekor EYE XO provides all the information necessary to improve your golf game.
What's Included With Purchase
• EYE XO Launch Monitor
• Mounting Bracket with Leveler
• USB Drive with View Software
• Calibration Chart
• 11ft Power Cable, Adapter, and Connector
• USB Ethernet Adapter with 60ft Ethernet LAN Cable
• (400) EYE XO Club Stickers
• (10) M4 32mm Screws and (10) M6 15mm Screws
• (4) M6 15mm High Screws and (4) Low Screws
Set Up and Use
The EYE XO is an overhead-mounted launch monitor, which helps the hand switching so easily and its installation technique is comparable to that of the QED. It must be fixed firmly to the ceiling, with wires connecting the sensor bar to a computer and an electrical outlet.
Due to the need to stand on a ladder, Uneekor suggests that the mounting of the bracket be conducted by at least two persons for safety purposes. Install it on a flat, solid surface that can support about 30 pounds. The EYE XO bar must be positioned 9 to 10 feet above the ground and 3.5 feet in front of the tee. Any alterations from this might cause accuracy issues.
For a comprehensive set up instruction, refer to the official EYE XO installation manual [1]. You can also watch the video below.
Here is a great video from Garage Golf Channel (28 minutes 45 seconds) explaining how to properly set up an Uneekor EYE XO and calibrate the unit as well as how to fully install the software.
Parameters and Features
Similar to the QED model, the Uneekor EYE XO provides comprehensive information on the ball and the club. However, club lie angle, club loft angle, vertical and horizontal impact points are added to the mix.
It is also reported that the cameras used to measure these data are of greater quality, but we did not observe a difference. Equally precise was the Uneekor EYE XO as the QED model.
The software is upgraded from the Ignite suite to the View suite. You may also choose the more expensive "Refine" or "Succeed" software packages.
The EYE XO can measure 20 data parameters in total.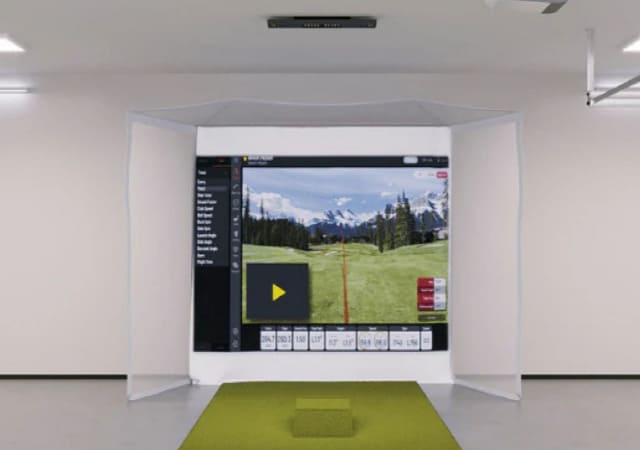 Readings taken from the ball's dimples are how its data is gathered. These are the ball data points:
ball speed
carry distance
total distance
run
distance to apex
spin axis
side and back spin
launch angle
side angle and side total
angle of descent
Following the application of club stickers, the following club data may be determined:
club head speed
club path
smash factor
club face angle
club face to path
angle of attack
club loft angle
club lie angle
vertical impact point
horizontal impact point
dynamic loft
The remaining six data parameters are exclusive to the EYE XO and cannot be measured by the QED.
Accuracy is exceptional and on par with top-tier launch monitors like the GCHawk and X3. The EYE XO may have a tiny accuracy advantage over the QED because it is a more updated system with more advanced cameras.
Whether your goal is to hit longer drives, more accurate iron shots, better putts, or all of the above, a precise and speedy launch monitor can help you achieve it.
Technology
The EYE XO's Optix technology is made up of three components:
Ball Optix displays a close-up image of the ball's position relative to the club face at contact and the ball's real spin after each stroke.
Club Optix displays the club's orientation at impact and real-time slow-motion video of the club impacting the ball.
Swing Optix enables multiple-angle video capture, slow-motion playback, and drawing tools.
Additional cameras are sold separately; you can purchase Uneekor's special Swing Optix cameras or use third-party solutions.
Accuracy
The accuracy of the Uneekor QED and EYE XO is unquestionably superior in the market. Regarding pinpoint accuracy, the QED and EYE XO are on par with TrackMan and FlightScope X3 throughout the board, not only with distance measurements, from the driver to the wedge. We found that Uneekor is accurate in all aspects, including spin, launch angles, swing speed, etc.
These launch monitors also do not miss many shots, which we like. The EYE XO can detect an array of odd shots, including duck hooks, shanks, and 300-plus yard drives, which several launch monitors commonly misread.
The EYE XO boasts its non-ball marking technology for its accuracy.
When practicing with the EYE XO, you can add reflective stickers to your clubface. This is not required but does increase the accuracy of your club data (such as club path and face angle). At its foundation, non-ball marking technology improves the realism and accuracy of indoor golf simulation, enabling an important variable in golf consistency and bringing golfers a significant distance closer to a more realistic golf environment.
Pros
Provides a more comprehensive measurement of club data than the QED.
Extremely accurate and reasonably priced
Numerous outstanding software integrations
Default View offers greater capabilities than QED Ignite.
Enables seamless left-handed and right-handed play
Non-ball marking technology
Cons
Possible to get hit by sky balls
Pricing and Software Plans
The EYE XO launch monitor currently supports View/Refine/Refine+ (in-house), E6 CONNECT, The Golf Club 2019, Creative Golf 3D (with Golfisimo), and GSPro.
EYE XO View/Refine/Refine+
The pricing of the EYE XO launch monitor begins at $10,000. This purchase includes the EYE XO bar with mounting bracket, all cables and screws required, a calibration chart, club face stickers, and EYE XO View software.
Upgrades to Refine and Refine+ cost an additional $1,000 and $2,000, respectively.
Refine ($1,000) features five courses, a driving range, a short game facility, a mode for practicing on the course, and a target practice game. The Refine+ (previously Succeed) upgrade adds fifteen new golf courses. These are Asian-based non-American courses. Therefore, you will not receive famous courses such as Pebble Beach or Augusta as you will with TGC 2019.
We believe that the Refine+ update is not cost-effective. However, Refine is a significant improvement over View and offers excellent value.
E6 CONNECT
E6 CONNECT is a golf simulation software of the highest caliber, renowned for its quality and extensive feature set.
The new E6 Connect has more courses and is ideal for professional and beginner golfers to hone their skills while Connecting to a vast network of golfers throughout the globe to play and have fun. The normal license includes 27 playable courses, but with a $600 subscription to E6 CONNECT's Expanded Subscription, you gain access to over a hundred additional courses.
E6 CONNECT is now one of the best and most capable golf simulator software packages on the market, so its integration with the EYE XO is a significant advantage.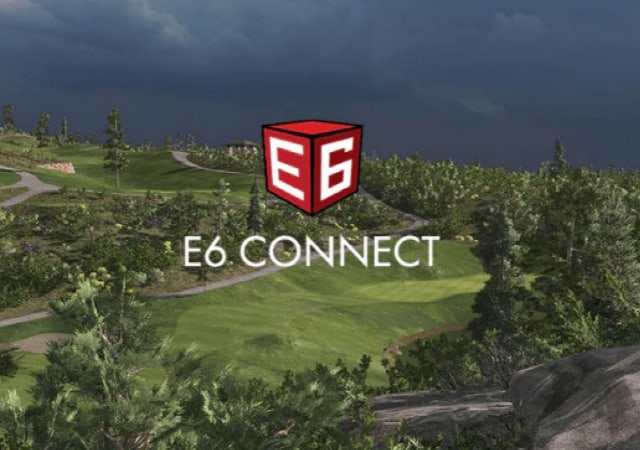 Creative Golf 3D
Creative Golf 3D is software that emphasizes family-friendly fun over realism (albeit the graphics aren't terrible). The standard version of Creative Golf 3D includes 15 golf courses from all around the world. For an additional $500, approximately 130 additional courses are available to play.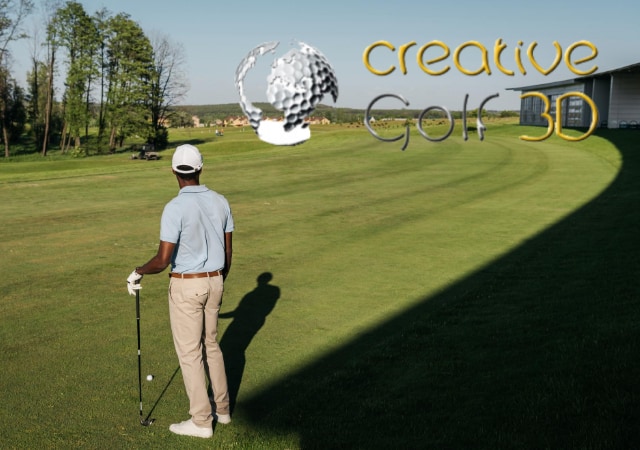 GSPro
GSPro is relatively new software on the market. It is developed with superior ball mechanics and 4K graphics to be ultra-realistic. GSPro features interaction with the Open Platform Course Designer (OPCD), which allows anybody, regardless of skill level, to design courses playable by GSPro community members.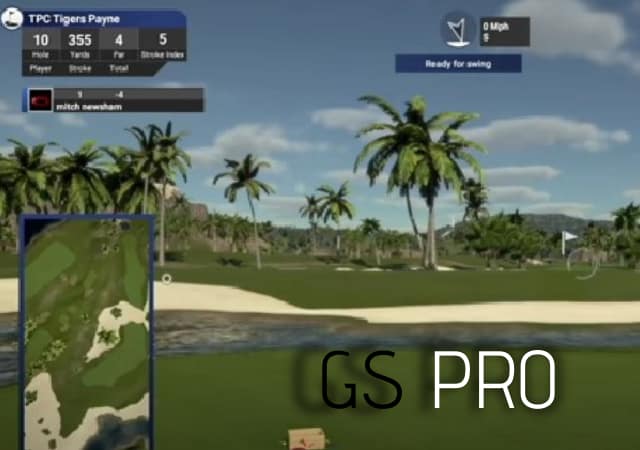 The Golf Club 2019
The Golf Club 2019 is completely original because players can create their own courses. They are then ranked by their online community, allowing you to download the best available. The 2019 TGC also features a large number of online tournaments. Given that the pricing of TGC 2019 and Refine is the same ($950), we feel the course selection of TGC 2019 to be significantly superior.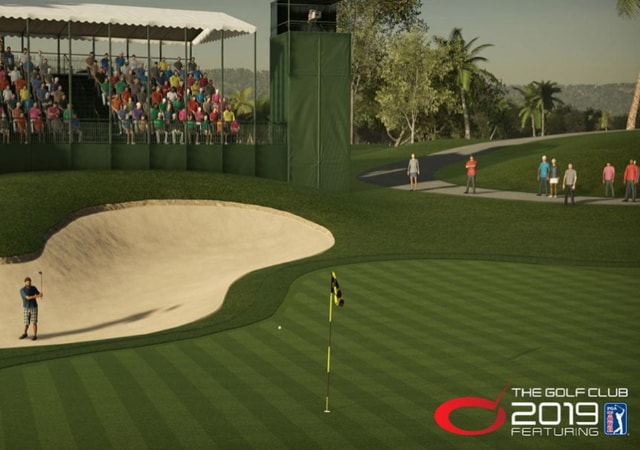 After assessing all of your alternatives, we've determined that pairing Uneekor with TGC 2019 is your best bet. It is the most affordable and provides the best assortment of courses.
Where to Buy
We recommend purchasing from online merchants that have been proven credible and deliver authentic items, such as Top Shelf Golf, Shop Indoor Golf, and Rain or Shine.
Because the EYE XO is a ceiling-mounted launch monitor that requires a linked PC to execute software, a golf simulator setup is typically required. There you will find a selection of the greatest simulator packages, including a projector, impact screen, and enclosure.
Frequently Asked Questions
This section contains frequently asked questions regarding Uneekor Eye XO.
What's The Difference Between EYE XO vs. QED?
There is not a significant difference between these units. While both utilize the same technology and provide many of the same capabilities, the EYE XO is $3,000 more expensive.

The major difference is the ease of not requiring marked balls and the additional club data. With EYE XO, you can view your impact position in great detail, which is a pretty unique feature.

Both systems offer everything you might want in a launch monitor, including speed, accuracy, in-depth swing analysis, and golf simulation.
How Much Space Do You Need for Uneekor QED and EYE XO?
The minimum space requirements for these two launch monitors are 10'W x 9'H x 16'D.

Both QED and EYE XO are mounted overhead. QED is positioned 3' behind the ball, whereas EYE XO is positioned 3' in front of the ball.

However, this does not significantly alter the spacing requirements. Between 7-8 feet is required between the screen and projector, which places the hitting area 10-12 feet from the screen. You will need an additional 4-5 feet for your golf swing.

Note that these units must be placed between 9 and 10 feet above your ball. Consequently, if your ceilings are higher than 10 feet, you will need to attach the launch monitor with an extension that lowers it inside that range.
How Accurate is Uneekor EYE XO?
The Uneekor eye xo produces data readings that are more than 95% accurate. Utilizing modern technologies such as a reflective clubface enables the gadget to reach such precision. Regarding ceiling-mounted launch monitors, the margin of accuracy is satisfactory.
Do the Uneekor EYE XO Protective Cases Affect Accuracy?
Certain merchants (or third parties advertising on golf simulator forums and groups) have begun manufacturing see-through protective covers for the Uneekor EYE XO. Due to its position 3.5ft in front of the golfer's hitting position, there is a potential chance of hitting the launch monitor with a sky driver shot; thus, some golfers have used a protective cover.

As long as the enclosure has a tiny hole in front of the sensor, it should not influence the launch monitor's precision. If there is no hole, the material may compromise precision.
Do You Need Club Stickers for Uneekor EYE XO?
For the EYE XO to detect the location of the clubface, reflective stickers must be applied. This is straightforward, and you may reorder stickers from Uneekor's website.
Final Verdict
You can make measured judgments and smart modifications for rapid and consistent improvement with accurate ball analytics and a comprehensive range of club data.
The Uneekor EYE XO provides a full-featured indoor golf simulator developed for upscale residential and commercial uses and exceptional ball and club data, non-ball marking technology, and outstanding accuracy. These characteristics position the EYE XO in the same category as the Foresight Sports GC Hawk, GC Quad, and Trackman TM4. However, the EYE XO is thousands of dollars less expensive.
In recent years, Uneekor has been successful at manufacturing high-quality ceiling-mounted launch monitors. Considering the price and performance, the EYE XO is the superior option for golfers who practice inside with overhead launch monitors.
---
References:
EYE XO Installation Manual. Retrieved from https://cdn.shopify.com/s/files/1/0388/4423/5907/files/EYEXO_InstallationGuide_reduced.pdf?v=1609013805
WRITTEN BY

My name is Jacob, a self-diagnosed equipment and golf enthusiast. I've been golfing since I was 15. Golf has always been my passion. I'm a bit of a golf equipment nerd and I've been that way since the moment I picked up a club for the first time. As someone who's been on both sides of the game, I know what it takes to be a good golfer. Of course, you need good equipment, but you also need to know how to use it. I hope sharing my experience with you will help you improve your game.
You May Also Like