The 7 Best Golf Simulators for Putting | Reviews & Buyer Guide
Last updated:
June 2, 2023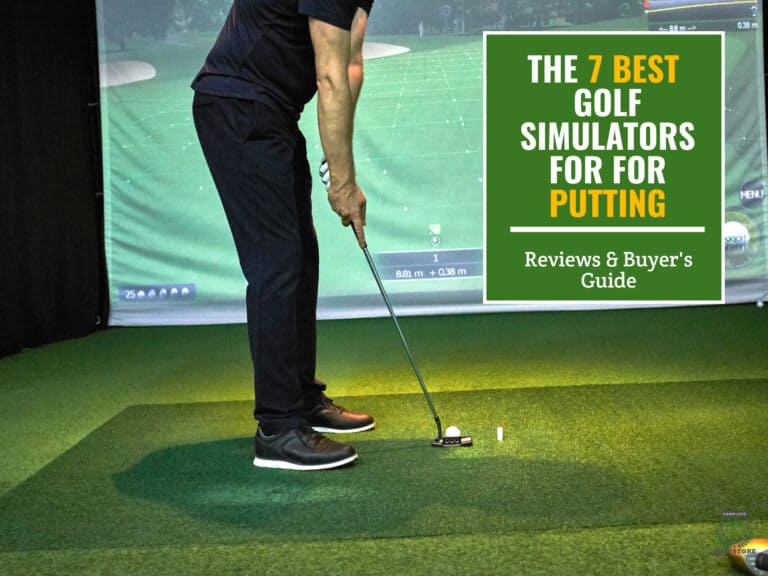 Disclaimer: We may earn a small commission from some of the links on our website, however, our reviews and comparisons remain fair and unbiased. Our goal is to help you make the best choice. For more information, please see our
disclosure statement
. Thank you for your support.
Key Takeaways
Based on our research and testing, our top choice is the Exputt EX500D Real-Time Putting Simulator. It is an excellent putting-only setup.
For anyone looking for a complete setup to practice all game aspects, we have individually tested dozens of different systems; the names Flightscope, HD Golf, Foresight Sports, Uneekor, etc., came out on top!
Keep reading for more details.
Did you know that putting accounts, on average, for 35 to 55% of a golfer's play? This makes it a crucial part of the golf game, as it is usually the final part that makes your game or breaks it. Practicing whenever and wherever possible is your key to success.
A golf simulator will definitely help you be a better golfer, but if you want a system that integrates short-game practice, you need to do your homework and try to find the best package for that purpose.
We have tested and reviewed some of the best golf simulators for putting practice from a wide range of prices, sizes, features, etc. You will find affordable units as well as premium, professional-grade packages that can help you perfect your game without neglecting your putting skills.
Keep reading to find out why the Exputt EX500D Real-Time Putting Simulator is our top pick for putting only practice and why systems from Foresight Sports, Uneekor, Flightscope, Trugolf, etc. also made it to our list of full packages to consider and take your (putting) skills to the next level!
In a Hurry? Here Are the Top Golf Simulators for Putting Organized in a Table
| Product | Features | Our Rating | |
| --- | --- | --- | --- |
The 7 Best Golf Simulators For Putting
Let us now explore our selection of the best simulators for putting practice. The list includes systems of varying prices, sizes and features, but they all provide the possibility to practice and improve your putting skills.
The following are our top selections based on our own testing, research, and experience:
Our top Pick: Exputt EX500D Real-Time Putting Simulator
First is a system that is exclusively dedicated to putting practice. The EX500D is a very affordable package that will be more than enough if you are only interested in putting and nothing else; it brought its share of innovations over the previous-gen sim, the EX 300.
This package is capable of taking your putting skills from poor to excellent in a very short time, and that's why it is highly rated among all golfers who tried it, with around 4.9/5 stars.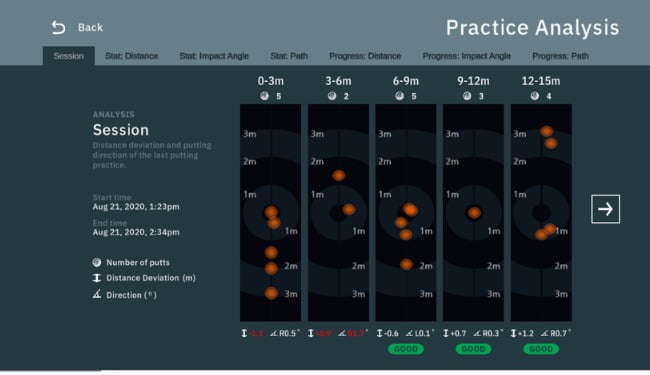 You get to enjoy three different game modes with the ExPutt: Practice (single player), Multiplayer (for online competitions and green updates), and Explorer (allowing you to change the positions of the holes on the green of any selected course).
The EX500D includes a high-speed camera that accurately tracks things like ball speed and direction in real time; it also analyzes the club face direction to check whether it's closed or open, as well as your putter's direction at the moment of impact and putting path for improved accuracy and consistency. The collected data is then used to simulate your shots with the possibility to modify weather conditions, green speed, breaks, and slopes for a more realistic experience.
The package includes a 44.5" x 13" putting green that mimics the feel of real golf turf with an elastic stopper that brings the ball back to your feet. You can place the high-speed camera on your TV (with the included attacher) or on the provided tripod. For even more convenience, you can use your putter as a mouse cursor to navigate through the simulation software, and the remote controller allows for more control and access to other features.
Installing the EX500D is a breeze; all you need to do is to roll out the mat, sync the camera, mat and TV and make sure the connection is established before checking the height of the camera and its distance from the mat. After that, you only need to follow the clear instructions on your TV to finish the setup process. The Exputt RG App can also be used to simplify setup, and it's available for both IOS and Android.
Moreover, you may use your phone to run the simulation and display everything on your TV by connecting both devices to the same WIFI network. The software is not very demanding and will surely run flawlessly.
What's included
EX Putt Camera, EX Putt Tripod, TV Attaching Holder, and Connecting Rod
AC Adapter & HDMI Cable
Remote Control
Putter Stickers (to use on the club for detection purposes)
Putting Mat
Pros
Simple concept that really works and will help improve your putting skills
Reasonably priced
Easy to install and use
Online features that add diversity and competition to the whole experience
Works extremely well in limited spaces
The ExPutt EX500D is our top pick because it solely focuses on a single aspect of the game; you can use it to perfect your putting abilities in no time. This is a very affordable simulator that delivers on all its promises without requiring much space or a five-figure budget. We highly recommend it!
Best Overall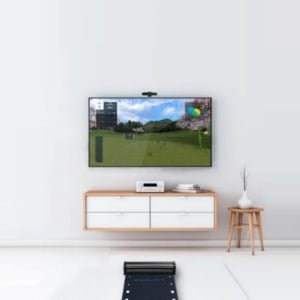 Exputt EX500D Real-Time Putting Simulator
The ExPutt EX500D is our top pick because it solely focuses on a single aspect of the game; you can use it to perfect your putting abilities in no time.
FlightScope X3 SIG12
What happens when you combine a professional launch monitor with one of the best simulator enclosures available today? You get excellence in every possible way!
Flightscope's X3 is their greatest launch monitor to date; it provides over 50+ metrics related to all of your game aspects such as full swings, ball flight, chipping, and putting.
It is an overall great product that performs excellently both indoors and out thanks to its state-of-the-art Fusion Tracking Technology, which combines Radar detection with photometric technology (with the built-in camera) to provide tour-level accuracy and performance.
The package will help you improve everything about your game, as it provides more than enough data even for a professional golfer. Still, we are more interested in its putting support, which gives golfers a better chance to improve their short game.
The package offers a separate app that is dedicated to putting and short play, namely, the FS Short Game app.
The software includes multiple cool features, such as the ability to view an in-depth analysis of your putting with customizable data display. You can also get multiple camera views while replaying your stroke videos.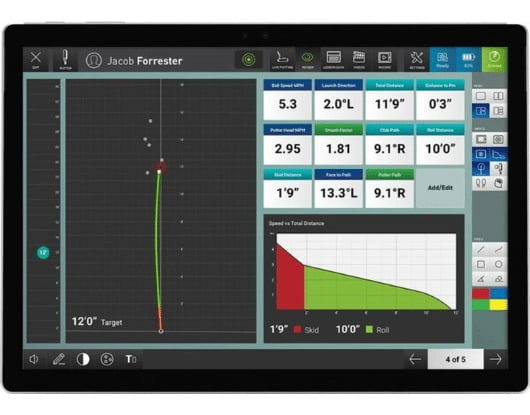 The app also gets you instant feedback with things like trajectory, grouping, speed graphs, and the ability to track the club face orientation and path for better control of your starting lines and putting strokes.
The simulator enclosure was not a random choice, as the SIG12, by Shop Indoor Golf, is a huge enclosure designed to provide the best possible virtual golf experience.
You can choose from three different SIG PRO hitting mats with sizes ranging between 5' x 5' and up to 4' x 10'. We believe all options allow for a comfortable experience and have enough length for putting practice, but if you can afford to pay a bit more, then the SIG 12 Golf Simulator Flooring is our recommended option for putting practice.
In addition to being more aesthetically pleasing, the SIG12 Flooring is actually a very practical solution to help you practice putting and chipping (while still supporting other game aspects). The flooring includes 4 putting cups positioned on the four corners of the enclosure. Combine the possibilities of this outstanding enclosure and flooring with the accuracy and features of the X3 to take your game to a whole new level.
What's included
FlightScope X3 launch monitor, backpack, charging, ethernet, and USB cables.
SIG12 Golf Simulator Enclosure, side barrier netting & landing pad turf
Choice of golf mat
50 metallic stickers (for club tracking)
1080P Panasonic short-throw projector & ceiling mount
15'L HDMI cable & lightning to HDMI adapter
Pros
Plenty of data tracked with pinpoint accuracy
High-quality software and hardware components
Dedicated app for short game practice
The SIG12 flooring is perfect for putting and chipping practice
Stunning simulation graphics and image quality
Cons
Expensive package (but worth it)
The Flightscope X3 SIG 12 is the perfect package if you want to have the best in terms of quality and accuracy. It combines Shop Indoor Golf's best and largest enclosure with Flightscope's most advanced launch monitor to provide an unparalleled virtual experience. The collected short-game data is very accurate, and the dedicated app will help you with anything you need to become a chipping and putting master.
Adding the SIG12 flooring to the mix will make the package even pricier, but will also improve the looks and utility of the system for short play practice.
Best Accuracy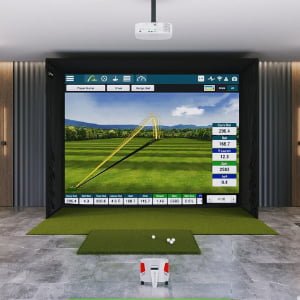 FlightScope X3 SIG12 Golf Simulator Package
The FS Short Game app includes multiple cool features, such as the ability to view an in-depth analysis of your putting with customizable data display. You can also get multiple camera views while replaying your stroke videos.
Uneekor Eye XO Perfect Bay
Uneekor is a Korean company specializing in making photometric overhead launch monitors, and the Eye XO is their latest and greatest monitor that brought many improvements over the more budget-friendly QED.
The fact that both the launch monitor and sim projector are attached to the ceiling means that you get a cleaner setup and more ground space to practice all types of shots, including chipping and putting.
The Eye XO's dual camera system will always be there to detect and track the smallest details of your shots. You will get very accurate metrics of your club speed, club path, dynamic loft, angle of attack, face angle, lie angle, loft angle, impact point (horizontal & vertical), ball speed, side & total angle, launch angle, etc. You will get over 25 readings of your ball and club without any kind of marking.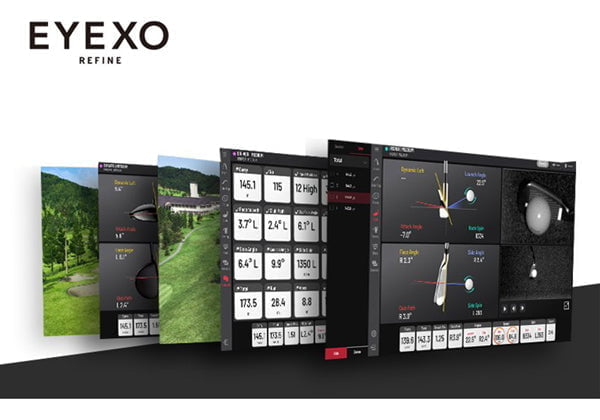 The optional Refine software (+ 1000 dollars) provides plenty of features and five game modes: driving range, stroke play, course practice, Eye XO challenge, and the short game complex. We are more interested in the latter mode, which allows up to six players to compete and practice short shots, including different types of putts.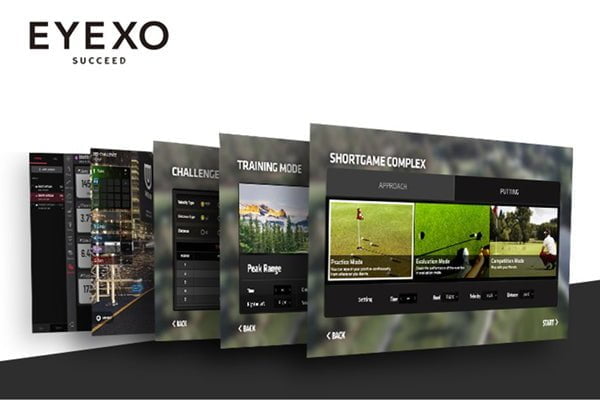 If you upgrade to the Eye XO Succeed software (+ 2000 dollars), you will have access to an additional 20 non-US golf courses as well as all the features of the View. We do believe the View software (included out of the box) provides a better value for the money, but the Succeed upgrade does offer much more variety.
The Perfectbay enclosure comes in three different sizes, with the largest option (the Perfectbay WIDE) measuring 13'5" W x 8' H x 5' D. Choosing which size to get depends on the available space you can dedicate to the simulator system. You can also choose between the included 6' W x 10' L Net Return hitting mat or opt for even larger options from Fiberbuilt, with the largest being 10' W x 12' L and supporting centered hitting, making it convenient for both left and right hand orientation.
We do believe that all the options will look really good in the Perfectbay enclosure, and you won't have any problems practicing your putting, thanks to the cleaner and obstacle-free hitting area.
You can either go with Uneekor's in-house simulation software and any of its upgrade options or if you prefer something different, you can also get a subscription plan for the Trugolf E6 Connect or make a one-time payment for the best value simulation software in our opinion: The Golf Club 2019.
What's included
Uneekor Eye XO launch monitor
Perfectbay Golf Simulator Enclosure & side golf nets (upgradable to larger sizes)
The Net Return Pro Turf (upgradable to larger options)
Choice of the simulator projector
Optional Optoma projector ceiling mount (we highly recommend getting it)
Pros
High-quality components
Accuracy guaranteed, even for your short game
Stunning visual quality
Hitting mat options all perfect for putting practice
Plenty of upgrade options
Cons
Not the cheapest package out there
The Uneekor Eye XO PerfectBay package is an excellent option for anyone wishing to have a complete golf practice experience, with accurate data (even for short game) and a realistic and immersive experience thanks to the high-quality components.
Once again, we have to say that personalization options are something we love about our friends at Top Shelf Golf, as everything can be upgraded. The only drawback is the options and upgrades can make this package out of budget for a lot of golfers. If that's the case, you can always opt for Uneekor's second-best option: the Uneekor QED Perfectbay package, and enjoy your practice sessions while saving a considerable sum of money.
Also great Tracking Technology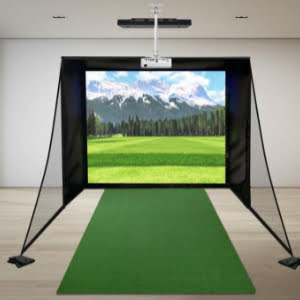 Uneekor Eye XO Perfect Bay
The Uneekor Eye XO PerfectBay package is an excellent option for anyone wishing to have a complete golf practice experience, with accurate data (especially for short game) and a realistic and immersive experience thanks to the high-quality components.
Trugolf Apogee SIG10 Golf Simulator Package
Trugolf is known for making some of the industry's leading simulator packages, and their Vista series are proof of their combination of quality and performance in systems that can be used at home or even for business purposes. These packages are excellent at tracking all shot types and providing useful and accurate data to help you improve your game (including putting).
The Apogee is the company's latest addition; it is a photometric device that uses ultra high-speed cameras to track your club head and ball. It is also the company's first overhead monitor, one that is installed on the ceiling.
In their previous packages, they relied on the Trutrack 2 Tracking system, which is embedded into the hitting mat, to track your metrics without affecting the playing area.
Trugolf simulators are famous for the quality, ease of installation of the components and their outstanding golf simulator software, E6 Connect, which is considered by many as the best software in terms of graphics, image quality, realism, and immersiveness.
The Apogee uses a Point OF Impact (POI) to simplify things for the player, and you only need to position the ball inside the designated area for the shot to be recorded in slow motion at the time of impact.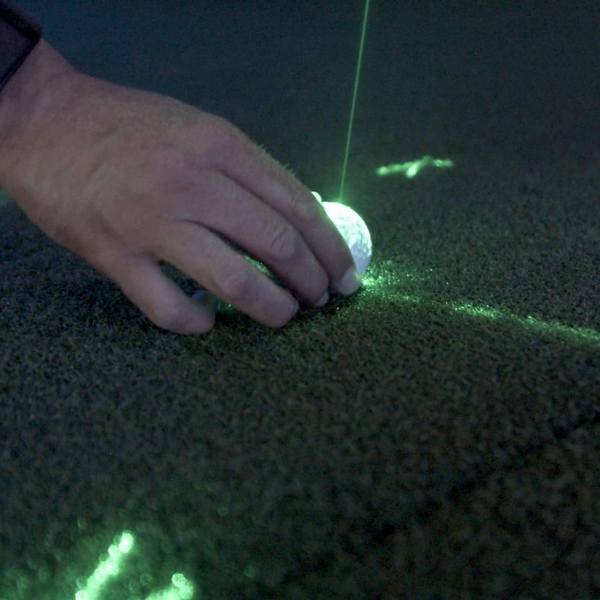 After that, a list of metrics is provided and used to process the simulation. Thanks to Trugolf's patented INSTANT IMPACT image analysis algorithm, this is all done without delay, so the simulation is displayed on the screen as soon as you hit the ball.
The package comes with a 27-course library as well as a 96-course expanded subscription (to renew after one year). The simulation software brings plenty of challenges and features to enjoy alone or with friends and family. It also includes 13 short game ranges and putting analysis functionality to help you practice and improve your putting.
The SIG10 enclosure is a slightly smaller version of the SIG12 reviewed earlier; it offers the same level of quality, sturdiness and reliability, and the fact that the monitor and projector can both be installed on the ceiling means that you get plenty of room and a cleaner playing area to practice putting.
As with the SIG12, you can optionally upgrade to the SIG10 Simulator flooring and turn your home setup into a putting and short-game practice paradise. Of course, if you can't afford the flooring (which is pricey, indeed), going with the included SIGPro hitting mat will also be a good option since it provides continuous coverage between the hitting point and screen and will allow the launch monitor to track your short shots.
What's included
APOGEE Launch Monitor, Calibration Template, 6' Power Cable, & 50' CAT6 Cable
monitor's Instruction Bundle, Laser Level , Mounting Hardware & Screws and Ceiling Mount
SIG10 Golf Simulator Enclosure, Side Barrier Netting and Landing Pad Turf
Choice of Golf Hitting Mat (SIG Flooring is best if you can afford it)
Panasonic Golf Simulator Projector, Ceiling Mount
15'L HDMI Cable
E6 CONNECT Product Key
Pros
Clean playing area
Trugolf's latest launch monitor is amazingly accurate and powerful
Realistic golf simulation
Enclosure perfect for short game practice
Plenty of game modes and features you can enjoy
Cons
All good things come at a price, and this package is no exception
The Trugolf Apogee SIG10 package is a very good system that will help you improve your entire game. It is the perfect display of Trugolf's know-how in golf simulator manufacturing. This specific package, with its large enclosure, will allow you to play and get better at all types of shots, including chipping and putting.
Best Tracking System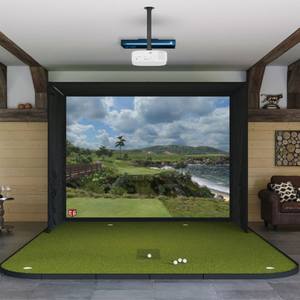 Trugolf Apogee SIG10 Golf Simulator Package
The Apogee is Trugolf's latest addition and features a Point of Impact system that simplifies the tracking process for players. It uses ultra high-speed cameras and a patented INSTANT IMPACT image analysis algorithm to provide accurate and useful data, making it an excellent tool for improving your game.
HD Golf Simulator Packages
If money is not a problem, and you want to invest in one of the best golf simulators ever created, then HD Golf is the brand to seek.
Getting an HD Golf package means getting the best that photometric technology has to offer today. The system uses ultra high-speed cameras surrounding the whole enclosure to track and record your entire game and provide all the details you need to improve.
The package uses in-house components all made by the same manufacturer, from the simulation software to the hitting mat and screen. The enclosure is huge and allows you to practice different game aspects, from full-swing shots to the shortest putts. Everything is detected and processed by the package's all-seeing eyes!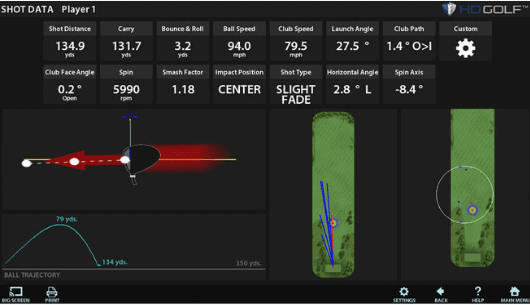 The accuracy of the collected data is unquestionable, and the technological innovations are simply jaw-dropping.
One example is the pressure-sensitive hitting mat, which contains sets of pressure sensors that measure weight shifting and balance.
Another great example is the combination of satellite data, high-resolution images and geophysical data to create 3D models of the world's most prestigious golf courses; the result is that the simulation is rendered in a way that mimics the real courses to perfection. Sometimes, it is truly difficult to tell the difference between an actual course and its simulated virtual version on the HD sim.
You get to play a huge course library in single player, multiplayer and online modes, and there are many competitions and tournaments you can take part in.
The simulation constantly provides new updates to the course library, and it includes many driving ranges as well as multiple virtual greens to practice your short game, chipping and putting, and the large enclosure and turf will certainly help with that. The club fitting feature is another great addition to help you pick the right clubs to use for every type of shot.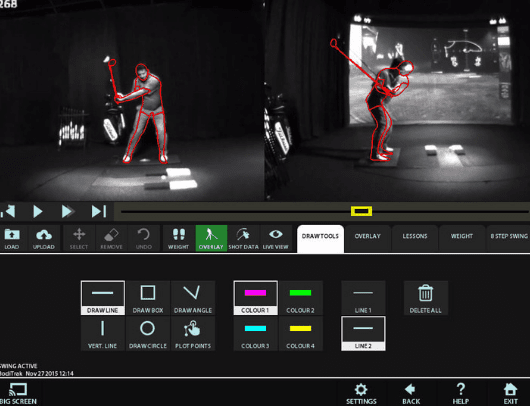 The HD Golf has two main packages: the Ultimate Entertainment Package and the Ultimate Training Package. Both share many software features and hardware components, but the Ultimate Entertainment is quite pricier than the Ultimate Training for a few reasons.
First, the big brother supports the HD Multi-Sport Software Package, which allows you to play 11 virtual sports in total, including golf.
Second, it includes many accessories that can help make the experience more immersive, such as hunting and shooting accessories, a Sony surround sound system and a surround camera system (the Ultimate Training includes a stereo system). Both packages come with a 2-year warranty, a 24/7 customer support service (with remote assistance), free shipping and free installation, with a professional team in charge of setting up the whole thing and helping you with your first steps in getting used to the software.
What's included
16:10 Flat Standard System (10ft H x 15ft 6in W x 19ft L) for the Entertainment package, 4:3 Flat Standard System (10ft H x 13ft W x 19ft L) for the little brother.
Area Golf Turf in Green Turf (16 ft x 22ft 6in) & Stance Mat (15ft x 20ft for the Training Package)
Viewing and Hitting System Frame/Screen
Computer Vision Club and Ball Tracking System
Precision Spin Measurement Data Module
HP Computer Business Workstation
HD Golf Software Package (Deluxe Package - All Courses - Entertainment package)
HD Multi-Sport Software Package (ALL Sports- Entertainment package)
Multi-Sport Shooting and Hunting Accessory Package (Entertainment package)
Rear Stereoscopic Cameras With Mount/Lens
Drapery, Baffle, and Ceiling Track System
Power Bar, Cables, Components, A/V Cabinet
Sony Laser Projector Upgrade & Mounting Bracket
22in Wide View LCD Touchscreen Monitor
Surround Sound Package Upgrade (Stereo for the Training package)
Pros
Impressive system in terms of the sheer size
Accurate data, jaw-dropping simulation quality
Plenty of game modes and features to play - You'll never get bored
Cutting-edge technology bringing multiple innovations to virtual golf
The enclosure, mat and Computer Vision Club and Ball Tracking System will certainly help greatly with chipping and putting practice.
Cons
Expensive packages (but you get great quality and performance)
HD Golf is a very innovative company that revolutionized the world of virtual golf with its packages. It only offers premium, professional-grade systems that provide the best technology has to offer. As you'd expect from such high-end systems, the readings of all your shots are extremely accurate, including putting data.
Other premium golf packages that offer the same level of accuracy would be the Trackman 4, Full Swing Virtual Putting Green, and AboutGolf, among other few systems that can compete with the HD Golf.
We still prefer the HD Golf, though, and we have dedicated an entire detailed article to that technological wonder; if you wish to know more, you may check the HD Golf Review here.
Best Overall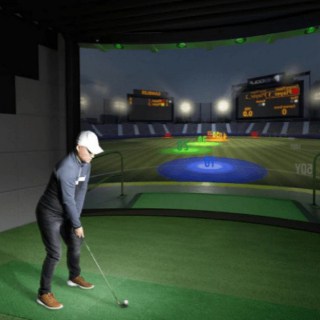 HD Golf Simulator Packages
As you would expect from a company like HD Sports, they deliver a high-quality golf simulator package that includes everything you need. The data is extremely accurate, and the whole experience is very enjoyable.
Foresight Sports GCQuad Retractable Screen Package
How about combining one of the best and most accurate launch monitors, the most realistic and immersive simulation software and a golf sim enclosure that helps save space thanks to its retractable design?
Our next package does just that. The Foresight Sports GCQuad uses a quadruple camera and Infrared configuration to track your golf ball and club and provide some of the most accurate numbers any launch monitor can provide today. Placing club markers on the putter face will allow the device to track your putts with increased accuracy. The following is a video (15 min. 52 sec.) that explains how putting tracking works on the GCQuad:
The package comes with FSX 2020 and FSX Play software, which provide some of the best graphics and features. You can enjoy your virtual games in resolutions of up to 4K.
Optionally, you can purchase the Clubhead Measurement software addon to get more metrics and improve your game. However, we are more interested in the Essential Putting Analysis add-on, which costs around 2,500 dollars and gets you all the data you need to work on your putting skills. The unit is also portable, meaning that you can use it both indoors and out.
The screen enclosure and hitting mat are designed to be easy to set up and disassemble. The screen uses battery-powered motors that help it deploy and retract in seconds. You can also roll up the included Net Return Pro Golf Mat (6' x 10') and store it, which makes this package perfect for use in smaller spaces or the garage.
What's included
Foresight Sports GCQuad launch monitor & accessories
Home Course Pro 180 Retractable Golf Simulator Screen
The Net Return Pro Turf hitting mat (Upgradable to other options)
FSX 2020 & FSX Play software
Choice of projector & mount
Optional Club Head Measurement & Putting Analysis addons
Pros
Amazing accuracy and beautiful graphics for increased realism.
Retractable design to save space
Separate Putting Analysis addon to improve your putts
Professional-grade performance
The device screen can be used to display metrics; very useful, especially outdoors
Cons
The best photometric system ever created does cost a lot of money
The GCQuad Retractable Screen package is an awesome system that provides enough data, features and game modes to satisfy even the most demanding golfers. It includes a Putting analysis and practice tool to help you improve a very important aspect of your game. You can get the GCQuad's overhead twin brother - the GCHawk - if you prefer a cleaner look of the playing area.
If you wish to have comparable quality and performance without breaking the bank, we suggest going for the Foresight Sports GC3 or the Bushnell Launch Pro. These will all provide a tour-level performance for much less money than the more premium GCQuad.
Best For smaller spaces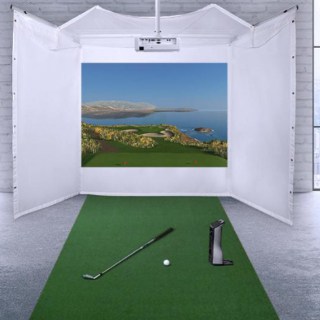 Foresight Sports GCQuad W/ Retractable Screen
The GCQuad Retractable Screen package is an awesome system that provides enough data, features, and game modes to satisfy even the most demanding golfers.
Skytrak SIG8 Golf simulator Package
The Skytrak SIG8 simulator includes everything you need to indulge in virtual golf without breaking the bank. It uses one of the best and most popular launch monitors ever created, and it supports most of the available simulation software.
Almost all supported software options, including the one in this package - WGT, include a short game mode to practice chipping and putting, and the SIG 8 screen enclosure will help with its flat surface turf (If you opt for mounting the projector on the ceiling).
The high-quality turf and screen materials will enhance the feel and realism of the whole experience. In addition, things will be much better if you can afford the upgrade to the SIG8 Simulator Flooring.
To know more details about the Skytrak launch monitor, we suggest reading our SkyTrak detailed review; you can also visit our pick for the best Skytrak-based sim packages.
What's included
Skytrak launch monitor, protective case, Play & Improve simulator software, & accessories
SIG8 Golf Simulator Enclosure
Side Barrier Netting
Landing Pad Turf
Simulator projector & ceiling mount
Choice of hitting mat
15' HDMI cable & Lightning adapter
Pros
Great value for the money
WGT includes a putting practice mode
High-quality enclosure and screen
Accuracy guaranteed
The Skytrak SIG8 is a very good package that comes at an attractive price for what it includes. It is arguably the best value SIG8 package you can get today, but if you're willing to consider Skytrak's direct competitors (in terms of pricing, quality and accuracy), then we highly recommend checking out the Flightscope Mevo Plus SIG8 and the Garmin Approach R10 SIG8.
Best value for money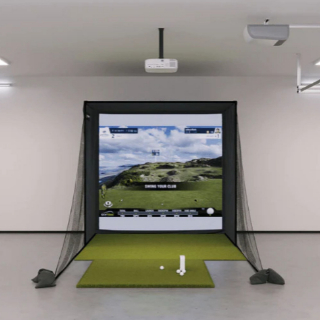 Skytrak SIG8 Golf Simulator Package
The Skytrak SIG8 is a very good package that comes at an attractive price for what it includes. It is arguably the best value package you can get today.
For Those Who Already Own a Portable Launch Monitor
This very last suggestion is for those who are not looking for a full golf setup and already have a portable launch monitor that they want to use indoors to improve their putting skills.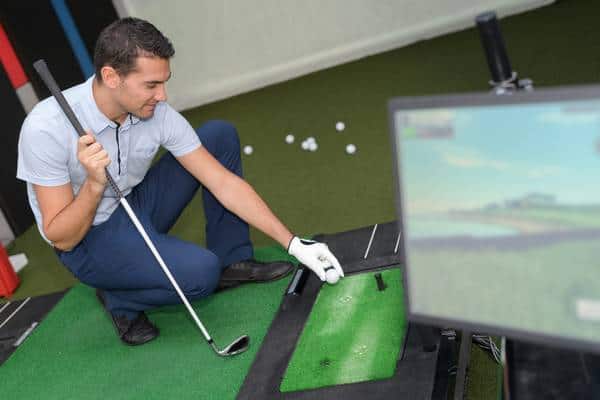 The launch monitor can be hooked to a computer or smart device and you can use a combination of Office putting sets and putting aids to build your own putting practice package.
Make sure you go through our carefully selected and tested list of products and decide which products/ combos will work best for you. We suggest something like the Perfect Practice Putting Mat or the ProActive Sports VariSpeed Putting System.
Buyer guide: Things to consider in your choice
In this section, we will be exploring the main factors that you need to keep in mind while choosing your next golf simulator. Following our advice will help you choose the best system for putting practice based on your own needs and preferences.
1- Full Features Or Putting Only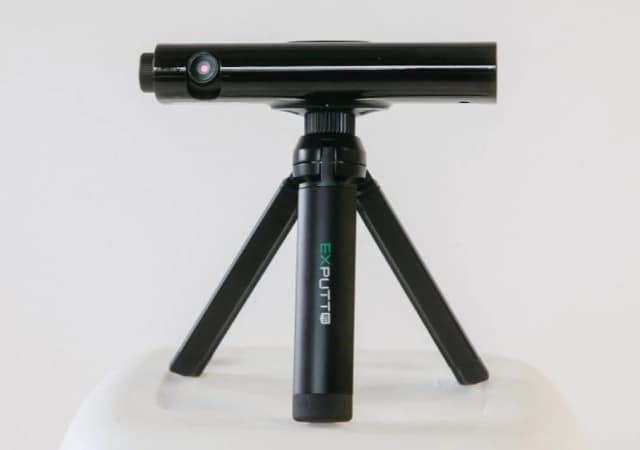 The very first question you need to ask yourself is whether you want a simulator that provides putting practice only or a full system that allows you to play different types of shots using all the clubs in your bag.
The first type is exclusively dedicated to putting and short game practice, and nothing else is included. A great example of this kind of simulator is the Exputt Real-Time Putting Simulator. This is a very affordable option.
The second type allows you to play full virtual courses and offers plenty of additional features and game modes. More hardware and software components are also included, which means that this type also requires a dedicated space for installation. This type of simulator is typically much more expensive than the first type, but also offers more diversity and improvement opportunities.
If you are solely interested in putting practice, then you also need to ask yourself if you really need a simulator. In this case, a simple putting practice green may be more than enough for the task. You can check out our detailed review of the best putting practice aids; these include some great putting greens that you may combine with other tools to practice your short game.
Before making your final decision, make sure you give this question enough thought to ensure you are making the best possible decision.
2- Budget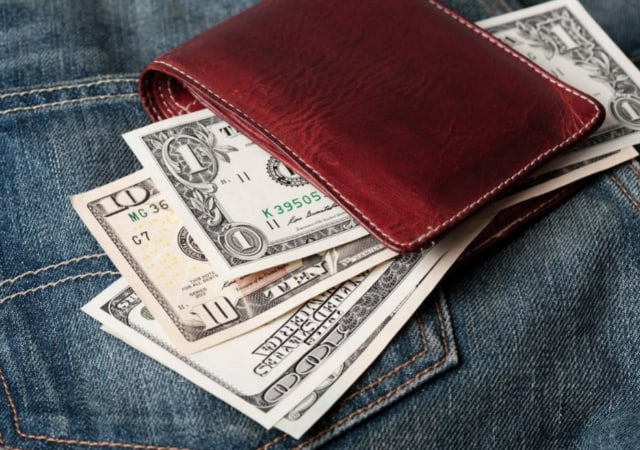 Budget is another crucial factor because it governs your choice of a specific simulator. You cannot buy a package that you can't afford. That's why you need to set a budget limit and see which packages fit into that limit before picking one that satisfies your needs.
As a general rule, you get what you pay for, meaning that a more expensive package will provide much more in terms of software and hardware components, features, quality, accuracy, etc. Putting on a premium-grade golf simulator is most probably going to be much more accurate and enjoyable than on the cheapest package out there.
Still, not everyone will be able to afford the pricier models, and most golfers will need to find the perfect balance between price and performance; that is, a home golf simulator setup that provides most of the features they require for the lowest possible price.
In this article, we did our best to include systems from different price points to make sure every one of us will have a chance to find a suitable package and enjoy our practice sessions on a virtual simulator.
3- Size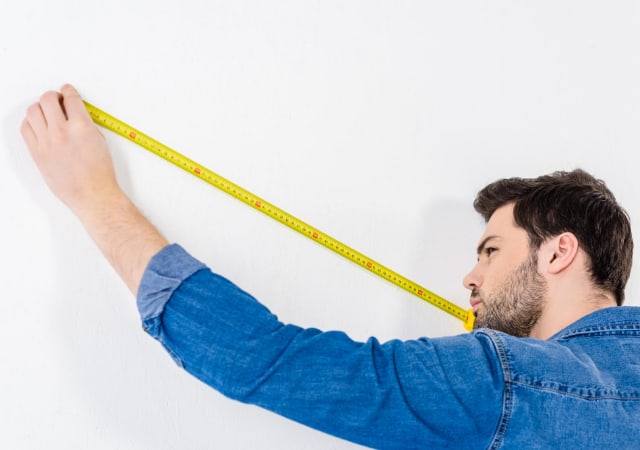 Size is not a big issue when it comes to today's advanced launch monitors, as most of these can work in smaller as well as larger spaces.
Doppler radar systems, on the other hand, do require a longer room size for a longer ball flight to get the most accurate readings. Still, they are perfectly usable with a home golf simulator.
The good thing is that putting practice usually requires less space than what is needed for full swing golf shots, which means that putting can be virtually practiced with any modern simulator package.
What you should be concerned more about is the size of the room where you intend to use your package. The dimensions must meet the minimum space requirements set by the manufacturers of every single setup, or even the recommended dimensions for more peace of mind; you will have more space than what is required by your chosen package, which will eventually positively impact comfort and playability in your setup.
On the other hand, a dedicated putting setup will hardly take up any space, as it only requires an area for the putting mat and the tracking device (usually a camera). These can be ranged out of the way when not in use. This is something very practical, especially if you have space restrictions.
4- Portability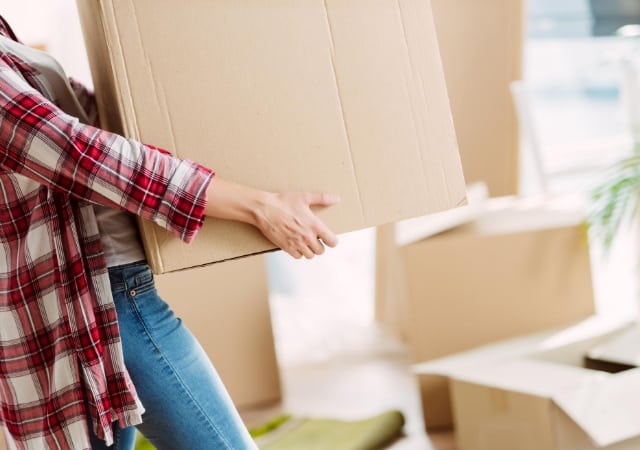 Portability is something to keep in mind while choosing a new setup, especially if you frequently travel around and want to take your package with you or you intend to move the system into different locations of the house.
A dedicated putting system like the Exputt will be highly portable and transportable; the camera can be placed in a closet, and the mat can be rolled up and kept somewhere safe when not in use or even during summer, when you get more chances to hit the local golf course and enjoy your time with your buddies.
Things get a little more complicated with full simulator setups, which obviously offer much less portability because they include more components like a screen, projector, hitting mat, launch monitor, enclosure, etc.
Within this same category of full systems, some will provide more portability than others. For example, an overhead system, like the Uneekor Eye XO, QED, or Foresight Sports GCHawk will be almost impossible to move around because they are attached to the ceiling, never to be moved again, while other systems like Skytrak, Flightscope X3, GC3, GCQuad, etc. will offer great portability (at least partially) because the core of the system -the launch monitor- is designed with portability in mind; it can be recharged and taken to the golf course, practice range, etc.
Some enclosures, such as those found in Trugolf packages, are extremely easy to set up and disassemble, which makes them easier to move around than other packages. Other enclosures, including ones in Shop Indoor Golf's Flex Space, Bronze and Training packages, are also easy to install and transport.
It's up to you to decide what you intend to do with your package and choose accordingly.
5- Software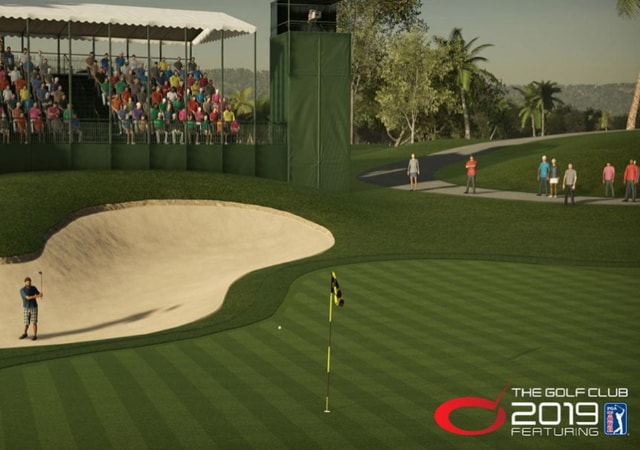 Different packages support different golf simulation software; that's why you must know which options are compatible with your selected system.
You need to choose a software plan that offers the features and game modes you need most for your game. Some software options include very basic functionality and features, such as a virtual driving range as well as a few game-improvement games and modes.
The basic functions may be enough if all you need is practice to improve your game through the data provided by your launch monitor, and you don't need all the bells and whistles like multiplayer and online game support.
If realistic simulation, immersive graphics on a giant display, among other things, are important to you, then you should invest in a more advanced software plan that provides additional playable courses and support for plenty of features and graphics of up to 4K quality.
For something like the Exputt simulator, the software includes three different modes. The Classic includes play, challenge and practice modes; the Multiplayer mode allows you to practice putting with other players online through WIFI. The Explorer mode allows you to change the locations of the holes on a given course.
Skytrak, one of the most popular options among golfers worldwide, offers three software plans: Basic, Game Improvement and Play & Improve. The basic plan is included with the purchase of the unit, and has a practice driving range. The Game Improvement Plan offers many additional features, while the Play & Improve plan gives you access to 27 playable courses, online play and more features through WGT. Also, Skytrak supports almost all popular software on the market, but the upgrade must be done through the Skytrak interface to avoid problems.
The Golf Club 2019 (TGC2019) is our favorite software option thanks to its huge course library (150,000+), a rating system to decide which courses are worth playing and the huge active community worldwide. TGC 2019 costs a one-time payment of 995 dollars.
Other great quality simulation software include Trugolf's E6 Connect, Foresight Sports' FSX 2020 & FSX Play, Creative Golf 3D, GSPro, etc.
Choose your simulation software based on the features you need, and make sure your choice is compatible with your package (and launch monitor) before finalizing your purchase.
Final Thoughts
Putting is an essential aspect of your game, and that's why you have to give it enough time and practice. This will help to greatly improve your overall game and scores.
In this article, we provided a list of what we consider to be the best indoor golf simulators for putting practice; the majority are full setups that allow you to practice all your game aspects and use all your golf clubs, but are especially good at tracking putting and short game, compared to other systems. We also covered the most crucial factors you need to consider while choosing a specific setup.
If you follow our tips and advice, we assure you that you will be able to make the best choice to benefit the most from your investment.
Happy practice!
You May Also Like