10 Best Indoor Putting Greens – Reviews & Buying Guide
Last updated:
September 21, 2023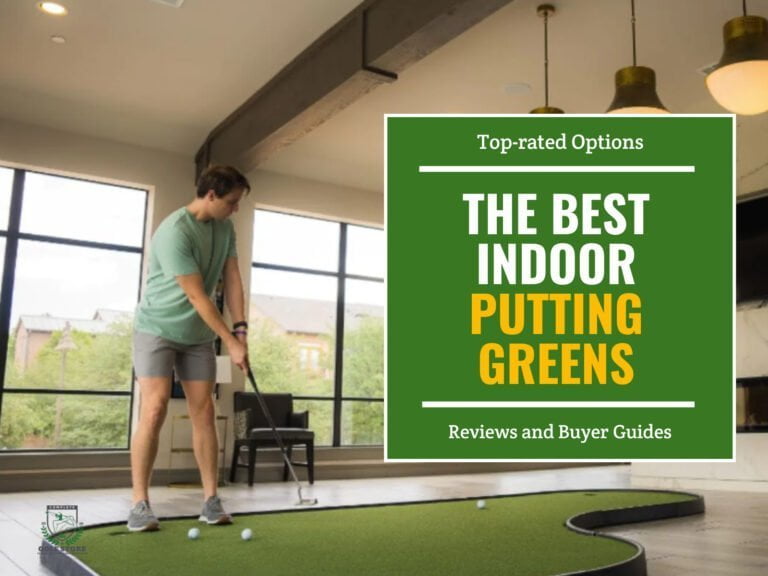 Disclaimer: We may earn a small commission from some of the links on our website. However, our reviews and comparisons remain fair and unbiased. Our goal is to help you make the best choice. For more information, please see our
disclosure statement
. Thank you for your support.
Key Takeaways
Based on our tests, research, and experience, our top pick for the best indoor putting green is the PERFECT PRACTICE Putting Mat. It offers an XL edition with ample practice space, a 2-hole training design, and a high-quality crystal velvet surface for a realistic putting experience. The ball return system and clear guides for both left- and right-handed golfers make it an ideal choice.
Many amateur golfers struggle with inconsistent putting, leading to higher scores and frustration on the course. But with the right putting green and a bit of practice at home, you can lower your handicap by shaving strokes off your short game.
In this comprehensive guide, we'll explore the benefits of indoor putting greens and compare the top-rated options for every budget. You'll learn what makes an excellent putting surface, from quality turf to break simulation. We'll review compact, portable greens for limited space as well as luxury greens that resemble professional training facilities.
So grab your putter and let's get started. In a few simple steps, you can be sinking more one-putts and waving goodbye to three-putt blow-up holes.
Let's get rolling on the path to an improved short game.
No time to read the whole article? No worries. We've done the work for you and compiled a list of the top performers.
| Product | Features | Our Rating | |
| --- | --- | --- | --- |
The 10 Best Indoor Putting Greens
The following are our 10 picks for the best indoor putting greens that we have personally tested. These are from various price ranges, sizes and materials to ensure everyone can find his/her favorite option based on their own needs, preferences and potential limitations.
PERFECT PRACTICE Putting Mat
When it comes to improving your golf game from the comfort of your own space, the PERFECT PRACTICE Putting Mat stands out as one of the best indoor putting greens available. This exceptional putting mat is a game-changer for golfers looking to enhance their putting skills, whether at home, with a golf simulator, or in the office.
The XL edition of the PERFECT PRACTICE Putting Mat measures an impressive 15' 6" in length, which provides ample space for practicing a variety of putting shots and honing your skills. The 2-hole training design adds versatility to your practice sessions, allowing you to work on the accuracy of your putting.
What truly sets this putting green apart is the high-quality surface. Crafted with a special crystal velvet material, it replicates the feel of a real putting green, allowing your ball to roll smoothly and naturally. This realistic experience is essential for developing your feel and touch on the greens.
The ball return system is another game-changer. You no longer need to retrieve each ball after every putt; the convenient auto-return system automatically sends the ball back to you. This continuous training feature helps you maintain your focus and rhythm during practice.
In addition, the PERFECT PRACTICE Putting Mat provides clear guides with printed markings and lines. These guides assist both left- and right-handed golfers in improving their aim and alignment, making it an ideal practice tool for everyone.
Pros
XL EDITION offers ample practice space.
2-hole training with different sizes to enhance precision.
Crystal velvet surface replicates real putting greens.
Clear guides aid in improving aim and alignment.
The ball return system saves time and maintains rhythm.
Cons
May take some time and effort to flatten the mat.
Ramp design can slightly affect distance control.
The PERFECT PRACTICE Putting Mat is a top-tier putting green that can significantly elevate your putting game. Its combination of realistic surface feel, XL size, and training features make it a valuable addition to your practice routine. Say goodbye to inconsistent putting and hello to a more confident and precise stroke with this exceptional golf accessory.
Fiberbuilt Indoor Putting Greens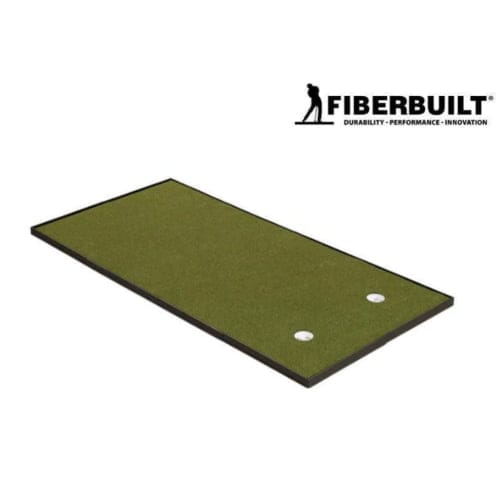 Next on our list is a leading brand that makes some of the best hitting mats in terms of quality, durability and performance. When searching for the best indoor golf putting mats, Fiberbuilt Indoor Putting Greens should be on your radar. Highly recommended for golf enthusiasts, these mats offer an exceptional surface and construction that allows for a true roll on putts and checks on chips. Additionally, the assembly process is straightforward.
One of the standout features of Fiberbuilt Indoor Putting Greens is their realistic sound. They come equipped with metal cups that create an authentic sound when putts are holed, enhancing the overall practice experience. Furthermore, Fiberbuilt offers a variety of sizes and price points to cater to different putting practice needs, ranging from 4'x8' to 10'x10'. You can find a mat that fits your available space no matter how limited it is.
However, it's important to note that these greens have a relatively slow putting speed, rated at 9 on the stimpmeter. While this may be seen as a downside, it's worth mentioning that this speed is comparable to what you would typically encounter on most average courses.
Pros
Exceptional Surface & Construction
Easy Assembly
Realistic Sound
Variety of Sizes
Durable Build
Cons
Slower putting speed of 9
For those willing to invest in a premium-quality mat, Fiberbuilt's Indoor Putting Greens are worth considering. Their exceptional construction, easy assembly, and durability make them a reliable investment for serious golfers. The variety of sizes ensures there's an option for everyone.
SIGPRO Indoor Putting Greens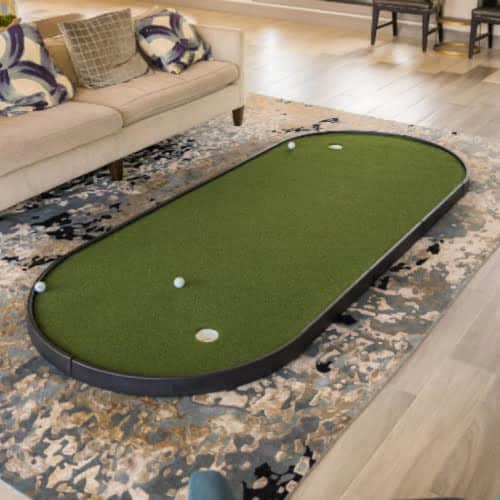 Sold exclusively by one of the best golf equipment retailers- the Indoor Golf Shop, the SIGPRO Indoor Putting Greens are a premium option that you should seriously consider. Highly recommended, these greens offer an exceptional putting experience, and they are priced accordingly.
The SIGPRO Indoor Putting Greens are designed to deliver premium performance and feel for golfers looking to hone their putting skills. The exceptional surface and construction of these greens ensure a true roll, similar to what you'd find on Bentgrass greens. This realism is essential for refining your putting technique.
With a Stimp speed rating of 10, these greens offer a consistent and challenging surface for your putting practice, which mirrors the conditions you'll encounter on actual professional golf courses.
The company includes an undulation kit with its larger mats, adding a layer of complexity to your practice. This feature allows you to work on a variety of putts, further enhancing your skills. The top-quality turf and a sturdy base ensure durability and a true roll every time.
Whether you have limited space or a dedicated putting area, SIGPRO's mats have you covered with multiple sizes and configurations. Choose from options like the Gimme, Tap In, Walkoff, Executive, or Double Breaking Putting Greens, each designed to fit different practice needs.
Pros
Exceptional Surface & Construction
True roll turf similar to Bentgrass greens
Undulation Kit included with larger mats
Impressive Stimp speed of 10
Various sizing options
Cons
Premium mats with premium price tags
If you're in the market for premium indoor putting greens, SIGPRO's should be at the top of your list. They offer an excellent putting experience with features that cater to golfers of all skill levels. They might be out of budget for most golfers, but they are worth every penny you spend on them. You won't be disappointed.
PuttOUT Medium Putting Mat
If you're serious about improving your putting game, the PuttOut Pro Golf Putting Mat is a must-have addition to your indoor setup. This 7.87' x 1.64' green is available in 5 different colors for you to choose the one you like: Green, blue, gray, blue/black, and green/yellow.
The PuttOut Putting Mat accurately replicates the feel of a medium-to-fast green, with a stim meter reading of 10. This means you can practice putting on a surface that closely resembles the real thing. The mat also comes with printed alignment guides, target points, and distance markings to help you refine your putting accuracy and consistency.
After practice, you can easily roll up the mat and store it in the included compact carry bag. This portability allows you to practice on the go or set up your putting station wherever you like. Furthermore, the Mat is compatible with any flat putting cup, making it suitable for a variety of putting training drills. However, for optimal results, it pairs exceptionally well with the PuttOut Pressure Putt Trainer.
Pros
High-Quality Simulation
Markings and Guides
Portable and Compact
Versatile Compatibility
Available in 5 different color combinations
Cons
After a few putts, the ball leaves a temporary groove on the mat, affecting the ball's line.
The mat's speed can vary depending on the surface you place it on.
PuttOut's Pro Golf Putting Mat is an outstanding choice to hone your putting skills indoors. Its realistic feel, alignment guides, and portability make it one of the best indoor putting greens on the market.
MG Magic 10 ft. Putting Mat
This 10FT True Roll putting green is excellent for several reasons. First and foremost, its construction is flawless. Crafted with commercial-grade synthetic turf, it does an outstanding job of simulating the feel of real grass on a country club green. This level of realism in ball speed is essential for improving your putting skills effectively. When you step onto this putting mat, you'll feel like you're on a professional golf course.
Also, this putting green comes with rough on the edges. This design element serves a dual purpose. Firstly, it prevents balls from rolling off the green, ensuring you spend more time practicing and less time retrieving balls. Secondly, it provides an opportunity to work on those tricky shots from off the green or "collar" putts, which can drastically improve your overall performance.
Durability is key when it comes to golf training aids, and this product doesn't disappoint. It features a 0.21-inch layer of non-slip EVA padding, which not only simulates real turf effectively but also provides maximum stability. This means you can practice your swing and putting with confidence, knowing that the mat won't shift or move during your practice sessions.
Moreover, this putting green is designed with alignment in mind. It includes guidelines that help you line up your putts accurately, allowing you to refine your aim and accuracy. This feature is particularly beneficial for those frustrating short straight putts that we all tend to miss.
Additionally, the mat is easy to store and wrinkle-free. It's lightweight and can be folded up, making it convenient for storage and transport. Whether you want to level up your game at home, in the office, or on the go, this putting green has got you covered.
Pros
Realistic ball speed and feel.
Rough edges prevent ball roll-off.
Durable and stable construction.
Alignment guidelines for precise putting practice.
Easy to store and transport.
Cons
In conclusion, the MG Magic Putting Mat is a fantastic option in the world of indoor putting greens. Its realistic feel, durability, and unique design elements make it suitable for players of all skill levels. Whether you're a seasoned pro or just starting, this putting green will undoubtedly help you improve your putting skills.
Crestgolf Golf Putting Mat
Crestgolf's Putting Mat is truly one of the best indoor putting greens on the market. Its high-quality construction from premium velvet material offers a smooth surface that ensures your ball rolls identically to real greens. Unlike some other mats, it doesn't break or wrinkle when folded, ensuring durability through countless practice sessions.
The Wood Ball Return System is an impressive feature. This putting green is mounted on a sturdy wooden body, adding to its durability. With the auto-return system, you can focus on improving your putting without the hassle of collecting your balls after each stroke.
The Crestgolf Putting Mat also features two holes of different sizes, offering a fun and challenging experience. This design not only adds excitement to your practice but also enhances your putting accuracy and control, as you aim for specific targets.
Portability is another advantage, as the mat is easily foldable and portable, making it a perfect gift for your golfing companions or friends. You can take it wherever you please and practice in the office, home or even the backyard if you want to.
Pros
Durable wood ball return system for hassle-free practice.
Premium velvet material for realistic ball roll.
Compact and portable, perfect for indoor and outdoor use.
The 2 hole design adds fun and challenge.
Cons
With its premium materials, wood ball return system, and unique design, the Crestgolf Putting Mat offers a comprehensive putting experience. The inclusion of wood and elegant design make the mat more aesthetically pleasing, so it will fit perfectly in your house or office without disturbing the arrangement or view of the space.
Chriiena Putting Green
One of the key features that make this putting green exceptional is its ability to provide a real golfing experience. Made from premium PP grass with the most scientific grass density, it simulates real greens remarkably well. The stimp meter reading of around 10 closely resembles that of an actual course. This feature alone sets it apart from many other indoor putting greens on the market.
Unlike some other putting greens that limit you to fixed holes and a gentle slope, Chriiena goes the extra mile by including a customized slope pad and movable cups. This allows you to challenge yourself with slope putting and putt in different directions, making your practice more engaging and dynamic.
Additionally, this green isn't just confined to indoor use; it's also suitable for outdoor settings. Thanks to its thickened 10mm heavy-duty rubber foam base, it remains stable even on rainy days. So, if you're looking to add a touch of green to your yard, this putting green mat is an excellent choice. Its adaptability is one of the reasons it ranks among the best.
Also, cleaning is a breeze; all you need is a vacuum or a simple wash with water. Additionally, it's suggested to dry it under the sun if it gets wet to ensure a longer lifespan.
Pros
Realistic feel & premium materials.
Customizable for a more engaging practice.
Suitable for both indoor and outdoor use.
Low maintenance compared to real greens.
Lifetime guarantee for peace of mind.
Cons
The cups are not very deep, causing faster putts to roll out.
The realistic feel, customization options, and versatility for indoor and outdoor use make this a top choice to practice your putting skills both indoors and out. While minor issues like excess grass and cup depth exist, they don't overshadow the overall quality and performance of this product. So, if you're serious about improving your game, the Chriiena Putting Green is an investment worth considering.
Big Moss Indoor Putting Greens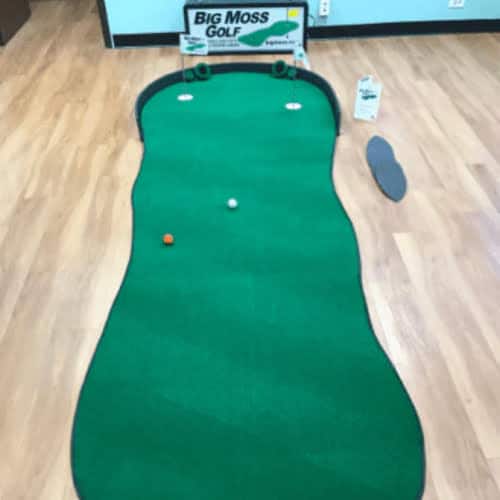 The Big Moss Indoor Putting Greens promise a top-tier putting experience without compromising on quality or variety. They earn their acclaim through a combination of exceptional features.
The most crucial aspect of any putting green is the quality of the surface, and Big Moss delivers in this department with a premium putting experience and consistently true rolls. The heavy rubber backing of these greens ensures that they remain flat and provide a smooth, realistic roll. You won't have to deal with uneven surfaces or unexpected bumps.
To prevent stray balls from disrupting your practice or ending up on your floors, Big Moss includes a backstop. This thoughtful feature keeps your practice area tidy and efficient. Moreover, Setting up these greens is simple, with little to no installation effort, ensuring that you can start practicing right away.
To add an extra layer of challenge and variety to your practice, Big Moss offers almost endless terrain variations by including break pads. This feature keeps your practice sessions engaging and helps you develop a more versatile putting game. The mats are available in multiple sizes and price points to cater to various preferences and budgets. Examples include the Augusta 410 V2, Augusta V2, and The Natural V2.
Pros
High-Quality Surface & Putting Experience
Heavy rubber backing for flat and smooth rolls
Backstop for ball control
Terrain variations with break pads
Multiple sizes available
Straightforward installation
Cons
No stimp rating provided by the company
If you're looking for indoor putting greens that offer both quality and variety at a reasonable price point, Big Moss's greens are an excellent choice. They provide the ideal platform to sharpen your putting skills, ensuring that you can practice effectively and efficiently.
Callaway Odyssey 10' Indoor Putting Green
The first thing we noticed about Callaway's Odyssey hitting green was its high-quality 10' by 2' surface that remarkably simulates a real putting green. The feel and texture closely mimic that of a real course, allowing you to practice your putts with unmatched realism.
Another advantage is the inclusion of two recessed cups with hole-fill inserts. These cups offer variation and challenge to your practice sessions, helping you improve your aim and putting speed. This feature adds an element of unpredictability, similar to real-life greens, making it an excellent training tool.
The quality construction of this putting mat is evident in its high-quality backing. It eliminates folds and creases to ensure that the mat rolls out true and flat every time. This is essential for maintaining a consistent practice surface, a critical aspect of improving your putting game.
Additionally, the Odyssey 10' Indoor Putting Green comes with an optional foam wedge that you can place under the mat to create breaks and slopes on the green, adding another layer of challenge to your practice.
Pros
Realistic Putting Surface
Two cups with hole-fill inserts and an optional foam wedge offer versatility and challenge.
High-quality backing ensures a consistent and smooth rolling surface.
The 10-foot length allows for extensive putting practice and varied distances.
Travel-friendly & folds up without creating creases.
Cons
Potential difficulties in completely removing wrinkles or folds from the mat.
The Callaway Odyssey 10' Indoor Putting Mat is one of the best available. Its realistic surface, variability, and quality construction make it a great tool to enhance your putting skills. Invest in this putting mat, and you'll be well on your way to mastering the art of putting right at home.
SKLZ Indoor Putting Green
Our last pick- the SKLZ Indoor Putting Green impresses with its ability to simulate real putts. The slight upslope at the cup and the true-roll surface faithfully emulate the experience of putting on actual greens, with a range of up to eight and a half feet.
What really enhances your practice sessions is the variety this mat offers. With three cups to choose from, you can tailor your putting practice to different scenarios and distances. Additionally, the inclusion of bunkers behind the holes adds a layer of challenge, making it ideal for improving your short game.
You can work on squaring the face, perfecting your tempo, and refining your follow-through using SKLZ's putting green. The true-roll surface impeccably replicates real green conditions and provides a similar stimp reading. This ensures that your practice sessions translate seamlessly to the course. The durability and quality of the materials used in its construction guarantee that this mat will last you for a long time.
In terms of size, the SKLZ Indoor Putting Green strikes a perfect balance. Measuring 8' 6" long by 3' wide, it easily fits into most indoor spaces, allowing you to practice virtually anywhere. Its portability ensures you can set up your practice area in different rooms or even take it with you when you travel.
Pros
Realistic green simulation.
Multiple cups and bunkers for versatility.
Convenient and portable size.
Focuses on improving putting skills.
Premium, durable construction.
Cons
Attracts dirt and lint easily.
May require flattening after initial unrolling.
SKLZ's indoor putting green is a top-tier choice for golfers seeking to elevate their putting game on a budget, as it's much more affordable than the majority of mats on our list without compromising on quality and performance. It is our best budget pick with great value for money!
Buying Guide: Factors to Consider While Looking for the Perfect Indoor Putting Green
After reviewing the top options available on the market, it's time to go through the most crucial factors to consider while choosing an indoor putting mat to ensure you make the best choice possible.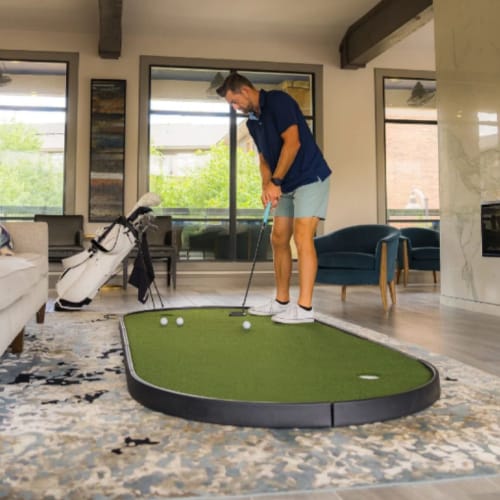 Construction & Durability
When evaluating indoor putting greens, construction quality and durability should be top priorities. You want a surface that accurately simulates real greens and stands the test of time after repeated use. Focus on the following:
Base Material - Quality bases are made of thick, dense materials like rubber or artificial turf backing. This prevents wrinkling, curling, and impression marks.
Turf Material – Opt for nylon, polypropylene, or PET woven turf, not foam. Woven turf provides a true roll and realistic green speeds.
Stitching – Multiple layers of cross-stitching increase durability so the green retains its shape over years of use.
Weight - Heavier putting greens stay flat and resist sliding during strokes. Lightweight portable mats may shift during practice.
Warranty – Longer warranties signal confidence in construction. Many reputable brands offer 1-year limited warranties or more.
Prioritizing high-end materials like professional-grade turf and rubber bases prevents deterioration and ensures your green mimics actual putting conditions for effective practice.
Size
Dimensions are a vital consideration, as your available space determines which putting green sizes are feasible. Here are key factors regarding size:
Room Dimensions: Carefully measure the length and width of your room or garage to find greens that fit. Leave sufficient space for setup and ball returns.
Stroke Length: Wider greens allow you to practice longer putts, while compact mats are limited to shorter strokes. Determine your ideal maximum putt length.
Portability: If you want to store or move the putting green, make sure the size you choose is manageable. Excessively large and heavy greens become difficult to transport.
Number of Golfers: If you often practice putting with family or friends, opt for larger surfaces to accommodate more simultaneous users.
Consider both your current space and future plans when deciding on a size. This ensures your putting green is usable for years to come.
Features
While simple putting mats have limited capabilities, modern high-end greens boast helpful features that enhance practice.
Optional features and add-ons in modern putting greens may include ball return, break simulation, variable speed turf, chipping areas, backstops, hole variety, and accents (with faux water hazards, sand traps, fringe, etc.)
Factor in which features will make practice more convenient, entertaining, and productive for your goals. Justifiable added costs can transform an ordinary putting mat into an enjoyable and effective training tool.
Portability
For golfers with limited space or those who want flexibility to move locations, portability is key.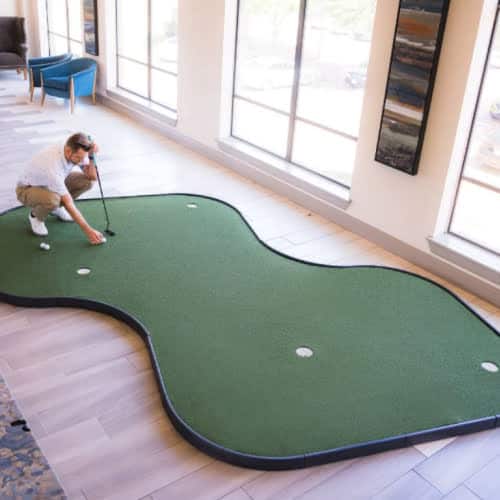 Here is how to evaluate a putting green's mobility:
Weight - Heavier greens become exponentially harder to transport. Lightweight mats under 10 lbs. are ideal for portability.
Panel Construction - Greens with interlocking panels or turf inserts take apart for transport better than monolithic surfaces.
Base Material - Foam or fiberglass bases reduce weight versus rubber.
Setup Time - Greens that require extensive assembly and alignment each use are inconvenient to move often.
Folding Method - Repeatedly folding turf in the same crease deteriorates the surface, so rollout mats are better for portability.
Carrying Case - Built-in carrying cases with shoulder straps or wheels streamline transport between locations.
Dimensions - More compact rectangle and oval shapes are easier to maneuver than large square greens.
Test takedown and setup to ensure a "portable" green realistically fits your needs. Prioritize lightweight materials, wheeled bags, and quick assembly when mobility is a priority.
Price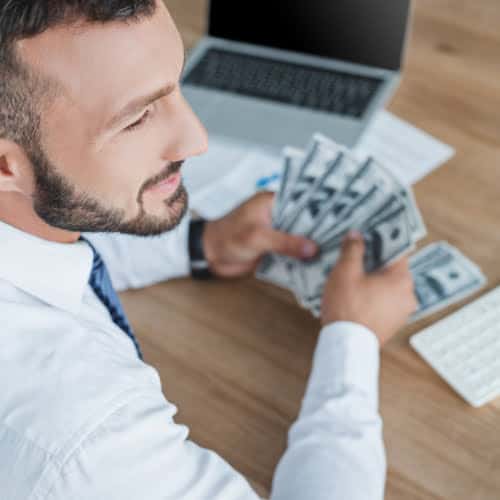 Lastly, setting a budget is crucial before shopping for the myriad putting green options. Prices range from under $100 to over $10,000. The following can all affect the price of your final purchase:
Size vs. Price
Be wary of very inexpensive greens significantly larger than competitors, which likely use inferior materials.
Feature Sets
Added tech features like video projection and smart sensors understandably increase costs. Determine the features' necessity.
Brand Reputation
Renowned golf brands and major sports retailers offer models across the spectrum. You can trust their quality.
DIY vs Pre-Built
Pre-fabricated greens are pricier but skip the work of DIY assembly. Factor in your construction skills to decide which route to go.
Accessories
Cups, flags, hole cutters, turf tees, and contour pads are often sold separately and may add up considerably to your investment.
Budget Padding
If possible, slightly exceed your ideal budget to get higher quality materials that can provide a better performance.
Final Thoughts
With an indoor putting green, the possibilities for improving your short game are endless. After reviewing the top options across budget ranges, you now have the knowledge to choose the right putting green for your needs.
Whether you opt for a high-end replica pro shop green or an affordable and portable mat, consistent practice is key to improving. Set aside time each day to work on distance control, green reading, and most importantly, confidence over those tricky 3-5 footers. With the convenience of an indoor putting green, you can commit to quality putting practice all year round.
Please let us know if you have any other questions as you embark on your putting green journey. What specific skills do you want to improve? Which putting green model or feature is most appealing? We invite you to share your thoughts below.
WRITTEN BY

My name is Jacob, a self-diagnosed equipment and golf enthusiast. I've been golfing since I was 15. Golf has always been my passion. I'm a bit of a golf equipment nerd and I've been that way since the moment I picked up a club for the first time. As someone who's been on both sides of the game, I know what it takes to be a good golfer. Of course, you need good equipment, but you also need to know how to use it. I hope sharing my experience with you will help you improve your game.
You May Also Like