The 10 Best Office Putting Sets: Reviews & Buyer Guide
Last updated:
October 6, 2023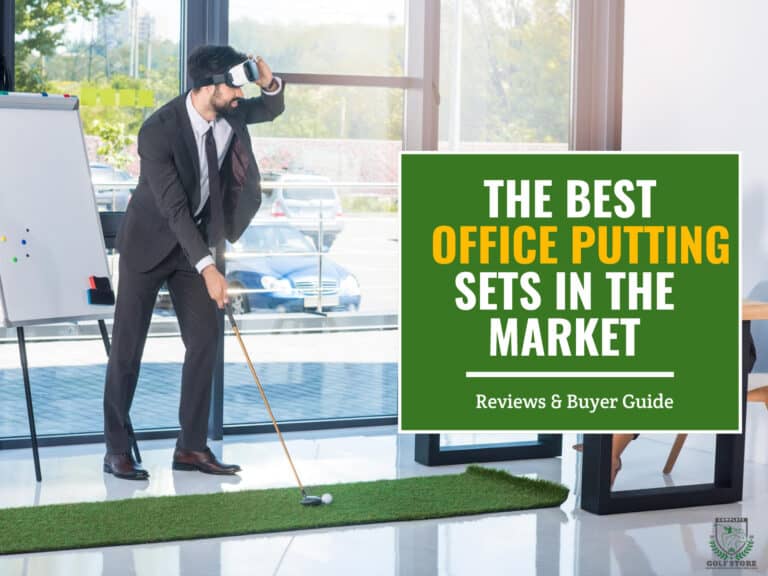 Disclaimer: We may earn a small commission from some of the links on our website. However, our reviews and comparisons remain fair and unbiased. Our goal is to help you make the best choice. For more information, please see our
disclosure statement
. Thank you for your support.
Key Takeaways
Our top pick for the Best Office Putting Set is the Perfect Practice Putting Mat. With its Crystal Velvet TrueRoll Technology, this mat replicates the putting experience on an actual green, making it the perfect way to practice your putting stroke at the office. It also features a variety of subtle details, such as site and alignment lines, an alignment mirror, and fewer hole options, to help you focus on feel and mechanics.
Putting is one of the most important components of your game, as it accounts for an average of 35-55% of your shots. As you gain greater comfort on the greens, your self-assurance will improve. Perhaps not with absolute certainty, but you get the point.
Excellent golf requires a substantial amount of time and practice. The challenge is finding the time. With a high-quality office putting set, you can practice putting at work and ensure you're ready for your next round.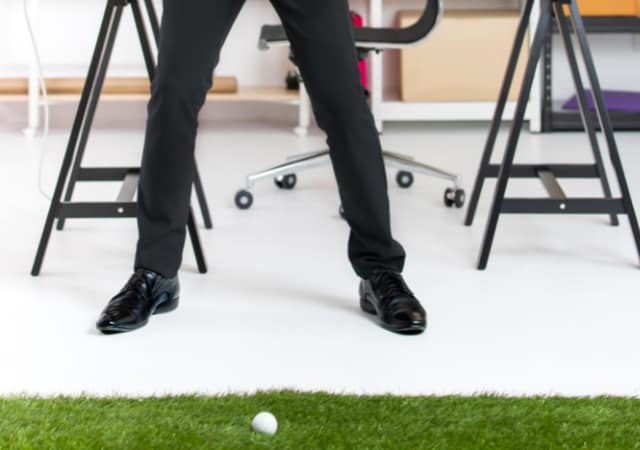 In a Hurry? Here Are the Top Options We Like the Most.
| Product | Features | Our Rating | |
| --- | --- | --- | --- |
Our Top Picks Of The Best Office Putting Sets
After comprehensive research, we've compiled this list of the best office putting sets that are suitable for your workplace. We suggest choosing one based on the atmosphere of your office.
The following are our top selections based on our own testing, research, and experience:
Perfect Practice Putting Green
The Perfect Practice Putting Set is designed for golf enthusiasts who take putting seriously during their lunch breaks. This is the favored indoor mat of former world number one golfer Dustin Johnson, according to the manufacturer. This 9 foot 6-inch crystal velvet mat features two elevated cups to simulate putting greens. It gives an excellent putting green for you to practice your short game abilities.
The Perfect Practice Putting Mat features a variety of subtle details that make it a useful at-home practice assistance. Perhaps the most important aspect of this product is the quality of the utilized surface. Compared to other inexpensive office putting mats we've tested, the artificial grass on the Perfect Practice is of a far higher quality than other mats. You can anticipate a faster, more accurate roll, which is crucial while practicing your putting stroke.
Pros
Site and alignment lines, an alignment mirror, and fewer hole options let players to simultaneously concentrate on feel and mechanics.
Simple storage and setup facilitate use.
Crystal Velvet TrueRoll Technology replicates the putting experience on an actual green.
Cons
The price point is greater than other similar products in the market
For certain golfers, the inability to change slopes and contours may be a disadvantage.
This Perfect Practice Putting Mat's ball return feature is one of the main reasons why golfers enjoy using it. The auto-return mechanism is well-designed and does not send golf balls flying back across the room at you; it rolls slowly, so you don't have to move from your current position.
The mat is covered with lines and guidelines for those seeking to improve their alignment and setup. Learn to imagine these the next time you take the course to increase your practice's effectiveness.
Neon Executive Putting Set
Using the Neon Executive Portable Putter set, you can practice your putting stroke indoors or outside. The set contains a 4-piece putter, a practice hole, and two golf balls. Moreover, a storage container allows you to retain all the components in one place.
You can set it up and begin working on your stroke immediately. Connect the components of the putter, place the target practice cup, and start putting.
Pros
A portable case for storing and transporting this gift package.
The putter feels solid and durable
Create indoor putting conditions for you.
Cons
The putter head is lightweight
The carpet has an uneven pattern
You may work on your putting stroke indoors or outdoors with the Neon Executive Portable Putter set. It is an ideal option for indoor use because of its convenience, reasonable cost, and ease of use.
Varispeed Putting System
While putting greens and mats are desirable, the majority of them cannot be adjusted for speed. However, the Varispeed putting system reverses the standard for the majority of mats, making it exceptionally successful, as though you were at a country club practicing various sorts of putts.
When you are ready to take another shot, simply use the included roller to remove the trace. Finally, there are break wedges. These little ramps may be slipped under the putting surface to replicate undulations on actual greens. They may be positioned wherever on the 10-foot-long, 20-inch-wide golf practice mat.
Pros
Rolls out flat
Adjustable putt breaks
You may imitate the pace of the greens on your own course.
It may be placed on either hardwood or carpet.
Cons
No alignment aids
You may set up just one hole.
We loved the flexibility to modify putting pace and add realistic breaks, as well as the smart guides. Overall, it is an excellent deal, particularly if you are preparing for an upcoming golf event.
WSERE Golf Putting Cup
The WSERE Putting Cup is an excellent option for players with a limited budget. You may opt to obtain a golf-putting cup instead of a whole set. You only require a putter and a few golf balls.
Grab the plastic cup, set it on the ground, and start putting. Additionally, the practice hole allows you to perfect the chipping aspect of your golf game. You may place it outside and attempt to sink it as many times as possible.
Pros
The golf return cup may accelerate your putting practice and enhance your putting accuracy. It is quite practical for golf practice.
Ideal for recreation or practice at home, the workplace, the yard, etc.
Cons
Made from plastic.
Not a perfect substitution for a real hole.
The WSERE Golf Putting Cup is a great economical option for golfers who want to practice their putting abilities. If you do not have access to an outdoor space, consider purchasing a chipping mat to prevent irreversible carpet damage.
JEF Golf Hazard Deluxe Putting Mat
The unique ball return channel returns the ball automatically every time. The most accurate practice surface outside the green is a regulation-sized cup with non-directional grass.
The JEF Golf Hazard Deluxe Putting Mat is the most effective indoor golf equipment for testing your distance control. A cup is positioned at the top of a ramp, so it is impossible to fall short. In contrast, a miniature bunker and a water hazard are situated on either side of the cup. This implies that you cannot overswing or underswing the putt.
In addition to its complex setup, this set has an automatic ball return to fasten the process between putts.
Despite its remarkable characteristics, this package lacks putters and balls. Nevertheless, you presumably have access to these resources, which should remedy the issue.
Pros
True stiffness of stroke is developed through incline
The unique ball return channel returns the ball automatically each time.
Outside of a green, regulation-sized cups and non-directional grass provide the most accurate practice surface.
Miniature bunker and water hazards enhance putting precision.
Cons
The carpet tends to ripple, making it difficult to walk on.
With this luxury putting mat, you'll have access to a non-directional grass with an inclination ramp to establish a solid stroke.
Putt-A-Bout Par Three Mat
The Putt-A-Bout Par 3 Putting Green is the ideal golf training accessory for short game practice. The kidney-shaped mat is roughly 3' x 9' in size, with a small inclination at one end that also features a foam strip that produces a little slope where the holes are located.
This is constructed with a high-quality putting surface that is engineered to resist creasing when folded and a non-skid backing designed to keep it smooth and flat.
The bottom is composed of nonslip PET plastic that ensures safety when standing on it. Your putt mat must always have a sticky underside to prevent it from sliding on flat surfaces.
Pros
Made out of high-quality materials
Easy to set up
Cons
No cups or flagsticks
No alignment line
The Putt A Bout Par 3 Putting Mat is an economical solution for constructing a miniature putting green in the office. If you are not a fan of the long, straight putting mats, this may be the ideal option for the office you may have.
SurePutt Practice Mat
Developed by golfers for golfers, the SurePutt training studio is fully equipped for putting and chipping development. SurePutt is a terrific alternative to an outdoor putting green during the long winter months.
SurePutt Putting Mat's TPR backing is 1200g/m2. This provides 33% greater strength and durability than competing putting mats on the market. Additionally, the SurePutt practice mat is larger than the majority of its rivals.
Pros
Opens effortlessly and lies flat and smooth on any surface.
Mini-mat and a compact carrying case allow you to practice anywhere.
The SurePutt Mini Mat enables you to practice putting with your feet comfortably situated on the actual putting surface.
Cons
A little too sophisticated for the average golfer
The high-quality system of the SurePutt Practice Mat can significantly enhance your putting practice. The compact carrying case can suit any busy lifestyle and you may take it anywhere you go.
Big Moss Country Club V2 Putting Green
The Country Club is just another of Big Moss' top-tier putting green layouts.
It provides one of the greatest combinations of durability and performance. It features a wide surface area with four regulation cups and one cup of a smaller size.
The Country Club V2 is great for putting, chipping, and pitching (a chipping pad is provided) in basements, recreation rooms, or any other indoor location.
Pros
Realistic short-game feedback
Excellent craftsmanship
True Roll innovation with 11 stimp meter speed
Simple contouring using Break Snakes
Cons
In the workplace or at home, these putting greens are ideal for any golfer. You'll appreciate practicing more with almost real putting greens regardless of your skill level.
In the workplace or at home, these putting greens are ideal for any golfer. You'll appreciate practicing more with almost real putting greens regardless of your skill level.
Abco Tech Indoor Golf Putting Green
This is Ideal for both professional and recreational use. Easy to store and to roll out.
Abco Tech provides a golf mat in the form of a kidney with three holes, two bunker cutouts, and three golf balls. You can practice putting from various angles with three holes and a kidney-shaped pad measuring three by nine inches.
As sand traps, the company installed two cutouts behind the hole. This requires you to learn the skill of distance management to achieve more consistency on the greens.
In addition, the mat's rubber base makes it sturdy even when put on slick floors. Additionally, it is simple to fold and store.
Pros
Includes three additional practice balls
Golf mat simulates the sensation of grass for a genuine playing experience that promotes instinctive putts on the course.
Cons
Carpet material can be improved
Golfers may putt up to the Abco Tech hole, and even if they miss, the ball will roll back. This is a wonderful alternative if your time is limited and you only want to improve your putting stroke. This system is portable and may be used both indoors and outdoors, although we do not advocate storing it outside.
SKLZ Accelerator Indoor Golf Pro Green
In addition to being one of the greatest putting mats, the SKLZ Accelerator Pro boasts automatic return after you make a putt. SKLZ has developed a high-quality tool to improve your short game, which is backed by a reputable name in the golf industry.
The gradual upslope at the putt can help you develop the habit of striking putts with a bit extra force so that you don't leave them short on the golf course. This is excellent for long-range control!
In addition, accurate alignment putting aids at 3, 5, and 7 feet improve every putt's accuracy and distance management.
Pros
Accelerator Pro enables you to practice crucial putt lengths on a realistic putting surface.
The constant ball return allows for uninterrupted training.
Visually emphasizes the significance of putter head acceleration through impact
Cons
Its look and texture reflect its low price point on the market.
The carpet fibers on the putting mat's surface are not very smooth.
If you are uncertain about how often you will use your office putting set, it may not make sense to invest too much on it. Accordingly, the SKLZ Golf Indoor Putting Green is the ideal solution.
Buyer Guide
An indoor putting green is a worthwhile investment. That said, it is crucial to consider all the factors that may impact your experience and align them with your objectives.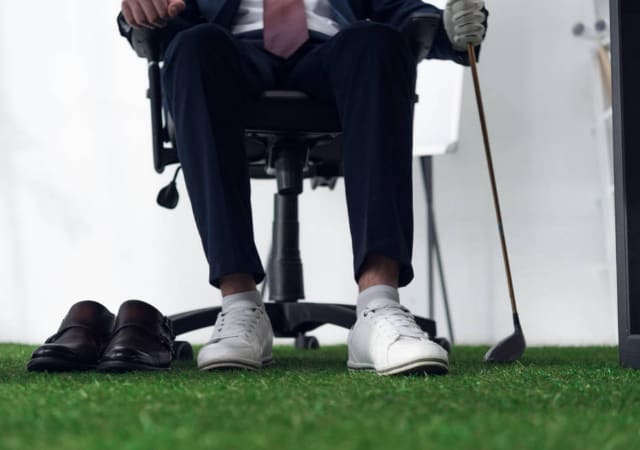 Here are the most significant elements to consider when determining the best putting that would fulfill your needs:
Size
The size of a putting green may be crucial, especially inside where walls and other obstacles constrain you.
Putting greens with wider footprints tend to be more costly, assuming consistent quality. Additionally, the more surface area you have, the more fruitful your sessions will be because you may practice more putting scenarios. With smaller and narrower putting greens, you may become bored or uninspired if you feel like you're repeatedly making the same putt.
You must measure the width and length of your space and compare them to the dimensions of each putting green you examine. For a putting green, you should be able to accommodate at least 10 feet of length and 6 to 8 feet of width.
Shape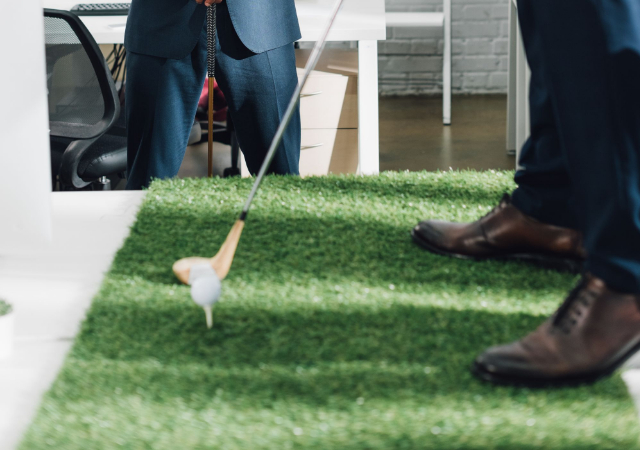 As with size, the forms of the mats included with office putting sets vary. The majority are thin, rectangular, and long. However, they are also available in amusingly odd forms that resemble actual putting greens.
Components
There is no precise definition of how many and which components must be included for anything to qualify as an office putting set. In general, anything with more than a single component can be called a set.
This implies that a set must have a putting mat or practice cup and at least one additional item, such as golf balls or a putter. Putting mats and putting mat accessories, such as flags or wedges for creating breaks, are not considered sets.
Cost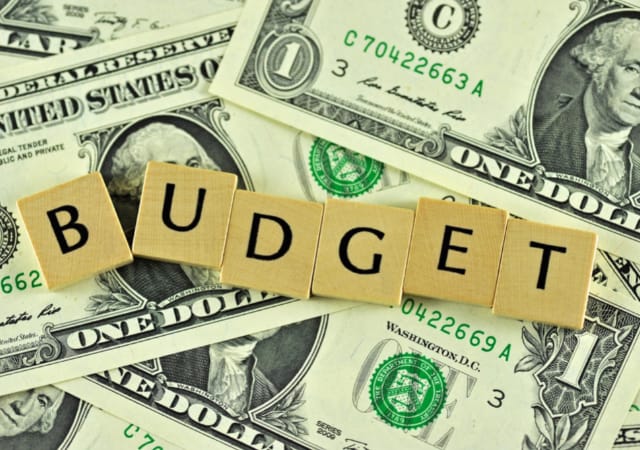 The following stage is to consider your desired budget, available office space, and golf game improvement goals.
A less expensive set may be the best solution if you are not looking to enhance your abilities. On the other hand, a more costly set with greater features might help you begin your journey to golf expertise. Regardless of your putting prowess, our article was able to shed light on the best indoor putting sets for workplaces.
Features
When it comes to putting greens, important factors include a high-quality putting surface and at least several cups.
Some putting greens include a ball return feature, although these are often inexpensive and have a thin putting surface. On the majority of putting greens, you may also practice chipping. For instance, Big Moss putting greens have chipping mats.
You must consider whether your putting green of choice features break-adding elements, such as break snakes and break pads. These may make your practice sessions far more effective and dynamic.
Features to look for in a putting mat for the office:
The number of golf holes and flags on the course
Some putting greens include a slope to provide varying heights on the putting surface.
Some of the packages contain everything you need to begin putting, including the putter and balls.
Does it have a ball return system or an automatic ball return mechanism?
Ball stopper
Ball stoppers are quite useful for keeping balls from rolling away if the cup is missed. They may take the shape of a dense turf fringe along the margins of the mat, ditches, or walls. Every model featuring a ball return will be equipped with a ball stopper to collect stray shots.
Multiple stimps
The stimp refers to the pace of the putting mat or the speed of the green on a real course. Some putting sets for the workplace have mats with an adjustable stimp. You may accomplish this by brushing the grass in one direction or by simply shifting the cup and playing from the other side. On some versions, the putting mat may be separated into two sides with distinct stimp values.
Slope
Some workplace putting sets have an incline that leads to the cup. This might be modifiable or not. This teaches you to putt past the hole, which is advantageous for several reasons. If you hit the ball too far on a real green, you will better understand the grass and how hard or soft to putt on the return. If you putt too softly, you won't know how the ball will respond on the last few feet of the green, so you won't know how hard or soft to hit the ball with your next stroke.
Storage case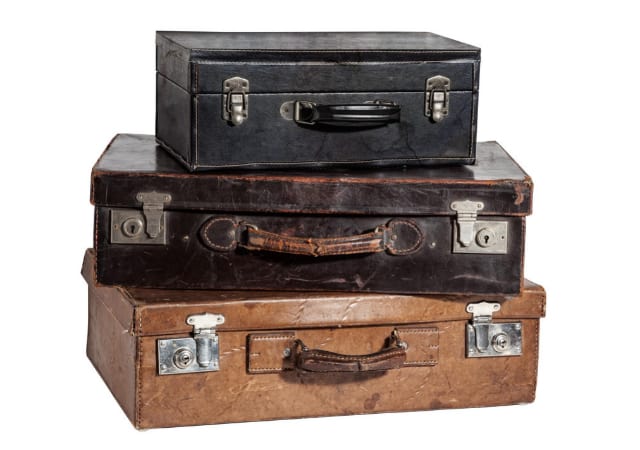 When purchasing a product with several parts, you should choose one with a storage case. This reduces the likelihood of losing a component during storage or shipment. Models with a tiny carrying bag are also a nice alternative for travel.
Frequently Asked Questions
This section contains frequently asked questions about office putting sets.
Why Practice with an Office Putting Set?
Numerous benefits can be obtained by golfers who use golf putting green mats in order to improve their game or maintain their level of putting skills. A putting set for the office allows you to improve your golf putting game through individual golf lessons with a pro or on your own in the convenience of your home or workplace.

You may putt it during quick pauses, in between calls, during calls, or even in your home or office! 
Can I Use My Putting Mat Outdoors?
Some putting mats may be utilized outside, while others cannot. Check the product specifications of your specific model to see whether or not it may be used outside. However, most are not meant to be kept outside in harsh weather, so you should plan on storing them each time you use them outside.
Final Verdict
There is an office putting set for everyone, whether you want something small and compact or something that can accommodate many people.
Each workplace should have a putting green. It will be a fantastic addition to your office and an excellent way to network with coworkers and stay active. It also provides an opportunity to escape from work, which is beneficial to your mental health.
Who knows, a quality office putting green might be your way to a perfect practice!
WRITTEN BY

My name is Jacob, a self-diagnosed equipment and golf enthusiast. I've been golfing since I was 15. Golf has always been my passion. I'm a bit of a golf equipment nerd and I've been that way since the moment I picked up a club for the first time. As someone who's been on both sides of the game, I know what it takes to be a good golfer. Of course, you need good equipment, but you also need to know how to use it. I hope sharing my experience with you will help you improve your game.
You May Also Like