The 10 Best Golf Putting Aids of 2022 Reviews and Buyer Guide
Last updated:
November 28, 2022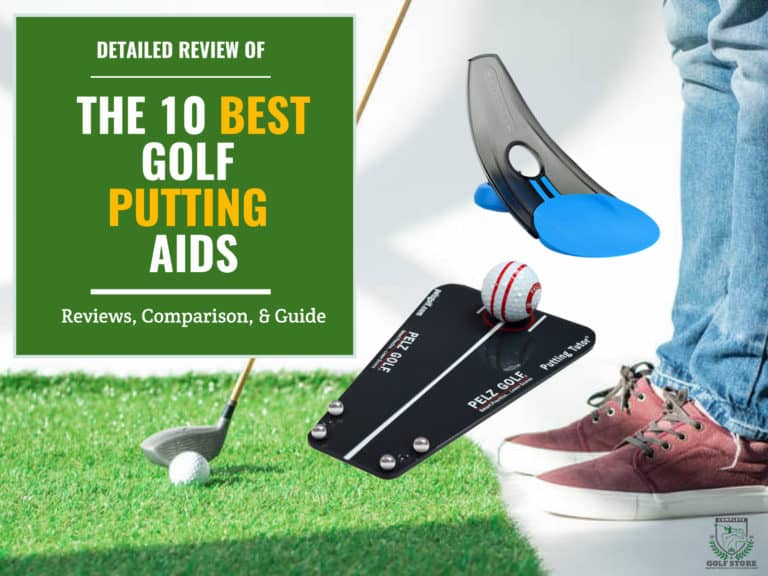 We are supported by our readers and we may earn a small commission when you click on some of the links at no additional cost to you. Our full disclaimer can be found
here
. Thank you.
Key Takeaways
Topping our list is The Pro Path Golf Putting Mirror, this device is an A1 portable golf training aid With excellent reviews across the board. It is also sold at an extremely attractive rate.
Our second-best pick is the Puttout Pressure Putt Trainer, another best-seller that comes in five different colors and is scientifically shaped such that it rejects the bad putts and returns the good ones.
PuttOut Putting Mirror Trainer and Alignment Gate come in third place, while the rest of our selected aids include putting cups, alignment tools, mats, etc., all designed to help perfect your posture, tempo and putting mechanics.
Statistics point out that putting accounts for about 45% or higher of the total strokes in the game of golf!
Experts also recommend that players dedicate at least one-third of their practice time to putting practice. Anything less may pull down the player's performance and scores.
Learning the fundamentals by watching expert putters play is an excellent place to begin. Still, you will have to get your feet wet to see concrete results.
We have tested a plethora of putting aids and narrowed the list down to ten fantastic recommendations for the best putting aids that will certainly improve your scores.
Why Is Putting So Important in Golf?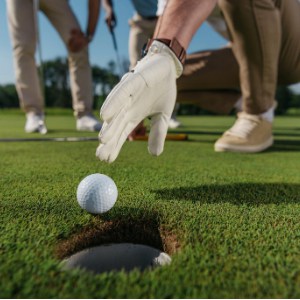 There is a very famous phrase in the golf game that goes, "Drive for show, putt for dough." This fantastic phrase was coined by Bobby Locke, who was from South Africa. He was one of the most famous putters that the world has seen.
Professional golfers are great as ball strikers in their driving and wedge play. They are consistently good, but in the end, success in the game is greatly determined by getting the ball into the hole, and that can only be done by putting on the green.
If this does not explain the importance of putting, then we don't know what does! It is so common to hear a golf tournament commentator announcing a player's missed putt on the last hole "this will hurt a lot. That putt just cost a lot of prize money."
For amateur golfers, putting is also as important. Even if you're just starting to learn golf, you may have heard of the importance of putting. And yet, putting is one of the most challenging skills to master. This holds true on the PGA Tour, as well, where some of the best golfers in the world sometimes miss short putts [1].
Many people who enjoy the game do not enjoy the putting part. But, it is an essential component of the game. If you can't putt, you'll never win any competitions.
The key to becoming a good putter is to practice correctly, with a good attitude.
Our Review of the 10 Best Putting Aids
The article on the best golf putting aids is a comprehensive guide for everything you need to know about buying putting aids. Reviews and customer ratings were kept in mind while compiling this list. Each of the following recommendations has been personally tried and tested by our team before making it to this list.
#1 - Pro Path Putting Mirror
Topping our list is The Pro Path Golf Putting Mirror. This device is an A1 portable golf training aid With excellent reviews across the board. This is one product you must never miss in case you are looking for a training aid that works great indoors and outdoors. It is also sold at an extremely attractive rate.
If you are tired of 3 putting, this is the product for you. It will lower the putts per round and lower your scores to incredible levels. The alignment aid mirror is specially designed to refine the mechanics and posture while putting, thereby improving your accuracy of the shot three times.
The training aid has a natural putting arc that comes with a 15-degree curved mirror. The mirror's angle is instrumental in providing real-time feedback for each stroke you make.
The product comes in a microfiber carrying pouch so that it stays safe. This is the ideal tool to practice at home, work, or on the greens.
Pros
Improves consistency and boosts confidence
The mirror with a natural 15-degree arc is pending patent
Suitable for any skill level; good for both hands orientation
Cons
It may be tough to get your hand on this as stocks keep flying out
If you are looking for that perfect gift for your golfer friend or partner, allow us to suggest that this is the one. They will jump with joy when they see what you have presented them with. The perfect partner for their putting stick!
#2 - PuttOut Pressure Putt Trainer
There is a reason why the pressure putt trainer is our number two recommendation. The perfect putter trainer has got some of the most sterling feedback and reviews across sites. It gets endorsed by professional golfers as well as by amateur players.
This device comes in various colors like blue, green, orange, red, and white. While the product has made a splash in the market, it is essential to note that it is exclusively for golfers with right-hand orientation.
Made from virgin Polycarbonate material, this parabolic curved Putt trainer weighs only 200 grams! The product is phenomenally designed. It stimulates putting a golf ball into the hole, just like how you would do on the golf course. Training with this aid is going to be extremely useful. The tool's specialty is that every putt is returned the same distance as it would have actually gone past if it had missed the hole on the green.
The product is from the UK. It is designed and created for professional golfers, but amateurs can also use it to improve their swings and shots. The product is scientifically shaped such that it rejects the bad putts and returns the good ones. If the putt is accurate, the curved design sends it back again so that you don't even have to bend to pick it up.
Pros
Fantastically designed
The ball return on the good putts and rejects the bad putt
Made from high-quality translucent polycarbonate
Cons
We couldn't find a single issue with the product; it's so good!
The putt trainer is so compact that you can fold it and carry it with you in your golf bag. The aid helps in repetitive practice to improve game memory and helps with pace putting and pressure putting.
#3 - PuttOut Putting Mirror Trainer and Alignment Gate
This red and grey-colored beauty is all you need when you want to work on your stroke mechanics, clubface, alignment, and positioning while putting. The high-grade plastic putting aid weighs only 1.5 pounds. The grip is made of good-quality rubber.
Have you been thinking of setting up all the best putting drills recommended by the pros? Now it is easy to do it with this product. All you need to do is set the magnetic putter's width to the mirror and check the alignment stick's position. You can improve your putting game skills by practicing only one hour daily for a few weeks.
We all know how important putting and chipping shots are. Consistent practice using this fantastic tool will go a long way in improving your score on the actual greens.
The mirror has a putting gate that is about 50 mm in height. It will allow you to work on your stroke path and target. The mirror is 24 cm in length, 2 cm in width, and 0.5 cm in thickness.
There is a durable rubber case that comes with spikes on its underside to keep itself in place without the tees.
The rails can be removed, made wide, or narrowed down to match the width of your putter head.
Pros
The best golf swing training aid
Made from high-quality unbreakable plastic
Packaging includes a mirror with rubber casing, one alignment gale, two numbers magnetic putter guides, and all housed in a protective bag.
Cons
Comes in only a single color combination
The golf swing trainer has one inner plate made in steel to stop warping and breaking the mirror. The spiked rubber surround is instrumental in holding the acrylic mirror in its place without shifting at all.
Apart from this training aid, you can check out our review of the top golf swing training aids on this page.
#4 - Genuine EyeLine Golf Putting Alignment Mirror
Are you looking to improve your putting skills in record time but don't know what aid product to zero in on? Let us tell you about the genuine EyeLine alignment mirror. There is a high chance that you will not want to migrate to any other brand or product after you have used this fantastic one for practicing.
It is small and durable, and you would be surprised by its high performance. Eyeline Golf putting is something that you can take with you anywhere, even to the course, for a quick round of practice before the actual shot.
Most golfers understand that poor alignment can cost them their scores. Practicing on this putting aid will ensure that you never miss your putts again. It will create immense confidence in the greens.
The size is about 12 x 6 inches long in the width and comes in a black protective bag. The gate slots help set the tees, identify the swing plane and path, and create sweet spot contact at the center of the putter face. It weighs only a quarter of a pound!
Pros
Excellent and lightweight swing trainer
Durable and taken everywhere
Has gutter gate slots that assure sweet spot contact on the club
Cons
Comes in a single color - silver and a little pricey for some.
This putting alignment mirror is the best way to practice and get ready for some of the best professional matches. The small mirror is a great way to check your setup on the greens.
#5 - SKLZ Golf Putting Cup Accuracy Trainer
This premium practice cup promotes on-the-course putting skills tremendously well. It helps not just to improve reads but also to improve your ball speed and accuracy. The stylish-looking grey aid weighs less than 300 grams and is built for golfers with a right-hand orientation.
Because the tool is small and durable, it fits comfortably well into your golf bag, ready to go everywhere with you because who knows when you have some free time to practice your putting shots!
The putting cup is best for practice at the course, at home, or even on stimulated golf mats. It trains the golfer to hit on the high side of the hole, which has the most putts.
The internet is full of praise for this little hero of an aid.
Golfers, both pros and amateurs, testify that this is one of the best putting aids they have used. The product's unique shape forces the player to hit the high side of the hole.
Pros
Improves accuracy and speed of the putt
It fits into the standard hole
Has a 2.75" opening forcing the player to putt in the higher side
Cons
The product is too high in demand; you will need to keep a tab on when the store is refurbishing its new stock to lay your hands on it.
It constitutes the perfect putt target for practicing putting at home or outside. If the course is particularly crowded or a tourney is going on, the practice green can double up as a practice hole instead of standing and wasting time.
#6 - Pelz Golf DP4007 Putting Tutor
The Pelz Golf DP4007 putting tutor is a wonderful putting tool that helps you identify the straight putts you strike and start rolling online. Are you tired of practicing with unintelligible tools that break your motivation? Say bye to all those useless tools and say hello to Pelz Gold. It helps you to adjust the aim higher and lower till the ball goes in.
Practice makes perfect, and this saying holds truer in the game of golf. When you practice unrelentingly on your putting shots, it is natural that you will begin improvement in reading the greens. The product is straightforward to use to get good putt training and therefore used by anyone irrespective of their skill level.
The result and the feedback that this putting tutor comes back with bits of help in deciding what exactly you are missing in a good putting shot. Many golf pros will tell you the same, but you know how much more you will have to shell out.
The two marbles on the front edge help to understand if you have made a pure strike or not. If the putt dislodges one of the marbles, it means the ball started off-line.
Pros
Improves green readings
Helps to square putter face and verify eye position
Sterling reviews on various golf sites
Cons
The price range may be more, but all good things are valuable.
The product tutor has a guideline that helps to aim the putt on the exact chosen line of putting. Its eye position stripes allow you to constantly verify your eyes' position, which is the most fundamental requirement for an incredible putting shot.
Many golfers keep asking on various golf sites about one training aid that is perfect for improving all aspects of the putting shot. For a long time, there was a cavity for such a product. Thanks to Premium Golf Alignment Putting Mirror, amateur as well as professional golfers have a brilliant tool to practice their shots. It is one product every golfer must have in his golf bag.
The size is extra-large, and the color is silver. The best part about this product is not its price or its finish but the fact that it is suitable for both left-handed and right-handed putters. Isn't that great!
The Premium golf putting alignment mirror lies at an angle of 70 degrees and weighs only 1.3 pounds. The product comes with a golf ball marker line drawing alignment tool with which you can draw a line to match the ball's line of sight. The kit comes in a secured carry bag so that all the parts stay in one place wherever you take it with you.
Pros
Stands out from the rest of the putting aids
Easy to use and for everyone
Comes with a complimentary two-color golf ball
It is so easy to learn the fundamentals of putting with this aid. The product helps you see the stroke, hear it and feel it. The twin-colored ball helps to understand how the putt rolls. Its clear feedback helps in understanding how good your shot is.
#8 - PuttOut Pro Golf Putting Mat
The PuttOut Pro Golf Putting Mat is one of the most perfect putting mats that we have come across in our reviews so far. It measures 7.9 feet by 1.65 feet approximately and is reviewed positively by thousands of golf players who have bought and benefited from it. It comes in various color combinations, and each one of them looks out of this world. The colors are blue and black, gray and green.
We cannot emphasize enough how much home practice counts for an aspiring golfer. Professional golfers will tell you that setting up a home putting training tool is the first thing they must do.
Putting practice in familiar surroundings with a peaceful and relaxed mind is much more effective than that done under stress on the greens.
The mat is a breeze to use. All you need to do is use the markings on it and the drills included with it to improve your pressure and putting skills. It is compatible with a flat putting cup. Experts suggest that you include other PuttOut products for practice setup.
Pros
The mat is durable and made with heavy rubber back
It is wrinkle-free and lies smoothly on any flat surface
Easy to roll and stow away when not in use.
Comes with a good quality carry bag for practice on the go.
The mat is of very high quality and designed to replicate medium to fast greens. The alignment guides, target points, and distance markings are beautifully made. All you need is a putter and a ball.
#9 - Laser Putt Golf Putting Aid
The laser putt training aid is one of the most accurate training aids if you want to learn precisely how the putter makes a connection with the ball. Golf Digest has consistently named the putting training aid as the number one aid.
The tool produces powerful visual images that store images of your putting training. The red color laser will show the backstroke apex, letting the golfer consistently repeat his best-putting strokes at any distance that he chooses.
The green color laser lets them confirm that the stroke is perfectly lined up. It also shows where the putter's face makes contact with the ball. There is nothing more practical than visual aid when you are practicing.
The putting trainer aid has both right-handed and left-handed orientations. It weighs less than a pound and is used by more than one hundred PGA tours.
The instant visual feedback gets facilitated by two high-power lasers in two different colors, red and green. Packaging consists of a free alignment and calibration putting mat. The putter tool comes in a rich velvet carry bag to keep things together and safe.
Pros
Precise and enlightening feedback
Very high-quality product
There is also a YouTube video tutorial on using it
Cons
Customers complain that the ball joint can be loose
If putting is your Achilles heel, then this is the putting aid that you must bring home. It is an ideal choice if you want to learn more about the precise apex of the backstroke. The visual images are enchanting.
#10 - Eye Putt Pro Golf Training Aid
The Eye Putt Pro Golf Training Aid is something you must consider seriously when you want to improve your position and alignment in putting strokes. It is one of the most professional training aids. The putting tool helps in two very effective approaches that teach how to level the putter and notice your vision on the golf ball.
Yet another putting aid that is universally applicable to anyone who wishes to improve their putting stroke. It is for both left and right-hand orientation. It weighs about 0.07 pounds only!
This putter aid's unique selling point is that it positions the eyes directly over the golf ball and the target line, which is the best way to putt. The mirror aid will improve your posture and alignment within a matter of a few weeks of consistent practice.
Golfers who have bought this aid have since graduated to playing the shot very confidently because the aid helps to perfectly level the putter angle during the stroke and when addressing it.
It is also known for creating the best spine angle and distributing the body weight equally and correctly.
Pros
There is instant feedback from the aid
The visual feedback is of excellent quality
It helps in developing muscle memory of the good putts
Cons
The tool can pose a problem with certain lighting conditions
The tool is simple and very effective and will help in making your alignment superb. It is also very pocket-friendly, attaches easily, and is easy to start. It is compatible with smartphones too.
What Are the Key Factors in Choosing a Putting Aid?
Putting aids will not miraculously cure your putts when you purchase them. Using the tools consistently will do. Putting aids are designed to help with a specific swing issue. That is why before you spend any money on the putting aid, you need to figure out
If you need to alter your alignment
If your posture is right
If your grip and release are perfect.
Once you know what swing principle needs attention, you can buy a putting aid that gives you detailed feedback. You also need to keep a tab on your swing speed. To cite an example, if you align a posture issue, you must find yourself a putting mirror that helps your training setup. Doing this might take a bit, but it is all worth it in the end.
Things you want to consider before zeroing in on the putting aid:
· Practicality
You must know how, when, and where to use the aid you bought. Talk to golfers or read up on the proper usage of the aid before you begin.
· Design
There are plenty of putting aids on the market, and you can easily be spoiled for choice. But the golden rule is to keep it simple. The simpler the aid, the more effective it is. Choose the putting aid after enough deliberations and use it well.
· Durability
Go for putting aids made from good quality material as it will last you a really long time. It is not easy to keep on switching aids.
· Warranty
Warranty is an important parameter to check out when you are choosing a putting aid. You may be using the aid indoors and outdoors, and that is why it is better to have a guaranteed product.
· Affordability
Putting aids does not have to be very cheap, but they have to be reasonably priced to afford them. A putting aid that requires you to break the bank is definitely not worth it.
Frequently Asked Questions
Does Putting Training At Home Help Your Game Improve?
Practicing your putting at home for only ten minutes every day can phenomenally help with enhancing your stroke mechanics, techniques, and accuracy without so much as exerting yourself. It helps to build your muscle memory. Another advantage is that it can de-stress you after a long day.

Here is how you can improve your putting by practicing at home:
1. Create a routine. This will give you consistency and, over time, help you improve your stroke.
2. Set putting drills that you need to follow and those you need to alternate at practice.

The benefits of practicing at home are several such as improving putting accuracy, and technique, improving your stroke, grip, the ball position, the pre-putting routine to follow, and the innate ability to judge putting distances. It also enhances your concentration on the game. Creating a putting surface is one step closer to the goal.

The golfing great Arnold Palmer said, "Putting is like wisdom; it is partly a natural gift and partly the accumulation of experience and routine."

Start practicing your putting skills at home. As a beginner, you can refer to this article to learn about the foundation golf swing techniques all golfers must know.
How Can You Improve Your Golf Putting?
Again emphasizing practicing, always remember that there is no shortcut to success. This holds true particularly for putting. Practicing on the golf course is a great learning experience. But if you cannot spend too long there, practicing putting at home or in the office by utilizing the best putting set for your vacant space is the next best alternative.

- Pay attention to the setup and alignment. It is very helpful to have a putter that has lines drawn on it. It helps visualize the ball's alignment. Relax and concentrate on the line of sight.
- Good stability and center of balance will ensure that you putt consistently well. Don't look up as soon as you strike the ball. Count till three before you look up again.
- Keep your eyes focused on the area of impact. This will reduce your body's inclination to move.
- Judge the distance if you want to putt right most of the time. Devise eye examination to judge distances right. Start with picking a target that is 25 feet away and fix its image in your mind.
- Visualization is a virtue when it comes to golfing. Know exactly what you are trying to aim for. This is one of the best tips to ace a short game.
- Survey the terrain and have close scrutiny of the area around you.
- Align your body to the right but do not move. This will give you a better sense of rhythm

Try to utilize swing speed analyzers when practicing your putting. It can significantly help improve your distance control.
How Do You Control Your Putting Distance?
The best way to be able to score better is to leave shorter second putts. This means that you must learn good distance control in order to be able to putt successfully. Many players, including seasoned golfers, take the putter back too short and accelerate aggressively through the ball. What you need is to create a rhythm with the putter when you take it back and follow it through.

There are three tees you will need for the drill to learn this control. Put one of the balls on the ground precisely 8 inches ahead and another 8 inches behind. Begin swinging the putter with a rhythm but not going past the back tee and still not going through the front tee.

Once you learn the correct swing path and be steady at this practice shot and begin to notice a rhythm through the length of the takeaway and the follow-through, you will get surprised with the fantastic consistency that you develop in the length of your putts.
Do You Look At The Ball When Putting?
Putting experts have over the years trained themselves to keep their heads down until they have completed the follow-through and the ball is on its way to the hole. The greats of the golfing world keep their head down till the ball is about 10 feet away. By doing this, they make sure that they create a consistent contact of the golf club with the ball that results in a tight roll and a predictable distance.

It is natural to look at the ball, but you will put this trick into action with a regular practice routine. You could read all the literature on putting from the best minds and still not be able to putt it properly unless you put all that knowledge into action. Patience is a virtue in golf. The more time you practice assessing the green, the better it is for the success of your game.
How Do Pros Practice Putting?
Putting is most definitely the best way to lower your handicap. Since short games are an essential aspect of your game, it is important that you know what putting techniques the pros use to practice their putting skills.

Professional golfers aim at getting these three things right, and with patience and dedication, they lower their handicaps by a whopping double-digit. It is doable in a couple of weeks too.

- Assessing the green is a tried and tested science. Make sure you concentrate on the green and walk from the ball position to the hole, especially your feet. If the weight is more on your right foot, there is a right-leaning slope, and the ball will likely break right.
- It is a good idea to count the number of steps that you took because that will help you tremendously in calculating the distance between the ball and the hole and
- Look at the line you walked from where your ball is and imagine the path the ball will follow and how many breaks it can encounter due to slope.
Final Thoughts
The putting shot accounts for a significant percentage of shots during golf rounds. For an amateur golfer, the rate is somewhere pegged at 45%. Putting improvement equipment on the market today can help in improving accuracy and distances covered by the shot. But practicing goes a long way, just like natural flair and skill when it comes to putting.
Despite the advancement in putting aids, face inserts, and perimeter weighting, it can be quite a task to putt consistently well on the green compared to the tee box. Putting exceptionally well will require a lot of dedication and practice that will come only with a passion for the game.
Every great putter keeps their head still; that is the secret of repeating the perfect putting stroke. Beginners often make the mistake that they look up when the putter makes contact with the ball. When it comes to putting, the fewer the moving parts in the swing, the better. Now that you know it, see you at the greens!
---
References:
Just how often do Tour pros miss short putts? Here's some context - Curated from Golf.com
WRITTEN BY

My name is Jacob, a self-diagnosed equipment and golf enthusiast. I've been golfing since I was 15. Golf has always been my passion. I'm a bit of a golf equipment nerd and I've been that way since the moment I picked up a club for the first time. As someone who's been on both sides of the game, I know what it takes to be a good golfer. Of course, you need good equipment, but you also need to know how to use it. I hope sharing my experience with you will help you improve your game.
You May Also Like