10 Best Golf Swing Training Aids to Help Improve Your Game
Last updated:
July 10, 2023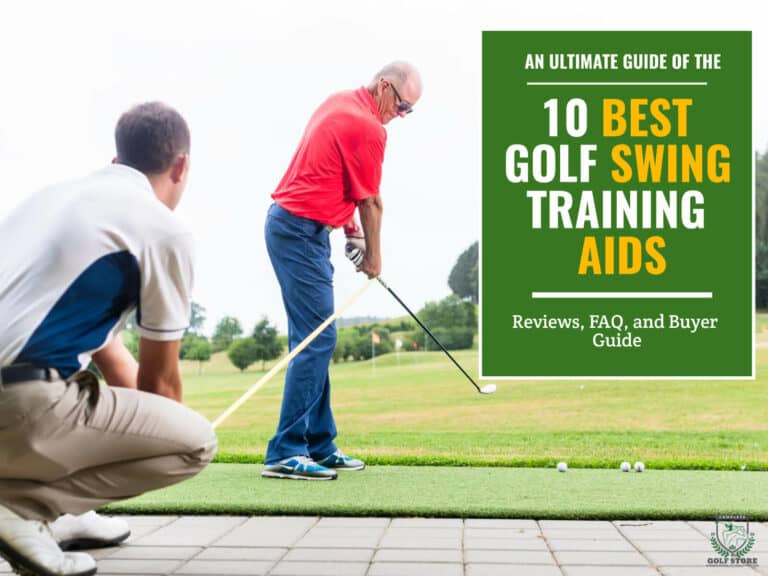 Disclaimer: We may earn a small commission from some of the links on our website. However, our reviews and comparisons remain fair and unbiased. Our goal is to help you make the best choice. For more information, please see our
disclosure statement
. Thank you for your support.
Key Takeaways
After thorough testing, we found that the EyeLine Golf Speed Trap is your best bet to get rid of slices and hooks, and the Orange Whip Golf Swing Trainer will definitely help get your tempo right. The Tour Striker Smart Aid is the best tool to fix chicken wings, while the Sure Set Golf Swing Trainer is excellent for perfecting your backswing. We also tested other tools to help improve distance, impact, and control.
Golf has never been an easy game to master. Most novice or intermediate players will need a lot of hand-holding and practice to master it.
That's why we decided to compile a list of the best golf swing training aids to help you improve fast. These training aids have been thoroughly tested and proven to help fix problems with slices, chicken wings, backswings, swing speed, distance, tempo, etc., and thus improve the players' overall performance.
In the end, it's up to you to decide which parts of your golf game need improvement and choose the right tools from our list to help you become a better golfer.
No time to read the whole article? No worries. We've done the work for you and compiled a list of the top performers.
| Product | Features | Our Rating | |
| --- | --- | --- | --- |
The Best Golf Swing Training Aids We Know Work
There are a wide variety of devices like golf swing aids, weighted golf clubs, and other tools that are best used to practice golf at home, as well as ones you can carry with you.
You will need to decide where you intend to use these aids to help you make the best use.
Based on our testing, research and experience, below is our final list of the top golf swing training aids on the market as of 2023.
Best Training Aid For Slice and Hook - EyeLine Golf Speed Trap
Topping our list is the EyeLine Golf Speed Trap 2.0, a unique training aid that helps with all the stages of your swing.
The EyeLine Golf Speed Trap 2.0 is a revolutionary tool designed to improve your swing, increase your distance, enhance your overall accuracy, and eliminate the slices [1] and hooks in your game. A slice often results in the golf ball curving dramatically in flight, which can lead to less accurate shots.
This product is an upgraded version of the popular Speed Trap 1.0, boasting wider impact zones and tethers to keep the rods close even after a direct hit. The Speed Trap 2.0 is a testament to EyeLine Golf's commitment to innovation and their dedication to helping golfers of all skill levels improve their game.
The Speed Trap 2.0 is designed to help you "trap the ball," creating a crisp divot and hitting the ball solidly with great trajectory and phenomenal spin.
The polycarbonate base provides instant feedback if you are scooping the ball or hitting it fat, making it an invaluable tool for improving chip and pitch shots. The product also encourages you to swing on-plane, which is crucial for eliminating slices and hooks and ultimately leading to straighter, longer shots.
The Speed Trap 2.0 is wider than its predecessor to accommodate your driver, and it features a brighter alignment stripe for your eyes to see the intended line.
The new 2.0 version also includes rod tethers built into the base and upgraded design points throughout. It's a versatile tool that works for both right and left-handed golfers, making it a great addition to any golfer's training regimen.
Pros
Instant feedback on your swing to correct errors and improve your technique.
Accommodating both right and left-handed golfers.
Designed to improve both distance and accuracy, two of the most important aspects of a good golf game.
Wider than the previous model, making it suitable for use with a driver.
Brighter alignment stripe for easier visibility.

Cons
Relatively expensive compared to other golf training aids on the market.
Some golfers may find the device difficult to use at first and may require some time to adjust to it.

The EyeLine Golf Speed Trap 2.0 is a high-quality, innovative golf training aid that can help golfers of all skill levels improve their swing, distance, and accuracy.
While it may be a bit pricey and require some getting used to, its numerous benefits make it a worthwhile investment for anyone serious about improving their golf game.
Best Training Aid For Tempo - Orange Whip Golf Swing Trainer
Another tool with a simple yet effective design. The Orange Whip is a training aid that is designed for men and taller women. It helps to practice and enhance your swing without the need for a real golf ball or even a golf club.
In fact, this tool combines the ball and club in a single tool that can be used anywhere, anytime, to get some practice. The Orange Whip weighs 1.75lbs and is 47" long in full size. Other variants of the same product fit other age and gender categories: Mid-size, compact, and junior.
The Orange Whip is made using premium quality materials and has been voted as one of the best teaching and learning tools even by PGA and LPGA professionals.
While it is certainly true that a good swing tempo ( swing cadence) [2] can make a huge difference in your game, the pace at which you swing the club is not as simple as it sounds. And that's where the Orange Whip comes into play.
The Orange Whip helps improve your tempo, rhythm, balance, flexibility, and strength. In addition to the flexible shaft, the innovative counterweight system helps improve your swings through practice without the risk of injury. A lot of golfers reported benefiting from this training aid thanks to its simplicity and efficacy.
Pros
Simple but effective.
Affordable price.
The proprietary designs of the counterweight and flexible shaft help practice your swings without risking injury.
Use it anywhere: at home, the office, etc.
Cons
Can we use it on a golf course? Probably not.
The Orange Whip is a great, affordable training aid that can help practice your swings whenever and wherever you feel like it—highly recommended.
Best Training Aid For Perfecting Your Release - Impact Snap Golf Trainer
The Impact Snap is a tool that has been used for years now by professional PGA instructors to help improve golfers' impact. It was named best training aid four years in a row by Golf Digest and has been developed by Marty Nowicki, a four-time PGA section teacher of the year.
The tool teaches a muscle memory pattern that enables you to always use proper release mechanics, focusing mainly on wrist movement. The result is a perfect impact position for all your swings, more distance, control, and consistency.
Moreover, the Impact Snap offers the possibility of adding a club head attachment, which is sold separately, to provide more precise visual feedback on how your wrist movements can affect your swing, specifically your impact. A greatly useful addition to anyone who can afford to buy both.
Pros
Developed and recommended by professional PGA instructors.
Small in size, but the results are there.
The compatible clubhead is very handy.
Cons
The price is not very affordable, especially if you decide to buy the clubhead attachment.
Overall, the Impact Snap is a very useful training aid; it will help improve impact and the overall swing for better results. It is a good quality product that we highly recommend if you want to perfect your swings.
Best Training Aid To Fix The Chicken Wing - Tour Striker Smart Ball Golf Training Aid
In golf, a chicken wing [3] refers to how a golfer's arm looks like a chicken wing, especially during the follow-through. It is a problem that a lot of golfers encounter, especially beginners. It causes golfers to waste a lot of energy to get decent swings; The goal is to achieve the best results using the least possible amount of energy.
One very good tool to help get rid of that annoying problem is the Tour Striker Smart Ball. It is an inflatable ball that connects to an adjustable lanyard, so it ensures it fits anyone. In addition, it helps the golfer understand how the body and the arms work for an effective golf swing.
The Smart Ball can be used flat, under the armpit, in between the forearms, or inflated to ensure the player swings effectively and gets rid of the chicken wing and the flying trail elbow to get longer shots using less energy.
Pros
Simple to use.
Helps solve the chicken wing issue.
Small size; good portability.
Cons
The quality of the lanyard can be improved.
We liked the Smart Ball during our test; It is extremely simple to use. A simple fix to one of the golfers' most dreaded issues.
Best Backswing Training Aid - Sure Set Golf Swing Trainer
The Sure-Set golf swing trainer is the right tool for you if you have been looking for an effective training aid to work on your backswing position.
This high-quality, small, adjustable, and portable tool helps with improved wrist hinge, shoulder turn, and forearm rotation for a perfect backswing and better game consistency.
This user-friendly training aid was invented by world-famous PGA coach Dan Frost. Its high adjustability means it is compatible with golfers with different hand sizes and arm lengths.
It also has an ergonomic padded grip and a soft shoulder cushion, which means it is very comfortable to use. The lightweight tool can also fold and fit in a bag or suitcase, so you can take it with you wherever you go.
Pros
Adjustable and portable.
Useful for beginners and advanced players alike.
Created by pros.
Very easy and comfortable to use.
Cons
Some users reported that the handle easily comes off.
We loved using the Sure-Set golf trainer. With some practice, it is guaranteed to improve your backswing and overall consistency.
Best Training Aid For Distance - SuperSpeed Golf Training System
The SuperSpeed training system is a promising set of weighted golf clubs intended to improve your swing speeds.
It is used by many tour professionals worldwide and promises to improve your swing speeds by 5 to 8% through a series of ten-minute practice sessions, three times a week. We could only assume that the benefits will be more substantial if you choose to have more and/or longer sessions.
There are many variants of the SuperSpeed system to cater to the needs of golfers from different age and gender categories: PeeWee (Age 5-7), All-star (8-10), Junior (11-14), Men's, Ladies, and Senior.
All variants include three colored weighted clubs: Blue, green, and red. Each one has a specific weight compared to a driver and provides different swing speed gains ranging between 12% for the red club (the heaviest of the three) and 19% for the green one (the lightest). The system also comes with almost two years' worth of video instruction online.
Pros
The system does work.
Made with high-quality materials.
Multiple options cover golfers of different ages, genders, and sizes.
Cons
A swing speed monitor needed to take full advantage of the system.
A little bit expensive.
The SuperSpeed training system is excellent; it does help improve your swing speeds. However, to fully benefit from the potential of this system, it has to be coupled with a good quality swing speed monitor/analyzer or a quality golf launch monitor, and all golfers know that those are not very cheap. Still, This is a no-brainer when it comes to swing speed training aids.
Best Training Aid For Improving Impact - PARTAGE Smash Bag Golf Training Aid
Do you want to practice your impact indoors but can't think of a way to do it? The company PARTAGE has the solution for you: An indoor smash bag specifically designed to help golfers work on their impact at home, the office, or any other indoor (or outdoor) environment.
The smash bag can be filled with any unneeded towels or clothes you have at home and helps eliminate fat and thin shots, in addition to teaching you the feeling of the correct impact.
Also, it has a target map, which was specifically designed by PARTAGE to provide visual instant feedback on the quality and accuracy of the impact. Finally, it's made of PVC and Nylon, which guarantees durability.
Pros
PVC and Nylon are durable materials.
Great for indoor/ outdoor impact training.
The target map is a good idea.
Cons
The bag was torn towards the bottom seam during our test; The bag was still usable, but it is a negative point on the proclaimed durability.
We believe the PARTAGE Golf Smash Bag is a great and affordable tool to work on your impact. It is made of sturdy materials so that it can take all your swings.
It is a great innovative idea that delivers everything it promises.
Best Training Aid For Clubface Control - The Hanger Golf Training Aid

The Hanger is a new tool designed by Watson Golf. It can help golfers who have problems with the clubface and path control. Usually, this is an issue for inexperienced golfers.
The tool easily attaches to the irons and includes a club face reference head so that the player has more control over the swing path. Practicing with The Hanger will accelerate the process of building the right muscle memory needed to achieve the perfect face and path control.
The reference head will always ensure you are in the correct position and will always keep the clubface outside your hands. This is thanks to the visual and tactile instant feedback it provides during every club swing.
The tool's small size and light weight means you can take it with you and practice wherever you go.
Pros
Easily attaches to the irons.
Affordable price.
Small size; good portability.
Cons
Made of plastic; questionable durability.
The Hanger is an excellent tool to help golfers with face and path control. It simply does what it was made to do. However, we did notice that the screws that attach the tool to the irons tend to come loose. We hope there will be an upcoming version that addresses these build quality issues.
Best Golf Training Aid To Stop Flipping Hands - Anti-Flip Stick Impact Golf Swing Training Aid
Flipping hands or scooping is a common issue among golfers, especially beginners. It simply refers to the situation where the golfer lets the clubhead pass their hands too early. It usually happens because of a wrong body movement during the swing.
The anti-flip stick is here to help you avoid scooping and teach you proper impact and swing plane techniques.
The concept of this training aid is simple. It is a stick that attaches to the top of your golf club; it fits all standard-sized club grips. It provides immediate feedback during the practice sessions.
If the stick touches your side before impact, it means that your hands flipped and your body stopped rotating correctly during the swing.
Through practice, the tool will help you develop muscle memory for a more powerful impact position and gain more power, distance, and better control over the golf club and ball.
Pros
Easy to install, easy to use.
NOT expensive.
Fits all standard-sized grips.
Instant tactile feedback for faster adjustments.
Cons
The rubber part is a little thick, making it harder for small-handed people to use.
Doesn't stick very well to the club grip. Detaches easily.
This is an interesting little tool to help beginners overcome a serious problem. Just attach it to the club end and start practicing immediately. It would be highly appreciated if some instruction manual or C.D. were included in the package.
Best Training Aid For Improving Lag - The Lag Stick
In golf, swing lag is a very important part of the game that can help achieve straighter shots, longer distances, and better impacts. It refers to the angle between the golfer's leading arm and the club shaft during the downswing.
One good training aid that can help you improve your swing lag is the Lag Stick, a small stick that connects to the top of the club to help you focus on that crucial 90-degree angle between the leading arm and the shaft, thus achieving the best possible shots and distance.
The leading arm (the left arm for right-handed players and vice versa) should be at a 90-degree angle, with the shaft always facing skywards during the whole downswing stage. This creates some resistance and allows the lower body parts to rotate and help provide more power to achieve better overall shots. If lag is properly mastered, the whole performance is improved.
The Lag Stick, with consistent practice, will help you solve any issues you may have with lag, downswing and overall swing mechanics with a truly simple but effective design.
Pros
A small, simple device to install and use.
Cheap but useful.
Helps with more than just swing lag; improves the entire performance.
Cons
Might not be very helpful if your goal is to develop a true lag in full swing.
In fact, the lag stick not only greatly helps with swing lag, but it can also help you get rid of some very common and annoying issues such as hand-flipping, scooping, thin and fat shots, casting, etc.
Overall, the lag stick seems to be a solution to a lot of problems encountered by golfers; the product comes with an instructions pamphlet, and there are videos that will guide you on how to use the Lag Stick to improve your game. Those are provided by the manufacturers of the tool.
How Do Golf Training Aids Work?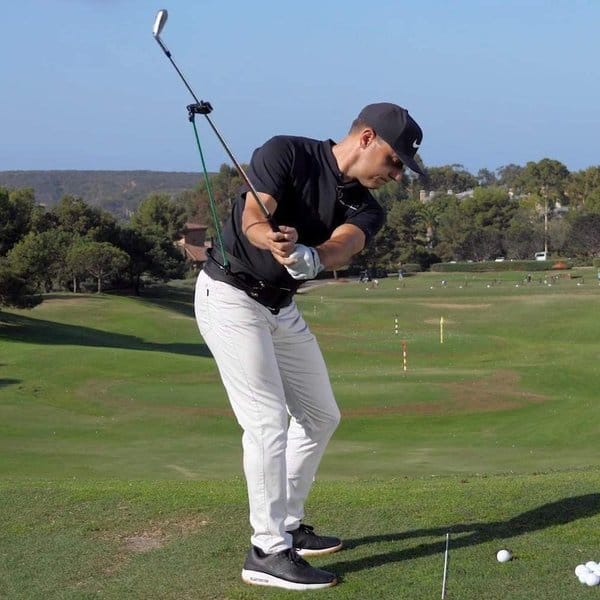 The answer to this question is vast and can be addressed based on the type of training aid you use to improve your game. It is worth identifying your playing style, strengths, and weaknesses to understand how training aids will help you. You could take the opinion of a professional to help you do this assessment to get the most appropriate golf aids.
For instance, if you are looking to improve your putting abilities, there are golf putting aids that help you with this task. These will help you improve your stroke curve, reduce the off-center strikes, and help maintain the proper speed throughout the stroke.
Are Golf Training Aids Worth It?
I genuinely believe that it's a good idea to invest in a good training aid if you're serious about improving your game. Training aids are designed to help you better hit golf balls.
Among the most popular are golf ball-stabilizing grips and swing trainers. Still, a lot of golfers wonder if golf training aids are useful or worth spending the extra cash on. The answer to these questions is debatable, as some golfers swear by training aids, while others consider them to be a total waste of money and energy. Since I have tried a number of these products myself, my answer to those questions is— not all of them.
The challenge for you is to identify which parts of your game need improvement, and accordingly, choose the right aid(s) to help you overcome any problems you are facing.
Identifying Which Part of Your Game Needs Improvement
You cannot merely buy training aids and expect them to work wonders on your golfing style. There are training aids that cover different aspects of the game ranging from your swing plane to chipping and improving your handicap (Learn more about handicap in golf here). So, it is essential to identify where you need help with your skills. This will make the task easier and help you achieve excellence in the game.
You need to know which area requires more attention; This will lead you to buy those training aids that can give you feedback on your shots and help you improve.
Does this look like a lot of homework to do? You do not always have to analyze it yourself. Preferably a professional can help you identify your golfing traits and places where you are not getting it right.
Here is a great short video (9 minutes 27 seconds) from Clay Ballard providing simple tips to improve your swing and start controlling your shots
Frequently Asked Questions About Golf Swing Training Aids
There are many golf aids that can help you fix your swing, but most of them are designed for a specific purpose or to help a particular swing flaw. The best aids can make golf easier, fun, and more effective. They can teach you the right basics and help you develop a solid swing.
Here is a short list of the most common questions about golf swing training aids. If you have additional questions, please reach out to us in the comment section below.
How Do I Know Which Golf Training Aid I Need?
This depends on your skills and level of expertise in the game. The golf training aid market is full of options, all claiming to improve one or more skills required in the sport. However, it is up to you to analyze which one is the ideal training aid for you. This will come to you with a lot of practice.

Another effective way of getting to know which training aid will suit you is to ask a pro. If you are training under a teacher, they should be the best person to guide you on this.
Do Golf Training Aids Really Work?
Yes, golf training aids do work. Using training aids will help you analyze your weaknesses in the game. An excellent quality training aid will help you become a better golfer.

However, it will not help you if you are not ready to put in the extra effort in training. It is no magic tool or aid to give you instant results, but requires dedication and consistency.
Can You Carry a Training Aid in Your Golf Bag?
There are two possible answers to this question. First, if you are a high-level or professional golfer taking part in an official tournament, then the answer is no. This is because the USGA (United States Golf Association) forbids the use and carrying of any golfing aids like alignment sticks, weighted caps, non-conforming clubs, or any other training devices that may give the player a potential advantage during a golf tournament.

On the other hand, if you want to use your training aids during a practice session, then the answer is yes. Usually, the tools that can fit in your golf bag can be used on the golf course or the driving range, while bigger items that don't fit are generally better kept and used at home.
What Golf Training Aids Do Pros Use?
Golfers of different skill levels of the game use training aids to make the most out of their potential. While novices use aids that help them with basics like the grip (like a grip trainer), clubface impact, clubhead speed, and alignment, the pros are better off using aids to improve the swing speed, cover effortless distances, etc. Pros also aim to maintain the tempo, flexibility, and balance by using the whip training aid.

Some of the training aids we have mentioned in the article are used and endorsed by most PGA and LPGA professional golfers. They also tend to invest a lot of time in swing trainers as it is no easy task to conquer this sport.
What Is the Best Golf Swing Training Aid?
All of the options we have reviewed help get you to the right swing one way or another, with each focusing on a single area where you might lack the required skill. So, all the training aids will get you to the right swing, and there is no one such tool that will give you the right swing by itself. Out of the options we have reviewed, the EyeLine Golf Speed Trap 2.0 is a more aggressive tool focusing on improving the entire swing plane.

The Hanger training aid also helps you solve many issues that you might have with the swing path.
How Can I Practice Golf at Home or in the Office?
There are many ways to practice golf at home, even if you have space constraints. Most of the training aids we have discussed in the tutorial will help you practice the sport at home or any other comfortable place.

First of all, you will have to start by improving your fitness levels with regular workout routines, core strengthening exercises, and stretching exercises. Next, you can practice your fundamentals in front of a full-length mirror; aspects like posture, grip, etc., can be perfected by this method.

You can find a small space in your home just enough to practice your swing drills. There should be enough space to make a full swing. You can also practice putting at home or your office by using the best and most elegant putting sets for the office. There are plenty of options you can select that are suitable for your vacant space.

If you have a larger budget, investing in a quality golf simulator package will be your best bet for indoor practice. We do have a selection of articles where we reviewed the best golf sims for the garage, the best packages for low ceilings, the best for putting, for small space, and the best Skytrak sims, among others. Make sure you check our detailed reviews; you might end up investing in one of those technological wonders!
Conclusion
Golf undoubtedly requires a lot of dedication, practice, and passion for excelling in the game. Golf training aids can be of great help to achieve perfection in each of the areas.
We hope this article will help you choose the right training tool(s) to improve your performance in this fantastic sport.
Do share your success stories with us and comment below as to which training aid turned out to be your favorite and how it helped you improve your game. It's always good to hear a good story; if a tool helps you with a specific part of your game, please be kind enough to share your experience with us and with the world.
Your own story could inspire someone, somewhere to become a better golfer.
Happy Golfing!
---
References:
What Is a Slice in Golf? (And How to Fix It). LiveAbout. Retrieved from https://www.liveabout.com/what-is-a-slice-in-golf-1560987
How to Get Proper Tempo in a Golf Swing. Golf Week. Retrieved from https://golftips.golfweek.usatoday.com/proper-tempo-golf-swing-20325.html
Chicken Winging | Swing Characteristics | TPI. MyTPI. Retrieved from https://www.mytpi.com/improve-my-game/swing-characteristics/chicken-winging_v2
WRITTEN BY

My name is Jacob, a self-diagnosed equipment and golf enthusiast. I've been golfing since I was 15. Golf has always been my passion. I'm a bit of a golf equipment nerd and I've been that way since the moment I picked up a club for the first time. As someone who's been on both sides of the game, I know what it takes to be a good golfer. Of course, you need good equipment, but you also need to know how to use it. I hope sharing my experience with you will help you improve your game.
You May Also Like