10 Best Swing Speed Radars and Analyzers For Performance Tracking
Last updated:
December 6, 2022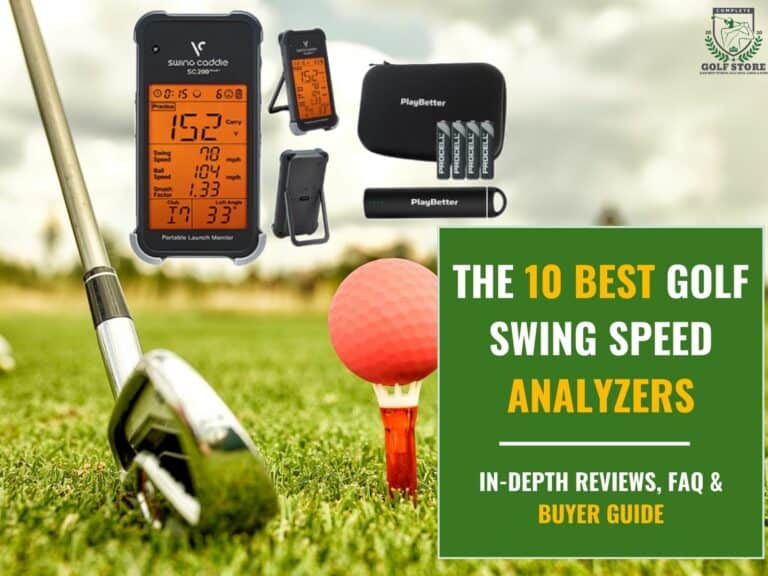 We are supported by our readers and we may earn a small commission when you click on some of the links at no additional cost to you. Our full disclaimer can be found
here
. Thank you.
Key Takeaways
After testing multiple swing speed analyzers, we found the Arccos Caddie Smart Sensors to be an excellent option; they are easy to use and embark an A.I. Powered GPS Rangefinder. The Sports Sensors Swing Speed Radar, our second pick, is worth considering too, and the Garmin Approach CT10 Automatic Club Tracking System is in the third position. Overall, all the items on our list should be checked before deciding on one.
Golf swing speed is one of the most critical factors in improving your golf swing, especially over the long term. An easy way to measure your swing speed is to buy a swing speed analyzer.
These fantastic swing analyzers will help you understand your swing speed and get the feedback you have been missing all this time.
While some of these analyzers come with more advanced features, others are also quite basic and can be purchased for as low as $150.
Let's get you through the 10 best golf swing analyzers, tested by our team, to help you choose the right one.
How Do Golf Swing Speed Analyzers Work?
Golf swing speed analyzers are some of the most valuable pieces of technology in golf today. They help players improve their swing and can also be used by golf instructors to help students improve their game. How do they do this? How do swing speed analyzers work? You may ask yourself.
While it would be much harder to talk about the details behind such technology, the answer to your legitimate question is not too complicated: They work by measuring the club head speed during the golf swing.
Some of these devices are usually simple, ultra-compact, hand-held devices that are typically connected to a golf club, but others can be much more complex and attach right to the club head with a cable; some can even measure the golf ball speed in order to provide more accurate data.
Swing speed analyzers come with technology that uses atmospheric pressure to ascertain the swing speed. There are also different metrics or criteria that each device considers.
For example, some devices concentrate on putting green, while others are concerned with the swings at the driving range. These devices also study the trends in your shots and provide valuable feedback to help you achieve the ideal swing tempo and speed to get the ball to the target.
How Can a Golf Swing Analyzer Help?
To begin with, a golf swing analyzer can primarily help you understand your game. It can simply help you realize what you are doing right or wrong. Then, it will give you instant feedback to better understand the way you play, eventually helping you measure and improve your swing speed.
The provided real-time feedback can give the golfer an idea about their strengths and weaknesses, and once these become clear, it's time to tweak your game.
In other words, the provided data can be used to work on any factors that may be causing the swings to be slower. These include launch angles, swing paths, smash factor, body posture, grip, the position of the hands, shoulders, knees, etc. With the help of the swing speed analyzer, a golfer can try which tweaks can result in faster swing speeds.
What Features Do You Need to Look For in a Golf Swing Analyzer?
The number one and probably most important feature that any player needs in their golf analyzer is accuracy. The device has to be as accurate as possible to achieve the best possible results.
Another extremely useful feature to look for while choosing a speed analyzer is shot-tracking. This simply means that some sensors are attached to the golfer's wrists to record all the shots on a course.
In the end, the recorded data can be uploaded to an app or even online to help understand everything; that is, the player can have an idea about what club to use, when, and where so as to achieve better results on a specific course.
Some more advanced and sophisticated analyzers, such as the Arccos 360, can even work as rangefinders. The golfer can use these to determine the optimal distance on each hole and create their own strategy.
Detailed Review
Here, we present to you our top 10 best golf swing analyzer reviews so you can quickly compare the best options at your disposal before stepping in to buy one that suits your style so you can master your swing like a pro. Read through our detailed product reviews to come up with the ideal choice.
#1 - Arccos Caddie Smart Sensors With A.I. Powered GPS Rangefinder
Looking for an intelligent and smart golf tracking system? Well, you can have the World's first and only automated and A.I.-powered system that tracks your shots on the golf course. It utilizes Artificial Intelligence, and the gathered data helps golfers to shoot lower scores, maybe even help you to score an eagle, and play better.
Voted as the "Best Game Analyzer" in 2017 by Golf Digest Editor's Choice Awards, this swing speed radar analyzer helps overcome players' handicaps. This means that it not only detects the speed of your swing but also offers you the best recommendations to improve your game.
It is an ultra-lightweight device convenient to carry around in your golf bag and is compatible with iPhones and select Android devices that run on Marshmallow or a newer version. You would be required to put the phone in your front pocket while playing so that the device can accurately record the swing speeds and offer the right advice. With these advanced tracking systems, golfers should know which club to use in each situation. You will have a better idea of the distance to each point on the course.
This unique golf tracking system is equipped with 14 sensors, which means that you have one for all the different clubs in your bag. The low-profile sensors are also lightweight and come with a permanent battery that can easily last for more than 5 years. Players have reported a considerable improvement in their handicaps as the device helps players spot their weaknesses easily.
Pros
Hands-Free System
Comes with a free mobile app.
Easy assembly of the sensors to the clubs.
Live shot tracking system and Tour Analytics.
Artificial Intelligence system.
Lighter than the initial version.
Cons
May not be suitable for players with a high handicap.
A bit expensive
The device almost serves as your golf coach with its real-time feedback suggestions. It is definitely expensive. However, the changes you will witness in your golfing skills far outweigh the price.
#2 - Sports Sensors Swing Speed Radar with Tempo Timer
Monitor your swing performance effectively by getting immediate feedback at the driving range or during your practice sessions. The feedback, coupled with ball flight characteristics, will help you optimize your swing mechanics and maintain good consistency.
This device is able to identify your swing speed and help you develop the ideal speed required for your swing style. Professional golfers and instructors use this as the right tool to correct the issues with swing mechanics.
This swing analyzer does not require you to fix anything on your club or install the software on your phone to interpret the results. You can also use the device to practice in your backyard, indoors, or outdoors as well.
The device measures the actual swing tempo time starting from the clubhead takeaway to the ball impact measured at one-hundredth of a second. You do not have to use an actual golf ball to practice; rather, you can use a Wiffle ball, sponge ball, or birdie ball. It measures distance in two different units: kilometers and miles per hour.
Combining a speed radar's abilities with a tempo timer helps you optimize your swing to gain more distance and maintain great swing consistency.
Pros
Has a speed measurement range of 40 MPH to 200 MPH.
Comes with a large and easy-to-read Liquid Crystal Display.
Trusted and recommended by PGA coaches and professionals.
Auto Battery Saving Option after 5 minutes of inactivity.
Compact and easy-to-use the device.
Cons
Does not provide any recommendations like other speed analyzers.
Does not have any virtual representations.
This compact swing speed radar comes with a tempo timer and is ideal for the weekend golfer. Professionals do use it to understand their swing speeds. However, it may not be helpful if you are looking for any insights for improvement.
#3 - Garmin Approach CT10 Automatic Club Tracking System
Garmin has this unique club sensor swing analyzer that easily attaches to all your 14 golf club grips. It comes with a sleek and dynamic look and is an ideal buy in the mid-price range for G.P.S. devices.
It analyzes your shots in terms of many key metrics such as shaft angle, shaft lean, dynamic loft, club path, and face-to-target swing speed and tempo to help you tweak your golfing skills the right way. In addition, it collects data from each shot and club so you can analyze strokes gained and other stats used by professional golfers.
It provides you with highly accurate details for drives, approach shots, chip shots, and putting to help you know what parts of your game need more focus. Learn how to make chip shots here.
Golfers will have to download the Garmin Connect App on their smartphone to access the feedback reports on their swing instantly. It displays all the swing metrics data at a glance for a straightforward appraisal of your performance.
Players can also upload their data to the Garmin Connect online community to have 3-D reviews of their swings.
The Garmin Approach CT10 devices can also be paired with Garmin G.P.S. golf watches such as Approach S4, S5, S6, and S20 to provide additional wrist-path data access.
Pros
Full set to track all 14 clubs in your bag
Tracks even putts
Light and discrete device that easily fits your club.
Stores and displays swing data in chronological order for easy retrieval.
Long-life batteries included
Easy to attach to your club and sync.
Cons
Not helpful at the driving range
The sensors will allow you to focus on playing golf and records your shot distance with each golf club. They will even keep track of your putts. If paired with one of the compatible Garmin watches, once turned on, it will automatically identify the club selected as soon as you pick it up.
In addition, the sensors will keep your score on each hole as well as for the round. Finally, they will store and save the data, analysis, and stats through the Garmin Connect App to review your golf game.
You may want to consider this stylish and trendy device to track actual improvement in your swing speed and distance.
#4 - Rapsodo R-Motion Golf Simulator and Swing Analyzer
R-Motion is not just any ordinary swing analyzer but also doubles as a simulator with 15 virtual courses. You can easily attach the device to the end of the grip or onto your club's shaft.
This swing analyzer can record all the information relating to the clubhead speed, face angle, and club path. However, it does not record the ball speed, quality of contact, launch angle, and spin. There may be some inconsistencies in the results owing to this.
You can connect it to your PC, and it does not require a separate launch monitor or projector. It comes with 4-hour battery life. Set up your own virtual golf course with the simulations available.
It is pretty simple to set this device at home; you can use your own mat and net to start playing indoors. The package comes with a sensor, clip, USB dongle, and a cord for recharging the device.
The device comes with a good user interface designed by award-winning creators. In addition, you will receive instant and real-time feedback on your ball and club-related metrics. Thus, helping you lower your handicaps and improve the shots in every game.
Pros
Hassle-free assembly of the sensor through clipping it.
Ideal for indoor practice of your swing.
The simulator provides good entertainment while indoors.
Can effectively track deviations such as slices, fades, pushes, etc.
USB Rechargeable battery that lasts for about 4 hours.
It can also run on Microsoft Windows PC.
Highly portable.
Cons
Does not work on Mac operating systems.
Set up is slightly time-consuming.
Besides using them to guide your swing in the right direction, you can also use them as an ideal entertainment option when you get together with your family and friends.
#5 - Blast Motion Golf Swing Analyzer
Irrespective of whether you are a beginner, intermediate, or pro at your game, Blast Golf Swing Analyzer provides you with the most accurate data and helpful recommendations to improve your game. This real-time swing and stroke analyzer helps you improve your timing and also enables you to make more putts.
The smart sensor can be easily attached to any putter, driver, wedge, or iron. It gives you instant feedback on your swing. Data captured by the sensors is immediately sent to the app on your smartphone for easy analysis. The metrics presented by the app are easy to comprehend, and you also have the ability to analyze your swing in slow motion.
Improve your timing, tempo, face rotation, and speed of each shot by having a closer and more detailed view of the shots. The smart video capture records the videos and adds highlights to track metrics to analyze your game trends. It is also endorsed by over 200 PGA, European, LPGA, and Champions Tour for game-changing results.
With the golf swing speed radar app installed on your phone, you can easily share the results on Facebook, Twitter, or via Email. It is compatible with your iPhone and Android phones. These are great learning aids for improving putts. The package also includes practice drills and improvement videos.
Pros
Bluetooth connectivity between phone and sensors.
Ability to store swing data in the sensor.
Long-lasting battery.
Aligning the sensor to the club is a task.
Can drain your cell phone battery at a faster rate.
Cons
Seniors may find it difficult to fix the sensor on the club.
Sensors tend to lose connectivity in between swings.
This Swing Analyzer is trusted by many professional players and is also used by coaches across the globe. The device is touted to be an excellent data gatherer to study the trends in your swing pattern. However, this can be an expensive option for a weekend golfer.
#6 - Swing Caddie SC200 Plus+ Portable Launch Monitor by Voice Caddie Power Bundle
The most recent version of Swing Caddie SC200 has an improved and innovative feature that allows the golfer to know their swing speed without having to hit the ball.
You will find that this launch monitor provides just about all the metrics relating to your swing and ball flight, such as ball speed, swing speed, carry distance, and the smash factor.
With the advanced and novel practice swing mode, you can know your swing speed, even if you do not have access to a driving range or a hitting net.
This swing analyzer's analysis and insights provide uncompromised precision to all the users irrespective of their level of expertise in the game.
It uses the doppler radar technology combined with barometric pressure calibration to give precise results.
This device comes with four different modes: practice swing, target, and approach, making it the ideal pick for both beginners and professionals.
Swing Caddie SC200 also comes with voice-activated distance readings, which helps you understand the target's location with accurate distance so you can get yourself trained on all the different aspects of golf with a single device.
It includes a portable charger, a protective case, and extra AAA batteries. The handy portable charger can be used to charge your phone and other electronics as well.
Pros
Easy to read display and large screen.
Highly portable and easily fits into your golf bag.
Does not require any installation on your club.
No requirement for pairing with other devices.
Cons
Is an expensive option.
Initial setup and use are a bit tricky.
It is an expensive option considering that it does not provide recommendations like the other variants we reviewed. However, this device is sure to work great for professionals looking for precise readings of their swing and ball flight metrics.
#7 - GAME GOLF Live Tracking System
If you are looking for a complete GPS shot tracking system that also serves as a rangefinder and gives you valuable insights to improve your game, then the Game Golf Live tracking system is the perfect choice for you.
This wearable device is a combination of a GPS component with a feather-light sensor that can be attached to your club's top grip and is usually fastened to your waist while playing. It has to be integrated with a software platform in the form of an app that is compatible with iOS and Android smartphones.
The real shot tracking system tracks every player's shot from tee to green, similar to the apple watch golf swing analyzer.
It also features a GPS-based hyper-accurate range finder that helps you know the precise distance to any given target. You should also measure each club's distance range in your golf bag and choose the right club off the tee or for on-approach shots.
Game Golf software provides smart tips and metrics in critical areas such as putting, short game, off the tee, and approach. You can also use the device to compare your shots with those of your friends and fellow golfers.
Pros
World's first automatic real-time swing tracker.
Best Golf Analyzer of 2016 Golf Digest Editor's Choice Awards.
A great tool to learn your average and maximum distances around the golf course.
Great product with excellent customer support.
Comes with a 12-month warranty.
Cons
Cumbersome set up with three devices to integrate.
The belt clip of the GPS device is not very secure.
Is an expensive option
Improve your game by practicing this complete tracking system and planning your golf course strategy through the rangefinder feature. This should be able to help you build that lost confidence in your golfing skills.
Golf Pad TAGS is an innovative device that provides you with verbal feedback on your swing. It is an ultra-light and wearable swing analyzer that can be easily installed on your club's grip.
You will need to install it so that the pin on the device sits securely on the grip to make sure there is no gap between the top surface of the grip and the device. For it may not sense the shots if there is a gap in between. Furthermore, these tags are so light that they will not affect your swing.
Sensors of this type are perfect for golfers at any level or skill level who wish to perform real-time analysis and improvement on their game.
Since Golf Tags don't have batteries, they require no maintenance or replacement. Furthermore, it includes a one-year warranty against defects
Even though you cannot expect highly accurate data, these devices give you consistent data just enough to make comparisons between your shots. With this golf swing analyzer comparison, you should be able to identify mistakes in your swing patterns when you compare the data of your past rounds. State-of-the-art technology is used to make it a feather-like weight.
Golf Pad TAGS gives you valuable metrics, AI-powered, and intelligent club recommendations based on:
distance to target
playing history
elevation change
temperature
humidity
altitude and more.
It also automatically tracks the following:
Shot dispersion for every club
Club distances
Fairways hit or missed
Greens in regulation
Distance trends
Scoring analysis
Course strategy
Strokes Gained
Putting
These nuances are what will help you know why the ball went in a specific direction or distance.
And the best part is they are constantly adding more statistics and insights through their application updates. So the GOLF TAGS devices will be getting more and more valuable over time.
Pros
Hassle-free initial setup.
Bluetooth connectivity to smartphones.
Tags are interchangeable
Work on 40,000+ worldwide courses
Innovative, sleek, and stylish design.
Compatible with most smartwatches
Compatible with iOS and Android phones.
Cons
No cloud communication is available for the device.
Issues with pairing with some Android phones
You won't see your shot distances while playing. The full game analysis will be available only after you finish the round.
This fantastic device gives you real-time feedback on your swing as you progress in the game. Some minor software glitches require the company's attention. Other than this minor defect, it seems to work well with any type of club and does not seem to be an expensive option when comparing its unique features.
#9 - Sports Sensors Swing Speed Radar with Tempo Timer
The Sports Sensors Inc. combines a swing analyzer and a tempo timer, both in a small device that could fit in your palm or pocket. A lot of users, including ourselves, reported that they were extremely satisfied with the performance of this tool; it simply gets the job done: faster, more accurate swings, better distance.
The speed measurement function ranges between 40 and above 200 MPH. The swing tempo timer is very accurate; it measures the tempo between the club upswing and the ball impact to one-hundredth of a second. Using this gadget actually helps golfers improve their swings so as to improve their distance and get more consistency.
The device can be used both outdoors and indoors; you can use it in a golf course, in a hitting cage, or even in your home backyard. You don't need to hit an actual ball to get readings of your swing tempo and speed; All you need is to simulate a swing to get your data; You can use a sponge ball, a Wiffle ball, or any similar ball to practice and improve your swings anytime, anywhere. This feature can be extremely useful in case you can't go practice in the golf course for any potential reason (bad weather, no time, etc.).
The device can be purchased in packs containing up to 5 devices. It is very simple to use, and the prices of the packs are very competitive and affordable. It provides excellent value for money because of a performance that comes very close to that of other professional devices, which are much more expensive.
Pros
Very simple and easy to use.
Small in size, but very accurate readings.
Affordable price with the possibility to buy packs.
Durable gadget.
Performance sometimes (out) matches that of much more expensive analyzers.
Very good customer service.
Cons
There is room for improving the (dated) display.
Very rarely gives wrong readings.
This is undoubtedly a great device to improve your swing speed. A lot of users were very happy with their purchase of this swing radar/tempo timer. It is an alternative way to get excellent performance without breaking the bank. We highly recommend the product to anyone looking to get the best value for their money.
#10 - SwingTIP Golf Swing Analyzer
Are you looking to make positive changes to your golfing skills? Accuracy and instant access to swing data are key to improving your game. This lightweight analyzer can easily attach to your golf club and analyze your swings in real-time. The 3-D analysis covers the entire swing through five swing points to provide accurate data, instructions, videos, advice, etc., on how to improve the swing, all of which is instantly sent via Bluetooth to the player's IOS or Android phone. Everything can be reviewed in the free mobile app.
The Swing TIP swing analyzer supports the Mobicoach online Golf coach marketplace. The buyer gets a free account on the popular platform to help better analyze and improve their swings. One can opt for either self-teaching through the available lessons and videos or having a live real-time coaching lesson with one of the experienced coaches on the platform. All recorded videos and data can be shared during the live session for better analysis and results. This feature is currently available on IOS phones and tablets only, but future support for Android devices is planned.
Another great feature provided by the Swing TIP analyzer is the hands-free video and audio recording. Just connect the device to your phone via Bluetooth, place the phone on a tripod, and voila; you're all set for automatic recording and comparison of your swings. If you want to, the videos can also be automatically reviewed and shared on the Mobicoach platform. We really loved this feature during our review of this excellent product.
After every golfing session, performance and goals can be tracked through the mobile app which compiles all the important data into summaries and scorecards; It is possible to share those by email with friends or coaches. The player can compare his/her changes in performance through any given period of time.
Pros
Accuracy of swing thanks to the 3D analysis using five swing checkpoints.
Automatic, hands-free recording, analysis, and sharing of swings is a great addition.
Keeps track of critical points such as an address, halfway, impact, etc.
Free membership at the mobicoach platform.
Live coaching sessions.
Cons
The software needs more work to take full advantage of the hardware.
Overall, the Swing TIP is an excellent golf aid to enhance your golf skills as it gives you detailed feedback and advice that you need for improvement. It is a decent buy, considering the features and benefits it offers at an attractive price. The device provides some very innovative features that will be useful for most golfers. However, the software needs more work and updates since some users reported connectivity issues with their phones or tablets. We hope all the software issues will be fixed with the next mobile app update.
Frequently Asked Questions
Starting from Artificial Intelligence-powered swing speed radars and analyzers to simple digital devices that merely record your swing speed, tempo, etc. you have a plethora of options to choose from. It is relatively easy to get overwhelmed and confused with the technical terms.
We have tried to address some of the commonly asked questions on swing speed analyzers and radars to learn more about swing speed analysis in our golf swing speed radar reviews. This should help you understand how to use swing speed analysis as an effective tool to improve your golfing prospects.
How Should You Use These Swing Analyzers?
Depending on the model of the analyzer, you may need to attach some sensors to your wrists, gloves, the club, or even to the club head to measure how fast you can move the club head. In the end, you get some data that can be used to analyze and improve your swing speed. Again, depending on the model, the data can be collected automatically or manually to try to understand what works and what doesn't in your golfing style.

Swing speed analyzers will help you understand how the golf swing and the club face impact your ball flight. These machines will help you determine the shape and size of the club face, and the type of swing arc you have achieved. In a nutshell, swing speed analyzers can help you tweak your game style to achieve the best possible results.
What Should Your Golf Swing Speed Be?
There are many possible answers to that question depending on what category of golfers you belong to. However, there are no exact numbers to give here, but just approximations because of the numerous factors affecting swing speeds from one golfer to another.

For example, professional PGA Tour golfers usually achieve average speeds exceeding the 110 MPH mark. Golfers with almost no handicaps (scratch golfers) usually swing their clubs at around 106 MPH. The swing speed of High single-digit handicaps is usually around 97 MPH, while average golfers can generally achieve around 93 MPH. This is not an exact science, but just approximative numbers to help you set your goals and decide what numbers to go for depending on your category.
How to Measure Golf Swing Speed?
Measuring your golf swing speed requires you to have the following materials: A speed monitor, a practice range or course, a golf ball, and a club. The speed monitor will give you the exact speed at which you drive the ball to its target.

Professionals can also calculate or measure the swing speed based on the golf balls' distance. Experts believe that a golf ball can travel about 2.3 yards every mile per hour of the club speed. So, if you can measure the distance the golf ball travels before hitting the ground, you should be able to deduce the swing speed.

You will need to do at least ten shots to get the approximate figure of your swing speed. Also, exclude the rolling distance of the ball. Get an average distance covered from the ten shots, and then you can divide it by 2.3 to get to the swing speed.
How Accurate Are Golf Analyzers?
Golf club swing speed radars use the most modern technology to give accurate and precise measurements: golf swing speed, ball flight, ball speed, launch angle, etc. It also depends on the type of swing analyzer you are using. Most golfers find that these devices give an accurate reading and are a great way to help golfers achieve their targets.

Sensors attached to the golf clubs tend to provide more accurate information, and the readings can be easily interpreted with the help of specialized software. You also have wearable devices that allow you to access swing speed metrics by observing the speed mechanics you follow.

Launch monitors and devices installed on your phones can also provide accurate data that is just enough to compare and improve your swing style.
Why Is My Swing Inconsistent?
There can be many reasons why your swing is inconsistent. The whole golf swing is a coordinated effort involving different parts of your body. If you are not in the best balance of your body and mind, it can lead to inconsistencies. Knowing too many technical details can also cause you to lose focus on the game. You might end up focusing on minute details of the game and end up having an inconsistent swing.

Focusing on faults can make golfers overlook the possibilities of improving their swing. In a bet to overcome their faults, golfers might not be giving enough thought to alternative ways to improve their swing.

If you have not been able to balance well before hitting the ball, it can cause inconsistent swings. Speed can also be one of the reasons you have an inconsistent swing. You definitely need a good amount of speed. However, overspeeding can ruin your swing style and driving path.

There are tools you can use to help improve your golfing skills. There are golf swing aids and putting aids available on the market. Check out the best putting aids in this review.
How Do You Increase Your Swing Speed?
The golf swing is one of the most complex actions in sports. If you are not swinging at the correct speed, you won't get the best results out of your golf practice sessions. Having the best equipment normally helps, but is usually not enough to achieve the best results. Possess a good understanding of the fundamentals, and you can learn how to improve your game. 

The fundamentals are made up of the head, hands, arms, and shoulders. The head & hands stabilize the golf club and the body. The arms and shoulders hinge back and up, swinging the club back and around. The hips and legs rotate and turn the body. All of these contribute to the swing and its speed; so, tweaking your body movements while swinging, with the help of the data from your swing speed analyzer will definitely help you achieve your goal: increasing your swing speed.
Are Golf Swing Analyzers Worth It?
For many, golf is a hobby, but for others, it's a vital source of income. Some people even spend thousands on improving their putting, bunker play, and overall game. There are a wide variety of ways to improve your golf game. Some of them are more effective than others, but all of them require you to go out and buy some equipment.

With the number of swing speed analyzers on the market, it's hard to know which ones to trust. Are the results accurate? Are the tests easy to understand? Are the tests always the same? It can be extremely difficult to have answers to those questions. 

Some golfers only swear by swing speed analyzers, confirming that they have been a game-changer in their golfing experience; they could achieve faster swings, longer shots, and better results thanks to those gadgets. Others are still hesitant or even reluctant when it comes to investing money in speed analyzers because they are not convinced of their utility.

If you opt for one of these tools, you can choose it based on personal preferences and budget, but one thing is sure: they are gadgets; they provide important data and recommendations that the golfer won't be able to get otherwise, but they can't do everything. They provide assistance, but it's up to the golfer to make sense of the data and try to find the best ways of achieving better results so as to make the most out of their investment.
CONCLUSION
In this article, we have tried to explore the topic of golf swing speed analyzers (and swing speed) in detail, trying to cover every possible factor or detail that may be affecting a golfer's swing speed and give solutions to almost every possible problem that they may be facing to help them achieve the best possible results.
We also tried to answer some of the most frequently asked questions related to the topic, with the aim of providing pieces of advice that golfers can use to perfect their game and achieve their best swings.
In addition, we have presented you with some of the top variants in the best golf swing analyzer reviews that are sure to help you with valuable inputs in choosing the best golf swing radar. Finally, after spending hours and carefully studying all the different variants, we have given the best golf swing analyzer title to the Arccos Golf 360 Golf Performance Tracking System.
This award-winning golf swing speed analyzer uses the most advanced AI technology to improve your golfing prospects. By knowing the exact distance to each point on the course, you should be able to choose the right club for different situations.
It is an ultra-light and compact device that comes with a golf swing sensor that can give the exact distance to a given point on the course. It also comes with a permanent battery that lasts for about five years, making it an ideal option for long-term use.
WRITTEN BY
My name is Jacob, a self-diagnosed equipment and golf enthusiast. I've been golfing since I was 15. Golf has always been my passion. I'm a bit of a golf equipment nerd and I've been that way since the moment I picked up a club for the first time. As someone who's been on both sides of the game, I know what it takes to be a good golfer. Of course, you need good equipment, but you also need to know how to use it. I hope sharing my experience with you will help you improve your game.
You May Also Like