10 Best Swing Speed Radars and Analyzers For Performance Tracking
Last updated:
September 3, 2023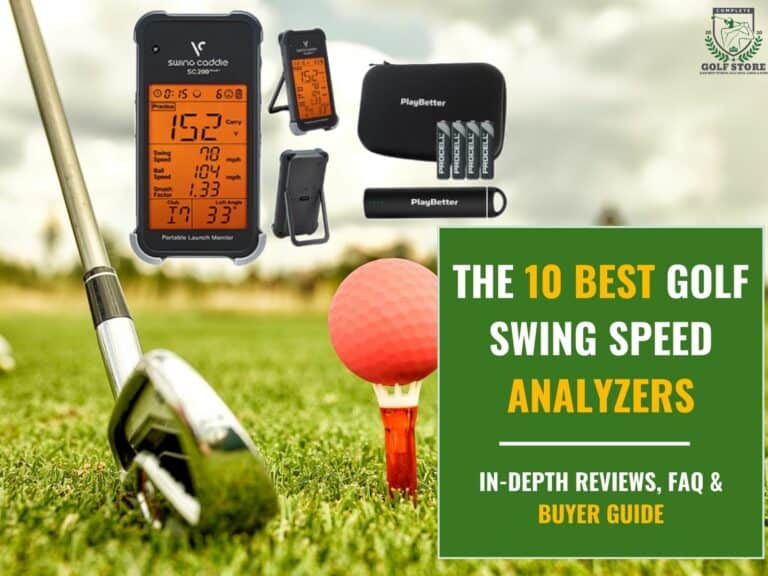 Disclaimer: We may earn a small commission from some of the links on our website. However, our reviews and comparisons remain fair and unbiased. Our goal is to help you make the best choice. For more information, please see our
disclosure statement
. Thank you for your support.
Key Takeaways
After testing multiple swing speed analyzers, we found the Arccos Caddie Smart Sensors to be an excellent option; they are easy to use and embark an A.I. Powered GPS Rangefinder. The Sports Sensors Swing Speed Radar, our second pick, is worth considering too, and the Garmin Approach CT10 Automatic Club Tracking System is in the third position. Overall, all the items on our list should be checked before deciding on one.
Golf swing speed is one of the most critical factors in improving your golf swing, especially over the long term. An easy way to measure your swing speed is to buy a swing speed analyzer.
These fantastic swing analyzers will help you understand your swing speed and get the feedback you have been missing all this time.
While some of these analyzers come with more advanced features, others are also quite basic and can be purchased for as low as $150.
Let's get you through the 10 best golf swing analyzers, tested by our team, to help you choose the right one.
How Do Golf Swing Speed Analyzers Work?
Golf swing speed analyzers employ various technologies to assess the velocity of a golfer's club during the swing. One common method involves using sensors or radar systems. These devices track the movement of the clubhead and collect data points throughout the swing.
When a golfer swings the club, sensors or radar systems capture information such as the speed of the club head, the speed of the ball at impact, and other crucial factors related to the swing mechanics. This data is then processed and analyzed by the device's software, which then interprets the collected data and provides valuable insights into the golfer's swing performance.
By analyzing this data, golfers can gain a better understanding of their swing mechanics, identify areas for improvement, and make necessary adjustments to enhance their overall performance on the golf course.
How Can a Golf Swing Analyzer Help?
To begin with, a swing analyzer can primarily help you understand your game. It can simply help you realize what you are doing right or wrong. Then, it will give you instant feedback to better understand the way you play, eventually helping you measure and improve your swing speed.
The provided real-time feedback can give you an idea about your strengths and weaknesses, and once these become clear, you can tweak your game.
In other words, the provided data can be used to work on any factors that may be causing the swings to be slower. These include launch angles, swing paths, smash factor, body posture, grip, the position of the hands, shoulders, knees, etc. With the help of the swing speed analyzer, you can try which tweaks can result in faster speeds.
Some advanced units can even provide suggestions on what to do to improve your swing speed based on the collected data!
What Features Do You Need to Look For in a Golf Swing Analyzer?
When choosing a golf swing analyzer, it is important to consider several key features.
Accuracy: Look for an analyzer that provides reliable and accurate measurements.
Ease of Use: The device should be user-friendly and easy to set up. It should have a straightforward interface and be compatible with your golf club or grip, allowing for seamless integration into your practice routine.
Compatibility: Whether it's a smartphone, tablet, or computer, check for compatibility with your operating system to ensure smooth connectivity and data transfer with your swing analyzer.
Data Tracking and Analysis: A good analyzer should allow you to review and analyze your swing data over time, with features like shot history, trend analysis, and the ability to compare your swings to benchmarks or professionals.
Real-time Feedback: Look for an analyzer that offers instant feedback, either through visual representations or audio cues to help you make adjustments and improve your technique on the spot.
Measurement Parameters: Ensure that the analyzer covers the parameters you are most interested in tracking and improving, like wing speed, club path, face angle, tempo, and even weight transfer.
Some more advanced and sophisticated analyzers, such as the Arccos 360, can even work as rangefinders. You can use these to determine the optimal distance on each hole and create your own strategy.
The 10 Best Swing Speed Radars & Analyzers - Detailed Reviews
We have tested and reviewed the best golf swing analyzers so you can quickly decide which one suits your style.
The following are our top selections based on our own testing, research, and experience:
Frequently Asked Questions
We have tried to address some of the commonly asked questions on swing speed analyzers and radars to help you understand how to use swing speed analysis to improve your golfing prospects.
CONCLUSION
In this article, we have explored the topic of golf swing speed analyzers (and swing speed) in detail, trying to cover every possible factor or detail that may be affecting your swing speed and give solutions to almost every possible problem that you may be facing and help you achieve the best possible results.
If you still have any questions, please contact us via email or through the comments section below.
Thanks for reading!
WRITTEN BY

My name is Jacob, a self-diagnosed equipment and golf enthusiast. I've been golfing since I was 15. Golf has always been my passion. I'm a bit of a golf equipment nerd and I've been that way since the moment I picked up a club for the first time. As someone who's been on both sides of the game, I know what it takes to be a good golfer. Of course, you need good equipment, but you also need to know how to use it. I hope sharing my experience with you will help you improve your game.
You May Also Like