How to Increase Golf Swing Speed: Tips & Exercises
Last updated:
June 25, 2022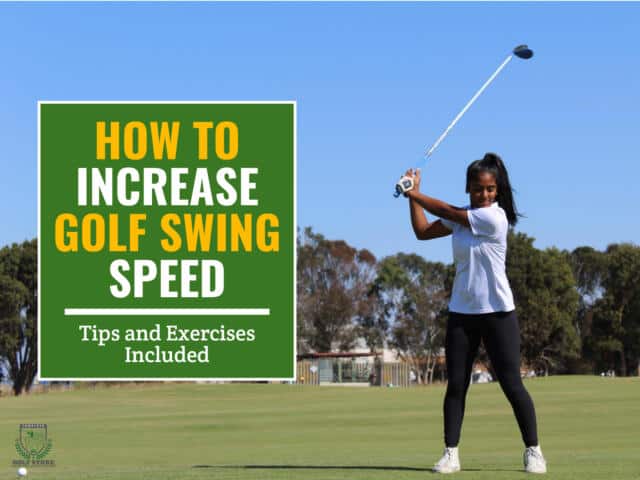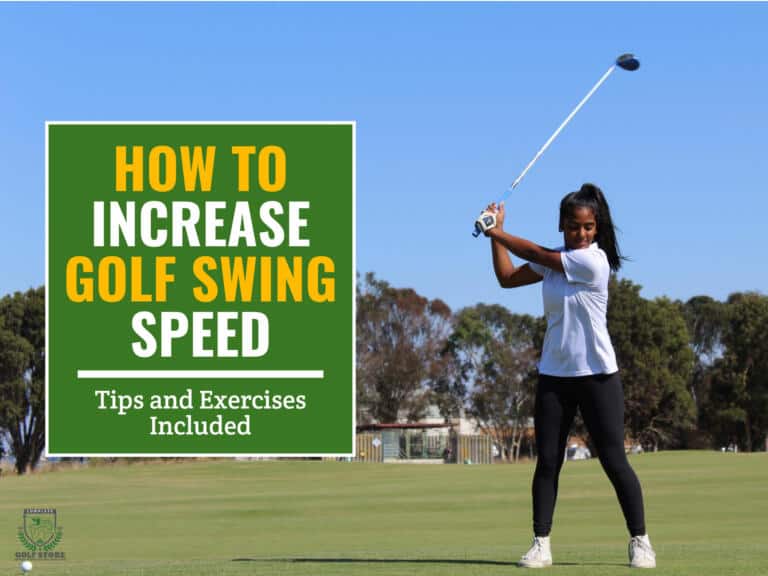 Golf is more than just a leisurely day out with friends on the links. It's a great way to keep physically active, and it's a fun sport for anyone at any age. But to really improve your game, you need to work hard and practice regularly. Whether it's an indoor or outdoor game, golf takes a lot of focus and precision in order to achieve maximum results. As one of the most important motions of the golf game, let's talk more about swing speed as one of the most challenging motions to perfect, whether you are a professional or not.
When you're just starting out playing golf, you may find that it takes a lot of effort just to keep your clubhead moving through that tiny, tight arc that's required for a good golf swing. As you get better and your skills improve, you'll find that it becomes easier to keep the clubhead moving at a good speed.
Increasing golf swing speed is the key to having a great game and achieving wanted results. If you are a golfer who struggles to achieve a faster swing speed from your radars and analyzers, you have come to the right place. We prepared a few tips you can read. Take a look at some of the most important factors and exercises that you should try out in order to improve your golf swing tempo and increase your golf swing speed.
Why Is It Important to Work on Your Golf Swing Speed?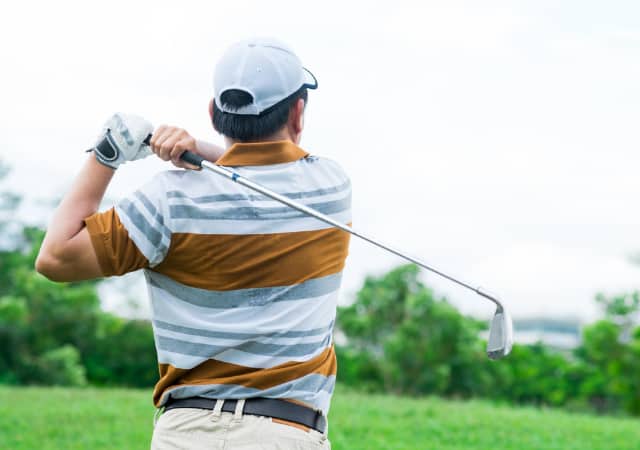 Excellent performance in golf is not something that can be achieved easily. With so many factors that we must include in the game. Apart from learning how to play golf, it's important to understand why golf swing speed is the key to a successful game.
If you just started playing indoor golf or are training to become a pro, this is one technique that will take some time to perfect. The faster your clubhead is moving, the better the results you're going to achieve.
Of course, there is always an option to visit, for example, the inclusive indoor golf NYC club where professionals provide golf lessons.
For your golf swing speed to be optimal, you will have to commit to a series of essential exercises. Just like in any other sport, regular physical training will help you strengthen your body and improve your technique. There are also great training aids made for golfers.
Factors That Will Affect the Speed of Your Swing
There are many ways to up your game in golf, but we prepared a few specific exercises for this particular technique. Here are the main factors that will help you increase your golf swing speed:
Flexibility. If you want to keep your balance during the swing, your body will need to be flexible. This sounds like a relative term, but there are some professional exercises you can try out.
Strength. Most likely, strength is one of the critical factors in a successful long game. The more power you have to hit the club, the further your golf ball will go.
Techniques with added weight. This set of exercises is also called overspeed training. Just like in many other sports, using added weight during the training can have many benefits.
Other golf techniques. Every player has a unique way of getting to the best golf-playing technique. This is why it's vital to adjust the training to each person individually.
Here's a video (3 minutes 49 seconds) from Golf Spot that explains the 4 major factors that can affect your golf swing.
Flexibility Exercises
It might seem like physical strength is not as important in golf as in other sports. However, this element of the game just works better when combined with flexibility and other factors. This is why professional golf players know that they shouldn't avoid working on their stretching and optimal physical shape. When it comes to flexibility, this part of the training affects many aspects of the game. But most importantly, it helps increase golf swing speed. Here are some of the most common exercises you should try out.
In order to achieve flexibility in your arms and shoulders, you should stretch them before and after every training. One of the best ways to do it is to wrap your arm around your body and take a grip on your shoulder with the other one. Slowly push your shoulder towards your body so you can feel it stretch. This exercise is excellent for shoulder, upper arm, and back flexibility. Keep in mind that the stronger your muscles are, the harder it will be to stretch them. This is why you should perform this exercise daily, especially if you are training professionally.
Improving Strength in Your Golf Training
It's pretty obvious that building strength in your upper body is essential in the golf game. No matter how much you focus and have a great technique, you will have to do a set of exercises to improve your entire body strength. Take a look at some of the activities you should try out:
Training With Weights
This type of training has proved very efficient in many professional sports. If you are working with a conditioning coach off the field, this is what he will probably recommend. Working with weights will help you build your upper body muscles and help you work on your balance and leg strength. In order to choose the best set of exercises, you should consult your golf coach and make a training plan.
Exercises With Your Body as the Primary Load
Using your own body's weight during training is one of the best techniques for increasing golf swing speed. Pushups, squats, and similar full-body exercises are perfect for building an excellent physical condition.
Overspeed Techniques That Improve Golf Swing Speed
One of many techniques professional golfers use to up their game is overspeed. By using extra weights to load the golf club, you can train your speed and strength of the swing. This type of training is also a great way to improve your golf grip.
Once the weights are removed, it will feel much easier to swing, and you'll show better results. Many other sports that use the motion of throwing the ball in their game use overspeed techniques in their training, baseball being one of them.
The only downside of this technique is that it can affect the precision of your swing. Once the weights are lifted, you might lose balance and need time to adjust to "lighter swinging". For this technique to work, you will need to consult your trainer and make a training plan that will work the best for you.
Watch this informative video (3 minutes 29 seconds) from Swing Station that further explains overspeed training in golf.
Tips for Improving Your Overall Golf Game
Being good at playing golf is not only reserved for professional players. If you stay focused and set long-term goals, you can do much more than just improve your golf swing speed. Here are some tips you should consider if you want to enhance your golf playing.
Make a training plan and set your goals. Whether you are a professional player or just like playing golf in your free time, having a plan will help you up the game. The first thing you should do is choose an experienced coach who will help you plan the training program. Once you set the goals and establish a routine, you'll be on your way to success.
Work on getting in the best physical shape. It's a misconception that golf is one of those sports that doesn't require conditional training. Working on your overall physical condition, strength, and flexibility are just some of the essential things in your training. After combining different routines and techniques in playing golf, you will be achieving the best results.
Try out different golf swing speed techniques. There is no one unique golf-playing technique that works perfectly for everyone. Different golf swing speed techniques need to be perfected over time. If you stay dedicated to your training, the results will be there for sure!
Establish a routine that works for you. The best way to plan your golf game is to consult a professional coach. With their help, you will establish a weekly routine that will help you improve. Both professional and amateur players can agree on one thing, after finding out the best technique and schedule of playing, it becomes much easier to achieve long-term goals.
Stay consistent with the training. If you stumble upon some obstacles in your golf game, don't give up just yet. This is one of those sports that require focus and patience to succeed. If you want to improve your golf swing speed and become an expert in this game, consistency will be your best friend. Talk to your coach or a trainer about the frequency of training intervals. A good training plan will help you stay in shape and up your game.
We've got more tips for beginners that can help improve their golf swings. Check out this page to learn more.
Final Thoughts
Playing golf is more complex than most people seem to think. With a wide range of motions implies, it's important to work on different aspects of the game. Golf is a sport that requires patience and focus, especially if the long-term goal is to improve the golf swing speed. Without a proper technique, playing golf can be decent but never really a success. Hopefully, some of our tips helped you make a plan for your future training. Once you increase your golf swing speed, you will be surprised how much you get better in this game. After all, golf is nothing without the techniques it requires, which is why it will take time to perfect one player's style.