The 10 Best Golf Simulators for Small Space
Last updated:
July 8, 2023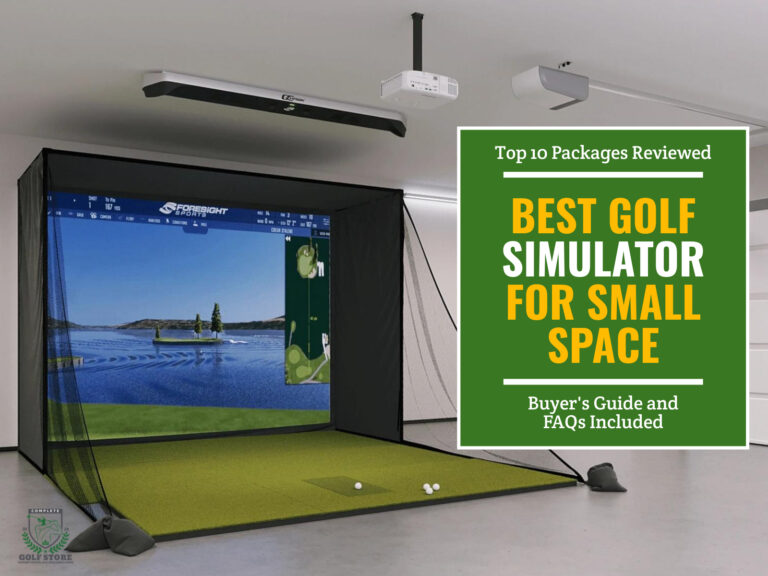 Disclaimer: We may earn a small commission from some of the links on our website, however, our reviews and comparisons remain fair and unbiased. Our goal is to help you make the best choice. For more information, please see our
disclosure statement
. Thank you for your support.
Key Takeaways
Based on our research, testing and experience, the SkyTrak Flex Space Package is our top recommendation, with both the FlightScope Mevo+ Retractable and FlightScope Mevo+ SIG8 following immediately. The Foresight Sports GCHawk SIG8 is our best high-end overhead system and the FlightScope X3 Swingbay is fifth on our list.
We reviewed entry-level, mid-range and high-end packages to ensure anyone will find something they can afford. One thing is common, though: they all fit perfectly in small spaces.
Golfers lucky enough to live in large houses with plenty of space do not have any problems choosing a golf simulator to install at home.
But what about those of us who live in relatively smaller houses or apartments? Do they have to give up their dream of owning a golf simulator and content themselves with the rounds they occasionally play on the golf course or the sessions on the practice range?
The answer is "not necessarily"; there are certain things you can do to enjoy virtual golf, even with space restrictions.
We will provide some good packages, carefully selected by our testing team, that will fit a wide range of budgets and spaces. We will also consider the factors that affect your choice of the best golf simulator for small space.
Best Golf Simulators for Small Space - Detailed Reviews
Based on our own testing, research, and experience, the following are our picks to enjoy virtual golf in a small space.
We have researched and tested all of these golf simulator setups.
The list contains two main types of packages: Those designed specifically to take up a smaller space compared to regular-size packages, and those with retractable components that can be easily packed or retracted when not being used.
Also, please bear in mind that apart from our first pick, which we consider the best option, the rest of the packages are not classified in any specific order; they are all very good options you may consider with different features, budgets, etc.
Buyer's Guide: What to Consider Before Buying A Golf Simulator?
There are certain factors to take into consideration before making up your mind on which sim is the best for you. Let's go through those individually so as to help you make the best possible choice.
Space
This is something you must think about before buying a system when you have space limitations (the most critical factor). If you end up buying the wrong size package, you will get into a lot of unnecessary trouble.
To avoid any issues, you should measure your room, basement, shed, garage, or any available space and see which systems will fit; only then will you choose accordingly.
After doing your homework, you need to ask yourself if you want your system to be permanently installed in a specific space (even if it's small - as long as it fits), or do you want to opt for one that provides retractable components; that is, one that allows you to remove almost everything out of sight when not playing and use the space normally.
In this article, we have both types of setups; so we recommend you go through our list to choose the right simulator for your small space.
Budget
The very first thing you must bear in mind is the amount of money you are willing to invest into your new golf sim. Obviously, pricier packages provide more features and are usually better in terms of quality and reliability than other cheaper ones.
However, you cannot buy what you cannot afford, and sometimes it is necessary to make a few compromises to find a product that fits your budget.
You have to do your homework, as there are lots of available models to choose from; For example, the Skytrak and FlightScope Mevo+ training packages are some of the best options under $5000 to consider. So you need to strike a balance between budget and quality and choose a package that provides the best possible bang for your buck.
In our current situation, we suggest making a list of all the sim packages that will fit in your available (small) space and then deciding which one provides the best price/performance ratio.
Quality
It goes without saying that quality comes with a price, and you can't expect the cheapest sim out there to compete head-to-head against the priciest one in terms of graphics, performance, durability, etc.
Still, you can't invest in a package that is useless and offers bad-quality hardware and software components. Luckily, modern technology came to the rescue, and we can confidently say that all available simulators today offer an acceptable degree of quality.
So, you can rest assured that whichever sim you end up buying will meet the minimum requirements of quality and performance to make the virtual experience enjoyable.
Still, we recommend that you invest as much as you can afford to ensure you get a better-quality setup. In the end, you will get what you pay for!
Tracking Technology
It will be good to know the types of tracking technologies that are used today in golf simulators (specifically launch monitors) to provide readings of your shots and then give instant feedback on your swing, ball flight, and golf club which will be the basis for the whole simulation process.
First, Doppler Radar technology is the most accurate detection technology used in sims and launch monitors. It uses the Doppler effect to measure the velocity of a moving object. It does this by sending microwave signals that bounce off the object and provide accurate readings of its speed.
The only problem is that these types of launch monitors need a larger space (in terms of room length) for the detection to be optimal. These units need to be placed at a considerable distance behind the tee. And since we are mainly concerned about sims that work in smaller spaces, this type might not be the best pick unless you have enough room depth to ensure maximum accuracy!
Second, photometric technology relies on high-speed cameras to detect every single detail of your swing and shots. Photometric launch monitors are usually placed beside the tee for optimal tracking; they are also very accurate, especially indoors.
The only hiccup is that camera-based sims are usually more expensive than the other types of technology. Still, this is our go-to option for an indoor setup, especially for those who suffer from room restrictions.
Finally, Infrared (IR) is the oldest technology of all three; it is also the cheapest. It uses infrared sensors to detect some metrics of your shots. In addition to being cheaper, infrared-based simulators are a bit less accurate than the other two types. They also work best exclusively indoors because the IR beams are heavily affected by sunlight and may provide erroneous readings when exposed to them.
Going for an IR-based simulator can be your only option if you have budget limitations. It may not be as accurate or advanced as a radar or camera-based systems, but it will still provide an enjoyable experience, especially for the invested price.
Portability
This is a good question to ask yourself before buying your sim: How do I want to use it? Am I going to use it indoors only, or do I want to use it outdoors too or even take it with me on my next road trip?
A portable system provides many benefits. For instance, it is easy to set up and disassemble in case you want to install it in different places. It is also more likely to provide a portable launch monitor that you can use at home and on the golf course or range and compare all the collected data.
Related to the topic at hand, many of the systems we reviewed here offer some degree of portability and/or retractability that makes them better suited for smaller spaces.
Frequently Asked Questions
The following are some of the most frequently asked questions related to our discussed topic. We chose to go through them to make your life much easier, as they provide useful information to help you find the best small space system for your home.
Final Thoughts
Everyone should have a chance to enjoy what they love! and that applies to golf too.
Golf simulator systems are growing in popularity very fast, and regardless of where you live, you should be able to get one for yourself. That's why we dedicated this whole article to the best golf simulators that can fit in small spaces.
These packages either use a smaller enclosure, a retractable one or resort to ceiling-mounted projectors and/or launch monitors to save as much space on the ground as possible. We did our best to provide a list that is varied and contains products that will appeal to a wide variety of players.
We also tried to include different technologies, even though packages using radar tracking usually require more depth to perform flawlessly; that's something to bear in mind while making your choice.
We believe that, now, you can make your choice from our list without worrying about it being the wrong one. If you still have questions, feel free to contact us via email or in the comment section below. We will help you the best we can!
You May Also Like