The 10 Best Golf Simulator Software in 2023: An Ultimate Guide
Last updated:
June 23, 2023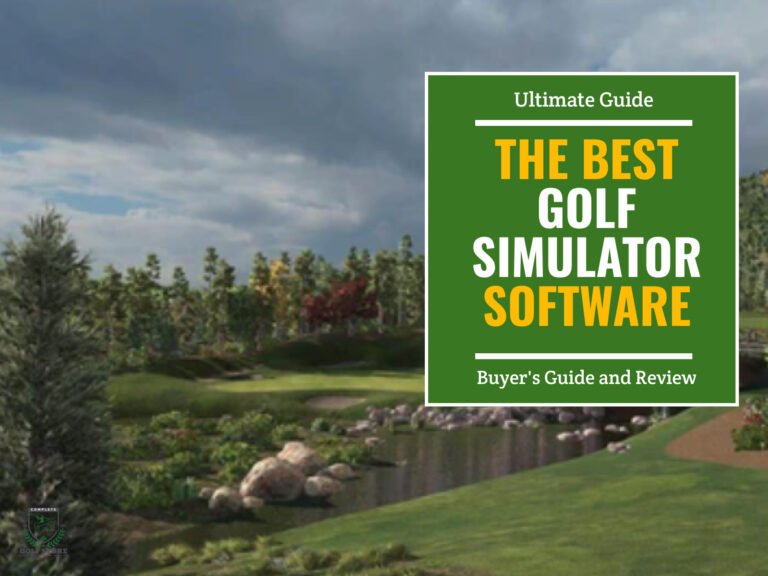 Disclaimer: We may earn a small commission from some of the links on our website. However, our reviews and comparisons remain fair and unbiased. Our goal is to help you make the best choice. For more information, please see our
disclosure statement
. Thank you for your support.
Key Takeaways
Based on our tests, research, and experience, here are the top three golf simulator software products. First is E6 CONNECT, which is considered the best with realistic graphics, various game modes, and an extensive library of over 100 courses. The Golf Club 2019 is another excellent choice, offering a huge course library, multiplayer options, and stunning graphics. GSPro stands out with its powerful community features, 4K graphics, and a wide selection of courses. Other notable products include Full Swing Golf, Uneekor Refine, Awesome Golf, Creative Golf 3D, FSX 2020/ FSX Play, WGT Golf, and High Definition Golf.
Are you looking to take your golf game to the next level? Investing in a golf simulator and compatible software could be just what you need.
With so many different options available, it can be hard to know which software is best for you. That's why we've put together this review of the 10 best golf simulator software solutions around.
We'll compare each one across a range of budgets and provide a buying guide so you can make an informed decision about which one is right for you.
Read on and get ready to start improving your game with the perfect golf simulator software!
Our Top Picks For Golf Simulator Software
There are multiple options of simulator software to choose from. Each one offers its own unique features and game modes to make your experience more enjoyable.
Let's explore each of them in detail and see which one is the best fit for you!
The following are our top selections based on our own testing, research, and experience:
E6 CONNECT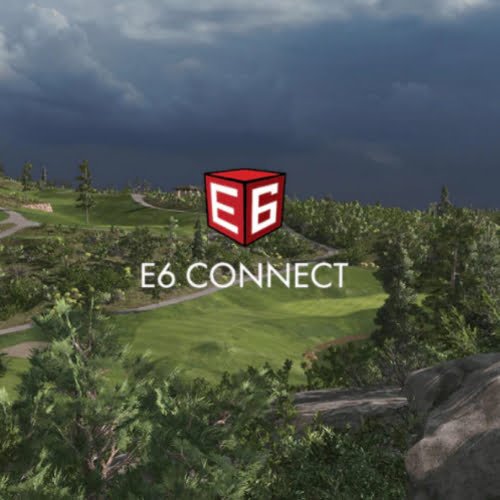 Trugolf's E6 Connect is considered by many to be the best golf simulator software ever created. It provides excellent graphics, realistic game mechanics and offers various game modes, features and challenges.
When it comes to virtual courses, E6 CONNECT offers an impressive library of over 100 courses from around the world.
In terms of features, you'll find everything from practice modes to online multiplayer tournaments and competitions.
The graphics are top-notch, with realistic scenery and player animations that immerse you in the game.
The software is also very popular and officially supported by the majority of launch monitors and sims out there!
Course Selection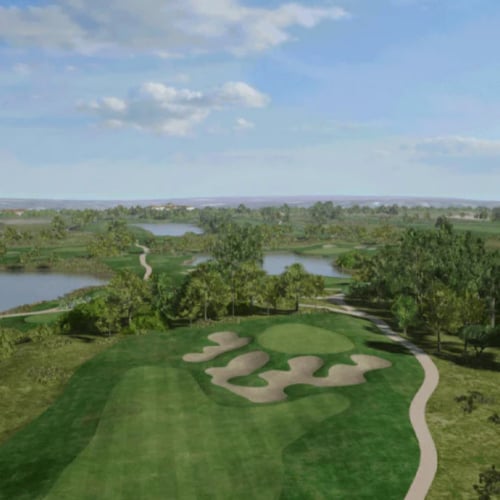 You'll have a blast picking out your favorite courses on E6 CONNECT, with over 100 options to choose from including some of the most iconic tracks in golf.
Whether you're looking to tee it up at Firestone, Pebble Beach, Bethpage Black State Park, Torrey Pines, St. Andrews, Bay Hill, or Pinehurst #2, E6 CONNECT has got you covered.
Not only do they offer many 'Greatest Courses' as designated by Golf Digest and Golfweek, but they also use LiDAR laser scanning technology and the company's proprietary game engine to ensure their recreations are incredibly accurate.
Just keep in mind that the number of courses available depends on your subscription and system type - for example, SkyTrak users will have access to 27 base courses with additional ones available at extra cost - so be sure to check which package is right for you before making your selection.
Features
With customizable settings and an array of mini-games, E6 CONNECT offers a fully immersive virtual golf experience. You can adjust various factors to customize the game difficulty such as wind speed, green speeds, ball location, average ball speed, and more.
The software also offers peer-to-peer play for up to eight players with turn-based competition. Additionally, you can display green elevation and break lines on the course if desired.
The table below highlights some of the key features of E6 CONNECT.
| Features | Description |
| --- | --- |
| Mini-Games | Offers longest drive, closest to the pin, henyett (darts), stroke play, best ball and scramble modes |
| Customizable Settings | Adjust mulligans, gimmie ranges, course conditions and more |
| Course Selection | Access to over 100 courses from around the world |
| Peer-to-Peer Play | Compete against friends in turn-based competition for up to 8 players |
Graphics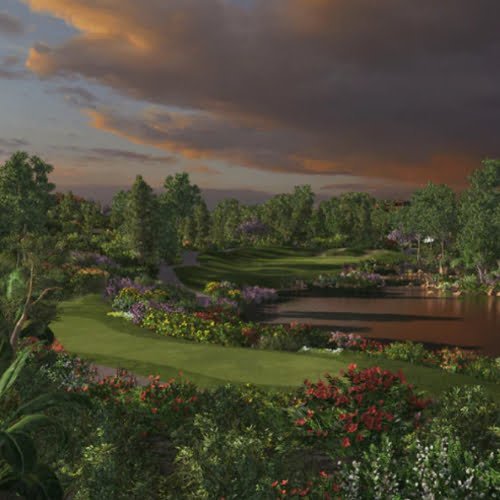 The realistic, high-fidelity graphics in E6 CONNECT provide an immersive experience that surpasses other virtual golf options available.
The attention to detail in the course recreations is exceptional, making it easy to feel like you're actually playing a round of golf.
While some might argue that the lack of contrast compared to solutions like TGC 2019 is a drawback, many users find that this minor issue doesn't detract from the overall experience.
Also, with 4K compatibility, the graphics are truly top-notch.
Requirements
If you want to experience E6 CONNECT's immersive and realistic graphics, make sure your PC meets the recommended system specs for optimal performance.
This includes having an Intel i5 CPU, 8GB RAM, and an Nvidia 1070 video card or an equivalent configuration. Having a better config is always better.
It's important to note that while E6 CONNECT is available for both PC and iOS users, only a few simulator systems support the iOS version.
For example, SkyTrak users will need the Game-Improvement Plan or above and a subscription to E6 CONNECT (not E6 Golf). Other simulator systems may require purchasing the software from their own websites.
Compatible Devices
E6 CONNECT is designed to work seamlessly with most leading golf launch monitors such as Garmin Approach R10, FlightScope MevoPlus, Uneekor and SkyTrak.
This means that you can easily connect your preferred device to the software without any compatibility issues. With this wide range of compatibility options, you have the freedom to choose the device that suits your needs and preferences in terms of accuracy, price and features.
The Golf Club 2019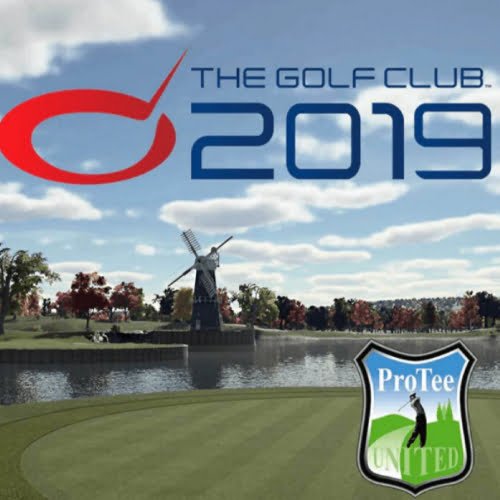 The Golf Club 2019 has a huge course library to play any course you can dream of, plenty of features including local and online multiplayer and robust online competition, as well as great graphics, lighting and sound effects.
To get the most out of it you'll need PC with a compatible launch monitor such as SkyTrak, FlightScope Mevo Plus and X3, Uneekor QED and EYE XO, etc. it is a versatile choice for those who already have their own launch monitor or are looking to purchase one in the future.
TGC2019 has a huge active community worldwide, so you will always find someone to compete against.
Course Selection
The Golf Club 2019 is one of the best golf simulator software solutions on the market today. It offers over 170,000 courses for users to play on, including a mix of both premium and user-designed replicas. This gives you plenty of options no matter what type of course you're looking for - Do you want a challenging course with lots of obstacles, or something more relaxing and scenic?
You can create your own courses, and the rating system allows users to rank the ones they like the most; this means you will always find good and fun courses to play.
Additionally, this software also comes with nice features like 3D graphics and realistic ball physics that help enhance your game experience even further.
Features
With TGC 2019, you can play online with strangers, friends, or family and compete in live worldwide tournaments. You can also access the library of over 170,000 courses, do range practice sessions, chipping or putting practice, and even design and customize your own course.
In addition to being able to have up to four players hit shots at the same time in multiplayer mode, you can also choose between different formats such as stroke play, match play, Stableford, four ball, and skins.
Graphics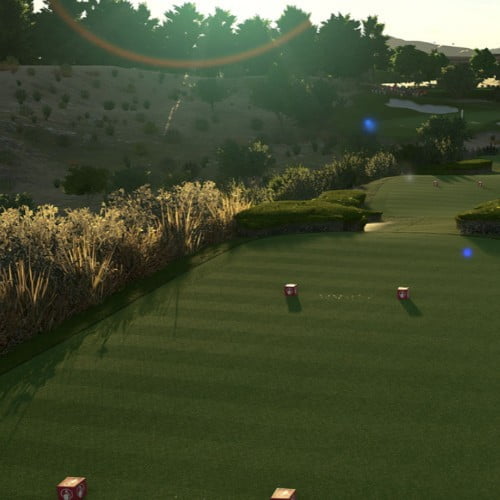 TGC's graphics are absolutely stunning. They boast remarkable contrast and realistic lighting for a truly immersive experience. With support for up to 4K Ultra HD resolution, the environments in TGC are incredibly sharp, clear, and detailed.
The attention to detail is impeccable, with every blade of grass and tree branch rendered perfectly. The vibrant colors, shadows, and reflections all combine to create a visually captivating virtual experience that'll make you feel like you're actually on the course.
Requirements
Keep in mind that this software is only usable on PC (or Xbox/PS4 if you want to game like that). You'll need to make sure that your computer meets the minimum system requirements:
For Windows users, these include:
Intel Core i5-760 @ 2.80GHz or higher
NVIDIA GTX 670 or equivalent graphics card
Windows 7 64-bit OS.
Surprisingly enough, TGC2019 doesn't require a beast of a PC to run, but you still need to pay attention to how you need to acquire it for your system.
If you're using the SkyTrak simulator, you'll need to purchase the Game-Improvement Plan or above. You'll also need to make a one-time or annual purchase of the software through their store.
On the other hand, if you're using Uneekor, ES Tour Plus, ProTee, or any other simulator, simply make your purchase via their website. Then, follow their instructions for setup.
Compatible Devices
TGC2019 is compatible with a wide range of devices, from Uneekor's EYE XO and QED to FlightScope's Mevo Plus and X3. The software is supported almost across all available systems.
GSPro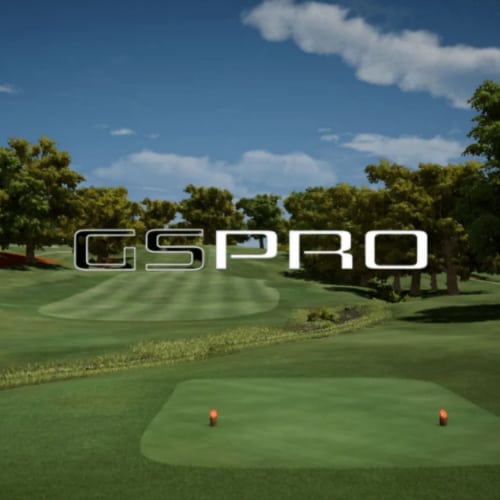 Aside from its great courses, GSPro also offers powerful community features, allowing you to build your own courses (through the built-in course builder) and participate in online virtual tours.
And with its advanced 4K graphics and realistic physics, you'll feel like you're actually on the golf course.
The 4K graphics provide an ultra-realistic experience while the minimal system requirements make it easy to get up and running quickly.
GSPro is currently compatible with Uneekor and FlightScope launch monitors, but more integrations are planned for the future, making it accessible to more players who want to take their game indoors.
Course Selection
You'll be spoiled for choice with the vast selection of courses available to you, from world-renowned classics like Pebble Beach and St. Andrews, to stunningly accurate recreations made possible by LIDAR modeling.
GSPro offers over 490 courses for play, most of which were created by users through the Open Platform Course Designer (OPCD). Not only are these courses free to download, but they also feature realistic visuals and detailed environments that come close to replicating the feeling of being on a real course.
Features
With GSPro you can expect several different game modes and tour options. Here are some of the highlights:
Local Match: play a course of your choosing by yourself or with other local players.
Tournaments: participate in tournaments that you sign up for through Simulator Golf Tour (SGT).
Practice: for driving range or on-course practice sessions.
Simulator Golf Tour (SGT) allows you to compete in the PGA, WEB.com Tour, AutoPutt Tour and Pro Tour weekly tournaments for an added challenge. Flyovers of each course are also possible through SGT.
You can also tailor your gameplay to suit your preferences through multiple game modes like stroke play, Stableford, scramble, best ball, alternate shot, and match play.
Graphics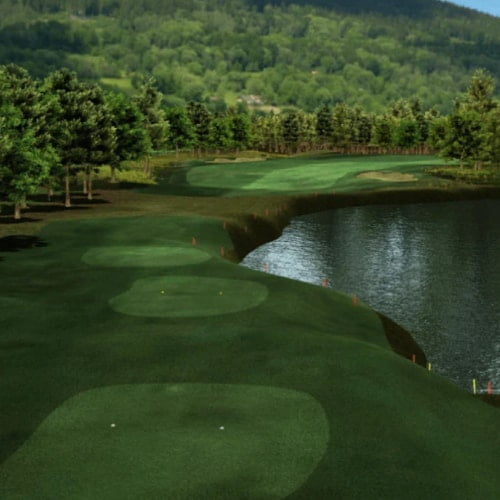 GSPro offers high-quality graphics that are comparable to other top-tier simulators like TGC 2019 and E6 CONNECT. Here are some points that we've noticed about the graphics in GSPro:
Supports 4K resolution
The texture of the turf looks great
Foliage appears sharp and realistic
However, we noticed that the lighting can be a bit flat. Ball physics also feel a bit off, especially on slow greens. However, GSPro's developers are still making improvements to make sure your experience is as realistic as possible.
Requirements
To get the best experience with GSPro, you'll need a Windows PC with at least a GTX 970 graphics card, 8GB of RAM, and 4GB of storage space.
An active subscription is also required. You have two payment options for this software:
Pay $250/year
Pay $550 in the first year and $250/year afterward.
Whichever option you choose, you will be provided with updates throughout your subscription period.
However, if you opt to cancel your subscription at any point, you may no longer receive updates (though access to the actual software remains) if you go with the latter payment method ($550). Going with the first payment method means that access to software is revoked once you cancel.
Compatible Devices
If you have a Uneekor or FlightScope Mevo Plus, then you're in luck as GSPro is officially compatible with these devices. You'll need to purchase the corresponding license when buying your GSPro license.
However, if you have other launch monitors like the SkyTrak, Garmin R10, Ernest Sports, etc., then you can still use them with GSPro thanks to its OpenAPI license.
This compatibility ensures that golfers using different launch monitors can still enjoy all the features and benefits of GSPro without any issues.
Full Swing Golf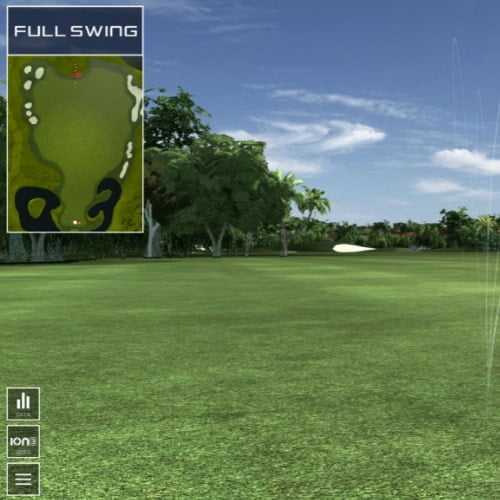 Full Swing Golf is a great golf simulator software solution that offers an impressive selection of courses, key features, and graphics.
With over 100 state-of-the-art courses to choose from, you can practice your game and compete against other players.
Course Selection
With a wide selection of renowned courses, like Pebble Beach, TPC Southwind, and St. Andrews Jubilee, you can practice your swing from the comfort of your own home! Full Swing Golf offers over 100 courses for golf simulation software users to choose from.
The Hay, Great Northern, and other world-famous locations are all available in this library of virtual courses. With such a large selection, you won't be bored with your golf simulator experience!
Key Features
You can get real-time feedback on club and ball data combined. The software also offers an official licensee of The PGA Tour and TPC network of courses. And not to mention the visually stunning graphics and quality software!
Using a Full Swing simulator package, the software uses 688 infrared sensors across two separate rows to track the ball mid-flight and provide a simulation that is as accurate as possible. The powerful hardware then uses the collected data (from the sensors and launch monitor) to display the simulation on your screen with no delay!
Here's a list of its key features:
Real-time feedback of club and ball data combined.
Customize your practice by setting a bucket to your preferred distance.
An official licensee of The PGA Tour and TPC network of courses.
Visually stunning graphics and quality software.
Graphics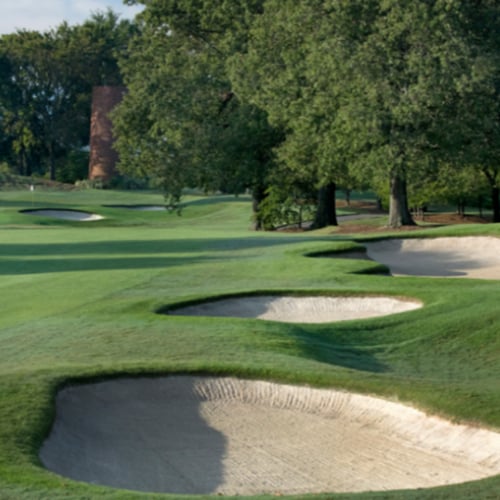 Full Swing Golf offers incredible graphics, with trees, foliage, and grasses that look very real. It supports a screen resolution of up to 4K Ultra HD. However, E6 CONNECT and TGC 2019 seem to have even better lighting and contrast than Full Swing Golf does. Here's how the three compare:
| Software | Graphics |
| --- | --- |
| Full Swing Golf | 4K Ultra HD; Realistic trees, foliage, grasses; OK Lighting/Contrast |
| E6 CONNECT | Better Lighting/Contrast than FSG; Realistic trees, foliage, grasses |
| TGC 2019 | Best Lighting/Contrast among the three; Realistic Trees, Foliage, Grasses |
Requirements
Make sure you have Windows 8 or higher, an Intel Core i5 or equivalent processor, 4GB RAM, and an NVidia GTX 670 or AMD 7850 graphics card to run Full Swing Golf.
Without these requirements in place, there's a chance that your experience won't be as smooth and enjoyable as it should be.
Full Swing sim packages are usually very expensive; I guess anyone able to invest in such a pricey system won't have a problem getting a gaming laptop powerful enough to run the software at max resolution and settings.
Compatible Devices
Full Swing Golf only works with the company's simulator systems. Those are expensive units that very few will be able to afford.
If you have another launch monitor from a different brand in mind, then FSG will not be supported.
Uneekor Refine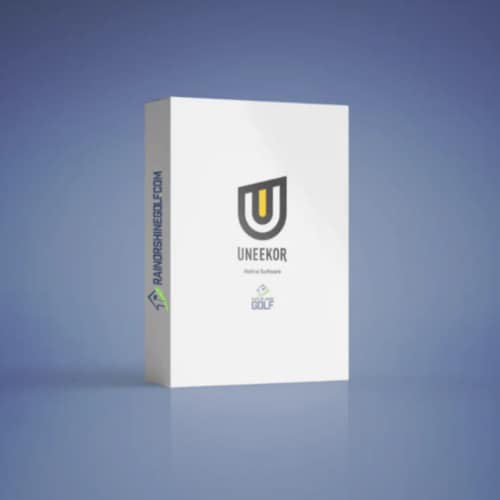 Uneekor's refine software boasts an impressive array of features, including fitting capabilities and OPTIX photographic technology for detailed shot analysis. Graphics are top-notch, with realistic environments and smooth gameplay that'll make you feel like you're on the course.
As for requirements, Uneekor Refine is compatible with all Uneekor launch monitors: the QED, EYE XO, EYE XO2, and EYE Mini. This makes it easy to enjoy all of its benefits regardless of which system you have.
Course Selection
Currently, there are five 18-hole golf courses included in the standard package: Golf Seoul, South Village, Moon Bay CC, Two Rivers, and Bay Hill Korea. These may not be some of the most famous golf courses in the world, but they offer a great variety for practicing different shots and strategies.
If you decide to upgrade to Refine+, you will have access to fifteen additional courses, which include more well-known options like Bay Hill (the original) and Pinehurst No.2.
It's worth noting that many of these course options have a Korean influence because Uneekor is owned by Creatz Inc., a company based in South Korea.
Features
The Refine software includes multiple game modes and challenges.
With stroke play, you can customize your golf experience by choosing courses and settings that suit your preferences. Course practice and driving range modes allow you to hone specific skills with personalized shot selection and detailed data feedback.
The short game complex offers tips for improving your pitching and putting around a green complex, while the challenge mode tests your accuracy in a fun competition setting.
Quick mode provides targeted exercises for correcting swing flaws or focusing on particular aspects of your game.
With these six modes (and potentially more added in future updates), there's no shortage of options for practicing and perfecting your golf skills with Uneekor Refine.
Graphics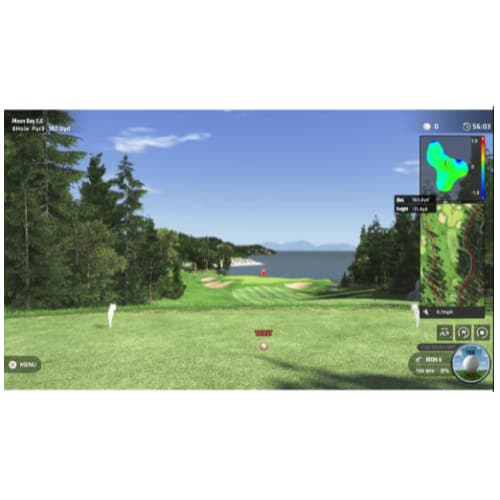 The software offers an incredibly lifelike experience with stunning visuals. The graphics are top-notch, with excellent textures like grass, trees, foliage, and even water. Terrain and course accuracy is very good too.
While ball landings and roll-outs may feel slightly spongy and bunker textures a bit weird, the overall entertainment value and photo-realism of Refine's graphics are excellent.
Requirements
If you want to use Uneekor Refine, make sure your PC has at least an Intel i5 8400, 8GB of RAM, GeForce GTX 1060 or AMD 3rd Gen Ryzen, and Windows 10 (64-bit).
It's important to note that this software is only compatible with Uneekor QED, EYE XO, or EYE XO2 simulator systems.
If you're considering purchasing the software, keep in mind that there are different versions available - Ignite/View and Refine+.
While Ignite saves you $1000, it only includes a driving range mode.
On the other hand, Refine+ costs an additional $2000 but comes with 15 more courses.
Awesome Golf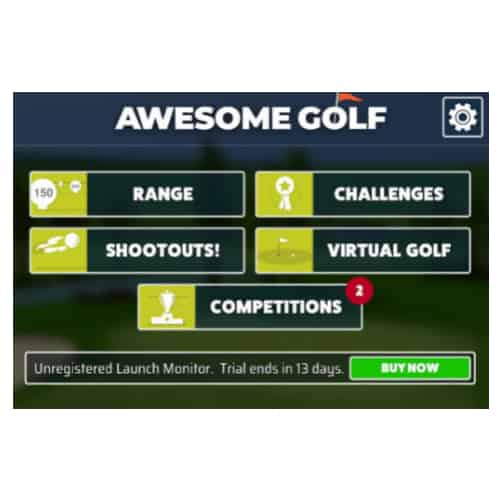 With a wide selection of courses, great features, stunning graphics, and flexible requirements compatible with various devices, Awesome Golf is truly the perfect solution for your golfing needs.
Course Selection
With Awesome Golf, you have access to four distinct environments:
Spring Park Hills, a countryside course with lush wide fairways, large greens and light winds.
Island Beach, consisting of multiple islands, higher winds and beaches acting as bunkers.
Desert Canyon, a desert-like course with hills, high winds and narrow fairways.
Valley Pines - narrow holes situated in the middle of a pine tree forest.
Each course has its own distinct environment and difficulty level, so you can always find a new challenge.
Spring Park Hills is perfect for beginners or those who prefer a more relaxed game. If you're looking for something more challenging, try Desert Canyon. Island Beach is great for those who love a tropical seaside atmosphere with multiple islands to navigate through. Lastly, Valley Pines will put your accuracy skills to the test.
Features
From Range mode, which offers informative practice sessions and detailed shot analysis, to Challenges mode which includes closest to the pin, long drive, target golf and skills challenge options, there's something for every golfer.
With Shootouts mode, you can enjoy kid-friendly minigames like Super Splash (chip into pools to score points and avoid sharks) or Boat Blast (hit boats to score points).
And if you download the Awesome Golf Community app for iOS and Android devices you can view your stats in detail, compete on leaderboards with other users around the world, and even talk strategy with coaches.
Graphics
Awesome Golf stands out from the pack with its cartoon-like aesthetic that looks like something straight out of The Simpsons or South Park.
For those looking for a bit more fun with their golfing experience, this could be the perfect fit.
Each environment is designed to be as immersive as possible, giving you an entirely new world to explore while you play your favorite sport.
Requirements
You'll need a compatible launch monitor to get the most out of Awesome Golf's graphics and captivating game modes. You can purchase the software through its official website. At the time of writing, the payment options are either $199.99 + $9.99/month or $349.99 one-time and licenses are multi-platform (PC, Android and iOS).
The software doesn't require an incredibly powerful system to run smoothly. A 7th gen (2017+) Intel CPU should suffice for optimal performance. Investing in a decent GPU (graphics card) will provide a smoother experience.
Compatible Devices
In addition to Flightscope Mevo Plus, Garmin Approach R10, and Rapsodo MLM2PRO, Awesome Golf can be used with TrackMan 4, Foresight GCQuad, SkyTrak, Ernest Sports ES16 Tour Golf Launch Monitor System, and many others.
It's important to ensure that your launch monitor is one of the supported devices before finalizing your purchase.
Creative Golf 3D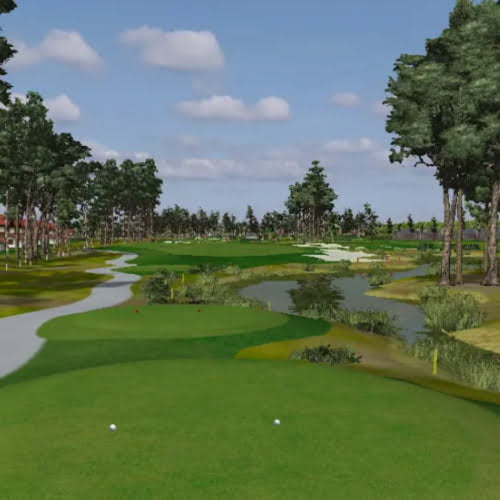 Creative Golf 3D offers a wide range of courses from around the world. You get to play over 130 courses, including some popular ones. It also has plenty of great features like practice modes and mini-games that make this software truly unique.
In terms of graphics, Creative Golf 3D isn't ultra-realistic but still provides good visuals with detailed textures and lighting effects. It's also compatible with a variety of launch monitors and tracking systems so you can start playing right away!
Course Selection
The extensive selection of over 130 carefully recreated golf courses from around the world includes:
The Oxfordshire Golf (England)
The Royal Selangor Golf Club (Malaysia)
Kingsville Golf & Country Club (Canada)
Rush Creek Golf Club (USA)
Golf Bluegreen Pléneuf-Val-André (France)
GCC Dachstein-Tauern (Austria)
Golfclub München Eichenried (Germany)
Black Stork Golf Resort (Slovakia)
And many more...
Environments and geographical features are very accurate as course recreations are based on elevation and satellite data as well as photos.
You can get access to the full library of courses with a separate purchase. Creative Golf 3D continues to add more options for players to enjoy.
Features
Creative Golf 3D offers a fully immersive golf experience with features like stroke play, match play, and mini-games - all tailored to your specific needs.
Here is a list of the available game modes:
| Mode | Description |
| --- | --- |
| Practice | Drive range or chip and putt courses |
| Course Play | Full rounds of golf |
| Challenges | Closest-to-the-pin & long drive |
| Mini Games | Fairy tale golf & demolition golf |
| Online Game | Play with anyone in the world |
| Tournaments | Compete with players around world |
Graphics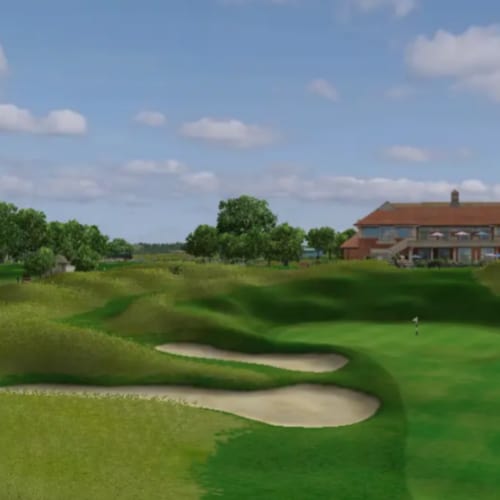 While the realism might not be up to par with other options like WGT or E6 CONNECT, Creative Golf 3D still looks great and is incredibly fun to play.
The fairy tale golf mode in particular has some amazing graphical elements that make for a truly unique experience.
So don't be discouraged by the fact that Creative Golf 3D is more of a 'game' than a simulation - you'll still have plenty of fun playing on its course with its unique graphical elements.
Requirements
You'll need the right hardware to get the most out of Creative Golf 3D, so make sure your PC meets the minimum requirements before you dive in. These include:
Windows 7 or higher (64bit)
2GB of memory
1GB of VRAM
2.5GHz processing speed or better
Additionally, you can purchase software licenses for Creative Golf 3D on their e-shop. This includes options for Uneekor and FlightScope systems or a SkyTrak purchase through their website. Licenses for Creative Golf 3D, Golfisimo and the full course library are also available.
Compatible Devices
Compatible with a range of launch monitors - from Foresight Sports to SkyTrak, FlightScope and Uneekor - Creative Golf 3D ensures you get the utmost out of your simulator setup.
Licenses for Creative Golf 3D can be purchased as one-time purchases or annual subscriptions for Uneekor and FlightScope systems through their e-shop. SkyTrak purchases can be made through the SkyTrak website.
In addition, support for more devices is planned for the near future, so stay tuned for that!
FSX 2020/ FSX Play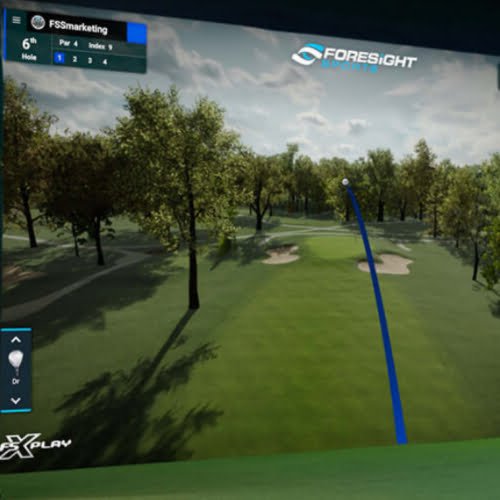 In terms of features, FSX 2020 has plenty to offer. You can enjoy skills challenges and game modes like Long Drive Contest and Closest to the Pin. You can even compete with other players online or practice club fitting using real-time data.
The graphics in FSX 2020 are top-notch, providing realistic scenery and ball flight animations that make you feel like you're really on the course. Other options like E6 Connect or TGC2019 are graphically superior, but FSX 2020 provides better features and game modes.
However, keep in mind that this software is only compatible with PC and requires certain system requirements for optimal performance. Also, the software is compatible exclusively with Foresight Sports' GC series of monitors (GC3, GCQuad, GCHawk).
Course Selection
With over 110 courses available, you'll have a plethora of options to choose from!
FSX 2020 offers some of the most iconic golf courses in the world. The Old Course at St. Andrews, Pebble Beach, Spyglass Hill, Carnoustie, and Doral Blue Monster are just some of the renowned titles available for play on FSX 2020.
It's easy to find your favorite course no matter where you are located or what type of golf style you prefer. You can even take advantage of detailed 3D visuals and realistic physics engine that make playing these courses as close to real life as possible.
Features
Boasting an array of features, FSX 2020 lets you customize your playing experience and challenge friends with its multiplayer mode.
Play Mode lets you customize courses by adjusting green firmness, speed, and weather conditions while playing stroke play, scramble or match play with up to four players.
Compete Mode contains skills challenges such as long drive, closest-to-the-pin, ball placement tests, and the new Glass Break skill challenge. All your results can be stored and ranked against other players online.
In Improve Mode, you can practice on a virtual range with complete ball and clubhead performance data in real time. You can view tabular summaries of your shot data, isolate trends, and view recorded videos for serious practice and club fitting.
Graphics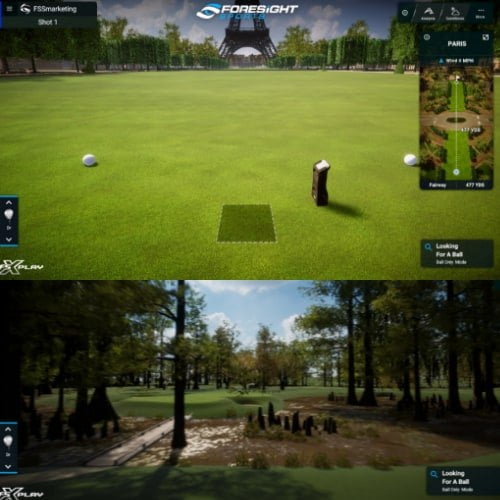 Although graphics are not quite up to the same level as some of its competitors, it's still a big step up from the previous versions.
You'll find that trees and foliage look much better than before, while other details such as shadows, lighting, and water reflections have all been finely tuned.
Even with its lower-quality textures compared to other software, FSX 2020 is still a great choice for those looking for an immersive golf simulator experience.
Foresight Sports decided to upgrade its simulation software and make it graphically competitive to the industry's best. They started to bundle FSX Play with all their systems (along with FSX 2020), which is graphically superior, but offers fewer features and playable courses.
The company is constantly working on improving FSX Play and integrating all the game modes, features and courses of FSX 2020 into FSX Play. Once done, this will likely make FSX Play the best software in terms of features and graphics; consider it as a much better-looking FSX 2020!
Requirements
If you want a realistic golf simulator experience, it's important to make sure your system meets the requirements for FSX 2020.
To get started, you'll need a PC with at least Windows 7 and an NVidia GeForce 1050 Ti or better. An i7 Gen 6 processor is recommended for optimal performance. You should also have the most up-to-date version of the software, which is currently FSX 2020.
If you have the 2018 version of the software, you can upgrade to the 2020 version for free.
Compatible Devices
When it comes to compatibility, FSX 2020 provides a wide range of options for you to choose from. It's compatible with the following launch monitors from Foresight Sports:
This means that if you want to use FSX 2020 for your golf simulator setup, you will need to invest in one of these compatible devices.
WGT Golf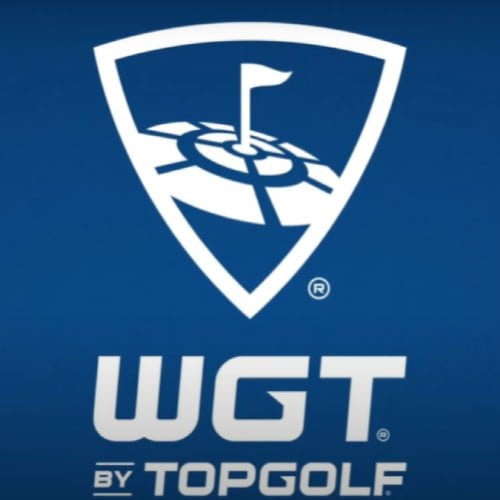 World Golf Tour is another impressive simulation software. Attention to detail and faithful recreation of some iconic courses around the world is something that sets this software apart.
It also includes features such as a driving range and closest-to-the-pin challenges.
The graphics are also quite impressive, but you'll need an iOS device or PC to take full advantage of the software.
Course Selection
With WGT Golf, you'll get access to some of the world's most iconic courses, and each recreation is highly accurate and detailed.
You can choose from six full-play courses: Chambers Bay, Congressional, Valhalla, Pebble Beach, St. Andrews, and Bethpage Black. In addition, there are six more courses available for challenges only.
WGT offers some meticulously recreated courses in the world. The limited course selection may seem like a drawback at first, but the quality more than makes up for it. Each course has been crafted with great attention to detail, providing an immersive experience that feels authentic to real life.
Features
WGT Golf offers basic settings and customization options such as green speed, wind strength and direction, and pin locations.
The main gameplay modes of stroke play, closest-to-the-pin challenges, and a practice range offer plenty of options for honing your skills or competing with friends.
With the SkyTrak launch monitor, players can get a detailed analysis of ball data such as distance, speed, spin rate, launch angle and other metrics.
Other software features include 3D visualization of the ball flight path with camera tracking technology or virtual reality integration.
Graphics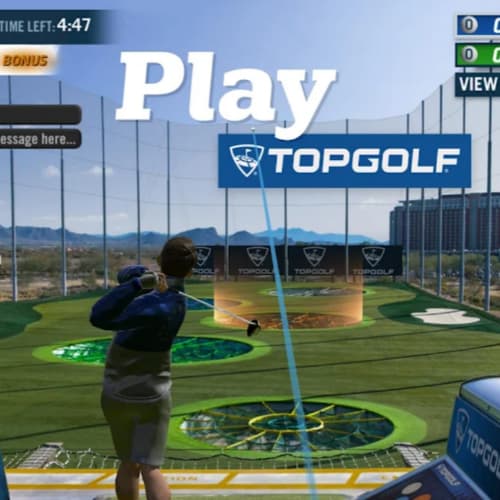 WGT Golf has some very good graphics, but not as good as those of E6 Connect or TGC 2019. Its virtual environment looks photo-realistic, too. However, camera features like hole flyovers and different angles are lacking, which is a bit disappointing.
On top of that, an iPad can only handle so much computing power, so there may be limits to how smooth and graphical prowess you can experience.
Requirements
To get the full golf simulator experience, make sure to meet the necessary requirements for WGT Golf. Here are a few things you should keep in mind:
Skytrak launch monitor (WGT is compatible with Skytrak only)
You need a compatible iPad, such as the iPad Air, iPad Air 2, iPad Minis 2-4, or iPad Pro.
You must subscribe to SkyTrak's Play & Improve Plan, which costs around $199.95/year.
Download the WGT Golf Mobile iOS app from the App Store before starting out with your simulator setup.
Compatible Devices
This software solution is compatible with SkyTrak launch monitors, allowing users to get precise and accurate readings of their swings.
There is no varierty or options here; if you are interested in WGT, you must pair it with a Skytrak launch monitor.
High Definition Golf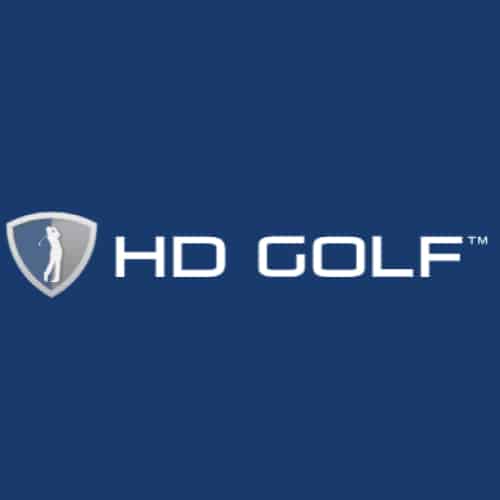 The software created by Canadian manufacturer HD Golf can be used exclusively with their own golf simulators: the Ultimate Training and Ultimate Entertainment packages. These are premium systems with excellent components to ensure the best levels of accuracy and realism possible.
These are very expensive packages, but the simulation they provide is absolutely stunning in terms of graphics fidelity and accuracy.
Course Selection
The Ultimate Entertainment package provides 36 virtual golf courses, 11 sports simulations, as well as multiple practice facilities and club fitting software. The Ultimate Training package, on the other hand, focuses solely on golf training, offering the same level of accuracy and precision as the Ultimate Entertainment package but without multi-sport simulations.
The virtual courses are almost indistinguishable from the real ones, and HD Golf's designers are working to expand the course library and provide more variety for their customers. The level of detail and the accuracy of the simulation are simply unmatched by any other software.
Features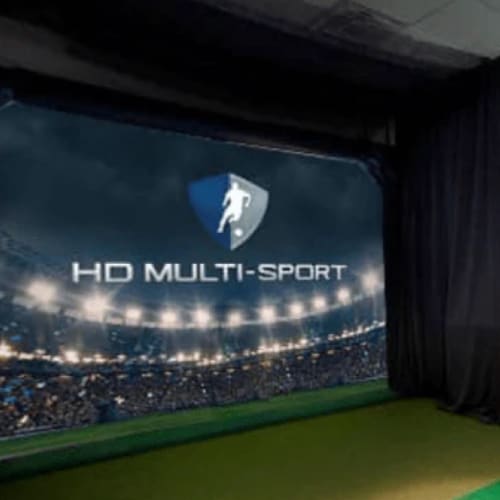 High Definition Golf's software offers multiple game modes, challenges and playable courses to keep users happy.
The software provides multiple practice facilities so you can improve your game. For example, you can play virtual driving range levels, closest-to-pin challenges, chipping and putting green levels, various mini-games, etc.
The club fitting software provides instant feedback and precise measurements to help you pick the best clubs to use for optimal results. As you would expect from a premium product, you are guaranteed to get the highest level of accuracy.
You can also engage in online multiplayer and virtual games and compete against other players from all around the world (possible for all included sports). If you choose to play golf against a friend or family member, you can take turns making your golf shots. If you decide to play another virtual sport, soccer, for instance, the second player can use the included controller to play as the goalkeeper (while you make the shots).
You also get Swing Analysis tools to help you make sense of your practice sessions and tracked data. Video swing analysis offers very accurate measurements of your shots. The videos can be compared and analyzed to know exactly what your strengths and weaknesses are. The software gives you detailed real-time feedback on your technique.
Moreover, you can watch a video playback of your swings either on the big impact screen or the smaller touch screen. You can save the videos for future reference, compare multiple videos side by side at the same time and even adjust the playback speed to make things easier for you.
The video swing analysis includes very useful editing and drawing tools to help you mark things you want to focus on directly on the recordings. You can even compare your swings to the pros through HD Golf's Professional Golf Studio.
Graphics
The graphics of HD Golf's software are by far the best in the virtual golf industry. You don't simply get a game-like simulation of golf, but actual 3D models of the world's most popular courses.
HD Golf relies on geophysical data, high-definition photos and satellite data to create their virtual courses. They combine everything using proprietary cutting-edge technology to come up with courses so realistic that you might think you are playing on the actual courses.
Requirements
It would make sense for the best sim software to require very powerful hardware for data processing, and that's the case. However, you don't need to worry about system requirements or if the software will work on your computer.
HD Golf's packages all come with an HP Workstation PC that is optimized for their software. You can rest assured that the simulation process will be flawless and lag and stutter-free.
The computer even comes with all the necessary software components pre-installed; so you don't have to worry about installation and configuration. Everything is guaranteed to work out of the box!
Compatible Devices
As we mentioned earlier, the HD Golf software is exclusively compatible with their own packages- the Ultimate Entertainment and Ultimate Training.
So, if you are interested in this software, the only way to enjoy it is to invest in one of their (pricey) systems. To do so, you should expect to shell out between $56,420 for the Ultimate Training package and $69,035 for the Ultimate Entertainment.
The majority of golfers won't be able to do it, which makes the HD Golf virtual experience a highly exclusive one that very few lucky golfers will be able to enjoy!
How to Pick the Perfect Golf Simulator Software? (Buying Guide)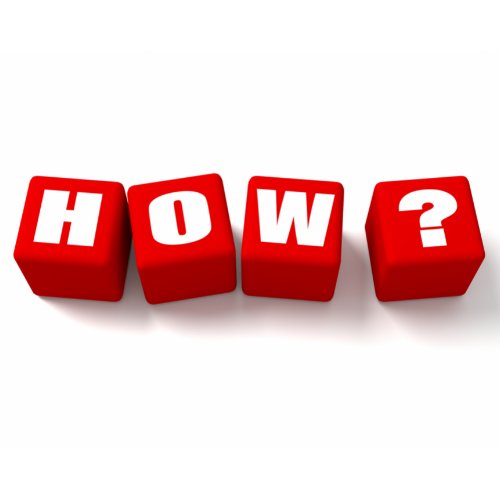 When deciding which golf simulator software to buy, you'll need to consider a few important factors. Let's explore those in more detail:
Compatibility
It's essential to ensure the software you're considering is compatible with your golf simulator system, and that you have the necessary device and specs to run it.
Different systems offer different compatibility for software solutions. For instance, TruGolf Vista and Foresight Sports often only offer a couple (often in-house) software solutions, while Uneekor EYE XO has better compatibility options such as View/Refine/Refine+, E6 CONNECT, TGC 2019, Creative Golf 3D, or GSPro.
SkyTrak has some of the best software compatibility available with at least seven possible options; however, some are only usable on one device like an iPad or PC.
Additionally, if your desired software isn't officially compatible with your system but can be forced through something called ProTee interface, then you may opt for this solution—just note that not everyone will want to do this.
Furthermore, ensure that your device (PC, Mac, etc.) meets the minimum specs required to run the chosen software without issues. Some software options require more resources than others, so it's important to check beforehand to avoid performance issues or lag during playtime.
Features
You'll want to explore the features available for your virtual experience to get the most out of your setup. Different software solutions offer varying features, and it's important to know what you're looking for before choosing one.
For instance, if you want to play with family or friends locally, look for multiplayer options. If you enjoy challenges like closest-to-the-pin and long-drive contests, make sure the software has those modes available.
Additionally, some software solutions offer more fun minigames that can help improve your game while keeping things entertaining. Others may focus more heavily on online tournaments or skills challenges designed to test different aspects of your game.
Take stock of what matters most to you and choose a solution that aligns with those needs for the best possible experience.
Game Modes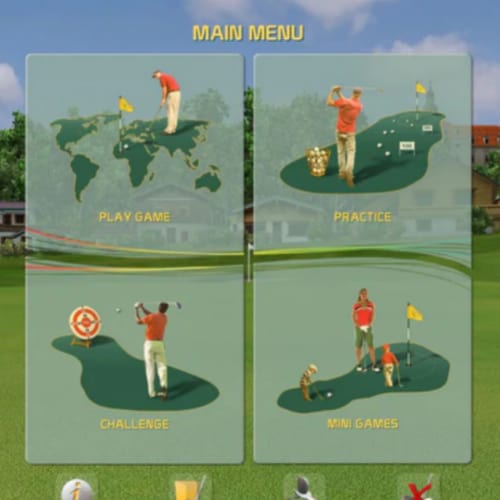 You can pick from a variety of game modes to make your golfing experience even more exciting, from stroke play and course practice to driving range and short-game complex challenges.
When looking for the best golf simulator software, you should consider the following types of game modes:
Stroke Play: Traditional golf gameplay where the objective is to complete the course with the lowest number of strokes.
Course Practice: Allows players to practice on specific holes or sections of a course.
Driving Range: A dedicated practice area to improve driving skills and shot accuracy.
Short Game Complex: Practice putting, chipping, and other techniques.
Challenge: Compete in various challenges that test specific skills or aspects of your game.
Multiplayer capability
Playing alone can be fun, but playing with friends and family brings a whole new level of excitement to the game.
So before investing in a simulator software, make sure it has the option for multiplayer play mode.
Most of the top-rated software solutions offer multiplayer support for up to 8 players.
This means that you can invite your friends over and have a mini-tournament right at home.
Not only does it add more fun to the game, but it also allows you to compete against each other and improve your skills together.
Graphics
If you want to feel like you're really on the golf course, realistic graphics may be crucial. The top software solutions for ultra-realistic graphics include GSPro, E6 CONNECT, Uneekor Refine, and WGT Golf. These software offer high-resolution displays and detailed graphics that can make it feel like you're truly walking the fairways of famous courses.
However, keep in mind that more graphically demanding software will require more powerful computer hardware. If your system isn't up to par, you may experience lag or slower gameplay.
It's also important to note that not all players prioritize photo realism in their golf simulator experience. Some may prefer features over graphics and opt for software like Creative Golf 3D or TGC 2019, which still offer good visuals but focus more on gameplay elements.
Budget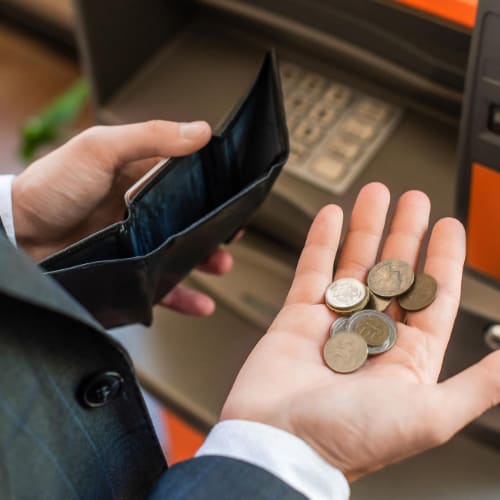 While it's true that the less you spend, the less you get in terms of features and graphics, there are still affordable software solutions out there that can provide an enjoyable experience.
To help you find the right software for your budget, here are three tips:
Look for software with a free trial period so you can test it out before committing to a purchase.
Check if the software offers course packs or additional features like add-ons instead of requiring an expensive upgrade.
Read reviews from other users to see if they found the software worth its price point and if it met their expectations.
By following these tips, you can find a golf simulator software solution that fits your budget without sacrificing quality.
FREQUENTLY ASKED QUESTIONS
Let's now answer some questions that you may have in mind while looking for the perfect golf sim software to use with your indoor package!
What Is The Most Popular Golf Simulator Software?
We can confidently say that the most popular golf simulator software available today is Trugolf's E6 Connect, which happens to be our top pick. It's known for its exceptional graphics, realistic simulation, and compatibility with most available launch monitors. The software also provides a variety of game modes to keep things interesting and challenging for players of all skill levels.

Also, the rest of our list contains some very popular options, including our all-time favorite (in terms of value for money) - TGC 2019.

The Golf Club 2019 is Known for its highly detailed course creator feature that allows users to create their own custom courses. It also has stunning graphics and a whopping 150,000+ virtual course-library available for single and multiplayer play.

TruGolf's E6 Lite is a more affordable version of the popular E6 Connect software with fewer features, but it still provides an enjoyable golf simulation experience.
Which Golf Sim Software Has the Best Graphics?
GSPro offers unparalleled graphics and is compatible with select launch monitors. It boasts the highest resolution among all available golf simulator software, creating a more lifelike gaming environment.

With its advanced engine, it provides accurate ball flight tracking for a realistic playing experience. Its photorealistic graphics allow you to feel as if you're actually on the course.

Additionally, its sophisticated algorithms are capable of accurately detecting even subtle changes in club speed and angle of attack to provide more precise shot-making data.
We chose GSPro because of its compatibility with multiple launch monitors. However, we believe that HD Golf's simulation software is the best-looking software ever made, but it's only compatible with HD Golf's systems (which are very pricey).

The optimal realism and graphical fidelity are achieved through the use of geophysical data, satellite data, and high-definition pictures, all combined to provide the most faithful and graphically stunning recreations of the world's most popular courses.
Can I Use More Than One Golf Simulator Software?
The answer is yes! As long as the software is compatible with your hardware and operating system, you can easily switch between programs. This allows you to experience different features and course selections in order to enhance your overall experience.

Using more than one golf simulator software allows you to access a wider range of courses, practice modes, and game formats. For example, one program may offer advanced shot-tracking statistics while another provides an immersive virtual reality experience. By combining the strengths of different simulators, you can create a customized setup that suits your preferences and playing style.

Still, the majority of golfers prefer sticking to one software program simply because investing in multiple software solutions will be very expensive and out of budget for most players.
Conclusion
There you have it, the best golf simulator software solutions available on the market today. Each one has its own unique features and benefits, so be sure to choose carefully based on your needs and preferences.
Remember that when choosing a golf simulator software, it's important to consider factors such as accuracy, graphics quality, course selection, and compatibility with your hardware.
Feel free to contact us in case you still have any questions, comments or remarks.
Thanks for reading!
WRITTEN BY

My name is Jacob, a self-diagnosed equipment and golf enthusiast. I've been golfing since I was 15. Golf has always been my passion. I'm a bit of a golf equipment nerd and I've been that way since the moment I picked up a club for the first time. As someone who's been on both sides of the game, I know what it takes to be a good golfer. Of course, you need good equipment, but you also need to know how to use it. I hope sharing my experience with you will help you improve your game.
You May Also Like