10 Best Courses To Play on Golf Simulator
Last updated:
October 2, 2023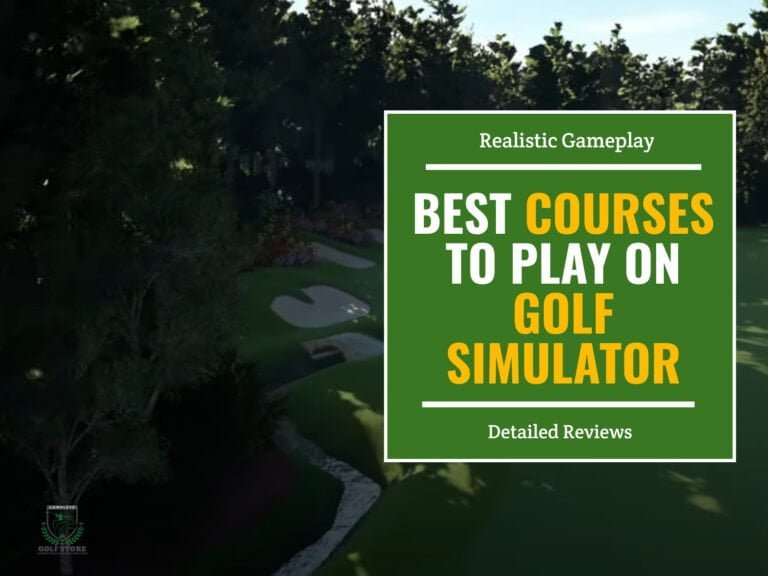 Disclaimer: We may earn a small commission from some of the links on our website. However, our reviews and comparisons remain fair and unbiased. Our goal is to help you make the best choice. For more information, please see our
disclosure statement
. Thank you for your support.
Key Takeaways
The Golf Club 2019 offers immense course options and realistic gameplay.
Courses like Pebble Beach, Augusta National, St Andrews provide iconic layouts.
Challenging designs at Bethpage Black and TPC Sawgrass.
Users create imaginative fictional courses like Ironfall 2 on TGC 2019.
Optimize graphics, connectivity, calibration for best virtual experience.
Pebble Beach seen as most realistic course.
For passionate golfers, playing renowned courses like St. Andrews or Pebble Beach is the ultimate dream. Yet for most, these bucket list destinations remain frustratingly out of reach.
What if you could experience these legendary courses without leaving home? The meteoric rise of golf simulators now makes this a reality. By investing in your own golf simulator and premium software like The Golf Club 2019 or E6 Connect, you gain virtual access to the world's most coveted courses with the touch of a button.
In the following article, we dive deep into the best virtual courses you can enjoy indoors on your golf simulators, without the need to go anywhere. Please note that our picks are available in most major simulator software, from E6 Connect to TGC 2019, FSX Play, etc. We still choose The Golf Club 2019 as our main software for the great value and huge course library it offers.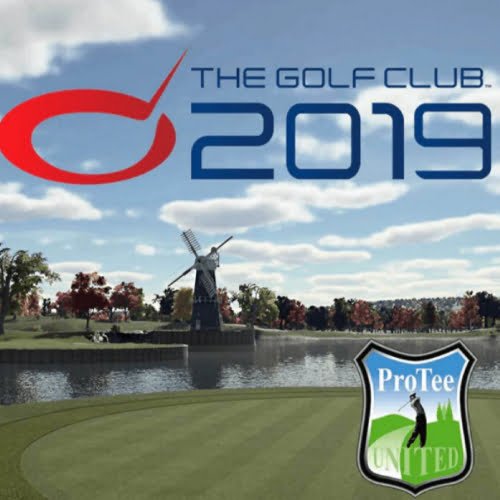 Why Did We Choose The Golf Club 2019 Simulator Software as Our Primary Software?
We chose Golf Club 2019 as our primary golf simulator software because of its unparalleled content library, powerful design tools, realistic gameplay, and active online community. With new user-created courses added daily spanning every type of golfing experience imaginable, we'll never run out of exciting new layouts to explore right from home. The ability to build and share our own designs is also a huge plus. For the price, TGC 2019 provides virtually endless golfing enjoyment and playability.
Here are some key advantages of TGC 2019 simulator software:
Huge online library of high-quality user-created courses with constant new additions.
Advanced course designer with the ability to customize every design element.
Realistic graphics and physics for authentic ball flights and playing experience.
Multiplayer support to play and compete with others online.
Active online societies and tournaments to join.
In-depth swing analysis and data tracking.
Customization of clubs, character models, camera angles, and more.
Easy to add community courses and mods.
Regular updates and optimizations by the developer.
Lower one-time cost than subscription-based simulators.
The 10 Best Golf Courses to Enjoy on a Golf Simulator
The following is a list of the ten best golf courses that we love playing virtually on a golf simulator system. These are all available in TGC 2019 and E6 Connect software. We played the course on TGC 2019 on the Amazing Flightscope X3 Swingbay Package (with the gaming laptop and TGC 2019 bundle included).
Augusta National (Firethorn) - Augusta, Georgia, United States
As the famed home of The Masters tournament, Augusta National is considered one of the world's most recognizable and revered golf courses. This iconic Georgia layout first opened for play in 1933 and was co-designed by prolific architects Alister MacKenzie and Bobby Jones.
Augusta National presents a superb balance of challenge, beauty, and playability. Mature trees frame sweeping undulations, dazzling floral displays, and vivid bunkering across the 18 holes. Classic risk-reward holes like the famous par-5 13th and 15th demand precision and strategy. Subtle elevation changes and sloping greens complex putting and require imagination. Length and accuracy must intersect for scoring.
Step foot on Augusta and you feel the weight of golf history. The understated clubhouse, Magnolia Lane, Hogan Bridge, and Sarazen's Bridge over Rae's Creek create an ambiance golfers dream of experiencing. Augusta National's flawless conditioning and enchanting layout make it a revered bucket list pilgrimage for golf fans worldwide.
In fact, software developers cannot use the name "Augusta National" in their virtual recreation; that's why it was given a different name. Just start your TGC 2019 software and search for "Firethorn" and you'll be enjoying a faithful replica of the famous course.
Here is a short video (8 min. 01 sec.) comparing the Augusta National course on TGC 2019 and GSPro:
Pebble Beach - PEBBLE BEACH, CALIFORNIA
Perched dramatically along the rugged California coastline, Pebble Beach delivers a thrilling seaside golf experience. With its breathtaking ocean vistas and cliffside holes, Pebble Beach ranks as one of the world's iconic golf courses.
Pebble Beach opened in 1919 and was designed by Jack Neville and Douglas Grant. It challenges golfers with its exposed layout and small greens complexly contoured near the sea's edge. Tee shots demand accuracy to avoid plunging down ravines and stair-step fairway bunkers. Exacting par 3s like the famed 7th hole woo and punish simultaneously. The wind off Carmel Bay increases the drama.
Visiting Pebble Beach is a true bucket list item every golfer should experience. The unforgettable seaside landscape exposes golfers to the elements while delivering an exhilarating round. With pure putting surfaces and ingeniously routed holes, Pebble Beach stands as a pinnacle achievement in course design and a permanent monument to the game.
Again, Pebble Beach is faithfully recreated in famous software, with immersive and realistic graphics. Here is a short video (4 min. 11 sec.) comparing the course on TGC 2019 and GSPro:
St. Andrews Old Course - (ST. ANDREWS, SCOTLAND)
As the most iconic 'home of golf', St Andrews's Old Course shares a storied history with the sport spanning over 600 years. Located in charming St Andrews, Scotland, this links layout's rich legacy and renowned design make it every golfer's dream destination.
The Old Course challenges golfers with rolling terrain, cavernous bunkers, large double greens, and difficult angled approach shots. Most tee shots must avoid intricate bunkering complexes like the Principal's Nose. The famous 'Road Hole' 17th may be golf's toughest par 4. Despite the lack of tree cover, strong winds off the North Sea add to the difficulty.
A round at the Old Course is like stepping through golf's history books. The Swilcan Bridge and legendary Road Hole evoke the legends who battled there for centuries in golf's oldest Major, The Open Championship. For atmosphere, history and design brilliance, St Andrews Old Course is the holy grail of bucket-list golfing adventures.
Watch the following video (39 min. 51 sec.) to have an idea of how the course looks on TGC 2019:
Torrey Pines - San Diego, California
Sprawling along the Pacific cliffs north of San Diego, Torrey Pines delivers a majestic coastal golf experience on its 36 scenic holes. The North and South Courses challenge pros and amateurs with elevation, tricky greens, and strong coastal winds.
Opened in 1957, Torrey Pines was designed by William F. Bell. The South Course hosted the 2021 U.S. Open and yearly hosts the PGA Tour's Farmers Insurance Open. Its narrow, cliffside fairways and small greens demand accuracy and finesse. The par-3 16th and par-4 18th holes are legendary challenges. The North Course features more forgiveness and beachfront holes.
Torrey Pines is a municipal course open year-round to public play. The views overlooking the Pacific Ocean are simply breathtaking. With its renowned difficulty, PGA pedigree, and unforgettable scenery, Torrey Pines deserves a spot on every golfer's must-play list. It's a true California jewel and San Diego icon.
This 19 min. 04 sec. video will give you a good idea of how the course is rendered in TGC 2019:
Bethpage Black - Long Island, New York
Home to the 2022 PGA Championship, Bethpage State Park's Black Course brings public-access golf at its finest. Located on Long Island, this Joseph H. Burbeck and A.W. Tillinghast design challenges the best in the world.
The Black Course lives up to its ominous name with thick rough, constricting fairways, and expansive waste bunkers ready to swallow errant shots. Massive, tiered greens allow for a variety of pin placements. Length and power must intersect with shot-shaping imagination. Par is an excellent score here.
What makes Bethpage Black special is its accessibility as a municipal course. Public players experience the same grueling test taken on by the pros. For just a modest fee, any golfer can attempt the Black's wicked challenges and rolling terrain. Bethpage Black stands in rare company as a supremely testing yet public-friendly Major championship venue.
See how the course looks and plays on TGC 2019 by watching this video (5 min. 13 sec.):
Whistling Straits - Sheboygan, Wisconsin
Sprawling along two miles of rugged Lake Michigan shoreline, Whistling Straits offers a unique links-style experience in Wisconsin. The Straits Course hosted the PGA Championship in 2004, 2010 and 2015.
Designer Pete Dye sculpted an ingenious faux-links reminiscent of Ireland and Scotland. Rolling mounds, deep pot bunkers, grass-topped dunes, and windswept holes create an old-world feel. Narrow target lines demand precision while lakefront holes like 17 provide stunning beauty. Massive greens complex putting with subtle breaks.
With its manufactured yet convincing links feel, Whistling Straits ingeniously brings European seaside golf to the Midwest. The course's difficulty humbled the game's best during recent PGAs. For public play, the on-site Irish Barn even offers a traditional 19th-hole pub experience. Whistling Straits deserves its lofty reputation as a premier American links.
Here is a video (5 min. 37 sec.) of the course being played:
PGA National - PALM BEACH GARDENS, FLORIDA
Home of the PGA Tour's Honda Classic, Palm Beach Gardens' PGA National offers a demanding layout designed by legends Jack Nicklaus and Tom Fazio. The Champion Course challenges professionals and amateurs alike.
The par-3 15th, par-4 18th, and three challenging closing holes nicknamed "The Bear Trap" gain notoriety each year on Tour. Water hazards and deep bunkers frame narrow fairways, requiring accuracy into undulating greens. Wind often factors on this lush Floridian course.
PGA National presents a premier tournament test yet remains playable for resort guests. A $100 million renovation in 2018 upgraded the entire property. The resort, spa, restaurants, and spacious clubhouse amenities impress. With its PGA pedigree and recent enhancements, PGA National stands as an esteemed South Florida destination.
Let's see how the course plays virtually through this 5 min. 26 sec. video:
Carnoustie - Carnoustie, Angus, Scotland
With its rich history and demanding championship layout, Carnoustie in eastern Scotland stands as one of the world's most revered and challenging links courses. Designed by Allan Robertson and opened in 1850, Carnoustie quickly earned a feared reputation.
The 1926 design changes by James Braid and later enhancements added length and new bunkers, increasing the difficulty. With its narrow fairways, thick rough, and exposed greens, Carnoustie humbles even the world's best golfers in The Open. The closing stretch with the par-4 16th 'Barry Burn' hole and the home hole 'Fair Darna' 18th are legendary.
Carnoustie tests every aspect of a player's game and mental fortitude in the elements. It has crowned six Open Champions including legends Ben Hogan, Gary Player, Tom Watson and Padraig Harrington. For its rich history and tormenting of the world's best, Carnoustie deserves mention among the great championship links courses.
This short video (3min. 40 sec.) will showcase the virtual course for you:
ROYAL ST. GEORGE'S (SANDWICH, ENGLAND)
Situated on England's southeastern coast, Royal St. George's has hosted golf's Open Championship a record 14 times on its classic linksland. Designed by Laidlaw Purves in 1887, St George's offers a quintessential British seaside golf experience.
Wind, dunes, rolling terrain, wave-style bunkers, and meandering fairways define the character and challenge. Blind shots over ridges thrill and terrorize simultaneously. Massive bunkers like "Himalaya" on the 4th hole punish inaccuracy. Stout fescue rough flusters golfers throughout the round.
Its Open pedigree, seaside location, and demanding design cement Royal St George's status as a preeminent links course. Past champions Ben Curtis, Greg Norman, Sandy Lyle and Bobby Locke emerged victorious here by mastering the seaside elements. For any links aficionado, an epic golfing adventure awaits at this revered English coastline course.
Let's have a look at the course on TGC 2019:
TPC Sawgrass - Ponte Vedra Beach, Florida
Home of golf's Players Championship, TPC Sawgrass offers a demanding, water-laden test just outside Jacksonville. Designed by Pete Dye and opened in 1980, Sawgrass quickly gained fame for its risk-reward layout.
The par-3 17th "Island Green" hole is one of golf's most iconic and terrifying. Water surrounds the small green on all sides, demanding a perfect short iron. The closing 18th also features water all along the left. Amen Corner from holes 11-13 challenges with ocean marsh views.
From its instantly recognizable clubhouse to its multi-million dollar waterfall, TPC Sawgrass embraces bold style. With abundant hazards, sculpted chipping contours, and perfectly manicured TifEagle greens, the course demands shot-making flair. For PGA Tour pedigree and one of golf's ultimate risk-reward designs, TPC Sawgrass is a bucket list play.
Here is what the course looks like and plays on TGC 2019:
Bonus - The Best Fictional Courses You Can Play on TGC 2019 software
All the courses mentioned above are actual courses that exist in reality and have been faithfully recreated virtually in top simulation software. TGC 2019 includes a course design feature that allows users to design their own courses and submit them for rating so that everyone can choose to play the best-rated courses.
There are thousands of fictional, user-created courses in TGC 2019, but the following are our absolute best; we enjoy playing them a lot, and a lot of effort has been invested by dedicated users/golfers to create these virtual masterpieces.
Hoodoo Hills (Remastered) - Designed by DR. Yeti
Bringing the beauty of desert golf to life, Hoodoo Hills Remastered delivers a scenic and immersive round through photorealistic scenery. Originally designed by Dr. Yeti using limited tools, this course was completely redesigned and enhanced with the latest creation capabilities.
The front and back nine routing remains intact, but the holes have been entirely reworked with lavish details. Surrounded by mesmerizing rock formations, you'll traverse a landscape inspired by the developer's local Southwestern terrain (Utah). Vivid vistas of painted desert backdrops await around every dogleg.
No detail was overlooked in creating an authentic desert golf experience. Cacti dot the edges while bunkers and arroyos seamlessly blend into the natural contours. Greens complexes beckon from across scrub brush and arid washes. With the remake, Dr. Yeti achieved his ultimate vision for replicating the magic of golfing in the high desert.
The following is a short video (06 min. 16 sec.) comparing the old and remastered versions of the Hoodoo Hills course:
The Club at Ravenswood
Nestled in the charming town of Ravenswood, this aptly named course offers a scenic and memorable round. Mature trees frame gently rolling fairways that dip and dive through the landscape. Accuracy is rewarded on tee shots to avoid the plentiful bunkers waiting in the wings.
The small undulating greens will test even seasoned putters. Pin placements can turn straightforward holes into vexing puzzles. The closing stretch provides a worthy risk-reward challenge with water coming into play over the final three holes.
The Club at Ravenswood exudes a timeless feel with its tranquil setting and traditional routing. Most holes have an isolated, secluded feel thanks to the mature pines bordering each landing area.
We suggest going through the following video (22 min. 35 sec.) to explore this amazing course:
Allpetown Golf Club - By Arctic Fury
Appletown marks designer Arctic Fury's auspicious debut course release for TGC 2019, and it certainly lives up to lofty expectations. This beautiful coastal town layout immerses you in fantastic visuals from the first tee onward. Arctic Fury's attention to intricate details shines through in the excellent planting, landscaping and extra touches found throughout the routing.
Each hole provides picturesque views off the tee of the seaside town and glittering ocean vistas beyond. The vibrance of flowers, shrubs, and trees contrasts beautifully with the sprawling blue canvas of sea and sky. A charming lighthouse sitting atop a rocky clifftop makes a memorable backdrop on several holes.
Beyond the aesthetics, the gameplay also impresses with clever bunkering lining fairways and perilously sloped greens. The back nine culminates in a challenging risk-reward finish over water. Appletown is a complete package showcasing the talent of this promising designer. For immersive scenery and solid shot values, Appletown is absolutely worth playing and earns 5 stars.
This video (38 min. 21 sec.) will take you through the Appletown course:
The Kermode Club
Spanning 7,300 yards, The Kermode Club impresses with its breathtaking changes in elevation that make the course play much shorter than the yardage suggests. Dramatic elevation is used to great effect throughout the routing.
Tee shots plunge downward into valleys and climb back up hillsides. Approach shots fall from cliffs to receptive greens below. The dizzying vertical traversal constantly provides new thrilling vistas and visual drama.
The downhill holes allow big drives to chase down slopes, adding fun and scoring chances. Uphill approach shots require deft distance judgment as the altitude steals yardage. With its mountain golf-style thrills, The Kermode Club captures the imagination and creates lasting memories.
Here is a video (20 min. 21 sec.) showcasing this astonishing virtual course to help you get an idea of what to expect from the course:
Ironfall 2 - Another Masterpiece by Arctic Fury
With Ironfall 2, renowned fantasy course designer Arctic Fury has once again created an imaginative masterpiece. This phenomenal course lives up to his reputation for excellence. The views from the elevated tees are simply jaw-dropping as you gaze out across the fictional realm. The depth of detail in the planting and landscaping is unparalleled and creates true eye candy.
But what makes Ironfall 2 truly special are the creative extras integrated into the layout, from go-kart tracks to rollercoasters. The designer's talent for water features also shines through, with roaring rapids, serene ponds, and thundering waterfalls around every corner. Each hole contains new surprises to marvel at.
Beyond the sensational aesthetics, the routing also provides a superb test of golf. Risk-reward holes over ravines and waterfalls add drama while the greens complexes leave no room for error. This is fantasy golf design at its very best. With unbridled creativity and nonstop thrills, Ironfall 2 showcases what's possible in virtual golf. It's an instant must-play classic.
Here is a rather long video (46 min. 28 sec.) exploring the entire fantasy virtual course:
Frequently Asked Questions
Let's now answer some widely asked questions related to virtual courses playable on golf simulators.
How can I get the best visuals and most seamless gameplay on my golf simulator?
To get the most impressive and seamless virtual golf experience:

Choose simulator software known for excellent graphics and hyper-realism - The Golf Club, E6 Connect, and GSPro are top options

- Use a high-speed, wired internet connection - minimum 60-100 Mbps recommended
- Close other programs and limit devices connected to Wi-Fi
- Adjust graphics settings for maximum visibility - lighting, textures, anti-aliasing
- Calibrate your simulator optimally - dial in swing speed, ball flight, putting accuracy
- Select a weather setting that matches your environment - this affects visual fidelity
- Consider upgrading your projector or display screen for 4K clarity
What are some good value or lesser-known virtual courses worth trying out?
While famous courses like Pebble Beach understandably get most of the attention, there are many lesser-known but excellent virtual golf courses that offer great value and variety:

- Banff Springs Golf Course - Dramatic Canadian Rockies scenery
- Cabot Links - Rugged Atlantic Canada seaside course
- Turnberry Resort (Ailsa course) - Scottish Open and British Open site
- Bay Hill Club - Arnold Palmer's Orlando course
- Wolf Creek Golf Club - Epic desert course in Mesquite, Nevada
- Kapalua Plantation Course - Hawaiian seaside gem
- Coeur D'Alene Resort - Floating green gimmick hole

These under-the-radar courses let you experience some hidden virtual gems at a fraction of the cost of virtual rounds at the most elite courses.
Which virtual golf course is the most realistic overall in TGC 2019?
Most golfers agree that Pebble Beach offers the most realistic and visually impressive virtual golf experience. The dramatic ocean vistas and cliffside holes that make Pebble Beach so distinctive are beautifully rendered in the virtual version. Elevation changes, undulations in fairways and greens, exacting recreations of bunkers and other hazards, and even dynamic weather effects all contribute to making this virtual Pebble Beach astonishingly lifelike. Other ultra-realistic virtual courses include Spyglass Hill, Bethpage Black, and Harbour Town.
Are there any tips for getting started with virtual golf as a beginner?
For those new to virtual golf, here are some tips to help you get started:

- Take advantage of the driving range and practice mode to get comfortable with the simulator's swing controls and ball flight physics. Dial these in before playing full courses.
- Start on easier beginner-friendly courses to build confidence before tackling ultra-tough ones.
- Play different camera angles to find your most comfortable viewpoint.
- Take some virtual lessons - many simulators offer pro tips and tutorials.
- Adjust control and gameplay settings to match your skill level. Disable things like swing tempo or shot shaping until you improve.
- Focus on having fun first! Don't worry about the score. Virtual golf is a great way to bring serious practice to your game or just casual entertainment.

With a bit of practice and customization, virtual golf can be an addictively enjoyable experience for golfers at any skill level. The technology improves each year, making simulators more accessible than ever.
Final Thoughts
Owning a simulator unlocks game-changing benefits. As outlined, you can now practice year-round and gain mastery by easily surpassing 10,000 hours.
However, the value extends beyond performance gains. Simulators allow you to experience far-flung, renowned courses without leaving home. While certainly an investment, the sheer enjoyment and convenience a simulator provides is unmatched.
We hope this article provided an impartial perspective to inform your decision-making. What insights resonated most? Do you own a golf simulator currently? If so, how has it impacted your game and overall golfing lifestyle? and which virtual courses do you prefer playing the most?
You are welcome to leave your feedback in the comments section below.
WRITTEN BY

My name is Jacob, a self-diagnosed equipment and golf enthusiast. I've been golfing since I was 15. Golf has always been my passion. I'm a bit of a golf equipment nerd and I've been that way since the moment I picked up a club for the first time. As someone who's been on both sides of the game, I know what it takes to be a good golfer. Of course, you need good equipment, but you also need to know how to use it. I hope sharing my experience with you will help you improve your game.
You May Also Like