SkyTrak Golf Launch Monitor Review: Still the Best Simulator in 2023?
Last updated:
December 13, 2022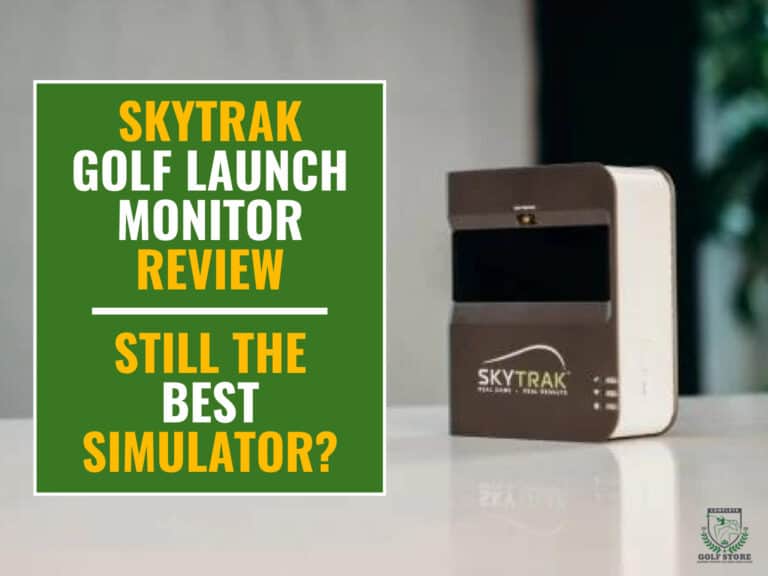 We are supported by our readers and we may earn a small commission when you click on some of the links at no additional cost to you. Our full disclaimer can be found
here
. Thank you.
Key Takeaways
According to our own experience and testing, Skytrak is definitely a worthy launch monitor that lives up to its reputation. It is great in terms of value, accuracy, software features, and simulation capabilities.
Moreover, It is supported by the majority of simulation software available today and has a huge active community that you can enjoy your investment with. The great news is you get everything for a fraction of the price of other "professional" launch monitors.
That's why we recommend getting this fantastic launch monitor; you will get much more than what you pay for!
Since the Skytrak golf launch monitor was launched in late 2014, it quickly became a popular option for players of different levels thanks to its high accuracy and great value.
SkyTrak has been highly rated across all the platforms for its products and software packages. Apart from the accuracy of the data it provides, it costs five to ten times less than what other professional simulator gear companies make.
In this article, our test team reviews Skytrak and its software features and capabilities. We will break things down for you in bite-sized pieces so that you can appreciate how wonderful SkyTrak is.
By the end, you will have plenty of knowledge about the ins and outs of the Skytrak launch monitor!
What's Skytrak?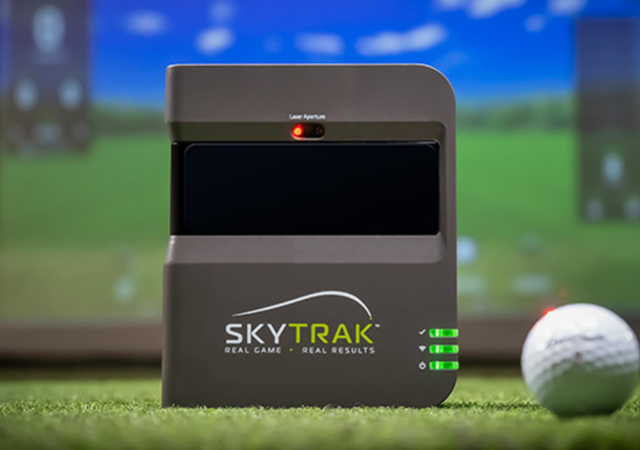 SkyTrak is one of the most sought-after launch monitors in the market. Many golf simulator makers use it as the core of their SkayTrak-based packages. So, If you are thinking of playing on world-class golf courses without stepping outside your home, this is the exact thing that you must bring home.
At only 7 inches high and weighing less than 2 pounds, the SkyTrak launch monitor helps you get instant and real-time shot analysis on your golf ball flight at home, the practice range, or even the course,
more on that later...
The SkyTrak launch monitor/golf simulator will act like your teacher and your practice partner when you are learning to play.
Features
Let's have a look at what you can get from a Skytrak launch monitor!
Easy to Use Even for Complete Beginners:
SkyTrak monitors are extremely easy to use even if you are not tech-savvy. It takes only about two minutes for the monitor to connect once it is booted. The application is user-friendly, and its shot-tracer technology helps to display your swing numbers and ball flight legibly on the screen of your connected device.
Realistic Practice Range: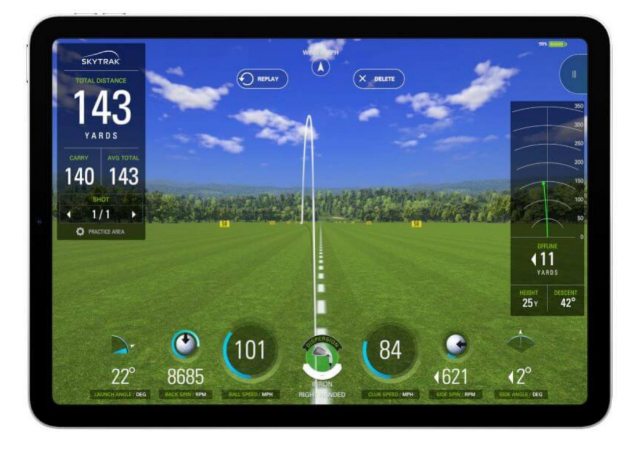 The virtual driving range ensures you do not waste precious time playing inconsequential shots. You get immediate feedback on the golf ball speed, launch angle [1], backspin, and side angle without wasting a single moment and without having to strain. The results are rendered in an astonishing 3D environment.
What's more? When using the device as a simulator, you can even simulate a real golf course by making adjustments to the wind, the humidity content, and the golf course's elevation!
The Challenge Mode: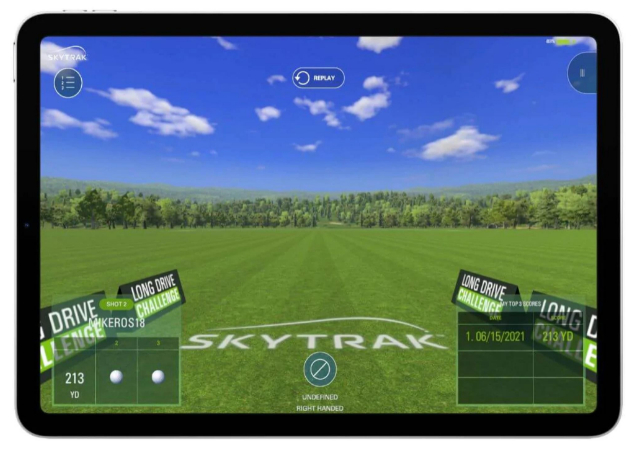 Switch to the challenge mode and compete with your friends, family members, or other golfers using SkyTrak simulator devices. There are competitions like 'target challenges' and 'long drive' contests that will help you have interactive fun with friends, learn to swing the golf club correctly, challenge yourself (or others), and improve your game.
Family Fun: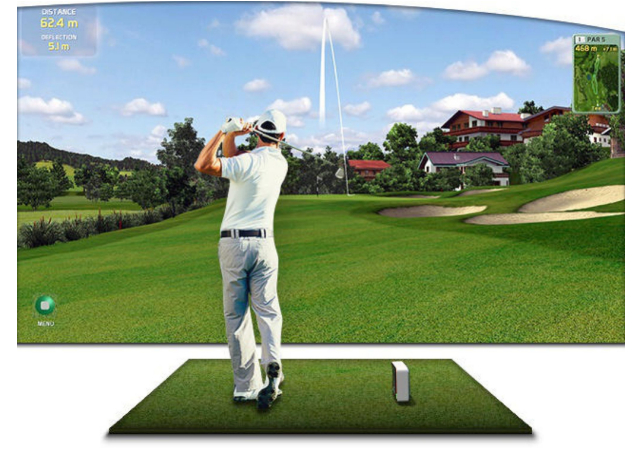 SkyTrak family fun mode has tons of 3D experiences for everyone in the family. The creative golf 3D package has four golf, fitness golf, fitness only, and Protee play. You can get a full-body aerobic workout on all its fitness modes. The Protee play mode is the video game mode where you can battle zombies, play darts and even play soccer! There is a huge collection of other classic children's games too.
What's In The Box?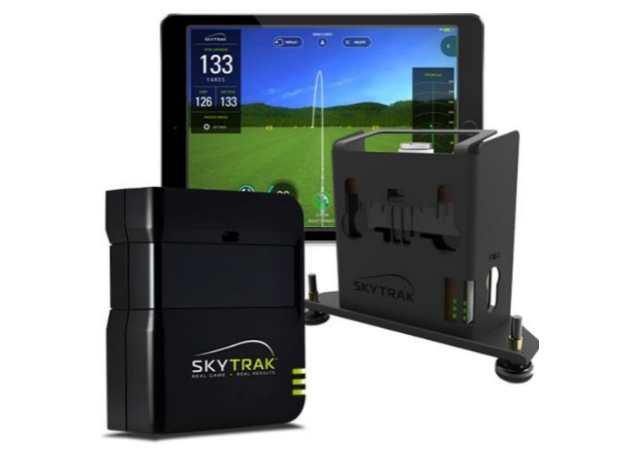 The SkyTrak comes at a basic price of $1995. The launch monitor can also be purchased in a bundle with the metal protective case, costing around 150 dollars.
The device comes with a USB cable, a user manual, and the software included. Out of the box, you get free access to the Skytrak Companion App, which allows the monitor to be connected to your wireless device and provide all sorts of metrics and 3D renders of your shots.
You also have free access to the Skytrak Basic Software Plan, meaning you can enjoy the 3D Practice range with shot tracer, shot replay, and ball performance metrics.
Apart from the hardware, which is a one-time investment, there are three possible software subscription plans that you need to know about:
The basic Practice Range plan is included in the price of the device itself. The basic plan gives you all the basic access to the driving range application with strike replays and shot tracer.
The Game improvement plan can be yours for as little as $99.95 annually / $299.95 for a three-year subscription. This option allows you to add many more game improvement features and access other programs, challenges, and progress tracking. If you go with this plan, you will get access to other simulation solutions such as E6 Connect or TGC2019, etc. (purchased separately), which makes it, in my opinion, a better plan than the Play & Improve! It's also worth noting that the metal protective case is included if you go with this plan while buying your unit.
The Play and improve plan is the pricier one that you can acquire for an annual sum of $200 ($599.85 for three years). It gives you, in addition to everything included in the game improvement plan, access to the World Golf tour simulator (WGT) [2] featuring some of the best golf courses in the world. You will have access to 11 courses fully playable on WGT (or 18 playable courses on the WGT closest-to-the-hole challenges - only available for IOS).
If you plan to use the SkyTrak simulator indoors, you will want to purchase a hitting mat and net.
A metal casing for the safety of the device is a good idea if you have a small place dedicated to your simulation practice. The Laser cut official metal case from SkyTrak will save your investment from errant shots or club hits.
How Does the SkyTrak Compare to Other Simulators and Launch Monitors?
Here is how SkyTrak simulators perform vis-à-vis other well-known and loved brands on the market today.
Accuracy
The fact that SkyTrak has been on the market for a long time gives credibility to the brand. The results are excellent when the ball flight mode is doubly tested with measured distances by robots and human testers.
The golf simulation package provides realistic depictions that are closest to the real-world results.
SkyTrak offers detailed data on the ball only. So while Trackman and Foresight Sports are giving you many other details and ball data, one must keep in mind that they are manufactured with the professional golfer in mind.
Related: How Accurate Are Golf Simulators?
Along with the ball data, Foresight Sports and Uneekor QED give out plenty of information such as swing, angle of attack, the club's path, etc., which could practically be useful only for a trainer or a club-fitter. To anyone else trying to improve their game, it would all amount to over-information that could overwhelm and disturb their peace of mind.
As a result, we can confidently say that Skytrak gives you the data that you really need with an outstanding degree of accuracy. As a matter of fact, some tests [3] were carried out comparing the accuracy of Skytrak to that of the Trackman 4.
The tests showed that the results of the Skytrak were within 2% of those of the Trackman.
Bearing in mind that there is around an 80%+ price difference between the two units, I'd say that Skytrak did a very good job against one of the leading and most accurate and technologically advanced units in the industry; at this result, I would personally consider it instead of Trackman.
Build Material
SkyTrak calls itself an inexpensive commercial-grade launch monitor with a software package geared completely towards the recreational golf player. Foresight Sports is an equally loved brand, but Foresight models that have been recently launched have much more advanced metrics. They are, therefore, much bigger (and pricier) than the SkyTrak.
Some other well-known simulator brands such as Trackman, HD Golf, and Uneekor also have state-of-the-art optics and a very high industrial strength both on the inside and outside. But customers that have tested all the above brands say that SkyTrak is lightweight and therefore very portable.
Cost
SkyTrak has the most cost-effective golf standalone launch monitor that you can even use to build your custom setup indoors. Its price at around $2,000 may look like a big investment to some, but it pales compared to other brands such as Foresight Sports, Trackman, and FlightScope.
The latter may give out a wealth of information on the game, but they are also much pricier because they are made for professionals. For instance, the Foresight Sports GC Quad is pegged at around $14,000 (including the FSX2020), and Trackman, which is the costlier of all of them, will entail a basic investment of about $20,000.
While you can opt to build a simulator for less than $1000 or look at cheaper alternatives like the OptiShot 2, the SkyTrak golf simulator is well known for its premium-grade accuracy, ease of use, and durability for an affordable price.
The SkyTrak launch monitor and its original metal casing (and the game improvement plan) will cost you about $2224, making it the best quality-price ratio and the most prudent buy.
What Data Does the SkyTrak Launch Monitor Measure?
The SkyTrak Launch Monitor efficiently measures the ball speed along with its spin rates (both back and side spin). It also tracks the side and launch angles. These parameters are then used to calculate approximations of other data, such as:
The ball's carry distance - How long the ball travels in the air.
Offline - closely related to the launch direction of the ball. A zero launch direction means that the ball is perfectly lined with the target at launch.
Roll & total distances
Flight path
Club head speed
Angle of Descent - The angle at which the ball approaches the ground after a flight.
Flight Path (rendered in 3D)
If you want to learn more about how golf simulators work, feel free to read this article.
The SkyTrak Golf Simulator App Review
Your SkyTrak device is capable of many things, and it depends majorly on the type of plan you choose (details discussed above). Here are the detailed features that the SkyTrak Golf Simulator App offers.
Great For Practicing Your Game
The basic Practice Range Game Mode gives you a larger driving range. The simple layout and easy controls, along with a big display, help you make sense of the data quickly. It helps you monitor results and gives out data on your ball speed, launch angle, side angle, and backspin.
Adjusting Wind Speed, Humidity, and Elevation
With the included simulation software (Play & Improve, WGT Golf), you get the chance to increase or decrease the wind speed, humidity, and elevation of the ground to emulate some of the most favorite real-life golf courses worldwide.
It is also possible for you to add various other simulation software to your existing SkyTrak software, like the Golf Club (TGC 2019), WGT Golf, E6 Connect, Creative Golf 3D, and Jack Nicklaus's Perfect Golf, and Fitness Golf!
E6 Connect (Purchased separately - requires the Game Improvement plan) is considered by many to be the best simulation option to pair with a Skytrak system as it offers stunning graphics, realism, and a plethora of features and challenges.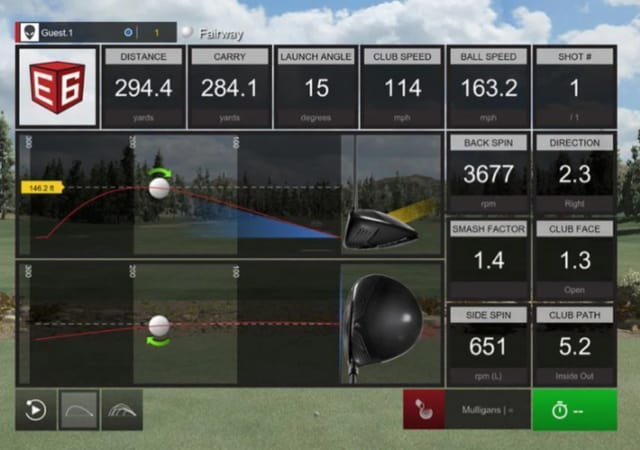 The Golf Club 2019 (Game Improvement Plan required- software bought separately) is another great software that includes online tournaments, events, multiplayer, and a course designer. The software includes around 150,000 virtual courses and a player-rating system; so you can choose the best courses to play!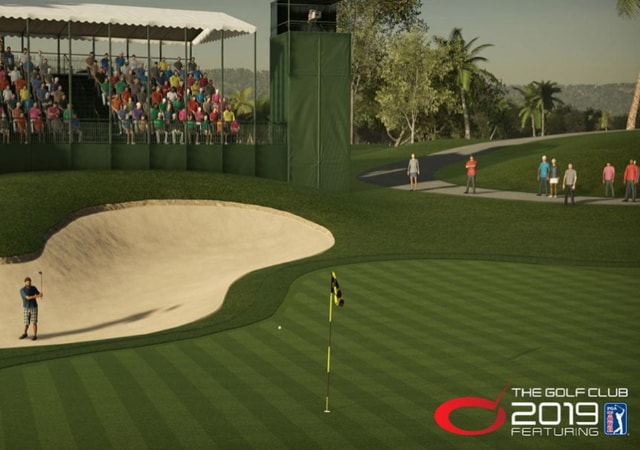 WGT Golf comes with the Game Improvement plan, which contains stroke play, a practice mode, and closest-to-the-pin challenges. It is only available for IOS.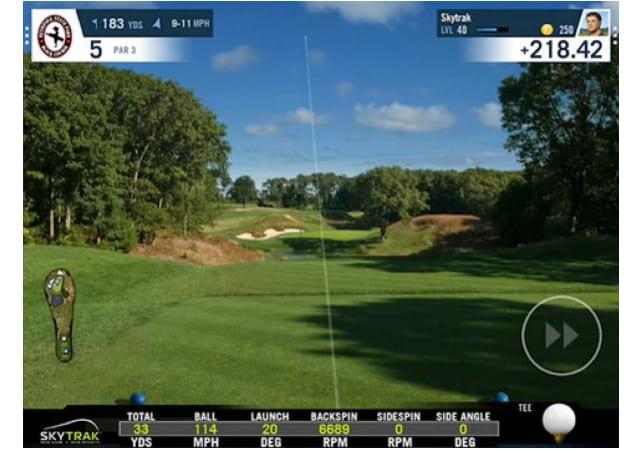 The rest of the available software is more targeted toward entertainment and fun for the whole family; these include Creative Golf 3D, Perfect Golf, Fitness Golf, Protee Play, and Golfisimo.
These software solutions are all compatible with SkyTrak and will require an additional subscription plan to fully benefit from the features they provide.
Great Camera Angles
Starting with the Game Improvement Pan and above, SkyTrak offers 5 different camera angles to deliver the video results as live shots and 3D replays.
Great Challenges for Friends and Family
The app offers a "closest to the pin" contest to challenge golf partners. Watch how you can transform a drab get-together into an excellent golf party. Include gifts and prizes and watch the fun grow. The software offers several single as well as multiplayer challenges.
If you choose one of the two payable software plans, you will be able to enjoy a plethora of challenges, including Target Practice, Skills Assessments, Longest Drive Competition, Closest to the Pin Contests, etc.
There Is Something for Everyone
The best part about the application is that the challenges can be adjusted to suit personal preferences. For instance, you could want a target distance challenge, and someone else may wish to have the number of shots challenge.
Some of the challenges are:
Closest-to-the-Pin Challenge
Long Drive Competition
Target Practice
SkyTrak Skills Assessment
This feature allows the players to set the number of clubs they want to use to hit the target. Setting it up takes only a few minutes, and at the end of the assessment, the software gives out a detailed evaluation of the shot's accuracy, dispersion, and dynamic handicap. This feature helps you spot your strengths and weaknesses over time.
Improve your game with this informative video (2 minutes 37 seconds) from Rain or Shine Golf about SkyTrak's Skills Assessment.
SkyTrak Bag Mapping
Bag Mapping is a feature that measures the shape, carrying distance, tendency, and gapping between clubs and maps out a comprehensive report. This detailed report on your shots will give you a clear understanding of where you need to improve in your game and if you need to purchase a new club soon.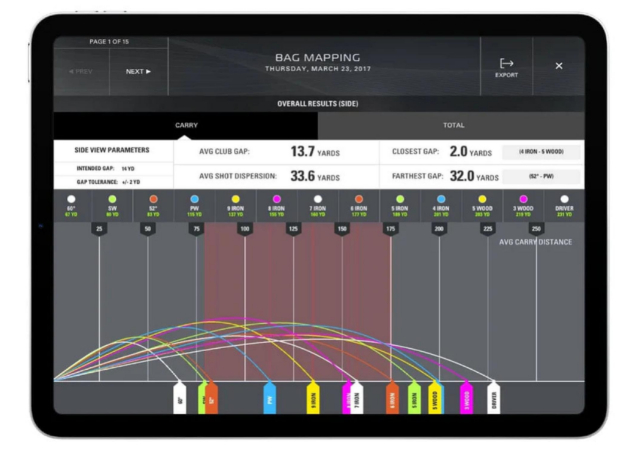 In a nutshell, this feature gives you an idea of the best club configuration to keep in your bag!
Swing Catalyst
For $49.50 a month (or $499 a year), you can get the Swing Catalyst plan integrated into your Skytrak software. Note that The Swing Catalyst plan requires the Game Improvement Plan to be activated.
The Swing Catalyst allows you to use up to two external live cameras (such as the Dragon USB) to analyze your swings and shots. This means you will have your own golf studio at home.
Here's an introductory video (2 minutes 10 seconds) from Swing Catalyst showing their video analysis software in golf.
Shot Optimizer
This is an interesting feature of the Skytrak software. It can display shot data about your shots, and compare your own data to optimal settings for the clubs you use. In other words, the feature gives you the optimal parameters that can be achieved using a specific club. This helps you set reasonable goals to achieve using every single club.
As an amateur, you may notice that your spin rates are lower than expected (by comparing them to the optimal data ranges provided by the software. In that case, you may try to work on your swing, posture, change balls, or even use another club to achieve the desired goal. This feature will definitely help you improve by setting specific goals to achieve with every single club.
We have this demonstration and review video (14 minutes 14 seconds) of SkyTrak's Golf Shot Optimizer.
Wedge Matrix
This feature, available starting from the Game Improvement Plan, allows you to select four wedges (lob, sand, gap, and pitching wedges) to swing four times at different lengths (between ¼ of a swing to a full swing).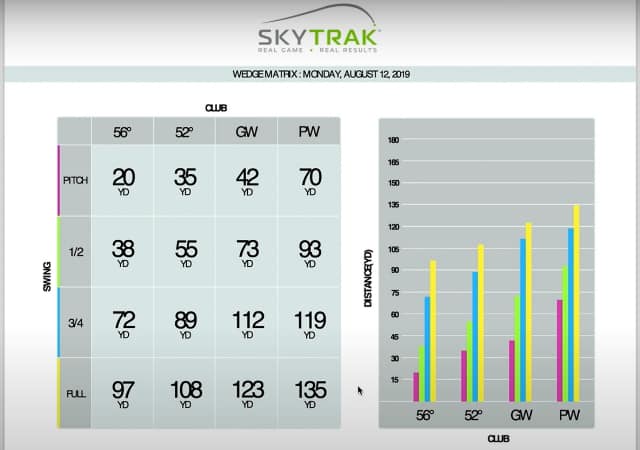 In the end, you will be able to see the yardages of each wedge in the form of a matrix. The goal is to see the average total distances, shot dispersions, and offline tendencies of every single wedge. You can also see weaknesses in your wedge play to work on them and have an idea of how long every wedge will fly depending on the length of your swing.
In the end, you will exactly know the perfect wedge to use in every single situation you face on the golf course.
What Will You Need to Build Your Setup With SkyTrak Golf Simulator?
SkyTrak is user-friendly and extremely easy to set up. If you are setting up the launch monitor for the first time, you may want to check out the box's contents, read the user manual, and set up a guide to understand the SkyTrak unit and help connect it to your iPad/or PC.
Check Also: The 10 Best SkyTrak-Based Golf Simulator Packages
Here is what you will need to set up your SkyTrak:
SkyTrak Launch Monitor
USB charging cable
Wall Charger
Software activation of your choice (like the WGT Golf Access software card or any of the software options mentioned earlier)
One major component you will need to build your Skytrak-based package is the screen and enclosure, and there are many excellent options to choose from depending on your budget and available space. You can check out a big number of available enclosures here or here.
You will also need a hitting mat. Sometimes, you get a hitting golf mat with your enclosure; otherwise, we suggest choosing one from Shop Indoor Golf.
Next, you will need a golf simulator projector. The best fit for a golf simulator is a short-throw or ultra-short-throw projector. We have a dedicated review of the best projectors for your golf simulator to help you out. Depending on how you want to mount the projector, you can use a floor mount enclosure or a ceiling mount.
You May Also Like: How To Build Your DIY Golf Simulator Detailed Guide
So far, you are ready to have your own golf simulator package with everything you need to play indoor virtual golf. There are other accessories that you may add, such as a golf ball container, extra cameras to use with the Swing Catalyst software, a laptop or Ipad stand, etc.
Are you considering starting a golf simulator business with a SkyTrak launch monitor? This article can help you out.
How to Setup Your SkyTrak Device?
1. Charge your SkyTrak
Connect the Micro-USB charging cable and charge the device for 6 hours before you start using it for the first time.
2. Download SkyTrak App to the simulator device
For Apple devices, you can download them for free from the Apple App Store. All iPad models manufactured later than 2014 are compatible with the simulator. Android users must download their free SkyTrak Companion app from the Google Play Store. Android users with octa-core or dual quad-core processors will be compatible. PC users may want to download their SkyTrak app, and it will be compatible with Windows 7, 8, and 10 with a minimum of 2 GB of RAM.
Also, you can download your simulation software; note that 3rd party software solutions require your Game Improvement Plan to be activated before using them - the additional software also requires additional purchase and activation (Via Skytrak) to be fully functional.
3. Register your SkyTrak simulator
The device comes with an auto membership for 30 days. The trial is an excellent way to access basic driving range and practice sessions. You will need to register your SkyTrak account with a username and a password at the end of one month. You must have good connectivity to register the account.
4. Pair the SkyTrak with your device
IPad users can pair the app with their iPad via a direct wifi connection or a home network connection. Similarly, PC users can connect to the internet via direct Wifi, through a USB cable, or on the home network.
5. Connect your SkyTrak to your device (IPad or PC)
If you are using a PC to run the software, you can either pair it with the Skytrak via USB cable, through a Direct WIFI connection (by searching the wifi networks on your PC and connecting to "Skytrak"), or by connecting both devices to the same home network and pairing them.
If you are using an Ipad, you can use your home network connection to which both devices are connected and then pair them, or by pairing the IPad with the Skytrak WIFI signal.
6. Connect your Skytrak to the projector (or TV) to display the simulation
For PC users, the process is relatively easy; just connect your PC to the projector's HDMI cable (provided) and you're all set.
Using an IPad requires the use of the included lightning to HDMI adapter to connect the IPad display to your projector. If you have an AirPlay-capable device, like the Apple TV, then you can go to your IPad settings and activate AirPlay. The display of your IPad will be automatically transferred to your supported device.
7. Decide where to keep the ball and hit!
The final step is ball placement to get the most accurate data out of your Skytrak. The monitor must be at the same level as the hitting surface (parallel to the target). The ball must be placed exactly where the red laser light is pointing. For optimal results, make sure the logo on the golf ball is pointing directly to the camera on the Skytrak launch monitor.
Here is a good video (5 minutes 27 seconds) from the YouTube channel of Handicap Golf showing you how to set up and align your SkyTrak golf simulator:
Frequently Asked Questions
If you still have any questions about the Skytrak launch monitor, you will certainly find the answer to your query below, as we will be dealing with the most commonly asked questions related to Skytrak!
How Much Space Is Recommended for a SkyTrak Simulator Setup?
Even though most SkayTrak-based simulator systems are convenient for small spaces, ensure that the room where you decide to house your simulator meets the space requirements of the unit.
The most crucial step is to make sure you can swing your longest golf club without hitting any obstructions like the wall, ceiling, furniture, or decorations.
Every specific package will have its space requirements depending on the size of the enclosure. However, a general rule is that if your room is 12 feet long, 10 feet wide, and 9 feet high, then you're good to go (not just with Skytrak, but with the majority of sims). Still, the larger, the better. Find more details on this page.

Ceiling Height
9 feet is clearance enough for the average-sized golfer. For players that are taller than 5.10 feet, some more headroom would be appropriate. SkyTrak accessories like enclosures, screens, and nets need a minimum height that you may need to check with the instructions on the box individually.

Room Width
The room must be wide to fit the screen and the golf net; both are essential accessories. Most nets are between five and ten feet wide. The best practice is to maintain a couple of feet more on both sides.

Room Depth
You will have to make room for enough space between the impact screen and the wall and again the impact screen and yourself. There must be plenty of backroom for swinging the club comfortably. A 12 feet room is quite adequate depth-wise.
Does SkyTrak Work Without a Connection?
The SkyTrak monitor can connect wirelessly to the smartphone's iOS or Windows network, whatever the case may be. There is absolutely no need for a Wi-Fi network. 
The launch monitor needs to connect to the network just to communicate with your other devices such as the smartphone or computer.
Can I use my SkyPro Swing Trainer with my Skytrak launch monitor?
Yes, it is possible to pair a Skypro with a Skytrak. Here is a step-by-step tutorial to connect the SkyPro application to the SkyTrak app. The best way to know if the system connects is that the values will be visible in the orange color in SkyTrak's app:

Step one: The app communicates with the Operating System. The SkyTrak app will run over Bluetooth. Make sure that both the devices have Bluetooth enabled.

Step two: Next you will have to enable SkyPro. You can do this by clicking on the upper right corner. This will begin the service called BLE service in the SkyTrak app;

Step three: Once that happens, connect SkyPro to your iOS device. Make sure you are running SkyTrak's latest version of SkyPro.

Step four: When the devices detect Bluetooth, they will get automatically connected. The orange circle found below the applicable data display will indicate that the devices are successfully paired.
SkyTrak VS Garmin Approach R10?
Comparing these two devices is surely no easy task, as they use different tracking technologies and provide different shot data. They do, however, have a few things in common!
For instance, both units provide an excellent bang for the bucks and are destined at making launch monitors and simulators more affordable; they also both provide golf simulation capabilities, with the possibility to add 3rd party simulation software (even though Skytrak has an advantage here because it offers more compatible software options). They can also both be used indoors or outdoors.
The Garmin Approach is more affordable than Skytrak and provides data about your golf club and ball. It uses Radar Doppler technology which provides accurate readings of your shots, especially outdoors. It is also very small, making it a more portable option to use even on the actual course.

On the other hand, Skytrak is a photometric launch monitor that uses high-speed cameras to track golf balls and provide amazingly accurate data. It can be used both indoors and outdoors, but works much better indoors; if you decide to use it outside, just make sure the lens is not in direct contact with the sun rays. Skytrak is also a tad more accurate than the R10, which makes it a better option for game monitoring and simulation. This is because accurate data is the basis of a more realistic simulation, and that's where Skytrak really shines!

Furthermore, there are plenty of optional hardware and software components that you can pair with your Skytrak. As we have seen earlier, the unit is compatible with many different software plans; it is also compatible with other tools meant to enhance the overall virtual golf experience, such as the use of additional cameras to create your own golf studio (using USB cameras with the Swing Catalyst software). Pairing your Skytrak with the SkyPro Swing trainer is another example of compatible tools. 
The bottom line is, that both launch monitors are affordable options that are worth considering, with a slight advantage for the Skytrak thanks to the number of possibilities it provides. The Approach R10 can be a better option for outdoor use thanks to its high portability and radar detection!
If you want to know more about the Approach R10 launch monitor, check out our detailed review of the unit!
How Durable Is Skytrak?
You may be a little apprehensive about shelling out $2000 on a golf launch monitor, but if you will believe us, it is one that you will never regret spending your money on. The product quality is superb, and it will surely last you many years to come.
Can You Play Golf Courses on SkyTrak?
Of course! Any SkyTrak simulator set up with a software subscription plan can let you play virtual golf courses from around the world. Whether it is the Bandon Dunes or the awesome course at Pinehurst, with the SkyTrak golf simulator, it is possible to play all of them in a day!

The number of playable courses depends on the software solution and plan that you purchase. Still, to enjoy another huge library of virtual courses, we suggest opting for third-party simulation software. For instance, the Golf Club - TGC2019 will allow you to play a whopping 150,000 courses in stunning graphics and visual quality!
Just bear in mind that the purchase of TGC2019 (or any other 3rd party software for the matter) must be done through the Skytrak software (the Game Improvement plan) to avoid any issues.
Where can I buy SkyTrak?
Whether you intend to buy the standalone launch monitor or a complete simulator setup based on the Skytrak, we got your back. Our trustworthy partners provide good prices with excellent customer service, meaning that you can buy your monitor or complete package with your eyes closed. They will assist you with any questions or issues you may face with your orders. Moreover, if you want to buy a complete setup, all of our partners offer financing options starting from 0% interest rates and allowing you to pay over an extended period of time.  

Check the Skytrak products on Shop Indoor Golf.
Check out offers from Rain Or Shine Golf.
Check out the best deals on Skytrak from Top Shelf Golf.

Moreover, we have a dedicated article with reviews of the Top Best Skytrak Golf Simulator Packages; we will be reviewing the best Skytrak-based setups for you to choose from. Check the whole article over here.
How can I get the most out of my new Skytrak unit?
While we strongly recommend that you hit the shots off a specifically designed mat, you may hit off a tee from the grass if you haven't invested in a golf mat. Avoid direct sunlight into the system during use. Direct sun into the optic lens of the SkyTrak can cause problems for both consistency and accuracy.
If possible, try to hit from a covered area. Use a clean, white ball with a logo or a marked line. Also do not forget to set the ball up with the logo or the line facing SkyTrak for better spin rate readings, whether you are playing indoors or outside.
Is SkyTrak LAunch Monitor Worth The Investment?
Yes, definitely! The game-improvement features on your SkyTrak will let you explore the best golf courses and ranges worldwide and play championship golf courses without traveling even a bit. You need to see the accuracy to believe it. You will feel like you are playing on actual courses.
Final Thoughts
The Skytrak launch monitor is an amazing product that offers a plethora of features and options to help you improve your game. It is comparable to other pricier units in terms of quality and accuracy for a fragment of the price. It also offers different software plans so that you will find the best one for you.
In this article, we did our best to provide everything you need to know about the Skytrak launch monitor and its tracking and simulation capabilities. It is a relatively affordable unit that provides much more than what you pay for, and that's why it is one of (if not the) most popular launch monitors available for purchase today.
Pair your Skytrak with a simulator package and you will get yourself a complete simulation system that will surely keep you busy for a long time to come. The various supported simulation options are a great addition, as everyone will be able to opt for the plan that they prefer or afford.
If you still have any questions, feel free to leave a comment or send us an e-mail. We will get back to you and assist you as soon as and the best we can!
---
References:
What is Launch Angle? TrackMan Golf. Retrieved from https://blog.trackmangolf.com/launch-angle/
World Golf Tour - Free Online Golf Game - Virtual Golf Courses. WGT. Retrieved from https://www.wgt.com/courses/
Review: Skytrak Personal Launch Monitor. Retrieved from https://www.golfwrx.com/450552/review-skytrak-personal-launch-monitor/
WRITTEN BY

My name is Jacob, a self-diagnosed equipment and golf enthusiast. I've been golfing since I was 15. Golf has always been my passion. I'm a bit of a golf equipment nerd and I've been that way since the moment I picked up a club for the first time. As someone who's been on both sides of the game, I know what it takes to be a good golfer. Of course, you need good equipment, but you also need to know how to use it. I hope sharing my experience with you will help you improve your game.
You May Also Like