Optishot 2 Golf Simulator Review & Packages Comparison
Last updated:
July 11, 2023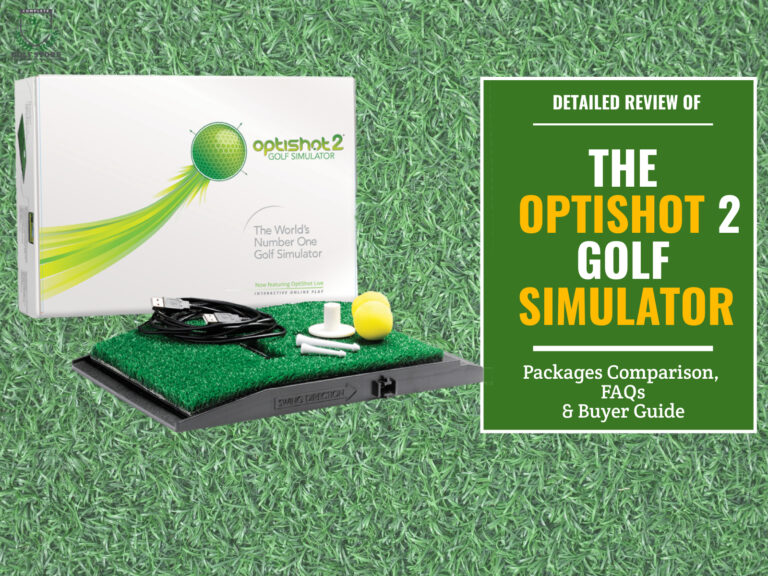 Disclaimer: We may earn a small commission from some of the links on our website. However, our reviews and comparisons remain fair and unbiased. Our goal is to help you make the best choice. For more information, please see our
disclosure statement
. Thank you for your support.
Key Takeaways
OptiShot 2 is an excellent system with unbeatable value for money, meant for golfers who want to improve their control and accuracy without investing thousands of dollars in a simulator.
It is a very popular Infrared golf simulator sold in different variations of the Golf In A Box Series for a price range of between $950 to around $5,300.
We have thoroughly tested and reviewed all four packages, so read on to see which suits your budget and needs.
The OptiShot 2 Golf Simulator is the ideal choice that improves your golf game without costing a fortune. It is one of the most popular simulators on the market.
It is an innovative and popular Infrared golf simulator and the only one that can simulate a decent indoor golf experience at a relatively low price tag of below $1000.
The following OptiShot 2 extensive review will give you a detailed overview of the system's hardware and software components and a comparison of the most popular Optishot 2 packages to know why you should consider getting this golf simulator. Read on to find out more!
Facts About OptiShot 2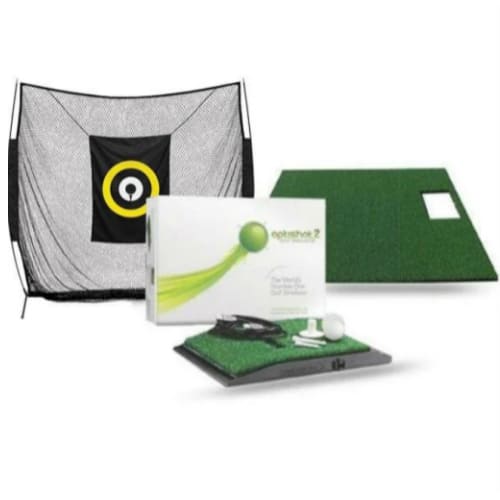 I want to run through a few basic facts before I get into my opinions about the product. Having a basic understanding of what OptiShot 2 is (and what it is not) will help to provide you with a better perspective before jumping into the details.
OptiShot 2 is the latest upgrade version of OptiShot. The hardware is relatively identical to OptiShot 1. However, vast improvements have been made in the simulation software. Additionally, people who have an older version can upgrade for $99.
OptiShot 2 offers simulation with virtual versions of actual famous courses that allow you to play complete rounds. In addition, the device features swing tracking capabilities through the use of two sets of infrared sensors [1] strategically placed on the Optical Swing Pad.
OptiShot 2 is not a launch monitor, so it doesn't track the ball. Instead, it tracks the golf club's movement. So when it moves over the infrared sensors, the rays bounce off the club and provide a reading that is then processed by the software to give pretty accurate results. You may be interested in learning about the difference between a launch monitor and a golf simulator.
OptiShot 2 is sold as a standalone simulator for golfers opting to build their DIY system. However, you have the option to choose from other ready-made packages depending on your budget.
How The OptiShot 2 Golf Simulator Works
The OptiShot 2 golf simulator uses two rows of high-speed infrared sensors to track club speed (directly affected by your swing speed), club path, and face angle.
However, the system is limited to indoor use only because Infrared beams can be affected by light and may report erroneous readings if used outdoors.
With every swing, you get real-time feedback as your ball flies through the air, just as if you were on the course. Unlike other devices that track the ball (such as SkyTrak), the OptiShot 2 actually tracks your golf club instead, so you can use foam, plastic balls, or even no balls at all.
This unique feature makes Optishot one of the best simulators for small spaces, and will surely keep you happy, especially if you have such restrictions.
The OptiShot 2 gives you detailed feedback on the following:
Face angle
Clubhead speed
Total distance
Swing path
Swing tempo
Shot shape
Face contact
Software And Technical Specifications
The OptiShot 2 offers multiplayer features and allows up to four players to play at a time (same as other pricier options from Foresight Sports, HD Golf, etc.).
The software includes 15 virtual courses along with different game modes, including Match Play, Best Ball, Stableford, Skins, Alternate Shot, Custom Length, Stroke Play, and Better Ball.
OptiShot 2 is an excellent system for golfers who want to improve their control and accuracy without taking out thousands of dollars. It is by far one of the most intuitive golf simulators on the market for its price.
The program that this simulator comes with is compatible with both Mac and PC. All you need is a good internet connection to download, update, and choose from the latest courses available.
Always check your computer's requirements to ensure that the simulator is compatible with the software you own. Listed below are the technical requirements for the simulator to function on a Mac or PC:
Minimum Windows Requirements: Windows 7, 8 or 10/ 256 MB Graphics Card/ 3 GB Hard Drive space / 4 GB RAM.
Minimum Mac Requirements: Mac OS X 10.8 or later / Intel Core Duo 2 / 3 GB Hard Drive space / 4 GB RAM.
Update: As of June 30th, 2022, Optishot 2 doesn't support Mac OS anymore. If the Optishot 2 is purchased after that date, it won't be able to run on Mac OS. However, for anyone who bought the system before June, 30th 2022, it should run just fine on a Mac that meets the company's specifications. If you encounter any technical difficulties, we suggest contacting the company's customer support service over here: https://helpdesk.optishotgolf.com/hc/en-us/requests/new.
First Impressions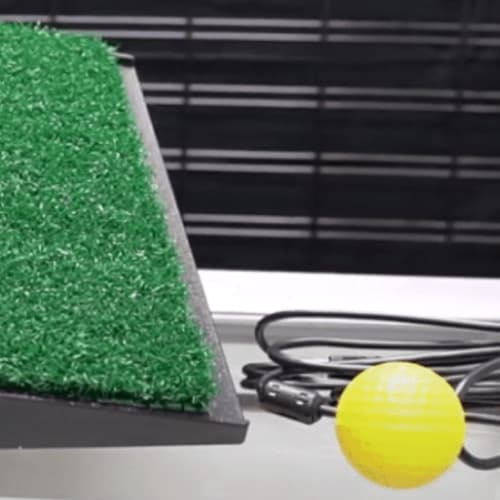 For some reason, I felt compelled to review the OptiShot 2 golf simulator. I was not sure why, but I wanted to see if I would love it as much as everyone else and if the results would match my expectations. So I've ordered the OptiShot 2 Golf In A Box Simulator Package. And I was not disappointed!
My first impression was that it was heavier than I had expected. The mat also felt solid and tough to me, and it seemed like it could withstand a beating from my clubs.
In the beginning, the user experience left me a little disappointed. The simulation looked like a game designed in the early 2000s.
However, as soon as I got into the software, I was quite pleased when things began to make sense. Basically, all I had to do to set up the sensor pad was plug it into my computer.
To ensure you're getting the best results, you'll need to take a few minutes and calibrate your clubs. It was relatively easy to calibrate my high irons and wedges.
How To Set Up And Use The Optishot 2 Simulator?
For setting up your OptiShot 2 Golf Simulator, here's a YouTube video (3 minutes and 25 seconds) showing a step-by-step guide:

The OptiShot 2 setup is effortless and can be set up within an hour or less by a single person. Before setting up, make sure that your golf room meets the minimum space requirements.
You can also get an idea about the ideal dimensions for an indoor golf simulator in general.
You only need to follow the steps below:
Set up your mat and screen: At first, assemble the hitting mat and screen enclosure. Depending on the model you opt for (Regular, Net Return, Pro Bay), you will need to follow different mounting instructions. Those are usually provided
Install the net: Again, depending on your chosen package (regular net or Net Return), you will have to follow different steps to install your hitting net. Follow the given instructions while completing this task.
Download OptiShot live: Follow the instructions along with the provided link on the box to download the OptiShot 2 software and OptiShot Live.
Connect your Optishot 2 to your computer: Use the included USB cable to connect your simulator to your computer after installing the software.
Connect it to your TV or projector using an HDMI cable.
Let the fun begin!
Things I Liked In OptiShot 2
Here are a number of reasons to love the OptisShot 2 that will surely make it worth your while:
The OptiShot 2 golf simulator is quite reasonable compared to the other simulators on the market. It offers power-packed features that offer both value for money and user enjoyment.
It tracks your swing and keeps track of your data.
It lets you play world-class courses and helps sharpen and enhance your skills.
It comes with 15 courses. You can also purchase additional courses for as low as 30 bucks each.
It has a multiplayer feature that lets you enjoy virtual golf with your friends and family.
It offers an excellent user interface that is easy to navigate.
The setup process will only take you 30 minutes at most.
It tracks all your irons really well, and the results are super accurate – something that is both unique and hard to find.
It works really well with both real and high-density foam balls.
The Thing I Did Not Like In Optishot 2
While the OptiShot 2 golf simulator setup offers a good simulation, it's still not perfect. We have found a few things that require fixing in future updates or releases:
Since no ball data is recorded, the OptiShot 2 cannot accurately determine how your club impacts the ball, so if you miss the ball completely, the system will still indicate that you made actual contact.
Infrared simulators have this problem as one of their most significant downsides. However, if you normally don't have an issue making contact with the ball or just want to improve your swing, this will be less of an issue.
Important Note About The Optishot 2 Packages Contents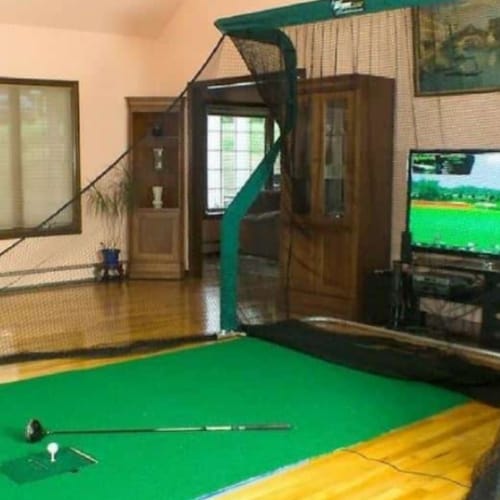 Before we proceed with individual reviews of the Optishot 2 packages, it is worth noting that all the systems come with some identical hardware and software components; instead of repeating the same components over and over, we will list them here and only focus on other components that distinguish every single system:
OptiShot2 Infrared Optical Swing Pad
OptiShot 2 Software (downloadable)
15 virtual Courses
Built-In Virtual Driving Range
10-foot USB Cable
Two foam practice balls
Adjustable rubber tees
Free software updates
1-year standard warranty
From now on, you can expect every reviewed package to include all the components we have just mentioned above (without necessarily repeating them), and we will make sure any additional components will be listed.
Optishot 2 Golf Packages Comparison And Details
Now, it's time to go through our reviewed setups and show their similarities and differences. Please bear in mind that all the packages include the components we mentioned above, so focus will be mainly on what distinguishes every individual setup.
The following are our top selections based on our own testing, research, and experience:
OptiShot 2 Golf In A Box Simulator Package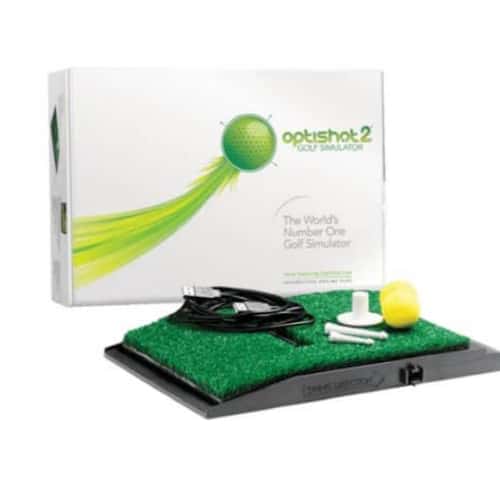 The system includes 15 courses such as Palm Desert, Twisted Twig, and Torrey Black, all playable in both single and multiplayer modes.
It also offers 16 high-speed 48 MHz infrared sensors that have a distinctive way of tracking your club swing data [2].
The infrared optical golf swing pad offers accurate swing analysis of the golf club head speed, tempo, distance, face angle, and face contact point. The simulator provides realistic feedback on every shot through a visual display to help enhance your skills.
What's Included:
OptiShot 2 Hitting Mat – a high-grade mat with High-Quality Dense Foam & Turf.
Full Portable Hitting Net – reinforced with a fiberglass frame. It allows you to play comfortably, without worrying about golf balls flying all over the place.
OptiShot Platform – You can select from 6 different game types.
Season Pass – Online golf tournament to compete against players worldwide.
Pros
Reasonably priced - hard to compete with its value.
6 different game types.
4'x5' hitting mat.
10'W x 7'H x 2'D hitting net included.
Season Pass included.
Perfect for beginners.
Cons
You may face issues with the registration of shots at times.
Compatible with Windows only, can not run on Mac anymore.
If you are looking for a golf simulator with good game analysis without spending too much, this is definitely your best bet! Give it a shot, especially if you are a rookie, as regular practice will help you improve your skills.
OptiShot Golf In A Box 2 Package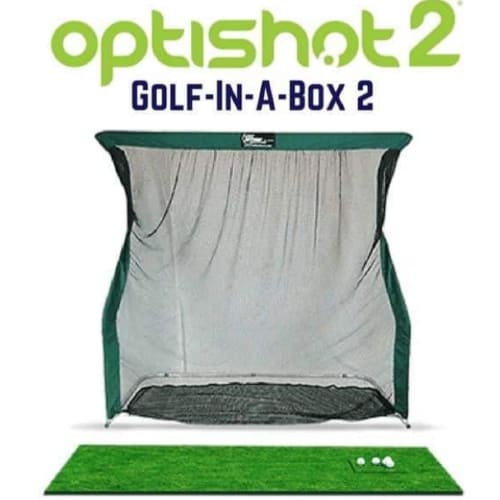 Just like the previous package, the OptiShot 2 Golf In A Box 2 allows you to ace your skills through 3D software and a 15-course library.
You can include 1 to 4 players every time you hit the virtual course, and it lets you play with your own clubs. You can also practice the shots anywhere you want on the course.
You can also play online thanks to the included OptiShot Season Pass.
The package includes the same infrared optical swing pad that offers you quite an accurate swing analysis tracking clubhead speed, swing plane, tempo, distance, face contact point, and face angle.
You get real-time realistic feedback with a dynamic visual display.
This simulator comes with one of the best golf nets on the market - The Net Return Pro Series Net is the only available net in the market that automatically returns the ball at your feet after every shot.
This net is also very durable, as it can withstand real golf balls traveling at a speed of up to 225 MPH. It is tested and inspected individually to ensure maximum durability.
What's included:
In addition to the components included in all the packages,
The Net Return 7'6" Pro Series Golf Net with Automatic ball return - Size options of up to 8' (H) x 10' (W) x 3'6" (D)
Hitting mat with various sizes - ranging between 4'x5' Standard Mat and 4'x10' Center Strike Mat.
Pros
Accurate swing analysis.
Reasonably priced.
Automatic ball return.
Optishot Season Pass included.
Different sizes of the hitting mat.
Options of different sizes Net Return net.
Cons
Does not come with a rubber floor tile.
Any OptiShot 2 Golf In A Box 2 review will tell you how this is one of the most popular simulators! If you wish to have the most fantastic time with your friends and family without spending too much, then you should definitely opt for this one.
OptiShot 2 Golf In A Box 3 and 4 Packages
Here, we will be reviewing and comparing the Golf In A Box 3 and the Golf In A Box 4.
For starters, the two packs contain the same award-winning golf simulator; It is one of the best, if not the top, at this price tag. Also, they are identical when it comes to software components:
The simulation software includes 15 realistic, top-rated international golf courses and provides accurate swing analysis that is perfect for avid and recreational golfers alike.
Both packs contain a 10-foot USB cable, two foam practice balls, adjustable rubber tees, the Optishot Pro hitting mat, and the Optishot 2 infrared optical swing pad.
Both are plug & play and are compatible with PC (Which means they are identical to the previous packages in this list).
Moreover, both packs come with an impact screen and a short-throw HD projector, with both floor and ceiling mounts.
The main difference is that the Golf in a Box 3 includes the Net Return golf net, while the Golf In a Box 4 comes with the OptiShot Pro Bay golf enclosure, measuring 9' x 12' x 5', and its projector mounts.
Both the net and enclosure offer multiple size options.
The capability to use a quality projector and a hitting screen/ enclosure make practice sessions more immersive and realistic, and the multi-player function, downloadable through the OptiShot 2 software, makes the whole experience much more enjoyable.
In addition, the high-quality golf mat, foam, and turf add to the feeling of immersion, as they provide a lifelike experience of a golf course inside your house or office.
Another great feature is the possibility to buy an annual mini-tour that allows you to play tournaments and have many more courses for $50/year, or buy individual courses for $30 each. This is quite a good deal, compared to the much more expensive bundles offered by other manufacturers.
What's included:
All the components found in all packages, plus:
Different sizes of the Pro Bay enclosure for the Golf in a Box 4
Different sizes of the Net Return golf net for the Golf in a Box 3
Short-throw Projector, with possible floor and ceiling mounting.
Pros
Both full packages include everything needed for virtual golf.
Sky Netting, along with Pro Arms, offers you full safety.
Ballistic and durable screen grade.
Realistic experience.
Reasonably priced.
Easy to operate.
The projector offers bright colors and vivid images.
Shadow-free images.
High-density turf and foam mats that are highly durable and long-lasting (in both systems).
Cons
You will need a separate wall mount kit if you wish to mount the Home Course Bay on the wall.
Not feasible for rooms with ceilings below 9 feet.
The main difference between the Golf in a Box 3 and Golf in a Box 4 packages is the included enclosure. Both offer high-quality components that add to the realism of the virtual golf experience.
Still, we believe the Golf in a Box 4 has a small advantage thanks to the larger screen and enclosure. The Home Course Bay can even be mounted to the wall to save a lot of ground space; the included side nets also add more security to the package, as you will be safer from any errant shots!
OptiShot 2 Golf In A Box Pro Simulator Package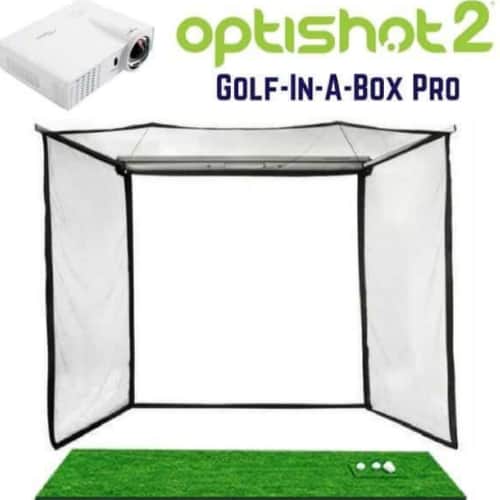 Enjoy the higher-end version of the Optishot 2 with their Golf In A Box Pro Simulator Package. This one includes even more interesting components for a more realistic experience combined with practicality.
First off, the package includes the same simulator and software features as the other packages, the same optical swing pad and other accessories, and the same playable virtual courses and game pass.
What sets this system apart from the rest is the included HomeCourse Retractable Screen Enclosure & Wall Mount, which can be retracted in no more than 30 seconds.
You can enjoy your favorite game without dedicating a lot of space to installation. The motors that operate the screen use a lithium-ion battery that only requires charging every few months (The charging cables are included).
The unit is surrounded by sky netting and pro arms to form a golf enclosure that provides the best protection from mishits or ricocheting balls.
The simulator also provides you with multiple camera views along with a hitting mat that has been meticulously designed to take on the HD Short-Throw Optoma X305ST Projector.
The 3,000-lumen projector provides a clear, shadow-free image quality that adds to the fun of the whole experience. The projector also includes energy-saving features that will lower operation costs.
What's included:
All the components found in all the packages, in addition to the following:
Home Course Retractable Screen Enclosure
Sky netting and Pro arms
Optoma X305ST short-throw projector
Optional wall mounts for the screen and enclosure
Pros
Retractable screen and enclosure to save space.
Good overall virtual golf experience.
Sky Netting, along with Pro Arms, offer you full extra safety.
Ballistic and durable screen grade.
Realistic experience.
Reasonably priced.
Advanced energy features for lower operating costs.
Bright colors and vivid, Shadow-free images.
Cons
The enclosure wall mount must be purchased separately.
The Optishot 2 Golf in a Box Pro package is by far the priciest system of the whole series. It includes everything you will need to indulge in indoor golf.
In addition, all the components are of high quality and will surely serve you for a long time to come.
What Are Some Alternatives To The OptiShot 2?
There are very few alternatives to the Optishot 2 golf sim.
At the price tag of the Optishot 2, it is very hard to compete with it and the great value for money it offers. However, there are some decent popular options you may consider; they are the following:
Garmin Approach R10 Launch Monitor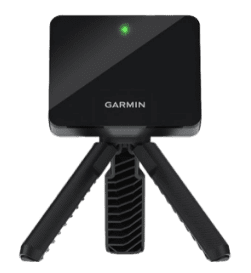 The Approach R10 is Garmin's latest portable launch monitor.
It is an amazing little piece of technology that offers golf simulation capabilities for a surprisingly low price.
It is a radar-based launch monitor, which means it can be used both indoors and outdoors.
The R10 includes a huge number of virtual courses (around 42,000) accessible through a subscription to the Garmin Golf App.
Moreover, you can take the highly portable unit with you to the actual course or practice range, and it will serve you up to 10 hours of continuous use on a single charge.
The R10 is a bit pricier than the Optishot 2, but it does offer some additional features.
If you wish to know more about the Garmin Approach R10, we have a dedicated review article.

Rapsodo Mobile Launch Monitor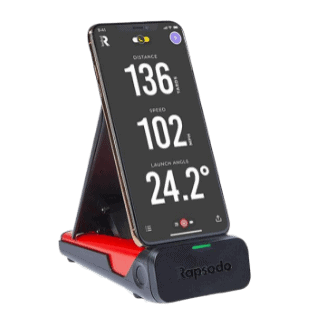 Rapsodo's MLM is a launch monitor that is based on a combination of GPS Satellite view and Radar Doppler technology to provide extremely accurate readings of your shots.
The unit provides instant video feedback with data overlay all on your mobile device through the Rapsodo MLM App (for IOS only).
The Active Shot Tracer technology helps track your ball flight and shape using your mobile phone's GPS features.
While the Optishot 2 was designed for indoor use only, the MLM is the opposite, as it was initially designed exclusively for outdoor use.
Luckily, the software has been updated and now supports indoor play (hitting into a net).
The required dedicated space is six feet between the ball and unit, and a minimum 8 feet of flight; that is a minimum room length of more than 14 feet if you want accurate readings of your shots indoors, which is on par with (or a bit lower than) the requirements of the majority of radar-based units).
FAQs About Optishot 2 Golf Simulators
Now, let's answer some of the most frequently asked questions concerning the Optishot 2 simulator packages. These will help you get an idea of what to expect once you purchase one of these systems.
How Accurate Is The Optishot 2?
The OptiShot 2 accuracy level is by far the best available for its price point on the market.

Most of the available OptiShot 2 golf simulator reviews state that it gives decent accuracy levels. It offers nice graphics and customizable weather conditions and records your club swings with high accuracy.
What Courses Come With Optishot 2?
The OptiShot 2 comes with some of the best and most famous golf courses in the world. Some of these include Long Island Black, Torrey black/white, Black Mountain, etc.

In total, 15 courses are included in any simulator from this company. In case you wish to buy more, you can always opt for buying the other available courses.

You can check out the list of all available virtual courses (out of the box) by following this link.
Does Optishot 2 Come With Any Warranty?
Yes, all the OptiShot 2 setups come with a one-year warranty. Your sim will be fixed, repaired, or replaced by the company in case of damages.

However, the chances of your setup getting damaged are significantly low. It may only happen in rare cases.

If you receive a package that is either damaged or defective, the company will replace it immediately.
Can I Use An Optishot 2 Simulator Outdoors?
No, you can't!

The OptiShot 2 has been specially designed for playing indoors. As a result, you cannot use it under direct sunlight.

You should use it in a condition where there is proper lighting for its infrared sensors to work and function and provide accurate club swing data.

In case you observe that your system is giving you inappropriate or inaccurate data, that may indicate that your room lighting is not up to the mark, and you should make the required changes to fix the issue.
Final Words: Is OptiShot 2 Worth Your Money?
Given the kind of features and prices it offers, the OptiShot 2 is definitely worth your money. You can now enjoy the perks of golfing with your family straight from your living room.
Besides, there are many available packages to choose from, and find one that fits your budget.
Whether you are a rookie or a long-time golf player, the simulator setups we reviewed will give you the luxury to enjoy golf from your home while enhancing your skills at the same time.
If you are on the lookout for a budget simulator without compromising your finances or if you have been continually wrecking your brains over which Optishot 2 package to go for, then the reviews mentioned above will definitely help you make an informed decision.
Happy golfing!
---
References:
What Is Infrared? Live Science. Retrieved from https://www.livescience.com/50260-infrared-radiation.html
How swing data can help you get the most from your irons. Golf Digest. Retrieved from https://www.golfdigest.com/story/how-swing-data-can-help-you-get-the-most-from-your-irons
What is Spin Rate? TrackMan Golf. Retrieved from https://blog.trackmangolf.com/spin-rate/
What is Ball Speed? TrackMan Golf. Retrieved from https://blog.trackmangolf.com/ball-speed/
WRITTEN BY

My name is Jacob, a self-diagnosed equipment and golf enthusiast. I've been golfing since I was 15. Golf has always been my passion. I'm a bit of a golf equipment nerd and I've been that way since the moment I picked up a club for the first time. As someone who's been on both sides of the game, I know what it takes to be a good golfer. Of course, you need good equipment, but you also need to know how to use it. I hope sharing my experience with you will help you improve your game.
You May Also Like