The 11 Best Golf Simulator Impact Screens & Enclosures - Reviews & Buying Guide
Last updated:
November 11, 2023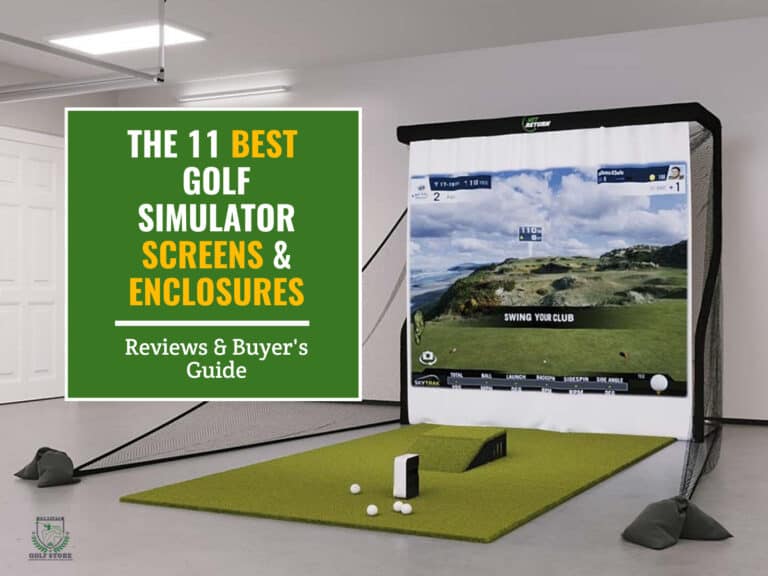 Disclaimer: We may earn a small commission from some of the links on our website. However, our reviews and comparisons remain fair and unbiased. Our goal is to help you make the best choice. For more information, please see our
disclosure statement
. Thank you for your support.
Key Takeaways
Our top pick for the Best Golf Simulator Impact Screen & Enclosure is the SIG12 Golf Simulator Enclosure. It is the largest screen that SIG offers, measuring 12 feet wide, and is made with durable materials for long-lasting use. It is easy to assemble with included instructions and has a large enclosure size that allows for plenty of space to swing.
It has been determined that a screen and enclosure of sufficient caliber are indispensable components of a first-rate golf simulator experience. They must, among many other things, be able to safely contain the balls, have a limited bounce back, and be built of materials that are long-lasting.
You won't be able to utilize the full capabilities of your simulator if you don't have a high-quality screen or enclosure for it. In this article, we'll take a look at some of the best golf simulator enclosures currently on the market, all tested by our team to bring you the best of the best.
In a Hurry? Here Are the Top Golf Simulator Screens and Enclosures We Like the Most.
| Product | Features | Our Rating | |
| --- | --- | --- | --- |
The 11 Best Golf Simulator Screens & Enclosures: In-depth Reviews
The screen and enclosure you choose for your simulator should be based on your available space. Here are the 11 best options you can choose from:
The following are our top selections based on our own testing, research, and experience:
SIG12 Golf Simulator Enclosure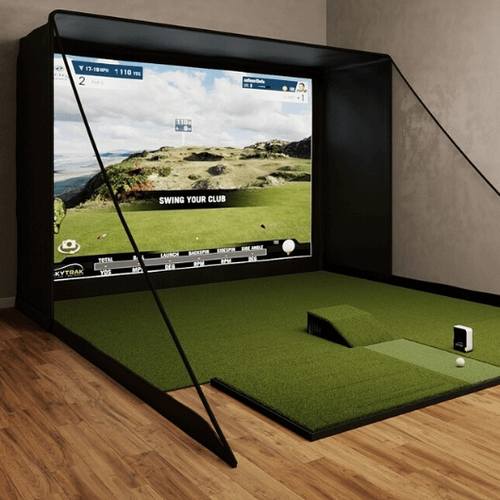 Shop Indoor Golf is one of the most highly recommended providers for golf simulator equipment, and they are responsible for the creation of the screen and enclosure known as the SIG12. It includes a thick and robust enclosure, a wide and high impact screen, side barrier netting, and weights to keep the installation tight. All of these things work together to make it an excellent choice.
The SIG12 was developed so that the projected image covers 100% of the entire screen. It is the largest screen that SIG has to offer, measuring 12 feet wide, making it larger than both the SIG8 and the SIG10 while still being able to fit into most locations.
SIG screens and enclosures have been extremely popular with people we know who have used them; this is on top of the fantastic results we've had with our tests. Because the price difference between the SIG10 and the SIG12 is negligible, we believe SIG12 is an excellent investment.
Features
Because it is roughly 12 feet wide, the SIG12 is its given name. When you see it in person, you will be astounded by how large the screen is because it is 11'5" wide by 8'7" high.
The screen is made of polyester with a dense knit and is designed to accommodate a projection with a 4:3 aspect ratio. It is also able to endure ball speeds of up to 250 miles per hour. The SIG12 also has protective foam cushioning, black nylon walls, a powder-coated steel frame, and a bottom weight strip.
You may complete the assembly and installation process in under an hour as you use fast connectors to join the frame together and use bungee cords to secure the screen to the frame.
Allowing you to swing your longest club comfortably, the SIG12 requires an area at least 14 feet wide, 10 feet high, and 20 feet deep. Let's not forget the additional 12" needed between the wall and the back of the screen to avoid ricochets.
The walls of this enclosure are made of strong nylon. In addition, foam cushioning helps protect the poles of the enclosure from any errant shots.
Pros
Large enclosure size allows for plenty of space to swing
Made with durable materials for long-lasting use
Easy to assemble with included instructions
Cons
More expensive compared to other options
May take up a significant amount of space in a room
Give the SIG12 a consideration if you can afford a high-end simulator enclosure and if you have the space to accommodate a large screen that will blow your friends' minds. The customer assistance is excellent, and they will assist you in completing all of the necessary steps. If you can afford to pay more, we encourage you to upgrade to the SIG12 Simulator Flooring, which will give a cleaner look to your system.
SwingBay Golf Simulator Screen & Enclosure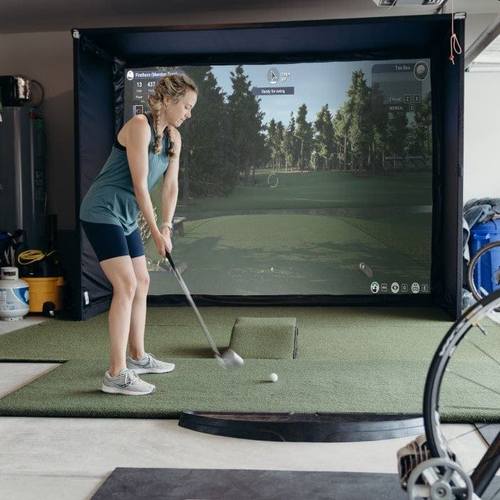 The SwingBay Simulator Screen & Enclosure is one of the most technologically advanced, and long-lasting enclosure packages you can purchase today. It was developed by Rain or Shine Golf, which is widely regarded as one of the most reliable golf equipment providers in the golf industry. Therefore, you do not need to worry about the performance or quality of their products.
The package comes with a durable and reliable assembly framing system and a heavy-duty impact screen. It is durable enough to endure even the most powerful of your shots (up to 250 mph) for many years to come without showing any signs of wear and tear.
Features
The impact screen is designed to provide you with the most realistic experience possible during the simulation. The screen has a width of 9'8" and a height of 7'3", and it has been calibrated to have a perfect image aspect ratio of 4: 3, strong contrast, and crystal clear image quality thanks to the blacked side and upper walls.
The enclosure has a longer lifespan thanks to the use of industrial grade polyester. Additionally, the structure shields the projected image from any outside light, which helps to maintain the highest possible image quality.
In addition to that, there is a bungee system for attaching the screen to the frame and a framing system that is 8 feet by 10 and 1/2 feet deep. Although the enclosure walls do a good job of blocking out some light, the greatest results can still be achieved with a projector that has 3000 lumens or more.
Pros
Comes with a high-quality impact screen for a realistic golf simulation experience
Enclosure can be easily assembled and disassembled
Excellent picture with the blacked side and top walls
Very realistic experience with the excellent-quality turf
Cons
More expensive compared to some other options on the market
Enclosure may not be as large as some users prefer for a comfortable swing
You won't be left in the lurch with this: you may get assistance from a trained specialist in selecting the appropriate accessories and complete assembly instructions and sizing standards for each component.
PerfectBay Golf Simulator Enclosure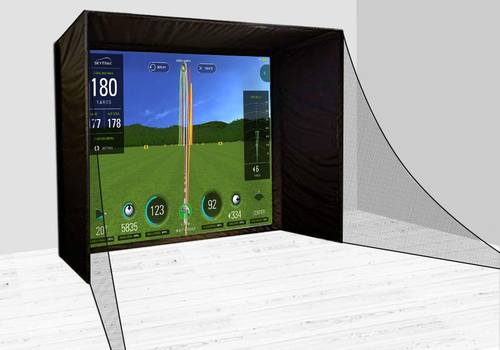 The PerfectBay Golf Simulator Screen Enclosure makes it possible to have an actual golfing experience in your own house by shading the screen on both sides and on the top. This results in the clearest and brightest image that is possible.
Any shots that are taken and miss the screen or bounce off of it are safely caught by the enclosure, which is 5ft deep. Additional protection is provided by the presence of side netting.
Features
The PerfectBay impact screen features a very smooth surface with a premium triple-layer construction composed of tight-knit, heavy-duty, impact-resistant polyester. This design gives the screen its very smooth appearance. The middle layer is responsible for reducing the amount of noise produced by the hits of golf balls.
It has a depth of five feet, and when combined with the side nets, it can catch even the strongest of mis-hits (of speeds up to 250 mph).
Three different sizes of the enclosure are available to ensure it can be installed in any space you have. First, the regular PerfectBay measures 10.5' W x 5' D x 8' H, has a 144" diagonal screen and requires a minimum space of 12'W x 9'H x 16'D.
The Perfectbay Plus enclosure is 12' w x 9'H x 5' D and requires a minimum space of 14'W x 10'H x 16'D; the screen is 164" diagonal.
The largest option, with a 16:9 aspect ratio and 177" screen diagonal is the Perfectbay Wide. The minimum required space is 15'W x 9'H x 16'D.
Pros
Large enclosure size provides plenty of space for a comfortable swing
Made with durable materials
Safety guaranteed thanks to the side nets and the sealed screen with no space for the balls to go through
Cons
More expensive compared to some other options on the market
Assembly may be challenging for some users due to its size and weight
The Perfectbay golf simulator enclosure is a top of the line product from our friends at Top Shelf Golf, intended to provide an immersive and realistic virtual experience with crisp images and vibrant colors. Its multilayer fabric construction and smoother surface make it a great option for golfers wishing to invest in a premium golf simulator setup.
Carl's Place Pro Golf Enclosure With Impact Screen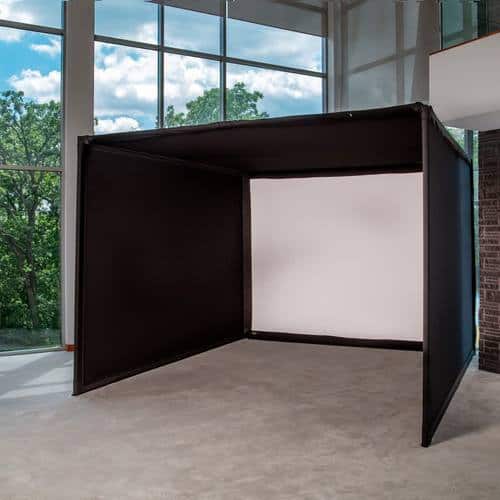 For those who are serious about their golf game, Carl's Place Pro Golf Enclosure with Impact Screen is a must-have. This top-of-the-line golf simulator enclosure offers a perfect balance between high-end performance, easy installation, and amazing personalization options.
This commercial grade simulator enclosure is perfect for golf lessons, home use, or even a high-end man cave.
The Pro Golf Enclosure Kit comes with a smooth, solid black knit fabric enclosure, a Premium triple-layer golf impact screen, shot-absorbing border cushions, and connector fittings that fit 2" EMT pipes (pipes sold separately).
It is also possible to purchase a Pipe Framing Kit, which includes pre-cut and marked 2-inch EMT pipes, so you don't have to make a trip to the hardware store.
No matter what size or depth you choose, the Pro Golf Simulator Enclosure Kit comes with the highest quality materials. The triple-layer golf impact screen offers a smooth surface for a bright, clear image, while the black knit fabric enclosure will look great in any indoor space.
To protect golfers, there are four memory foam cushions that surround the screen. You can also choose to add on Safety Baffles, Launch Monitor Mounts, and Projector Mounts, among other things to complete your enclosure.
Pros
Smooth, solid black knit fabric enclosure
Premium triple-layer golf impact screen for extended durability
Shot-absorbing border cushions for more safety
Connector fittings for 2' EMT pipes & Pipe Framing Kit available
Smaller standard sizes available
Customizable for any need
Cons
Pipes sold separately
Not suitable for low ceilings
Overall, Carl's Pro Golf Enclosure is a great choice for anyone looking for a top-of-the-line golf simulator enclosure. With all the bells and whistles, this enclosure will not only give you the performance you need, but also the look to make your space feel like a true golf course. With all its customization options, it's no wonder why this golf simulator enclosure is one of the best on the market.
HomeCourse ProScreen 180 Retractable Screen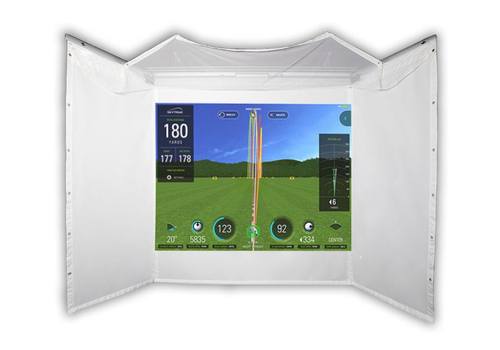 The HomeCourse Pro Screen Enclosure is an innovative, cutting-edge, and fully retractable indoor golf simulator screen that enables you to convert your living room, garage, or basement into an indoor driving range or golf simulator studio in a matter of seconds.
The HomeCourse Pro Screen Enclosure was designed to revolutionize the indoor golf simulator industry. The retractable screen is the most portable device of its kind now available on the market. Thanks to its wireless and battery-powered design, it enables you to transform any space back into its initial configuration.
This screen is constructed with a material that is suitable for use in ballistic applications. As a result, it is able to withstand repeated hits from even the hardest hitters utilizing real golf balls. The Pro-arms and sky netting combination provides the unit with defense from mishits and encircles it completely. This cutting-edge tool gives golfers of every skill level the opportunity to improve their game whenever, wherever they choose to.
Features
There are no restrictions on whether the projector or golf simulator can be used with the HomeCourse® screen. You may play a round of virtual golf by yourself, or you can get competitive with your friends and family. The price is a fraction of what it would be for a standalone simulator of professional quality. In addition, given that it is retractable, there is no requirement that a whole room be set aside for its assembly.
Pros
Retractable design allows for easy storage and use
High-quality impact screen
Retract and deploy with the push of a button
Installation is a breeze
Battery-operated motors that works for months on a single charge
Cons
A little bit on the expensive side
The screen is constructed from a ballistic-grade material that is meant to absorb the impact of a golf ball when it is struck by a full-swing shot from point blank distance. The bottom of the screen bends in such a way that it allows the ball to roll back to your feet. You only need one ball, sufficient space to swing it freely, and the freedom to let it fly.
SIG8 / SIG10 Golf Simulator Enclosures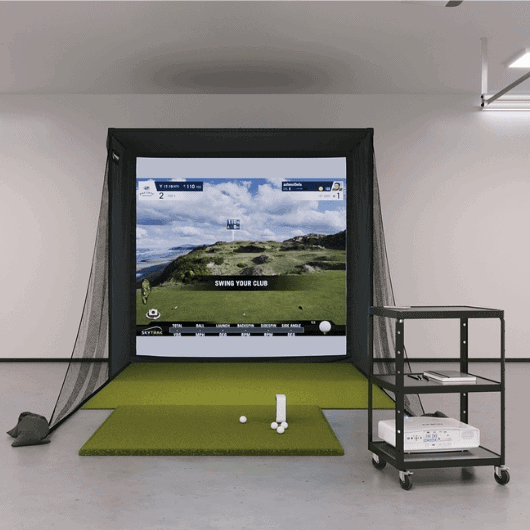 Along with our top pick- the SIG12, the SIG8 and SIG10 Golf Simulator Enclosures from The Indoor Golf Shop are part of their top-of-the-line Signature Series of enclosures.
The SIG8 is designed to fit within compact spaces and provide an immersive golf experience with its HD quality SIGPRO Premium Screen. The frame assembly is easy to set up with color-coded push pin poles and connectors that make it easy to assemble and take down.
The side barrier netting helps protect the area around your setup from stray golf balls and includes sandbags to anchor and ensure a tight net.
The SIG10 includes the same components and build materials, but is larger; it is 10' wide, while the SIG8 is 8 feet.
The screen in both enclosures has been tested to withstand golf ball strikes up to 250 MPH and comes with protective foam padding that attaches to the left, right, top, and bottom of your frame for further protection for the poles and the surrounding area.
The SIG8 golf simulator enclosure is perfect for those with limited space, as it can fit into most spaces. Its physical dimensions are 8'4"H x 8'4"W x 5' D. The SIG10 measures 8'4"H x 10'10"W x 5' D, which means it needs more space.
Pros
Easy assembly with color-coded push pin poles and connectors
Protective foam padding for poles and surrounding area
SIGPRO Premium Screen for realistic golf experience
Side barrier netting with sandbags for protection
Fit into most spaces
Cons
you may need more than 9' high ceilings to install the enclosures
For those looking for a realistic golf experience in a compact space, the SIG8 Golf Simulator Enclosure is an excellent choice. The SIG10 will work in larger spaces. However, the entire SIG lineup includes the same components using the same sturdy materials to ensure durability.
The main difference between the three enclosures is their size, so check your available space before deciding which SIG enclosure is the right one for you.
SIGPRO Premium Golf Simulator Screen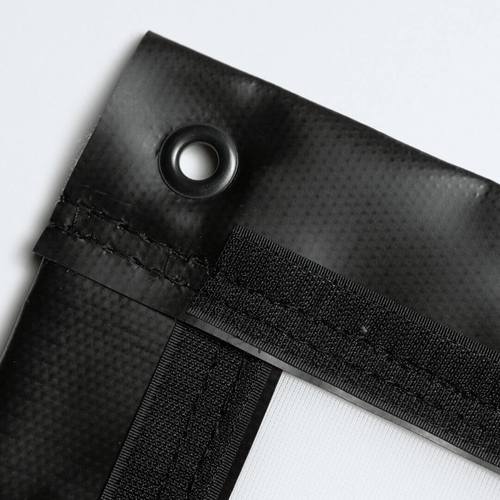 The SIGPRO Premium, from Shop Indoor Golf, is one of the best standalone screens you can buy right now: a product developed over months of research by one of the best manufacturers in the world.
It has exceptional longevity, delivers a beautiful image, and has decreased sound and bounceback, among other beneficial characteristics. In addition to this, it comes in a wide variety of different sizes (up to 10 square feet) and aspect ratios so that it can be customized to meet your needs.
You can choose between 1:1, 4:3, 16:9, and 16:10 aspect ratios, with each one providing multiple screen sizes to ensure perfect fit in your available space, regardless of how large or small it is.
Features
Let's begin with the components that make up the screen. The material is dense and silky smooth, and it is made up of vertical spacer yarns that are sandwiched between two surfaces made of heavy-duty, impact-resistant, tightly knit polyester. The end product is a one-of-a-kind surface with three layers that:
reduces the amount of noise caused by the hit of golf balls.
absorbs a greater proportion of the force of impact, resulting in reduced bounceback
cuts down on the length of time a golf ball spends spinning when it is in touch with the screen that results in lowering the amount of wear
The smooth spacer mesh fabric prevents bleed-through to a minimum, does not exhibit pixelation or a grain effect, and is capable of displaying clear images with up to 4K resolution.
The screen has grommets and double-stitched vinyl edges that are black in color all around it. The final edges are equipped with heavy-duty hook-and-loop Velcro, which enables simple integration with netting, bumper borders, enclosure blackout walls, and other similar components.
Pros
Plenty of customization options (Aspect ratios & sizes)
SIG quality and durability guaranteed
Perfect impact and sound absorption thanks to the three-layout construction
Excellent image quality when paired with a good projector
Cons
Quality comes at a price! You get the screen only for that price.
The SIGPRO Premium screen is able to resist ball speeds of up to 250 miles per hour and comes with a one year performance guarantee. Combine it with a good frame and you will get yourself an enclosure that will last you a very long time.
SIG DIY Golf Simulator Enclosure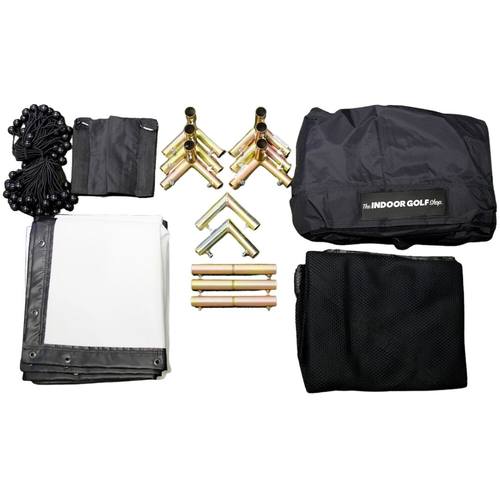 If you enjoy working on projects and wish to save money, this simulator impact screen and enclosure that you can assemble yourself is great for you. It comes with everything that is included in The Indoor Golf Shop's SIG Series, with the exception of the framing, which you are responsible for sourcing and building on your own. If you love fiddling, this is a great project for you!
Features
The SIG DIY Simulator Enclosure is the simulator impact screen that offers the most bang for the buck. DIY projects require some level of dexterity, but if you have that, you can save roughly 60 percent of the cost of the SIG12.
You also get a SIGPRO Premium Screen, which will ensure that your projections are of superior image quality.
The enclosure's side and top walls are constructed out of a long-lasting vinyl material called the SIG Surround, which also makes up the enclosure. This provides a sophisticated appearance while also connecting the golf impact screen to the enclosure. Foam cushioning safeguards the frame.
The addition of side barrier netting affords an additional layer of safety to the space around you. Sandbags serve as an anchor for the net, ensuring that it remains taut and ready to catch any errant golf balls.
Pros
Great price point
Perfect for DIYers
High-quality components
Different sizes of the enclosure are available
Cons
Nothing we could think of
This do-it-yourself enclosure is available in three distinct sizes: 8'x8', 8'x10.5' and 9'x12'. So, make sure that you check out the minimum space for each one.
Carl's Place DIY Golf Simulator Enclosure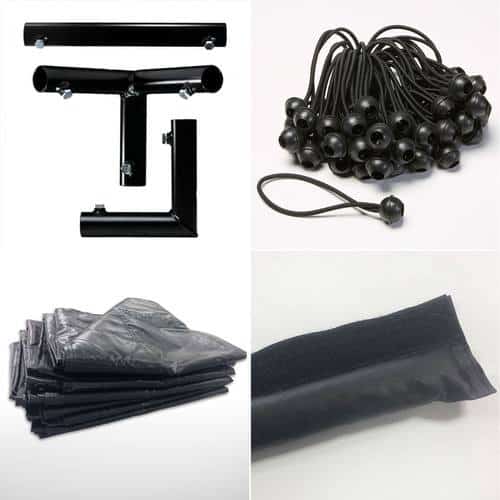 Carl's Place offers a DIY golf simulator enclosure that is highly customizable, allowing you to choose from a variety of screen materials, sizes, and optional accessories. You can even request a custom size enclosure down to the inch. This makes for a great cost-saving option compared to other brands' enclosures.
Starting with the screen material, Carl's Place offers three options. The Standard screen is a loosely woven, heavy-duty polyester, perfect for beginners. The Preferred screen is a heavy-duty polyester with a tighter knit and smoother surface, offering better image quality and strong silicone reinforcement. Finally, the Premium screen is a triple-layer, heavy-duty polyester with noise-dampening qualities, the smoothest surface, and the best image quality.
Carl's Place also offers six enclosure sizes, with the option to request a custom size. For DIYers, they provide all the necessary pipes and fittings for the frame, as well as foam inserts for protection, side barrier netting to catch bad shots, and a Carl's Place 4'x5' hitting mat. The Pro enclosure is available for those who want to mount electronics. also included are ball bungees, Nylon blackout walls and a weight bag.
Pros
Highly customizable
Variety of screen materials, sizes and custom size options
Foam inserts for protection
Side barrier netting to catch bad shots
Carl's Place 4'x5' hitting mat included
Pro enclosure for those who want to mount electronics
All installation hardware included
Cons
No way to save on screen material- It's gonna cost!
Carl's Place DIY Golf Simulator Enclosure is a great choice for golfers who want to save some money but still get a high-quality product. It's highly customizable, allowing you to choose the size, screen material, and optional accessories that fit your budget.
What I love most about this golf simulator enclosure is that I can get all the same features of a top-of-the-line enclosure at a fraction of the price.
The Net Return Simulator Series Net & Screen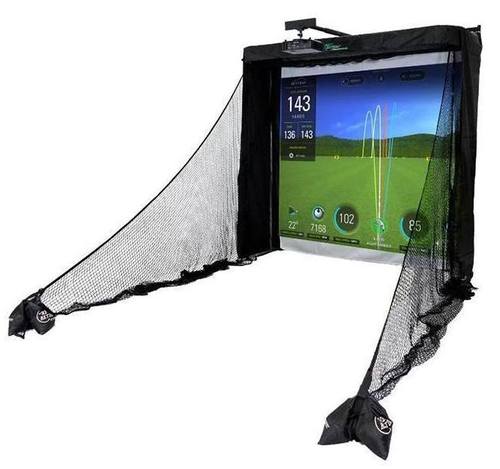 This Net Return Net/screen is available in different sizes. It is a high-quality, uncomplicated simulator screen that merely needs to be wrapped around the front of the Home Series Net in order to turn it into a full-fledged golf simulator screen.
The hanging structure reduces bounceback, reducing the effect and wear on the screen. You won't have any trouble switching from golf simulation to general net practice when you use a Home Series screen because you can do it very quickly.
Features
The screen is constructed out of a brilliant, heavy-duty polyester fabric that can withstand even the most intense driving. It is quite simple to attach, thanks to the included velcro tabs.
The standard screen is 7'2"W x 8'3"H. Due to the screen's square design, we advise employing a 4:3 aspect ratio when working with your projector. The 10' large option measures 9'2"W x 8'3"H; both require a minimum installation space of 12'W x 9'H x 12'D. The 12' version is 11'2" wide and 8'3" high and requires a minimum space of 14'W x 9'H x 12'D. They all have the same throw ratio of 0.5:1 with different projector mounting distances (because of the difference in size).
Pros
8', 10' and 12' wide options of the screen
Interesting optional projector mount kit
Doubles up as a net and hitting screen
Floating screen design to eliminate bounce back
Cons
The cool projector mount kit only works with the 8' version of the screen
The screen will arrive folded, and it is possible that it will have creases; to remove these, you can either steam it or use a clothes iron set to the medium setting. We do love the projector mount and wish it were compatible with all size options.
Cimarron Impact Projection Screen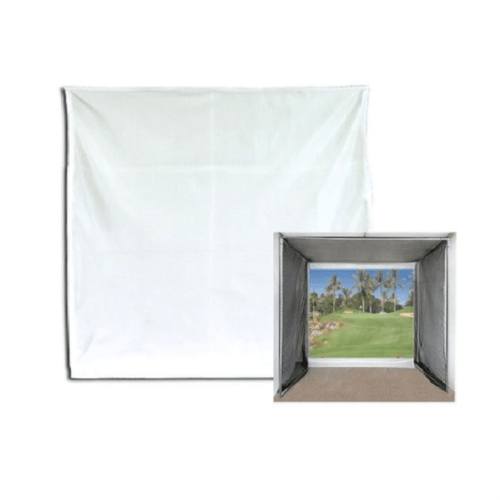 This do-it-yourself golf simulator screen by Cimarron is straightforward, yet it delivers outstanding results. It is manufactured entirely out of commercial-grade polyester and is 10 by 10 feet.
Not only is it ideal for use with a simulated projector due to its flatness and whiteness, but it also can serve as both an impact screen and baffle net.
It has no trouble handling real golf balls traveling at very high speeds. The topstitching of the screen can be fastened to any structure by using either a bungee or rope fastening mechanism.
We recommend purchasing the Cimarron Masters Golf Net and Frame in conjunction with this screen if you have room for it.
Features
Because of the one-of-a-kind materials utilized in its creation, the 10' x 10' Impact Projection Screen is exceptional when it comes to absorbing the impact caused by golf balls when they come into contact with it. The level of protection offered by this high-quality screen may frequently compete with that provided by the priciest baffles on the market, despite being more affordable. The 10' by 10' Impact Projection Screen may serve a dual purpose, as it can also be used as a projector screen both indoors and outdoors.
Pros
high-quality impact-resistant material for more durability
Easy to set up and install in a variety of locations
Can be used for both indoor and outdoor practice sessions
Affordable compared to other options on the market
Cons
Does not come with a frame or enclosure, so it must be mounted or hung separately
May require additional hardware or equipment for installation
The 10' x 10' Impact Projection Screen is the greatest dual-use golf screen currently available on the market. It is made of 100 % commercial polyester and features a projection screen as well as a golf impact baffle.
How to Choose the Best Golf Simulator Enclosure?
These are some of the factors you need to consider in selecting the best golf simulator enclosure for your game: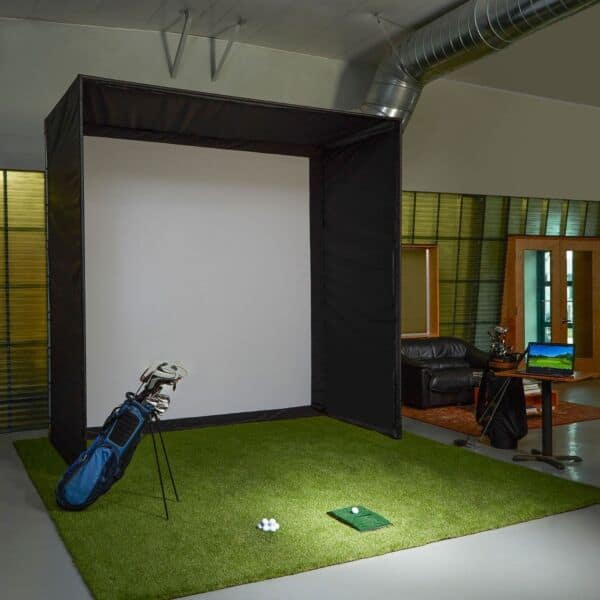 Space
You can narrow down your golf simulator screen and enclosure to a certain style as long as you consider the amount of space available for your simulator. The more room you have, the more customization possibilities you'll have when it comes to designing the ideal indoor golf simulator for your needs.
It is essential to determine the accurate measurements of the frame as well as the size of the golf screen that you will acquire based on the amount of space that is available.
Actual Frame Dimensions
Now that you have a firm grasp on the first important consideration, go to the product website for the golf enclosures and look up the actual frame dimensions there. On the product page, you'll find all of the enclosure dimensions, including height, width, depth, visible screen, and other relevant information.
Durability
It is essential to give serious thought to the longevity of a golf impact screen. After a few successful strikes with the driver, you do not want to risk creating a hole in the screen.
Not only does the screen need to be able to accommodate high ball speeds, but it also needs to do so repeatedly. For this reason, you should look for a screen that is constructed out of long-lasting material, just like the displays on our list.
There is no denying that certain screens are more long-lasting than others. Before making the investment, you should consider how often you will use the screen. The more you plan to use it, the higher quality and length of its lifespan should be on your priority list.
Aspect ratio
Simply put, aspect ratio describes the physical dimensions of the image that is being displayed. If the projector and screen have the same ratio, the image will fill the entire screen, and black masking bars won't appear.
Because it enables you to go higher, giving you more area to swing, the 4:3 aspect ratio is typically more prevalent for golf simulators. This is because it does not require a larger room. This ratio is shaped like a cathode ray tube television.
If you have room for it, the 16:9 aspect ratio is ideal for displaying 4K and HD images. However, this aspect ratio requires a minimum of 14 feet of width to be available. This proportion takes the form of a standard television screen.
A common aspect ratio for computer displays and tablet PCs is 16:10, which stands for sixteen by ten. Still, if one looks hard enough, one should be able to locate a projector that is capable of displaying this aspect ratio.
The ratio of 1:1 is a square and is not a normal ratio; yet, it may work in situations where there is a limitation on space, despite the fact that this increases the likelihood of seeing black bars. Use a projector capable of a 4:3 aspect ratio if your enclosure is square. This will allow you to use the totality of the screen space. 
Budget
When looking for a simulator screen, your financial constraints are, of course, a very crucial consideration. There are solutions available that have a lower price point, which is excellent because not everyone can afford screens and enclosures that cost more than $3000.
Having said that, you should be aware that the less money you pay, the less you will often get in return. This could manifest as a screen material of inferior quality (with less durability), a smaller size, or the absence of an enclosure and side barrier netting.
For golfers who are concerned about their budget, one great option is to look for a device that is built from strong and durable material to avoid making the investment more than once.
Screen
A bad screen can ruin the experience of using a golf simulator. So, what are the characteristics of a good screen?
A good screen has the capability of accommodating a crisp, well-lit, and high-quality image while minimizing graininess and bleed-through to the greatest extent possible. The surface should have as little roughness as possible.
It should be able to withstand the test of time without becoming ripped, torn, or frayed in any way. In addition, there needs to be some degree of padding, which reduces the amount of noise that is produced. This requires a certain amount of impact absorption, which will help reduce the amount the ball bounces back.
Also, make sure to take note of the highest ball speed that an impact screen is touted as being able to manage. If you go beyond this, there is a possibility that you will tear a hole in the screen. In a basic sense, any speed that is less than 250 miles per hour should be fine.
Knowing that the world record for the fastest golf ball speed, achieved by Kyle Berkshire using a driver, is 236 MPH is reassuring that a screen that stands 250 mph shots will be more durable, as the vast majority of golfers will never come close to Berkshire's speeds.
Your own situation will dictate the weight that you give each of these considerations, and you will be responsible for making that decision.
Frequently Asked Questions
Here are some of the frequently asked questions on golf simulator enclosures:
How Long Do Golf Impact Screens Last?
A golf impact screen designed for individual usage should last at least one year, although in most cases, it will last longer. Obviously, this is dependent on how frequently you use it as well as the number of golf balls you hit, and your swing speed. 
There are golf impact screens available that are rated to last for up to 5,000 shots. On the other hand, there are premium screens that can withstand up to 15,000 shots.
Can You Use a Normal Projector Screen for A Golf Simulator?
It is not possible to utilize a standard projector screen with a golf simulator. Instead, you will need to make use of an actual golf impact screen when using a golf simulator.
Due to the tremendous speed at which golf balls travel, it is simple for them to create a hole in a conventional projector screen. That won't just destroy the screen, but it could also put someone in harm's way.
How Far Should the Screen Be From the Hitting Mat?
There should be a minimum distance of 6 feet between the hitting mat and the screen, with the maximum distance being approximately 14 feet. The ideal spacing between them is eight to ten feet.
Nevertheless, this is dependent on the system that you are utilizing. Always check with the manufacturer to determine the ideal distance that should be maintained between the tee point and the screen.
Can I Use an Impact Screen Outside?
Technically speaking, yes, a golf impact screen can be used outside. However, we recommend doing so in a covered area, such as a docking space with a kazeboo cover to protect your valuable investment from the element. 
It is still preferable to use the impact screen indoors for extra peace of mind, and that's what golf simulator owners usually do.
How Realistic Is a Curved Simulator Screen?
With a curved screen, the experience is definitely more realistic and immersive because the player feels surrounded by the course and its elements. 
Still, it should be noted that the packages that include a curved screen are usually premium setups that cost in the 50K+ price range. Going for a curved setup will require more dedicated space, installation time and a higher budget. Not everyone will be able to afford this kind of system!
Final Thoughts
You will want the best golf simulator impact screen and enclosure for your needs, regardless of whether you put a lot of time into practicing on your golf simulator or use it to entertain your family. The image that is displayed on the screen must be crisp and well suited for the virtual driving range and golf course.
Bring the driving range to you and improve your game without having to leave the comfort of your own home, garage, barn, backyard, or any other location that is large enough for you to swing a golf club.
In addition, you need something that can withstand the abuse of having golf balls smashed into it repeatedly. In a golf impact screen, there is no place for any kind of vulnerability.
WRITTEN BY

My name is Jacob, a self-diagnosed equipment and golf enthusiast. I've been golfing since I was 15. Golf has always been my passion. I'm a bit of a golf equipment nerd and I've been that way since the moment I picked up a club for the first time. As someone who's been on both sides of the game, I know what it takes to be a good golfer. Of course, you need good equipment, but you also need to know how to use it. I hope sharing my experience with you will help you improve your game.
You May Also Like