The 9 Best Golf Simulators for Garage
Last updated:
October 21, 2023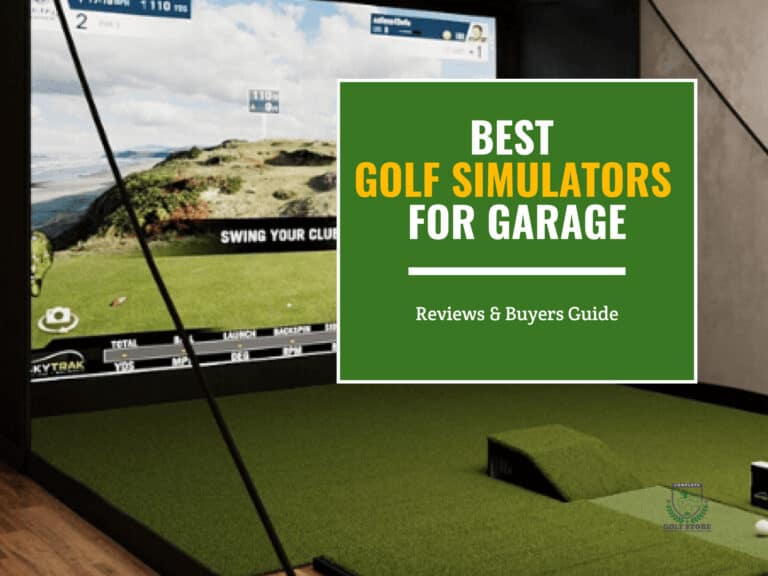 Disclaimer: We may earn a small commission from some of the links on our website. However, our reviews and comparisons remain fair and unbiased. Our goal is to help you make the best choice. For more information, please see our
disclosure statement
. Thank you for your support.
Key Takeaways
The Foresight Sports GCQuad Flex Space Package is our top pick for the Best Golf Simulator for Garage. It includes the most advanced photometric launch monitor on the market, a retractable screen that is easy to install, and a durable hitting mat. The package is expensive, but it is worth the investment if you are serious about improving your golf game.
Many golfers cannot buy a simulator system for many reasons; some can't afford the price, while others don't want to disturb the rest of the family by installing a massive enclosure inside the house. Some players simply don't have enough space indoors for a sim package.
That's why many people decide to set up a golf simulator in their garage. We will deal with many issues related to this practice in more detail later, but for some, that's the only way to indulge in their favorite sport at home.
In this article, we have tested many packages to compile our list of the best golf simulators for garage use. We based our testing on criteria like budget, space, needs, preferences, etc.
Keep reading for more!
No time to read the whole article? No worries. We've done the work for you and compiled a list of the top performers.
| Product | Features | Our Rating | |
| --- | --- | --- | --- |
The 9 Best Garage Golf Simulators - Detailed Reviews
In this part of the article, we will go through the reviews of our top golf packages for the garage. We did our best to include systems of different price ranges and that use different tracking technologies to have as much variety as possible.
The following are our top selections based on our own testing, research, and experience:
Foresight Sports GCQuad Flex Space Package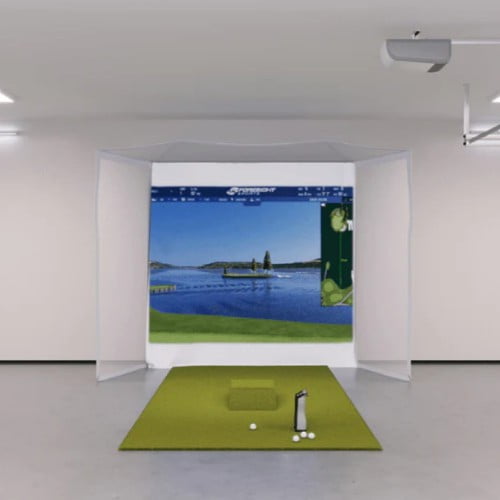 You can't go wrong with the GCQuad, Foresight Sports' most technologically advanced launch monitor. It is a photometric device that relies on four integrated high-speed cameras (combined with Infrared sensors) to track all the details of your swing, golf club and ball and provide some of the most detailed and accurate instant feedback any monitor can offer. That's why it's trusted by many golf professionals, including Rory McIlroy and Phil Mickelson.
The Flex Space enclosure and screen are designed to fit in the smallest of spaces and include the HomeCourse Pro Retractable screen that deploys and retracts as needed in a matter of seconds (with the included remote). It is made of sturdy materials to guarantee durability, so you can swing as fast as you can and the screen will be able to withstand your shots.
The included hitting mat is the SIG Pro Turf Golf Mat; it is 10' long (and 6' wide) to ensure the ball returns back to you after hitting the screen. It also provides an incredible feel that mimics the real thing. Moreover, it is designed to be easily rolled (like a carpet) and stored to help save space.
The package features Foresight Sports' own FSX2020 and FSX Play software, but it's also compatible with Trugolf's E6 Connect and Creative Golf 3D, just in case you prefer one of them. An interesting feature of the GCQuad is that you can get your metrics without hooking it to any other devices, something Foresight Sports calls "Direct-to-Screen-Output".
What's included
GCQuad monitor, USB cable, power cable & adapter, alignment stick, club marker dispenser.
FSX 2020 simulation software
SIG Pro Turf Mat & HomeCourse Pro Retractable Screen
1080P short throw projector & floor mount enclosure
HDMI cable (15')
Screen remote
Pros
The most advanced photometric launch monitor to date
Pinpoint accuracy
Screen remote-controlled / Retracts in around 30 seconds
Portable launch monitor
Cons
Pricey (quality comes at a price)
The Foresight Sports GCQuad Flex Space package includes the best monitor that photometry has to offer and couples it with one of the easiest to install screens and enclosures. The remote control makes everything simpler and faster, as the screen retracts with the push of a button and the mat can be rolled and placed somewhere safe whenever you need to use your garage for any other purposes.
This is an expensive package, but if you can afford it, it is totally worth it.
The recommended space to install the package should be 12' long, 12' wide and 8'6" high.
Skytrak Retractable Package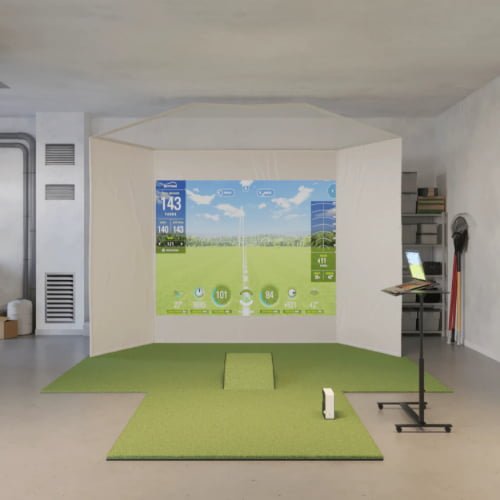 Next on our list is a system that uses the best value launch monitor and simulator - Skytrak - Voted best value monitor three years in a row by Golf Digest.
It is an extremely accurate yet affordable unit that tracks your ball and measures things like launch angle, ball speed and spin rate; these metrics are then used by the software to calculate other data points like the angle of descent, club head speed, carry and total distances, roll, offline, flight path, etc.
The package comes with the Skytrak app and Game Improvement software included in the price (upgradable to the Play & Improve plan, TGC2019 or other software options).
The HomeCourse Retractable Hitting Bay is fully retractable with the push of a button, making the package easy to store whenever not in use.
You also get to choose the size of your hitting mat, depending on your available space. You can choose between the 5' x 5' Swing Turf Hitting Mat & Landing Pad Turf or the larger 4' x 9' variant. You can also choose a ceiling mount or a floor enclosure for your simulator projector.
Optionally, you can include a gaming laptop and stand with your package so that you can run the simulation without any lag or stutter.
To set up the package in your garage, you will need a space that is at least 9' High x 11' Wide x 12' Long. There is no need to dedicate that space to the system; everything can retract once you're done playing.
What's included
Skytrak monitor & protective case, Skytrak app, Game Improvement software.
HomeCourse retractable screen & ceiling mount kit
Choice of hitting mat & landing pad turf
Optoma 1080P projector (short-throw) + ceiling and floor mounts
Ball tray
Birtees pack
Optional: Gaming laptop, sleeve, mouse pad, stand.
Pros
Affordable package
Great value for the money
Portable launch monitor
Retractable design & remote control
Real-life like hitting mat feel
Cons
If you plan to upgrade to the Play & Improve plan with WGT, remember that it's only compatible with IOS; no PC support for now.
Screen wall mount to be purchased separately (not included)
This Skytrak Retractable Golf Simulator doesn't need dedicated space to be used and is fully retractable (perfect for a garage setup). You will get great value for your money by choosing this package.
The screen is remote-operated and its motors use a rechargeable battery (that lasts for a very long time). Also, there is a great variety of compatible simulation software to choose from.
Uneekor EYE XO SIG8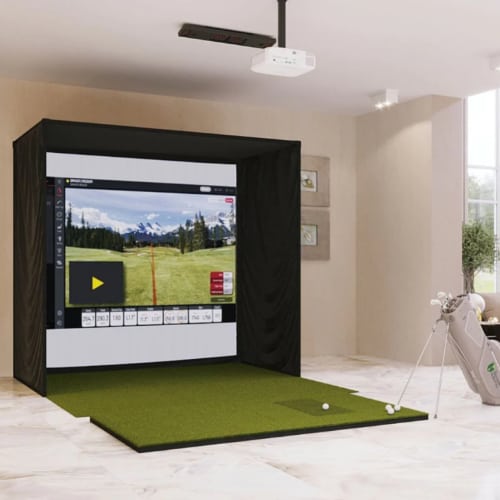 If you want to have a fixed setup that will fit perfectly in your garage and offers premium quality components, then the Uneekor EYE XO SIG8 package is the one for you.
The SIG8 is Shop Indoor Golf's smallest enclosure, specially designed to fit in most compact spaces but still offers premium performance. The enclosure was made using sturdy materials like tight-knit polyester and powder-coated steel framing. The screen can withstand ball speeds of up to 250 MPH. The projected image will fit 80% of the screen and be crisp and clear thanks to the blacked upper and side walls.
The EYE XO is Uneekor's high-end overhead launch monitor that was designed to be superior to its predecessor - the QED - in almost all performance aspects. The EYE XO uses their non-marking ball tracking technology, which allows the unit to track your ball and club without any kind of marking (something the QED requires). The dual camera tracking system provides accurate instant feedback in the form of useful metrics.
The package comes with the Uneekor View software but is compatible with many upgrades, including the View+ Refine (+1,000 dollars), the View+ Refine+ (+2,000 dollars), the View+ TGC 2019 (+950 dollars), and the View+ GSPro (+550 dollars). As usual, our top recommendation is the TGC 2019 plan, thanks to the great value that it offers.
Concerning the hitting mat, you can stick to the included 5' x 5' Fairway series or upgrade it to the SIGPro 4' x 7' mat (if you have the necessary space). Usually, we recommend the SIG8 flooring that covers the whole playing area (making the setup aesthetically appealing), but in the case of a garage setup, it may not be possible because the flooring requires a very large space (usually not available in garages).
The required amount of space for the package is 8'4" W x 8'4" H x 13'7" L.
What's included
Uneekor EYE XO monitor, ceiling mount & choice of simulation software
SIG8 enclosure & side nets
Panasonic VMZ50U short-throw Projector & ceiling mount
15-foot HDMI cable
Choice of hitting mat
Landing pad turf
Pros
Small size, easy to set up package
Premium quality components
Various software options to choose from
Compatible with the Uneekor Swing Optix cameras and Swing Motion software
Cons
Since this is a fixed setup, you need to ensure it's protected from elements like heat, cold and humidity - explored in more detail later.
The Uneekor EYE XO SIG8 system is perfect for use in the garage as long as you have the space for it and can protect it from excessive heat and humidity. It takes very little space but offers a great visual experience and a lot of fun thanks to its multitude of software features. If you have some more space, you can add the Uneekor Swing Optix camera (s) to the mix and have your full golf studio with slow-motion replay of your shots. This can help you improve really fast, and the overhead setup helps save some floor space.
Trugolf Vista 10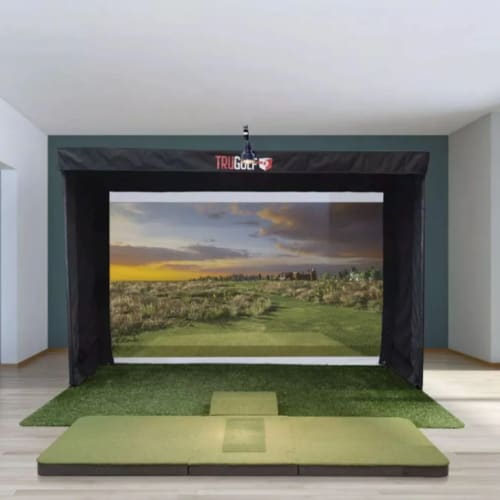 The Vista series of golf simulators by Trugolf offer a great deal of portability despite their massive enclosures. These all-in-one packages include hardware and software components that are all made by the same company, which will guarantee there will be no conflicts or compatibility issues between those components. Also, they are made of lightweight materials and are a breeze to set up, which makes them perfect for use in your garage.
The Vista 10 golf simulator package fits right in the middle of the series, which also includes the Vista 12 (the high-end model) and the Vista 8 (the smaller, more affordable option). It is a plug-and-play system, meaning that all you need to do is hook all the components together and turn the system on to immediately enjoy your virtual round of golf. No software installation or fiddling around is required, as the software comes pre-installed on the included Trugolf Vista Computer!
The package comes in two versions: the base and the pro. The Pro version includes more playable famous courses on the company's in-house E6 Connect and a more powerful computer (Level 2) to run the software, among other things (that we will be listing below).
The innovative Trutrack 2 detection and tracking system is integrated into the 3.5" thick hitting golf mat and tracks things like club path, ball speed, face angle, deviation, distance, etc. and the E6 COnnect offers plenty of features to keep you busy while playing virtual golf.
The actual dimensions of the package are 10' W x 15' D x 8' H with a 136'' diagonal screen size. But you will need a minimum available space of 15' W x 20' D x 10' H to house the beast. As you can see, the Vista 10 does require larger space compared to other systems on our list, meaning that it will fit in garages that are spacious enough. However, the main reason it is included here is its lightweight (300 pounds for all the components) and ease of setup and disassembly. You can move it around the house easily if need be.
What's included
Complete enclosure and frame with Fairway premium mat system (4'L x 9'W / 3.5" thick).
Trutrack 2 system
Impact screen (136 inches diagonal size & 4:3 aspect ratio)
720P HD simulator projector
21" Touchscreen Display
Trugolf Level 1 computer with E6 Connect basic subscription (1 year / 27 courses). Level 2 computer for the Pro model
1 year limited warranty
Overhead light bar
Side walls, side nets and audio system (only with the pro model)
Pros
Lightweight system (300 lbs for all components combined)
Easy to set up and disassemble (can be used during the off-season and stored when not used)
Large enough library of playable courses
Plug-and-play design; we especially love the Trutrack 2 system embedded into the golf mat.
Cons
Size may be an issue for some; a large space is required in your garage.
The Trugolf Vista 10 system is perfect for those of us who don't like fiddling around and fixing things because it is plug-and-play; even the software comes pre-installed for more convenience. The package is easy to install in a short time, and the whole thing can also be easily disassembled if you need to remove it from the garage and place it elsewhere else.
Depending on your available garage space (larger or smaller), you can also get one of the Vista 10's two siblings.
Uneekor QED Swingbay Golf Simulator Package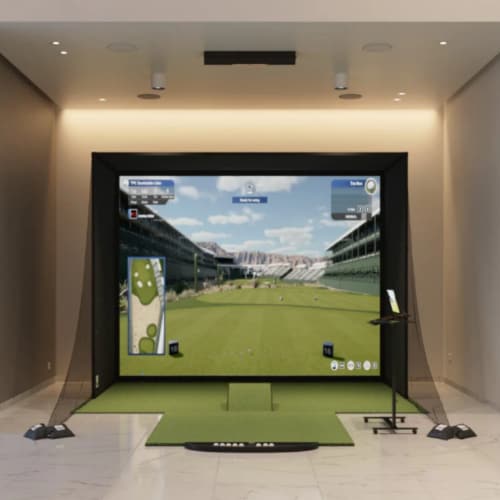 The Uneekor QED launch monitor is a more affordable alternative to the EYE XO that we reviewed earlier, mainly because the unit requires marked golf balls for detection. Other than that, the QED is a decent option that will provide accurate data through a combination of infrared and dual-camera systems recording videos at around 3000 FPS.
The package is sold with the View software that allows for video recording, playback and analysis through the company's Optix software. You also get club fitting and golf swing analysis tools that are upgradable to offer more features. This specific package offers the option to include The Golf Club 2019 simulation software with a huge course library.
The Swingbay enclosure is a premium product made from sturdy materials to offer the longest durability. It was built following customers' feedback and offers great performance and visual quality despite its relatively smaller size (with blacked walls combined with a 4,000-lumen projector).
The included SwingTurf mat offers unparalleled comfort and feel to help the experience be more realistic. You can choose from two different sizes (5' x 5' or 4' x 9').
The recommended space requirements are 9'H x 12'W x 16'D, but if you don't have that much space, the minimum requirements are 8'H x 10' 6"W x 16'D.
What's included
Uneekor QED overhead launch monitor & ceiling mount
Swingbay hitting enclosure & side netting
Uneekor View & TGC2019 software
Full HD 1080P projector with the SwingShield floor enclosure
2 x landing pad turf (5'x10'7")
Birtees
Optoma Full HD projector, floor enclosure and 25' HDMI cable
Optional: Gaming laptop with stand, sleeve and mousepad.
Pros
Premium enclosure with outstanding performance and quality
Overhead launch monitor helps with seamless hand switching
4,000-lumen projector for a crispy clear image quality
You can save a few thousand dollars over the EYE XO and still get an amazing experience
Cons
Marked balls are required.
The QED Swingbay Package includes a better value launch monitor that still provides an excellent performance (compared to the EYE XO). It is coupled with a premium enclosure that considerably raises the price tag but helps you get a better visual quality, feel and overall simulator experience.
If you want to squeeze even more value out of the QED, you can always get the Uneekor QED Flex Space Package.
FlightScope Mevo Plus Retractable Package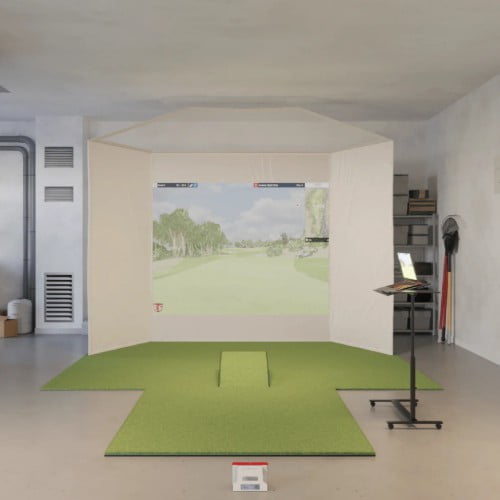 This is the first radar-based system on our list, which is also the cheapest so far. This is a budget-friendly package that offers a great bang for the buck.
The Mevo Plus launch monitor is a decent unit that provides 16 metrics of your golf club and balls; these include ball speed, clubhead speed, roll and total distance, smash factor, carry distance, side spin, spin axis, back spin, spin loft, launch angle (vertical & horizontal), angle of descent, and lateral landing.
Also, the monitor can record videos and offer playback with data overlay, and its built-in battery allows you to take it outdoors and use it for up to 5 hours; it also can recharge your other devices (your phone, for instance) in case the battery dies out.
The package comes with a basic subscription to the E6 Connect, with 5 playable courses; you can optionally choose an Ipad Pro or get a gaming laptop to run your simulator software and TGC2019 bundle instead (with the latter being our recommendation).
The unit is also compatible with multiple simulation software, such as Creative Golf 3D, GSPro, Awesome Golf, and even FlightScope's free golf software FS Golf, which provides challenges, session saving, real-time performance monitoring, etc., just in case you are only interested in getting accurate data of your shots.
The HomeCourse Retractable Enclosure includes a fully retractable screen and side nets if you need the space for other purposes when not playing. The screen and netting are designed to withstand your fastest balls, so durability is guaranteed.
Since the Mevo + is a radar Doppler unit, you can expect it to require more room depth, compared to photometric systems. Ideally, the launch monitor must be placed 8 feet behind the tee and have at least 8 feet of ball flight for the detection to be accurate. The minimum required space for the package is 9' High x 11' Wide x 17' Long. The larger the room, the better.
What's included
Mevo Plus portable launch monitor, carrying case & FlightScope App
Choice of software: E6 Connect or TGC2019
HomeCourse Retractable Screen + ceiling and wall mount kits
2 x landing pad turf + choice of hitting mat
1080P Optoma short-throw projector & floor enclosure
25' HDMI cable
Birtees pack & ball tray
Optional: Ipad Pro or gaming laptop + stand, Sleeve and mousepad (for laptop)
Pros
Great value for money
Retractable design to save space
The SwingTurf hitting golf mat offers a life-like feel
Excellent accuracy & plenty of metrics provided by the monitor
Cons
Radar Doppler technology requirement: 17 feet of room depth
The Mevo Plus launch monitor is a direct competitor to Skytrak, and they both are on par in terms of price range, accuracy and performance. It is an overall excellent product that won't cost you an arm and a leg.
We highly recommend this package for anyone wishing to squeeze every last bit of value out of their investment.
Garmin Approach R10 Bronze Package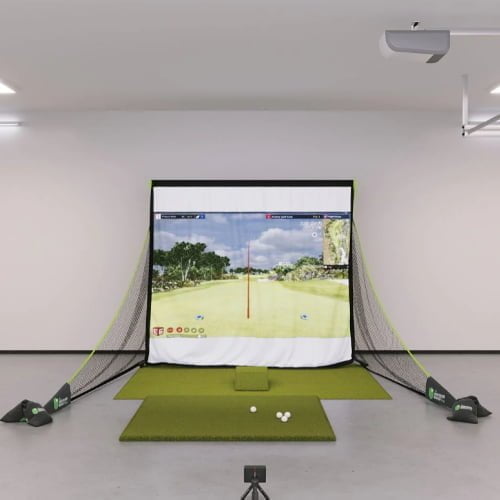 Another budget-friendly radar Doppler system makes it to our list. The included Approach R10 launch monitor is the only monitor today that can track golf club and ball metrics and offer simulation possibilities for a mere 600 dollars price tag (for the monitor only). It is highly portable and its battery can last up to 10 hours.
In addition, the R10 provides 14 metrics like the angle of attack, smash factor, face to path, club path, total distance, swing tempo, etc. It is worth noting, however, that all the data points are derived (calculated) from four main metrics that are directly measured, namely ball speed, clubhead speed, launch angle, and launch direction. The data is surprisingly very accurate, given the device's compact size.
The unit can also record, save and share videos through the Garmin app, using your phone's camera to capture the videos. It comes with a basic subscription to E6 Connect with 5 free playable courses. If you subscribe to Garmin Golf ($9.99/mo or $99.99/yr), you get plenty of additional features, online tournaments and plenty of famous courses to play.
The Bronze Package also includes the Net Return V2 Golf Net, side barriers and simulator screen; you get to pick between the Home (7'H x 7'W x 3'6" D) and Pro (7'6"H x 8'W x 3'6" D) versions. These are capable of returning the ball to your feet after it hits the screen, which is actually very practical. They can also stop your fastest balls without problems.
The SIG Pro golf turf mat completes the package and allows for continuous, uninterrupted ball return; it also provides a great feel to improve the experience and can be folded and stored once you finish playing.
What's included
Garmin Approach R10 launch monitor, phone mount, carry case, tripod stand, and Micro USB cable.
Trial to the Garmin App membership (you can pay for full access if you like it)
Net Return V2 net (home or pro), frame, side barriers, and screen
1080P sim projector & floor mount enclosure
15-foot HDMI cable & Lightning adapter (for IOS devices)
6' x 10' Pro Turf Mat (SIG Pro)
Pros
Excellent value for the money
Accurate readings of club and ball data
Affordable package & excellent performance
The Automatic Video Recording is a truly interesting feature
Cons
Mobile device (IOS / Android) needed to take full advantage of the R10
Given its price, the Approach R10 Bronze Sim Package is a great deal in terms of performance and accuracy. You get data usually offered by Skytrak, Mevo+ and up.
The whole package requires a recommended space that is 10' wide x 15' deep x 8'6" high. Bearing in mind that this is a radar system, requiring 15 feet or less of room depth is in itself a good thing to allow for setup in smaller spaces, like a garage!
The Uneekor EYE MINI + Carl's Place DIY Kit & Screen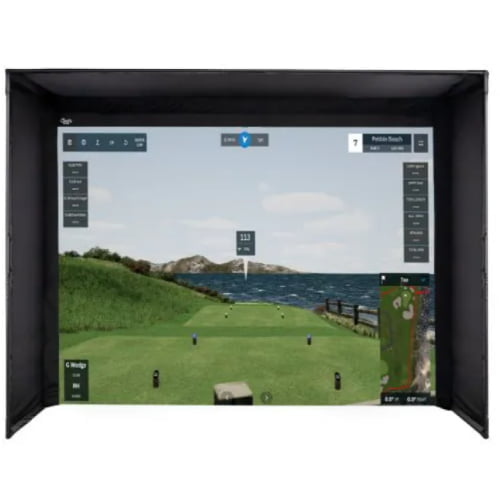 Uneekor's very first portable launch monitor- the EYE MINI sounds like an EYE XO that you can take with you anywhere you go and use on the driving range or the course.
The EYE MINI uses the same dual camera system coupled with infrared sensors as the EYE EXO. The Ultra-high-speed cameras allow you to track all the details of your shots, including the most important metrics related to your club and ball. For the best possible accuracy, club stickers are provided to help the unit better track the club head.
With a weight of around 7 pounds and a battery life of 6 to 7 hours, the EYE MINI is highly portable, and can be used indoors, in the garage, or outdoors. The strategically-placed display is very practical for showing the most important metrics (11 points), and if you connect the device to the View software on your smart device or computer, you will get more data points, 18 in total.
In addition to the View software, the EYE MINI is also compatible with GSPro, TGC2019 and E6 Connect software options (with additional costs).
For the enclosure to couple with the EYE MINI monitor, we suggest going for Carl's Place DIY Golf Simulator Enclosure Kit with impact screen.
This allows you to customize your enclosure and choose everything you need, from the materials to dimensions, the type of mounting kit, and the option to include their 4' x 5' hitting mat (or choose another one from here).
The only thing left to choose will be the simulator projector and mounting solutions, and Carlofet has a wide selection you can choose from over here. All the components are customizable to fit in your dedicated space.
Of course, this is only a suggestion, something I'd personally opt for because of the great quality that Carl's Place offers. Still, there are plenty of other enclosure options you can choose from. You can choose from Shop Indoor Golf, Rain Or Shine Golf or Top Shelf Golf. All of these vendors make some of the best quality enclosures on the market, so you can confidently buy from the one you prefer without any concerns.
What's included
Trugolf's EYE MINI launch monitor & accessories (carrying case & strap, software, club markers, CAT6 Ethernet Cable, power cable & adapter)
Customizable enclosure & components (we recommend the ones from Carl's Place)
Pros
Portable photometric unit from Trugolf
No lag time
Great performance and accuracy
Many simulation software options supported
Customizable components for the fiddler inside us
Cons
Projector not included with the DIY enclosure
Android devices not supported
We always try to take care of the golfers who like building and customizing things themselves to have unique packages, and that's why we included this review. The end result won't be the cheapest, but you can be sure that it will be pretty awesome and unique. This is for all those DIY setup lovers out there wishing to have their own touch on everything they own.
Foresight Sports GC3 Home Golf Simulator Package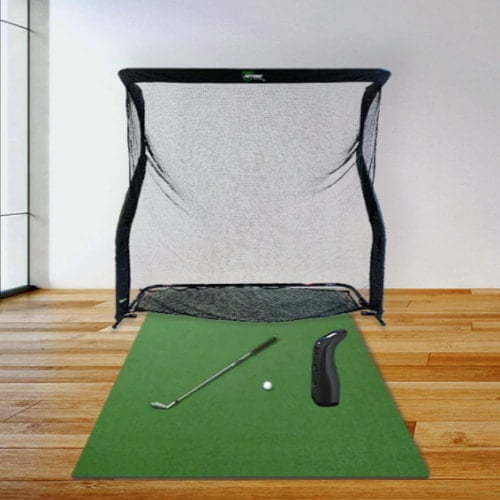 If you only want a reliable launch monitor to track your shots and swings with a hitting net to stop the balls, and don't feel like you need a screen, projector or virtual content, then this package from the guys at Top Shelf Golf is the right one for you.
The GC3 launch monitor is a very accurate professional-grade unit that is trusted by professional instructors, coaches and club fitters worldwide. The manufacturer had to cut some corners to keep the cost (much) lower than their flagship options (GCQuad, GCHawk), but the end result is almost as good as the GCQuad while costing nearly half its price.
The GC3 uses a triple-camera system to accurately track your balls and club and provide crucial metrics that you can see on the perfectly positioned display screen or through your smart device (using Wi-Fi connectivity). This will be perfect if you have a small space in the garage, as despite this package not being retractable, it's extremely lightweight and can be moved around easily. The built-in battery of the GC3 will keep it running up to 7 continuous hours, and with a weight of 5 lbs (2.3 kgs), you can take it with you anywhere you go.
Even though simulation is not our main concern here since we are not using a screen / projector combo, the package still comprises simulation software (FSX2020 & FSX Play) that provides multiple useful features and a number of playable courses, just in case you decide to start using a projector one day.
The package includes the Net Return V2 Pro hitting net and the Net Return Pro Golf Turf, both upgradable to the larger variants of the same net ( up to 10' W x 8' H) and the Fiberbuilt Golf Mats with sizes of up to 10' W x 12' L, respectively. Just make sure you have the required space for any upgrade before you decide to get it.
What's included
Foresight Sports GC3 monitor
Foresight Sports FSX 2020 + FSX Play simulation software
The Net Return Home V2 Golf Net (Upgradable to larger versions)
The Net Return Pro Turf (Upgradable to larger Fiberbuilt mats)
Pros
Professional-grade performance
Lightweight package that's easy to move around
Can be used indoors or outdoors
The GC3 provides high portability, accuracy and plenty of great features
Simulation software already included if you ever change your mind
Cons
No Bluetooth connectivity
The Foresight Sports GC3 Home Simulation Package is a relatively affordable and straightforward package that provides the basics you need to practice and improve without using a projector or screen. It is intended more for those who are mainly interested in seeing their numbers and working hard to improve them. The included GC3 launch monitor will be your practice companion, be it indoors, at the range or at the actual course.
Buyer Guide: What To Consider Before Buying A Golf Simulator For Garage
Before zeroing in on a specific garage golf setup, we highly advise you to carefully go through a number of factors that directly affect your choice. Try to pay attention to all the details for you to make the best possible decision.
#1 Space & Size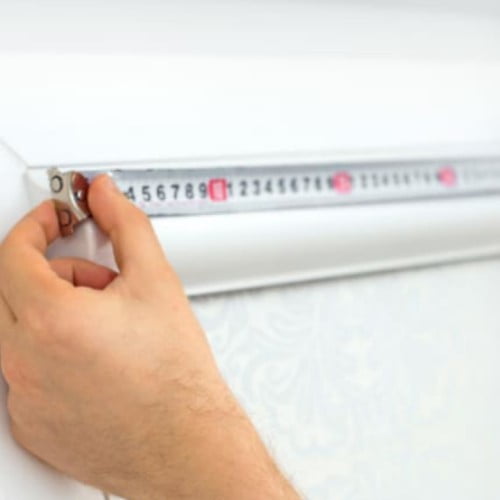 Most of the time, the garage does not provide a lot of space you can work with, and depending on things you do or keep in the garage, that space may be shared with the family cars, tools, unneeded items, etc. That's why this is our first and most important factor.
Before making the final decision, you have to measure the available space to ensure any packages you consider will fit without problems. Also, take into consideration what other things will still be kept in the garage (machinery, cars, etc.). Make sure the system will still fit in that space; if not, you may need to get creative and find ways to make the best out of that space without sacrificing too many things (which leads to what will be discussed in factor 2).
Check the manufacturer's recommended and minimum space requirements to see which setups will fit in your garage. Every single package comes with those requirements and with installation instructions for the entire process to be easier and more enjoyable.
Also, you need to ensure that you can swing your longest clubs without hitting the ceiling or side walls to avoid potential future accidents.
#2 Retractability & Portability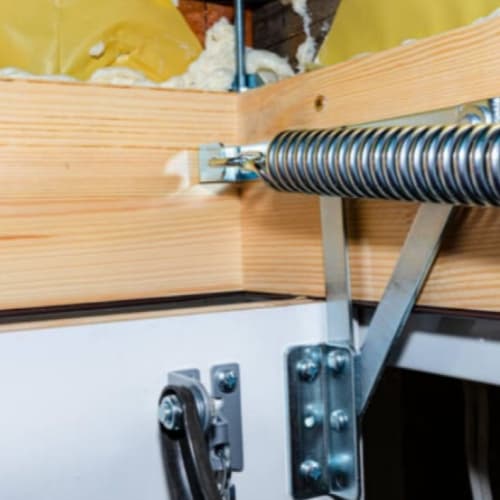 We recommend getting a package that is retractable, portable and easy to install and disassemble to use in the garage, or even for outdoor use in the backyard.
A package that is easy to install (such as Trugolf's Vista series) will make it easy for you to remove and store everything once you finish playing and use the space for other purposes.
Additionally, a package with a retractable screen and enclosure allows you to retract everything, remove the hitting mat and launch monitor, and safely store things until you feel like playing virtual golf again (which most probably will be sooner than you might think). These types of packages usually come with lightweight retractable components to make them easier to deploy and retract, which makes them really practical in smaller spaces (like the garage).
We do recommend retractable packages since they allow you to park your car(s) in the garage and keep other things instead of using the available space solely for the virtual system.
#3 Mother Nature Has a Say - Heat, Cold, Humidity, Etc.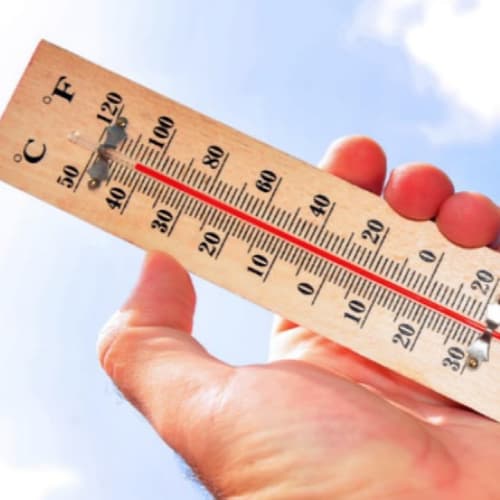 Usually, the garage is not part of the main A/C system of the house, which further complicates our task for today.
Depending on where you live, you will need to deal with the heat, cold or humidity levels and keep everything in check. If it's too hot, too cold or too humid outside, things will be the same inside your garage.
Excessive heat can affect or even destroy your simulator equipment like the projector or launch monitor (besides making you uncomfortable while playing). Having very low temperatures (especially during the off-season) will make it virtually impossible to play (imagine swinging a driver while wearing a thick jacket and sweater).
High levels of humidity are especially harmful to electronics and can cause corrosion and all sorts of issues, so keeping it monitored is a must to preserve your precious investment.
If you do not wish to invest in devices to control humidity, heat and cold levels and keep them acceptable, then you may go with a net and couple it with a portable launch monitor (like the X3, GCQuad, GC3, etc.). The net can be left in the garage because it was designed to withstand the elements; however, once you're done playing, you will have to take your laptop, launch monitor, tablet, etc. with you inside the house. You can even roll your hitting golf mat and store it to keep it safe from the effects of humidity.
However, we do recommend making the extra investment to ensure the whole virtual experience is as enjoyable as possible, especially if you have a fixed setup using a launch monitor like the GCHawk, Eye XO or QED.
In other words, it would be better to install a mini-split in the garage or get a portable A/C unit with a dehumidifier to enjoy your game in the best possible conditions.
#4 Screen Or Net?
You can either get a package with a hitting screen and projector to display the simulation, or you can go with a hitting net with a launch monitor and check your data on any of your smart devices.
Hitting into a net usually costs much less because components like the screen and projector are not included in the package, which makes them perfect for anyone with budget or space limitations. They also provide a lot of portability and can be used indoors and out with little effort.
On the other hand, a full package with a screen and projector makes the whole experience more realistic and immersive; as you swing your club, the data is processed and turned into a virtual simulation of what would have happened if you had swung on an actual course. The instant feedback is immediately displayed to show you what went right or wrong. No need to check your smart device every time you make a swing.
With that said, if you have no issues checking stats on your smart device or computer, a net package will be perfect for you and will help you improve while saving a lot of money.
#5 Budget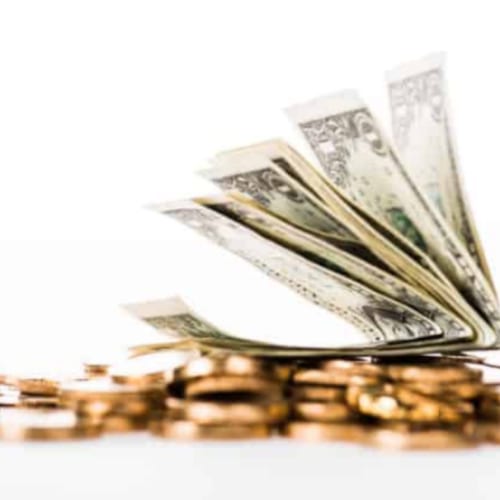 Part of the required homework before buying a simulator is knowing exactly how much you can afford to invest. There is a huge variety in the prices of sims (from 1,000 dollars to 70,000+). Start by checking which packages fit your dedicated budget as well as any additional investments you may need (in this case, A/C conditioning, dehumidifiers, etc.).
Of course, the more you spend, the more you will get both in terms of quality and components (hardware & software). Pricier models are usually more accurate and durable, provide more features, and use the latest cutting-edge technology to provide the most realistic simulation possible.
This doesn't mean that you have to spend all your life savings on the latest and greatest golf simulator out there; just try to compare the packages you can afford to decide which one provides the best price/performance value. Luckily, there are numerous packages that you can choose from nowadays.
It's also good to know that all major simulator manufacturers offer financing options for their products, with interest rates starting from 0% (if you pay over a 12 months period).
Check financing options by Shop Indoor Golf right here.
For Rain or Shine Golf, visit this page.
Top Shelf Golf's options can be found over here.
#6 Simulator Software
Almost every simulator package comes with a (usually basic) simulation software to process the data and provide output to display on the hitting screen. What you plan to do with your system highly influences what software plan to opt for.
For example, if all you want is a net to hit into and a launch monitor to track your performance and then send feedback to your smartphone or tablet, you can do with a net package and the basic version of the software that's included with the system (usually the monitor). This will help you save a lot of money and avoid buying things you don't really need. These software versions are usually limited in terms of features and playable virtual golf courses, but they do come with virtual driving ranges that you can practice on and get valuable data in return.
Conversely, if your main objective is to have a realistic and immersive virtual golf experience, getting a full package with an extended, more complete software solution is your best bet. These usually offer a large number of playable courses and many additional features, challenges and online competitions, making the experience more enjoyable and less monotonous.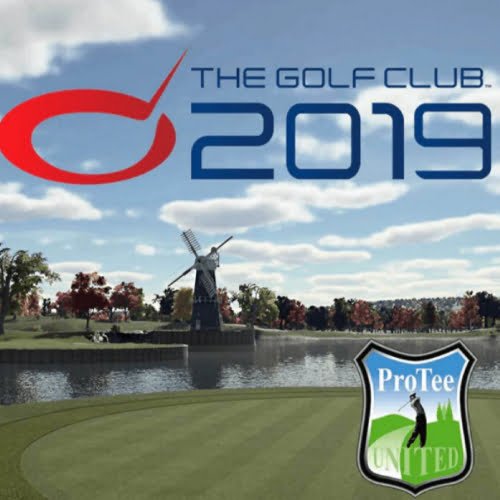 Remember that the extra features provided by the extended software plans will cost you more money, and the formula differs from one manufacturer to the other. For example, the full version of TGC2019 can be purchased for a 995-dollar one-time payment. The same goes for Foresight Sports FSX2020, which requires a 3,000-dollar (one-time) subscription to enjoy all its features. Other software packages, like the E6 Connect, require a yearly subscription that costs between 300 and 600 dollars. Skytrak's software plans (Basic - free, Game-Improvement - $99.95/year, Play & Improve Plan with WGT - $199.95/year) all require yearly subscriptions.
Choose a specific software plan based on the features you need, and remember to include it in your dedicated budget beforehand.
Final Thoughts
I'm sure the garage now looks like a suitable place to set up your virtual golf studio. If you follow our tips and do your homework right, then we assure you that you will have a lot of fun using your golf simulator setup, even during the hottest or coldest days of the year.
Our selection of packages includes systems from a wide range of prices for every one of us to have the chance to enjoy practicing golf in their own garage, taking into consideration all the variables that can affect your choice before you build a golf simulator. All the packages reviewed here use some of the best launch monitors on the market today.
All that's left for you to do is pick a package, set it up and let the fun begin!
WRITTEN BY

My name is Jacob, a self-diagnosed equipment and golf enthusiast. I've been golfing since I was 15. Golf has always been my passion. I'm a bit of a golf equipment nerd and I've been that way since the moment I picked up a club for the first time. As someone who's been on both sides of the game, I know what it takes to be a good golfer. Of course, you need good equipment, but you also need to know how to use it. I hope sharing my experience with you will help you improve your game.
You May Also Like