Trugolf Simulator Review (Tried & Tested)
Last updated:
April 11, 2023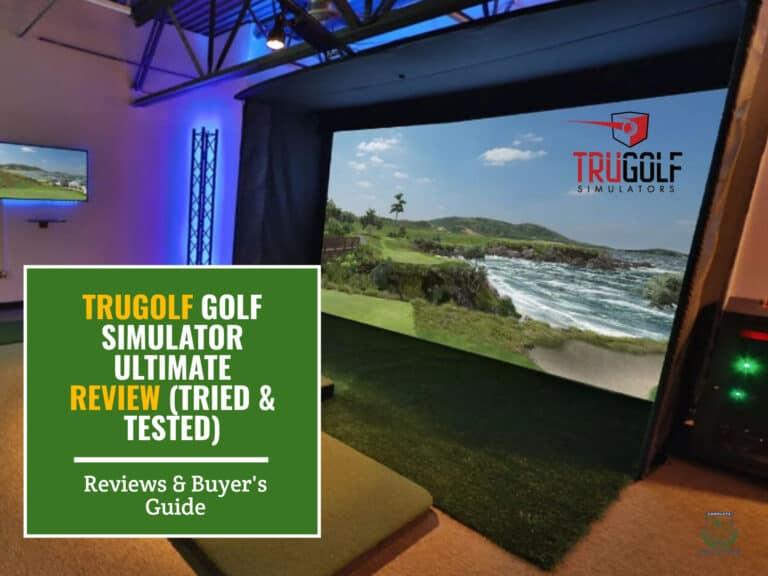 Disclaimer: We may earn a small commission from some of the links on our website. However, our reviews and comparisons remain fair and unbiased. Our goal is to help you make the best choice. For more information, please see our
disclosure statement
. Thank you for your support.
Key Takeaways
Trugolf is a major name in the golf simulator industry. They make some of the best and most immersive golf simulator packages with massive enclosures made of lightweight materials, which offer great portability and ease of installation and use. Trugolf systems are excellent for both home and commercial use. Trugolf's patented technologies and top of the line simulation software - E6 Connect- are the reasons why it is a very popular brand. Whether you opt for a Vista setup or one using their latest Apogee launch monitor, you can be sure that you will get the experience of your life!
TruGolf is a developer of a simulation engine aiming to provide golf aficionados with a realistic simulation experience. The company's simulation program enables a variety of golf activities, such as virtual instruction, competition in professional leagues, and recreational play with friends, by providing access to a configurable golf simulation tool developed by golf professionals.
In this article, we will explore the ins and outs of the Trugolf Simulator packages and the different software and hardware components that make them favorites among golfers. We will also suggest some all-in-one packages you can choose from to enjoy virtual golf at its finest!
TruGolf Simulator Components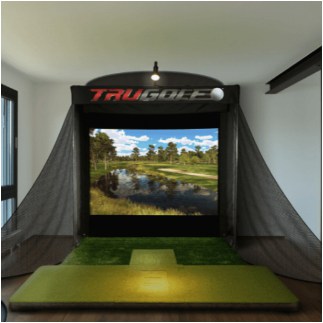 The components of the TruGolf simulator are likely one of the primary reasons why it has become one of the greatest indoor golf simulators available. This is because it is supplied to your home as an all-inclusive kit containing everything necessary to enjoy a golf simulation experience.
You should easily be able to set up your Trugolf simulator, regardless of your unfamiliarity with technology. Despite the massive enclosures, impact screens, hitting mats, and overall size of most Trugolf packages, they are all designed to be easy to assemble and move around.
The following are the components included in a typical Trugolf kit:
E6 Connect simulation software subscription (one year)
720 HD Projector for Basic Package; Full HD Projector for Pro Version
TruGolf Level 1 Computer for Basic Package; Level 2 Computer (more powerful) for Pro Version
Touch Screen Display
TruTrack2 (A system patented by TruGolf that utilizes three rows of optical sensors to measure the club path and face angle at impact.)
Deluxe Fairway Turf & real-feel golf mat
Protective Side Nets
Containment Brim
Limited Warranty (1 year warranty for the basic package and 2 years for the Pro Version)
Frequently, when purchasing a portable golf simulator, each component must be purchased individually. These Trugolf simulators are distinguished by the fact that the golf simulation software, all components, and setup instructions are included in one box.
With any golf simulator package, you must verify that the simulator has sufficient space. However, you may be able to make it work with somewhat smaller spaces; we recommend a 15' W x 20' L x 10' H room for the TruGolf simulator kit to fit.
Typically, height is the most crucial aspect. If you do not have sufficient clearance for the top of your club, you will likely make swing alterations that negatively affect your golf game. Always make sure that you have an abundance of room to accommodate this setup.
TruTrack 2 Tracking System
TruTrack2 is Trugolf's unique tracking and detection system that gathers crucial data in real time at the Point of Impact. During impact, three rows of optical sensors with infrared technology record the club's trajectory and face angle. After each shot, information is immediately analyzed and shown on the screen of the launch monitor with no delay.
The TruTrack 2 device is integrated into a golf mat that comes standard with every simulator. This golf mat is not the same as the one at your local club. Instead, it allows you to swing down and through the ball, providing the most realistic possible practice. It also improves your ball hitting by delivering feedback on the contact between your club and the turf.
Three rows of ten optical sensors comprise the TruTrack2 system. A total of 30 ultra-precise sensors are used to detect the following:
Face Angle
Ball speed
Launch angle
Smash factor
Clubhead speed
Club path
Additional ball flight characteristics are picked up using patented sonic triangulation positioning technologies in conjunction with Trutrac 2's readings. The result is accurate simulation of the ball's carry, roll, landing, and interaction with the course.
In addition to its accuracy with putting, TruTrak2's analysis of your golf swing and golf ball flight data is one of its biggest features.
While most simulators struggle with putting analysis and detection, a TruGolf simulator is capable of measuring putts within 10 feet making it one of the best simulators for putting. This system will allow you to enjoy a complete golf simulation, from tee to pin, from the comfort of your own home.
In contrast to other simulators, this device not only informs you how your ball is flying, but also provides all the data necessary to understand why it is flying in a particular manner through its incredibly precise ball flight and swing analysis.
Features of TruGolf Simulators
TruGolf systems also contain a variety of useful features that can enhance your golf experience. These include a cutting-edge light-canceling design and high-definition images, with the aim to provide users of all skill levels with a vivid and full simulation experience. The mix of characteristics it provides makes it a popular option among golfers worldwide.
The E6 Connect Software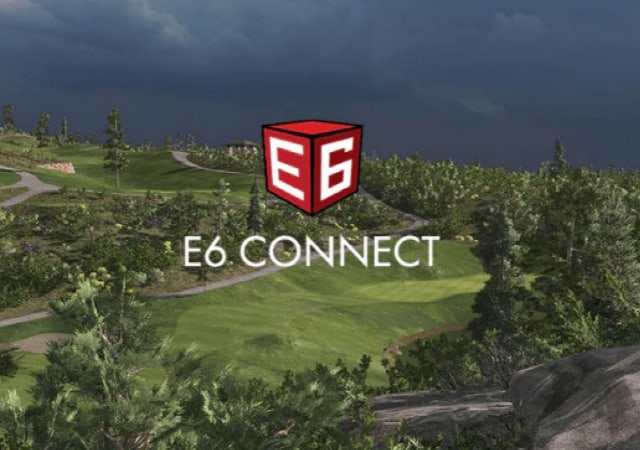 The TruGolf Vista Series has the industry-leading E6 Connect. This simulation software option provides players with access to some of the world's most popular and well-known golf courses (including Pebble Beach, Bay Hill, Pinehurst N°2, Torrey Pines, Bandon Dunes, Cambrian Ridge, etc.).
You receive amazing graphics and the ability to play with friends online. You also get the opportunity to compete in several events with members of the worldwide golf community.
Many believe the E6 Connect to be the greatest golf simulation software available today. The cutting-edge software is 4K compatible and highly intuitive. Many golfers are delighted by the cross-platform virtual golf contests offered to those who are interested, as well as the fully adjustable in-game controls.
TruGolf has developed a new software package, E6 RANGE, that enables commercial partners to personalize E6 Connect''s technology and content.
E6 Range is designed primarily for golf practice and training. It offers a wide range of features and options to help golfers improve their skills, including driving range mode, target practice mode, closest-to-the-pin mode, and full course play mode.
Now, all facilities implementing E6 RANGE will have access to Real-Time Analytics, Data Capture, Customizable Content, and other features.
In addition, E6 provides comprehensive control over game-play options, including:
Green and fairway firmness
Green speed
Camera angles
Pin positions
Terrain penalties
Putting arrows and grids
The golfer's every swing is recorded and saved online for future reference. Player Profiles provide users with access to detailed performance information.
The E6 golf simulator software features more than 100 courses, multiple practice ranges, competitive modes, and other challenges like Stroke, Scramble, Best Ball, Match Play, and Stableford to provide hours of entertainment.
Peer-to-Peer Connectivity
Peer-to-peer networking creates a new global network for golfers. This feature can link up to 8 players online at the same time to compete against each other. It also offers matchmaking services to put you against players of the same (or close) skill level to make the experience more fun and challenging at the same time.
You may also compete with other golfers by playing head-to-head and hone your skills. Participating in additional courses and competitions will undoubtedly increase your skill level.
Multiplayer Mode
TruGolf supports multiplayer play. Up to eight people can play at once. In this mode, you may also pit your skills against theirs. Whether it's a regular game or a tournament, this multiplayer option is a fun way to pass the time.
Skill Challenges
Possessing knowledge about one's performance level enhances the likelihood of improvement. So how can you determine if you are advancing? This is where TruGolf assists.
They incorporate skill-testing elements. You may now challenge yourself and train in accordance with the recommendations of experts. In addition, it includes all skill-building activities supplied by PGA instructors.
Accuracy of TruGolf Simulators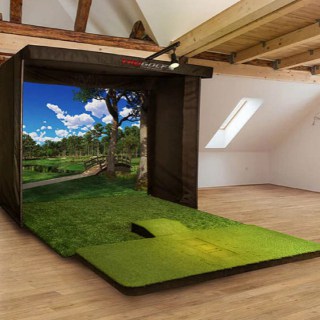 The most interesting simulations are those with the finest visuals and immersive experience. TruGolf incorporates both of these.
The portable golf simulator and industry-leading software make this item unique. This is a chance to keep improving your game throughout the year.
For the installation of TruGolf simulators, no tools are necessary. This simple installation system may appeal to you. However, this comes with a cost. Consider spending more than $10,000.
TruGolf packages are equipped with two distinct technologies: TrueFlight 2 and TruTrack2. Vista versions incorporate the optical sensor-based TruTrack2 technology. Inside a golf mat are three rows of optical sensors that measure the club face and club path during impact.
This is then coupled with TruGolf's sonic triangulation technology, which is simply a set of microphones placed over the hitting screen's framework. These microphones record the sound of your ball striking the screen in order to compute its launch and direction.
TruFlight2 is a camera-based technology that employs three cameras positioned above the striking area to track your ball and club data. TrueFlight 2 eliminates the need for floor-mounted gear, providing golfers with a clean hitting area.
TruFlight2 and TruTrack2 technologies correctly measure ball and club head data, which is an advantage. Some customers claim that TruGolf's TruTrac 2 hitting pad does not always detect extreme impacts.
Boyd Summerhays, a former PGA Tour player, has stated that the short game readings on the TruFlight 2 device are unmatched by any other launch monitor.
If you have a large budget and are looking for a high-end home golf sim, TruGolf is an excellent option. These devices allow you to use cutting-edge technologies to lower your scores while having fun.
TruGolf's simulators are nearly unbeatable due to their very accurate statistics and lifelike visuals. You will feel as though you are truly playing the course without leaving the comfort of your garage or spare room.
TruGolf Vista Simulator Products and Packages
TruGolf develops its own simulator software. In addition, packages include everything required to set up the simulator. Nothing must be purchased separately. We recommend purchasing the bundles rather than the individual items. There are primarily three simulators, each with two models. Figure out which bundle offers the best value for you.
TruGolf Vista 8 Golf Simulator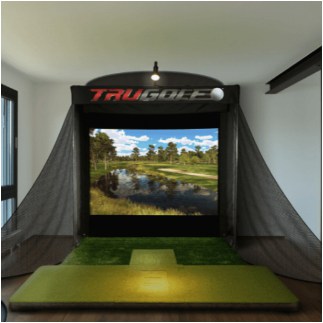 The Trugolf Vista 8 is the least expensive golf simulator produced by the Trugolf company, a relatively more affordable option. The Vista 8 is the optimal alternative for individuals who are just getting started with golf simulators and wish to invest in a cost-effective, high-quality option.
The screen measures 114" diagonal with a 4:3 aspect ratio, allowing you to enjoy your games in HD quality. The Pro model of the setup additionally includes a premium turf, a Vista Level 1 computer, and side nets for extra safety.
Pros
Easy installation
Great for practicing
Realistic simulation
Excellent graphics
Cons
Setup process takes too long
The Vista 8 includes the E6 golf simulator software and the TruTrack 2 launch monitor technology for your Trugolf simulator.
However, the fact that this model is the most affordable of the three should not disqualify it from consideration. This golf simulator's quality and effectiveness remain superb, with super-accurate readings of your shots.
TruGolf Vista 10 Golf Simulator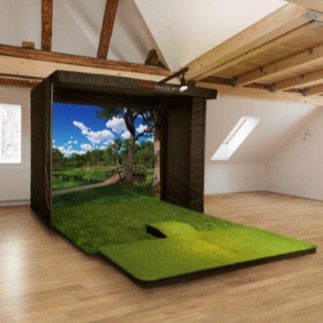 The TruGolf Vista 10 delivers the same advantages as the TruGolf Vista 8, but its housing is somewhat different. The enclosure is a deeper and more fair representation of an actual golf course. When standing inside this TruGolf simulator, players feel as if they are actually on the course.
The screen is larger than the Vista 8's at 136" diagonal with the same 4:3 aspect ratio and 720P HD image quality. This time, the base model of the Vista 10 contains all the components needed to use the setup, but if you opt for the Pro model, you get a Level 2 computer to run the simulation, a one year subscription to E6 Connect's expanded plan (instead of the basic plan), a portable speaker, and side netting.
Pros
Multiplayer option
Courses on the E6 software
Surprisingly accurate
Larger screen
Lightweight aluminum frame
Brighter images
Cons
The Vista 10 makes it easy to track the flight of the golf ball. If you are seeking a golf simulator experience that can be transferred from room to room, the Vista 10 is your best option. This golf simulator is incredibly lightweight and simple to assemble despite its massive size.
TruGolf Vista 12 Golf Simulator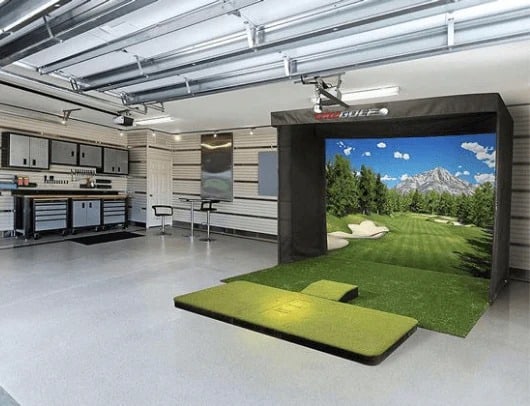 The TruGolf Vista 12 is the most costly of the company's Vista series of golf simulators. If the Vista 10 made you feel as if you were outdoors, the Vista 12 makes you feel as if you are walking along a genuine fairway.
The Vista 12 is more expensive, but golf simulator firms frequently choose it because of its larger size and superior technology and functionality.
You get all the bells and whistles with the Vista 12. The 165" screen allows for a 16:9 aspect ratio for an even more immersive experience; and the 1080P Full HD projector (with the pro variant) does help a lot with that.
Again, you get a more powerful Level 2 computer with the Pro version and an expanded two-year subscription to the E6 software.
Pros
Brighter and bigger = better
Requires no tool to setup
Very durable
Ultra-lightweight frame
Multiplayer capability
Amazing portability
Cons
Ball flight statistics need to be displayed a little longer on the screen
Pricey
Vista12 has received rave reviews due to its impeccable performance aiding game improvement. It remained true to its promises of extreme accuracy, and easy assembly. You definitely do not want to miss out on this!
TruGolf APOGEE SIG8 Golf Simulator Package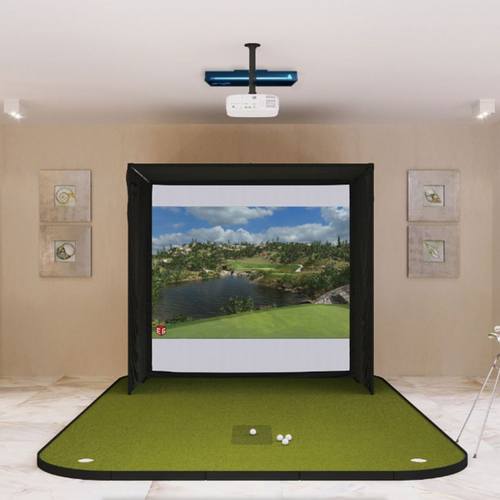 The TruGolf APOGEE SIG8 golf simulator kit, sold exclusively by Shop Indoor Golf, combines the launch monitor from TruGolf with SIG8 Golf Simulator Enclosure, and is ideal for golfers with limited space who desire a premium experience.
Your APOGEE SIG8 package includes everything necessary to improve your golf game, including real-time visual feedback that captures both clubhead and ball performance data.
This is a relatively smaller package, but it doesn't compromise on quality and accuracy. The included extended subscription to E6 Connect grants you access to over 27 virtual courses and a plethora of options, features and challenges.
Included with Purchase:
SIG8 Golf Simulator Enclosure
Side Barrier Netting
Landing Pad Turf
Choice of Golf Hitting Mat
Panasonic Golf Simulator Projector & ceiling mount
15'L HDMI Cable
APOGEE Launch Monitor, Mounting Hardware & Screws, Ceiling Mount
Calibration Template
6' Power Cable
50' CAT6 Cable
USB to CAT6 Network Adapter
E6 CONNECT Product Key
Instruction Bundle
Laser Level
The SIG8 screen and enclosure complement the TruGolf Apogee wonderfully. The SIG8 display is able to endure repeated impact from the most ferocious golf swings. In contrast to existing screen systems, the SIG8 is built to fit in rooms as small as 9 feet wide. Due to the square-ish nature of the screen, the image will occupy 80% of the screen, leaving white space above and below.
TruGolf APOGEE SIG10 Golf Simulator Package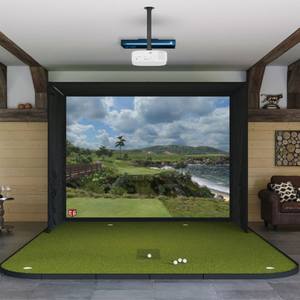 The TruGolf APOGEE SIG10 golf simulator bundle combines the launch monitor from TruGolf with SIG10 Golf Simulator Enclosure, and is ideal for players seeking a premium full-screen experience.
The enclosure and screen are larger than the SIG8 and require a larger room for installation. The same premium quality materials and components are used in the SIG10.
You also get to choose between the Fairway Series 5'x5' mat, or larger options of the SIGPro Softy (4'x7' or 4'x10'); even better, if you can afford it, we suggest investing in the SIG10 simulator flooring for an even better looking setup.
Included with Purchase:
Everything in TruGolf APOGEE SIG8 except the enclosure
SIG10 Golf Simulator Enclosure
Similar to the SIG8 package, SIG10 is built to withstand the hardest of golf shots. This package features a screen wherein it fills 100% of the screen with HD display. The larger screen and enclosure increase realism and make the virtual experience more immersive.
TruGolf APOGEE SIG12 Golf Simulator Package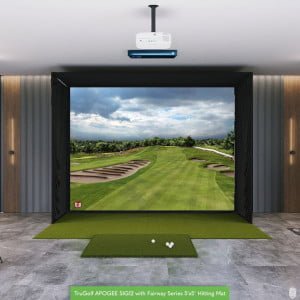 The TruGolf APOGEE SIG12 golf simulator kit combines the most recent launch monitor from TruGolf with the SIG12 Golf Simulator Enclosure, their largest sim enclosure to date. It is ideal for players trying to obtain a premium, full-screen experience.
The Apogee SIG12 shares many components with its smaller siblings, albeit in a larger and majestic enclosure with the simulation covering 100% of the screen and blacked out side walls that help the simulation pop out with crispier, clearer image quality.
Included with Purchase:
Everything in TruGolf APOGEE SIG8 except the enclosure
SIG12 Golf Simulator Enclosure
SIG12 is likewise built to be durable and fills up 100% of the screen with an HD display. This user-friendly device can help you hone your skills to benefit your game. This is Shop Indoor Golf's ultimate package, including their best and largest enclosure made of sturdy materials to ensure durability.
TruGolf APOGEE Launch Monitor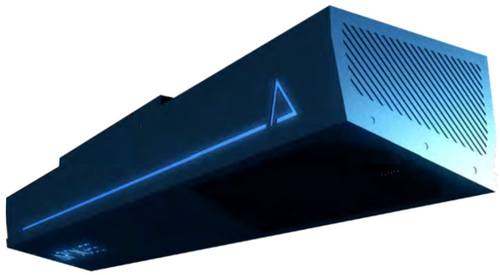 The APOGEE Launch Monitor measures data for both the Ball and Club. Built using a revolutionary set of vision algorithms known as INSTANT IMPACT, the system does not need special balls or marked clubs.
INSTANT IMPACT and APOGEE's onboard processors give a lag-free simulation experience, eliminating any delay between the ball's strike and its simulated flight.
The device supports voice command; saying "hey apogee" will allow you to navigate the system settings and make modifications using only your voice; very practical, if you ask me!
Multisport Interactive Sports Camera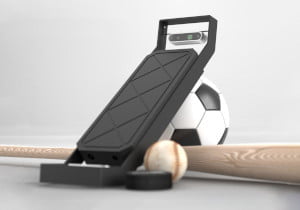 Multisport by TruGolf will transform your setup into a comprehensive sports simulator.
This stand-alone tracking system may be applied to any current golf simulator structure, thereby incorporating world-class sports arcade games. Mount the interactive sports camera to your ceiling or structure, apply the auto-calibration tool, and you're ready to play.
The camera-based tracking system operates independently of existing technology and is capable of capturing the movements of baseballs, soccer balls, foam darts, and other objects to create an immersive gaming experience. Up to 8 players can take part in the fun with the device's supported multiplayer mode.
You get access to four simulations out of the box: Breakaway soccer, Slap shot hockey, Rally Baseball, and Foot Golf. Recently, the Wild West Game pack was added to the mix.
However, at the time of writing these lines, if you buy the Multisport camera, you also get "the Party Pack" free of charge. This offer is limited in time, so hurry up before it ends if you are interested! The pack includes Zombie dodgeball, Disc-Go golf and Bowl-A Rama.
Maximize your existing setup by incorporating the multisport experience immediately.
TruGolf Mini Golf Trainer Package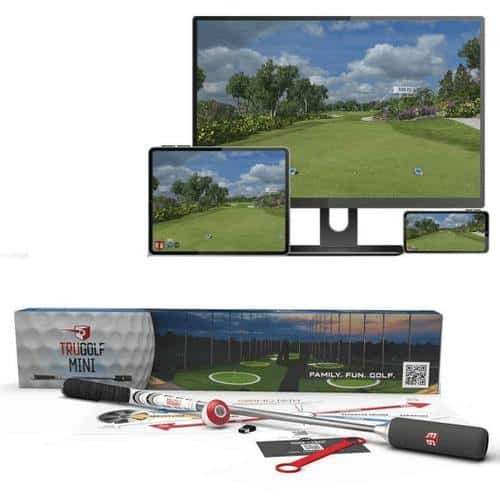 The TruGolf Mini Golf Trainer Package is an innovative method for learning golf. This interactive swing studio, paired with E6 CONNECT software, analyzes and displays swing data for every shot you make, allowing golfers of all ability levels to better comprehend the game. With TruGolf Mini, every shot is a learning experience.
The TruGolf Mini facilitates rapid game learning and continuous improvement. It detects four critical swing characteristics:
swing tempo
club path
club face angle
angle of attack
Combining these Swing Analytics with E6 CONNECT's ball flight algorithm yields ball flight. As users modify and manipulate these data points, they influence the behavior of the ball within E6 CONNECT. After each swing, a screen displaying a color-coded swing analysis depending on your performance will show. Users are able to interact with their data and view a 3D representation of their Swing Plane and tempo graph.
It is possible to use the Mini stick for serious practice, or you can have fun with your entire family by playing three family fun-oriented games like Battle Stations, Carnival and Demolition Driving Range.
TruGolf Affordable Alternatives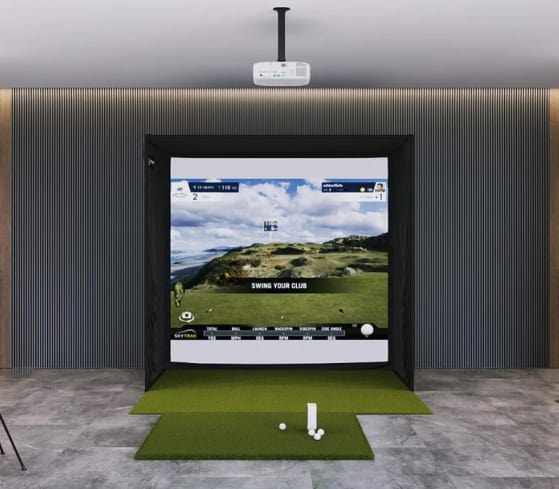 SkyTrak golf simulators offer a more cost-effective alternative. However, within the price range of $10,000 to $20,000, TruGolf is the superior option.
SkyTrak can truly cover your expenses. In addition, amateur golfers may opt to start their journey with SkyTrak and work their way to other premium simulator systems options. In contrast, the entertainment value of TruGolf is generally enhanced by the tracking of statistics and additional features it provides.
Another great alternative would be one of the Flightscope Mevo+ packages; the Mevo+ is Skytrak's closest competitor in terms of price and performance.
Lately, however, it seems that the king of value launch monitors is the Garmin Approach R10, so getting any package with the R10 is another good option.
Frequently Asked Questions
This section contains common related questions to TruGolf Simulators.
How Much Does a TruGolf Simulator Cost?
Complete golf simulator packages from TruGolf begin at $10,000 and may cost as high as $21,000+. The prices vary based on Frame, Size, Trim + Finishes, Installation, and other factors. TruGolf provides consumers the option to purchase the Launch Monitor technology separately at a price that is tailored to their needs. In addition, users may enhance their golf simulator experience by upgrading the Sound System, the Projector, or by incorporating multimedia features. TruGolf provides golf simulation solutions in practically every price range.
What Are the Dimensions of the TruGolf Simulator?
This depends on the actual package, as the Vista 8 is physically smaller than the Vista 10 or Vista 12. The Vista 8 measures 9'W x 12'D x 8'H; the Vista 12 measures 12'W x 14.9'D x 8.8'H, while the Vista 10 is 9' W x 12' D x 8' H.
The minimum space requirements for the TruGolf simulators are 15'W x 20'L x 10'H. It is sufficient to swing appropriately. Additionally, for the multiplayer option, multiple golfers can play simultaneously in this advised area. But if you want a broader display, you'll need a depth of over 20 feet.
Reiterating, you must measure the width, length, and height of your room and compare them to the minimum space requirements of any golf simulator you are considering. If at all possible, we advise reading consumer and expert reviews of golf simulators to acquire insight into their actual performance.
What Projector is Used for a TruGolf Simulator?
A TruGolf simulator makes use of an HD Short Throw projector for basic packages, and Full HD ST projector for Pro packages (for most systems). It has intelligent features that can produce high-quality visuals even at close range. Thus, this projector from TruGolf provides a brighter and more distinct image.
In their all-inclusive packages, Trugolf always include Optoma short throw projectors because of the great quality and visuals they produce.
Which TruGolf Vista Simulator Should You Purchase?
If you have a limited budget and want a TruGolf simulator for your home, you should select one from the Vista Series. There are six options available, which can initially feel overwhelming. The good news is that each setup includes everything you need to enjoy a fantastic time playing indoor golf from top to bottom.
From there, discover that some Vistas are designed to save money, while others offer a more luxurious experience. Our recommended model is the TruGolf Vista 8 Pro for the great value it offers.
Final Verdict
Putting a golf simulator in your home may entail developing your own system and assembling the individual components. A golf simulator provider such as Trugolf usually sells whole golf simulator systems. It is easy to understand why Trugolf is one of the leading golf simulator brands.
There is no doubt that the TruGolf simulator is a wonderful investment if you have the resources. Whether you are searching for a home or commercial golf simulator, TruGolf provides an experience that is unparalleled on the market. In addition to accurate data, competition modes, and amazing club fitting capabilities, these simulators provide a lot of entertainment for the whole family.
Don't hesitate to get your TruGolf Simulator, as maintaining your golf skills throughout the year is essential.
WRITTEN BY

My name is Jacob, a self-diagnosed equipment and golf enthusiast. I've been golfing since I was 15. Golf has always been my passion. I'm a bit of a golf equipment nerd and I've been that way since the moment I picked up a club for the first time. As someone who's been on both sides of the game, I know what it takes to be a good golfer. Of course, you need good equipment, but you also need to know how to use it. I hope sharing my experience with you will help you improve your game.
You May Also Like