The 10 Best SkyTrak Golf Simulators – 2022 Reviews & Buying Guide
Last updated:
June 23, 2023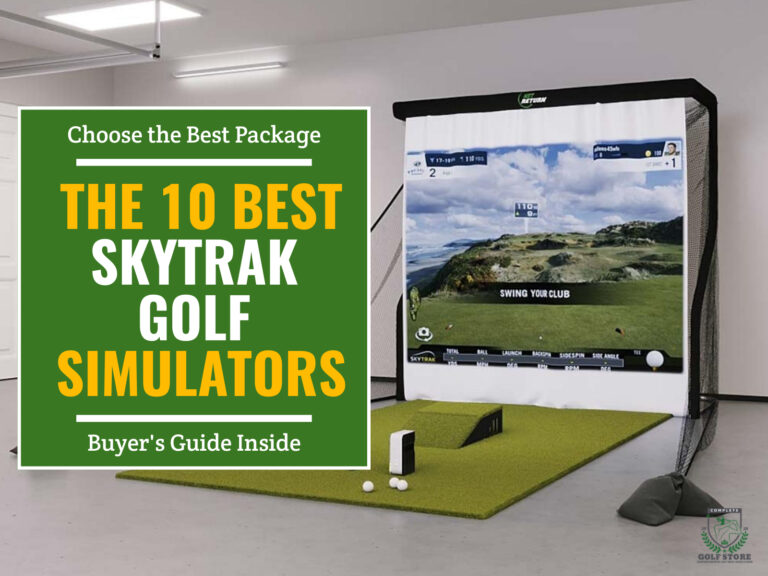 Disclaimer: We may earn a small commission from some of the links on our website, however, our reviews and comparisons remain fair and unbiased. Our goal is to help you make the best choice. For more information, please see our
disclosure statement
. Thank you for your support.
Key Takeaways
After ample research and testing, we fell in love with Shop Indoor Golf's Skytrak SIG 12 and SIG10 packages, thanks to the fantastic quality of their components. They are the top two packages on our list, while the Swingbay package is third and Carl's Place's beautiful White Tee is fourth.
The remaining packages cover a wide range of prices and sizes, making this list the perfect place to pick your next Skytrak golf simulator!
The Skytrak launch monitor has gained so much popularity since it launched in 2014 that the market is flooded with Skytrak systems of various sizes, with different hardware components, and covering a wide range of budgets.
As a result, choosing the right package that meets your needs and expectations is difficult.
In this article, we will review the 10 best Skytrak golf simulator packages to help you have a clear idea of the best options. Our list of Skytrak systems contains excellent packages built around the outstanding launch monitor, each carefully tested and selected by our team.
We will focus mainly on the simulation systems without going too much into the details of the monitor itself. For that, we invite you to read our in-depth review dedicated to Skytrak.
A Quick Peek At Our Choices For The Best SkyTrak Golf Simulators
SkyTrak Golf Simulator Packages Review and Comparison Guide
All the reviews here reflect how we feel about the tested packages. This section will help you choose your system wisely.
Please bear in mind that we are not giving a ranking of the reviewed systems; Our main focus is to provide packages that will fit different budgets and spaces and work in different use scenarios.
Buyer's Guide: Things to Consider Before Buying Your Skytrak Simulator
Before making your final informed decision on which Skytrak simulator package to buy, there are a few things you need to consider to ensure you are making the best possible choice.
Budget
This is definitely the first thing to consider while buying a simulator system, as you can't buy something you can't afford. You must have a clear idea about the budget you want to dedicate to your Skytrak system, and then compare the setups that fit into that budget and choose the best one for you.
However, generally speaking, Skytrak-based systems are usually on the affordable side of things. Don't get me wrong, as I'm not saying that they are not good quality systems, but they just offer some of the best price/performance ratios among the simulators available in the market today.
Typically, you can expect to pay a bit more than 3,000 dollars for the cheapest Skytrak package, less than $5000 for many medium-budget options, and as high as 10,000+ for the higher-end systems such as Shop Indoor Golf's SIG12 or Rain Or Shine Golf's SwingBay packages.
You may feel that 10,000 is a steep price for a complete simulator setup, but we assure you that you will get much more than what you pay for compared to other competitor systems. If you want a system using the same enclosure but with a launch monitor from Foresight Sports, Uneekor, etc. you will be paying much more than what the Skytrak costs (you will pay tens of thousands of dollars for a system with a high-end enclosure).
In a nutshell, we can confidently say that all Skytrak packages are budget-friendly. You will get an overall excellent system and performance for a relatively much lower price than the competition.
If you fall in love with a specific package from our list, but can't afford to buy it, the good news is that all the sellers (in this article) offer financing options with interest rates as low as 0% (for a 12-month period). Just choose your package and click "financing" and you will be able to pay for your setup over an extended period. Check the details here (Shop Indoor Golf), here (Top Shelf Golf), or over here (Rain Or Shine Golf)!
Size
There are different Skytrak packages that require different room sizes to fit in. You must measure your available space to pick a setup that will fit without issues.
If space is not an issue for you, and want to enjoy the best virtual experience possible with the biggest screen size, then opting for a system with a huge, high-end enclosure is your best choice; you can buy a package like the Skytrak SIG12, SwingBay or PerfectBay, which all come with huge enclosures and screens to provide the most realistic simulation experience.
If you have a small space to dedicate to your system, then you should consider one of the packages with retractable screens or one that comes with a smaller simulator enclosure such as the SIG8.
If you don't want to dedicate any space to the setup and want to remove everything out of the way once you're done playing, then you can get one of those packages with a retractable screen like the Skytrak Flex Space Package or the Retractable Simulator Package.
Make sure your selected package fits in your available space by measuring your room space, be it a basement, shed or garage, and comparing it to the package's minimum space requirements that are usually specified for each setup by the manufacturer. It will always be good to have a larger room size for peace of mind; remember, when it comes to space, the larger, the better!
Check out our dedicated guide to the best golf simulators for garage.
Software
This is one of the aspects where Skytrak really shines. It offers support for multiple simulation software plans. Out of the box, the Skytrak comes with the Basic Driving Range plan, which allows you to practice on Skytrak's virtual range and get accurate readings of your shots.
The Game Improvement Plan ($99.95 / year) adds a plethora of additional features, game modes, and challenges. It also adds a total of 11 fully playable famous virtual golf courses like Pebble Beach, St. Andrews, Olympic Club, and Pinehurst #2, among others.
This plan also gives you access to other 3rd party software like TGC2019, E6 Connect, WGT Golf, ProTee Play, Golfissimo, Fitness Golf, and Creative Golf 3D. TGC2019, E6 Connect, and WGT Golf are the software plans we recommend if you are serious about practicing golf indoors and getting better. The other options are all about fun and entertainment, as they offer game modes and challenges that are more intended for fun with family and friends.
The Play & Improve Plan ($199.95 / year) contains everything in the other plans, with a full subscription to the WGT Golf, which brings many additional features and competitions. This plan is compatible with IOS (IPad) only!
Please note that all third-party simulation software options require a subscription to be purchased separately through the Skytrak software. They also require a subscription to the Game Improvement Plan.
Choosing a specific software plan from the multitude of available options entirely depends on what you intend to do with your system. If all you want to do is practice on the driving range, then the basic plan that comes included with the system will be enough for you. If you want to have a good time and play a lot of fun mini-games and challenges with the family, then you can choose something like Creative Golf 3D, ProTee Play, Golfissimo, etc.
However, if you want to play famous courses in stunning graphical quality and enjoy an immersive and realistic experience in both single and multiplayer modes, then a Game Improvement subscription with a WGT, TGC2019, or E6 Connect subscription will be your best bet!
It's all up to you to choose the plan that works for you.
Portability & Transportability
You may have to choose your Skytrak package depending on your use scenario. In other words, how do you intend to use the system?
If you're planning to move the system around different areas of the house, then you should choose something that is easy to set up and disassemble. This type of setup will also be convenient if you want to play outside, in your backyard, as the components are usually lightweight and easy to move around.
If you want to use your system outdoors, then opting for one of the training packages (that uses a net instead of a screen) will be a good choice; retractable packages will work very well too. Choosing one of those packages will also be useful in case you travel a lot and would like to take your system with you. Usually, those packages are more affordable as well.
Furthermore, the fact of owning any Skytrak package in itself means that you have a portable unit. The Skytrak launch monitor uses a rechargeable battery that can last up to five hours, making it a highly portable device that you can take to the driving range, golf course, or anywhere you go.
Screen VS. Net
This factor is related to the type of output/display device that you want to use with your system. You can either hit balls into a net or a screen.
Hitting into a net is a much more budget-friendly option, as you can make your shots and then check the 3D render in your connected device (A smart device, a computer, or a TV). This option entails checking your output device each time you make a shot, but it is a great way of practicing on a simulator while saving a big chunk of money on components like the screen and projector. This kind of setup is usually found in practice packages (mostly oriented towards, but not limited to, outdoor use).
On the other hand, hitting into a screen is a more expensive option, but it is much more convenient. This type of setup uses a projector to display images on the screen, which means that the simulation and the important data are all displayed in a real-life-like manner (on a big screen), making the whole experience more realistic and immersive; and for some of us, that's all that virtual golf is about (and thus much more importance is placed on using a screen/projector combo).
In the end, going with one configuration or the other depends highly on personal preferences and/or budget limitations!
Final Thoughts
If you are looking for a real-time and realistic golf simulation, then your search should effectively end on SkyTrak. The SkyTrak simulator packages include a photometric launch monitor and a SkyTrak app that are truly one-of-a-kind. They will help you practice hitting shots with any of your golf clubs at any time of the day or night!
Now, who needs costly golf simulation systems worth 30 thousand dollars or more when you have such a hugely acclaimed device like SkyTrak? It will help you take your love for golf to the next level. We hope this SkyTrak golf simulator packages review has helped you to zero in on the best SkyTrak golf sim and software for you.
If you still have questions or comments, please let us know via the comments section below or by sending us an email. We will be glad to help the best we can!
You May Also Like