The 10 Best Golf GPS Watches - Reviews & Buying Guide
Last updated:
July 10, 2023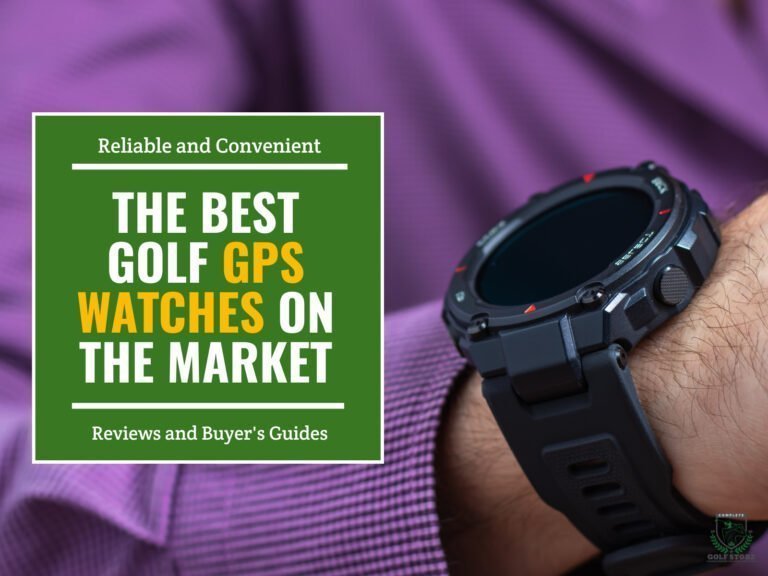 Disclaimer: We may earn a small commission from some of the links on our website. However, our reviews and comparisons remain fair and unbiased. Our goal is to help you make the best choice. For more information, please see our
disclosure statement
. Thank you for your support.
Key Takeaways
Based on our tests, research, and experience, our top pick for the best golf GPS watch is the Garmin Approach S70 GPS Watch. It features a gorgeous AMOLED display, a barometric sensor for accurate elevation readings, enhanced PlaysLike and Virtual Caddie features, long battery life, and over 41,000 preloaded golf courses. Keep reading to explore our complete list.
Golf is a game of precision, and having accurate distance information is crucial to playing your best. That's why many golfers turn to GPS watches to help them navigate the course. With so many options on the market, it can be overwhelming to choose the right one. That's where this article comes in.
We've compiled a list of the 10 best golf GPS watches of 2023, based on factors like accuracy, ease of use, and battery life.
From sleek and stylish designs to advanced features like shot tracking and hazard information, these watches have it all. So if you're in the market for a new golf GPS watch, read on to find the perfect one for you.
No time to read the whole article? No worries. We've done the work for you and compiled a list of the top performers.
| Product | Features | Our Rating | |
| --- | --- | --- | --- |
How Did We Test These Golf Watches? Factors We Considered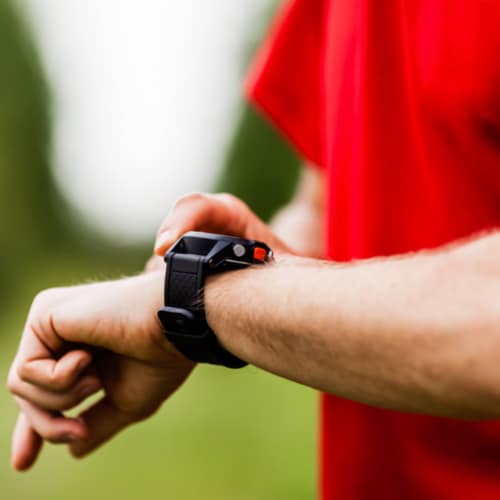 When testing golf watches, we want to make sure they have the features that you need for your game.
We test golf watches comprehensively to make sure they have advanced GPS technology, accurate course mapping, tracking technology, and long battery life. We also ensure that they are compatible with different phones so that you can use them easily.
To test these watches, we take them for several test drives on real golf courses, trying out all their features. We track rounds of golf, accurate yardages, shot tracking, club selection, and green views. We also test slope functionality, downhill shots, virtual caddie, and record shot distances. We check battery life for hours of use, including firmware updates and compatibility with different devices.
We look at features such as preloaded courses, precise distances, heart rate monitors, and contactless payments. We make sure that the watches have additional features like weekly leaderboards and true shape.
We guarantee that the tested watches are of the highest quality and offer modern, advanced features for every golfer, with prices to match.
Our Top Picks For Golf GPS Watches
We have researched and tested various golf GPS watches to bring you our top picks. Let's review each one in more detail!
The following are our top selections based on our own testing, research, and experience:
Garmin Approach S70 GPS Watch
When it comes to golf GPS watches, the Garmin Approach S70 is one of the best out there. This watch has a gorgeous AMOLED display that is easy to read even in direct sunlight. It's also lighter and more stylish than its predecessor, the S62.
One of the main improvements of the S70 is the addition of a barometric sensor, which helps provide more accurate elevation readings. It also has enhanced PlaysLike and Virtual Caddie features, making it easier to determine the distance to the green and choose which club to use.
The S70 also has a long battery life of up to 20 hours, and it comes preloaded with over 41,000 golf courses. This watch also has convenient features like contactless payments and the ability to receive smartphone notifications.
Pros
Gorgeous AMOLED display
Barometric sensor for accurate elevation readings
Enhanced PlaysLike and Virtual Caddie features
Long battery life
Preloaded with over 41,000 golf courses
Convenient features like contactless payments and smartphone notifications
Cons
Premium price range
Some extra features may not be necessary for regular golfers
Overall, for golfers who want a high-quality and accurate GPS watch, the Garmin Approach S70 is an excellent choice. It provides plenty of very useful features on and off the course!
TecTecTec ULT-G Golf GPS Watch
The TecTecTec ULT-G Golf GPS Watch is a popular choice among budget-conscious golfers.
This watch provides essential distance information for preloaded courses, accurate yardages, and club selection, so you can improve your game without splurging on a fancy rangefinder.
With up to 12 hours of battery life, it'll last through multiple rounds of golf without needing a charge. The ULT-G Golf GPS Watch also offers shot tracking and records shot distances, so you can identify areas to improve your game.
While it may not have all the advanced features of premium golf watches, it competes well with other options in its price range — and does the job admirably.
Pros
Very affordable price
Preloaded courses for convenience (38,000 courses around the world)
Accurate distance measurements
Shot tracking and recording
Cons
Lacks some advanced features found in pricier options
Overall, the TecTecTec ULT-G Golf GPS Watch is a great choice if you're looking for a budget-friendly option that provides essential distance information.
While it may not have all the bells and whistles of higher-end options, it gets the job done effectively and efficiently.
Garmin Approach S42 GPS Watch With Golfer's Bundle
Garmin has made a name for itself in the world of GPS and golf gear, and Garmin products are always guaranteed to provide very good performance, and the S42 GPS Watch is no exception.
With over 42,000 preloaded courses and accurate yardages from tee to green, this watch delivers precise distances to help you make better club selections and improve your overall game.
The green view feature allows you to see the shape of the green and get more accurate information for uphill and downhill shots to improve your shot-making.
Additionally, the watch boasts shot-tracking capabilities to keep track of your stats and help you identify areas where improvement is needed.
The watch comes with the Golfer's Gear, which includes a PlayBetter branded 5,000 mah portable charger and two HD tempered glass screen protectors. The watch can be purchased in black, rose gold/ light sand or Silver/ white color variations.
Moreover, if you want to surprise your golfing partner or friend with this attractive GPS watch, you can choose to include a gift box and send it directly to them.
Pros
Over 42,000 courses preloaded
Accurate yardages
Green view feature for more accurate information on uphill and downhill shots
Shot tracking capabilities
Exceptional battery life of 30 hours
Cons
Sometimes, the charger doesn't hold to the watch very well- Might cause charging issues
Overall, the Garmin Approach S42 GPS Watch is a solid choice for golfers who are looking for reliable and precise distances during their rounds, all at an affordable price point. With its preloaded courses, accurate yardages, green views, and shot-tracking capabilities, this watch is sure to help improve your golf game.
Bushnell iON Elite Golf GPS Watch
Bushnell is another big name in the world of golf and GPS apparatus, as it produces quality units that are trusted even by professional players. They make some of the world's best GPS golf rangefinders.
With the ability to provide precise yardages to the front, center, and back of the green, as well as up to four hazards per hole, it can help you navigate any course with ease.
Not only does the iON Elite come with 36,000 preloaded courses from around the world, but it's also Bluetooth compatible, allowing you to receive updates and notifications on your wrist.
And with up to 16 hours of battery life, you won't have to worry about it running out of juice in the middle of your round.
Pros
Accurate distances to the green and hazards
Color touchscreen
Preloaded with 36,000 courses from around the world
Bluetooth compatible for receiving updates and notifications
Slope functionality through Bushnell's patented Slope Compensated Distances
Cons
Limited battery life of 12 hours, compared to other models
Overall, if you're looking for a reliable golf GPS watch that can help you navigate any course with ease, the Bushnell iON Elite is definitely worth considering. You will get the Bushnell quality of build and accuracy as well as features to help you improve your game.
With your purchase, you get the Playbetter bundle, with a tempered glass screen protector and a portable charger so you can recharge the watch or any other device you are carrying on the course.
Garmin MARQ Golfer (Gen 2) GPS Watch- Best Premium Watch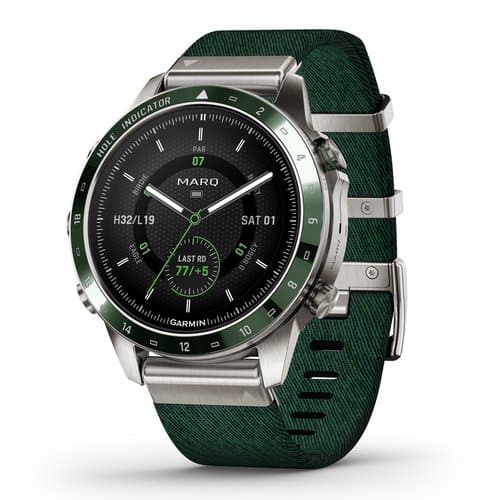 This high-end timepiece is made with only the highest-quality components and offers endless features for golf and other activities, all designed to ensure ultimate reliability on the course.
With preloaded courses from around the world, accurate yardages, club selection, and green views, this watch helps you make more strategic shots every round. Its precise distance measurements, virtual caddie, and shot tracking make it easy to improve your game in real time.
The MARQ Golfer (Gen 2) GPS Watch also sports advanced features like heart rate monitoring, slope functionality, downhill shot accuracy, wind speed and direction, contactless payments, and more. Its firmware updates and compatibility with the Garmin Golf app mean you can stay up-to-date with the latest technology and weekly leaderboards.
Pros
High-quality components
Preloaded courses and accurate yardages
Virtual caddie and shot tracking
Advanced features for other activities beyond golf
Jaw-dropping battery life, with up to 16 days with gestures and 6 days in always-on mode
Cons
Premium price point
May be too advanced for basic golfers
Garmin's MARQ Golfer (Gen 2) is a luxury GPS watch that excels both on and off the golf course. Its impressive features, premium design, and ultimate reliability make it a top contender for serious golfers looking to take their game to new heights.
SkyCaddie LX5 Golf GPS Watch
If you're looking for a golf GPS watch that delivers on accuracy, easy-to-use features, and advanced technology, the SkyCaddie LX5 is a top contender. The watch boasts a large color touch screen that's easy to navigate and displays accurate yardages to help improve your game.
In addition to preloaded courses, the SkyCaddie LX5 also offers virtual caddie features that recommend club selection and factors in specific weather and course conditions. The watch is also app compatible, making it easy to review your rounds of golf or update your firmware for the latest features.
It's no wonder the SkyCaddie LX5 has received top marks in testing and high consumer ratings. This golf GPS watch is ideal for both regular and advanced golfers who want to improve their game without the extra cost of a handheld unit.
Pros
Large color touchscreen
Accurate yardages
Advanced virtual caddie features
App compatibility for easy updates
Playbetter portable charger included in the price
Cons
The watch occasionally takes a few minutes to find a satellite and connect to it
Overall, the SkyCaddie LX5 Golf GPS Watch is an excellent choice for serious golfers who want to up their game without breaking the bank. Its accuracy, ease of use, and advanced features make it a great option for golfers of all levels.
Garmin Approach S62 GPS Watch
If you're looking for a lightweight, user-friendly, and high-quality golf GPS watch, the Garmin Approach S62 could be what you need. This top seller has impressive features that make it one of the most powerful golf GPS watches on the market.
Compared to its successor, the S70, the S62 is at least $150 cheaper, making it an affordable option that doesn't compromise on quality.
Here are the top five features that make the Garmin Approach S62 a top seller:
GPS accuracy and preloaded courses for more than 41,000 golf courses worldwide.
A virtual caddie system that offers helpful insights and club suggestions based on your stats.
An easy-to-use interface that's customizable to your preferences.
Up to 20 hours of battery life in GPS mode.
Contactless payments, smart notifications, music storage, and other impressive features beyond golf.
Pros
Accurate distances with preloaded courses.
Advanced virtual caddie system for improved decision-making.
User-friendly and customizable interface.
Long battery life.
Additional useful features beyond golf.
Possibility to include a CT10 sensor with your purchase
Cons
May be a bit pricey for some golfers.
Overall, if you're looking for a top-of-the-line golf GPS watch that offers plenty of features and high customer ratings, the Garmin Approach S62 GPS watch is an excellent option.
You can purchase the watch in black or white colors, and the optional Garmin CT10 sensor to track your club and get additional useful data.
Shot Scope V3 GPS Watch
The Shot Scope V3 GPS Watch has 36,000 preloaded courses, and It also has automatic shot tracking, ensuring you have accurate distances for all of your shots.
The Shot Scope V3 is renowned for its accuracy, making it an excellent choice for golfers looking to improve their game. The 10-hour battery life is decent, giving you plenty of time to complete rounds of golf without worrying about running out of power.
Its sleek design allows you to wear it as a regular watch, while still benefiting from its golf features. It provides a wealth of information, including club selection advice and green views, making it a virtual caddie on your wrist.
Pros
Preloaded courses
Automatic shot tracking
Accurate distances
Decent battery life
Cons
No contactless payments or heart rate monitor
Overall, the Shot Scope V3 GPS Watch is a premium golf device that can bring your game to the next level, making it an ideal choice for modern, quality golf.
Garmin Approach S12 Golf GPS Watch
The Garmin Approach S12 is a golf GPS watch that is affordable and comes with some premium features to help you out on the course.
As the upgrade to the S10 model, the S12 comes with a premium round-watch design, a high-resolution sunlight-readable display, and an extended battery life of up to 30 hours in GPS mode. The S12 provides accurate yardage, green views, and club selection to enhance your game.
The S12 is suitable for both basic and advanced golfers, with its preloaded courses and accurate distances that help you track your rounds of golf. It also includes slope functionality for downhill shots and a virtual caddie. The app also allows you to track your shot distances and records your performance.
Pros
Relatively affordable
Premium design
Extended battery life
Affordable price range
Preloaded courses
Precise distances with green views
Cons
No heart rate monitor or contactless payments
The Garmin Approach S12 Golf GPS Watch is a modern golf product with quality golf features within an affordable range. Its stylish round-watch design, accurate yardage, and advanced features make it an excellent golf device for regular and premium golfers.
GOLFBUDDY Voice 2 GPS With Wristband Bundle
If you are tired of squinting at your golf GPS watch to read the distances, GOLFBUDDY's Voice 2 offers a unique solution with its talking GPS unit that audibly reads out distances to the front, middle, and back of the green.
This device allows you to hear accurate and precise yardages with just a push of a button, eliminating the need to strain your eyes.
The GOLFBUDDY Voice 2 GPS is more than just a talking GPS - it also comes with a silicone wristband strap, allowing you to wear it as a watch or clip it to your belt. This multi-use device offers the convenience of hands-free operation, making it an ideal choice for golfers on the go.
Pros
Very practical audible output
Accurately reads out distances
Unique talking GPS function eliminates the need to squint
Can be used as a handheld, clipped to a belt, or worn as a watch with the included wristband strap
Battery life lasts up to 14 hours
Cons
Does not offer advanced features such as shot tracking or slope functionality
Overall, the GOLFBUDDY Voice 2 GPS With Wristband Bundle provides a simple, user-friendly way to get accurate distances on the golf course. Its talking GPS function and multi-use design make it a standout option for golfers seeking a hassle-free device.
Buyer Guide: What to Look for in the Best GPS Golf Watches
Before investing in a new golf GPS Watch, there are a few factors to consider to ensure you make the best choice possible. Let's go through them one by one!
Feel & Weight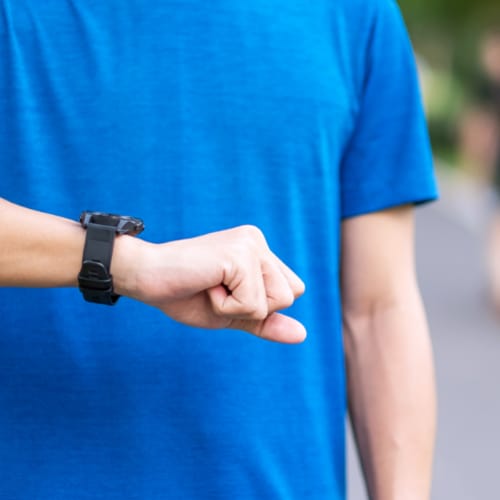 When it comes to choosing a golf GPS watch, the feel and weight of the watch can have a significant impact on your game. A heavy or uncomfortable watch can interfere with your swing, negatively influencing your shot accuracy and overall performance on the course.
To choose a lightweight and comfortable GPS watch, consider trying on different models before making a purchase. Look for watches that have comfortable wristbands and are not too bulky or heavy. You may also want to consider aftermarket replacement bands if the original wristband is not comfortable for you.
Remember, the goal is to have a watch that is not distracting or bothersome during your game. You want to be able to focus on your shots and the course without any interruptions.
Battery Life
Battery life is another crucial factor to consider. You don't want your device to die during the round, leaving you stranded without accurate yardages. Ideally, a golf GPS watch should have a battery life of at least 8 hours in GPS mode and 10-14 days in smartwatch mode without needing to recharge.
Among the top picks, the Garmin Approach S12 has the best battery life, with up to 30 hours in GPS mode and 10 weeks in smartwatch mode. This means you can play a few rounds without worrying about running out of juice.
Other devices offer around 16-20 hours of battery life in GPS mode, which is still decent but might not last for multiple rounds or a long day out on the golf course.
In conclusion, when choosing a golf GPS watch, pay close attention to battery life to ensure you have a reliable device that won't let you down during your game.
Added Features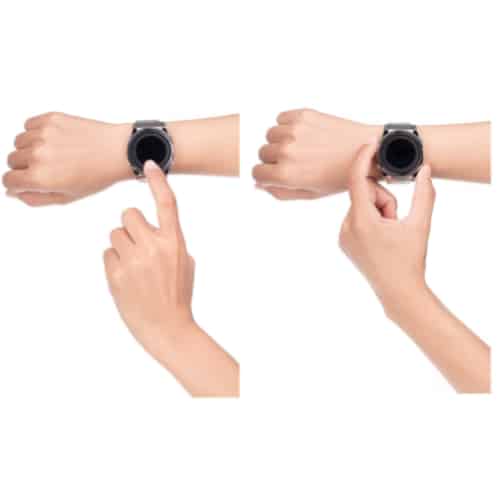 Some additional features can be built-in your GPS watch and take your gameplay experience to the next level.
One of the top features of a golf GPS watch is the ability to provide accurate distances to different hazards, such as bunkers, water, and trees, giving you a better understanding of where you need to place your shots. This can help you make more informed decisions and improve your overall game.
Another useful feature is a color touchscreen, which makes it easier to navigate through different screens and view graphics, even in broad daylight. Golf GPS watches also provide overhead maps of the course, so you can easily track your progress and make adjustments to your shots.
Custom pin placement is another added feature that allows you to manually adjust the location of the pin on the green, giving you more precise distances to the flag and more accurate shot selection. Shot tracking is also available, which records your shots and helps you analyze your gameplay, making it easier to identify areas for improvement.
Some watches also have an auto course recognition feature, a heart rate monitor, touchless payments, etc. Try to choose a watch that offers as many features as possible without taking the price too high.
Display
A clear display is essential for any golf GPS watch as it allows you to see accurate readings with ease. High-resolution screens provide clear and sharp graphics, ensuring that the readings are reliable. There are two types of displays available: touchscreen and non-touchscreen displays. While touchscreen displays offer easy navigation and quick setup, non-touchscreen displays are ideal for users who prefer a simpler setup.
LCD displays tend to be the most common type of screen on golf GPS watches. They are clear and customizable but can be challenging to read in bright light. AMOLED displays offer vivid colors, with high contrast and brightness levels, allowing users to read the watch face quickly. E-Ink displays provide a less vivid display, but they have long battery life and clear visibility in bright light.
Choosing the right display type ultimately depends on your preferences and the golf course conditions you play in. If playing in bright light conditions, an AMOLED screen will work best, while E-Ink displays are ideal for users more concerned with battery life.
Overall, a clear and high-resolution display is necessary for accurate readings and an enjoyable golfing experience.
Price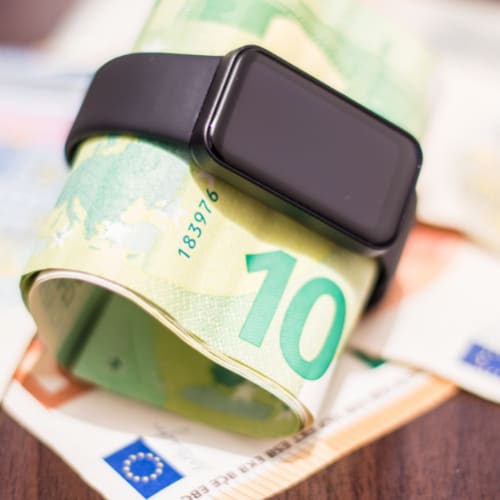 The price range of GPU watches can vary greatly, depending on the features and quality of the watch. For basic options, prices can start as low as $100, while for more advanced options, prices can exceed $500, with premium products sometimes exceeding the $2,000 mark. The cost-benefit ratio should be considered when making a purchase, as a more expensive watch may come with additional features that could greatly improve your golf game.
Investing in a good golf GPS watch can provide precise distances and accurate yardages, helping you to make better club selections and improve your overall score. Many watches also come with features such as shot tracking and virtual caddies, providing additional guidance during your rounds of golf. Premium prices are often associated with watches that come with extra features such as heart rate monitors, slope functionality, and contactless payments.
While there may be an extra cost associated with a more advanced golf GPS watch, it can provide a significant return on investment in the long term.
Frequently Asked Questions
If you still have questions about GPS golf watches, you might find answers in this section!
Do Professional Golfers Wear Watches?
Professional golfers generally do not wear watches while playing golf as it can interfere with their swing and affect overall performance.

Exceptions to this rule include golfers who prefer the convenience of having access to accurate distances and course information provided by GPS watches.

However, some golfers may find watches uncomfortable to wear during prolonged periods of play and prefer other methods such as handheld units or rangefinders. Overall, it comes down to personal preference and comfort.
Can You Use A Golf Watch In A Tournament?
The rules of golf prohibit the use of devices that can offer players an unfair advantage. So, while golf GPS watches can be helpful during practice rounds, they must be removed from the player's wrist before they start their tournament round.

According to the Golf Coaches Association of America, it is clearly stated in USGA Rule 14-3 that "...during a stipulated round, the player shall not use any artificial device or unusual equipment for the purpose of gauging or measuring distance or conditions which might affect his play."
Can You Use an Apple Watch as A Golf Gps?
While an Apple Watch has some basic golf GPS features, it's not advanced enough to be a standalone golf GPS device. However, the GolfShot Pro app can be used as a high-end golf GPS with most of the features available on a golf GPS watch.

The app uses GPS to provide accurate yardages, preloaded courses, green views, shot tracking, club selection, and record shot distances. The app also offers additional features like slope functionality and virtual caddie for an extra cost.

So, if you own an Apple Watch, you can benefit from a high-end golf GPS experience by using the GolfShot Pro app (for additional fees).
Should I Buy a Gps Watch or A Laser Rangefinder?
Choosing between a GPS watch and laser rangefinder can be challenging, as both are popular tools for golfers, each offering unique features and benefits. Going through the lists of benefits below can help you choose one over the other.

Benefits of GPS Watches:
* Convenience: A GPS watch is worn on the wrist, allowing for quick and easy access to distance information without the need to retrieve a separate device from your bag.
* Continuous Information: The GPS watch provides real-time distance measurements to hazards, greens, and fairway landmarks throughout your round, helping you make informed club selections.
* Course Mapping: GPS watches come preloaded with course maps, displaying the layout of each hole and allowing you to visualize distances and plan your shots accordingly.
* Shot Tracking: Some GPS watches offer shot tracking features, enabling you to record and analyze your shots for post-round analysis, including shot distance and accuracy.
* Multi-Sport Functionality: GPS watches often offer features beyond golf, allowing you to track other activities like running, swimming, or cycling.

Benefits of Laser Rangefinders:
* Pinpoint Accuracy: Rangefinders use lasers or GPS technology to provide precise distance measurements to specific targets, such as the flagstick or hazards, with a high degree of accuracy.
* Slope Adjustment: Many GPS rangefinders offer slope-adjusted distances, taking into account the elevation changes on the course to provide more accurate measurements and help you with club selection.
* Target Customization: Rangefinders allow you to manually aim at specific targets on the course, such as bunkers or trees, to obtain precise distances to those features.
* Depth Perception: Some golfers prefer the visual aspect of using a rangefinder, as it helps them gauge distances and visualize their shots better.

Ultimately, the choice between a GPS watch or a laser rangefinder will depend on your personal preferences, budget, and playing style.
Final Thoughts
There you have it! Our list of the 10 best GPS golf watches available for purchase today. We made sure the list includes units from different price points to suit different budgets. From simple watches providing minimal information to the most advanced ones with a plethora of features and functions and anything in between, there is a GPS watch for every budget and preference.
We hope this guide has been helpful in selecting the best golf GPS watch for you. Feel free to leave a comment below to let us know what you think.
Thanks for reading!
WRITTEN BY

My name is Jacob, a self-diagnosed equipment and golf enthusiast. I've been golfing since I was 15. Golf has always been my passion. I'm a bit of a golf equipment nerd and I've been that way since the moment I picked up a club for the first time. As someone who's been on both sides of the game, I know what it takes to be a good golfer. Of course, you need good equipment, but you also need to know how to use it. I hope sharing my experience with you will help you improve your game.
You May Also Like