The 10 Best Golf Rangefinders of 2023. Reviews & Buyer Guide
Last updated:
November 13, 2023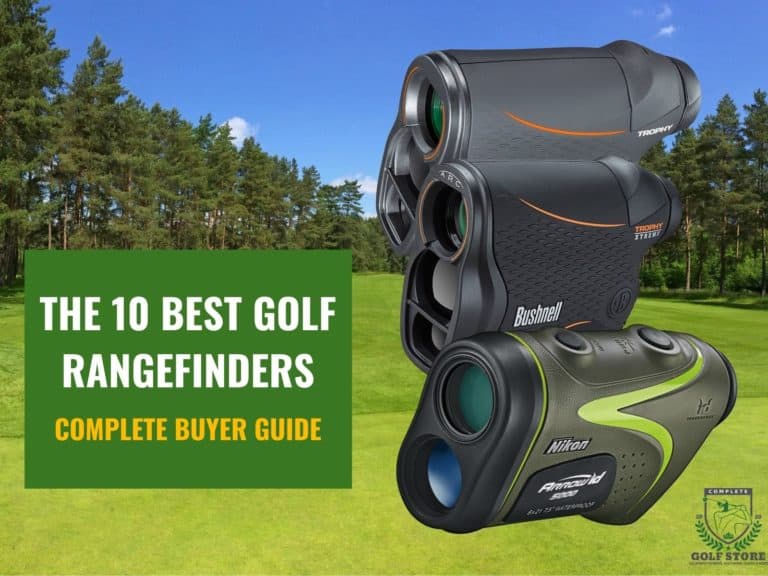 Disclaimer: We may earn a small commission from some of the links on our website. However, our reviews and comparisons remain fair and unbiased. Our goal is to help you make the best choice. For more information, please see our
disclosure statement
. Thank you for your support.
Key Takeaways
The TecTecTec ULT-X Golf Rangefinder is our top pick for the Best Golf Rangefinder because it combines affordability with great performance and accuracy. It features Target Lock Technology, 6X magnification, a Pinsensor with vibration, and ±0.3 yards accuracy for up to 300 yards. It also has a Slope Feature that can be easily removed for tournament play. The ULT-X is moisture and rainproof, easy to use, and comes with a lifetime customer support and 2 years warranty.
How does a rangefinder work? Is it worth it? Which one to choose? We will answer every single question about rangefinders.
From handheld units, GPS Apps for IOS or Android, to wearable GPS watches, golf-specific rangefinders work [1] great in calculating the perfect target distance quickly and reliably, making them essential accessories you should consider having in your golf bag.
Accurate distance control [2] lets you play the game well and shoot low scores. Seasoned players can opt for models with advanced features like slope measurement and pin-seeking modes.
We have compiled a list of the best golf rangefinders for you. By the time you finish reading the article, we are sure that you will be equipped with the information and knowledge to choose the right rangefinder to get the best out of your golfing sessions.
No time to read the whole article? No worries. We've done the work for you and compiled a list of the top performers.
| Product | Features | Our Rating | |
| --- | --- | --- | --- |
Top 10 Best Golf Rangefinder Reviews
Below are the top 10 rangefinders reviews. Based on your preference, you can pick the one that shall improve your game.
The following are our top selections based on our own testing, research, and experience:
TecTecTec ULT-X Golf Rangefinder
TecTecTec is a trusted brand, and their ULT-X is the best GPS rangefinder you can turn to due to its durability, reliability, and cost-effective rates. The TecTecTec ULT-X is the best inexpensive rangefinder that comes with advanced features. Also, it competes well with other finders that are double its price tag.
Key Features
Target Lock Technology: The ULT-X unit uses the target lock technology to lock in on the targets. It works great and can calculate distances of up to 1000 yards.
Magnification: The 6X magnification allows you to get clear and bright pictures - so you don't have to worry about not locking onto the flag accurately.
Pinsensor with vibration: This feature sends slight jolts to your device to assure you that you have locked in on the right target. Since wooded areas are commonly found behind the greens, this feature becomes more effective here - you get to hit a flag and not the tree. Also, the scan feature allows you to quickly find the target and identify other objects as you get ready to hit.
Great accuracy: The ULT-X uses the latest optical technology to give a reading that is ±0.3 yards accurate for a distance of 300 yards, ±0.5 yards accuracy for 600 yards and ±1 yard accurate reading for a distance of 1000 yards. Impressive!
Slope Feature: Slope reading allows you to calculate better but it is not permitted for tournaments. It works great for practice rounds as it helps you understand the downhill and uphill factors. This one comes with an attached faceplate that you can quickly remove if you plan to play competitive tournaments. This makes it legal to use as per the USGA regulations.
Pros
Resistant to moisture and rainproof.
Easy to use.
Offers lifetime customer support and 2 years warranty.
Indicates when the battery is low.
This unit is one of the best value rangefinders for golfers looking for cost-effective GPS devices that come with slope reading. It also contains additional accessories such as a strap, a premium carrying pouch, a quick start guide, and a CR2 battery to operate the unit.
This is our top pick because it combines affordability with great performance and accuracy.
Bushnell Tour V4 Jolt Golf Laser Rangefinder
With years of experience, Bushnell has come out with one of the best laser rangefinders. PGA tour professionals often use the Tour V4 JOLT Laser model during their practice sessions. This solid entry gives you accurate estimates and readings by locking precisely on the targets.
Key Features
JOLT Technology: With the help of the jolt technology the device vibrates as soon as it locks onto the target flagstick. You will find that this unit's yardages are accurate, assuring you that the readings are sensible.
Silicon protection: The presence of the silicone sleeve ensures additional protection for the unit. It also provides an extra layer of shock absorption and saves it from accidental drops and abuses.
Customer support: The Tour V4 JOLT Laser model comes with a warranty period of 2 years.
Pinseeker: The pin seeker and the jolt technology help deliver precision and accuracy as you make incredible shots. So, you don't have to double-check the distance and make sure that the yardage is right.
Range: The laser range of the Tour V4 JOLT stands unique among the crowd. Having a range that can go up to 1000 yards with a margin of error of one yard, you can easily target the pin within this range. If you plan to target long-distance ends, you will have to utilize a fast focus system and 5X magnification to find the pin's location.
Pros
Legal to use in tournaments.
Comes with an excellent protective case.
Offers the best golf rangefinder app - Bushnell Golf App.
Compact in size and fits nicely into your hands and pockets.
Cons
Not suitable to use during foggy seasons.
Has only 5x magnification.
The Bushnell Tour V4 JOLT is an excellent rangefinder for the money that holds similar features and power as that of its competitors. Despite its small size and weight, it offers excellent accuracy and efficiency. It's the best choice for those looking for mid-price range models and has a solid case that shields it from damage.
Nikon Coolshot Pro Stabilized
Nikon is well known for its high-end cameras and rifle scopes with immense success in the optical industry. No wonder when it comes to rangefinders, they have some of the best models. The Nikon Coolshot Pro is an excellent rangefinder because of its modern and sleek profile. In addition to its great appearance, it's also bundled up with high-tech features.
Key Features
Stabilize: The Coolshot Pro utilizes stabilization technology to maintain the integrity of both the laser beam and sightline that shoots and takes the reading. This feature protects the unit from shaking or vibration of human hands and enhances the accuracy by 20%.
Locked On: This feature functions together with the stabilizing technology. Once you get the reading, it brackets the targeted point using a green circle so that you won't have any doubt about the locked target.
Fog Proof and Waterproof: The Coolshot is a resilient model that's resistant to fog and water. It will be safe against inclement weather.
Slope Tech: Especially for players who play in hilly areas, the slope reading technology works great. Being aware of the slope you need to handle will offer you a better grasp of your shot.
Pros
Utilizes the Incline/Decline Technology to analyze downhill or uphill shots.
Has durable housing.
Excellent accuracy ratings.
User-friendly.
Cons
The case comes with elastic edges.
The Coolshot Pro is one of the best rangefinders for shaky hands, making it great for senior golfers. With cutting-edge technology such as stabilize and Locked on, most users are sure to reap lots of benefits.
Bushnell Pro X2 Golf Laser Rangefinder
Bushnell has been striving to offer the world's best quality and most reliable sports products for over 60 years. Their Pro X2 is one of the best GPS rangefinders, as it's packed with incredible features. Any player who is familiar with rangefinders or GPS will surely appreciate this one.
Key Features
PinSeeker with Jolt: Like other models, the X2 also comes with the PinSeeker with Jolt technology. This feature is capable of weeding out background hindrances such as flag poles or trees and will help you log onto the pin accurately. Jolt gives small vibrations when the X2 finds the target.
Slope: The slope feature helps measure the downhill or uphill pin location and gives you the accurate hit location. This is not permitted as per the USGA rules. That's why the X2 comes with a slope switch technology that allows you to toggle the switch on/off as required.
Dual Display Technology: There is a handy button on the side of the unit, which allows you to choose between a bright red and vivid display or a sharp black one. You can select depending on the lighting conditions and personal preference.
Great Precision and Speed: Thanks to the incredible precision and speed of the device, it relays readings from 125 yards away at five times the pace of its competitors.
6x Magnification: The ring on the eyepiece ensures easy adjustment of the focus. The 6x magnification gives a clear picture of the target location and its surrounding area.
Feel: The Stable-Grip Technology, which consists of a rubber grip over the metallic case, gives it a comfortable and sturdy feel and makes it easier to handle.
Pros
Excellent accuracy, precise from one yard to 1000 yards away.
Not only water-resistant but also waterproof.
Comes with a built-in CR2 battery.
Super fast target locking.
Cons
Lack of mounting options.
Bushnell has come up with great features in their Pro X2 model to reward their loyal golfers. It outperforms most other models, as it is the best golf rangefinder with slope when it comes to accuracy and speed.
The presence of multi-coated optics helps deliver clear pictures. Golfers of varying abilities will find this an excellent tool for practicing.
Nikon COOLSHOT 40i Portable Laser Rangefinder
Nikon has come across great successes in the optical market. So creating a good rangefinder is no surprise for this brand. The Coolshot 40i is one of the best rangefinders that holds up to its quality. The advanced features it displays are what keep it competitive with the other models in the market.
Key Features
Design: Though it may seem tiny, it offers the perfect accuracy and precision that you need to play the game. This highly portable and good-value rangefinder weighs only 5.6 ounces and fits well in your pockets, and you can carry it along in your carrying pouch.
Range: Having an effective range of 350 yards, it can scan your target and display your flag's exact location. It offers the correct measurement with a margin of error of up to 1 yard. The unit can also point out trees or hazards that lie around in the background of the course.
8-Second Shoot Time: This unit needs 8 seconds to scan the target location for objects. Any average player can easily locate the circular target range at the center of the green. With a sweeping motion, you will figure out the distance by shooting the green around the flag. By scanning, you will get numerous readings that'll help you decide on the perfect club.
6X Magnification: Just like most other models, this unit comes with 6X magnification. Also, the multilayered coatings offer a clear and unclouded picture.
Pros
Incredible battery life.
Convenient to use even in bad weather due to its waterproof feature.
Does continuous scanning which gives excellent clarity.
Slope-adjusted distance and to-the-target distance both provided.
Easy to use.
Cons
Shooting down flags through trees and bushes may not be easy.
The Nikon COOLSHOT 40i makes a great choice as the leading range distance measurement indicator based on design and optics. This budget-friendly option comes with a zero learning curve. This is the best budget laser rangefinder that uses the target priority technology to give high precision.
Precision Pro NX7 Laser Rangefinder
Ever used a rangefinder and thought you would hit the flag and then made a wrong distance hit? This can be frustrating and can even kill a great game. Using the Precision Pro NX7, which is an excellent rangefinder for shaky hands, you are sure never to be disappointed.
It comes with various advanced technologies and has a compact design. It's an excellent choice for numerous reasons.
Key Features
Accuracy: A great rangefinder that can measure from one yard of the target up to 650+ yards with 1/10th of a yard accuracy. All you have to do is click on the single button on the top. Once you see a circle with crosshairs, hit the button once again. Now it will provide the exact distance of your target location.
Durability: Even if you accidentally drop it, you don't have to worry about it getting damaged or scratched. This is because it's made using a shockproof design.
Pulse Vibration Technology: The perfect combination of Pulse Vibration Technology and Target Acquisition Technology triggers a vibration as you lock onto your target. This is done by measuring the accurate distance of the target. As a result, you will speed up your game and boost your confidence as you make each shot.
Adaptive Slope Technology: The adaptive slope technology does the calculation part for you and quickly displays the required yardage. By clicking one button, you can quickly turn the slope off to play legally.
Pros
It can deliver the distance accurately even with shaky hands.
Water-resistant and small in size.
2-year warranty.
Provides a trade-in allowance if you wish to upgrade it later.
Cons
Minor accuracy and consistency issues.
The Pro NX7 is one of the best budget laser rangefinders with its functionality and compact design. It's best suited for intermediate to advanced players who are quite serious about golfing. Loaded with great features, it's available at a reasonable cost.
TecTecTec VPRO500 Golf Rangefinder
TecTecTec's VPRO500 is one of the best rangefinders for beginners with a sleek profile. If you are on a limited budget, this unit for under 200 dollars is for you. The affordable price range allows you to focus on getting other sports items that will help enhance your game. Although it's a slightly older version, it still holds good value. In addition, it makes use of laser technology to improve the game.
Key Features
Accuracy: This model gives you the exact distances of the hazards or flags that lie with one-yard accuracy. It has a maximum range of around 540 yards. It also provides readings instantly within a few seconds. This helps you improve the speed of your game. All you have to do is aim toward the target, get the correct measurement, and make the best shot.
Pin Mode: The Advanced Pinseeker Mode helps in carefully measuring the overlapping targets and the distance toward your flags present in wooded areas. It also helps in locating hazards before you make a shot.
Target Lock Technology: Using this technology helps in filtering out the background objects and locking onto the targets accurately.
Scan Mode: With the Continuous Scan Mode's help, you can figure out the exact distances of each object that can influence your game. This Scan mode will keep looking for data and offer readings in meters or yards.
Lens Display: When it comes to the optics, they are ultra-clear, premium, multilayered, and easy to read. From the lens display, you will find the distance measurement and get indications when the battery is low.
Pros
Portable and lightweight.
Comes with a weight of just 185 g.
Ergonomic and resistant to water.
Offers two years of warranty with lifetime Customer Support
Cons
The housing is quite flimsy.
The Tectectec VPRO500 is a good inexpensive rangefinder choice for everyday golfers looking for great value. It's suitable for all levels, from experienced players to beginners. It can scan long ranges and is simple to use directly out of the box. Also, the packaging includes a cleaning cloth, a case, and a battery.
Callaway 300 Pro Golf Laser Rangefinder
Though Callaway isn't usually known for its rangefinders, the 300 Pro has been consistently rated as one of the best rangefinders with slope. It also makes a grand entry because it's a perfect combination of functional and sporty designs. In addition to offering the slope features, they're available at an attractive price range. With a modern and sleek ergonomic design, you will be able to locate your pins accurately in a sophisticated manner.
Key Features
Long-range vision: The unit offers accurate yardages up to 1000 yards. This is much longer than you will ever require during a game.
Chirp: The pin acquisition technology present in this unit chirps when it gets locked onto a pin that lies up to 300 yards. The 300 Pro emits loud audible noise as it gets locked onto the flagstick. If you find that the pin is too far away, you can use the 6X magnification to track it out.
Accuracy: The 300 Pro compact unit offers a range that goes up to 1000 yards with a margin of error of one yard. This distance location provides you the confidence to plan your shots irrespective of the location of the hole.
Slope: The slope measurement feature helps calculate the actual yardage by measuring the declination or inclination to make a clean shot. You can easily turn off the slope function with just a simple click to avoid getting disqualified from any official tournaments.
Pros
Fog proof and waterproof.
Comes with an LCD that's easy to read.
Can precisely mark any hindrances that lie in the background using the scan mode.
Cons
Has minimum accessories and lacks a magnetic clip.
Chirps instead of vibrating, which can cause distractions.
With numerous options available, the Callaway 300 Pro Laser is a great budget rangefinder from a reputable brand. It will be a great add-on to your golf kit. Moreover, it's highly reviewed by enthusiastic players across the globe.
Garmin Approach Z80 Rangefinder
Next on our list, the Garmin Approach Z80 is one of the best value rangefinders for you. Though it's not cheap, it provides unique features that are worth the value. Known as the most accurate target indicator and leader among rangefinders, the Approach Z80 acts as the user's best personal caddy.
Key Features
Insane Accuracy: With the Z80, your strokes will never go wrong again. The image stabilization feature will enable you to locate and range the flagsticks accurately. On hitting the flag lock, you can automatically view the entire distance of the green through the green view of the lens. Hence, you don't have to calculate how to get to the back or front of the green correctly.
6x magnification: Thanks to the 6x magnification, you will get a clear picture with map overlays of the entire layout of the hole.
Plays Like Distance: This feature helps in adjusting yardages for downhill or uphill shots automatically. Based on the elevation changes, these calculations are precisely made from where you're standing to the located area on the map. This makes it easier for you to choose the right club to hit elevation shots. When you play in tournaments you can disable this feature to stay legal.
Laser Range Arc: Based on the laser distance range, this feature helps you draw an arc on the 2-D course map. This will help you to view the area clearly and stay away from hazards or bunkers.
Pros
The Laser Range Arc feature is extremely useful.
Perfect accuracy within 10" to the flagstick.
Offers image stabilization even if you have shaky hands.
Provides a sufficient distance range of up to 350 yards.
Cons
Requires frequent battery charging.
If you are visually oriented and require game plans before making each shot, the Z80 is the best rangefinder for you. With incredible technology packed into this unit, you don't have to worry about anything before making a shot. It also comes with a micro USB charging cable, a carry case with a carabiner, and an instructions manual.
WBLAMIC Laser Range Finder With Slope
WBLAMIC's Golf Rangefinder is a cutting-edge device that redefines accuracy, convenience, and functionality on the greens. This exceptional rangefinder boasts an impressive range of features, making it an indispensable tool for golfers of all skill levels. From its precise measurements to its versatile modes, the WBLAMIC Golf Rangefinder is poised to become your go-to companion both on and off the golf course.
Key Features
1100 Yards Accuracy: With a measurement range spanning from 3 to 1100 yards and an astonishing accuracy of +/- 1 yard, this rangefinder ensures pinpoint distance readings, giving you the confidence you need for every shot.
Four Different Modes: Explore slope compensation, flagpole-lock, straight-line distance, and speed mode, catering to various scenarios from golfing and outdoor sports to hunting and construction.
Slope Compensation & Flagpole Lock: The built-in slope compensation function provides accurate distances on both inclined and flat surfaces, while the Flag Lock Technology, coupled with Pulse Vibration guarantees you've locked onto your target, enhancing your precision. When the slope switch is disabled, it's tournament-play compliant.
Clear & Wide Field of View: High-quality fully multi-coated optics minimize glare and light loss, resulting in even light transmission. The 6x magnification lens and adjustable diopter offer exceptional focus, ensuring you never miss your mark.
Easier to Access & Prevent Loss: The innovative magnetic clip lets you affix the rangefinder onto any metal surface, preventing accidental loss and ensuring easy access during your game.
Type-C Rechargeable: Say goodbye to traditional non-rechargeable batteries. The built-in 750mAh rechargeable Li-ion battery with a convenient Type-C quick charging port guarantees prolonged use with a mere 3 hours of charging time.
Durable & Portable with Magnetic: Crafted with durability in mind, the rangefinder's magnetic stripe allows it to stick effortlessly to your clubs or cart. A complimentary magnetic belt clip further enhances portability, keeping it close at hand throughout your round.
Water & Dustproof: Designed to withstand the elements, this rangefinder boasts an IP54 water and dustproof rating, ensuring its reliability in various weather conditions.
Pros
Impressive 1100 yards range
Precise and rapid measurements
Rechargeable battery minimizes environmental impact
Durable construction and water/dustproof design
Magnetic features prevent loss and improve accessibility
Slope compensation and Flag Lock Technology enhance accuracy
Cons
The advanced features might take a little time to familiarize yourself with.
The range might be excessive for casual golfers.
The WBLAMIC Rangefinder stands as a game-changing device that combines precision, convenience, and durability in a single package. Its range of innovative features, from accurate measurements and versatile modes to its ergonomic design, ensures a seamless golfing experience for players of different skill levels.
Buying Guide: What Are The Factors To Consider When Choosing a Rangefinder?
If you are looking to buy a good rangefinder for the very first time, here are some of the main factors that will help you make the right choice:
Distance Range
You need to make sure the unit can shoot a maximum reliable distance. You can compare a number of units before buying and choose the one that has the highest distance range.
Accuracy
Accuracy is a significant, if not the most significant, criterion here. If the unit gives the wrong numbers and calculations, it becomes useless, and the players won't see any improvement in their shots.
We already know laser rangefinders are more accurate than GPS units, but this means in no way that GPS units are not good. The device must meet a minimum accuracy requirement.
Slope Measurement Capabilities
In addition to gravitational features, slope features help you make better shots when playing an uphill or downhill shot. A rangefinder that supports slope calculations and slope compensation technology can calculate the distance to the flagstick, in addition to the degree of elevation. These are helpful features to have in your new rangefinder.
Display Technology
This is a territory dominated by GPS rangefinders, as they usually offer a good-quality display on which the map of the whole course is displayed. Still, laser rangefinders are evolving too. Some units have replaced the traditional monochrome LCD display with modern OLED ones offering better views of the course with colored data, making it easier for you to read the displayed numbers.
Water Proof
It will help if you look for a rangefinder that is waterproof. This is because it needs to work in different weather conditions; in addition, it should survive an accidental fall in the water. Knowing that your device is waterproof will help you focus more on the game instead of paying attention not to damage the unit.
Ease of Use
All electronics come with a slight learning curve; this includes golf rangefinders as well. Therefore, you should opt for units that you can use directly from the bag and help you find the target quickly. The faster the calculations are, the better the whole experience will be.
Magnification
It is pointless to own a device capable of calculating long distances if you can't view the target. For this, you will require a minimum of 5X magnification to see distant targets. Most of the devices today come with 6X magnification.
Pin Seeking Technology
This feature helps you pinpoint and lock your targets before making a shot. For example, if you point your rangefinder at a small mark from a distance, the pin-seeking feature locks your target when you press the button so that even if your hand is shaking or the crosshair moves, your target will still be locked.
Price
When you want to buy a new rangefinder, you most probably have a budget in mind. First, you need to consider all the options that fall into the price range that you can afford. Then, you can compare them all in terms of features, reliability, accuracy, sturdiness, etc.
Finally, you want to pick the unit that offers the best value for the money you're paying.
Frequently Asked Questions
Now you might have a lot of queries on what the best golf rangefinder is. Analyzing golf rangefinder reviews from 2019 through 2023, we have covered some of the most common questions you may have concerning the topic.
Can Rangefinders Be Used for Examining Hazards?
hazards refer to areas of the course that are difficult obstacles for the player to negotiate. These include water hazards, sand trap hazards, bunkers, trees, etc., that are present on the course. Those are to be avoided during a game at all costs.
To do so, they need to be located first, and both types of rangefinders can do that without any problems. However, when it comes to invisible hazards, ones that you cannot spot, they are practically impossible to locate using laser rangefinders.
On the other hand, GPS rangefinders can easily locate all types of hazards on a course, as they are all marked on the GPS map even if you can't see them. So it seems like it's a clear win for GPS rangefinders over laser units, especially if you are playing on a new, undiscovered course. They provide an advantage for you to get better results.
Doesn't the Course Already Give You the Distances?
Yes, every course includes distance markers, also called fairway markers or yardage markers. They can be in the form of disks or poles, and they indicate the exact distance between the marker and the center of the green. Most courses use a unified color system for different markers using four distinct colors. In other words, the 100-yard marker is usually red; the 150 is normally white (sometimes it's yellow); the 200 marker is blue, and the 250 is yellow. 
You may use the markers to estimate distance, but this may be confusing. While all courses use the same four colors, it's not always clear what distance each color refers to, and you will need to check with the course personnel to know the significance of each color.
Doing so each time you go to a new golf course would be tedious and time-consuming. That's why it would always be better to have a rangefinder in your bag, ready to use whenever you need to.
Should I Opt for a Laser Rangefinder or Is a GPS Unit Better?
The answer to this question depends on how and where you intend to use your unit. As stated before, GPS units provide faster operation and a lot of useful information but they lack accuracy. Some laser rangefinders can be accurate to half or even a tenth of a yard. Each of the two can be handier in different situations. Making a choice between the two types is subjective. 
Suppose you are an experienced player who only plays on familiar courses and you know all the details and hazards. In that case, a laser rangefinder will be more accurate and useful. However, in the opposite situation, if you prefer to discover new, unfamiliar, unknown courses, a GPS unit will be your better choice. It will help you get used to the course faster.
What Type of Laser Technology Is Used in the Rangefinder?
To calculate distance, most laser rangefinders rely on the time of flight principle by sending a laser pulse in a narrow beam toward the targeted object (in our case, the flagstick). The time that the pulse takes to hit the flagstick and return to the laser unit is calculated and gives an estimation of the distance to the target.

Usually, many laser pulses are fired and the average responses are used to calculate the distance as accurately as possible. Other technologies can be used to calculate distance, such as interferometry or Multiple frequency phase-shift, but these are usually required in other fields where sub-millimeter accuracy is crucial.
In golf, most rangefinders use the time of flight principle.
Do I Need a Rangefinder for Golf?
If you are playing golf for fun and the low scores do not matter then it's not necessary to invest in a good rangefinder. However, if you're planning to become a seasoned player and learn the game well, you will have to get one to improve your skills.

Initially, those with essential features under the 100-dollar price tag will easily help you get through the game. As you become more experienced, you can get expensive models with advanced additional features and technology to upgrade your game. Getting the best rangefinder for both golf and hunting will be a cost-effective option.
Can I Use A Hunting Rangefinder For Golf?
If your hunting unit comes with the nearest object feature, you can also use it to play golf. However, it is still best to buy a rangefinder specifically made for golf, just like it is better to use golf gloves than regular ones.

Note that the best golf-specific rangefinders help in locating the pins more accurately. This may be slightly slower when you use rangefinder models intended for both golf and hunting.

In addition, even some golf measurement indicators can give the wrong target distance at times. Therefore, you need to be more careful and pay extra vigilance while using a single rangefinder for both golf and hunting.
Are Rangefinder Devices Legal For Tournament Play?
Yes. Most of the rangefinders available in the market are legal as per the USGA regulations if they measure only the target distance. However, the R&A and USGA made specific changes to the rules in 2006, prohibiting players from using distance-measuring tools.

By 2014, distance measurement devices were permitted while playing amateur events. Even though the latest slope-measuring technology seems great, the regulations won't be changing anytime soon. In 2016, the penalty for breaching these regulations underwent specific revisions. These rules remain in effect even now - in 2023.
Conclusion
Whether you need a rangefinder or not is based on how you play the game. If you're planning to play professionally for tournaments and upgrade your skills, getting a good golf rangefinder will help you progress quickly. All the items reviewed in our article offer some of the most accurate readings and will surely help you improve your game. 
In the end, no matter which one you choose, we guarantee that it will deliver outstanding performance since our list is composed of la crème de la crème in the golf rangefinder world. Budget won't be an issue either as we have reviewed products from different price categories, from the more budget-friendly to the more expensive rangefinders. So, we know for sure that your favorite rangefinder is on our list; you just need to give it a little thought to make the right choice.
If you have any questions, you're welcome to leave them in the comments section below.
Happy golfing!!!
---
References:
How Does a Golf Rangefinder Work? Golf Week. Retrieved from https://golftips.golfweek.usatoday.com/golf-rangefinder-work-1591.html
How to lock in distance control. Golf Digest. Retrieved from https://www.golfdigest.com/story/how-to-lock-in-distance-control
WRITTEN BY

My name is Jacob, a self-diagnosed equipment and golf enthusiast. I've been golfing since I was 15. Golf has always been my passion. I'm a bit of a golf equipment nerd and I've been that way since the moment I picked up a club for the first time. As someone who's been on both sides of the game, I know what it takes to be a good golfer. Of course, you need good equipment, but you also need to know how to use it. I hope sharing my experience with you will help you improve your game.
You May Also Like