How Much Does a Golf Simulator Cost?
Last updated:
October 6, 2023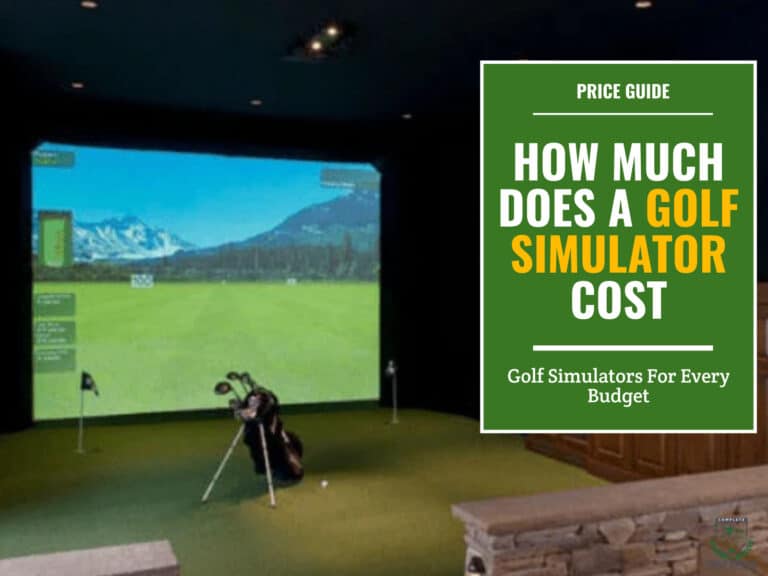 Disclaimer: We may earn a small commission from some of the links on our website. However, our reviews and comparisons remain fair and unbiased. Our goal is to help you make the best choice. For more information, please see our
disclosure statement
. Thank you for your support.
Key Takeaways
The cost of a golf simulator can vary greatly depending on the quality and components of the setup.
Golf simulators can be found in both high-end and budget-friendly options.
It is essential to know what you want in a simulator and have a budget set in place before making a purchase.
A wide range of golf simulators are available to cater to your individual preference and budget.
With the right investment, you can get a golf simulator that fits your requirements and skill level.
Golf simulators have become increasingly popular among golf enthusiasts, offering an indoor virtual experience that brings the game to life.
However, the complexity of a golf simulator setup may lead to the misconception that they are unaffordable.
While some simulators cost thousands of dollars, others are priced under $1,000.
No matter your budget, you can find a golf simulator that fits your financial capacity.
In this article, we'll discuss the price range of golf simulators, why their costs vary, the reason you should invest in one, and where you can purchase them.
Golf Simulators Price Range
In general, golf simulator costs start at around $600 and can go up to $70,000 or more, depending on the additional components and features you choose.
To simplify the decision-making process, we have grouped the prices into entry-level, mid-range, high-end, and professional-grade categories, ranging from $600 to $40,000+.
It's essential to consider your skill level, desired features, and budget when choosing the best golf simulator.
Entry-Level (Budget-Friendly): $1,000 to $5,000
Golf enthusiasts on a budget should look no further than entry-level golf simulators if they want to play a full golf game simulation experience at an affordable cost.
With a price range of $1,000 to $5,000, budget-friendly simulators typically include a launch monitor, golf net, hitting mat, and entry-level software.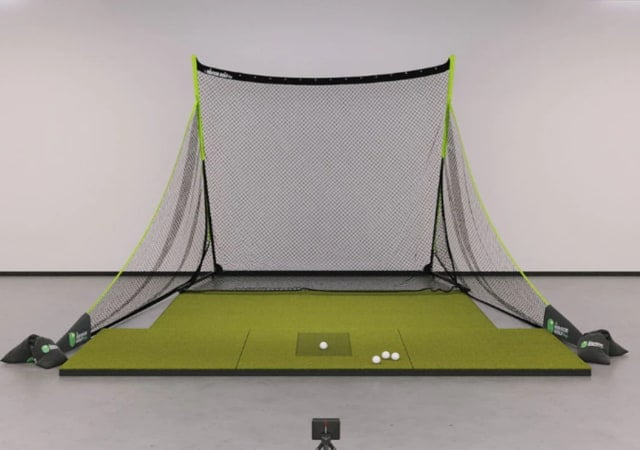 One of the most popular and affordable options on the market is the OptiShot 2 Golf Simulator, which costs less than $1,000 and provides:
Simulation software.
A USB cable.
Adjustable rubber tees.
Two foam practice golf balls within the package.
For those willing to spend a bit more, around $2,000, the Garmin Approach R10 Training Package is a great option to consider. It comes packed with the R10 launch monitor, a Net Return golf net, side barriers, and a 6′ x 10′ SIGPRO Turf mat.
Overall, budget-friendly simulators are great for beginners, casual golfers, and those who value cost-effectiveness over a fully immersive experience.
Mid-Range (Best Value): $5,000 to $15,000
Packages in this price range offer a more immersive experience than the entry-level options at a relatively small extra cost, and it might provide an edge to those who have been playing for a while.
Mid-range golf simulator packages include many necessary components like the launch monitor, net, hitting mat, simulator software, and a screen enclosure.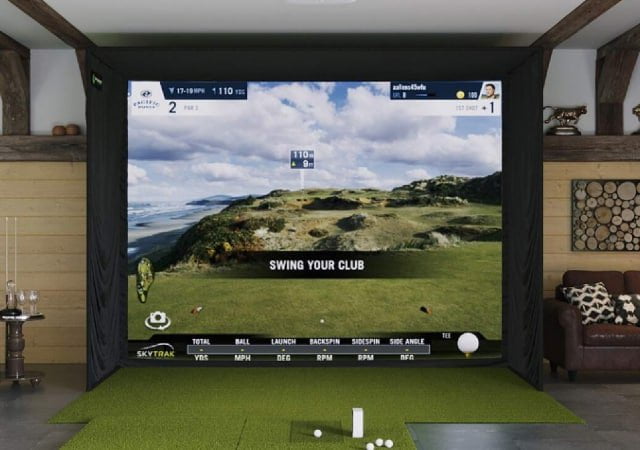 Additionally, they have projectors and screens, where a large display enhances display quality and fosters a more realistic experience.
The Flightscope Mevo Bronze Golf Simulator Package is an example. For under $7,000, it includes various components such as the Mevo+ launch monitor, E6 simulation software, and a golf simulator screen.
While for under $10,000, the SkyTrak SIG12 package, with its 12-foot wide screen displaying high-quality graphics, is a best-seller in this category.
High-End (Luxury): $15,000 to $40,000
A high-end golf simulator can give you the ultimate luxurious experience, as it comes with the most advanced and sophisticated features.
With a budget ranging from $15,000 to $40,000, you can get top-tier software graphics, highly accurate tracking technology, and high-quality equipment that accurately captures your swing and ball data.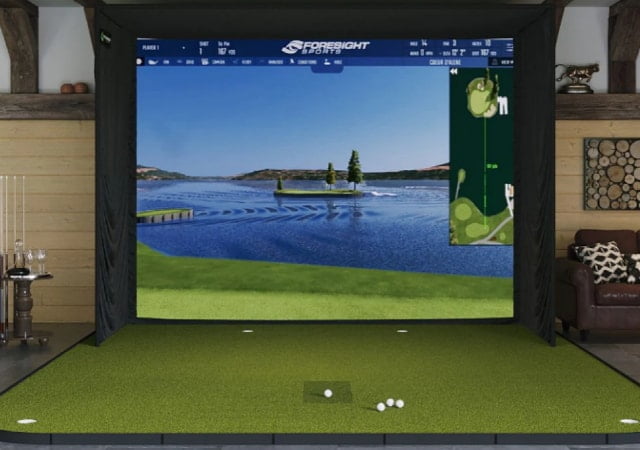 High-End Golf Simulators come with an impressive quality that makes them perfect for advanced training and commercial use, as the software simulates the most prestigious golf courses worldwide, such as Pebble Beach, Torrey Pines, and many more.
Brands such as Uneekor, Foresight Sports, and HD Golf are famous for offering high-end golf simulator packages, costing around $20,000 to $35,000.
These simulators come with a ceiling-mounted launch monitor with non-marking ball technology and a dual-camera system that captures every possible data point.
With a high-end golf simulator, you can experience an authentic golf experience, making it a perfect investment for professional golfers, high-end hotels and resorts, or anyone passionate about golf.
Professional-Grade (Premium): $40,000+
A professional-grade golf simulator is the ultimate investment for golfers who take their game seriously and want to improve their skills.
Prices for these premium systems start at $40,000 and can go up to as much as $100,000 or more, depending on the brand and package you select.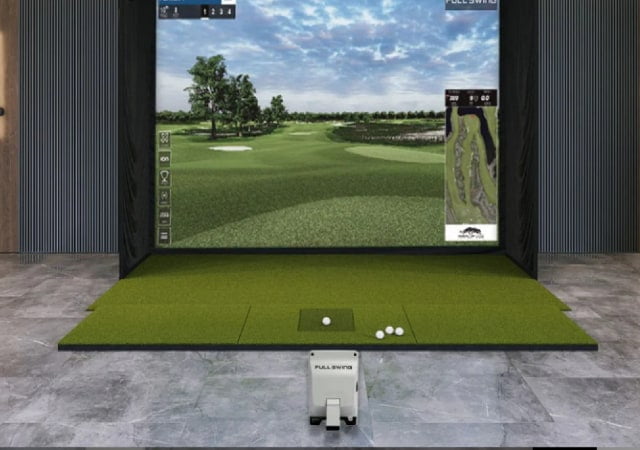 One popular option in this range is the Full Swing Golf Pro Series Simulator, used by many PGA Tour champions and endorsed by Tiger Woods [1]. It features patented technology that instantly provides realistic ball flight data to ensure the most accurate results.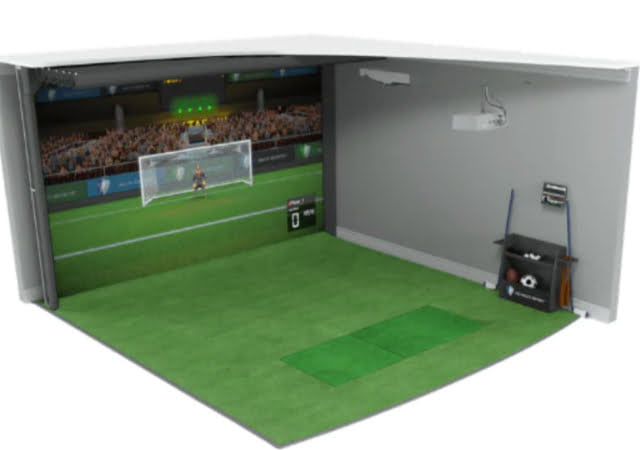 Another top choice for serious golfers is the HD Golf Simulator, whose premium packages start at around $60,000 to $70,000. Known for its photo-realistic 3D simulation technology, the HD Golf system uses high-speed cameras to record swing and ball flight and a sensor-based pressure mat to analyze weight transfer and balance.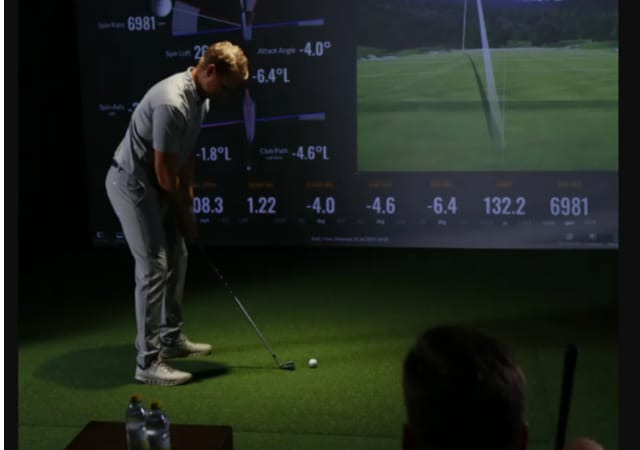 In addition to offering simulations of world-famous courses like Pebble Beach and Torrey Pines, the HD Golf Ultimate Entertainment Package also provides simulations of 11 different sports, including golf, making this simulator a versatile investment for the sports enthusiast.
At the higher end of the professional-grade spectrum is the TrackMan Indoor Golf Simulator, which starts at a minimum price of around $46,000.
Not only is this premium package highly recommended by professional golfers, but it also uses the powerful patented launch monitor, TrackMan 4, which measures and calculates highly accurate data points from your swing through Doppler radar and camera tracking technology.
With instant feedback and a user-friendly interface, the TrackMan Indoor Golf Simulator is a must-have investment for golfers seeking to replicate and analyze their game in the most sophisticated way.
Why Costs Of Golf Simulators Vary
The quality and accuracy of the golf simulator setup, including the tracking technology, software, and additional components, all contribute to the overall cost. Here is a breakdown of each element a typical golf simulator consists of:
Launch Monitor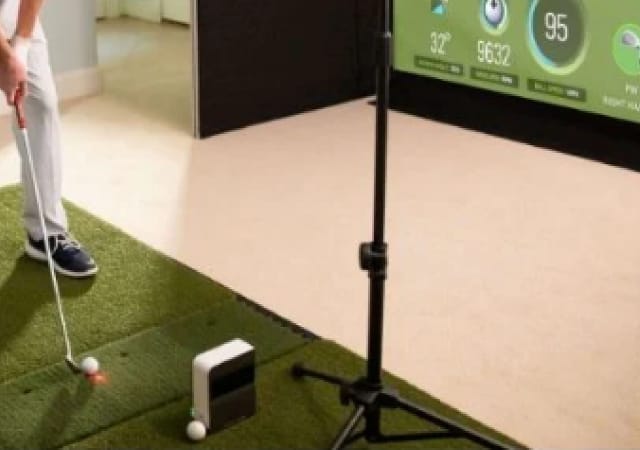 A launch monitor is a critical element of a golf simulator, providing detailed analysis of a golfer's performance.
It tracks specific information from a golf swing, such as flight distance and ball speed, allowing players to analyze and improve their technique [2].
The price range varies depending on the type and amount of data they acquire, with low-cost alternatives only tracking basic golf ball data.
On the other hand, more expensive launch monitors also measure the impact between the club and the ball, including launch angle, spin rate, and angle of attack.
High-end models have additional components such as high-speed cameras, infrared sensors, and Doppler radar technology, which can provide even more accurate figures. Improving your golf skills through instant feedback ensures a virtual experience as close to playing on a real golf course as possible.
Golf Simulator Software
Golf simulator software is another essential component of any golf simulation setup. It brings to life the virtual experience of playing golf in any environment or golf course of your choice.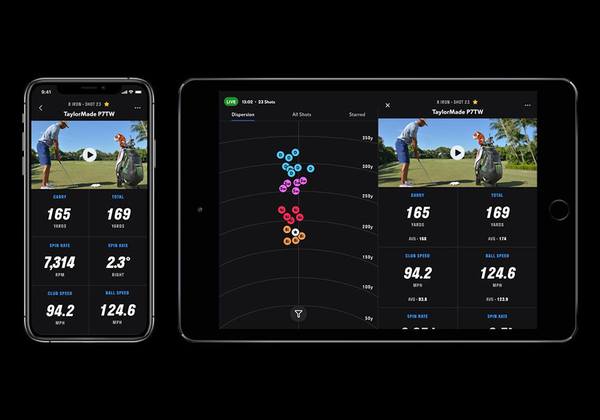 The software is usually included in the purchase price of most golf simulator systems, either at no cost or with additional charges.
To get the most value out of your purchase, find a package that offers a free annual software subscription for the first year at least.
The most basic software is integrated into the launch monitor, while some require additional payments for connection. Therefore, it is crucial to check the compatibility of the software with your launch monitor or simulator unit before purchasing or upgrading.
Incompatibilities may result in an incomplete golf game simulation that does not reflect the accuracies of the tracking technology.
Golf Hitting Mat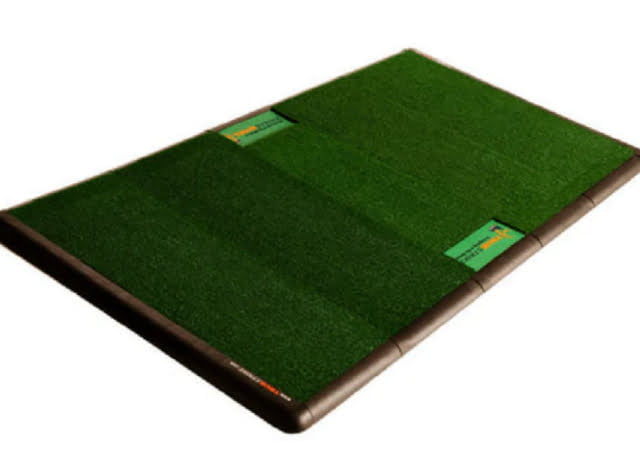 Investing in a golf hitting mat is crucial to improving your indoor golf simulator experience. Your golf mat's size, weight, and quality all play an essential role in providing a realistic surface simulation.
A cheaper hitting mat may save you money initially but can lead to a less authentic feel and increase the risk of injury to your knees, back, hands, and wrists.
For a more authentic feel, we recommend choosing a mat that has a larger surface area and provides realistic grass surface simulation.
Some high-end golf mats even include other surfaces such as sand or simulate golf course slopes to take your experience to the next level.
In conclusion, don't underestimate the importance of high-quality golf hitting mat for your indoor golf simulator setup.
Golf Hitting Net or Screen Enclosure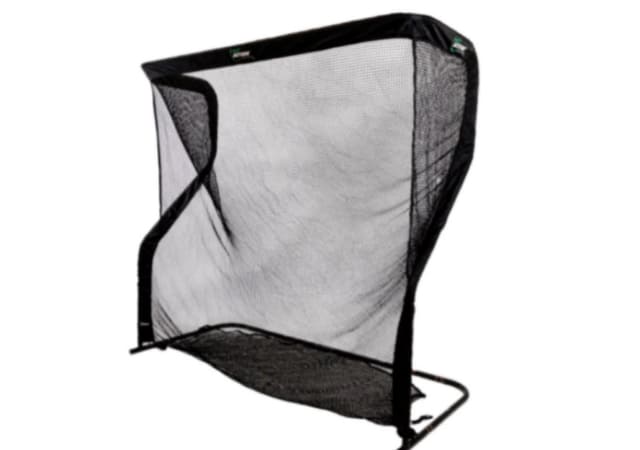 If you are looking for an affordable and temporary golf simulator setup, opt for the entry-level golf simulator hitting nets. These are a less expensive option compared to the golf simulator enclosures.
They are usually attached to the launch monitor and TV (for display), enabling you to see your golf shots on a screen.
Seasoned golfers may find them less immersive, but they are ideal for beginners or those who want a temporary indoor golf facility.
The major advantage of these hitting nets is their portability and ease of disassembly when not in use.
When budgeting for a golf simulator, keep in mind that the mid to high-end options typically include a projector and screen setup coupled with a golf simulator enclosure.
Hitting a shot into an impact screen and seeing the ball soar provides the most authentic golf simulation experience for golf enthusiasts who prefer a permanent arrangement at home.
Golf Simulator Projector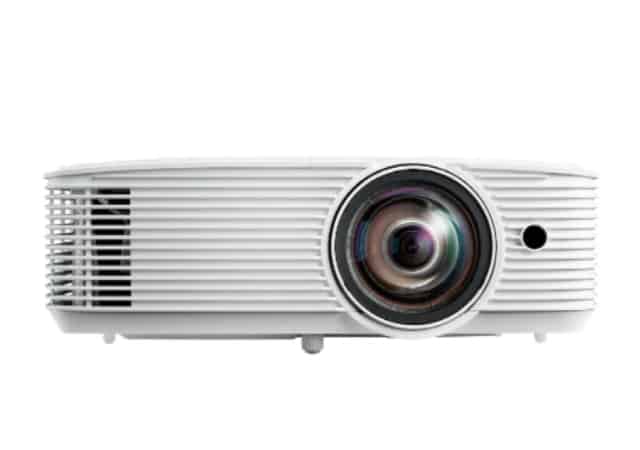 When choosing a golf simulator projector, it's critical to consider the software requirements in terms of resolution, as well as the projector's aspect ratio, display quality, brightness, throw ratio, and connectivity options.
For a realistic golfing experience, a projector with a 4:3 aspect ratio, 1080p HD display, throw ratio under 1.0, 3000 lumens brightness, and an HDMI connection is recommended.
While there may be low-priced options available, it's important to note that they may not provide the same immersive experience as a premium projector.
Investing in a premium projector can create a more realistic and enjoyable experience, making the user feel like they are truly outdoors on a golf course.
Ultimately, the projector is one of the most critical components of a golf simulator setup, and it's well worth the investment in the long run.
PC/IPad
The PC/iPad component is essential in running a budget golf simulator, as it powers the golf simulator software and provides the virtual experience. Usually, a standard computer or iPad works fine if you are on a budget.
However, those who want to enhance their virtual experience with high-speed graphics can choose a gaming laptop. It is essential to consider the budget before selecting a device.
Purchasing a golf simulator unit with compatibility with an already-owned device can save some extra bucks.
Again, we recommend weighing the alternatives and selecting the best option based on preferences and budget.
Room Setup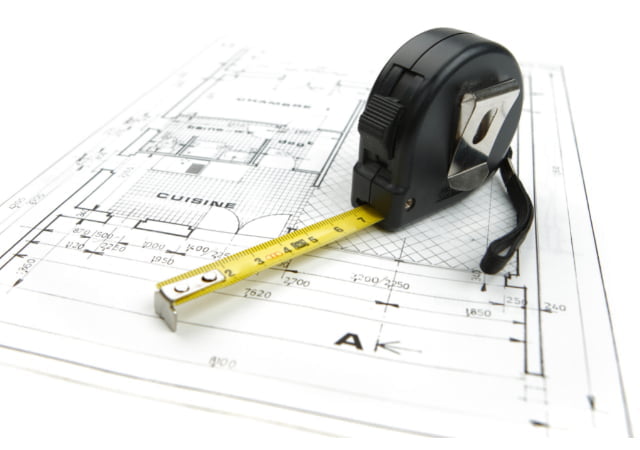 Setting up a room to install a golf simulator requires careful planning and consideration to ensure adequate space for both the equipment and a comfortable swing.
Before starting the installation process, it is essential to have a clear understanding of the room's dimensions, ceiling height, and recommended requirements.
The first step in setting up a golf simulator room is to clear out any obstructions, including furniture and other potential hazards, to create ample space. Next, determine the ideal location for the simulator in the room, ensuring that there is enough clearance area to maintain a safe distance between the player and the simulator equipment.
When choosing a room for installation, consider the dimensions of the space, particularly the width, depth, and ceiling height.
The recommended room width should be at least 12 feet (Depending on your setup), allowing enough space for both right and left-handed players to swing comfortably.
The room depth should be at least 15 feet, providing ample space for the simulator screen, projector, and equipment.
The ceiling height should be a minimum of 9 feet, providing adequate clearance for the golfer and golf swing.
It is important to consider the electrical connection requirements of the simulator system when setting up the room. Check to see if any electrical outlets need to be added to the room and if any other electronic devices, such as video projectors, need to be installed.
For an enhanced golf simulator experience, consider upgrading the room with an additional TV or dark-colored paint to reduce glare from the projector and provide better image clarity.
Determine the room size that best suits the selected simulator package by reviewing the recommended requirements provided by the manufacturer.
Should I Invest In A Golf Simulator?
If you're a committed golfer, you will surely benefit from a golf simulator because it allows you to practice or just enjoy the game anytime. It also provides accurate readings about your shot like ball trajectory and clubhead speed to help boost your performance. By knowing these details, you learn from your mistakes and adjust the way you play accordingly.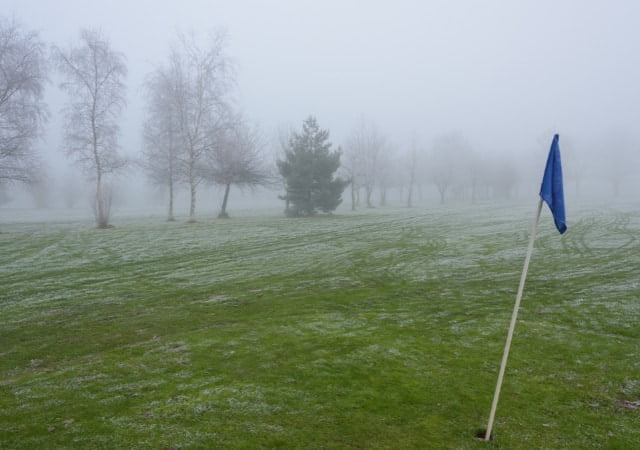 One of the most significant benefits of investing in a golf simulator is the convenience it provides.
With a golf simulator, players can practice their swings and shots in their own home without worrying about the weather outside or traveling to the golf course.
This convenience allows players to focus on their training without distractions and ensures they make the most of their practice time.
Another advantage of playing on a golf simulator is the access to virtual courses from around the world. These simulations provide players with access to some of the most iconic golf courses globally, such as Pebble Beach and Torrey Pines, allowing them to play and practice on courses they might not have the chance to visit in real life.
This variety also keeps the training fresh and exciting, preventing players from getting bored with their repetitive practice routines.
Accuracy is crucial when it comes to improving one's game, and a good golf simulator provides accurate shot readings that offer significant insights into a player'splayer's performance.
With high-end tracking technology, players can analyze their swing, clubhead speed, ball speed, launch angle, angle of descent, and more. These readings allow players to identify weaknesses in their game and develop strategies to overcome them.
Aside from its practical benefits, a golf simulator provides an immersive and interactive experience for players, making it an excellent source of entertainment.
The software used for the simulators offers an all-encompassing virtual experience that can replicate real-life conditions, providing players with instant feedback on their shots.
Moreover, with performance analysis, players can record and review their progress over time, making it a powerful tool for identifying areas where they need improvement.
Where Can I Buy Golf Simulators?
Several online shops offer a wide range of golf simulator options to suit different skill levels and budgets.
Rain or Shine Golf, The Indoor Golf Shop, Carl's Place, and Top Shelf Golf are some of the top places where you can find golf simulators online.
If the cost of a high-priced golf simulator is a concern, many retailers offer financing plans that make it easier to budget for your investment over time.
No matter your budget or skill level, a golf simulator option exists for you. By browsing the above shops and considering financing plans, you can find the right package to suit your needs and help you take your golf game to the next level.
Final Thoughts
In conclusion, the cost of a golf simulator can vary greatly depending on the quality and components of the setup. The good news is that golf simulators can be found in both high-end and budget-friendly options, making it possible for anyone to enjoy a virtual golfing experience.
It is essential to know what you want in a simulator and have a budget set in place before making a purchase.
Whether you're looking for an immersive virtual experience or just want to practice your swing, a wide range of golf simulators are available to cater to your individual preference and budget.
With the right investment, you can get a golf simulator that fits your requirements and skill level. If you have any further questions, do not hesitate to leave a comment below or get in touch.
---
References:
Tiger Woods Embraces Full Swing Golf's Simulator Technology. Retrieved from https://www.golfdigest.com/story/tiger-woods-embraces-full-swing-golfs-simulator-technology
What to look for on golf launch monitors: A beginner's guide. Retrieved from https://www.golfdigest.com/story/launch-monitor-beginner-guide
WRITTEN BY

My name is Jacob, a self-diagnosed equipment and golf enthusiast. I've been golfing since I was 15. Golf has always been my passion. I'm a bit of a golf equipment nerd and I've been that way since the moment I picked up a club for the first time. As someone who's been on both sides of the game, I know what it takes to be a good golfer. Of course, you need good equipment, but you also need to know how to use it. I hope sharing my experience with you will help you improve your game.
You May Also Like