7 Best Golf Simulators Under $10,000 – Reviews & Buying Guide
Last updated:
September 20, 2023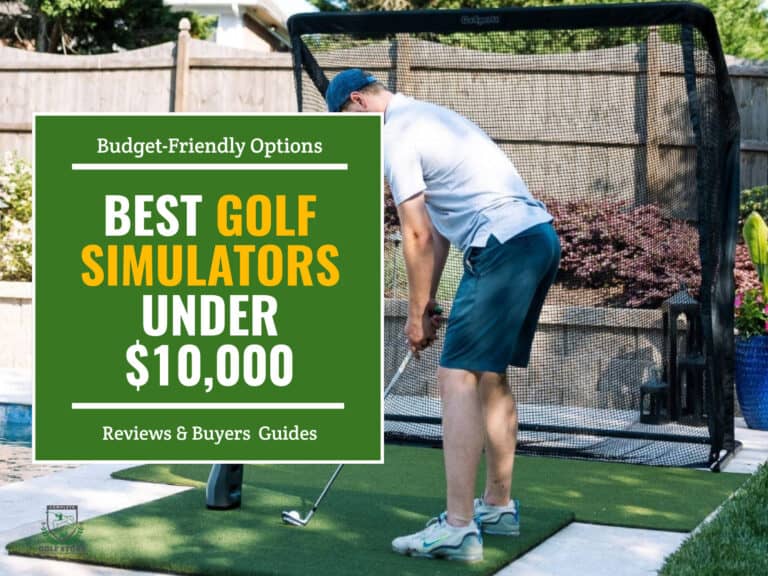 Disclaimer: We may earn a small commission from some of the links on our website. However, our reviews and comparisons remain fair and unbiased. Our goal is to help you make the best choice. For more information, please see our
disclosure statement
. Thank you for your support.
Key Takeaways
Based on our tests, research, and experience, our top pick for the best golf simulators under $10,000 is the TruGolf Vista 8 Golf Simulator. With its compact design, crisp projection, accurate tracking technology, and cutting-edge software, it provides an exceptionally realistic and immersive golf simulation experience that's hard to beat at this price point.
Golf simulators have evolved rapidly in recent years, offering a near-authentic golfing experience without the need to visit a physical course.
The advanced technology incorporated in these devices allows for a realistic experience that can be set up right in your living room, garage or basement. From enclosures to screens, projectors, and launch monitors, you can have it all.
In this article, we've compiled a list of the best golf simulators under $10,000. We've tested and evaluated a variety of options, and we're confident that these packages promise an excellent experience without sacrificing quality.
Let's get started!
No time to read the whole article? No worries. We've done the work for you and compiled a list of the top performers.
| Product | Features | Our Rating | |
| --- | --- | --- | --- |
Our Top Picks For Simulators Under $10,000
Our team of experienced golfers spent weeks researching and testing various systems to come up with our final list of the Top 7 sims you can get for $10,000 or less.
The following are our top selections based on our own testing, research, and experience:
Trugolf Vista 8 Golf Simulator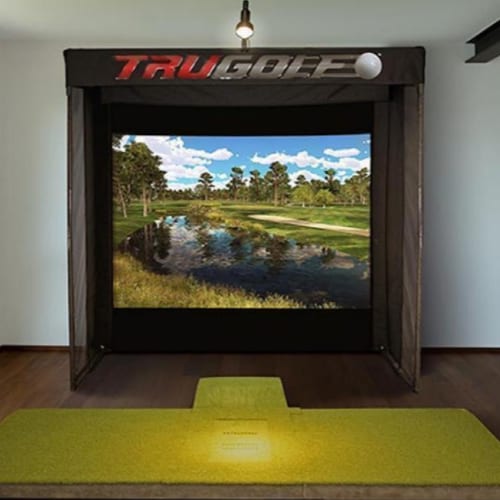 The TruGolf Vista 8 Simulator has undeniably secured the top spot on our list.
This remarkable product impresses right from the start with its compact footprint and large projection screen, delivering an exceptionally immersive experience. The revolutionary tension system ensures that the 114-inch diagonal screen with a 4:3 aspect ratio provides a clear and crisp image every time.
The cutting-edge E6 Connect software, HD Quality Projection, and TruTrack2 Tracking Technology work in unison to provide an accurate and realistic environment. Data such as Club Path, Club Face, Ball Speed, Launch Angle, and Club Head Speed are captured with remarkable precision, ensuring every shot counts. The proprietary TruGolf tracking system uses sonic triangulation to further elevate the simulator into a league of its own in terms of accuracy and fidelity.
The Vista 8 PRO version, priced at $12,945, deserves special mention. It offers a more powerful TruGolf Level 1 Computer, a 21″ Touch Screen Monitor, Premium Fairway, and a Basic 1-year E6 Connect subscription, including 27 golf courses. The inclusion of accessories like containment brim and side nets gives it an edge in terms of comfort, safety and aesthetics.
Despite these advantages, the TruGolf Vista 8 has its drawbacks. The Vista 8 BASE model, priced at around $9,900, lacks a computer, monitor, and turf, which may be a dealbreaker for some users.
I can confidently say that the TruGolf Vista 8 offers an excellent balance of affordability and performance, making it an exceptional choice for those seeking to practice their skills and enjoy the sport indoors.
Pros
Beautiful design with a large, clear projection screen
Cutting-edge software and TruTrack2 Technology for accurate data capture
Lightweight and portable aluminum frame for easy setup and transport
Great portability despite the size of the system
Plug-and-play system with no hasstle
Cons
Vista 8 BASE model lacks a computer, monitor, and turf
The Pro model exceeds our set budget
The TruGolf Vista 8 Simulator, with its innovative technology and exceptional attention to detail, provides a remarkable golfing experience that's hard to match in the under $10,000 category.
The base model fits our budget if you already have a computer and projector or want to get a cheap one; the Pro model slightly exceeds the budget but includes all the components you need for a hassle-free experience. Personally, I don't mind investing a little extra for the complete package and additional components.
SkyTrak+ SwingBay Golf Simulator Package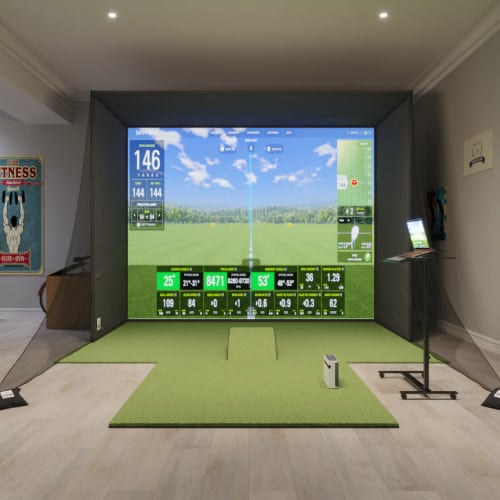 The SkyTrak+ SwingBay Package is a reasonably priced, high-performance simulator. Priced at $9,049, it offers a range of features that set it apart from other options in this price range.
SkyTrak+ builds on the success of the original SkyTrak by incorporating an upgraded camera system and dual Doppler Radar technology. This provides even more accurate data, enhancing your understanding of your swing and shot performance.
With 20+ ball flight and club data metrics available, including club head speed, club path, club face angle, and smash factor, you'll have all the information you need to fine-tune your game.
One of the key features of SkyTrak+ is its proprietary machine learning software, which offers unmatched accuracy in its class. You can trust the data to be highly accurate and reliable, making it a great tool for game improvement.
The SwingBay Enclosure included in the package is designed to last, and it can handle ball speeds of up to 250 mph. The package also comes with a SwingTurf Mat and a full HD short-throw projector for an immersive experience.
SkyTrak's Software Features add another layer of engagement and excitement. With the ability to set up skills challenges, use Bag Mapping to plot your carry and total distance numbers for each club in your bag, optimize your shots, challenge friends to a closest to the pin contest, and much more, you'll find endless ways to enjoy your investment.
Pros
Proprietary machine learning ensures accuracy
Dual Doppler Radar technology for better tracking
Compatible with popular 3rd party simulation software
Durable SwingBay Simulator Enclosure
Cons
Game Improvement software requires an additional annual subscription
The quality and accuracy of the data provided by Skytrak+, coupled with the durability of the enclosure and the versatility of the software features, make this simulator a good choice for those looking to improve their game or simply enjoy the thrill of playing world-class golf courses virtually. At a price of $9,049, it offers exceptional value and is a must-have for those seeking a top-notch simulator under $10,000.
Bushnell Launch Pro SIG12 Golf Simulator Package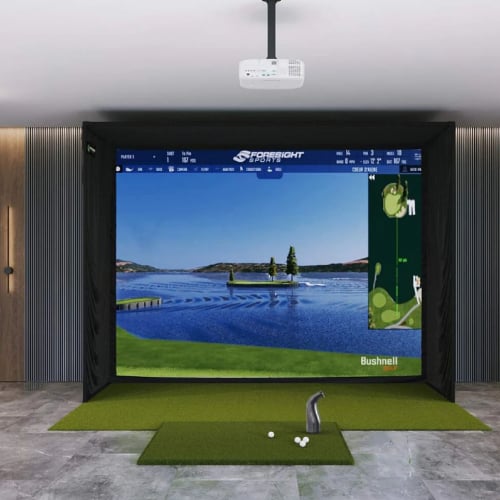 The Launch Pro SIG12 package is packed with features that provide a highly realistic golf simulation experience. The triple high-speed infrared camera system measures 12 data parameters, giving you an extensive array of data to analyze your swing and shots.
Multiple simulator software options are supported, offering you the flexibility to choose the right software package that fits your style. Whether you want to play iconic courses or focus on range practice, the Launch Pro has you covered. Moreover, it comes with a 1st Year Free Basic Software Package and a 30-day trial of the Gold Software Package.
The package includes a complete simulator studio with a SIGPRO Premium Screen and a projector. The inclusion of these components means you can start playing right out of the box. The screen quality is excellent, providing a sharp and clear image that enhances the immersive experience.
As part of the package, you have the option to choose a golf mat. The Fairway Series 5' x 5' mat is an excellent choice for a true-to-life feel and consistent ball strike.
The Launch Pro SIG12 has unmatched accuracy, which is vital when practicing or playing in a simulated environment. You will feel like you are playing on a real course.
Pros
Triple high-speed infrared camera launch monitor.
12 data parameters measured accurately.
Choose from multiple simulator software options supported.
Complete simulator studio with premium components.
Unmatched accuracy & true-to-life simulation.
Cons
A software plan subscription is needed
At a price of $9,899, the Bushnell Launch Pro SIG12 Package falls under our budget limit and provides exceptional value for its features. It is a solid investment with a combination of top-quality components and unmatched accuracy. This system will keep you entertained and help you elevate your game at the same time.
Full Swing KIT SwingBay Golf Simulator Package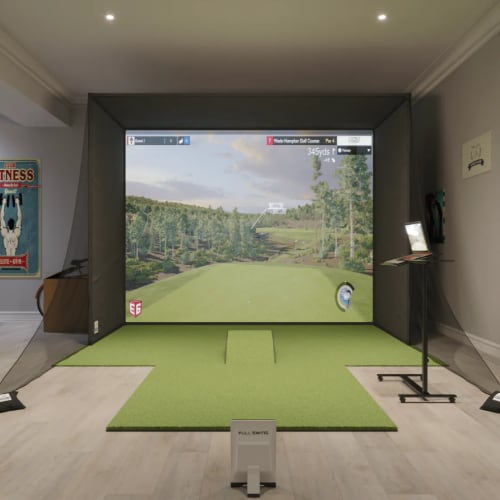 While the Full Swing KIT SwingBay simulator package comes in just above the $10,000 mark at $10,799, its unparalleled features and exceptional quality make it an exception that deserves a spot on our list.
This package is the brainchild of Full Swing, a brand that has earned its reputation for precision and quality. The KIT launch monitor, a crucial component of this package, is trusted by none other than Tiger Woods. It utilizes patented radar measurement technology to deliver 16 precise data points, giving you a comprehensive insight into your shot. With tour-level accuracy, the Full Swing KIT Launch Monitor is unparalleled in its class.
The Full Swing KIT SwingBay Package also includes the E6 Starter Pack, which comes loaded with excellent courses and over 15 practice ranges. You can even expand your course collection by purchasing a Lifetime E6 Connect License for $2,500. This way, you will have a variety of terrains and environments to practice on, replicating the experience of playing on different courses around the world.
The SwingBay enclosure that comes with this package is made in the USA, designed for ball speeds of up to 250 mph, and it's known for its durability. The heavy-duty 1.5" aluminum framing and the extremely easy-to-assemble velcro and bungee systems are just a few of the features that make this a reliable and robust choice.
In addition to the sturdy SwingBay, this package includes the excellent SwingTurf Golf Mat, which offers a real-life-like feel. The full HD high-lumen short-throw projector can be mounted on the ceiling or the floor and comes with a lengthened HDMI cable of 25', ensuring a clear and crisp display of your game and enhancing the overall experience.
Pros
Highly accurate launch monitor
E6 Starter Pack with numerous courses and ranges
Durable SwingBay enclosure
Lightning-fast tracking and display of data
Full HD high-lumen projector
Cons
Higher initial investment
Additional courses require purchase
You can transform any space into a full-fledged golf simulator area with the Full Swing KIT SwingBay Package. Though it may be a significant initial investment at $10,799, the package offers excellent value for the money.
With the combination of highly accurate technology, diverse playing options, and durable equipment, this system is a fantastic way to keep your game sharp, practice, or simply have fun with friends and family without having to visit an actual course.
Foresight Sports GC3 Practice Package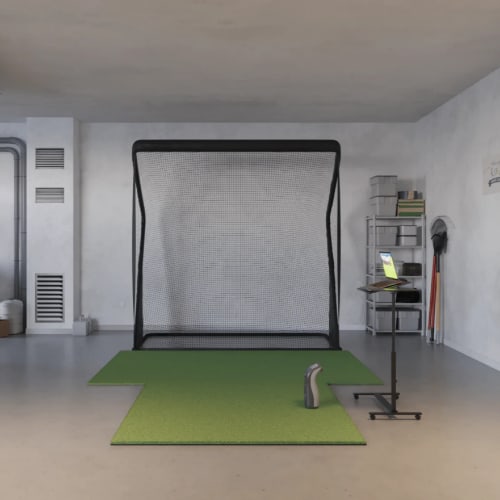 The Foresight Sports GC3 Practice Package is a great choice for serious golfers aiming to improve their game. Priced at $8,799, it comes equipped with cutting-edge launch monitor technology that provides tour-level data accuracy for precise shot analysis.
One of the standout features of this package is the high-speed camera lens technology and advanced calibration protocol. You're not just tracking your shots; you're analyzing them with a high degree of precision, allowing you to identify and correct any flaws in your swing.
The suitability for both indoor and outdoor use adds to the versatility of the system. It comes with durable hitting nets and a premium SwingTurf mat, creating a complete practice station designed for durability and longevity. You have the option to choose between the RS Tour or GoSports Return net.
The FSX Play Software is another highlight of the package, offering realistic gameplay and a variety of game modes. Whether you're practicing, playing a full course, or participating in long drive or closest-to-pin challenges, the software has it all. The amazing graphics powered by the Unity engine make the experience more immersive and realistic, taking the simulation really close to the real deal.
Pros
Tour-level data accuracy with the GC3.
For use both indoors and outdoors.
FSX Play is one of the most graphically stunning software.
Durable hitting nets and premium SwingTurf mat.
Several add-on options allow for customization.
Cons
The Foresight Sports GC3 Practice Package is a professional-grade system with extremely accurate data points and quality components. It provides real value for players of different skill levels.
While the price might be a tad on the higher side, the quality of the product justifies it. If you're looking for the most accurate readings to improve your game, this package will be a perfect investment in the long run.
FlightScope Mevo+ SIG12 Golf Simulator Package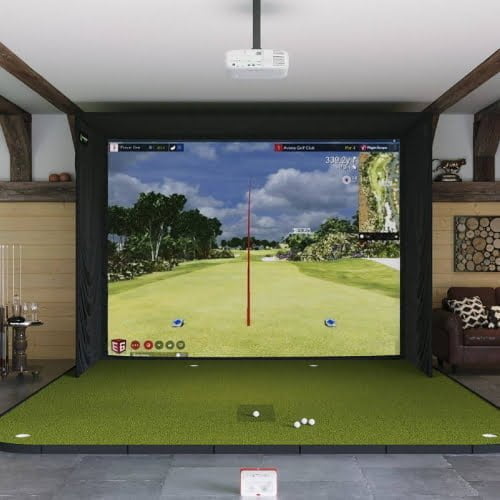 The FlightScope Mevo+ SIG12 Package is a premium option for those looking for a top-tier simulation experience under $10,000, with more focus on aesthetics, feel and comfort with the amazing SIG12 enclosure. With a price tag of $8,179, this package is reasonably priced considering the premium features it offers.
The Mevo+ SIG12 Package pairs the popular Mevo+ launch monitor with the huge SIG12 Simulator Enclosure. The integration of a Doppler-based launch monitor, which measures over 20 data parameters, gives you a comprehensive understanding of your swing dynamics and ball performance. The real-time visual feedback and ball performance data are projected directly onto a 12' wide screen, providing an immersive experience that closely mimics the real thing.
The 2023 Edition of the Mevo+ launch monitor has earned Golf Digest's Editors' Choice Award, which proves its quality and accuracy. Moreover, the package comes with a SIGPRO Premium Screen, a high-quality projector, and an E6 special license with 10 courses, providing everything you need for a full-fledged golf simulation experience without stepping outside.
Furthermore, you can customize your package by choosing your preferred golf mat from many available options. This additional flexibility allows you to tailor your simulator experience to your specific needs and preferences.
Pros
Doppler-based launch monitor measures 20+ parameters.
Large 12'W screen for an immersive experience.
Includes the latest 2023 Edition Mevo+ launch monitor.
Comprehensive package with all the components you need.
The spacious SIG12 simulator flooring, though pricey, is our favorite.
Cons
Requires a sizeable space for setup due to the huge size of the enclosure.
When considering the product's price, the FlightScope Mevo+ SIG12 Package offers incredible value and a comprehensive simulation experience. You will have everything you need to work on your game in the comfort of your home.
If you have the space and are willing to invest in your game, this simulator package is an excellent choice. The combination of a relatively affordable (yet capable) launch monitor with a premium enclosure like the SIG12 seems to work flawlessly.
Uneekor EYE MINI Retractable Golf Simulator Package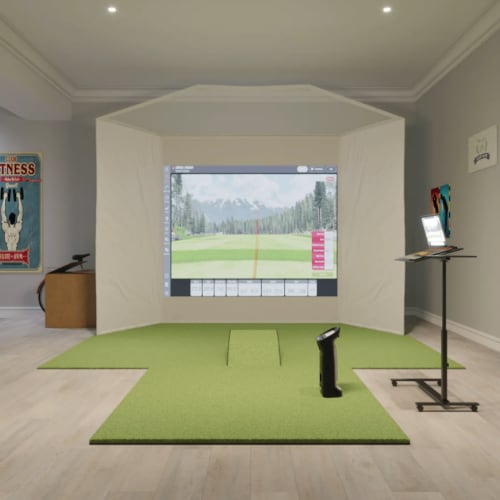 The Uneekor EYE MINI Retractable Golf Simulator Package is another remarkable all-in-one solution for both casual and professional golfers alike. This comprehensive package combines the Uneekor EYE MINI launch monitor/simulator with the HomeCourse Retractable Simulator Enclosure system, turf landing pads and hitting mat, and a projector for a complete virtual experience.
The EYE MINI launch monitor is the company's very first portable unit; It utilizes the latest patented Ball Optix technology to provide accurate and reliable club data after each shot. With high-speed cameras and infrared sensors, the EYE MINI measures both ball and club data with pinpoint precision, offering useful feedback upon impact.
The EYE MINI is a departure from Uneekor's overhead models, with a portable design and versatility that make it suitable for both indoor and outdoor use, perfect for those looking to practice at home or at the driving range.
The EYE MINI also comes with Uneekor View Software, compatible with both PC and iOS devices. If you're looking for more options, the EYE MINI is also compatible with popular 3rd party software such as TGC 2019 and E6 Connect, along with Uneekor's impressive course library.
The HomeCourse Retractable Enclosure system included in this package transforms your space into a golf simulator with the click of a button. Its battery-powered and remote-controlled retractability and ceiling or wall-mounted solutions make it easy to set up and take down, eliminating the need for a dedicated space for your simulator setup.
With a starting price of $9,200, this package might not be cheap, but it offers a lot of features, quality and performance in return.
Pros
Portable launch monitor - Use it indoors and outdoors.
Built-in display makes data easily accessible.
Uses Uneekor's advanced tracking technology for accurate ball and club data.
Includes Uneekor View Software compatible with PC and iOS devices.
Retractable enclosure system for easy setup and storage.
Compatible with popular 3rd party software and Uneekor's own.
Cons
Nothing we could think of.
Uneekor's EYE MINI Retractable Simulator Package is a versatile and comprehensive solution for all levels of players. It offers impressive technology and features at a pretty reasonable price (compared to ghi-end models), making it an excellent choice for those looking to enhance their game and skills.
Buying Guide: Choosing a Golf Simulator on a $10,000 Budget
When looking to invest in a simulator under $10,000, it is essential to consider a few key factors to ensure you get a satisfying golfing experience. Let's go through them in detail:
Budget
Setting a budget is the first step in choosing a simulator. Though you may not want to spend more than $10,000, it's essential to determine how close to this budget you are willing to go.
Generally, the less you spend, the fewer features you will get in terms of both equipment and software.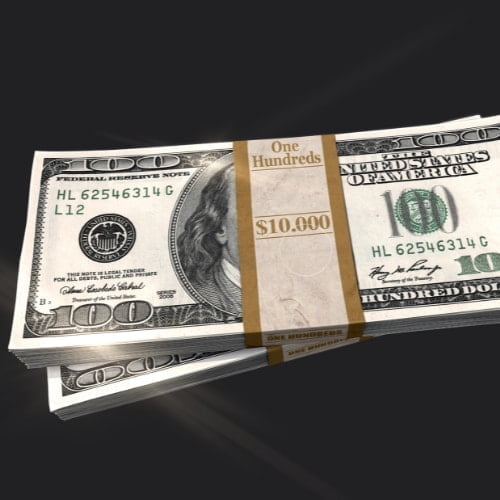 While there are options costing as low as $1000 or less, these may not offer a realistic experience. We advise you to spend as much as you can afford on your new system, and you'll get your investment back in the form of better features, quality, accuracy, etc.
It's important to realize that you don't have to pay the full cost of a simulator at once. Many providers offer easy financing options that allow you to pay for your simulator over the course of a year or longer. This can make a higher-quality setup more affordable.
Luckily, all our recommended retailers offer financing options with good interest rates; check them out through the links below:
Alternatively you can check out more affordable options with an acceptable quality-price ratio in our guides for less than $7,000 or even under $5,000.
Size
The size of your space is a crucial factor when selecting a golf simulator. You need enough room to set up the simulator and to swing your longest club without obstruction.
The average space requirements for a full golf simulator setup tend to be approximately 9 feet high, 12 feet wide, and 15 feet deep. This will be enough room to enjoy a comfortable experience, regardless of your height.
Whether you plan to use your simulator indoors or outdoors, make sure your space can comfortably accommodate this size. Measure the width, length, and height of your space and compare it to the minimum space requirements of the simulators you are considering.
Portability
If you plan to move your simulator around, transportability is an essential factor to consider. As the cost of a simulator increases, its portability tends to decrease. However, there are exceptions.
Net setups are usually easier to set up, take down, and transport, while screen and projector setups are less portable but can still be transported.
There are also options like the SkyTrak Flex Space Simulator, which comes with a retractable screen and an enclosure that can be quickly taken down.
Consider whether you plan to have a dedicated space for your simulator, or if you need it to be mobile.
Net vs. Screen
You can go with one of two options: Hitting into a net while viewing your shot data on a connected device, or using a screen and projector that displays your shots on a virtual range or course. The first option is usually the cheapest, while the second option costs more.
Going with a screen and projector provides the most realistic experience but is also the most expensive.
At least 50% of all golf simulator owners use a net instead of a screen. If your primary goal is to improve your game, it may not matter whether your shots are projected on a big screen. However, if you want a more immersive experience, investing in a screen and projector setup may be worth it.
Simulator Software
When selecting a simulator, consider what kinds of activities you want to participate in. There are numerous software options available with various features, such as practice ranges, minigames, data analysis, course simulations, tournaments, and more. For example, SkyTrak offers software in three membership levels, and the Mevo+ can be connected to free apps and is compatible with various software options.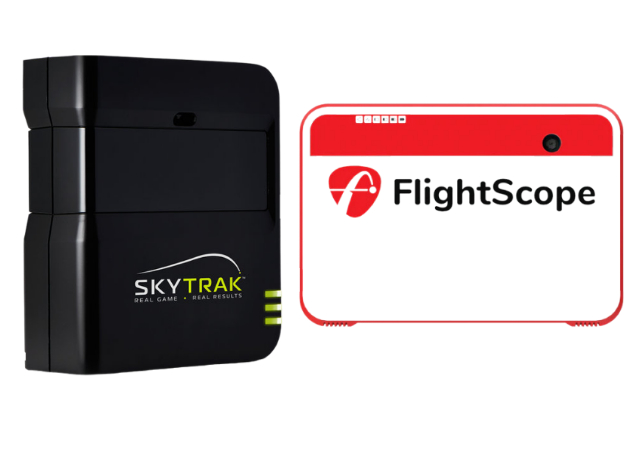 Consider what software features you see yourself using most often. Do you only want to practice on the range, or do you want to play world-class courses? Make sure the simulator you choose supports software options that align with your preferences.
Final Thoughts
For those with a budget of up to $10,000, a variety of simulator setups are available, complete with features such as high-quality launch monitors and retractable screen enclosures, among others.
The options presented in this guide cater to a range of needs and preferences, ensuring that everyone can find a suitable match.
If you are interested in other options that cater every use case and budget, consider visiting our main guide of The Best Golf Simulators of 2023.
We hope our reviews and buying guide help you choose the perfect system for your needs and preferences.
If you have any questions or comments, feel free to contact us; we will do our best to assist you.
Thank you for reading, and we look forward to hearing your insights.
WRITTEN BY

My name is Jacob, a self-diagnosed equipment and golf enthusiast. I've been golfing since I was 15. Golf has always been my passion. I'm a bit of a golf equipment nerd and I've been that way since the moment I picked up a club for the first time. As someone who's been on both sides of the game, I know what it takes to be a good golfer. Of course, you need good equipment, but you also need to know how to use it. I hope sharing my experience with you will help you improve your game.
You May Also Like