The 20 Best Golf Simulators of 2023: Reviews for Every Budget
Last updated:
March 5, 2023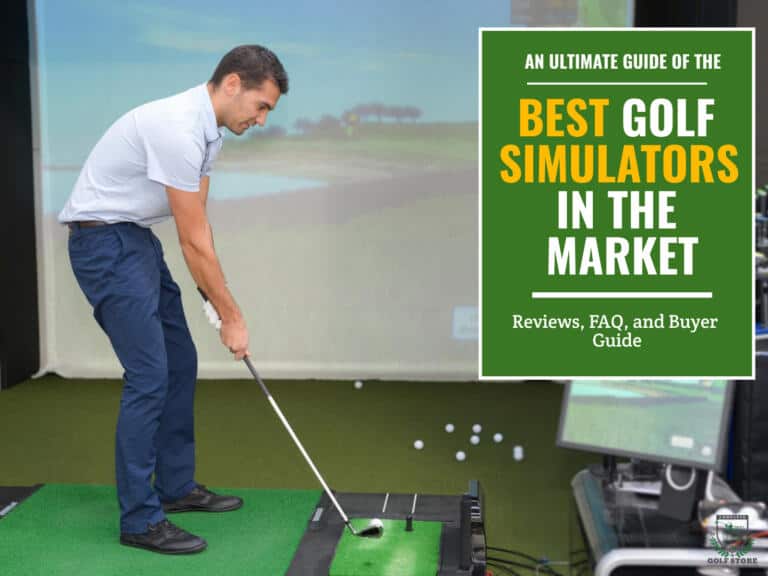 Disclaimer: We may earn a small commission from some of the links on our website, however, our reviews and comparisons remain fair and unbiased. Our goal is to help you make the best choice. For more information, please see our
disclosure statement
. Thank you for your support.
Key Takeaways
This detailed guide is the outcome of extensive testing by many experienced golfers and tech enthusiasts.
In the end, Foresight Sports Sim-in-a-Box Birdie Plus was our top all-rounder, followed by systems from Skytrak, Flightscope, Trugolf, and Optishot. Also, all the other premium setups were outranked by the excellent HD Golf simulator.
If your budget is anywhere between 1,000 and 70,000+ dollars, you will undoubtedly find a golf simulator on this list. Make sure you scroll down for all the details.
Are you looking for a quality golf simulator system? Then you may either be:
Someone who dreams of having a full golf simulator setup at home for entertainment purposes
A professional who wants a top simulator system for training
A business looking for powerful simulators for commercial use
Or you simply want a reasonable and affordable way to enjoy indoor golf this winter.
Whatever the reasons, there's undoubtedly a setup that can meet your needs.
However, as you will find out below, sometimes the prices can be exaggerated simply because the golf simulator packages are made by renowned companies.
Don't spend a fortune on an expensive system that may disappoint you or something cheap enough to compromise the quality. Instead, stick with something proven (by the community) to give results and value for your investment.
Our team has hand-picked, tested, and evaluated the 20 golf simulators from various manufacturers based on functionality, usability, performance, cost, and value for money.
Here are the results of the best golf simulators of 2023
Our Top Golf Simulator Picks: Detailed Reviews
Buying Guide: Things You Should Consider When Buying a Golf Simulator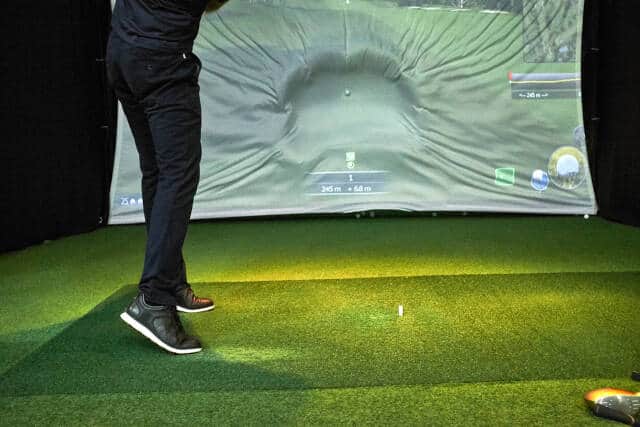 As golf simulators provide various features, it can be hard to determine what you should look for before making your decision.
Some people want the top choice and don't mind paying for it, while others prefer a bargain. Still, others just want a basic system that will be good enough to play a round or two a week.
There are tons of great options out there, and finding the one that suits your needs can be a difficult decision. You should consider numerous factors before you choose your simulator. Here are some aspects you must note down:
Quality
It is not fun to spend quite a bit on a cheap simulator, only to discover that it is not what you expected. You should purchase a product from a reputable brand. Choose one with sturdy construction and durable electronic devices.
Technology and Features
In addition to quality, the price of any simulator is defined by what types of technology (ies) it uses and the features it provides.
A pricier high-end system will provide good quality components and more features like a launch monitor or any other tracking system to record the data of your shots, a hitting and a display screen, a projector, and good simulator software to simulate golf games. Those are the most basic components that every simulator needs to provide for an enjoyable golf experience.
Also, as we have mentioned earlier, an I.R technology simulator will be cheaper than a Photometric one, but it has limitations that would make the latter more tempting despite the higher price tag. 
Depending on the manufacturer, the quality of the software and the types of services it provides can differ. Some offer online coaching sessions for their customers; others include multiplayer features that allow players from different locations to compete virtually.
Portability
Having a simulator in your garage or basement is great. However, what happens if you want to move it during vacation or simply outside to enjoy some sunlight?
Some of the models we reviewed here have portable units, making them more convenient for practicing anywhere simply by moving them to a convenient location. 
Ease of Setup
Setting up the system should be relaxing and not a chore.
The setup process can vary depending on the model. It is usually recommended to have a helper, but it is possible to do it by yourself.
Before purchasing any simulator, ensure it has the correct setup procedures and accessories for your needs.
Most can be set up quickly, while others might require a professional installation that the company may offer. Make sure to go through the simulator setup process before you make the final decision.
Accuracy
Before investing, check the efficiency of the launch monitor. Models that provide accurate performance stats help you improve your skills and advance to the next level.
It should be accurate enough to simulate the actual course under any condition. The most precise golf launch monitors use motion tracking and graphics to give you the feeling of playing on an actual course. Find out more about golf simulators' accuracy in this article.
Your Budget
When choosing a simulator, the price will likely be the first thing to look at, and for a good reason. You don't want to drop $10,000 or more on a unit that will not give you a quality experience. There are different factors to consider when it comes to pricing.
A good unit can cost anywhere from a few thousand dollars to as much as your first car. If you are an experienced golfer, this is not necessarily a problem. However, if you are a beginner looking to improve your game or simply looking for a fun way to spend an afternoon, the budget is important.
Your Room Size
One of the crucial factors in deciding which system to buy is the size of your dedicated space.
The dimensions of the available space will determine the size of the indoor package you can buy. You need to know the dimensions of the room and the system to determine whether you have enough space to swing comfortably and to accommodate any other equipment. Whether you want to use your simulator outdoors or indoors, your space should be able to easily accommodate your system. Check out our complete indoor simulation room size and space guide on this page.
Frequently Asked Questions
There is some conflicting information about golf simulators and what you can expect from them. This is why we have put together this FAQ's section to answer all your questions.
Will I need to buy anything else with these golf simulator packages?
Nope; usually, these packages contain everything you need, and nothing more is required.
Companies like Shop Indoor Golf and Rain Or Shine Golf have an unbiased knowledge of the top available products with many brands to choose from, which will help you save money, effort, and precious time over buying everything separately by bundling everything into one package.
Although these packages usually do not include installation services, they come with detailed installation instructions and are easily assembled.
They also offer full after-sales support via phone and email to guide buyers through the process.
Can You Putt On A Home Golf Simulator Setup?
Putting into a simulator screen is not easy and takes some adjustment time for the player to get used to it.
This is mainly due to the lack of field depth perception and the inability of the player to feel the ground (including slope or undulations) under their feet. 
It is a challenging task at first, but with constant practice, you realize that the readings are quite accurate (once you get used to the whole situation).
Can I Play Actual Golf Courses On My Golf Simulator?
The answer is yes! Lately, most systems have been upgraded to include some of the most popular courses in the world. This is a game-changer for the whole industry. Now you can enjoy the top courses in the world, all year round without having to travel.
Many people assume that golf simulators are just toys or that they can't be used outside of your living room. But the truth is, they are pretty darn realistic. Some golfers think that they're even better than the real thing.
virtual golf is great for practice, and it's much more fun than hitting golf balls in the backyard. However, in my opinion, it lacks golf's intangible quality of being out in nature. But when it's not possible to hit the actual course, a golf sim is surely the next best thing!
What Simulator Do Pros Use (besides Trackman)?

Many pros recommend Foresight Sports, especially in terms of teaching and instruction. Top instructors like Butch Harmon and Martin Hall call the GC2 a must-have for those serious about becoming better.
For in-home golf simulators, Full Swing Golf has become a tour favorite. Many PGA pros like Tiger Woods and Jordan Spieth also use an indoor build valued at more than $50,000.
HD Golf is another premium sim favored by many pro golfers, including Bubba Watson, Fred Couples, Steve Stricker, etc.
Golfzon is used by big names like Kevin Na and Matt Kuchar, and has David Leadbetter as the ambassador for the brand.
However, Trackman sits at the top as the leading choice for pros. Dustin Johnson, Francesco Molinari, Justin Rose, Rory McIlroy, Justin Thomas, Jason Day, and Sergio Garcia, among many others, use Trackman.
What's the Minimum Space Needed for An Indoor Golf Simulator?
Usually, a simulation system will take up just about as much room as swinging your longest club; most require minimum dimensions of 10' wide x 10' long x 8.5' high.
Various factors, such as the player's size and arm length, can affect how much space you dedicate to your indoor golf simulator.
With a slightly shorter ceiling, you may be able to play with an 8' x 8' setup if you don't mind feeling uncomfortable. Although, it is recommended that you have at least 10' of height.
Experts suggest that the room depth must be at least 12 feet. Even if you have enough space to make a full swing, the net also needs space, so you'll need an extra 1'-2' between your screen/net and the wall.
Your wall will get a nice hole in it if you have your net too close to it after the ball hits it, without even thinking about the potential damage that ricochets can cause.
Can You Use A Golf Simulator Outdoors?
While most simulators are primarily designed for indoor use, some can be used outdoors with a protective enclosure. Many of the top golf simulators are portable and lightweight, making them perfect for taking outside as long as they are perfectly protected.
However, it's important to note that outdoor use can cause accuracy problems due to lighting and other environmental factors. Therefore, it's recommended to use an outdoor golf simulator only for recreational purposes.
What Are The Most Important Features To Look For In A Golf Simulator?
The most critical features to look for in a golf simulator are accuracy, ease of use, reliability, and course selection. Accuracy is essential to ensure your swing analysis is precise, and the shot data is reliable.
The ease of use is important because you don't want to waste time setting up or configuring the system. A good system is user-friendly and does not take long to get up and running.
Reliability is also essential; a good simulator is built using quality materials and comes with excellent after-sales support.
Lastly, course selection is critical; the more courses a simulator offers, the more versatile it is. Having access to an up-to-date app with multiple courses can help improve your game, and it's great for keeping things fresh and exciting.
Should I buy or build my own DIY golf simulator?
Some golfers (including myself) say that it's better to go the do-it-yourself way, while others believe that it's better to buy a complete system that will be ready to go right out of the box.
While those packages are sold as a whole unit that includes all the individual necessary parts, building a simulation system is a cool but pretty big DIY project. Customizing your setup enables you to choose the appropriate size, shape, features, and colors at a fair price. However, building your own system will take time and effort and can be challenging if you are not an enthusiastic DIY person.
If you buy a ready-made package, you don't have to worry about any other details. You will then just focus on the fun part: playing golf.
We have created a dedicated guide on how to build your own DIY simulator that can be found here.
What's the Best Golf Simulator Package I Can Get for Under $1000?

The OptiShot 2 is one great simulator for such a low budget. It supports most of the features that are available in pricier models. It is easier to install and take down from your training room.
Additionally, it has software that enables you to practice at 15 well-known courses using vivid 3D simulated driving ranges. You can connect the unit to your computer and display it on a larger screen or projector for a better experience.
There is also the possibility of building your own DIY system for under 1000 dollars. You will get the opportunity to choose every individual component that goes into your setup and include any favorites that are within budget. If you love to build stuff yourself, then a DIY route will be a better option to build a simulator for cheap.
Final Thoughts
In this article, we have tested and reviewed a wide range of the world's top simulators and categorized them based on factors like space, budget, usage intentions (indoors vs outdoors), etc.
In the end, we provided a list of the best simulators available for purchase today, with price tags ranging between as low as around 500 dollars and as high as above 70,000.
We believe that we made your task easier; all you have to do now is to make a list of your needs, preferences and budget to choose accordingly. Now, it's time to make your pick.
Please, feel free to share your feedback with us in the comments section below or contact us via email if you still have any questions.
Happy golfing!
References
How Golf Simulators Work. HowStuffWorks. Retrieved from https://entertainment.howstuffworks.com/sports/golf/basics/golf-simulators.htm
Golf Channel Homepage. Golf Channel. Retrieved from https://www.golfchannel.com/
Review: SkyTrak Personal Launch Monitor. Golf WRX. Retrieved from https://www.golfwrx.com/450552/review-skytrak-personal-launch-monitor/
You May Also Like