The 22 Best Golf Simulators of 2023: Reviews And Buyer Guide
Last updated:
November 16, 2023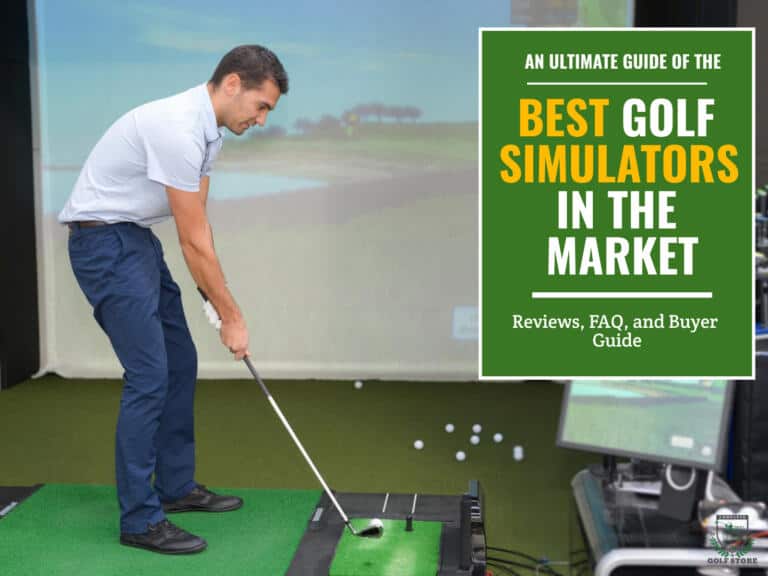 Disclaimer: We may earn a small commission from some of the links on our website. However, our reviews and comparisons remain fair and unbiased. Our goal is to help you make the best choice. For more information, please see our
disclosure statement
. Thank you for your support.
Key Takeaways
This detailed guide is the outcome of extensive testing by many experienced golfers and tech enthusiasts.
In the end, Foresight Sports Sim-in-a-Box Birdie Plus was our top all-rounder, followed by systems from Skytrak, Flightscope, Trugolf, and Optishot. Also, all the other premium setups were outranked by the excellent HD Golf simulator.
If your budget is anywhere between 1,000 and 70,000+ dollars, you will undoubtedly find a golf simulator on this list. Make sure you scroll down for all the details.
Are you looking for a quality golf simulator system? Then you may either be:
Someone who dreams of having a full golf simulator setup at home for entertainment purposes
A professional who wants a top simulator system for training
A business looking for powerful simulators for commercial use
Or you simply want a reasonable and affordable way to enjoy indoor golf this winter.
Whatever the reasons, there's undoubtedly a setup that can meet your needs.
However, as you will find out below, sometimes the prices can be exaggerated simply because the golf simulator packages are made by renowned companies.
Don't spend a fortune on an expensive system that may disappoint you or something cheap enough to compromise the quality. Instead, stick with something proven (by the community) to give results and value for your investment.
Our team has hand-picked, tested, and evaluated the 20 golf simulators from various manufacturers based on functionality, usability, performance, cost, and value for money.
No time to read the whole article? No worries. We've done the work for you and compiled a list of the top performers.
| Product | Features | Our Rating | |
| --- | --- | --- | --- |
Our Top Golf Simulator Picks: Detailed Reviews
Each simulator works differently [1] and is unique in the choice of materials used and the features it offers. Therefore, consider reading the following list of top-rated systems before you make your investment.
The following are our top selections based on our own testing, research, and experience:
Please note that we classified the products into different categories based on criteria such as budget, space requirements, etc. and, whenever possible, we tried to provide more than one product in each category for you to make your final choice depending on your personal needs.
Foresight Sports Sim-In-A-Box: Birdie Plus Golf Simulator Package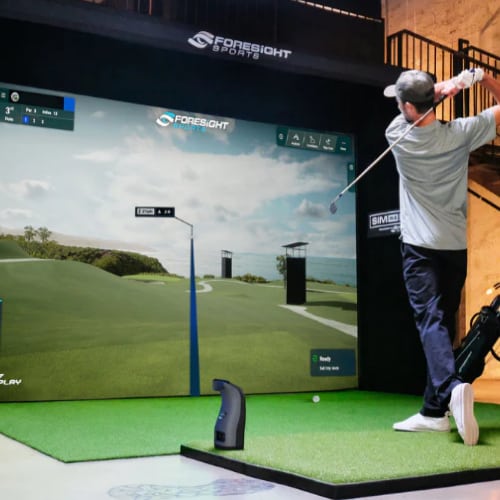 If you are looking for a simulator suitable for indoor and home use, with plenty of features and reliable, accurate data without breaking the bank, then Foresight Sports has you covered.
The Sim-In-A-Box series comes in eight different variants with relatively affordable price tags. They cost between 10,500 and as high as around 34,000 dollars.
The product we are testing here is in the middle of the price range, with a price of around 16,500 dollars. So, what is special about this simulator?
First, this setup is built around the GC3 launch monitor, a very successful and popular product with excellent performance. This monitor is praised by a lot of golfers for its high degree of accuracy and the number of features it offers for an attractive price.
The GC3 launch monitor uses a triple camera photometric system to detect ball and clubhead data. The monitored data includes Club Head Speed, smash factor, club path, angle of attack, launch angle, side angle, ball speed, total spin, carry distance, and side spin/ spin axis.
Everything you need to improve your game is detected and displayed on an ideally placed LCD touchscreen. As a result, you can easily compare and record your shots.
Also, the GC3 launch monitor is built to be more portable. Everything is integrated into this compact and beautifully designed monitor to make it easy to take with you wherever you go. The built-in battery will last you around 7 hours of use, which ensures you can use it outdoors without fear of it running out of juice.
If you decide to use the monitor indoors with the included simulation package, it is also packed with the software needed to do so. The package comes with the SFX Play software, the SFX 2020 software, the FSX Pro, and Foresight Sports' proprietary app to provide a complete and enjoyable experience.
The simulation can be displayed in crisp, clear quality. The resolution can reach a stunning 4K resolution, making the whole experience much more beautiful (graphically), immersive and realistic.
In addition, no need to worry about running the simulation at max settings, as the package comes with a gaming-optimized desktop computer to ensure that you will enjoy your virtual games without any lag or stutter.
The cherry on the cake, this gaming PC comes with all the necessary software installed (and 20 world-class courses for you to enjoy); all you need to do is hook up everything and start playing.
It is possible to connect the launch monitor via USB-C, WIFI, or Ethernet, which makes it possible to connect it with any type of device (PC, tablet, Android, IOS).
The simulator is made of high-quality materials and will surely serve you for years to come. Still, Foresight Sports thought about future-proofing your precious investment. That's why they include an extra impact screen for you to use once the one you are using is battered after years of hitting.
What's included:
The Foresight Sports GC3 launch monitor.
FSX 2020 Software
FSX Play Software
FSX Pro
20 World-Class Courses
Extra Impact Hitting Screen
PC (to run the simulation software)
Frame
Impact Screen
Projector
Turf
Hitting Strip
Hitting Mat
Computer Cart
Pros
Very accurate launch monitor.
The monitor can be used indoors and outdoors with long battery life.
All the necessary data is monitored and provided.
Very beautiful and realistic graphics (4K graphics, wide angle display).
Gaming PC included with software pre-installed for peace of mind.
Extra hitting screen provided.
Multiple connection interfaces.
Cons
The package requires a large space. Not suited for small spaces.
As you would expect from a company like Foresight Sports, they deliver a high-quality setup that includes everything you need to enjoy indoor golf sessions alone or with your friends and family members. You can even play online rounds with people from all over the world.
The data provided by the GC3 launch monitor is extremely accurate, and the whole experience is very enjoyable. Everything has been thought of to make things as simple as possible.
The installation process is easy and doesn't take too much time, and all the necessary software comes pre-loaded, which means less time spent fiddling around, and more time spent on your favorite courses.
We highly recommend the Foresight Sports Sim-in-a-Box Birdie Plus Package as one of the top options for residential golf, especially for its price. It does offer great value for the money. You certainly get much more than what you pay for!
Get the Foresight Sports Sim-in-a-box Plus package from this page.
Trugolf Apogee SIG12 Golf Simulator Package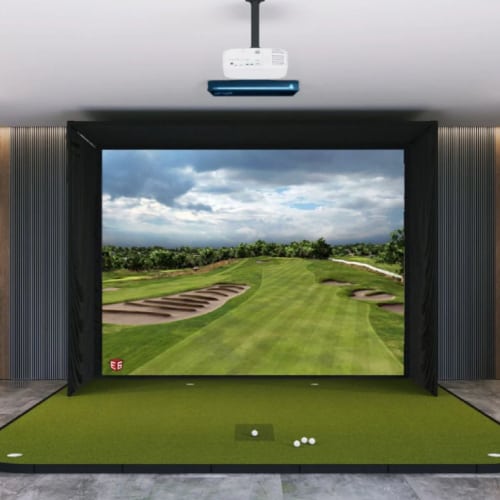 The Apogee is Trugolf's newest launch monitor, which is also their first attempt into the overhead launch monitor market, and things look promising.
It uses state-of-the-art photometric technology, coupled with the company's INSTANT IMPACT image processing algorithm, to provide very accurate metrics of the club and ball. No marking of the balls or clubs is required.
The point of impact is clearly designed on the mat using lasers to simplify ball positioning. Anything that happens during and after impact is recorded in slow motion and saved in scrubbable video format.
The Trugolf E6 Connect software, bundled with the monitor, needs no introduction at this point. It is one of the most popular and graphically impressive simulation software.
You get a one-year license to the expanded subscription, granting you access to over 90 world-famous courses in addition to plenty of game modes and challenges.
The SIG 12 is a beast of an enclosure. It is made of durable materials to ensure longevity and resistance to your fastest club swings.
The blacked walls and the size of the enclosure help display the simulation in outstanding quality with a huge screen and 4:3 aspect ratio to make the experience more immersive.
The Fairway series golf mat (5' x 5') offers excellent feel and comfort, and it can be upgraded to the SIGPRO Softy 4' x 7' or SIGPRO Softy 4' x 10'. Even better, if you can afford it, we recommend the SIG12 flooring to have a cleaner-looking golf simulator setup.
To accommodate this beautiful setup, you will need a room that is 12' 2" wide, 9' 4" high and 16' deep.
What's included
Trugolf APOGEE Monitor, calibration template, 6' power cable, 50' CAT6 cable, & USB to CAT6 network adapter
E6 CONNECT Product Key - Expanded Subscription.
Laser Level
Ceiling Mount (for the monitor)
Instruction Bundle
Mounting Hardware & Screws
SIG12 enclosure, side barrier netting & landing pad turf
Fairway Series 5' x 5' hitting mat (upgradable)
Panasonic simulator projector, ceiling mount and 15' HDMI cable
Pros
Great looking and performing launch monitor
Excellent sim enclosure
Clean-looking setup with monitor and projector ceiling-mounted
Excellent simulation software & plenty of playable courses
Cons
The Trugolf APOGEE SIG12 system is the perfect combination of a technologically advanced launch monitor embedding the latest technologies and one of the best golf simulator enclosures ever manufactured.
During our tests, we were astonished by the power and performance of Trugolf's Apogee launch monitor, and we couldn't get enough of the whole virtual experience.
If you can afford this package, jump on it. I promise you won't regret it!
Uneekor EYE MINI Swingbay Golf Simulator Package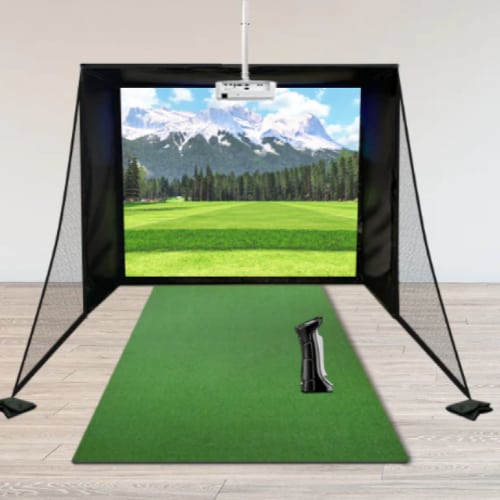 The Uneekor EYE MINI PerfectBay Golf Simulator Package is an excellent system that includes everything you need to set up your own golf simulator at home or in your office. It is built around Uneekor's latest launch monitor, which is also their first attempt into the portable photometric devices market.
The Uneekor EYE MINI launch monitor provides accurate and reliable club and ball data. The Uneekor Refine software also allows you to analyze your shots and improve your game using all the metrics gathered by the monitor. You can upgrade to the Refine+ to enjoy additional features, game modes and virtual courses.
Additionally, the PerfectBay Golf Simulator Screen Enclosure creates an immersive experience and provides safety by catching any shots that miss or bounce off the screen.
Compared to other top-of-the-line golf simulators, the Uneekor EYE MINI PerfectBay Golf Simulator Package is a great value. It includes premium-quality materials, such as the three-layered impact-resistant polyester screen, and powerful software.
Of course, no product is perfect, and there are a few drawbacks to consider with this golf simulator package. For example, the Uneekor EYE MINI is region locked, so it can only be used in the US and Canada. It's not too big of a deal for us (U.S residents), but for players from other parts of the world, this may be an issue.
Pros
High-quality golf impact screen enclosed in a perfectly sized golf bay
Uneekor EYE MINI launch monitor provides accurate and reliable club and ball data
Uneekor Refine software offers many powerful tools to improve your game
The PerfectBay Golf Simulator Screen Enclosure is one of the best in the market
Great value compared to other top-of-the-line golf simulators
Cons
Uneekor EYE MINI is region locked and can only be used in the US and Canada
Overall, the Uneekor EYE MINI PerfectBay Golf Simulator Package is a fantastic investment for golfers looking to improve their game and enjoy an authentic golf experience at home.
With its high-quality materials, powerful software, and immersive screen enclosure, this package offers a great value and is sure to impress even the most discerning golfers. What I love most about this package is how easy it is to set up and use, making it a great choice for both novice and experienced golfers alike.
We can confidently say that Uneekor's venture into portable photometric launch monitors is officially a success!
Foresight Sports GCQuad Retractable Golf Simulator Package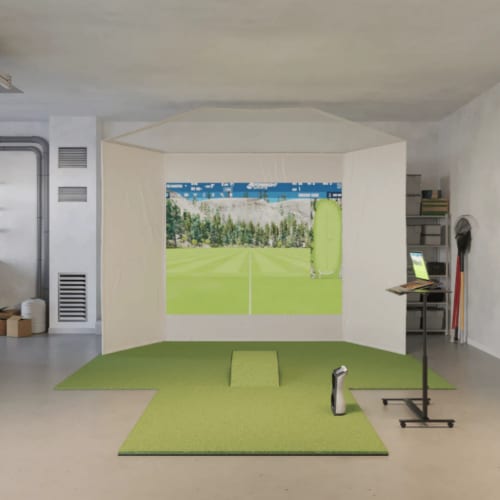 The Foresight Sports GCQuad Retractable Golf Simulator Studio Package is the ultimate solution for golf enthusiasts who want to maximize space in their homes without compromising on the quality of their golfing experience. With its retractable hitting bay, this package offers convenience and versatility like no other.
One of the best features in this package is the fully retractable design. With a simple push of a button, the screen can be easily retracted (and the hitting mat stored away), allowing you to reclaim the space and return the room to its original form. This is particularly useful during the summer or when the simulator is not in use. The flexibility offered by the retractable design is a game-changer for those with limited space.
The Foresight Sports GCQuad Launch Monitor & Golf Simulator is a powerhouse when it comes to shot data measurement. It provides a wide range of data, including ball speed, launch angle, spin rate, clubhead speed, smash factor, carry distance, total distance, shot shape, and more. This comprehensive data analysis allows golfers to gain valuable insights into their swing and make informed adjustments to improve their game. Getting the optional clubhead measurement and Putting Analysis addons grants you access to even more metrics (but that will cost you!)
The package also includes a 1080p Short Throw Projector and Ceiling Mount, ensuring that you have a high-quality visual experience. The choice of premium golf hitting mat and landing pad turf surface adds to the realism and durability of the setup. With the SwingShield Floor Enclosure for the projector, you can enjoy your golfing sessions without any distractions.
Pros
Extremely accurate tour-level launch monitor
Retractable hitting bay for space optimization.
Comprehensive shot data measurement for accurate analysis.
High-quality components for an immersive experience.
Choice of premium hitting mat and landing pad turf surface.
Convenient and easy storage when not in use.
Cons
Additional costs for software options the Club Analysis + Putting Analysis can make the package out of budget for many players.
The Foresight Sports GCQuad Retractable Golf Simulator Package is a game-changer for golfers who value space efficiency and convenience. The retractable hitting bay allows you to maximize the use of your living space, giving you the freedom to enjoy golf simulation without compromising on the room's functionality. The GCQuad Launch Monitor & Golf Simulator provides comprehensive shot data that helps you fine-tune your swing and improve your performance on the course.
Overall, the Foresight Sports GCQuad Retractable Golf Simulator Studio Package offers a perfect balance between space optimization and top-notch performance. Invest in this simulator package and experience the joy of golf simulation without sacrificing valuable space in your home.
Flightscope X3 SIG 8 Golf Simulator Package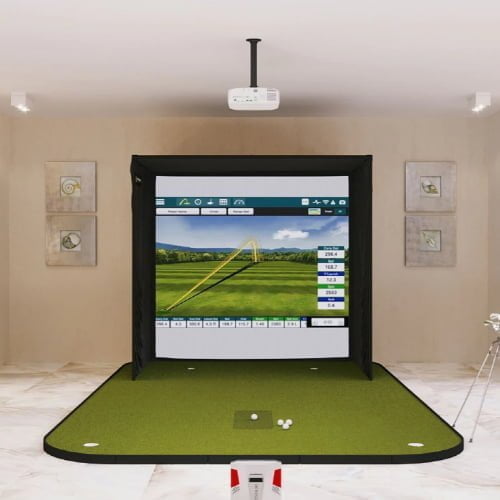 If you're looking for a high-end golf simulator package with a huge number of tracked data, the FlightScope X3 SIG8 Golf Simulator Package from the Indoor Golf Shop is definitely worth considering.
One of the key benefits of this package is the FlightScope X3 launch monitor, which is known for its accuracy and reliability. This launch monitor is capable of tracking over 50 different metrics and offers short game analysis, making it a great tool for golfers of all skill levels. Additionally, the SIG8 golf simulator enclosure is engineered to provide great image quality, longevity, minimal bounce back, and noise reduction.
The FlightScope X3 SIG8 system is one of the higher priced systems, but it offers outstanding performance, mainly thanks to the use of Fusion Tracking technology, combining radar and camera tracking to obtain the most accurate data possible. The X3 is indeed one of the most accurate systems we have ever got to test! It offers performance comparable to that of other big names like Trackman, FS GCQuad, etc.
The Indoor Golf Shop offers a range of high-quality golf mats to choose from, including the Fairway Series 5' x 5' Golf Mat and the SIGPRO Softy 4' x 7' Golf Mat. You can also opt for the SIG8 sim flooring and enjoy the most immersive setup possible.
Pros
Premium-quality FlightScope X3 launch monitor
Fusion Tracking technology doing its magic
More than enough data provided for full swings and short game (putting & chipping)
SIG8 golf simulator enclosure offers great image quality and noise reduction
Smaller-size enclosure with great performance and durability
Plenty of game improvement features and game modes
Cons
Overall, the FlightScope X3 SIG8 Golf Simulator Package is an excellent choice for anyone looking to set up a high-quality golf simulator in their home or office. The FlightScope X3 launch monitor and SIG8 golf simulator enclosure are both top-notch.
What I love the most about this package is the fact that it offers such high-quality performance in a smaller size, allowing it to fit into most spaces.
Bushnell Launch Pro Home Golf Simulator Package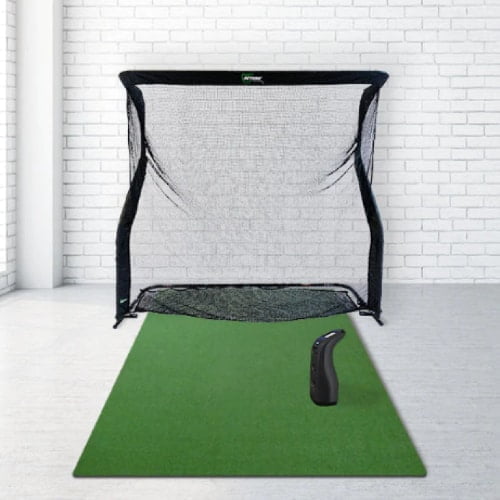 This simulator package offers a launch monitor similar to the Foresight Sports GC3 (found in the Foresight Sports Sim-In-A-Box: Birdie Plus package) in terms of hardware components but at a much lower price point.
As a result, you can expect the same level of accuracy and metrics from this package. The company managed to lower the price by offering more flexible software plans.
Out of the box, the launch monitor doesn't include any simulation software, and you get the freedom to choose the software plan that better suits your needs (or even not buy any if you only want to use the device on the course or range).
However, this specific package does include a 1-year subscription to the FSX Pro Basic as well as a free one-month trial of the Gold plan (which will cost 699 dollars a month if you want to keep using the Gold subscription - You may also make a one-time payment of 3,499 dollars for the unlocked software).
You also get the Net Return Pro V2 Golf Net and Pro Turf. These are excellent for indoor and outdoor use and are both upgradable to larger options.
It seems, however, that the package is intended more for those looking for a training package that provides the metrics of the shots and doesn't need a simulation and a projector (due to the absence of any options to include a screen and projector).
Pros
Great performance for an affordable price
Highly portable package
Can be used indoors and out
Plenty of upgradability options
The user can choose which software plan- if any- to get
Cons
Pure training package - no options to include a projector/ screen combo.
The Bushnell Launch Pro Home Package is a great option for anyone only interested in metrics and accuracy. It is also an excellent choice for professional instructors and club fitters. It can be hooked to your IOS device (FSX Pro) or PC (FSX 2020) and provide all the numbers you need to improve your game.
Get GC3 level of accuracy and performance for much less!
SkyTrak Flex Space Golf Simulator Package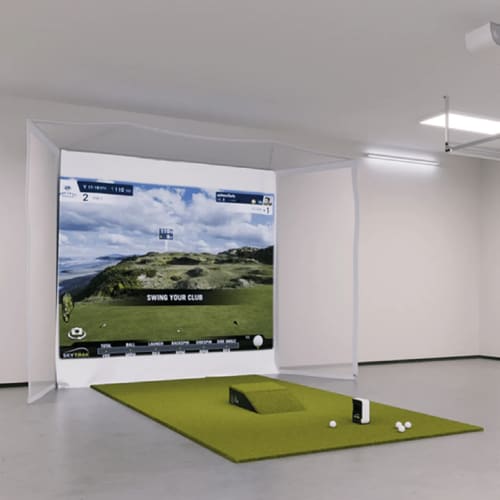 SkyTrak Flex Space Package is one of the top systems that works great for those having limited space.
With the help of high-speed photometric technology and the advanced algorithms used in this system, you can experience incredible accuracy.
You can choose any of the fun game modes to enhance your skills. Moreover, the simulator tracks data to offer various measurements such as backspin, carry distance and launch angle.
Included in skytrak flex space package
For better portability and flexibility, the system uses the HomeCourse retractable screen. Click a button on your remote and the screen deploys within 13 seconds when you wish to make a few swings.
Once done, you can retract the screen back to its original form. This way, you don't have to allocate a specific golf simulator room for this package.
The Pro Turf Golf Mat is an excellent combo with the pro screen. It offers a great feel and comfort. After use, you can easily roll it up and store it away.
The launch monitor comes with a protective case that is laser cut from 13 gauge steel, which protects it from scratches and accidental hits. A projector floor mount case is also included to keep it safe.
Software-wise, the golf training package includes the Game Improvement Software, while the Entertainment Package comes with the Play & Improve software with WGT, which offers full-course play online as well as additional features and game modes.
What's Included (Training package):
HomeCourse Pro Retractable Screen
SIGPro Turf Mat
SkyTrak Launch Monitor
SkyTrak Game Improvement Software
SkyTrak Metal Protective Case
15'L HDMI Cable & Lightning to HDMI Adapter
HomeCourse Accessories: Ceiling Mount Kit, Remote, Easy Reach Pole, & Charging Cables
1080P, short-throw Projector
Projector Shield Floor Mount
User Manual & Quick Start Guide
The Entertainment Package contains:
All the contents of the training package, in addition to:
The Play & Improve Plan with WGT Golf, valued at $199.95.
Pros
Excellent value for the money
Easy to install and use.
Good quality images.
Screen easy to deploy and retract.
Can fit in most spaces.
Cons
App quality can be improved.
The Skytrak Flex Space is our top option for affordable golf simulator packages that fit smaller spaces. It provides an excellent bang for the buck.
Everything is easy to install and remove out of the way, which is very practical for those not willing to devote a space for their virtual golf system.
SkyTrak Golf Simulator Training Package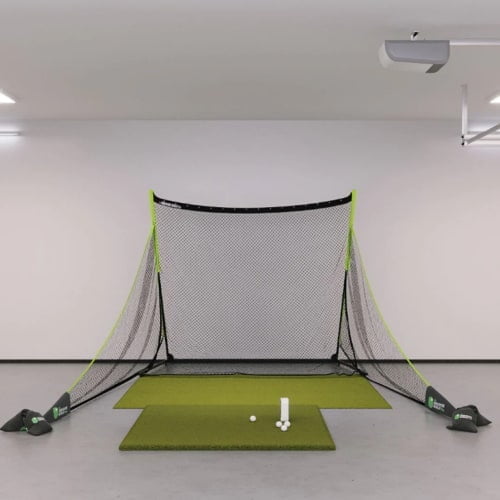 The Skytrak Training Package is an affordable option for both indoor and outdoor use. It has been voted as the top value simulator in 2017 and 2018 by Golf Digest.
Thanks to the portable Net Return golf net, this package is highly portable and extremely simple to use, assemble and disassemble. As a result, Setting the system outdoors won't take much time or effort.
The included SkyTrak Launch Monitor has now established itself as one of the top golf launch monitors available for purchase. It provides a multitude of valuable readings such as Launch Angle, Back Spin, Carry Distance, etc.
In addition, it provides outstanding accuracy and comes in a metal protective case to protect your precious investment.
The SkyTrak Play & Improve Software is compatible with all available platforms, be it IOS, Android or PC, and offers both single and multiplayer competitions.
It also provides some cool features such as bag mapping, skill assessment and progress tracking, instant ball data and shot replay, five different camera views, etc.
What's included:
SkyTrak Launch Monitor
Micro-USB Charging Cable
SkyTrak Protective Case
SkyTrak Play & Improve Plan
Choice of Golf Net:

Net Return Home Series V2 Net and Frame
Net Return Pro Series V2 Net and Frame

Side Barriers
Net Return 6' x 10' Pro Turf
Duffle Bag (For storing and transporting net)
Two Rubber Tee's - 1.75" and 2.25"
SkyTrak User Manual & Quick Start Guide
Pros
Relatively affordable.
Very accurate readings and data.
Great portability.
Easy to set up anywhere.
Cons
Some users reported occasional delays between the actual shot and screen processing. To be fixed in a future update?
The Skytrak Training Package is the perfect simulator for players on a tight budget wishing to improve any aspects of their game.
It has well-balanced software and hardware components that provide an enjoyable experience without breaking the bank.
If you're looking for an affordable golf simulator to use indoors and outdoors, then this one is a solid choice. What's more, for a limited time, you get a free 12-month subscription to the Golf Magazine worth 60 dollars.
FlightScope Mevo+ Training Golf Simulator Package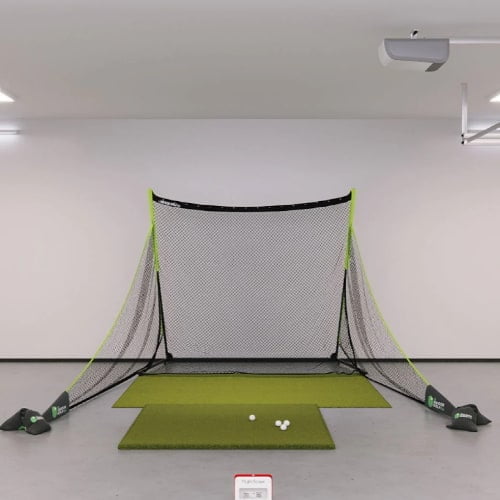 This simulator can be used both indoors and outdoors. The package includes the excellent Mevo+ launch monitor that provides highly accurate readings and can be used anywhere thanks to its light weight, small size and a rechargeable battery that lasts up to 2 hours.
The included E6 Connect software, bundled with the monitor, offers a superb virtual experience.
This package is highly portable, which makes it perfect to use anywhere! The included Net Return Golf Net & Side Barriers are handcrafted, rugged and lightweight, making them portable and sturdy at the same time. It is the first golf net that was designed to return the golf ball back to the golfer. In addition, it was built to stand shots of up to 225 M.P.H speeds without problems.
The net is available in two variants: The Home Series V2 (7'H x 7'W x 3'6" D) and the Pro Series V2 (7'6"H x 8'W x 3'6" D). The slightly larger Pro Series V2 costs an additional 100 dollars. Installing the net will be a breeze thanks to the provided Home Series Installation Videos & Pro Series Installation Videos. Handcrafted in the USA, this net will surely serve you for a very long time!
What's included:
E6 simulation Software Package (5 Courses, 17 Practice Ranges)
Mevo+ Launch Monitor, USB Charging Cable, Carrying Pouch
Free App for Mobile Devices
50 Metallic Stickers
Choice of Net (Home or Pro)
Side Barrier Netting
Net Return 6' x 10' Pro Turf Mat
Two 1.75" and 2.25" Rubber Tee's
Duffle Bag (For storing and transporting net)
Pros
Budget-friendly.
Accurate data & portable launch monitor.
Set up is a breeze.
Pro Package addon for more measurements.
Cons
Limited number of courses out of the box.
The Flightscope Mevo+ Training Package is an excellent option for players who want to take their package wherever they go and use it both indoors and outdoors.
In addition, the battery-operated launch monitor and carrying case for the golf net means that you can take them with you and continue your golf practice even during vacations. All in all, this is a package that delivers on its promises: It combines quality, affordability and portability.
Uneekor EYE XO/ EYE XO2 Perfectbay Golf Simulator Packages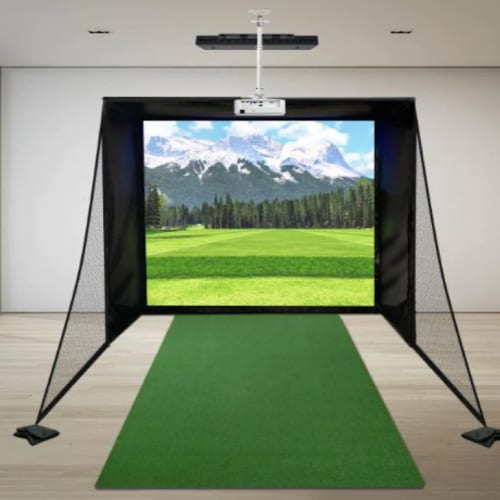 With the Uneekor EYE XO/EYE XO2 PerfectBay Golf Simulator Package, You get to choose between the original EYE XO launch monitor or its newer upgrade- the EYE XO2. Everything else is the same!
Out of the box, you get access to Uneekor's Refine Software, one of the best in business, especially for game improvement purposes. You may also upgrade to the Refine+ for more modes and software features. The PerfectBay Golf Simulator Screen Enclosure helps make the entire experience more comfortable, fun and immersive.
Uneekor's EYE XO and EYE XO2 overhead launch monitors utilize high-speed cameras to track any metrics you may need with pinpoint accuracy. The EYE XO2 uses three cameras and provides a hitting zone twice the size of the original EYE XO (using two cameras for tracking). Both launch monitors also features Uneekor's patented non-marked ball technology with photometric camera-based technology, allowing players to capture a full range of precision data with the ball of their choice.
The PerfectBay Golf Simulator Screen Enclosure is designed to create the most authentic home golf simulation experience possible. The enclosure shades the screen on both sides and the top for the brightest image possible, and the 5ft depth provides safety by catching any shots that miss or bounce off the screen. The screen is also extremely durable and perfectly optimized for 4:3 or 16:9 projection.
When it comes to golf mats and projectors, the Uneekor EYE XO/EYE XO2 PerfectBay Golf Simulator Package offers a variety of options. Customers can choose from a variety of golf mats, including the Fiberbuilt Golf Studio Mats and the Center-Hitting Combo Mat. As for projectors, the package includes a range of Optoma projectors, with all models featuring 4000+ Lumens for a crisp and clear image.
Pros
The Uneekor EYE XO & EYE XO2 provide extremely accurate and precise data (with the newer version being a tad more precise)
The PerfectBay Golf Simulator Screen Enclosure creates an authentic home golf simulation experience
A range of golf mats and projectors are available to choose from, allowing customers to tailor the package to their needs
Cons
The installation process can be complex and may require professional assistance
Overall, the Uneekor EYE XO/EYE XO2 PerfectBay Golf Simulator Packages are an excellent choice for customers looking for an authentic and immersive virtual experience.
With accurate launch monitor data and realistic graphics, this package provides a truly immersive golf simulation experience. While the price tag may be (relatively) steep, the investment is worth it for serious golfers looking to improve their game.
I personally loved the range of customization options available, allowing you to customize the package to your needs and preferences.
HD Golf Simulator Ultimate Entertainment Golf Simulator Package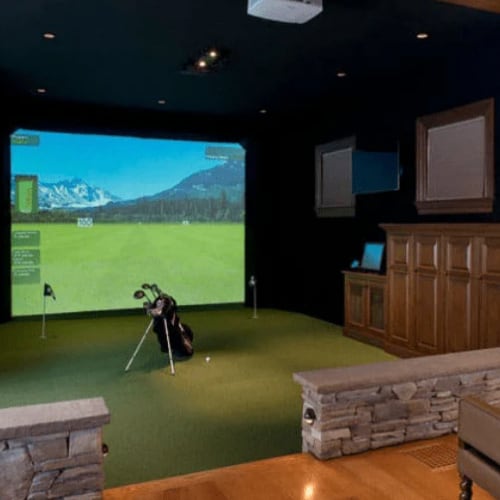 HD Golf is the ultimate simulation package you can buy today. It's also very versatile, as other sports can also be played on this simulator (11 in total, including golf) in both single and multiplayer modes. It can additionally be used as a home theater, making it an entertainment center for the whole family.
The package is built around HD Golf's Multi-Sport Software Package. It provides stunning and realistic graphics in addition to countless entertainment possibilities without compromising accuracy.
HD Golf managed to create a revolutionary image processing technology to achieve life-like simulations. They combined satellite data, high-resolution digital images and geographical data to come up with some of the most realistic 3D models.
On the other hand, other simulator manufacturers still rely on video game-like graphics for their software simulations.
The result is that HD Golf is the only manufacturer to be able to capture the most prestigious courses around the world in incredible detail, allowing for a very high degree of graphics quality, realism and immersion.
In addition to breath-taking visuals, HD Golf's software provides unparalleled accuracy thanks to the use of multiple high-speed cameras. These capture everything about your swing: launch angle, path, object contact (heel/toe), spin, clubhead speed, efficiency, smash factor, club face (open/closed), shaft flex/deflection, load factor, acceleration, angle of attack, tempo, etc. If you can name it, the simulator probably can track and measure it to within a tenth of a degree.
If you have one or many favorite courses, you are more likely to find them in the simulator playable in crystal-clear image quality.
The full list of available courses is: PGA National Golf Club, Bay Hill, Cabot Links, Wooden Sticks, Jasper Park Lodge, Princeville, Wolf Creek, Spyglass Hill, Spanish Bay, Nicklaus North, Banff Springs, St Andrews Castle, St Andrews Jubilee, Casa De Campo, Cabo Del Sol, Rich Harvest Farms, Doral Blue Monster, Troon North, Pacific Dunes, Karsten Creek, Harbour Town, Quail Hollow, French Lick, Pebble Beach, St Andrews Old Course, Bethpage Black, Kiawah Island, Pinehurst No. 2, Torrey Pines, Medinah.
Moreover, many practice facilities are provided, such as Chipping and Putting Greens, Closest-to-Pin, Driving Ranges, etc. The development team constantly adds new courses and content to keep owners happy.
What's included:
Multi-Sport Shooting & Hunting Accessory Package
Rear Stereoscopic Cameras With Mount/Lens
Drapery, Baffle, and Ceiling Track System
Power Bar, Cables, Components, A/V Cabinet
Free Delivery & Installation
Sony Laser Projector Upgrade & Mounting Bracket
22" Wideview LCD Touchscreen Monitor
Surround Sound Package Upgrade
HD Golf Software Package (Deluxe Package - All Courses)
HD Multi-Sport Software Package (ALL Sports)
16:10 Flat Standard System (10' H x 15' 6" W x 19' L)
Area Golf Turf in Green Turf (16' x 22' 6") & Stance Mat
Viewing and Hitting System Frame/Screen
Computer Vision Club and Ball Tracking System
Precision Spin Measurement Data Module
HP Business Workstation
Pros
One of the top simulators combining quality and accuracy
11 supported sports, with the possibility to use the package for other entertainment purposes
The HD Golf's team is responsible for shipping, setup and guiding customers to use the system
Proprietary technology used to create a realistic simulation
Very useful club-fitting features
2-year warranty and 24/7 support
New content constantly added by the development team
Cons
At almost 70,000 dollars, this is a highly exclusive simulation package.
Unsurprisingly, the price of the High Definition (HD) Golf is steep; not everyone will be able to afford it, but those who can will certainly have the experience of a lifetime.
You get everything you would expect from such a package: Stunning quality, accuracy, realism, and overall experience.
You don't need to worry about anything! Once you order your package, it arrives along with an experienced HD Golf team to install the system, test it and guide you through the first steps of using your entertainment package.
The fantastic customer support and constantly growing library and downloadable content are the icing on the cake!
Furthermore, you won't regret buying this amazing unit to use in your own business. Let's be honest here; the only ones able to afford this expensive piece of golf technology will be professional sportsmen (or women), rich people or large business owners wishing to provide the ultimate entertainment setup for their customers.
TruGolf Vista 10 Golf Simulator Package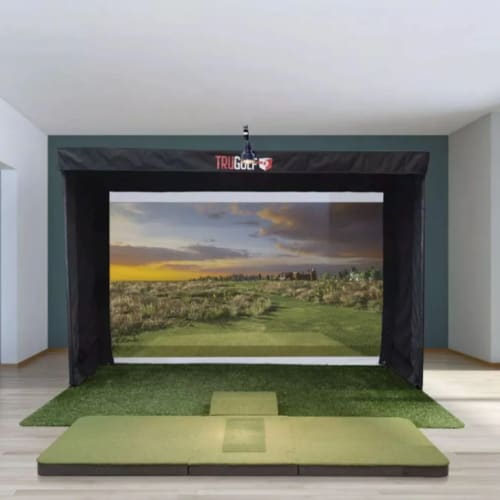 The Trugolf Vista 10 is a popular choice among indoor golf enthusiasts. Despite its large size, the package is lightweight and easy to set up and disassemble, making it more portable compared to other systems of the same size.
The highlight of this simulator is that it offers vivid high-definition graphics accented by the blacked screen walls. In addition, the sturdy construction ensures its durability.
Trugolf's Trutrack 2 tracking system measures your shot's details and provides instantaneous feedback on things like carry distance, launch angle, speed, club path, clubface angle, etc., to help you improve.
Moreover, the E6 Connect software allows you to play 27 virtual courses worldwide through a subscription to the basic plan, to be renewed after the first year. These courses include the Gleneagles Golf Club, Latrobe, Auburn Grand National, and many more.
The software offers multiple features and challenges, including adjustable time-of-day conditions, course elevation choices, in-game practice modes, five tee box options, etc.
The basic model of the package comes with a Trugolf Level 1 computer to run the simulation, but if you opt for the Pro version of the system, you get the more powerful Level 2 computer; both are capable of running the software smoothly.
The pro version also comes with a portable audio system, side walls and golf nets to make the whole experience more immersive and enjoyable.
What's Included:
Complete Frame/Enclosure.
Premium Fairway Golf Mat System ( 4'L x 9'W - 3.5″ thick).
136″ Impact Screen.
Overhead Light Bar.
TruGolf Level (1) Computer.
HD 720p Projector.
4:3 Aspect Ratio.
TruTrack2 Tracking System.
21″ Touchscreen Display.
E6 Connect Subscription Basic (1) Year.
1-Year Limited Warranty.
27 Course Library.
Vista 10 User Manual.
The pro model additionally includes the following:
TruGolf Level (2) Computer
Portable Audio Speaker
Golf Nets
Side Walls
Pros
Excellent for long game, chipping and putting
Lightweight components (despite the size)
Comfortable and easy to use.
Good graphical quality.
Excellent customer service.
A majestic-looking setup (especially the Pro model).
Cons
720P ST projector; 1080P would make the image much sharper.
This simulator is an excellent choice for pro golf enthusiasts. Also, the sheer size, quality, and performance of the setup make it a perfect choice for commercial use. It will be perfect for installing in any business to entertain your customers.
The golden rule for any successful business is "happy, satisfied customers." If you can afford it, the Trugolf Vista 10 will significantly help your business flourish.
TrackMan 4 Golf Simulator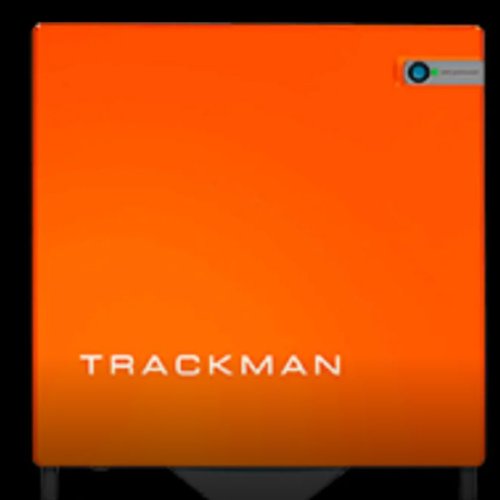 The trackman 4 is another amazing simulator built by a company trusted by pros around the globe.
It has been designed to provide players with all they could ever want or desire when playing their favorite sport.
This incredible product comes equipped with some of the most advanced technologies that allow users to enjoy every aspect of the game at its finest.
In addition to being extremely accurate, the device also allows users to customize their own course according to their preferences.
You can choose between different types of grasses, trees, bunkers, fairways, greens, sand traps, water hazards, roughs, and more.
You can even add custom objects like flags, bridges, benches, tees, pins, and much more. There are no limits to what you can do with this amazing piece of equipment.
Pros
Trusted by professionals worldwide for quality.
Advanced tech for a realistic golf experience.
Extensive customization options for personalized play.
Precise feedback for enhanced game improvement.
Top-tier design and performance standards.
Cons
Prohibitively expensive for casual players.
Geared towards businesses and professional users.
The Trackman 4 is one of the top options in terms of quality, accuracy, performance, design, etc. The high price of the system makes it a highly exclusive setup that only professional golfers or business owners will be able to afford. If you own a golf shop, a sports center, a golf resort or even a hotel, this will be a great addition to invest your money in.
Full Swing Golf Simulator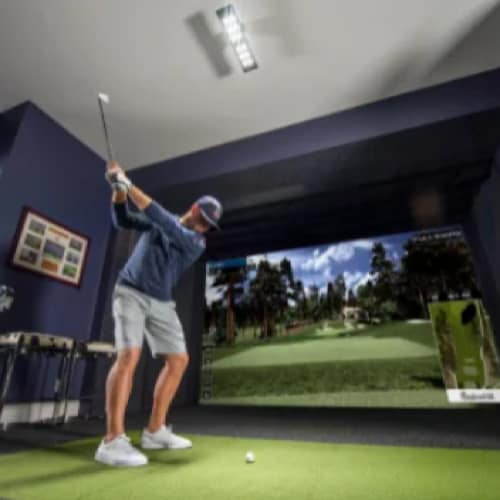 Full swing is another leader in the market of high-end simulation systems. It uses the latest and greatest technologies to create some of the world's top products in terms of quality, visuals, accuracy, etc.
As a result, Full Swing's simulators are all top-of-the-line premium systems that are priced accordingly. Very few can afford a Full Swing simulator, most of whom will be business owners that see the spent amount of money as a necessary investment to expand their business and use state-of-the-art golf technology as a means of entertainment for their most demanding clientele.
Full swing offers 11 different games, including nine-hole courses, 18 holes, a full-length driving range, a putting practice area, a chipping practice area, and many others. All these games come with customizable options so that each user gets exactly what they want out of their game experience.
Even if you've never played any type of golf before, there's nothing stopping you from trying out the full swing simulator. With over 20 years of experience under its belt, Full Swing knows how to ensure that users get the most out of their time spent practicing.
Full Swing's Golf Academy is yet another great option available online. It provides users with access to various resources related to golf training.
These include videos, articles, tips, tutorials, and much more. The academy was created as a way to help people improve their skills while having fun doing it.
Pros
Renowned leader in high-end simulation systems.
Uses cutting-edge technology for superior quality.
Offers 11 customizable games for varied play.
Access to resources through an online golf academy.
Pro Series simulator preferred by Tiger Woods.
Cons
Premium systems with a high price point.
Full Swing's lineup of products includes three main types of simulators:
The Pro Series simulator is intended for professionals seeking the most accurate data so as to always be on top. This one is preferred by many pro golfers, including Tiger Woods.
The Sports Series package is the exclusive simulator for the Golf Channel [2]. It is a camera-based system that uses Full Swing's dual-tracking system for the most accurate readings. It is available in two variants to fit almost any space: the Standard version and the widescreen.
The Virtual Green simulator is Full Swing's most expensive option starting at a whopping 70,000 dollar price tag. It uses patented underground actuators technology capable of shifting the ground and changing slope and undulation; the goal is to mimic many challenging putting situations.
The virtual green is available in both square and curved shapes, and data can be directly projected on the green to help you perfect your putts.
The Golfzon Premium Simulators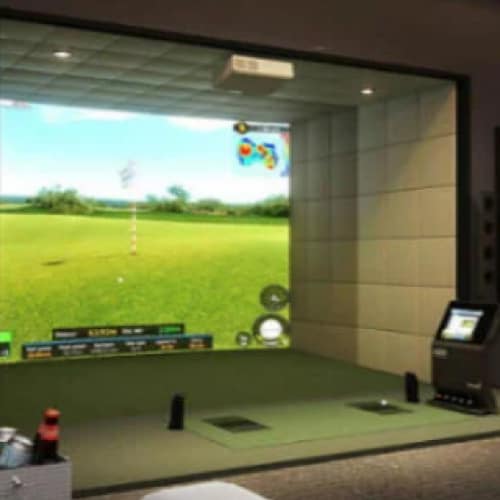 Golfzon is another big player when it comes to creating premium-quality simulators. The company has developed many proprietary technologies to back up its high-end products. As a result, they have an excellent reputation among professional players as well as amateurs.
Their product line includes everything from portable systems to large professional units. All of them come equipped with state-of-art technology, which makes sure that every shot is recorded and analyzed by the computer.
In addition, all these devices feature GPS tracking so that your game statistics can be uploaded online at any time. You can also download scoresheets directly onto your smartphone or tablet using Bluetooth connectivity.
Another great thing about this brand is that they offer free training videos and tutorials to help you get started right away.
Pros
Excellent reputation in pro and amateur circles.
Wide range of portable to professional units.
State-of-art tech for detailed shot analysis.
GPS and Bluetooth for easy stats tracking.
Free training videos and tutorials available.
Cons
Premium product comes at a high cost.
So whether you need a simple system for home use or something bigger for business purposes, there should be no problem finding what you need.
Additionally, Golfzon worked in partnership with David Leadbetter, one of the world's most esteemed golf instructors, to support the Golfzon Leadbetter academy.
The academy has now expanded into more than 15 countries and today provides more than 100,000 golf lessons per year.
About Golf Curve Simulator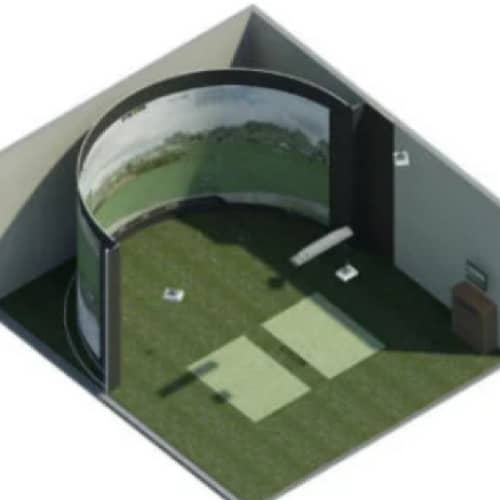 As the name of this package suggests, it features a screen curved at 180 degrees around the player, offering one of the most immersive virtual experiences ever provided by a golf sim.
The Curve is a photometric system, using high-speed cameras to detect the finest details of your swing and overall game; it's the ultimate tool to help you improve your game, without mentioning how impressed your family and friends will be whenever you host a game party.
The enclosure, as well as the crisp graphics and vibrant colors of the simulation are simply impressive. The good thing is, despite the huge size, About Golf's engineering team and technicians will help you set up a custom-designed system that will fit into your available space.
This package uses the company's proprietary and exclusive camera tracking system, named 3Track, which uses machine vision technology to provide accurate readings (not estimates) of the ball and club data; this is interesting to know since a lot of manufacturers resort to providing estimates of some data points like spin, while AG actually measures them.
The AG Curve is not cheap; in fact, it is one of the most expensive, exclusive and premium systems. Its price starts at around 70,000 dollars, and if you decide to go for the available addons, you should expect the final investment to be much higher. Still, if you can afford it or its financing options, it is a worthwhile investment that you won't regret. You will be getting yourself a setup with great build quality and cutting-edge golf technology.
Here are some of the most interesting add-ons available for purchase with your Curve system:
aG Balance Pro: Helps you measure footwork - balance and weight shift - since these are extremely important aspects of every golfer's game.
AV Integration: intended to make using the system much easier; besides things like picture-in-picture (allowing you to watch the big game all while squeezing in a round with your pals), this function allows you to start and turn off all the system components with the push of a single button; Impressive, right!
aG Flix: The integrated video recording and capture feature enabling detection from different angles. This is especially interesting for instructors.
Club Fitting: The feature that allows you to compare your different club data in a side by side fashion so you can decide which ones are the best for you. This is another useful software feature, especially for golf shops and professional club fitters.
TPC Sawgrass, Pebble Beach, St. Andrews, among many others, are some of the virtual golf courses available for single and multiplayer play in stunning 4K quality. No need to buy any extras, as the package includes everything you will need to engage in the virtual golf experience of your life: the full enclosure with the curved screen, launch monitor and projector, Automatic & dimmable custom lighting, a tee box, turf (covering the whole enclosure), and a powerful gaming PC to run the software without any issues.
Pros
Huge enclosure + 4K graphics + curved screen = The most realistic and immersive experience.
Premium quality components, pinpoint accuracy and plenty of software features.
No guesses: All the ball and club metrics are tracked, and nothing is estimated.
Custom-made golf simulator packages to suit your space and needs.
Cons
Very steep price tag (obviously), but it's like having a glimpse into the future of golf simulators (which is priceless).
What else can we say about the AboutGolf Curve Simulator? It's an excellent system that provides the best of what any golfer may need. The very lucky few who can afford this system will surely benefit a lot from the multitude of features and options provided by The Curve.
SkyTrak Bronze Golf Simulator Package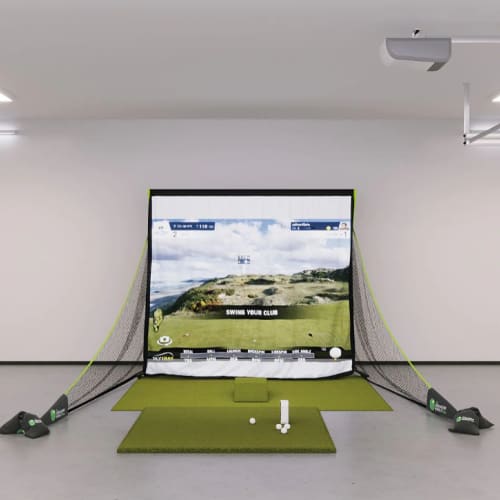 The Skytrak Bronze has the highest price tag among the many affordable options reviewed in this category (around $6,000).
It includes all the necessary tools to provide an enjoyable experience, starting with the excellent Skytrack launch monitor and metal protective case used in other high-end packages such as the SIG 10 and SIG12.
In a nutshell, the Skytrak launch monitor is truly a game-changer due to its many features.
The same software solution is provided with this cheaper model: the Play & Improve software, be it with a small screen and enclosure than the higher-end models. You get to play 12 virtual courses on the WGT software, bundled with the package.
The screen and enclosure are also smaller, but the included BenQ projector still provides good image quality with vibrant colors, which translates into an enjoyable experience.
The variety of features and game modes means that you'll never feel bored, playing alone, with friends or online.
Overall, the software components are identical to the simulator's bigger and pricier brothers (SIG10 and SIG12). Of course, compromises had to be made to take the price lower, but the quality of the simulation was not noticeably affected; you can still enjoy your Skytrak simulation package, but for a lower price tag.
The main advantage of the Bronze package is its greater portability; thanks to its lightweight components, it can be easily installed and disassembled to move to a different place. You may even take the hitting net and launch monitor out to the yard for a few shots whenever the weather allows it.
What's included:
Net Return Home or Pro Series V2 Net & Frame
Side Barriers & Golf Simulator Screen
BenQ MX825ST Projector
Projector Shield (projector floor mount enclosure)
Net Return 6' x 10' Pro Turf Mat
15' HDMI Cable & Lightning to HDMI Adapter
Two Rubber Tee's - 1.75" and 2.25"
SkyTrak Launch Monitor
SkyTrak Play & Improve Software
SkyTrak Metal Protective Case
Pros
Some software components are identical to more expensive models.
Lightweight components; easy to set up.
Indoor package with components that can be used outdoors whenever you can.
Overall an enjoyable experience for less money.
Cons
Some users reported issues with the software installation procedure.
The Skytrack Bronze Package is an excellent affordable package. It offers excellent value and quality for the price. We highly recommend it for anyone with budget limitations wishing to fully enjoy the Skytrak experience, both indoors and out!
Trugolf Multisport Interactive Sports Camera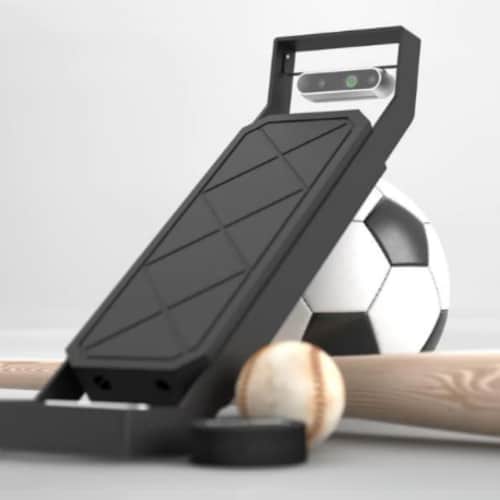 This is not the first multisport simulation we have reviewed, but it is undoubtedly interesting.
Trugolf's Interactive camera is a standalone device you can use with your existing simulator structure. It can be powered via USB and hooked to a computer to enjoy different simulations by Trugolf.
At launch, the system supported 8 different games in total, including soccer, rally baseball, foot golf, slap shot hockey, disc-go golf, etc. However, the company promised more games will be added and supported on the platform.
E6 Connect is supported too, and you can run your golf simulation using the system. However, the E6 license is not included, and you will need to purchase one.
The tracking device is intended to be installed on the ceiling, with two cameras included, one facing the player and the other facing the screen. This way, it is possible to track all types of balls from different sports.
A microphone/ mount combo is also included in the package for voice activation and commands, which is really practical.
Moreover, Trugolf packages includes many useful accessories to help you enjoy the simulations. These include one soccer ball, two foam baseballs, two street hockey balls, and a laser gun.
All simulations and games can be played in single-player, multiplayer or online, with different game modes for the entire family to have fun.
Finally, the Multisport system is natively supported by Trugolf's Vista 10 and Vista 12 series of sims, as well as any package using the company's Trutrack 2, Truflight 1 or Truflight 2 tracking systems.
Pros
Standalone device that can work with any existing structure
Fun simulations and game modes
E6 Connect support for those serious about golf
Enjoyable for the whole family, even non-golfers
Cons
Golf simulation to be purchased separately (E6)
Trugolf Multisport Interactive Sports Camera is an excellent device that the whole family can enjoy. It is supported by many Trugolf packages and can be used as a standalone with any sim structure.
It was made by a company that is a leader in the simulation market, so you can expect this one to be excellent, too.
Just remember that it requires, at minimum, a computer with an Intel I5 processor (or equivalent), 8 GB of RAM, an Nvidia GTX 1070 (or equivalent) graphics card, Windows 10, and a stable Internet connection for the simulation to run smoothly; of course, the more powerful, the better!
The Carl's Place Red Tee Golf Simulator Package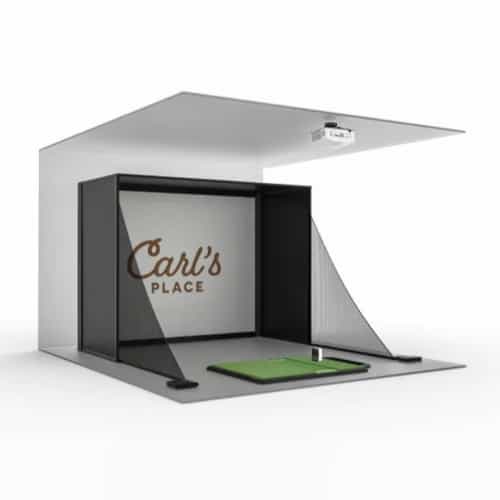 The Red Tee is a DIY simulator that offers the possibility of building a complete setup without breaking the bank. This package includes everything you need and is based on Skytrak components.
The concept is simple: build a setup based on the excellent Skytrak launch monitor and the in-house simulation software and add many DIY options. The enclosure offers the choice of any preferred impact screen.
A lot of golfers (including ourselves) love the freedom to choose some components and the possibility to build everything themselves! Shoutout to our friends at Carl's Place!
What's included:
TrueStrike Single Hitting Mat
BenQ TH671ST Projector
SkyTrak Launch Monitor
8x10.5x5 Enclosure
Preferred Impact Screen
Pipe Framing Kit
Net Wall Extensions
Foam Insert Kit
Pros
Built around the Skytrak launch monitor
More freedom in selecting components
A lot of DIY parts (We personally loved it)
Cons
Though some will love the DIY part, others will hate it.
The Red Tee takes some of the industry's top components (the Skytrak monitor) and provides a lot of freedom to build the rest of the setup. This simple yet effective concept provides unlimited possibilities, especially for those who love to fiddle around and build things by themselves. It is one of the best deals for under 5000 dollars.
Garmin Approach R10 Premium Golf Simulator Package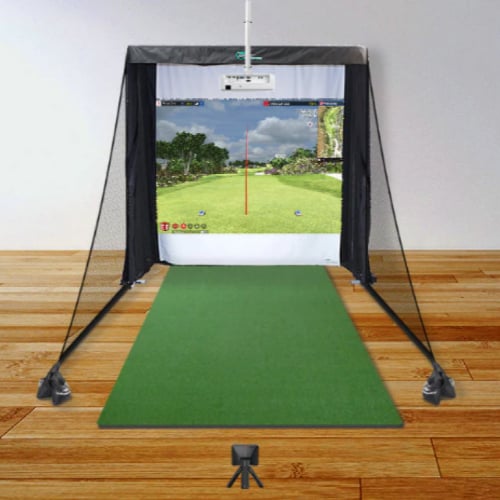 The Garmin Approach R10 Premium package uses one of the smallest (but reliable) golf launch monitors ever created.
The R10 uses Doppler radar technology to track the ball and club and provide valuable metrics without any kind of marking (as long as your golf simulator room meets the minimum 15-foot depth).
With a subscription to the Garmin Golf app, you get access to a whopping 42,000 virtual golf courses, playable both in single and multiplayer modes. You can also access 6 playable courses and 17 practice ranges through the included E6 Connect software (only compatible with IOS).
The built-in battery keeps the device running for up to 10 hours of continuous use; you can take it to the actual course or driving range and get those crucial numbers to help you be a better golfer.
The R10 can use your smartphone's camera to record videos and save them to your Garmin account (with data overlay). The included phone mount easily attaches to your bag and lets you interact with the app through audible feedback.
The setup comes with the Net Return Pro Golf Turf, upgradable to larger options from Fiberbuilt. The included 8' frame is also upgradeable to 10' and 12' options for a more immersive and realistic experience.
Depending on your budget, you can also choose between 1080P and 4K projectors, both from Optoma. However, we recommend going for the 4K option (and the 12' frame) because of the huge visual upgrade it offers.
What's included
Garmin Approach R10 Portable launch monitor & accessories
E6 Connect subscription ( 6 courses, 17 ranges)
Net Return Pro Turf (upgradable)
Net Return Simulator Series Net & Screen (upgradable)
Choice between 1080P and 4K Optoma projectors
Optional projector mount kit
Optional projector floor mount enclosure
Pros
Very affordable package
Excellent performance
Multiple upgrade options (as usual from Top Shelf Golf)
Very long battery life, allowing you to use the monitor indoors and out
Over 14 data points tracked with pinpoint accuracy
Cons
The Garmin Approach R10 Premium is an excellent package that combines accuracy, affordability and realism.
Out of the box, the entire system is excellent, with sturdy components to ensure longevity. You still get multiple upgrade options to enhance the experience even further., and that's something we really love.
The system is still reasonably priced, even after including all the bells and whistles. We highly recommend it!
SkyTrak Golf Launch Monitor And Simulator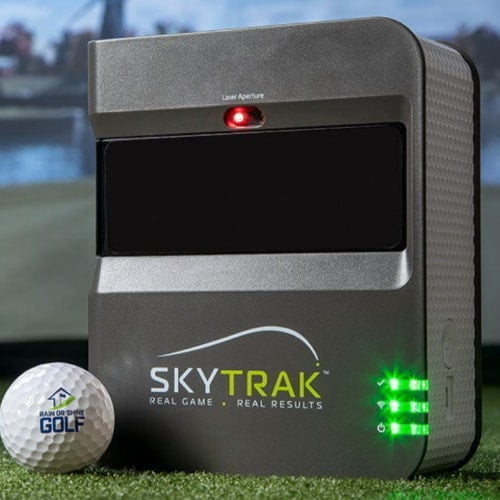 SkyTrak has one of the most popular golf launch monitors in the market for under $2,000 that helps record the flight data of your golf ball with precision compared to pricier systems.
You can wirelessly connect the monitor to any compatible component to show your game data. Once you hit the golf ball, the monitor displays the details of your shot, including launch angle, ball speed, carry distance, club speed, total distance, spin rates, etc.
SkyTrak is compatible with most simulation software such as The Golf Club (TGC) 2019 and the World Golf Tour (WGT). Our all-time favorite is TGC2019, with its 150,000+ golf courses and the possibility to participate in online challenges and live tournaments with other players.
If you intend to use the monitor on the course or range, you won't need to buy anything else. But if you want to benefit from its simulation capabilities indoors, you will need to get a quality hitting net and golf mat. You may also want to invest in the Play & Improve plan for an additional 350 dollars if you want more features and playable courses.
If you want to use the device on your lawn, then investing in the net alone will be enough.
You can hook the monitor to your IOS device (If you opt for WGT) to run the simulation software and get the simulation and feedback for your shots.
What's Included:
SkyTrak Launch Monitor.
SkyTrak Basic Practice Range Software.
SkyTrak App.
USB Cable.
Quick Start Guide.
SkyTrak User Manual.
Pros
Highly accurate readings
Easy to set up.
Compatible with Android and iOS platforms.
Rechargeable lithium-ion battery with up to a five-hour operation time.
Weighs only 1.75 lbs.
Cons
Only tracks the ball, and not your club path.
A robust test was conducted by Kane Cochran of WRX to explore the difference in accuracy between SkyTrak vs. Trackman [3], the test was also published in Golf Monthly, and the results were remarkable.
Despite Trackman's reputation for being the industry benchmark when it comes to tracking accuracy, they found readings were within a 2% difference between SkyTrak and Trackman reports.
The fact that Trackman's launch monitors are around 10x more expensive makes this even more impressive.
No need to spend your life savings to enjoy virtual golf!
OptiShot 2 Golf In A Box Golf Simulator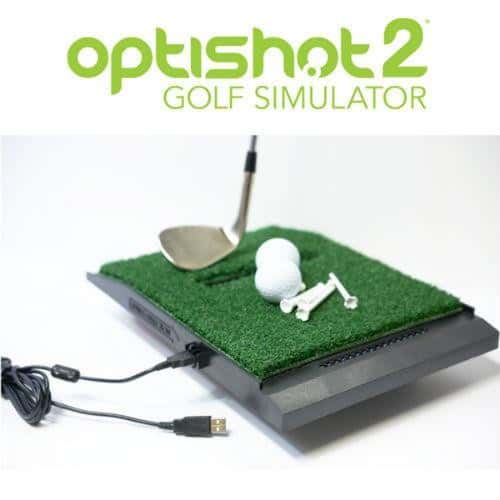 The OptiShot 2 is one of the best affordable options for under $1000, capable of tracking the club as you swing using the improved sensor technology. It also comes with effective infrared sensors of 48 MHz. These are specially designed to capture the clubhead's position throughout the impact.
Compared to the other models, this one won't give the data on the Trackman level since it tracks only the club and not the ball. So, you don't have to worry about which ball you use; even if you do not use a ball, it will still work perfectly and measure the data. You can also use a foam ball, which is safer for indoor practice compared to real golf balls.
The simulator offers all the necessary golf swing data to enhance your swing performance, including face impact angle, clubhead speed, swing path reading, face area contact, tempo, distance, and shot shape.
The OptiShot 2 simulation package is fully pre-loaded with 15 standard courses. You can connect the system directly to your PC using a USB cable, as wireless options are not available.
Moreover, if you do not want other players to see your swings, you can choose the independent play option.
Check out our in-depth Optishot 2 review for more details.
OptiShot analyses the alignment, club head position, path, and speed as you make each swing. It is also capable of calculating the direction, ball flight, final position, and distance.
What's Included:
Infrared optical swing pad.
USB Cable of 10 ft.
Two foam practice balls.
Adjustable rubber tee.
Gripper tee.
Installation driver.
Pros
Compatible to play with both foam or real golf balls.
Does not require any special placement for lefties and righties.
Available at an affordable price range.
Durable and easier to install.
Cons
Must place it inside a special golf mat to keep it flat.
Additional lighting is needed.
Without creating a dent in your wallet, you can enjoy a great game using this product.
It also serves as an excellent gift for golf lovers. Although this system is not a complete replacement for the real golf experience or driving range, it helps you practice and enhance your skills.
SwingLogic SLX Microsim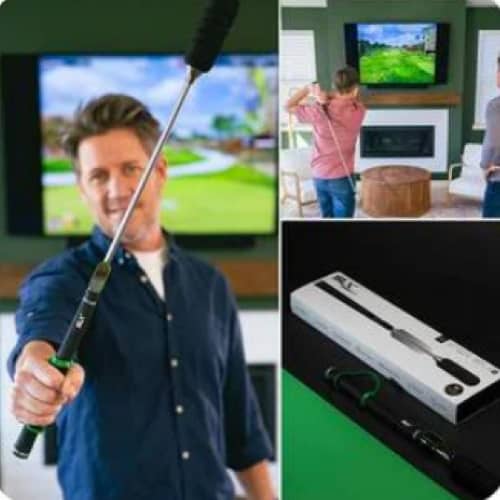 Do you need a practice simulator that fits perfectly in your car trunk? One that you can take with you during your (frequent) road trips? If so, Swinglogic has you covered!
The SLX Microsim is a portable golf simulator that easily connects to your computer, Android or IOS device to provide simulations of your shots.
The included lightweight swing stick has the Microsim attachment to track your swing and give feedback. It can even be attached to your real clubs for more realistic practice sessions.
The device is compatible with the E6 Connect software, meaning the processed output can reach up to 4K resolutions.
You get to try 5 virtual courses through the software for 6 months, after which you will need to purchase a subscription plan to continue enjoying it.
The response times of the simulation (under 1/10th of a second) are mind-blowing; there is almost no delay between the swing and display of the simulated shots!
Pros
Very affordable
Acceptable performance - Excellent value
Highly portable and transportable sim
Compatible with E6 Connect
Incredible processing times
Includes a swing stick, but can also be used with real clubs
Cons
Sometimes, the device doesn't easily connect to IOS devices
If you are frequently on the road and need something to take with you wherever you go, then this is an excellent option. Use it indoors, outdoors, at home, in the office, etc.
Compatibility with E6 Connect, one of the best simulation software today, is an excellent addition, and the possibility to use the Microsim with real golf clubs is the cherry on top.
Nothing beats the portability and affordability of the SwingLogic SLX Microsim; and those are the device's major selling points that earned it an excellent customer rating.
Buying Guide: Things You Should Consider When Buying A Golf Simulator
As golf simulators provide various features, it can be hard to determine what you should look for before making your decision.
Some people want the top choice and don't mind paying for it, while others prefer a bargain. Still, others just want a basic system that will be good enough to play a round or two a week.
There are tons of great options out there, and finding the one that suits your needs can be a difficult decision. You should consider numerous factors before you choose your simulator. Here are some aspects you must note down:
Quality
It is not fun to spend quite a bit on a cheap simulator, only to discover that it is not what you expected. You should purchase a product from a reputable brand. Choose one with sturdy construction and durable electronic devices.
Technology and Features
In addition to quality, the price of any simulator is defined by what types of technology (ies) it uses and the features it provides.
A pricier high-end system will provide good quality components and more features like a launch monitor or any other tracking system to record the data of your shots, a hitting and a display screen, a projector, and good simulator software to simulate golf games. Those are the most basic components that every simulator needs to provide for an enjoyable golf experience.
Also, as we have mentioned earlier, an I.R technology simulator will be cheaper than a Photometric one, but it has limitations that would make the latter more tempting despite the higher price tag.
Depending on the manufacturer, the quality of the software and the types of services it provides can differ. Some offer online coaching sessions for their customers; others include multiplayer features that allow players from different locations to compete virtually.
Portability
Having a simulator in your garage or basement is great. However, what happens if you want to move it during vacation or simply outside to enjoy some sunlight?
Some of the models we reviewed here have portable units, making them more convenient for practicing anywhere simply by moving them to a convenient location.
Ease of Setup
Setting up the system should be relaxing and not a chore.
The setup process can vary depending on the model. It is usually recommended to have a helper, but it is possible to do it by yourself.
Before purchasing any simulator, ensure it has the correct setup procedures and accessories for your needs.
Most can be set up quickly, while others might require a professional installation that the company may offer. Make sure to go through the simulator setup process before you make the final decision.
Accuracy
Before investing, check the efficiency of the launch monitor. Models that provide accurate performance stats help you improve your skills and advance to the next level.
It should be accurate enough to simulate the actual course under any condition. The most precise golf launch monitors use motion tracking and graphics to give you the feeling of playing on an actual course.
Your Budget
When choosing a simulator, the price will likely be the first thing to look at, and for a good reason. You don't want to drop $10,000 or more on a unit that will not give you a quality experience. There are different factors to consider when it comes to pricing.
A good unit can cost anywhere from a few thousand dollars to as much as your first car. If you are an experienced golfer, this is not necessarily a problem. However, if you are a beginner looking to improve your game or simply looking for a fun way to spend an afternoon, the budget is important.
Your Room Size
One of the crucial factors in deciding which system to buy is the size of your dedicated space.
The dimensions of the available space will determine the size of the indoor package you can buy. You need to know the dimensions of the room and the system to determine whether you have enough space to swing comfortably and to accommodate any other equipment. Whether you want to use your simulator outdoors or indoors, your space should be able to easily accommodate your system. Check out our complete indoor simulation room size and space guide on this page.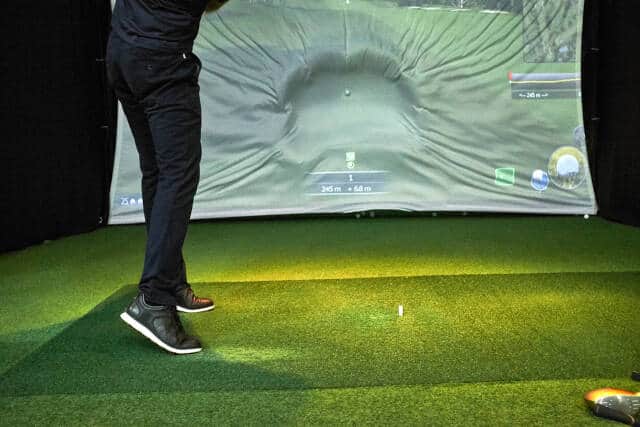 Frequently Asked Questions
There is some conflicting information about golf simulators and what you can expect from them. This is why we have put together this FAQ's section to answer all your questions.
Will I Need To Buy Anything Else With These Golf Simulator Packages?
Nope; usually, these packages contain everything you need, and nothing more is required.

Companies like Shop Indoor Golf and Rain Or Shine Golf have an unbiased knowledge of the top available products with many brands to choose from, which will help you save money, effort, and precious time over buying everything separately by bundling everything into one package.

Although these packages usually do not include installation services, they come with detailed installation instructions and are easily assembled.

They also offer full after-sales support via phone and email to guide buyers through the process.
Can You Putt On A Home Golf Simulator Setup?
Putting into a simulator screen is not easy and takes some adjustment time for the player to get used to it.

This is mainly due to the lack of field depth perception and the inability of the player to feel the ground (including slope or undulations) under their feet. 

It is a challenging task at first, but with constant practice, you realize that the readings are quite accurate (once you get used to the whole situation).
Can I Play Actual Golf Courses On My Golf Simulator?
The answer is yes! Lately, most systems have been upgraded to include some of the most popular courses in the world. This is a game-changer for the whole industry. Now you can enjoy the top courses in the world, all year round without having to travel.

Many people assume that golf simulators are just toys or that they can't be used outside of your living room. But the truth is, they are pretty darn realistic. Some golfers think that they're even better than the real thing.

Virtual golf is great for practice, and it's much more fun than hitting golf balls in the backyard. However, in my opinion, it lacks golf's intangible quality of being out in nature. But when it's not possible to hit the actual course, a golf sim is surely the next best thing!
What Simulator Do Pros Use (Besides Trackman)?
Many pros recommend Foresight Sports, especially in terms of teaching and instruction. Top instructors like Butch Harmon and Martin Hall call the GC2 a must-have for those serious about becoming better.

For in-home golf simulators, Full Swing Golf has become a tour favorite. Many PGA pros like Tiger Woods and Jordan Spieth also use an indoor build valued at more than $50,000.
HD Golf is another premium sim favored by many pro golfers, including Bubba Watson, Fred Couples, Steve Stricker, etc.

Golfzon is used by big names like Kevin Na and Matt Kuchar, and has David Leadbetter as the ambassador for the brand.

However, Trackman sits at the top as the leading choice for pros. Dustin Johnson, Francesco Molinari, Justin Rose, Rory McIlroy, Justin Thomas, Jason Day, and Sergio Garcia, among many others, use Trackman.
What's The Minimum Space Needed For An Indoor Golf Simulator?
Usually, a simulation system will take up just about as much room as swinging your longest club; most require minimum dimensions of 10' wide x 10' long x 8.5' high.

Various factors, such as the player's size and arm length, can affect how much space you dedicate to your indoor golf simulator.

With a slightly shorter ceiling, you may be able to play with an 8' x 8' setup if you don't mind feeling uncomfortable. Although, it is recommended that you have at least 10' of height.

Experts suggest that the room depth must be at least 12 feet. Even if you have enough space to make a full swing, the net also needs space, so you'll need an extra 1'-2' between your screen/net and the wall.

Your wall will get a nice hole in it if you have your net too close to it after the ball hits it, without even thinking about the potential damage that ricochets can cause.
Can You Use A Golf Simulator Outdoors?
While most simulators are primarily designed for indoor use, some can be used outdoors with a protective enclosure. Many of the top golf simulators are portable and lightweight, making them perfect for taking outside as long as they are perfectly protected.

However, it's important to note that outdoor use can cause accuracy problems due to lighting and other environmental factors. Therefore, it's recommended to use an outdoor golf simulator only for recreational purposes.
What Are The Most Important Features To Look For In A Golf Simulator?
The most critical features to look for in a golf simulator are accuracy, ease of use, reliability, and course selection. Accuracy is essential to ensure your swing analysis is precise, and the shot data is reliable.

The ease of use is important because you don't want to waste time setting up or configuring the system. A good system is user-friendly and does not take long to get up and running.
Reliability is also essential; a good simulator is built using quality materials and comes with excellent after-sales support.

Lastly, course selection is critical; the more courses a simulator offers, the more versatile it is.

Having access to an up-to-date app with multiple courses can help improve your game, and it's great for keeping things fresh and exciting.
Should I Buy Or Build My Own DIY Golf Simulator?
Some golfers (including myself) say that it's better to go the do-it-yourself way, while others believe that it's better to buy a complete system that will be ready to go right out of the box.

While those packages are sold as a whole unit that includes all the individual necessary parts, building a simulation system is a cool but pretty big DIY project. Customizing your setup enables you to choose the appropriate size, shape, features, and colors at a fair price.

However, building your own system will take time and effort and can be challenging if you are not an enthusiastic DIY person.

If you buy a ready-made package, you don't have to worry about any other details. You will then just focus on the fun part: playing golf.
What's The Best Golf Simulator Package I Can Get For Under $1000?
The OptiShot 2 is one great simulator for such a low budget. It supports most of the features that are available in pricier models. It is easier to install and take down from your training room.

Additionally, it has software that enables you to practice at 15 well-known courses using vivid 3D simulated driving ranges. You can connect the unit to your computer and display it on a larger screen or projector for a better experience.

There is also the possibility of building your own DIY system for under 1000 dollars. You will get the opportunity to choose every individual component that goes into your setup and include any favorites that are within budget. If you love to build stuff yourself, then a DIY route will be a better option to build a simulator for cheap.
Final Thoughts
In this article, we have tested and reviewed a wide range of the world's top simulators and categorized them based on factors like space, budget, usage intentions (indoors vs outdoors), etc.
In the end, we provided a list of the best simulators available for purchase today, with price tags ranging between as low as around 500 dollars and as high as above 70,000.
We believe that we made your task easier; all you have to do now is to make a list of your needs, preferences and budget to choose accordingly. Now, it's time to make your pick.
Please, feel free to share your feedback with us in the comments section below or contact us via email if you still have any questions.
Happy golfing!
---
References:
How Golf Simulators Work. HowStuffWorks. Retrieved from https://entertainment.howstuffworks.com/sports/golf/basics/golf-simulators.htm
Golf Channel Homepage. Golf Channel. Retrieved from https://www.golfchannel.com/
Review: SkyTrak Personal Launch Monitor. Golf WRX. Retrieved from https://www.golfwrx.com/450552/review-skytrak-personal-launch-monitor/
WRITTEN BY

My name is Jacob, a self-diagnosed equipment and golf enthusiast. I've been golfing since I was 15. Golf has always been my passion. I'm a bit of a golf equipment nerd and I've been that way since the moment I picked up a club for the first time. As someone who's been on both sides of the game, I know what it takes to be a good golfer. Of course, you need good equipment, but you also need to know how to use it. I hope sharing my experience with you will help you improve your game.
You May Also Like