The 10 Best Indoor Golf Simulators, an In-Depth Review
First Published:
August 2, 2020
Last updated:
August 31, 2021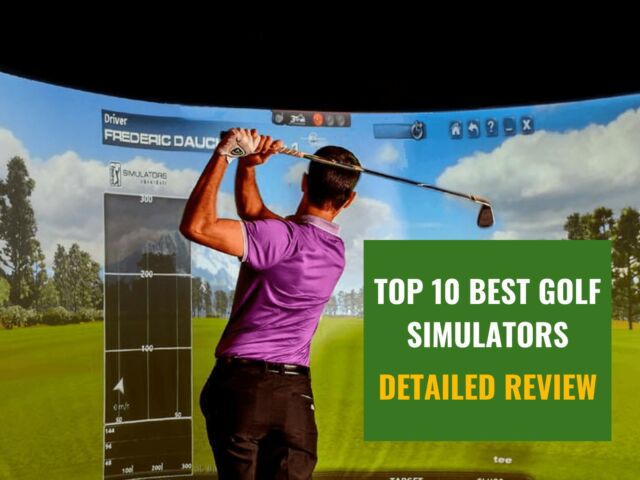 Playing indoor golf from the comfort of your own home may sound like a dream. You can play anytime you want, there's no weather to deal with, and your golf buddies will never look at you funny again when you cancel at the last minute.
Golf simulators are a great way to enjoy the outdoors in the comfort of your own home. The latest in golfing technology, these simulators make it possible for golfers to play 18 holes of the course of their choice without leaving their living room. Some of the best golf simulators can even give you the experience of playing on a beautiful course with the right noises, sounds, and scenery.
Earlier, most players couldn't afford to invest in these pricey devices. However, as technology advances, affordable options with numerous features are available now. Some golfers opt for building their own DIY golf simulator setup, others prefer going with ready to mount packages, whatever you choose, make sure to get the units that provide accurate performance data and lasts for long, as no one wishes to invest in cheap quality gadgets. 
If you're looking for a game of golf but don't have the time or patience to go to a course, you are on the right page. We've compiled a list of the top 10 golf simulators for your consideration.
What Should You Consider When Choosing Your Simulator?
Golf simulators have various features, and it can be hard to determine what you should look for when purchasing a golf simulator. Some people want the best of the best and don't mind paying for it, while others prefer a bargain. Still, others want to spend their money on other things and just want a basic golf simulator that will be good enough to play a round or two a week.
Choosing a golf simulator can be a daunting task. There are so many choices, features, and several opinions out there. It is no secret that a good golfing simulator is not cheap.
There are tons of great options out there, and finding the one that best suits your needs can be a difficult decision. You should consider numerous factors before you choose your home golf simulator. Here are some aspects you must note down.
You May Also Like: The Beginner Guide To Build Your DIY Golf Simulator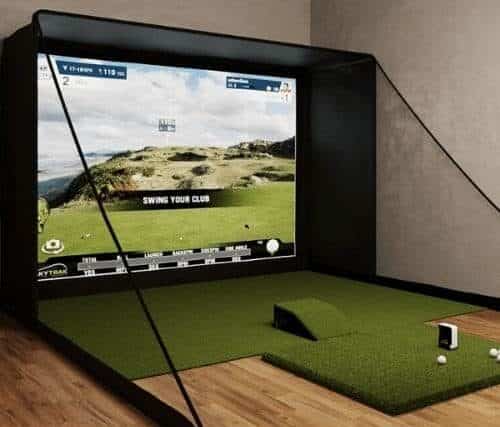 Quality
It is not fun to spend quite a bit on a cheap golf simulator, only to discover that it is not what you expected. You should purchase a product from reputable brands. Choose one with sturdy construction and electronic gadgets which last a long time.
Portability
Having a golf simulator in your garage or basement is great. However, what happens if you want to move it during vacation time or simply outside to enjoy some sunlight?
The best golf simulators have portable units, making them more convenient for practicing anywhere simply by moving them to a convenient location. Most players prefer portable or mobile analyzers over permanently mounted units.
Ease of Setup
Setting up the golf simulator should be relaxing and not a chore.
The golf simulator setup process can vary depending on the model. It is usually recommended to have a helper, but it is possible to do it yourself. Before purchasing any golf simulator, make sure it has the correct setup procedures and accessories for your needs.
Most can be set up easily, while others might require a professional installation that the company may offer. Make sure to go through the simulator setup process before you make the final decision.
Accuracy
Like many sports, golf is a game of accuracy. Before investing, check the efficiency of the launch monitors and the analyzer. Models that provide accurate performance stats help you improve your skills and advance to the next level.
It should be accurate enough to simulate the actual course under any condition. The most precise golf analyzers use motion tracking and graphics to give you the feeling of playing on a real golf course.
Your Budget
When it comes to choosing a golf simulator, the price will likely be the first thing to look at—and for a good reason. You don't want to drop $10,000 on a unit that will not give you a quality experience. There are different factors to consider when it comes to pricing.
It's no surprise that a good golf simulator can cost anywhere from a few thousand dollars to as much as your first car. If you are an experienced golfer, this is not necessarily a problem.
However, if you are a beginner looking to improve your game or are simply looking for a fun way to spend an afternoon, then the budget is important.
Check Also: Optishot2 Review
Your Room Size
One of the biggest factors in deciding which golf simulator to buy is the size of your dedicated space. The dimensions of the space available will determine the size of the golf simulator you can buy. The size of the room you are putting it in is a significant determinant, and this is where you need to know the dimensions. You need enough space to swing in the simulator comfortably and to accommodate any other equipment. Here are the recommended dimensions for the
SkyTrak SIG10 Golf Simulator
.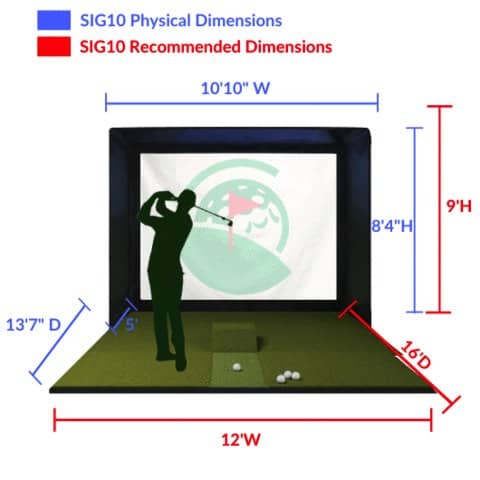 10 Best Golf Simulators: Detailed Reviews

As a serious golf player, you will have your preference for arranging your indoor golf simulator package. However, there are lots of queries concerning the best golf simulator setup on the market. This is because each simulator works differently and is unique when it comes to the choice of materials used and the features it offers. Before you make your investment, consider reading the following content comparison of the 10 top-rated golf simulators.
SkyTrak Golf Simulator Flex Space Package
SkyTrak Flex Space Package is one of the best virtual golf simulators that works great for those having limited space. It comes with everything that a player requires for playing the game. With the help of the high-speed photometric technology and the advanced algorithms used in this analyzer, you're sure to experience an incredible accuracy level.
Check Out The Complete Packages Comparison: SkyTrak Golf Simulator Review
Do you wish to learn how to play this game and move to the next level? If so, you can choose the fun game modes and play golf to enhance your skills. Moreover, it tracks the data to offer the various measurements you require, such as backspin, carry distance, and launch angles.
For better portability and flexibility, it uses the HomeCourse retractable screen. By simply clicking a button on your remote, the Pro Retractable Screen pulls down within 13 seconds when you wish to make a few hits. Once done, you can retract the screen back using the remote to its original form. Due to the retractable feature, you don't have to allocate a specific room for setting it up. The Pro Turf Golf Mat is an excellent combo with the pro screen. After use, you can easily roll it up and store it away.
This analyzer is laser cut out from a 13 gauge steel material and protects from scratches, light drops, and bumps. SkyTrak also displays adjustable legs that allow you to raise or level the gadget to suit your preferences. It's compatible to use on android and iOS platforms. The dimension of the simulator is 3 inches depth by 8 inches height by 10.6 inches in width. When it comes to the mounting options, a ceiling mount kit is available.
HomeCourse Pro Retractable Screen.
SkyTrak Game-Changing Software.
SkyTrak Metal Case.
SkyTrak Launch Monitor.
Optoma HD 1080P Projector.
Projector Shield Floor Mount Enclosure.
Pro Turf Mat.
25'L HDMI Cable & Lightning Adapter.
HomeCourse Accessories contains:
Ceiling Mount Kit.
Easy Reach Pole.
Charging Cables.
Wireless Remote.
SkyTrak User Manual and Quick Start Guide.
Pros
Easier to install and use.
Offers good quality projection images.
Contains game-changing tools.
Can view the LED displays through the case.
Cons
App quality requires improvement.
It works perfectly for both the pro golfer and beginners alike. Also, you will be able to experience a life-like simulation using this package. It contains a metallic protective case authorized by SkyTrak to safeguard your gadget. Only if you are keen on playing the game and improving your skill should you consider making this huge investment.
TruGolf Vista 8 Golf Simulator
The TruGolf Vista 8 Base Unit model sports the latest design – the revolutionary tension system that facilitates a perfectly clear image on the impact screen.
Even if you are using a golf analyzer, you will experience a realistic feel where you use your own club sets. No more worries about the changing climatic conditions. This system comes with everything you require to play comfortably with your friends, be it anywhere or any weather.
The frame is made of lightweight aluminum material, which makes it easy to put up and take down. This also allows you to carry the analyzer around as you move around. Additionally, you can advance in the game, as this system comes with sensors that help you practice your golf swings.
Generally, Vista 8 fits well into most spaces as it needs only a minimum space requirement of 10 inches height, 14 inches width, and 16 inches depth. The physical dimensions have 8 inches height by 9 inches width by 12 inches depth. The touchscreen has a size of 21 inches, and the diagonal impact screen is 116 inches.
As a result of the light canceling design, you can experience high-quality video and a rich simulation experience due to the matte-box. Even if the lights are not switched on, you can still obtain high definition pictures. The leading E6 Connect Software offers accessibility to the top golf courses worldwide with fabulous high definition clarity. You get to play head-on with your golf buddies or enter any tournaments with golfers in other nations in any weather.
Turf.
Complete Frame/Enclosure.
HD 720p Projector.
TruTrack2 Tracking System.
116" Screen.
E6 Connect Subscription Basic (1) Year.
Overhead Light Bar.
27 Golf Course Library.
Vista 8 User Manual.
1 Year Limited Warranty.
Pros
Gives a realistic experience.
Has stunning graphics.
Suitable for practicing indoor golf.
Portable in nature.
Cons
Setting up a procedure takes time.
This model would be an excellent option for beginners who have a limited budget. By using the HD 720p resolution projector, you will be able to enjoy the game. The projector displays dynamic and crisp visual excellence, where you can get an extensive view of the entire golf course.
TruGolf Platinum Entertainment Package
Eager to practice golf at home for real? Getting 
TruGolf Platinum Entertainment Package
 will make your dreams come true. What's more? You get to use your own club sets to make the swings and practice without using any balls. The Overhead Light Bar acts as a semiconductor and assists in projecting the light on the projector. By using the TruTrack2 Tracking System, you can obtain numerous measurements such as golf ball flight, clubface angle, and club path. Moreover, the E6 Virtual Golf Simulation Software can track the club, launch angle, speed, clubface angle, distance, deviation, clubhead speed, and spin. The software features Five tee box options, in-game practice modes, and course elevation options. It helps in boosting the performance of the beginner golfer who has just started playing the game.
It requires a minimum space of 10 inches height, 14 inches width, and 16 inches depth to put up in a room. As for the physical dimensions of this model, it has 12 inches depth by 9 inches width by 8 inches height. The touchscreen has a size of 21 inches and comes with a diagonal impact screen of 116 inches.
Premium Fairway Golf Mat: System of Thickness: 3.5″.
116″ Screen.
Complete Frame/Enclosure.
TruGolf Level (1) Computer.
HD 720p Projector.
21″ Touchscreen.
Overhead Light Bar.
TruTrack2 Tracking System.
Side Nets, Side Walls.
Containment Brim.
Durable Frame Storage Duffel Bag.
E6 Connect Subscription Basic (1) Year.
1 Year Limited Warranty.
27 Golf Course Library.
Vista 8 User Manual.
Installation Videos.
Pros
Has a functional and distinct style.
Comes with a huge screen.
Has the multiplayer capability of up to 8 players.
Light in weight, making it easy to carry around.
Cons
Takes more time to set up.
Are you price-conscious while selecting your golf simulator? If so, you can skip this one as it lies on the pricier side. However, if the budget doesn't matter, take note of this model. Choosing this model is one of the top decisions you will make since it is durable and will serve you for a long time. It's also a great option to play with a large group of friends or your family members.
Trugolf Vista 10 Golf Simulator
The Trugolf Vista 10 Golf Simulator is among the top popular choices among indoor golf enthusiasts. By practicing using this system, you can improve your golf swings and help yourself score better. In addition to providing precise biometric analyses, it also helps you to become mentally tough.

The highlight of this analyzer is that it offers vivid high definition graphics and displays a sturdy construction. Moreover, the software instructs you and provides hours of enjoyment where you can play on 27 real golf courses across the world. This includes Gleneagles Golf Club, Latrobe, Auburn Grand National, and many more.

The E6 software that comes with this golf simulator package helps measure numerous data, which includes carry distance, launch angle, speed, and so on. The tracking system of this software enables you to track measurements such as ball flight, club path, and clubface angle.
The other features include five tee box options, adjustable time of day conditions, course elevation choices, and in-game practice modes. Being a semiconductor, the light bar assists in projecting the lights towards the projector. The Premium fairway hitting mat in this golf simulator package has a thickness of 3.5 inches and has a dimension of 9 feet in width and 4 feet in length.
This upgraded equipment enables you to get a clear and brighter image of high definition. Since it's light in weight and portable, you can take it anywhere and use it anytime. The frame consists of lightweight aluminum that is easier to put up and take down. In fact, the simulator package comes with all the requirements, you don't have to worry about purchasing anything individually.
Complete Frame/Enclosure.
Premium Fairway Golf Mat System of Thickness: 3.5″.
A-frame for the whole screen.
136″ Impact Screen.
Overhead Light Bar.
TruGolf Level (1) Computer.
HD 720p Projector.
4:3 Aspect Ratio.
TruTrack2 Tracking System.
21″ Touchscreen Display.
E6 Connect Subscription Basic (1) Year.
1 Year Limited Warranty.
27 Golf Course Library.
Vista 10 User Manual.
Pros
 Easier to use.
The display options are clear and simple to read.
Has multiplayer options.
Has a large screen.
This simulator is an excellent choice for pro golf enthusiasts. If you have reached an expert level, why not get this for yourself. Moreover, you can invite your friends over to play on this system as 8 users can play at a time. Whether you're playing golf for passion or as recreation, Vista 10 Trugolf simulator will satisfy your needs.
SkyTrak Golf Simulator and Launch Monitor (Under $2000)
SkyTrak Launch Monitor is a golf simulator under 2000 that helps record the flight data of your balls with precision compared to the commercially high-priced systems. Once you set up the monitor in your house, you can play numerous rounds on the top courses worldwide or play various challenges such as long drives based on the golf simulator package you select.

You can wirelessly connect the analyzer to any compatible gadget that shows your game data. Once you hit the golf ball, the monitor displays the accuracy of your club swing. Moreover, it uses high-speed photography and sophisticated algorithms to measure your data to give accurate readings with different parametric measurements. The parameter measurements include angle, ball speed, carry distance, club speed, total distance, spin rates, etc.
SkyTrak has one of the best Launch Monitors in the market, it is compatible with most golf analyzer software such as The Golf Club Game and the World Golf Tour courses. This provides around 150,000 golf courses for playing, such as Chambers Bay, Brandon Dunes, and Erin Hills. You can also take part in online challenges and live tournaments with online players.

It is suitable for players who are looking to build a cost-efficient golf simulator setup to improve their skills in target areas. You can take it along with you to practice it in anyplace and anytime. As the golf ball behavior is measurable, SkyTrak works perfectly both indoors and outdoors.

The monitor uses the latest 3-D visualization to provide instant feedback with ball spin measurement and an advanced flight model. The driving range functionality enables the golf fanatics to practice on a visual range and ensures a complete professional golfing experience.
SkyTrak Launch Monitor.
SkyTrak Basic Practice Range Software.
SkyTrak App.
USB Cable.
Quick Start Guide.
SkyTrak User Manual.
Pros
Easy to set up.
Compatible on both Android and iOS platforms.
Has a rechargeable lithium-ion battery that stays up to five hours even after continuous use.
Weights 1.75 lbs.
Cons
Not 100% accurate and displays some missed shots.
Being an advanced golf training analyzer, it is suitable for players of any level. It's also the most convenient gift you can give to your golf buddies. By regularly practicing on this monitor set, you will advance your skills to the next grade. Whatever the weather outside, you get to enjoy a game of golf using this monitor with your friends or family.
OptiShot 2 Golf Simulator (Under $1000)
OptiShot 2 Golf Simulator is the best affordable golf simulator under $1000, capable of tracking the golf ball as you swing using the improved sensor technology. It also comes with effective infrared sensors of 48 MHz. These are specially designed to capture the position of the clubhead throughout the impact.
When compared with the original models, this one won't give the data on the Trackman level since it measures only the club and not the ball. Hence you don't have to worry about which ball you use. Guess what! Even if you do not use any ball, it will still work perfectly and measure the data. Compared to real golf balls, foam balls are less catastrophic to use for indoor golf simulation.
The analyzer offers all the necessary golf swing data, including face impact angle, clubhead speed, swing path reading, face area contact, swing tempo, distance, and shot shape. Using this data, you can focus on enhancing your swing performance.
The OptiShot Live present in the simulation package is fully pre-loaded with numerous premium courses and 15 standard courses. Since the analyzer is compatible with both iOS and Android platforms, you can connect it directly to your PC using a USB cable, as wireless options are not available.
Moreover, if you do not want other players to see your swings, you can opt for the independent play option. As you make each swing, the monitor analyses the alignment, club head position, path, and speed. It is also capable of calculating the direction, ball flight, final position, and distance.
See our detailed Optishot 2 Review
Infrared optical swing pad.
USB Cable of 10 ft.
2 foam practice balls.
Adjustable rubber tee.
Gripper tee.
Installation driver.
Pros
Compatible to play with both foam or real balls.
Does not require any special placement for right or left-handed players.
Available at an affordable price range.
Durable and easier to install.
Cons
Has less accuracy.
Must place it inside a specialist golf mat to keep it flat.
Additional lighting is essential.
Without creating a dent in your wallet, you can enjoy a golf game using this product as the best simulator for under $1000. It also serves as an excellent gift for golf lovers. Although this system is not a complete replacement for the real golfing experience or whole driving range, it helps you to practice and enhance your skills.
SkyTrak SIG10 Golf Simulator
If you need a full screen and premium simulation feel, Then the
SkyTrak SIG10 Package
is the best golf simulator for you. This analyzer provides real-time performance stats and visual feedback. The launch monitor helps in measuring the ball trajectory data and runs the analyzer. It also offers data such as the carry and back distance to the player, which assists in improving your swings. As for the Simulator Enclosure, it surrounds the analyzer using a sturdy surface. It also helps in protecting each shot you make. The analyzer comes in a protective metallic case that safeguards the system from any mechanical damages. By using the Landing Pad Turf, it softens up the ball landing once you hit it. With the Optoma Short Throw Projector's help, you can project your videos and images onto the screen. Also, to keep the projector from any damages, the Projector Shield Floor Mount Enclosure comes to the rescue.
Improvement Software is capable of controlling the entire simulation system, thereby enhancing your gaming skills. It contains a 3D driving range, Multiplayer or solo competitions, 12 real courses, target practice, and so on. The real courses include St. Andrews Old Course, Bethpage Black, Pebble Beach, and so on.
Here's the deal. For setting up this system, you do not have to drill any holes in the walls. The large SIG10 screen displays images in high definition, unlike other models.
SkyTrak Launch Monitor.
Play & Improve Software.
SIG10 Enclosure.
Metal Case.
Side Barrier Netting.
Choice of Golf Hitting Mat.
5′ x 5′ Fairway Series.
4′ x 7′ Fiberbuilt.
4′ x 9′ Fiberbuilt.
Landing Pad Turf.
Projector Shield Floor Mount Enclosure.
SkyTrak Micro-USB Charging Cable.
Optoma EH412ST Short Throw Projector.
25′ HDMI Cable and HDMI to Lightning Cable.
SkyTrak User Manual & Quick Start Guide.
Pros
Easy to use and install.
Works well on your PC, android, and iOS platforms.
Gives a realistic simulation golf experience.
Can view the LEDs even through the case.
Has numerous improvement and practice features.
Are you a beginner golf player? Then this unit is apt for you as it displays features that allow you to play from the starting level. It also works excellent for pro gamers. Since it uses a wireless connection, you can take it along and play anywhere you like. The analyzer is made using high quality and sturdy components and will surely last for a long period of time. Moreover, you can get lots of information about the game and enhance your performance using the fun game modes.
SkyTrak SIG12 Indoor Golf Simulator
Can't go to your favorite golf course as it's snowing or raining outside? With one of the best options in the market, such as
SkyTrak SIG12
, you can have fun indoors with your friends. This simulator package is fully loaded with excellent features for golf lovers. As it is incredibly flexible, you can use it either in the living room, basement, or garage. Each material present in this analyzer is light in weight, making it portable. Packed with one of the
best launch monitors
, you can easily set it up or take it down within a few minutes. SkyTrak SIG 12 offers accurate stats as it measures critical factors such as swing, ball flight, distance, spin, launch angle, and so on. Accuracy is one of the main aspects that allow you to enhance your game performance and correct your mistakes. You can easily access the power button, and it comes with adjustable leg levelers.
The software enables you to play the game at 12 different famous courses across the globe. This includes Pinehurst No. 2, Pebble Beach, Royal St. George's Golf Club, and lots more. The play Improvement software is further packed with custom weather settings, three dimension driving range, target practice, skills assessment, and multiplayer or single competitions.
This analyzer consists of an extra-large screen of dimensions 5 feet depth by 9.4 feet height by 12.2 feet. This helps in displaying 100 percent of the pictures in high definition. Besides, it gives you the feeling that you're playing in an actual course as you get to see the details. As you hit the ball on to the screen, you can obtain real-time feedback and shot tracking as well.
SkyTrak Golf Launch Monitor.
Play and Improve Software.
Metal Protective Case.
Side Barrier Netting.
SIG12 Golf Simulator Enclosure.
Optoma EH412ST Short Throw Projector.
Landing Pad Turf.
Choice of Golf Mat.
5′ x 5′ Fairway Series.
4′ x 9′ Fiberbuilt.
4′ x 7′ Fiberbuilt.
25′ HDMI Cable and HDMI to Lightning Cable.
SkyTrak Micro-USB Charging Cable.
Projector Shield.
Floor Mount Enclosure.
SkyTrak User Manual and Quick Start Guide.
Pros
The screen consists of premium polyester material that's built to last for long.
The enclosure contains a powder-coated steel frame.
Offers incredible accuracy.
Amazing game improvement tool.
Cons
For setting up, lots of space is essential.
Lies at the higher price range.
SkyTrak SIG12 is an excellent choice for every golfer of all levels. Moreover, this expensive analyzer is worth the value due to its incredible features and high-quality components. The presence of the protective metallic case cut out from 13 gauge steel materials keeps the analyzer from any damages. It's compatible with the work on your PC, iPhone, Ipad, or Android platforms.
Rapsodo R-Motion Golf Simulator
Rapsodo R-Motion is another one of the best simulators on the market that comes with a sensor mounted on the golf club. This allows the analyzer to record your skills and performance as you play the game in real-time. To get effective results from the sensor, you must hit a real ball using a real club. Hence if you do not have a hitting mat or golf nets, make sure to get one.
The sensor takes note of key statistics such as club speed, launch angle, ball speed, distance, swing path, and smash factor to offer accurate and instant feedback. Besides, the analyzer displays the real moment of the ball, such as the rolls and the bounces. Having the ability to track all this information concerning your golf swings and to play the game from the comfort of your house has become a reality for enthusiastic golfers.
This unit's unique aspect is that it has its golf analyzer that contains 15 different famous golf courses, which are set as presets. You can run these courses smoothly on your computer without any other additions required such as the projectors or monitors.
Moreover, this system comes with a cell phone application that gives you instant feedback as you play on the driving range. This battery-operated gadget has half an inch width and 1-inch length, which is not noticeable as your place it on your club. All you have to do is connect this gadget to your PC, clip it on the shaft, and are all set to play.
Sensor clip.
USB dongle.
Charging cord.
Rapsodo R-Motion cell
phone App.
Pros
A cost-effective choice for those on a limited budget.
Enables you to enjoy a great indoor golf experience.
Makes use of your real clubs.
Notice the spin of each ball you swing.
Cons
Need to get your golf net and hit the golf mat.
Since it has only one clip, you will have to keep changing it whenever you switch your clubs.
Rapsodo R-motion, along with the analyzer, is one of the best alternatives to playing a real game on the green. During the worst weather conditions, you don't have to skip your practice sessions and maintain your regular golf routine by directly hooking up the unit. As you can obtain real-time feedback on your golf swings on your screen, you will also be able to improve your gaming skills.
FlightScope Mevo+ SIG12 Golf Simulator
FlightScope Mevo Plus with SIG12 is a good affordable home golf simulator combination. This unit uses the leading E6 software that has ownership of 5 simulated well-known courses of golf across the globe. This includes Sanctuary, Aviara, Stone Canyon, Belfry, and Wade Hampton. The software also consists of different skills challenges, darts mini golf games, and 17 different practice ranges.
Isn't it fun to get real-time data and perfect visual feedback on your performance? With the help of the radar doppler tracking system present in this unit, you can get precise results of the ball's trajectory. You can enhance your golf swing speed with the help of the monitor present in this analyzer.
The launch monitor also helps in measuring various ball and club parameters instantly. This includes ball speed, carry distance, spin rate, club head speed, spin axis, smash factor, angle of attack, vertical angle, total distance, lateral landing, Roll distance, shot shape, flight time, and so on. The landing pad turf safeguards your analyzer bay and prevents the balls from bouncing on to the flooring and damaging it.
You must place it in a space with a dimension of 7 feet in length and 8 feet in height for higher swing speeds. It requires more space than the photometric units as the monitor is radar-based. By using the FlightScope Mobile Application, you can obtain skill challenges, game improvement features, and performance data as you practice. This application is compatible with both iOS and Android platforms.
Mevo+ Launch Monitor.
USB Charging Cable.
FlightScope Practice
Mobile App.
Carrying Pouch.
50 Metallic Stickers.
E6 simulation Software Package for 17 Practice Ranges and 5 Courses.
SIG12 Golf Simulator Enclosure.
Landing Pad Turf.
Side Barrier Netting.
Choice of Golf Hitting Mat.
Projector Shield Floor Mount Enclosure.
Optoma EH412ST Short Throw Projector.
25′ HDMI Cable.
Pros
Perfectly measures data measurement.
Offers video action clips with data overlays.
Ensures a premium simulation experience.
Has a larger screen.
Cons
For practicing, more golf courses would be great.
By using every club in your bag, you can practice and improve your skills with real-time performance stats. Since the screen provides 100% clear images of high definition, you will be able to enjoy the game with satisfaction. This analyzer is good for use both outdoor and indoor. Since it's placed behind the player, both left or right-handed players can use it without moving it from one side to another.
Will your game improve from playing on the golf simulator?
The answer is a thumping yes! Golf simulators effectively lend a helping hand to players and improve their overall skills and techniques.
Golf simulators allow for more than simply playing a round without hitting the golf course.
They improve your overall game as they closely replicate similar movements and actions you would make on the course for each swing by providing feedback through instant energy measurements and putting you in realistic situations, like playing a round of golf in different conditions.
Getting yourself a golf simulator for home can be a great idea as you can practice the game whenever you like and in any weather condition. Additionally, it takes less time to exercise golf at home using a simulator as most rounds can be completed in under 60 minutes. Also, there is no obligation to play all 18 holes.
A home golf simulator gives you instant access to an indoor golf course! If you are still not excited, here are more reasons to convince you that an indoor golf simulator is the best way to improve your game:
Quality practice sessions
Golf is a game of physics, and like any other game, it also needs tons of practice. The golf swing requires a combination of elements, from hand-eye coordination to arm and core strength to the power generated by the lower body.
One of the biggest benefits of golf simulators is their ability to help you improve. It's a versatile tool that you can use to practice your course strategy, postural alignment, and club selection, and many other aspects of your game by hitting thousands of virtual shots on any course of your choice.
The simulator screen helps you practice your swings and shots by replicating them in a real match via ingraining the actions into your muscle memory. Thus, your body is better equipped to swing optimally as the shot is registered in your mind.
Playing golf is a lot more than just swinging a club; it's also important to practice your stance and posture, and this is where the golf simulator comes in. Today, more than ever, practicing is essential to improving your golf game, and a golf simulator is the best and easiest way to do this.
Increase shot accuracy
If you play golf regularly, you probably know the only thing more frustrating than shanking a shot is watching one of your golf balls end up in the rough, or even worse, in the woods. This is a common problem for golfers, especially beginners, because they lack the experience needed to determine why their shots go off track.
There are a few ways a player can improve shot accuracy, such as making sure the golf club is suited to the player and keeping the clubhead perpendicular to the ground.
And that's one of the benefits that you may get from the golf simulator feedback, which allows working on your timing and accuracy to improve your overall game easily.
Check Also: Best Golf Launch Monitor
Increase club speed
Your golf swing may be the culprit if you feel like you are losing your game. If you wish to increase your club speed, you must have a powerful golf swing that will allow you to hit the ball further. If you have a flawed swing, you won't reach your full clubhead speed potential no matter how much energy you put into it.
The golf club swing is a complex movement involving different muscle groups, and that complexity makes it so challenging to master. At the same time, there is a certain simplicity that is often overlooked: most of the movement in a golf swing is controlled by the arms.
You can increase your swing speed by practicing a perfect golf swing motion repeatedly on a golf simulator and tracking your progress in real-time.
Increase shot distance
The golf shot distance is directly related to your clubhead speed. The problem is that it can be hard to tell exactly how far you are hitting the ball on the course, especially if you don't have an accurate measuring device, which will lead to frustration and more bad decisions on the course.
Golfers tend to focus purely on other elements, such as alignment, swing path, and ball position, but the time spent working on long-shot accuracy is never wasted.
It is easier and more efficient to practice your accuracy and clubhead speed with progressively heavier clubs. Golf simulators allow you to visualize and execute distance shots that you might not produce on the course unless you continuously practice.
Improve putting and chipping
Golf simulators are designed to help you improve your short game, and they can make a big difference, especially if you do not practice frequently.
Putting and chipping are two of the most critical components of the game of golf.
If you're not a good putter or an accurate chipper, your score will not improve even if you drive the ball excellently.
The best way to improve your short game is to get on the practice green, but that's not always possible. That's where a golf simulator comes in. It's not the same as being on the green, but a good simulator will help you learn how to read the greens and practice the skills you'll need to putt and chip.
The great thing about putting practice is that a little goes a long way; even 10 minutes a day can make a big difference to your putting.
Gives more options
If you want to play on cool golf courses like PGA National, Pebble Beach, Muirfield Village, and others, you can do so even with a cheap golf simulator.
Provides constructive feedback
Golf simulators use sensors or video cameras or both to track the movement of the clubhead as it comes close to the ball, hits the ball, and completes the swing.
This data is then downloaded to a computer which then provides an in-depth analysis of your swing. It also offers suggestions that you might consider for improving your skills.
Here is a short video ( 4 minutes, 10 seconds) from Mark Crossfield and Matthew Lockey PGA Professionals giving their opinions on ways to practice on a golf simulator and what might be best for you to hit better shots.
Frequently Asked Questions
The golf simulator is one of the best ways to practice your swing. However, there is some conflicting information out there about golf simulators and what you can expect from them. This is why we have put together this FAQ to answer all your most common questions.
Will I need to buy anything else with these golf simulators?
Nope, these golf simulator packages contain everything you need to play golf indoors and nothing more.
Companies like Shop Indoor Golf and Rain Or Shine Golf have an unbiased knowledge of the best available products with many brands to choose from. Therefore, golf simulator enthusiasts will receive the best value package tailored for their needs.
By bundling everything into one package, these companies will help you save money, effort, and DIY precious time over buying everything separately.
Although these packages do not include installation services, they come with detailed installation instructions and are easily assembled. They also offer full after-sales support via phone and email to guide buyers through the process.
How do you practice on a golf simulator?
Golf simulators can be a great way to get in some extra swings and hone your skills. But they can also be a waste of time and money, depending on how you use them.
One of the most common mistakes made by golfers at all levels is that they don't take the time to dial in their distances. You can accurately measure your wedge distances when you use a launch monitor from SkyTrak or Foresight.
Another important advantage of monitoring your golf ball flight is to evaluate minor improvements to your swing performance. As a golfer, experimentation is a vital part of monitoring your progression, so it should be a part of your plan.
A smart practice routine also involves recreating the same conditions as on a golf course. When you can play all sorts of courses on your home simulator, you'll learn more about your game because you'll be practicing correctly.
Can I Play Actual Golf Courses On My Golf Simulator?
Golfers are always looking for new ways to improve their game and enjoy their favorite sport and the golf simulator is a great way to do that. But can you play actual golf courses on a golf simulator?
The answer is yes! Lately, the golf simulator has been upgraded to include some of the most popular courses in the world. This is a game-changer for the golf simulator industry. Now you can enjoy the best courses in the world, all year round and without having to travel.
Golf simulators have come a long way. Many people assume that golf simulators are just toys or that they can't be used outside of your living room. But the truth is, they are pretty darn realistic. In fact, some golfers think that they're even better than the real thing.
Virtual golf is great for practice, and it's a lot more fun than hitting golf balls into the backyard. In my opinion, it lacks golf's intangible quality of being out in nature. But I personally believe there is a happy medium between the two.
What golf simulator do pros use?
Many pros recommend Foresight Sports, especially in terms of teaching and instruction. Top instructors like Butch Harmon and Martin Hall call the GC2 a must-have for those serious about becoming better.
For in-home golf simulators, Full Swing Golf has become a tour favorite. Many PGA pros like Tiger Woods and Jordan Spieth also use an indoor build valued at more than $50,000.
Trackman sits at the top as the leading choice for pros. Dustin Johnson, Francesco Molinari, Justin Rose, Rory McIlroy, Justin Thomas, Jason Day, and Sergio Garcia, among many others, use Trackman.
What's the minimum space needed to play indoor golf?
Most indoor golf enthusiasts wonder about the size of space required for setting up an indoor golf simulator. Usually, A golf simulator will take up just about as much room as swinging your longest club.
Most golf simulators require a minimum of 10' wide x 10' long x 8.5' high.
Various factors, such as the size of the player and the arm length, can affect how much space you should dedicate to your indoor golf range.
With a slightly shorter ceiling, you may be able to play with an 8' x 8' setup if you don't mind feeling uncomfortable. Although, it is recommended that you have at least 10' of length.
Most experts suggest that the depth of the room must be at least 12 feet. Even if you have enough space to make a full swing, the net needs space as well, so you'll need an extra 1'-2' between your screen/net and the wall. Your wall will get a nice hole in it if you have your net too close to it after the ball hits in.
Should I buy or build my own DIY golf simulator?
Whether or not to build your own golf simulator is something that many golfers ask before buying a golf simulator. Some might say that it's best to build your own, while others would say that it's best to buy a complete package that will be ready to go right out of the box. It's a difficult question to answer, but let's do our best to break it down.
While golf simulators packages are sold as a whole unit that includes all the individual necessary parts, building a DIY golf simulator is a cool but pretty big DIY project. Customizing your setup enables you to choose the best size, shape, features, and colors at a fair price. However, building your own golf simulator will take time and effort and can be challenging if you are not an enthusiastic DIY person.
If you buy one of the best golf simulator packages, you don't have to worry about any other details. You will then just focus on the fun part—playing golf.
Can I Buy A Quality Golf Simulator Under $1000?
You might have noticed that the options from top brands such as Foresight Sports, Trackman, Full Swing, SkyTrak, Golfzon simulator, etc... are quite expensive. However, there are cost-effective, affordable models of high quality in the market that you can use to build your golf simulator setup. For instance, the
OptiShot2 Golf In a Box
is one such great analyzer. It supports most of the features that are available in the pricier models. They are easier to install and take-down from your training room. Additionally, it has software that enables you to practice at 15 well-known golf courses using vivid 3D simulated driving ranges. You can connect the unit to your computer and display it on a larger screen or projector for a better golfing experience.
Final Thoughts

As golf simulators are becoming more affordable, there has been a hike in purchases recently. Moreover, top players such as
Tiger Woods have shared their practice regime
using these golf simulators, promoting more golf fanatics to opt for these units. You can also consult a professional to help you in customizing the simulator package that works for you. Our top pick goes to
SkyTrak Flex Space Package
as the best golf simulator. Here's why we recommend it: This simulator works excellent for those who lack dedicated space for playing golf at home. It comes with a fantastic game improvement tool that ensures incredible accuracy. This simulator can track data and give various measurements. Also, it features a wireless remote, a projector screen of ballistic grade, a retractable screen, and a ceiling mount kit. Make your pick from our list of the best simulators on the market and know how it worked. Feel free to share your feedback with us in the comments below. Happy golfing!