The 10 Best Commercial Golf Simulators of 2023
Last updated:
July 9, 2023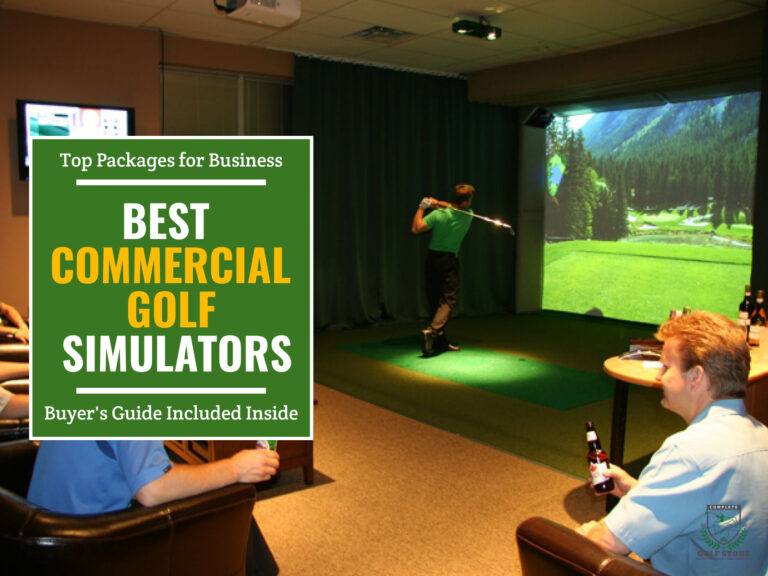 Disclaimer: We may earn a small commission from some of the links on our website, however, our reviews and comparisons remain fair and unbiased. Our goal is to help you make the best choice. For more information, please see our
disclosure statement
. Thank you for your support.
Key Takeaways
Our top pick for the best overall commercial golf simulator went to HD Golf's systems, thanks to the innovations and creativity brought by the Canadian company. Second is the majestic Trugolf Vista 12, followed by Uneekor's Eye XO SIG 12 and its cleaner aesthetics.
The rest of the list comprises equally interesting systems from Foresight Sports, Full Swing, Golfzon, and Carl's Place. Read through to see which one will be best to help your business flourish.
If you own a restaurant, a bar, a resort, an indoor golf center, or a hotel, investing in a commercial setup will help your business grow.
Also, golf professionals, coaches, shops, and club fitters usually opt for such systems thanks to the great accuracy and quality they provide.
Golf clubs and courses also benefit from having golf sims around, especially off-season, when they can keep receiving and entertaining their members, even during the cold days of winter.
In this article, we will go through a list of the best commercial golf simulators for business use. It's the result of extensive research and testing by our team of testers.
These are the best that any business owner can choose to upgrade their business and potentially attract more customers or members. They also fit a wide range of budgets.
Keep reading to know more about the utility of commercial setups!
A Quick Peek At Our Choices For The Best Commercial Golf Simulators
Our Top Picks For Golf Simulators For Commercial and Business Use
The following are our top selections based on our own testing, research, and experience:
Buyer Guide: Things To Consider When Choosing a Simulator for Business Use
Now, you might be asking yourself the following question: What distinguishes commercial sims from regular golf simulators?
The answer is that they are actually the same in terms of the number of essential components they include and the way they work.
However, there are certain features (maybe even requirements) that a sim package must meet to be suitable for business use.
To put it differently, all commercial sims can be used at home (if you have the required space and money), but NOT all indoor golf sims can be used for business!
Let's now go through some of the most important factors you need to consider while choosing the right commercial golf simulator for your business.
Size & Space
Generally, size is an essential factor in golf simulators that you need to keep in mind before you start looking for a system for your business use.
You should have a clear idea of the dimensions of the space where you intend to set up the package in terms of width, length, and height. You do not want to have any bad surprises after you actually purchase a specific setup.
What you need to do is compare your available space to the minimum space requirements of packages that catch your attention.
Depending on the product, the manufacturer, and the technology, the system may require up to 20 feet in depth and more than 14 feet in all other directions.
As a general rule, commercial sims are usually very large units that require a lot of space. Still, you should ensure your space meets the recommended requirements and preferably exceeds them.
That's because you will expect groups of friends or family members to play together. As a result, they need additional rows of seats and tables to rest and maybe enjoy a drink or chat while waiting for their turns. You may even add a dedicated practice area (a second hitting mat and flooring) that they can use while doing so.
In a nutshell, we recommend dedicating as much space as possible to your commercial setup. You don't want your customers to feel crowded, do you?
Quality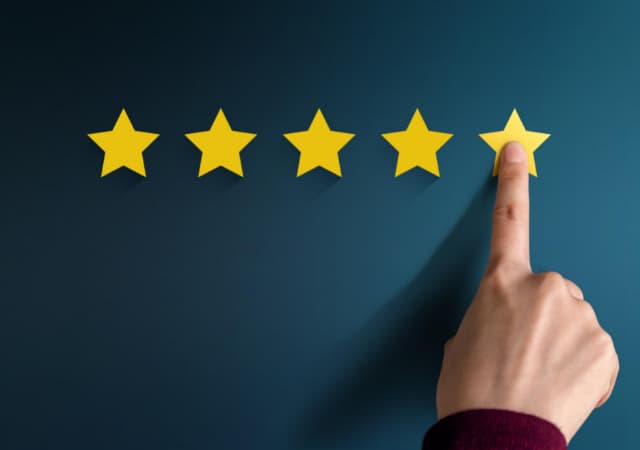 You need to purchase the best possible quality system that you can afford. Your commercial simulator is expected to be used (sometimes abused) by tens or even hundreds of people daily. A good quality sim will be able to withstand all the hardships and won't require maintenance too often; it will also be very durable, which will make it a profitable investment.
Moreover, a quality simulator will be more accurate and provide more precise readings and data of your shots. That's because it uses the latest technologies and tracking devices to provide the best possible experience.
Also, good quality packages include larger screens with better image quality. The simulation software usually contains more features and better simulation, making the whole experience much more immersive, realistic and attractive for your customers.
Also, customers will be more willing to pay higher prices (with hourly rates sometimes going beyond 80 dollars) if they know that they are using a high-end system. This will help you make a return on investment much faster!
Ground Vs. Ceiling Tracking
From the start, we will be clear about this: We highly recommend going ceiling-mounted for many reasons.
First, you will be receiving customers with different skill levels. Some will be highly-skilled golfers, while others will be complete beginners. Accidents may (and probably will) happen, like the player missing a shot that goes rogue and hits the projector or the launch monitor. Maybe the player fails to swing correctly and ends up hitting the monitor positioned on the ground.
By mounting the components on the ceiling, you don't totally eliminate the risk of accidents and damage to your hardware, but you keep it minimal. That's why we always recommend overhead launch monitors like the Foresight Sports GCHawk and the Uneekor Eye XO or QED instead of floor-mounted units such as Skytrak or the GC3/GCQuad because they are at a higher risk of accidents and damage.
In the end, the best piece of advice we can provide is, regardless of the mount type you end up choosing, make sure you provide the best possible protection for your precious items.
You can do so by using protective enclosures that are available for both projectors and launch monitors.
Another huge benefit provided by overhead launch monitors is that they don't require any handling once they are mounted. They support both lefties and righties without any interference or repositioning.
If you're unsure of which launch monitor to go with, we've reviewed the top launch monitors in the market today.
Budget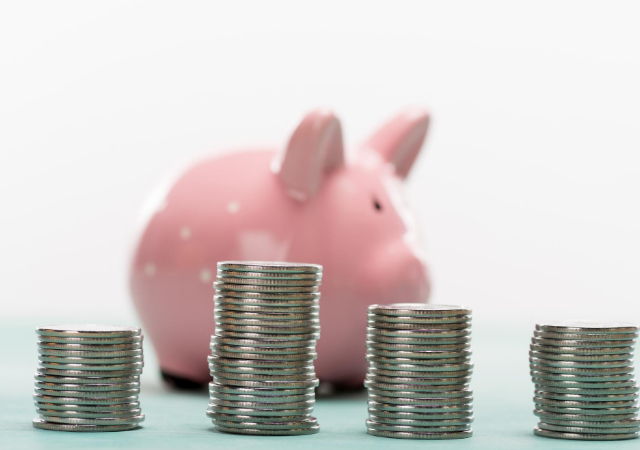 Not all businesses are able to invest 30K dollars or more on a commercial golf simulator. Luckily, there are many options that are more reasonably priced and offer a decent virtual golf experience.
However, you need to be aware that the less you pay, the less you get in quality, features, components, etc. That's why we encourage you to specify the highest budget that you can spend and compare the packages you can afford to choose the one that provides the most features.
We tried to provide simulators that fit into a wide range of budgets and that different businesses can afford and use.
The best thing is that you don't have to pay the whole price of your chosen package at once. Our friends at Shop Indoor Golf, Rain Or Shine Golf, and Top Shelf Golf all offer interesting financing options that you can check out in the links below:
Financing options at Shop Indoor Golf.
Financing options at Rain or Shine Golf.
Financing options at Top Shelf Golf.
Software
Almost all the big players in the world of golf simulators have their own simulation software that can be used with their packages as well as with other manufacturers' systems. That's why you need to know exactly what you want from the software.
First, you want software that provides as many useful features as possible, such as virtual practice ranges, skills challenges, tournaments, multiplayer and online features, club fitting, etc. The more you get out of the software, the better.
In terms of the sheer number of available courses, We believe nothing beats the Golf Club 2019 (TGC2019). This software offers the possibility to play on a huge course library, mainly thanks to the course-building feature.
Most of the included courses are player-designed, but they undergo a player-rating system, so you will be able to use only the good ones.
If we focus more on the graphics and visual quality of the simulation, then HD Golf's software will be a clear winner, as their software uses the latest technologies to create the most life-like and realistic 3D models of the world's famous golf courses.
Also, Skytrak offers more affordable software that can be purchased in one of three different plans: Basic, Game Improvement and Play & Improve.
There are other software options that offer a very good visual experience; these include Uneekor's View and Refine software, the E6 Connect software by Trugolf, Foresight Sports' FSX 2020, etc.
Other good simulation software include Creative Golf 3D, Awesome Golf, GSPro, WGT Golf, etc.
Our recommendation is that if you have a specific simulation software in mind, make sure you contact customer support to check compatibility with your chosen package. Most probably, it will be compatible, but it's always better to check beforehand to be on the safe side.
Portability
This is probably the least concern for any business planning to invest in a commercial golf simulator. Most will just install the package in a dedicated space without the need to constantly move it around.
There are, however, a few situations in which portability is a potential concern; for instance, a restaurant or bar may need to periodically move their setups for one reason or another.
A system like HD Golf's packages is not intended to be portable, especially with its gigantic screen and enclosure; but Trugolf's systems, especially the Vista 8 (with its smaller screen), can easily be mounted and disassembled, making it a more portable option.
So, before you buy a specific model for your business, ask yourself whether you will need to move it around frequently or just install it and never move it again; after that, choose accordingly!
Final Thoughts
Our journey in the world of commercial golf simulators has come to an end. In this article, we tried to provide the best possible systems that can be used in businesses.
The benefits of commercial sims are numerous, and that's why more and more business owners opt for simulator packages to keep their customers happy, grow the business and potentially attract new customers.
If you still have questions or comments, please feel free to contact us; We will be happy to hear from you and assist you whenever we can.
You May Also Like