HD Golf Simulator: Detailed Review and Analysis (2023 Update)
Last updated:
October 6, 2023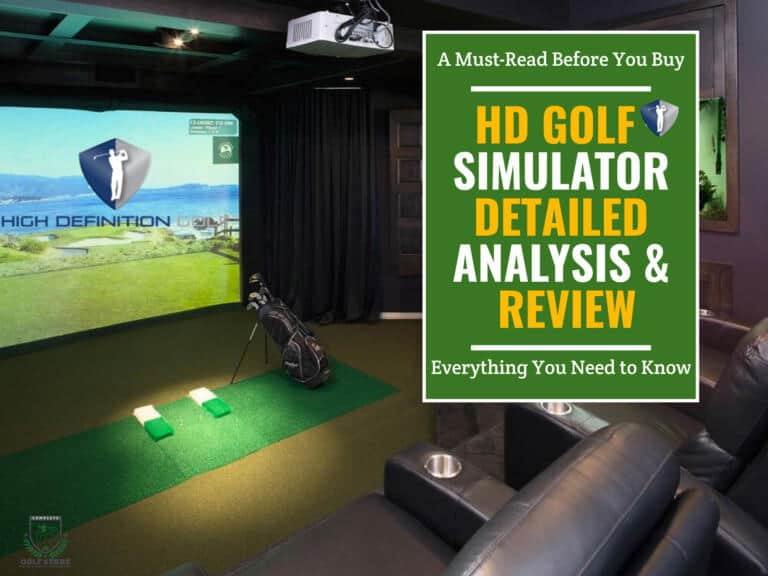 Disclaimer: We may earn a small commission from some of the links on our website. However, our reviews and comparisons remain fair and unbiased. Our goal is to help you make the best choice. For more information, please see our
disclosure statement
. Thank you for your support.
Key Takeaways
HD Golf simulators are among the most technologically advanced products on the market, offering stunning graphics, pinpoint accuracy, and a wide range of features.
HD Golf simulators are used by professional golfers and businesses alike, and have a reputation for being reliable and enjoyable.
HD Golf simulators are available in two variants: The Ultimate Entertainment Package and the Ultimate Training Package.
Both packages use the same technologies and provide a unique and realistic experience, but there are a few differences in terms of price and features.
HD Golf simulators are equipped with a large screen, Sony projector, audio system, and professional-grade HP Workstation computer.
The HD Software Package provides access to 36 virtual golf courses, 11 sports simulations, multiple practice facilities, and club fitting software.
Golf simulators have grown in popularity lately, and there are countless options, with packages that cost between a few thousand dollars and around $70,000 and higher.
In the premium golf simulator category, a few popular brands make the best options today, including Trackman, Golfzon, Full Swing, HD Golf™, etc. They all make premium-quality simulators using the latest technologies and materials to provide the best virtual golf experience.
In this article, our main focus will be on the HD Golf company, one of the most popular manufacturers that offer high-quality packages. We will explore the company's history and evolution and go through its product lineup.
We will cover everything related to HD Golf's products, including pricing, size specifications, features, etc. By the end, you will know everything you need about the company and its available products; deciding on buying an HD Golf simulator will be much easier!
HIGH DEFINITION GOLF™ Company

HIGH DEFINITION GOLF™ is currently the industry's fastest-growing company that has manufactured and installed thousands of golf simulator setups in more than 50 countries around the world since its creation back in 2002.
The company has quickly grown to compete with the biggest golf simulator manufacturers. Today, it provides some of the most technologically advanced products that are unmatched in terms of quality, life-like realism, precision, and supreme accuracy.
More on this later...
The Canadian company has built a solid reputation for building some of the industry's most reliable and enjoyable simulation systems. A lot of professional golfers and businesses (Luxury hotels, resorts, top-ranked golf clubs, etc.) worldwide have adopted HD Golf's products thanks to the amount of entertainment and enjoyment they can provide.
Still, the benefits of HD Golf's simulators are not limited to fun and entertainment, as practicing golf on these packages is so realistic to the point that it is sometimes difficult to differentiate it from reality. The HD Golf simulators are also very reliable even for professional tour golfers like Bubba Watson, Fred Couples, Steve Stricker, Bryson Dechambeau, among others who all use HD Golf™ for their indoor practice sessions.
HD Golf™ has pioneered some of the most innovative launch monitoring technologies that helped take virtual golf to a whole new level of accuracy and simulator realism. For instance, they are the ones who pioneered Computer Vision Technology that uses Artificial Intelligence and Computer Learning to provide the most precise and comprehensive measurement of your swings. Also, they invented Realistic 3D Modeling, which combines high-resolution digital images, satellite data, and geophysical data into 3D models of golf courses. The result is that you can play your favorite golf courses, such as Pebble Beach or St. Andrews, with an unmatched level of accuracy and life-like realism.
HD Golf™ Simulator Features Overview
Let's now focus more on the HD Golf simulator and the benefits it provides for the price it costs. There are two available variants of this simulator package:
The Ultimate Entertainment Package and the Ultimate Training Package.
Both packages use the same technologies and provide a unique and realistic experience. However, there are a few differences between the two (namely the price tag and available features) that we will be exploring in the upcoming sections.
HD Golf Simulator Specs
The HD Golf simulation package sports some of the most impressive specs in the high-end golf simulator segment.
The package costs a lot of money, However...
If you focus on what you get back in return, then it is a winning investment as you get plenty of features in addition to an unmatched virtual golf experience with stunningly beautiful graphics and pinpoint accuracy.
First of all, the simulator provides a huge playing area coupled with a very large screen. The result is that you won't be feeling like you are playing indoors. The included Sony projector adds to the realism as it provides excellent image quality.
The addition of audio systems by Sony is another great feature, as it provides very good sound quality (a surround sound system for the Ultimate Entertainment, and a powerful 250-watt stereo system for the Ultimate Training, both performing amazingly well). Both picture and sound quality are guaranteed by a world-renowned brand: Sony.
In addition, both packages are delivered with a professional-grade HP Workstation computer. That's another key component provided by one of the best professional computer makers to ensure that the simulation runs flawlessly without lag or stutter.
The software package is provided by the HD Golf company itself. The HD Software Package achieves the best graphics quality that almost no other company could compete with.
Furthermore, the perfectly positioned multiple high-speed cameras ensure everything is captured and that the accuracy level of the feedback and data is outstanding. They provide a surround detection system for all the details of your swing. Also, the use of a pressure-sensitive hitting mat provides additional data about balance and weight shift.
Software Features
The HD Golf simulator provides numerous interesting software features. First of all, the Ultimate Entertainment package gives you unlimited access to a total of 36 virtual golf courses. You can also play simulations of a total of 11 sports (including golf). Here is the complete list of available sports:
Golf
Dodgeball
Shooting
Hunting
Bowling
FootGolf
Soccer
Football
Baseball
Hockey
Lacrosse
Additionally, the software provides multiple practice facilities so you can improve your game. For example, you can play virtual driving range levels, closest-to-pin challenges, chipping and putting green levels, various mini-games, etc.
The club fitting software provides instant feedback and precise measurements to help you pick the best clubs to use for optimal results. As you would expect from a premium product, you are guaranteed to get the highest level of accuracy.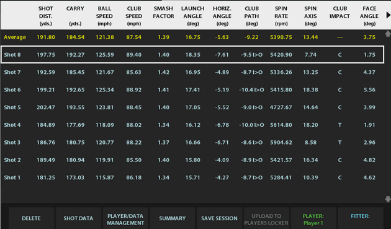 You can also engage in online multiplayer virtual games and compete against other players from all around the world (possible for all included sports). If you choose to play golf against a friend or family member, you can take turns making your shots. If you decide to play another virtual sport, soccer, for instance, the second player can use the included controller to play as the goalkeeper (while you make the shots).
Please note that the Ultimate Training Package offers the same quality and accuracy as the Ultimate Entertainment, albeit with limited online functionality and more focus on golf training, meaning that it doesn't support multi-sport simulations.
If you are solely interested in golf (not other sports), then the Ultimate Training package is the best option for you, as you can enjoy premium simulation, hardware, and software quality while saving some money on your initial investment!
Swing Analysis
The HD Golf simulators provide video swing analysis to offer very accurate measurements of your shots. The videos can then be compared and analyzed to know exactly what your strengths and weaknesses are. The software gives you detailed real-time feedback on your technique.
Moreover, you can watch a video playback of your swings either on the big impact screen or the smaller touch screen. The use of wide-angle, high-speed cameras (included) means that everything is captured in the best possible quality; nothing is left undetected.
You can save the videos for future reference, compare multiple videos side by side at the same time and even adjust the playback speed to make things easier for you. This last feature is especially convenient if you wish to focus on the tiniest details of your swings. You can even share your results online or compare them with those of other players.
The video swing analysis includes very useful editing and drawing tools to help you mark things you want to focus on directly on the recordings. You can even compare your swings to the pros through HD Golf's Professional Golf Studio, as the video swing analysis module incorporates swing videos by some of the most famous and talented professional golfers like Ernie Els, Ben Hogan, and Tiger Woods. The video training collection was developed with the cooperation of Jim McLean, a world-renowned golf instructor. Many HD Golfers find this a useful addition to their packages.
HD Golf Simulator Accuracy
When you pay a premium price for a high-end golf simulator package, it only makes sense to expect the best performance in terms of quality, accuracy, hardware, software, etc.
You will not be disappointed with the HD Golf simulators. The spin rate measurements are over 99% accurate, and the overall readings of your shots from different distances are some of the most accurate in the business.
The club face angle contact can be measured within a tiny margin of one-tenth of a degree. This is expected from a simulator that uses multiple high-speed cameras to analyze your shots. The HD Golf simulation packages combine the best of the best hardware with perfectly designed software components and modules to provide the highest levels of accuracy.
Ease of Use
The HD Golf company takes exceptional care of its customers. All production stages, from manufacturing to installation and use are all taken into consideration. Even customer service is available 24/7 to provide assistance and help to their valued clients. That's why HD Golf has been able to maintain a high success rate of above 99% customer satisfaction ratings. Everything is designed to make the simulation experience as intuitive and straightforward as possible.
After you purchase the simulator package, it arrives with a professional team that sets everything up and guides you through the first steps of using the product and getting used to the simulation interface. You don't need to buy any extras, as everything is included so that you can start playing golf without any confusion about what needs to be done.
The included workstation computer already contains the necessary software, so no time will be wasted in setup. Furthermore, the visual interface is very simple to go through in case you want to modify any settings.
Controls are all centered and at the tips of your fingers, as the touchscreen allows you to control everything easily. You can even display the recorded videos on it if you wish so.
Moreover, the detection system is automated (again, thanks to the high-speed cameras) and doesn't need any trigger to start. Just swing your club and your entire shot will be recorded.
Additionally, using numerous cameras for detection allows seamless left-right hand switching without any need to modify anything. As a result, right-handed and left-handed players can play together without issues. Some other packages (especially ones that use a single detection unit) need the position of the detection units to be manually adjusted according to whether the player uses his/her right or left hand.
HD Golf Simulator Screen
When it comes to screen size, the HD Golf impact screen is large... very large! That means the package will require a large space to be installed in. That's the first thing you need to take into consideration before buying the package.
The simulator offers three possible screen options that you can choose from. They are as follows:
The first HD GOLF™ Simulator model comes with a large curved widescreen with a 16:10 aspect ratio.
The second HD Golf™ simulator option offers a flat screen with a 4:3 aspect ratio (Still a big screen, but the image is more square-ish).
The third option has a flat widescreen with a 16:10 aspect ratio.
The 16:10 aspect ratio is more common in modern TVs and computer monitors. It is a wide screen ratio that allows for the projection of 1080p or even 4K images without any distortion. The 4:3 option is probably meant for people who have smaller space to install the simulator package.
The curved widescreen is intended to make the simulation much more immersive, as the player feels like playing on a real golf course. The curving adds to the feeling of depth of field in the images projected on the hitting screen.
Balance & Weight Transfer Analysis
Balance and weight transfer are key components of any golf swing; perfecting those two can remarkably improve the quality of your swings. That's why premium-quality golf simulators usually provide features that analyze balance and weight transfer, and HD Golf is no exception.
However, these measurements can not be carried out using the package's cameras. The HD Golf simulator's hitting mat incorporates premium quality sensors that detect your body weight shift as you swing your club. The data is then displayed immediately along with the other measurements.
The pressure mat contains 600 individual sensors that can give you accurate data on balance and weight transfer; it is possible to display the collected data over your recorded videos to make it simpler to compare different results.
Looks Real and Plays Real
HD Golf used bleeding-edge golf simulator technology to create sims that bring the game to a whole new level of accuracy and realism. They use multiple high-speed cameras and pressure sensors to detect everything and make the virtual experience as realistic as possible.
The use of 3D models of famous golf courses combining High-definition pictures and satellite data is a plus. The result is a simulation that is so close to the real thing. Courses do look beautiful and hyper-realistic, thanks to the use of the best possible combinations of hardware and software components.
The included 16ft x 22ft 6in turf mat provides a very large playing area. As a result, you feel like playing on an actual golf course, especially with the giant screen that adds to the realism. The feel of the mat and polypropylene turf is also close to what you get in reality. The detection technology is so good that you feel your slightest moves are simulated perfectly.
Moreover, the various playing modes included in the simulator (practice ranges, courses, mini-games, challenges, etc.) mean that anything playable in reality can be perfectly simulated on the package. You can even host or participate in real-life-like tournaments and compete against other players.
In a nutshell, HD Golf includes everything (software and hardware-wise) to make your virtual golf experience as realistic as possible.
Data Points
The HD Golf simulator uses state-of-the-art technology to detect the details of your golf swings. After that, it provides valuable and accurate data related to your golf ball and golf club. The data can be collected and compared to monitor your progress.
Golf ball data includes ball spin, launch angle, ball speed, spin axis, shot distance, carry distance, shot type, horizontal angle, bounce & roll, and smash factor.
The measured club tracking data includes the club's head speed, face angle, and swing path. It also includes the swing's acceleration, duration, and tempo, as well as the shaft load factor, impact position, and angle of attack.
All in all, the HD simulator provides more than enough data to help you monitor and improve your game regardless of your skill level. That's why it's a reliable simulator for professionals and amateurs alike.
HD Golf Simulator Courses
As mentioned earlier, HD Golf simulators truly stand out from the crowd when it comes to realism and graphics quality. Instead of relying on video game-like graphics (as many brands do), HD Golf combines geophysical and satellite data with high-resolution images to create photorealistic 3D models of the included wide range of golf courses. In the end, the simulated courses are so graphically realistic and immersive that they can barely be differentiated from the actual courses.
The complete list of the 3D modeled virtual courses (all playable in simultaneous multiplayer) includes the following:
Jasper Park Lodge
Princeville
Wolf Creek
Spyglass Hill
Spanish Bay
Nicklaus North
Banff Springs
St Andrews Castle
St Andrews Jubilee
Casa De Campo
Cabo Del Sol
Rich Harvest Farms
Doral Blue Monster
Troon North
Pacific Dunes
Karsten Creek
Harbour Town
Quail Hollow
French Lick
PGA National Golf Club
Bay Hill
Cabot Links
Wooden Sticks
Pebble Beach
St Andrews Old Course
Bethpage Black
Kiawah Island
Pinehurst No. 2
Torrey Pine
Medinah
That's an impressive library of world-renowned golf courses, all playable in high-definition quality and both single-player and multiplayer modes.
Multiplayer Capabilities
The HD Golf simulators provide the possibility to play alone or with others. If you have a group of friends or relatives and want to play together, you can easily do it. If you have the Ultimate Entertainment Package simulator, then you can play together and have fun with all included virtual sports simulations (11 in total).
However, the multiplayer functionality in the Ultimate Training Package is limited to golf. You can have a lot of fun playing as a group regardless of which package you use (even if we have to admit that playing all 11 sports will provide more variety and fun to the virtual experience).
Online multiplayer is also available with the HD Golf simulators. You can compete online against players from different countries. Again, you can play online virtual rounds on all available courses (and the other sports if you have the Ultimate Entertainment Package).
Tournament Play is another interesting multiplayer feature by HD Golf. Simulator owners can participate in the existing tournaments or even create their own. For example, a hotel or resort can have a tournament for its employees to compete against each other, or it can be an open tournament for people from different countries to compete in. It's the same as a real-life golf tournament but from the comfort of an indoor location (hosting the competition).
HD Golf Simulator Packages Comparison and Analysis
HD Golf provides multiple options and personalizing possibilities for their customers. Based on your preferences, you can opt for the Ultimate Entertainment package or Ultimate Training package. You can choose between a curved screen, a flat 16:10 widescreen, or a 4:3 screen depending on your available space. Also, the playing area (with the turf and hitting mat) can be personalized too.
Each screen type can come with enclosures of many different dimensions to fit different spaces. For example, the 16:10 can be coupled to the executive, champion, or standard playing areas, with the executive being the smallest and the champion the largest. The same goes for the 16:10 and the 4:3 flat versions. The size of the playing area is highly customizable.
The Ultimate Entertainment Package Key Features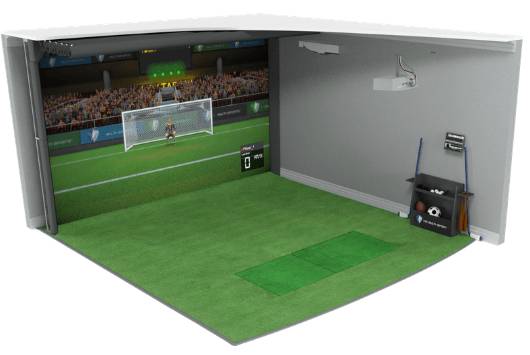 This is as high-end as golf simulation can get (in terms of pricing too). This is a golf simulator that can easily be used as an entertainment system (as it's not limited to golf) or a home cinema. It provides endless fun for the whole family. You can play golf and ten other virtual sports on the same package (in both single and multiplayer modes).
The included hardware and software components are all top-notch to offer the best possible simulation in terms of image and sound quality, incredible realism, accuracy, etc.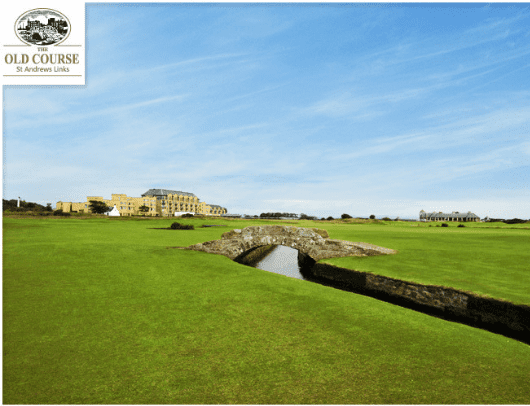 The software allows you to play virtual 3D models of some of the most famous golf courses in the world. This is something that sets HD Golf apart from the competition: the amazing realism and revolutionary image quality achieved by cutting-edge technology.
The HD Golf Ultimate Entertainment Package contains the following:
5200-lumen Sony projector (upgradable to a 5500-lumen laser model) & Mounting Bracket (to be mounted on the ceiling and not interfere with your game).
22in wideview LCD touchscreen monitor that provides feedback and data. It also allows you to control everything, change the simulation settings and even display recorded videos.
Surround Sound Package Upgrade to add to the realism of the experience.
HD Golf Software Package (Deluxe package - All Courses playable in single and multiplayer)
HD Multi-Sport Software Package (ALL 11 Sports included)
Multi-Sport Shooting and Hunting Accessory Package (to make the hunting simulation easier to play).
Rear Stereoscopic Cameras With Mount/Lens (Perfect mounting to detect everything).
Drapery, Baffle, and Ceiling Track System
Power Bar, Cables, Components, A/V Cabinet
16:10 Flat Standard System (10ft H x 15ft 6in W x 19ft L)
Area Golf Turf in Green Turf (16ft x 22ft 6in) with Stance Mat
Viewing and Hitting System Frame/Screen
Computer Vision Club and Ball Tracking System
Precision Spin Measurement Data Module
HP Computer Business Workstation
Free Delivery and Installation
The Ultimate Training Package Key Features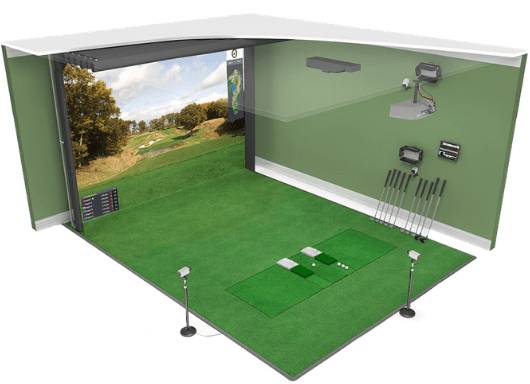 The Ultimate Training Package is intended for players that are only interested in golf. It performs exactly the same as the Ultimate Entertainment package, with the same visual and sound quality, excellent accuracy, and an overall enjoyable experience. However, this package is a bit cheaper than its bigger brother because it doesn't support multi-sport (only golf is playable).
Also, instead of the 16:10 widescreen, a 4:3 screen is provided, and instead of surround sound, a stereo system is used (which still rocks 250 watts of sound power).
The Ultimate Training Package simulator includes:
Video swing analysis system (With Audio Package)
Weight transfer, balance, and pressure Mat
Precision spin measurement data module
HP computer business workstation
Sony 4300-lumen projector & mounting bracket
22in wideview LCD touchscreen monitor
Sony audio 250W stereo receive & paradigm speakers
HD Golf software package (Deluxe Package)
Drapery, baffle, and ceiling track system
Power bar, cables, components, A/V cabinet
4:3 flat standard system (10ft H x 13ft W x 19ft L)
Area Golf turf in green (15ft x 20ft) & stance mat
Viewing and hitting system frame & screen
Computer vision club and ball tracking system
Free delivery & installation
What Space is Required for an HD Golf Simulator?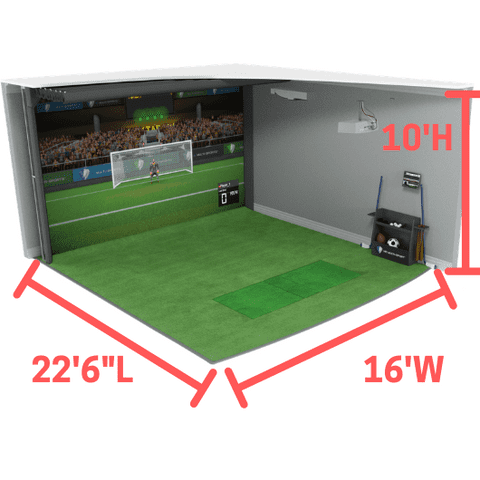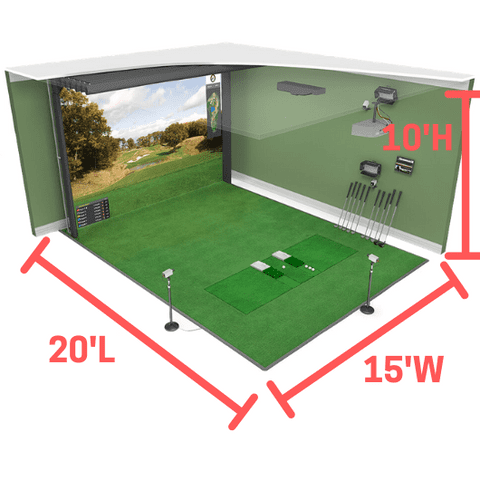 As we have mentioned earlier, instead of having a single space requirement, the company provides multiple options for their playing area, related to the type of screen that comes with the package.
First, the 16:10 curved screen package can come with three different enclosures and playing areas:
The Executive size is 9' tall, 14' wide, and 20' long.
The standard size is 10' tall, 15.5' wide, and 20' long.
The champion size is 11' tall, 17' wide, and 21' long.
The 16:10 flat-screen model comes in three different sizes too:
The Executive size is 9' tall, 14' wide, and 18' long.
The standard size is 10' tall, 15.5' wide, and 19' long.
The champion size is 11' tall, 17' wide, and 20' long.
The 4:3 flat-screen package provides four different sizes:
The Executive size is 9' tall, 12' wide, and 18' long.
The standard size is 10' tall, 13' wide, and 19' long.
The champion size is 11' tall, 14.5' wide, and 21' long.
The Grand champion size is 12' tall, 16' wide, and 22' long
If you want to install an HD Golf simulator at home, you need to have a minimum room dimension of 16' in width, 22'6" in length, and 10' in height. You may need slightly more height if you feel that your full swing requires it.
Putting in HD Golf Simulator
Most golf simulators encounter problems with chipping and putting detection, making the simulation less accurate and realistic in this regard. Usually, the issue is caused by the lack of depth of field and distance perception on the screen. Therefore, it is not easy to perform short-distance shots that are more technical to the simulator's screen. However, the HD Golf simulator provides green levels that are exclusively dedicated to practicing putting and chipping.
The putting and chipping green levels can help you get used to putting on a screen and adapt to the distance and depth issues you may first encounter while chipping and putting. It does take some practice and patience, but you will get there eventually.
The inclusion of these special levels is proof that HD Golf has thought about everything. They want their products to be complete and provide everything customers may need to improve their game.
That's why HD Golf's packages made it to our list of the best golf simulators for putting.
How Does it Compare to Other Simulators?
By now, you are probably convinced that HD Golf simulators will provide one of the most complete, versatile, and fun virtual golf experiences that any simulator can offer today. If you can afford to buy one, you will certainly be satisfied and even impressed by what HD Golf managed to create: A premium-quality product that excels in all aspects.
Moreover, you may also be wondering how the HD Golf™ simulator will perform against the other big guys in the golf simulator industry. That's why we decided to make things easier for you and include short comparisons of the HD Golf packages to the most reliable (and expensive) simulators that are available in the market today, namely the Trackman, GolfZon, and Full Swing.
HD Golf vs Full Swing
Full Swing is another renowned brand in the world of premium golf simulators. The company makes some of the best and most accurate packages that will surely satisfy even the most exigent golfers.
The company provides two main variants of its simulators: the Sport series and the Pro series. While the Sport series of the Full swing simulator is much more affordable than the HD Golf at a price of around $40,000, the Pro series retails at around the same price (around $70,000), making it a direct competitor.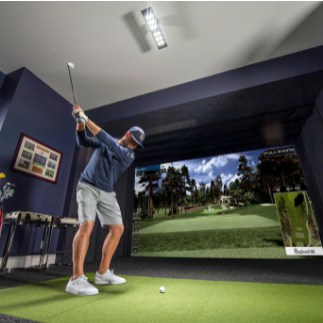 The Full Swing Pro series offers extremely accurate data and detection thanks to the combination of 360-degree infrared tracks and ION 3 high-speed cameras. As a result, the readings provided by the package are extremely reliable. The overall simulation experience is very realistic since cinema-grade projectors are included in the package (providing excellent image quality).
Furthermore, the Full Swing packages allow for a multitude of customization options. Still, you need to bear in mind that the further you customize the simulator, the higher the price goes (eventually making it cost more than the HD Golf).
All in all, the Full Swing packages do an excellent job in every aspect of the virtual golf experience, proving to be real competitors of the HD Golf packages. However, it seems that creativity and innovation will be our tie-breaker in this comparison. HD Golf's proprietary pressure-sensitive hitting mat provides additional data on balance and weight shift, something that Full Swing can't even compete with.
HD Golf vs GOLFZON
The Golfzon simulator packages are also excellent products that offer superior performance, accurate data, and realistic visual quality. They provide latency-free simulation and instant ball flight. In other words, there is absolutely no timing delay between the moment you hit the ball and the start of the visual simulation of the shot. That's impressive, as usually, the delay is noticeable with other simulation software. Even though the delay is calculated in milliseconds, getting rid of it altogether does improve the whole experience.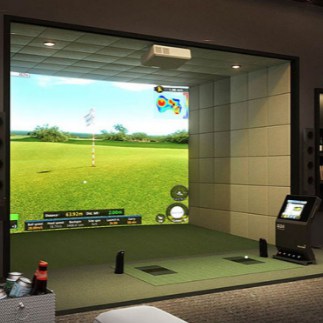 Another great feature provided by GolfZon is the ability to physically accommodate the simulator to the requirements and properties of each individual shot. That is, the included swing platform offers multiple hitting surfaces (fairway, rough, and bunker). Also, the platform contains an eight-way directional tilt that creates up-hill, down-hill, and side-hill lies (further improving the accuracy and realism of the simulation). Golfzon also provides free software updates for the included courses (making the package a good long-term investment).
It seems that both companies provide their share of innovation and creativity with their products (be it in different areas). They are also comparable in terms of software components and overall quality. Deciding which simulator is better for you will be based on which components you like better (HD Golf's or Golfzon's)!
HD Golf vs TrackMan
Now it's time for the HD Golf simulator to go head to head against a package that is considered by many as the most accurate and reliable simulator. The Trackman is trusted and used by a lot of professional golfers to monitor and improve their game, as well as businesses wishing to provide the best virtual experience to their customers.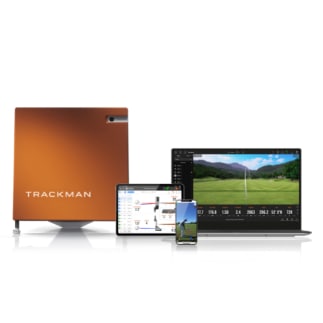 Trackman combines Radar Doppler technology and high-speed cameras to ensure the most accurate data both indoors and outdoors. It also provides a single touch screen to display your data and control any settings you want.
In the end, both simulation systems perform flawlessly and provide extremely accurate readings of your swings. They both provide plenty of useful features to help you be a better golfer.
In the end, we believe that HD Golf can be a great Trackman alternative because innovation will make a huge difference (once again). HD Golf's pressure-sensitive hitting mat gives it a clear advantage. Moreover, the multi-sport software developed by the company adds to the versatility and diversity of the package.
In the following video (08 min. 09 sec.), PGA professional and golf instructor Steven Cox compares the accuracy of both systems using different golf clubs:
What Could Have Been Better in the HD Golf Simulator?
The High Definition Golf simulator is a great product that provides everything you need to play virtual golf. It is almost perfect with its top-quality software and hardware components.
Still, there are some minor issues with the simulator package. However, they are minor flaws that can easily be addressed by the company.
We need to point out that most of those minor flaws are not specific to the HD Golf simulator, such as the time needed to get used to chipping and putting into a screen, making putting (and chipping) a real challenge in almost all golf simulators.
After thoroughly testing the HD Golf simulator packages, we came to the conclusion that it's very difficult to find any (real) drawbacks, as the products deliver perfect performance and excel in all aspects: Quality, accuracy, ease of use, customer support, etc. Everything is excellent.
The only downside we can think of is the pricing of the packages which makes them unaffordable for most golfers. Even the cheaper model is still costly. We admit that the research and innovation invested by HD Golf in the creation of such amazing pieces of technology cost a lot of money, and the provided features and benefits you get in return outweigh any regrets or thoughts you might get about the price you pay.
Price is the sole downside we could think of. Everything else is (almost) perfect.
HD Golf Simulator Cost and Financing for Payment Flexibility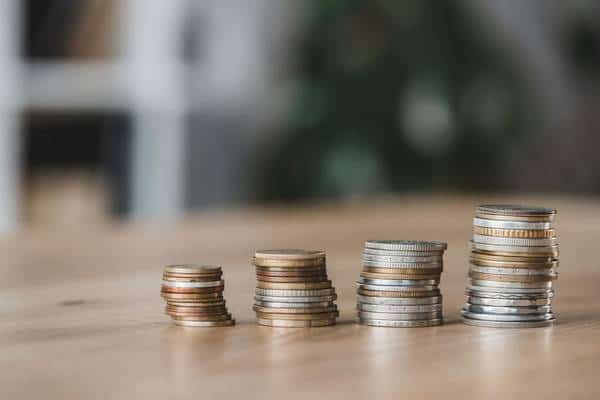 As some of the world's most premium quality golf simulators, HD Golf's two main variants are not cheap (to say the least). They are designed to compete with the best of the best and most technologically advanced packages.
The HD Golf Ultimate Entertainment package costs around 70,000 dollars. That's not something everyone will be able to afford. Very few golfers can buy this technological wonder. The price is steep indeed, but you get the best possible virtual experience that money can buy today with loads of features and fun activities.
The HD Golf Ultimate Training Package costs a bit less than its big brother, but it is still a pricey package at a whopping 56,500 dollars. If you only want to play virtual golf, this is a better and cheaper option for you. It offers the same quality, accuracy, realism, and features as the Ultimate Entertainment Package, minus the multi-sport support.
The question every potential buyer may be asking him/herself is: Is it worth sacrificing all those features for around 14,000 dollars less? Personally speaking, if I can spend that much money on a golf simulator, then I will probably pay the extra money for the additional sports as they add to the diversity and fun of the package!
If by now, you are convinced that the HD Golf simulator is the right one for you (and it most probably is), but you can't (or don't want to) pay the whole price at once, then our partners at shopindoorgolf.com got your back with interesting financing options.
You can buy your HD Golf simulator for your home and get financing of up to 15,000 dollars and pay installments over a period of 6, 12, or 24 months. If you choose the 12-month plan, then the interest rates will be 00%.
Even better, if you want the simulator for business use, then there are specific financing options for business owners that can exceed the 15,000 dollar limit and help you get your package and generate revenue as you pay. The payment period ranges between 12 and 60 months to make the installments as low as possible. Moreover, the payments can be variable to adapt to cash flow seasons. If you are an interested business owner, you can head over here to know more about different available options.
HD Golf Cheaper Alternatives
The HD Golf simulator is a masterpiece in all aspects. The only issue is the pricing, which is probably out of the budget for over 90% of golfers. We all would love to have such a fantastic product at home and enjoy all the included features in exceptional graphics quality.
If you are looking for some cheaper alternatives to the HD Golf packages that can provide a great amount of fun and accuracy without breaking the bank, then we have a few suggestions to make based on our prior testing and reviews.
The first packages we would recommend are the Trugolf packages. Trugolf offers some excellent golf simulator packages for much less money than HD Golf's. We are not comparing the two companies, but Trugolf is a trustworthy manufacturer providing excellent packages with outstanding performance and visual quality (with big screens and a large playing area). We do have a full article reviewing Trugolf's sims.
We especially recommend Trugolf's latest and greatest: the Vista 12 golf simulator package or the Trugolf Vista 10 package. These are two amazing systems with huge golf course libraries that offer two variants (the base and Pro models). The Pro models will cost anywhere between 24,000 and 30,000 dollars. That's a huge price difference between the Trugolf simulators and HD Golf. If you have an even lower budget, you can opt for the Trugolf Vista 10 or Vista 8.
Second on our list of alternatives are a few golf simulators built around Shop Indoor Golf's excellent SIG12 enclosure. We simply love the size and components of this enclosure. Here are our top picks of products by renowned brands using the SIG12 enclosure:
Please bear in mind that the above list does not provide any particular order. All the products above sport the same popular SIG12 enclosure and offer excellent software and hardware quality (by different companies). The prices of the units range between 12,000 and 35,000 dollars (with all the bells and whistles included).
HD Golf Support and Warranty
This is another excellent service provided by the HD Golf company. A group of professional technicians will always assist you anytime you need them from the moment you buy the simulator onward. They will always be there for you!
First, the purchased package arrives with a team of technicians to install everything and help you get used to the simulator interface and settings. After that, the company provides excellent 24/7 customer support to provide assistance and ensure that every single customer is happy.
HD Golf even offers a unique service called "Remote Diagnostics". The idea is that whenever you encounter an issue with your package, one simple call will be enough for your simulator to be remotely connected to and diagnosed by HD Golf's technicians and engineers to ensure things are back in order as soon as possible.
What's more, HD Golf provides a two-year warranty plan that covers all the components of your package. It is also possible to purchase an extended warranty/support plan to protect your precious investment for longer at minimal ongoing costs.
The guys at shopindoorgolf.com also provide excellent support service. They have customer support teams to ensure customer satisfaction at all times by providing any warranty information you may need upon contact. They also guarantee that your orders are shipped and delivered as fast as possible and that your products are safe from any damage or loss during shipping, as they have security standards that exceed the official U.S. requirements.
Moreover, shopindoorgolf.com will make sure your purchased product will serve you for years to come. If you need any replacement parts, even for out-of-warranty packages that you bought years before, all you need to do is contact their customer support, and they will make sure that your replacement parts are delivered to you as soon as possible.
In short, the combination of customer support services at HD Golf and shopindoorgolf.com will help you confidently buy the simulator package and keep it running for a long time without any fears of not finding replacement parts. You will be sure to get plenty of fun out of your precious investment.
Final Verdict
Overall, the HD Golf simulator is a great product from a company that has taken the world of virtual golf by storm. The company has dominated the market of premium simulators thanks to the new ideas and features it added to its products. From the looks of it, they are planning to stay ahead of the competition for years to come.
The HD Golf simulator is undoubtedly one of the best golf simulators out there, and it is hard to imagine how anyone could ever improve upon what they've done so far.
Finally, we believe that the HD Golf simulator is definitely worth every penny spent to buy it. If you can afford to get one, you won't regret it.
If you need advice or assistance, please feel free to contact us via e-mail or through our comments section below.
WRITTEN BY

My name is Jacob, a self-diagnosed equipment and golf enthusiast. I've been golfing since I was 15. Golf has always been my passion. I'm a bit of a golf equipment nerd and I've been that way since the moment I picked up a club for the first time. As someone who's been on both sides of the game, I know what it takes to be a good golfer. Of course, you need good equipment, but you also need to know how to use it. I hope sharing my experience with you will help you improve your game.
You May Also Like