8 Best Golf Simulators Under $7,000 – Reviews & Buying Guide
Last updated:
October 3, 2023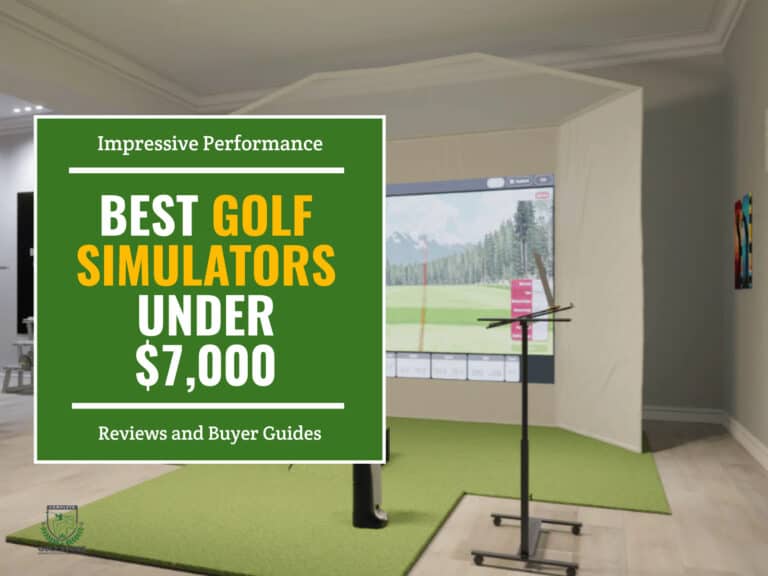 Disclaimer: We may earn a small commission from some of the links on our website. However, our reviews and comparisons remain fair and unbiased. Our goal is to help you make the best choice. For more information, please see our
disclosure statement
. Thank you for your support.
Key Takeaways
Our top pick for the best golf simulators under $7,000 is the Uneekor EYE MINI Retractable Golf Simulator Package. This portable simulator combines high-speed cameras and infrared sensors for precise club and ball data, making it suitable for both indoor and outdoor use. It offers compatibility with popular third-party golf simulation software, giving you access to a wide range of golf courses for an immersive experience below the specified budget.
The perfect dream - endless golf, whenever you want, without worrying about weather or daylight. But building your own personal golf simulator carries an intimidating price tag, often costing upwards of $10,000.
While top-tier setups provide an incredible experience, most golfers simply can't justify the enormous investment. The good news is that advancements in technology have made high-quality simulators much more accessible.
For golfers with a budget of $7,000 or less, it's now possible to bring the thrill of golf indoors. In this guide, we'll explore the best golf simulator packages that deliver impressive performance without breaking the bank.
If you want to improve your game anytime with a simulator under this specific budget, read on to learn which options offer the best value and performance.
No time to read the whole article? No worries. We've done the work for you and compiled a list of the top performers.
| Product | Features | Our Rating | |
| --- | --- | --- | --- |
The Best Golf Simulators Under 7,000
Let's go through our best packages you can buy for $7,000 or less; they were tested and reviewed by our team of passionate golfers. We have full systems with projectors and screens as well as training packages that include a hitting net and can be used for practice purposes.
The following are our top selections based on our own testing, research, and experience:
Uneekor EYE MINI Retractable Golf Simulator Package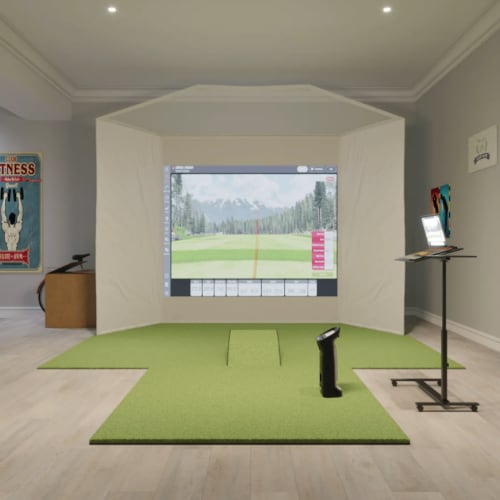 Our top pick for the best golf simulators under $7,000 is Uneekor's EYE MINI Retractable. If you're serious about improving your game or simply enjoying the sport from the comfort of your home, the Uneekor EYE MINI Retractable Golf Simulator Package is a remarkable choice.
Uneekor has taken its renowned technology and made it portable with the EYE MINI. This simulator combines the EYE MINI launch monitor with the HomeCourse Retractable Simulator Enclosure system, hitting mats, a projector, and more. What sets the EYE MINI apart is its Optix technology, which uses high-speed cameras and infrared sensors to deliver incredibly precise club and ball data after every shot.
One standout feature is its portability. Unlike traditional ceiling-mounted systems that Uneekor has been known for, the EYE MINI can be placed on the golf mat or grass, facing you, whether you're practicing indoors or outdoors. This flexibility caters to golfers who want to refine their skills at home or take their launch monitor to the driving range or course.
The package also includes Uneekor's View Software, compatible with PCs and iOS devices, giving you the freedom to choose your preferred platform. Furthermore, it seamlessly integrates with popular 3rd party software options such as TGC 2019 and E6 Connect, offering an extensive library of golf courses for an immersive experience.
The best feature of this system is its retractability, which allows you to deploy the screen to play and then retract it to use the space for other purposes. That's a nice feature to have, especially for those having space issues.
Pros
Portable design for both indoor and outdoor use.
Very accurate Optix technology.
Compatible with 3rd party golf simulation software.
Retractable screen for space-saving convenience.
High-quality SwingTurf Golf Mat included.
Cons
Additional cost for 3rd party software subscriptions.
The Uneekor EYE MINI Retractable Simulator Package is a standout choice among the best sims under $7,000. Its portability, accuracy, and compatibility with third-party software make it an excellent investment for avid golfers seeking a versatile and immersive practice experience. Whether you're fine-tuning your swing indoors or enjoying a day on the green, the EYE MINI has you covered.
Bushnell Launch Pro Bronze Golf Simulator Package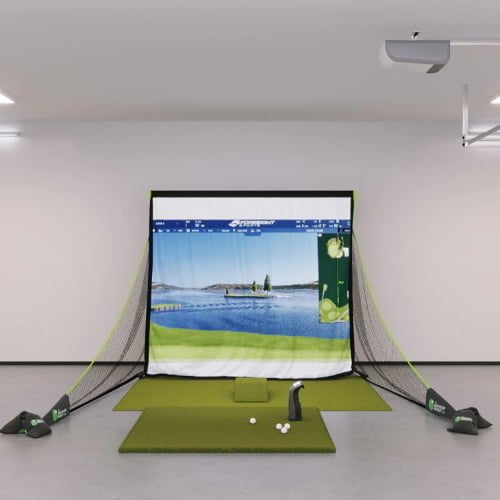 Next on our radar is the Bushnell Launch Pro Bronze Golf Simulator Package. With a mid-range premium price tag of a tad below $7,000, this system offers strong value considering its accuracy and realism. You'll appreciate the high-speed photometric/ infrared launch monitor that measures 12 critical data parameters. Combining this advanced tech with a quality hitting mat, screen, and software creates a golf simulation that mimics playing on an actual course.
The unmatched accuracy of the Bushnell Launch Pro is a solid feature. By utilizing a triple camera system enhanced with infrared tracking, it precisely tracks club head speed, ball speed, smash factor, launch angle, backspin, side spin, face angle, etc. This comprehensive data analysis helps you understand your swing mechanics, experiment with equipment, and gain insights not provided at the driving range.
Additional components include a large 5' x 5' hitting mat, providing plenty of space to take full swings. The mat has a realistic fairway feel. Also, the included side barriers prevent stray shots from damaging your surroundings. The bright projector and large impact screen combine for easy viewing and immersive visuals. With a 1 year of Foresight Sports' FSX software basic included (costing $249 annually after the first year), you can hone your game through drills, challenges, and famous course simulations. You can also take a break from practice with fun mini-golf and target games.
Pros
Tour-level accuracy with the Launch Pro - the FS GC3 on a budget
Measures 12 critical data parameters
Protective side barriers provide extra safety
Bright full HD ST projector included
Immersive and realistic course visuals
Practice drills and challenges
Use the full setup indoors, or take the net and launch monitor outside for practice
Cons
Non-retractable screen
Simulation software somewhat limited
With professional-level accuracy rivaling commercial launch monitors, the Bushnell Launch Pro enhances your practice and helps sharpen your skills for the course. It's an excellent addition for serious golfers seeking a convenient home simulator with tour-quality feedback without spending a five-figure price.
SkyTrak Plus Retractable Screen Package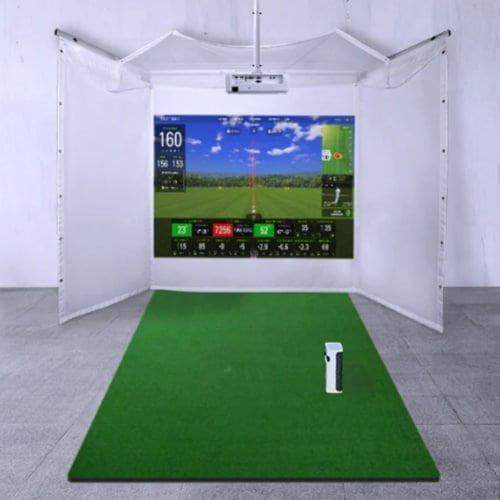 Another great option in our list of the best golf simulators under 7,000 is the SkyTrak Plus Retractable Screen Package. This innovative system combines high-precision ball tracking with a retractable projection screen to deliver a realistic simulation experience right in your home.
Diving into the details, the SkyTrak launch monitor accurately measures shot data including ball speed, launch angle, side spin, and carry distance. It can even factor in environmental elements like temperature, humidity, and wind.
The included retractable screen creates an immersive visual backdrop powered by simulations from World Golf Tour (WGT) software. With photorealistic courses and the ability to play legendary holes from around the world, it's as close as you can get to playing on an actual course without leaving home.
You can also upgrade to the most popular 3rd party software like E6 Connect, TGC 2019, Creative Golf 3D, Fitness Golf, Golfissimo, etc. if you prefer one of them.
The new Skytrak + offers enhanced accuracy over its predecessor, and the combination of photometric tracking with a dual Doppler system to track both ball and club data (with the original Skytrak being limited to ball tracking only).
The retractable screen retracts in seconds with the push of a button on the included remote to allow for using the space for any other purposes. The motors are battery-operated and can work on a single charge for a very long time without recharging.
Pros
Accurate and Reliable Metrics
Retractable Screen Saves Space
Access to Famous Courses
Photometric and radar technologies combined
Easy Setup
Cons
The Skytrack Plus Retractable package is reasonably priced given its dual tracking and simulation capabilities. While not cheap, it delivers professional-grade performance and entertainment at a fraction of the cost of high-end systems.
For golfers seeking highly accurate analytics combined with virtually simulated rounds on famous courses, the SkyTrak Plus Retractable Screen Package is a solid investment.
Please note that this package's price doesn't include a projector, but you can include one of the two suggested 1080P and 4K projectors before finalizing your purchase. Keep in mind that the 1080P projector will still keep us within budget, but the 4K version will slightly exceed it.
SkyTrak Simulator Series Premium Golf Simulator Package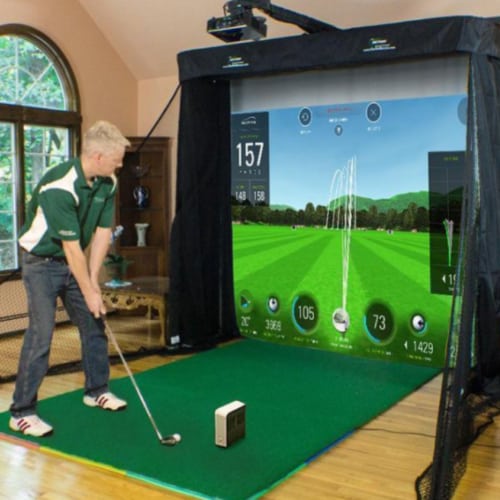 Continuing with our handpicked selections is the SkyTrak Premium Golf Simulator Package by Top Shelf Golf. The original Skytrak is still very relevant today, even after the release of its successor- Skytrak Plus, which brought many improvements. With a price tag of around $6,400 (including the projector), this package is reasonably priced for its features and provides an immersive simulation experience for golfers looking to practice and play at home.
You get SkyTrak's excellent launch monitor technology paired with the Net Return's durable impact screen, net and high-quality turf mat. The full HD projector is easy to mount and provides a crisp, lag-free image. It easily attaches to the arm attached to the screen and provides a cleaner setup without the hassle of attaching the projector to the ceiling.
Out of the bow, you get Skytrak's basic Driving Range software and a 30-day free trial of the Game Improvement Software, which allows for (optional) integration of 3rd party software. So keep that in mind if you're planning a software upgrade (remember that an upgrade can be included in the budget without exceeding the limit).
Pros
Accurate shot data and instant feedback
Large impact screen with protective frame
Great value for money
Bright projector with mounting arm
Cons
Requires annual software subscription
This ready-to-go package combines trusted SkyTrak performance with premium simulation components. With reliable data capture and an expansive hitting area, it enables skills practice and simulated play.
While some may prefer building a system, this plug-and-play bundle simplifies setup. For golfers wanting quality simulation without hassle, the SkyTrak Series Package warrants consideration.
Garmin Approach R10 SIG10 Golf Simulator Package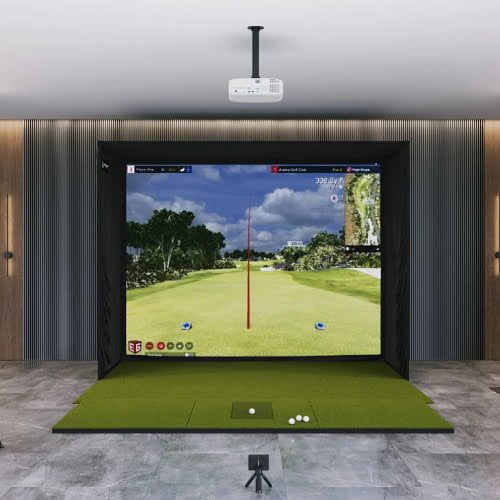 Next on our list is the Garmin Approach R10 SIG10 Simulator Package from Indoor Golf Shop. With its combination of performance, versatility, and value, this is an excellent option for anyone looking to bring the driving range or course into their home for uninterrupted practice all year round.
The star of the show here is Garmin's Approach R10 mobile launch monitor. Using radar technology, it accurately tracks and analyzes 14 different data points including ball speed, launch angle, backspin, and sidespin. The portability and ease of use set it apart from traditional in-studio options. You simply place it behind the hitting area, pair it with your mobile device, and you're ready to practice or play virtual rounds. The data clarity and responsiveness rival more expensive options, making it a great buy.
Complementing the R10 is Indoor Golf Shop's SIG10 hitting enclosure. The durable HD print graphics transform any space into a lush golf environment. The impact screen offers excellent ball feedback. Adding a larger hitting mat or even the SIG10 sim flooring will make the area much more aesthetically pleasing.
Together, these components create an immersive simulator experience. The included hitting mat simulates actual turf interaction. Protective side walls surround the hitting screen to increase safety and improve image quality at the same time. The included projector and impact screen display your shot tracing and simulated courses in crisp quality.
Pros
Accurate Launch Monitor with 14 Data Points
Portable & Easy to Set Up
Realistic Course Simulation
Durable and Visually Appealing Enclosure
Comes with Hitting Mat, Protective Screen, Projector
Great Value for the Performance
Cons
Graphics Less Realistic Than Some High-End Options
The R10 doesn't track putting
With its clever design and versatility, the Garmin R10 SIG10 Package punches above its weight. At a price tag of around $6,500, it offers affordability for a comprehensive simulator setup. The accuracy and responsiveness effectively simulate real golf shots.
You get the accuracy needed for meaningful practice and the entertainment options to keep things fun. The included mat, enclosure, projector and other components create a complete indoor golf oasis. For enhancing your game at home, it's easy to see why the Garmin Approach R10 SIG10 Package stands out as one of the best simulators available.
Mevo Plus Golf Simulator Flex Space Package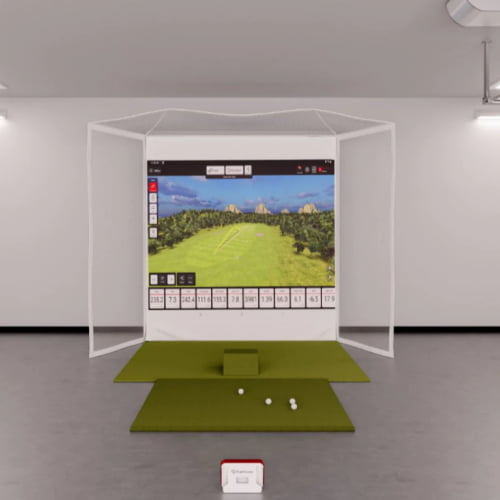 Another great option is the Mevo Plus Simulator Flex Space Package. This award-winning Doppler radar-based package transforms your room with the push of a button. With its versatile design, the Mevo Plus earned Golf Digest's Editors' Choice distinction for its unmatched combination of accuracy, portability and value.
The Mevo Plus measures over 20 critical data parameters including club speed, ball speed, smash factor, launch angle, spin rate, carry distance, total distance, etc. It delivers realistic feedback for comprehensive practice and analysis. The retractable simulator screen creates an immersive experience, taking your game to the course anytime.
The package includes the 2023 Edition Mevo Plus, SIGPRO Turf Golf Mat, short throw projector, and E6 golf simulator software with 10 courses. With the mat and tee holder, you can practice full swings with real golf balls indoors. The short throw projector eliminates shadows and reduces glare for ideal visibility.
With this package, you get unmatched versatility to transform any room into a realistic golf experience. The Mevo Plus accurately tracks all your shots with Doppler radar while the simulator software immerses you on famed courses. For the features and performance, this package delivers solid value.
Pros
Portable and space-saving
Accurate Doppler-radar tracking
Realistic ball flight and data
Retractable simulator screen
Quality turf mat with tee holder included
Remote and battery-operated screen for easy deploying and retraction
Cons
The add-ons are interesting, but they add a lot to the initial investment
The FlightScope Mevo Plus Flex Space Package is a top-notch selection in its price range. The combination of accurate sensor technology, immersive software and quality hitting mat creates a hyper-realistic golf simulator. With the ability to convert any indoor space into a golf environment at the push of a button, this package facilitates practice, entertainment and analysis for golfers year-round.
Full Swing KIT Training Golf Simulator Package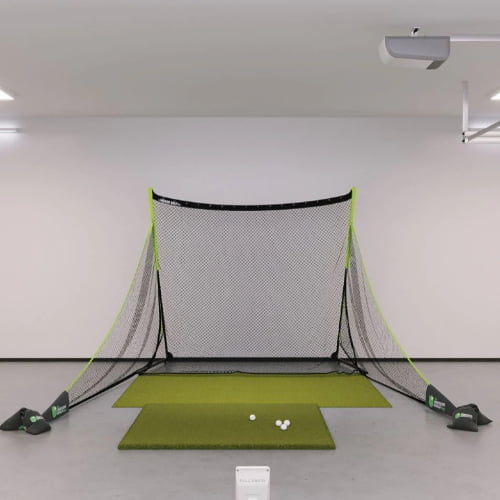 Continuing with our handpicked selections is the Full Swing KIT Training Golf Simulator Package. As an expert golfer and avid simulator user, this option instantly caught my attention for its unmatched combination of high-tech features, realism, and reasonable pricing.
With a launch monitor that precisely tracks 16 data points for each shot, the Full Swing KIT mimics an on-course experience. The radar technology pinpoints carry distance, launch angle, spin rates, and other metrics to help refine your mechanics.
Paired with a generous 5' x 5' golf mat, you can really work on compressing irons and sticking wedges. Side barrier netting contains wayward slices while the included hitting pad saves your flooring.
With a price tag of almost $6,900, this package is reasonably priced for its features. The KIT launch monitor positions itself nicely between lower-end recreational models and premium professional setups. While not packing the most immersive graphics or expansive course selection, it certainly satisfies golfers wanting unrivaled accuracy and responsiveness at a fraction of the cost. The value aligns perfectly for serious players on a budget or small multi-user facilities.
Pros
Highly accurate radar launch monitor
Robust analytics and instant video replay
Upgradable 5' x 5' golf mat with tee holder included
Data processing is lightning-fast
The Kit launch monitor was endorsed by Tiger Woods
Cons
Nothing we could think of
As you analyze shot data and refine your swing, the Full Swing KIT simulator provides an addictive training experience. The combination of ultra-precise analytics and video replay will accelerate your improvement whether you're a scratch golfer or 20+ handicapper.
This package hits a sweet spot, offering elite technology without the exorbitant price tag. Bottom line, if your primary goal involves honing your skills through hard data and instant feedback, the Full Swing KIT simulator deserves a spot on your shortlist.
Swing Caddie SC4 Premium Golf Simulator Package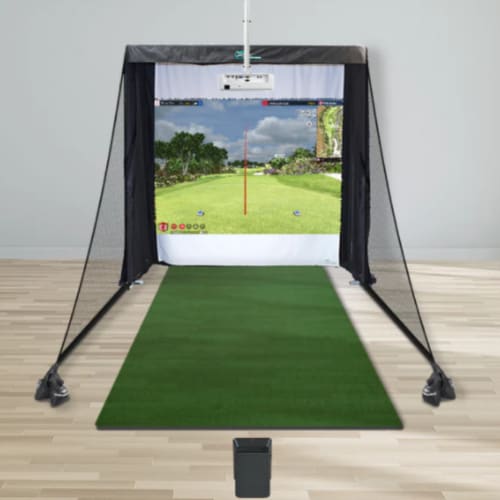 Next on our list of the best golf simulators under $7,000 is the Swing Caddie SC4 Premium Simulator Package, from the guys at Top Shelf Golf. This quality package stands out for its impressive features and simulation capabilities.
The Swing Caddie SC4 offers an immersive virtual golf experience right from home. With its Doppler radar system, it accurately tracks your club head speed, ball speed, launch angle, swing path, and more.
I especially liked the SC4's ability to simulate shots using real ball flight physics. It recreates the curves, fades, and draws of your shots with incredible precision. This led to very realistic practice and gameplay.
The included Net Return enclosure (with the screen and mat from the same brand) adds to the realism of the system, as it helps the projected image pop out with vibrant colors and details. You can include one of the two Optoma optional projectors to complete the system and enjoy full virtual rounds indoors. Don't worry, you will still be within budget even with the projector integration.
Pros
Accurate swing/ball tracking
Excellent simulation physics through E6 Connect
Realistic ball flight
Practice improvement tools
Easy setup
Cons
The SC4 Premium package delivers substantial value for avid golfers looking to elevate their skills. The quality and accuracy of this simulator rival models double its cost. It's an affordable way to bring a high-end golf experience into your home or garage.
The package comes equipped with everything needed for a complete simulator setup. This includes the launch monitor, impact screen enclosure, hitting mat, simulation software, and projector.
Buying Guide: What To Consider In Your $7,000 or Less Golf Simulator
To make sure you are making the right and best choice among the multitude of available options, it's important to keep a few factors in mind before you make your final decision on which package to choose.
Budget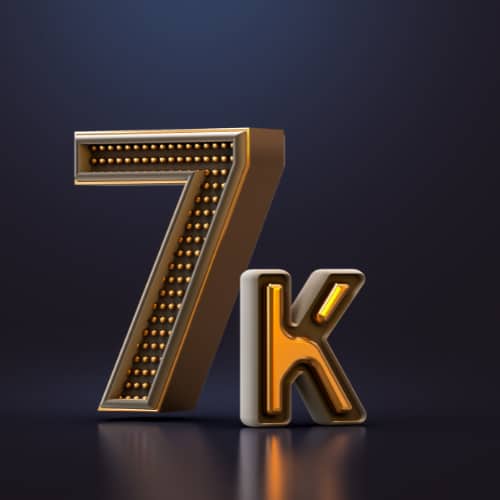 When shopping for a golf simulator package within a $7,000 budget, the first step is to determine your exact price range and financing options. While $7,000 presents a ceiling, you may want to aim for a package between $5,000 to $6,000 to maximize value. Carefully calculate what you can afford for the initial purchase, factoring in potential software upgrades, accessories, taxes, and shipping.
Explore financing if needed through major vendors like Rain or Shine Golf, Indoor Golf Shop and Top Shelf Golf which offer payment plans to make high-quality simulators more accessible.
Even adding $100-$200 above your max budget can get you a superior launch monitor or hitting mat, so stretch the budget if reasonable. Understand that at this price point, you probably won't get a tour-level simulator, but solid performance and entertainment are achievable.
Screen, Net or None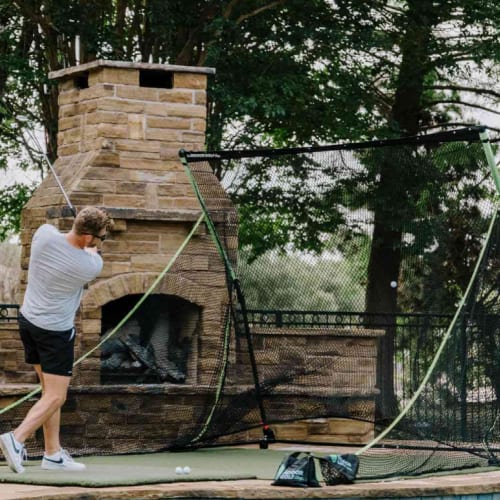 The second decision is whether you want a basic hitting net and mat for practice, a full enclosure with a screen for immersion, or no equipment at all. Basic net systems like the Full Swing Kit Training Package (reviewed here) are great for data-driven improvement. They provide robust analytics through the launch monitor and feedback via a mobile app or computer.
For authentic simulation, packages like the Uneekor EYE MINI Retractable include a screen and projector to display photorealistic courses. This complete setup brings the virtual course experience home.
Alternatively, infrared systems like the OptiShot 2 (optionally) don't require any equipment and use sensors to track your club. This offers a cost-effective way to get started with simulation gaming for entertainment.
Choose based on your goals, from casual play to hardcore practice. Still, with our budget, you can get a truly immersive experience with good graphics and great accuracy to improve your game.
Tracking System
Selecting the right ball-tracking technology is crucial for accuracy and realism. Photometric systems from SkyTrak, Foresight and Uneekor use high-speed cameras to precisely track ball and club metrics. They excel indoors and outdoors.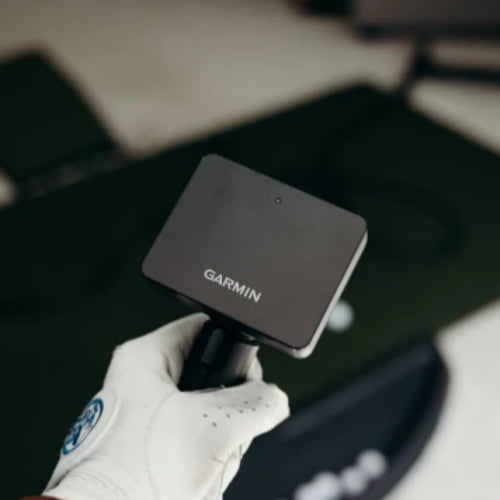 Radar systems like Garmin Approach R10, Flightscope's X3 and Mevo Plus and Full Swing's Kit use radio waves for tracking. They can lose some performance indoors but provide excellent data. Doppler radar technology measures both club and ball data for comprehensive analysis.
The cheapest and oldest tracking technology is Infrared, used in the Optishot 2. It is the cheapest technology, but is also less accurate and can't be used outdoors.
Each technology has pros and cons, so choose what aligns with your environment and needs.
Size
The size of the simulator is one of the most important factors to consider before making a purchase. A simulator that is too small will limit your ability to make a full swing and reduce the accuracy of shot-tracking sensors. For most golfers, a minimum area of 10 feet wide by 12 feet deep is recommended to allow enough room for a full backswing and follow-through. Trying to swing in a cramped space increases the chances of you hitting the enclosure.
Measure the dimensions of the room you intend to set up your simulator in, and compare them with the system requirements of your chosen package; these are usually specified by the manufacturer.
Portability
Portability might be a concern if you need to set up and take down your simulator regularly. Launch monitors like SkyTrak and Mevo+ are lightweight, making them easy to transport. Collapsible screens and hitting nets provide quick installation and breakdown.
If portability is a major factor, avoid permanently mounted screens or heavy commercial enclosures. Prioritize components that are compact and simple to assemble.
Software
The included software determines the realism of your simulation.
Entry-level packages include basic range software and limited analytics. For realistic course play, upgrade to programs like E6 Connect, GSPro, and The Golf Club 2019.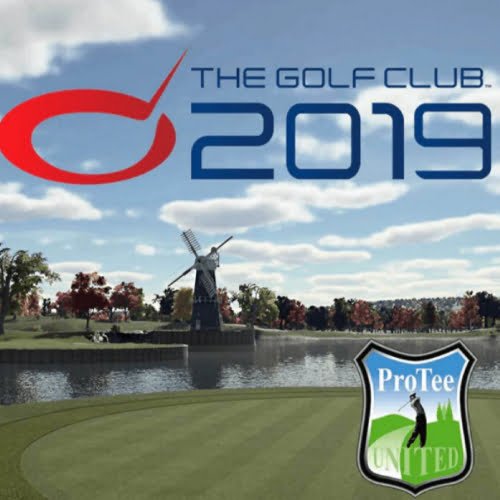 Top packages integrate with leading sim software for the most authentic experience. Check software compatibility before purchase and factor in upgrade costs to maximize features.
The software should match your goals, from entertainment to hardcore practice. Don't underestimate its importance.
Final Thoughts
With such a wide range of simulator options at this price point, making the right choice requires serious consideration. By taking the time to analyze your priorities and needs, however, you can find a package that checks all the boxes without breaking your $7,000 budget.
The solutions we covered provide strong value across different categories - from portable nets for basic practice to software-enhanced setups that simulate full courses.
With the right guidance, staying within budget is very achievable. We hope this piece provided the insights you need to find your ideal simulator package.
Have you invested in any of the simulators we discussed? Which factors were most important in your decision-making process? Please share your experiences and advice to help others navigate this exciting market.
Thank you for reading!
WRITTEN BY

My name is Jacob, a self-diagnosed equipment and golf enthusiast. I've been golfing since I was 15. Golf has always been my passion. I'm a bit of a golf equipment nerd and I've been that way since the moment I picked up a club for the first time. As someone who's been on both sides of the game, I know what it takes to be a good golfer. Of course, you need good equipment, but you also need to know how to use it. I hope sharing my experience with you will help you improve your game.
You May Also Like