The 10 Best Golf Simulators for Under $5000
Last updated:
October 21, 2023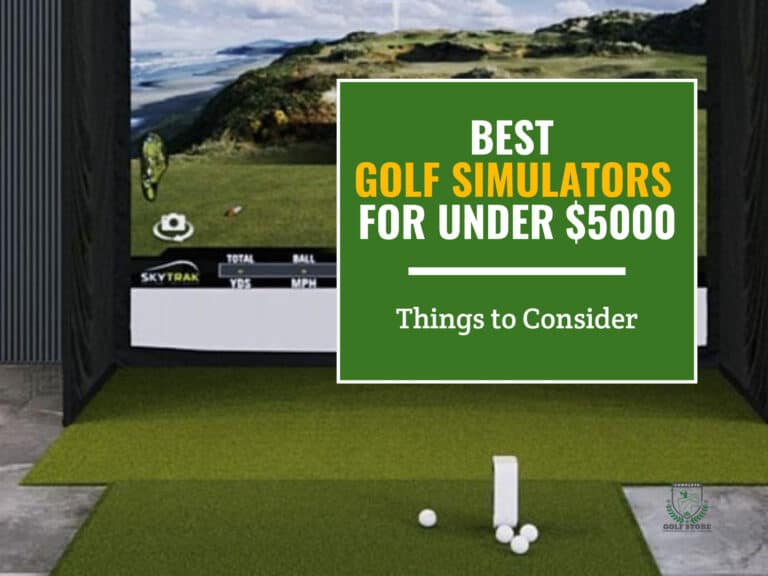 Disclaimer: We may earn a small commission from some of the links on our website. However, our reviews and comparisons remain fair and unbiased. Our goal is to help you make the best choice. For more information, please see our
disclosure statement
. Thank you for your support.
Key Takeaways
Our top pick for the Best Golf Simulator for Under $5000 is the FlightScope Mevo Plus Bronze Package. This package includes everything you need to play virtual golf without exceeding your budget, including a screen, projector, hitting mat, and the Mevo Plus launch monitor, which tracks both your club and ball with pinpoint accuracy. The Mevo+ is also portable and can hold a charge for up to four hours.
How much is the average golfer willing to invest in a full golf simulator? Is it necessary to spend five figures to get a decent virtual golf experience? Based on my own experience, the answer is a big NO! You can do it with much less than that.
Today, many options in the low-mid range category cost much less and don't sacrifice too much in terms of accuracy and performance.
In this article, our main focus will be on the 8 best golf simulators under 5000 dollars. These can't be compared to the high-end and premium systems, but they still offer great value and practice and improvement opportunities for those not willing to break the bank for a virtual golf system.
Let's get started!
No time to read the whole article? No worries. We've done the work for you and compiled a list of the top performers.
| Product | Features | Our Rating | |
| --- | --- | --- | --- |
The 8 Best Golf Simulator Packages For 5000 Dollars Or Less - Detailed Reviews
For a golf simulator, 5000 dollars is a tight budget that may not be enough for you to get every single feature you want, but some packages will come really close to it. We provided the best systems that we had personally tested, and these include some complete packages that come with everything you need as well as other 'partial' systems that will provide you with enough features to practice and improve your game.
The first package is our favorite, but the rest of the list are still decent contendents that will offer a good golf simulation experience and a great value for the money.
The following are our top selections based on our own testing, research, and experience:
FlightScope Mevo Plus Bronze Package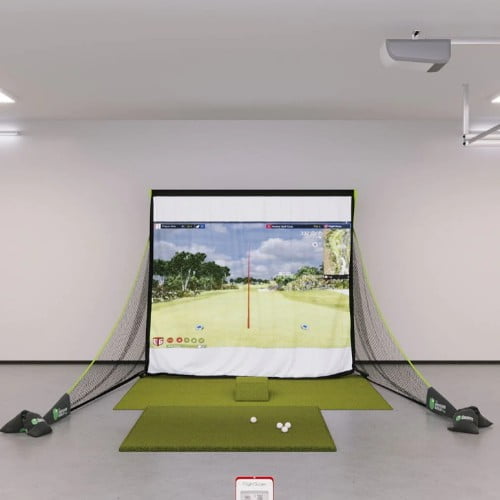 This package, from our friends at Shop Indoor Golf, includes everything you need to play virtual golf without exceeding your budget. That is, you get a screen, projector, hitting mat, and the Mevo Plus launch monitor, which is Flightscope's radar-based competitor of the Skytrak that tracks both your club and ball with pinpoint accuracy.
Note: The price of this product has recently changed! This may be due to inflation and the inclusion of the 2023 version of the Mevo+. The system is still worth considering, but we believe this is something you should have in mind in case you choose this specific package.
The Mevo+ monitor can use your smart device's camera to record videos of your shots and provide replays with data overlay. After that, you can save, upload and share your data and practice sessions for comparison and future reference. It is also a portable unit that can hold a charge for up to four hours.
The unit comes with five simulated courses on the E6 Connect Software, 17 practice ranges, and can track 15 metrics of your shots related to spin (back spin, side spin, spin axis and spin loft), speed & distance (ball speed, clubhead speed, smash factor, carry distance, roll and total distance) and angles (vertical and horizontal launch angles, lateral landing and angle of descent). If you ever decide to upgrade to the Pro Package add-on in the future, you will get 11 more data points to help you improve faster.
The rest of the package includes the Net Return Home/Pro Series screens that return the ball to your feet after impact; these are very durable and are designed to withstand shots faster than 220 MPH. The included SIGPro Turf Golf Mat (6' Wide and 10' Long) helps the ball return by covering the whole area between the screen and the tee.
You also get a 1080P short-throw projector with at least 3,800 lumens to help colors and images pop out and be as bright and clear as possible. You even get a floor-mount enclosure to safeguard it.
What's included
Flightscope Mevo Plus Launch monitor, carrying pouch, charging cable, free app, 50 metallic stickers.
Basic E6 Connect subscription (1 year)
1080p HD ST Projector
Shield floor mount for the projector
Net Return Pro Series V2 Net, Frame, side barriers, & screen
15-foot HDMI cable with lightning to HDMI adapter
Pros
The package fits right into our dedicated budget
Everything included in this full golf setup
Great performance and accuracy
Plenty of data points provided
Cons
5 virtual courses may not be enough for some
The Flightscope Mevo Plus Bronze Package is our first pick because it manages to include all the necessary components for a full setup for under 5000 dollars. That in itself is an achievement.
There are a few upgrades available, but they all take the price beyond our budget. We still think that upgrading to the Pro version of the Net Return screen enclosure will be a good thing because it is a tad larger than the Home version. This will make the price 29 dollars over budget, but I think it's totally worth it.
SkyTrak Plus Practice Golf Simulator Package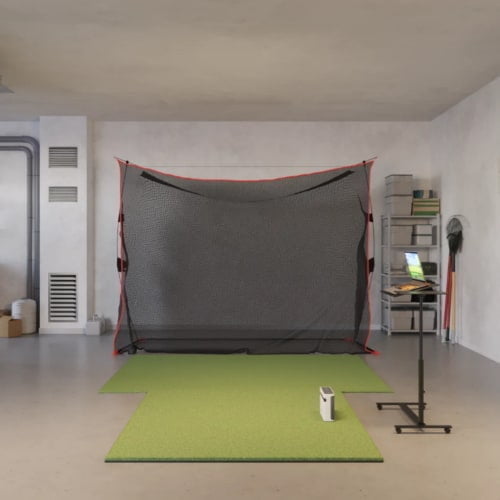 Bring your golf game home with the SkyTrak Plus Practice Package. This simulator setup pairs the advanced SkyTrak Plus launch monitor with your choice of durable hitting nets, realistic SwingTurf mat, and top simulation software for under $5000.
The highlight is the next-generation SkyTrak Plus, building on the original with boosted accuracy, club and ball data, faster processing, and no sticker or markers needed. Its dual Doppler radar precisely tracks all shot data, and the improved camera system and machine learning analyze your swing. You can trust the numbers to pinpoint areas needing improvement.
Rain or Shine Golf bundles the SkyTrak Plus with a sturdy net from GoSports or RS Tour and a SwingTurf mat mimicking real fairway feel. The included simulation software lets you practice on a virtual driving range; to play virtual rounds on famous courses, you will need to upgrade the software to the Play & Improve plan, which gives you access to 15 courses playable on IOS devices (through WGT) and another 15 E6 Connect courses to enjoy using a PC or IOS device.
Setting up the system is straightforward with clear instructions, and the components are robust enough for daily use. The system provides an unrivaled value for a launch monitor plus a simulator under $5000.
Pros
Cutting-edge SkyTrak Plus accuracy
Realistic SwingTurf mat
Top simulator software supported
Durable net options
Excellent for practice purposes
Cons
Additional simulation plans cost extra
The SkyTrak Plus Practice Package provides the essentials for honing your skills year-round. If looking to elevate your practice through launch monitor data and simulator play, both indoors and out, this setup delivers immense value without compromising performance.
Garmin Approach R10 Flex Space Package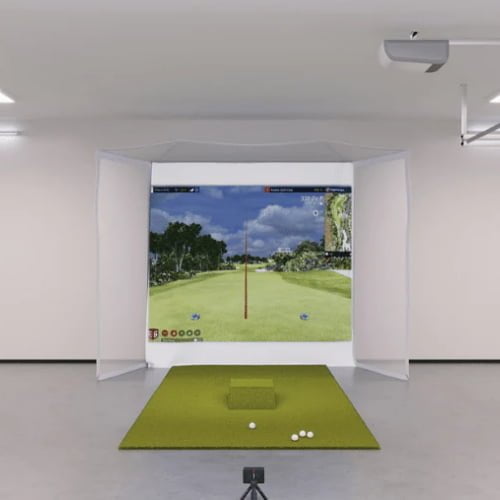 Next on our list is another budget-friendly package based on Garmin's excellent R10 launch monitor. This package, too, includes all the necessary components to enjoy virtual golf, so you can be confident that your purchase will be within the specified budget.
The R10 is a portable radar Doppler unit that tracks your golf club and ball and provides accurate readings of more than a dozen data points. The included battery can operate the unit for up to 10 hours, which is mind-blowing, considering how small this monitor is.
It also comes with a tripod stand and a phone mount so that you can use your smartphone's camera and GPS capabilities to record your game sessions and save them on the Garmin app. Even better, video recording is automatic; the videos are automatically recorded, clipped and saved without you doing anything, which allows you to fully focus on your game.
Software-wise, you get access to a limited version of the E6 Connect (5 playable courses) or 40,000+ courses with a subscription to the Garmin Golf App.
The 8'H x 10'6"W x 3'D HomeCourse Retractable Screen is made of sturdy materials to stop your fastest balls; it also retracts and deploys with the push of a single button on the included remote control, allowing you to use the space for any other purposes you want; it can be mounted to the ceiling or the walls.
The 6' W x 10' L SIGPro Turf Mat allows for uninterrupted ball return and can be rolled and stored when not playing thanks to its light weight of 50 pounds.
A recommended space of 15' L x 12' W x 8'6" H is needed to use this package comfortably (meaning you could do with less space if you are a shorter person).
What's included
Garmin Approach R10 Portable launch monitor, tripod stand, phone mount, USB cable, carry case, & Trial membership to the Garmin app.
HomeCourse Pro retractable screen, wireless remote, charging cables, & Easy Reach Pole
SIGPRO Turf mat
Full HD projector & floor mount enclosure
15' HDMI cable & lightning adapter
Pros
Retractable design, perfect for smaller spaces
Full package that fits right in the budget
Excellent accuracy and detection by a tiny unit
Excellent battery life, both for the launch monitor and retractable screen
Outstanding value for the money
Cons
The provided E6 Connect version of the software is IOS only
The Garmin Approach R10 Flex Space Package is a very good setup for those who have space restrictions or do not want to dedicate space to the setup. It is easy to install and operate thanks to the motor-powered screen and remote control.
The package fits right in our 5000-dollar budget, but if you want to get an even better value out of your investment, you can go for the Garmin Approach R10 Bronze Package and save around 1,000 dollars; we suggest investing it in a better simulation software plan with plenty of additional features and courses.
We will always recommend TGC2019, for which support has just been added lately to the R10; TGC2019 offers unbeatable value for the money with its huge library of courses and active community worldwide.
Skytrak Retractable Screen Package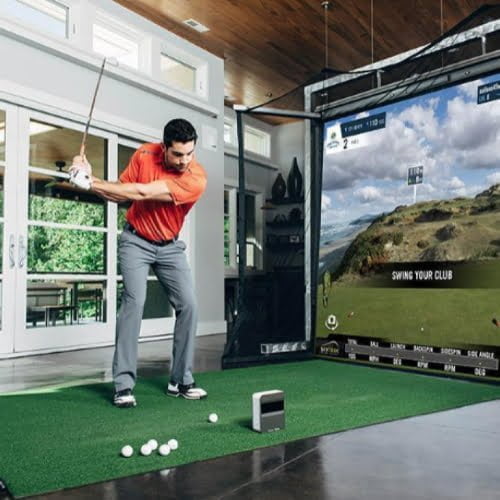 This is another retractable package, this time from the guys at Top Shelf Golf. It is based on one of the most popular launch monitors ever made: Skytrak.
The Skytrak monitor is a photometric device that uses a high-speed camera to track your ball and provide metrics with an outstanding level of accuracy that's usually found in the $10K+ category of launch monitors. Out of the box, you get the basic software plan that provides a virtual driving range to practice and get instant shot feedback.
The 2021 model of the Homecourse Pro 180 Retractable Screen has been improved to provide better performance. It is very flat to provide the best possible visuals and projected images and uses the Sky Netting and Pro Arms for extended durability. It also retracts in no time thanks to the rechargeable motor system and remote control.
Everything is combined with the 6' W x 10' L Net Return Pro Golf Turf, which is long enough for ball return and for putting practice; it is also made of materials that make it comfortable to use and provide a life-like feel for a more realistic experience.
As usual with Top Shelf Golf, you get a lot of upgrade options for your hardware and software components; sadly, however, we have our hands tied because the price of the package, as is, is almost at the limit of our budget.
The main hiccup here is that the price of this package doesn't include a projector, and if we decide to add it, we will go beyond budget. To make things work, you can either use a TV, smart device or computer as a display to see the simulation and metrics, or you can invest the remaining money in a cheap projector. Either way, you will get yourself a decent simulation experience with this package.
What's included
Skytrak portable launch monitor & basic driving range plan
HomeCourse Pro 180 Retractable Screen
Net Return Pro Turf
Pros
Portable launch monitor (up to 5 hours of battery life)
Pinpoint accuracy
Retractable design
Cons
No projector included out of the box
The Skytrak Retractable Screen Package is another excellent retractable setup that uses one of the most popular launch monitors out there coupled with a retractable screen; it helps remove everything out of the way if you intend to use the area for other purposes.
The only problem is that the package doesn't contain a projector. However, if you want to display the simulation on an Ipad or laptop, this won't be much of an issue for you. Also, if you intend to get a projector later on (or already own one), then this is a highly recommended budget system that will keep you busy for a long time to come.
OptiShot 2 Golf In A Box Pro Golf Simulator Package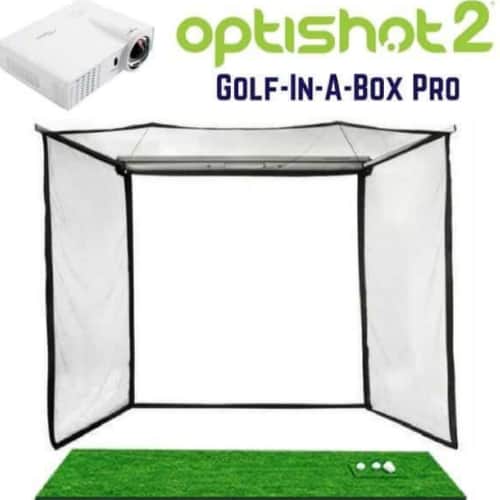 The Optishot 2 is an infrared system that uses two rows of infrared sensors to track your club and provide metrics that are decently accurate. These include club speed, face angle and club path, and they are detected as your club moves from the rear row of sensors to the front one.
The data is then transmitted to your PC to process it using the integrated simulation software and provide your simulated shot as output. The quality of the graphics is decent and the experience is enjoyable, as you'd expect from a value simulator.
You can practice using real balls, the included foam balls or even no balls at all because the unit tracks your club; however, we do recommend using balls for the practice sessions to make sense (Otherwise, it would be difficult to see what you're doing right or wrong).
The simulator comes with 15 courses playable for up to 4 players, with the possibility to purchase additional ones individually for 30 to 40 dollars each (which is good in my opinion).
Additionally, the package comes with the 4'x5' Optishot golf mat that integrates the sensor and the Homecourse Retractable screen enclosure, which is remotely operated and easy to deploy and retract to free up space when not in use. The components are very durable and easy to install thanks to the manufacturing materials.
The package comes with a 3000-lumen, HD ST projector to project your virtual game. It is a good projector that does its job really well; it also has an 18,000:1 contrast ratio to provide good quality and shadow-free images.
What's included
Optishot 2 Optical Swing Pad & downloadable software (& updates)
2 foam balls, adjustable rubber tees, 10 ft. USB cable
Optishot golf hitting mat
3000-lumen XGA ST projector
Projector ceiling mount
Retractable screen enclosure with wall mount
Pros
Retractable design to save space
Great value for the money
15 courses included out of the box
The purchasable courses fairly priced
Great portability and ease of setup
Cons
Even though the whole simulator is pretty accurate, short irons seem to be less accurate than other clubs
The Optishot 2 Golf In a Box Pro Package combines the Optishot 2 simulator with its legendary value and affordability with the HomeCourse Retractable screen enclosure. The end result is an affordable package that offers a lot of portability and fun for a relatively lower price tag.
The package slightly exceeds our set budget, probably due to inflation and the current world economic state, but the difference is negligible thanks to the great value this system offers.
Optishot 2 Golf In A Box 4
Next is another affordable package from Optishot, but instead of including 3rd party components, as is the case with the package above, you get an all-Optishot system with this one; in other words, all the software and hardware components are manufactured by the same company and nothing was altered.
You get the same Optical swing pad with its dual Infrared sensor rows as well as the included 15 courses and the ability to buy additional ones. The Optishot 2 packages are all designed for indoor use only since sun rays affect the performance of the infrared detection system if used outdoors.
You also get the same exact accessories as the previous system (USB cable, rubber tees, foam balls, etc.) with two main exceptions: You get the original hitting mat and screen enclosure that measures 9'4" x 12'3" x 5' and a simulator short-throw projector. You get everything you need to play golf indoors without the need to add anything. No fiddling around is required!
Graphically speaking, the Optishot 2 simulation software is by no means the best out there, but it is very light on the computer hardware and doesn't require a monster PC or laptop to run perfectly. This means you can save money by using a PC or laptop that you already own without a single issue.
What's included
Optishot 2 optical swing pad, USB cable, rubber tees, 2 foam balls,
Simulation software (to be downloaded)
Golf mat & screen enclosure
Short-throw HD projector
Pros
Great value for the money (as usual with Optishot 2 packages)
Fits in our budget with nothing else required
Simulation software will run perfectly on most Computers - No need to get a powerful one
Very easy to set up
Generous course library out of the box
Cons
Like other Optishot packages, accuracy with short irons needs to be improved.
This is another very affordable package from Optishot that comes with all the necessary components needed to indulge in virtual golf. It is one of the best options in terms of price/performance ratio. We recommend this one for golfers wishing to get a package and enjoy it without headaches or fiddling.
FlightScope Mevo + Practice Golf Simulator Package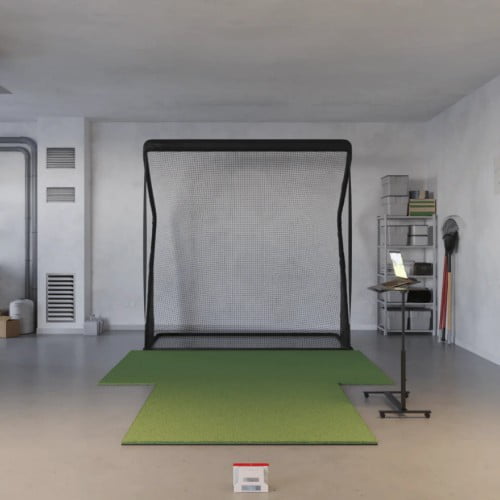 The Mevo Plus Practice Package is a training system that doesn't include a projector or screen, but it is a basic one with the Mevo + golf launch monitor to track your ball and club and a basic version of the E6 Connect software with 5 playable courses and a driving range for practice purposes. The result is that the system is extremely lightweight and portable; it can also be used indoors or out with very little hassle.
The Mevo Plus can hold a charge for up to three hours, with the possibility to charge other devices. The 2023 edition of the Mevo Plus brings improvements to the battery life, includes a new kickstand that tilts 12 degrees and offers access to the new FS Golf PC simulation software.
The included Gosports Return golf Net allows the ball to be automatically returned to the player's feet, and the included hitting mat - the Swingturf - provides an excellent feel and comfort, making it perfect for those who suffer from joint pains. It is available in different sizes, but upgrading any components will mean exceeding our budget, so we suggest keeping the items already included.
If you want to save some money, you can choose the Rukket Sports Premium Golf Net, which still offers a great deal of durability.
The good news is that, at this price (5,000 dollars), the setup includes an iPad Pro and stand that you can use to run the simulation software and get readings of your shots.
If you already own an iPad or laptop to run your software, you can save up a big chunk of money by getting the E6 software only. If you wish, you can invest the money you save in a larger golf mat or a budget screen/projector combo. We do believe, however, that this package is very well balanced as is, and it is perfect for hitting into a net both indoors and outdoors.
What's included
Flightscope Mevo Plus launch monitor, carry bag & accessories
Choice of simulation software - E6 Connect or TGC2019
Optionally choose a gaming laptop or iPad Pro (We suggest going with the iPad Pro)
Wi-Fi extender
5'x8' Landing Pad Turf
Ball Tray
25' HDMI cable
Optional accessories (in case you get the gaming laptop or iPad Pro)
Pros
Pinpoint accuracy
Very portable golf system
Works perfectly inside and out
Includes an iPad Pro while staying within budget
Cons
It is a Radar system that needs a minimum of 17 feet of room depth
The Mevo + Practice Package is our favorite if you want a net system and don't need to have the simulation to be projected onto a big screen. It will provide an excellent practice opportunity for those who want to improve their game. There are many upgrade options to this setup components, but we highly recommend getting it as is because it costs exactly 5,000 dollars.
Your simulator room must be at least 9' High x 11' Wide x 17' Long to house the system.
Skytrak Golf Simulator Training Package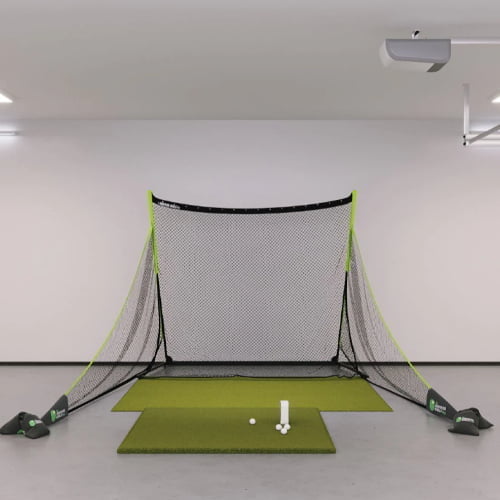 The Skytrak Training Package is a great alternative to the Mevo + reviewed above, but it uses a different tracking technology. The Skytrak monitor is one of the best-value photometric units available on the market. It comes with a protective case to keep it safe from accidents and includes the Play & Improve plan that provides many additional features, challenges and game modes compared to the basic plan.
You get to play 12 world-famous courses, but you need to bear in mind that WGT is only playable on IOS and in single-player mode. It also includes a 3D driving range with ball tracer technology and provides accurate data and shot replay with data overlay.
The system includes the SIGPro golf net and side barriers (8'6"L x 7'H x 9' D), which uses a snap-button frame system to make assembly a breeze.
The SIGPRO Turf Mat is 10 feet long and 6 feet wide to ensure continuous ball return. It is 3/4" thick with a 5mm foam backing that makes it very comfortable to play on and easy to roll and store. It is also lightweight to help carry it and keep it somewhere safe when not in use.
A 10' Width x 14' Length x 8'6" Height is the recommended space to use this package indoors. You can do with a bit less space if you are a shorter player, but if you are taller, make sure you can swing your clubs comfortably before buying and installing this package.
What's included
Skytrak portable launch monitor, Metallic protective case, Play & Improve software, & Micro USB charging cable
Choice of hitting mat
SIGPro net+ side barriers
SIGPro Turf Mat
Pros
Excellent price point and great value
Amazing accuracy
Play & Improve Plan included in the price
Easy to set up and transport
Usable indoors and outside
Decent monitor battery life
Cons
This photometric system only tracks your golf balls
The Skytrak Training Package is great for indoor/outdoor use thanks to its lightweight components and portable launch monitor. You will need an iPad or a gaming laptop to run the software, but an iPad is recommended if you want to take full advantage of your simulator capabilities because the WGT simulator software is only compatible with IOS (and you're paying for it anyway).
Luckily, the price of this package leaves enough room for you to go any way you want: iPad, laptop or even invest in a simulator screen & projector combo to turn it into a complete setup.
Rapsodo MLM2PRO Practice Package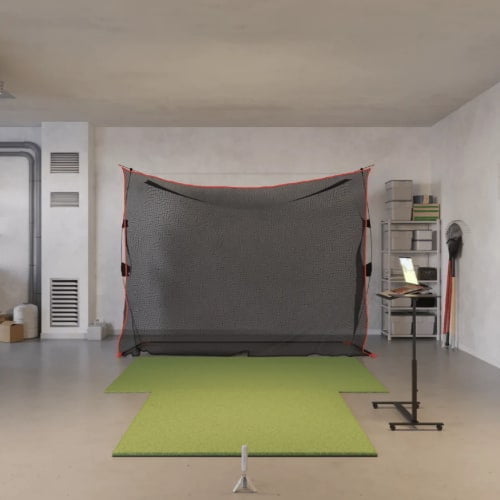 The Rapsodo MLM2PRO Practice Package delivers professional-grade launch monitor analysis and feedback at a price under $2000, making it an appealing option for golfers seeking to improve their game through technology. With the compact yet powerful MLM2PRO launch monitor at its core, the package provides robust swing and ball flight data to help diagnose your weaknesses and track improvement over time.
The accompanying mobile app seamlessly integrates with the launch monitor, unleashing a suite of analysis tools covering everything from club speed and angle of attack to shot dispersion patterns. You can even compare your performance across clubs to optimize your gapping. For the price, the depth of insights is remarkable.
To complement the high-tech monitor, the package includes your choice of hitting nets from GoSports or RS Tour Golf along with SwingTurf's dual-tone mat that replicates the feel of real fairway grass.
The portable setup fits in tight spaces, giving you the flexibility for both indoor and outdoor use. Software integrations with simulation apps like E6 CONNECT and Awesome Golf make your practice feel like you're on an actual course.
The great thing is that with the money left, you can upgrade your hitting mat to a larger version and the net to the GoSports Elite Return. You will still have some money to invest in better software options if you wish.
Pros
Affordable price for pro-level analysis
Powerful mobile app with useful analytics
Quality net and turf options included
Compact and versatile setup
Room for hardware and software upgrades within budget
Cons
App only available on iOS and Android
For those seeking professional launch monitor insights on a budget, the Rapsodo MLM2PRO Practice Package hits the sweet spot. With its combination of crucial analytics, customizable practice setup, and simulation capabilities, the package provides excellent value.
Cimarron Masters Net Enclosure + Bushnell Pro Launch Monitor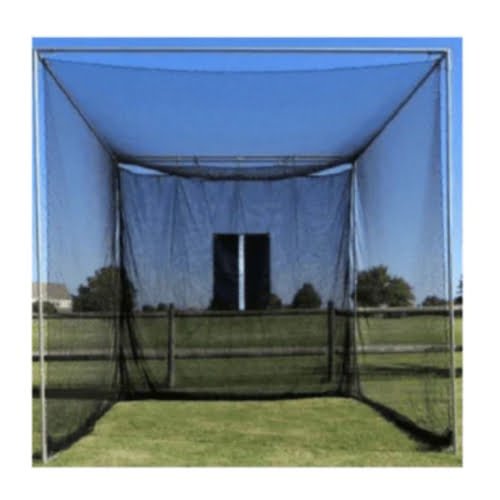 We always try to provide DIY suggestions at the end of every list we cover, and this one is no exception. For the fiddlers among us, we suggest this purely outdoor system that can help you greatly improve your game thanks to the professional-grade components.
First off, the Cimarron Net Enclosure is massive, and it was designed to be installed in a spacious outdoor location. It can be installed on your lawn or backyard, or anywhere with enough space to house the enclosure. It is available in two different sizes: a 10' x 10' x 10' or 10' x 10' x 20', but opting for the larger option will exceed our budget by around 300 dollars (which is still a better option in my opinion).
The enclosure needs to be installed once and left there since it was designed to withstand the elements. Its framing is made of 10' framing poles that are attached to each other using the included corner assembly kit. The netting is sturdy enough to stop your fastest shots. In addition, despite the huge size of the enclosure, it is surprisingly easy to assemble.
We also suggest coupling the massive net enclosure with a tour-grade launch monitor that provides outstanding performance and accuracy without exceeding our 5,000-dollar budget.
The Bushnell Launch Pro is the twin sibling of the Foresight Sports GC3. They are identical in shape and performance, and they both use a triple-camera system to track your ball and club with outstanding accuracy. They are even made by the same parent company that acquired Foresight Sports back in 2021.
The main difference is in terms of software and simulation subscription packages. While the GC3 is an all-inclusive unit that comes with simulation software to use with a full setup, the Bushnell Pro comes with a very basic plan (just in case you need that) but gives you the freedom of investing in a software subscription or limiting yourself to what you get out of the box, depending on how you intend to use the device.
This is just perfect for us, as we need to use the Bushnell Pro primarily outdoors, in the yard, lawn or even on the range or the real course. By doing so, Bushnell managed to greatly reduce the monitor's selling price to almost half of that of the GC3. Consider it like getting all the features and readings of the excellent GC3, minus the simulation capabilities, for a really great price!
What's included
Cimarron Masters Net Enclosure & installation tools (netting materials, poles, corner mounts, net target)
Bushnell Pro Launch Monitor & accessories (Alignment stick, club marker pack, power cord, USB cable, quick start guide, 1-year basic subscription to the simulation software, 30-day Trial of the Gold software package by FS)
Pros
Professional-grade components for those serious about improving through outdoor practice
GC3 performance for a much lower price
Freedom to choose which software components to invest in
The portable launch monitor can be used anywhere you want
Cons
A lot of outdoor space is required for the enclosure
The Cimarron Net & Bushnell Pro combination is a great system for exclusively outdoor practice sessions. It is easy to set up and will surely help you take your game to the next level thanks to the pinpoint accuracy of its readings. If all you need is a professional monitor to use anywhere and a very large enclosure to use on your lawn or backyard, this DIY system is perfect for you.
Buyer Guide: Things To Consider In Your Choice Of A Simulator System
Before getting a specific golf simulator package, it's crucial to know exactly the factors that can affect your final decision, just to ensure that you get the best system possible.
We recommend carefully going through the list of these factors and comparing them to your needs, preferences, limitations, etc., and then choosing the package(s) that tick most of your boxes. This way, you'll be sure to make the best possible decision.
#1 Budget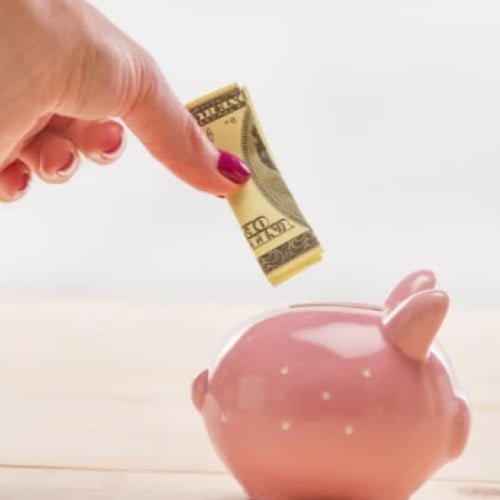 Since we have set a budget limitation for ourselves in this article, then it only makes sense to have it as our first crucial factor to consider while choosing a home golf simulator setup.
You can't just go through all the packages that you like and make a list to choose from, only to discover that the majority (if not all) are way out of your dedicated budget.
Sims can be extremely expensive, so it would be better to start by checking which packages you can afford and then do your homework to decide which one of them will offer the best value and price/performance ratio.
You have to know exactly how much you are willing to spend and if there is any chance of you going slightly over that $5000 budget even if that means getting a better system with better hardware and software components. We do recommend going a bit over budget (100 or 200 dollars more) if you can get more features or a better launch monitor; in this case, the additional money will be a winning investment.
You may also want to read our detailed guide on what you can get if your budget reaches the $7,000 mark in this review.
Also, you need to bear in mind that the less you pay, the less you will get. So don't expect your affordable package to be a direct competitor of the Trackman, HD Golf or the like.
Finally, if 5000 dollars is all you can afford right now, but you can pay for a pricier package over an extended period of time, then we strongly advise going with a financing formula. All major vendors, including Shop Indoor Golf, Top Shelf Golf and Rain Or Shine Golf offer financing options with attractive interest rates (from 0%) to help you get the package of your dreams.
If you are interested, just follow the links below:
If you want a more comprehensive look at a broader range of golf simulators, including those above $5000, check out our detailed guide on the top golf simulators on the market as of 2023. This comprehensive list includes options for various budgets, room sizes, and user needs, giving you a broader perspective of what's available on the market.
#2 Net Vs. Screen VS. None of Them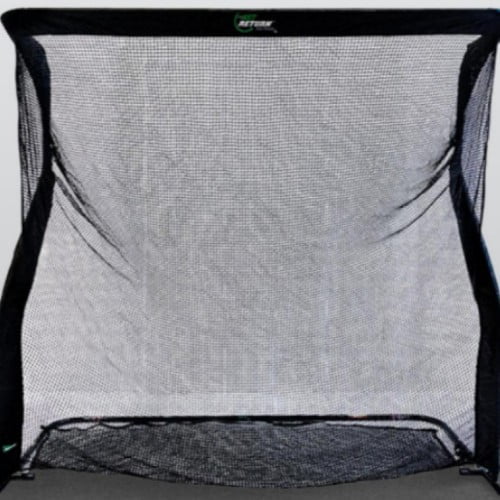 When it comes to simulators, there are different routes you can go depending on how you intend to use your system.
For example, you can practice using foam balls or no balls if you want to use a system like the Optishot 2 simulator. In this case, it's not compulsory to get a golf net, which will bring the price of the system much lower than a regular complete setup.
The second option is to go for a hitting net to practice using real golf balls and clubs on a virtual driving range or golf course; the net will stop the balls and you can get your instant feedback and metrics displayed on your mobile device or connected computer. Hitting into a net is a more expensive option than the first one, but it is still nowhere near the third option.
You can also use a complete setup, with a launch monitor to do the tracking, a laptop to process the data and simulate your shots and a screen and projector to display the simulation. This is the most realistic and immersive option of the three, but the extra components make it much more expensive. Generally speaking, the cheapest full setups will require you to spend nearly 5000 dollars; these are usually based on the more budget-friendly units such as the SKytrak launch monitor, the Mevo Plus, the Garmin Approach R10, etc.
Consider how you want to use your sim to decide which option to pick. If golf simulation and realism are important to you, you should go for the complete setup option; if you only want to practice and improve your game and have no problem checking your simulated shots on a laptop, computer, or smart device, the second option will be enough for you and help you save some money.
#3 Size & technology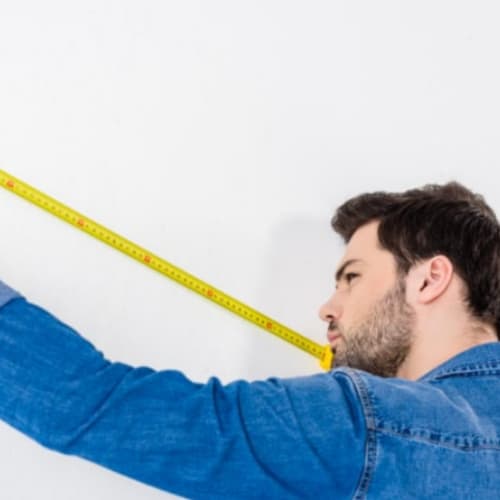 Size is another important factor, and you must always check the minimum space requirements for every package you check and compare them to your dedicated space. Measure the length, width and height, and make sure you can swing your longest clubs without problems.
Most of the packages that cost under 5000 dollars only come with a net, and even those that include a screen and projector combo will be smaller in size and will most probably fit in any small space. Still, we highly recommend doing your homework to avoid any last-minute surprises.
Generally speaking, the minimum space required for any simulator package must be at least 10'W x 10'L x 8.5'H. The recommended space is usually 12' L x 10' W x 9' H. The more available space, the better.
Tracking technology is correlated to the available space, especially room depth. In other words, if you get an Infrared system (like the Optishot 2) or a Photometric one (like Skytrak), they will work perfectly indoors and won't require too much room length. On the other hand, a Radar Doppler system (like the Mevo+ or Approach R10) will need a longer room to work properly; Usually, these systems need to be placed around 8 feet behind the tee point and an additional 8 feet of ball flight (thus requiring 16'+ of depth).
#4 Software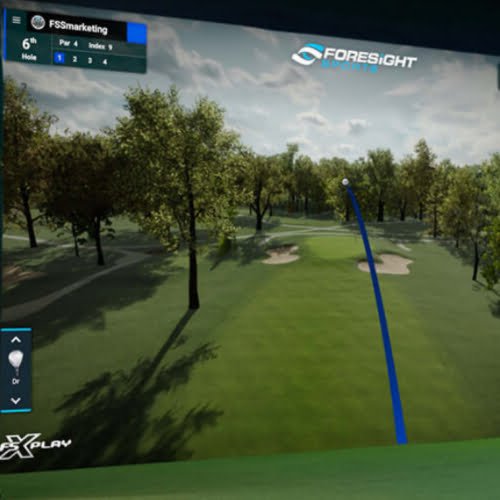 Whichever package you end up choosing, you need to check the simulation software that it comes with and the possible software upgrades. Most affordable systems for under $5000 come with limited functionality and a reduced number of features and virtual courses. However, the software minimally offers a virtual driving range (and a few playable courses) and the possibility to track your ball and club to provide useful data points and help you monitor your progress.
Getting access to more simulated courses, features, game modes, challenges, etc. will require a subscription to one of the compatible software plans. These are usually either monthly or yearly subscription fees.
For instance, Skytrak comes with a basic software plan (with a hitting range) that can be upgraded to either the game-improvement plan ($99.95 a year) or the Play & Improve Plan with WGT ($199.95 a year). Each upgrade plan provides additional features and courses.
The Mevo+ systems are compatible with Trugolf's E6 Connect software; a basic limited version is included out of the box, but can be upgraded to the expanded subscription for 300 dollars/year. The devices are also compatible with TGC 2019 ($995 one-time payment). TGC2019 offers some of the best value and is our usual recommendation for its huge course library).
Other software options include Creative Golf 3D, Awesome Golf, Fitness Golf, GSPro, etc.
Choosing a specific software depends on what you want to do with it. If all you want is to get your metrics on a smart device or laptop (using a net setup), the basic software that comes with your package will be more than enough. However, if you're interested in playing on virtual courses from all around the world and have a more realistic and immersive simulator experience, you will need to invest in a software upgrade. It's all up to you.
#5 Portability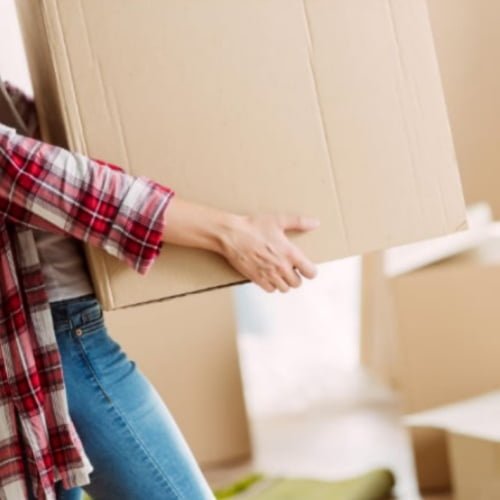 You need to know if you want to transport your package whenever you are on the move, or if you want to relocate it from time to time. You may even want to pack it and put it somewhere safe during the high season, when it's possible for you to frequently go to your local golf course and enjoy playing the real thing.
For those reasons, you may want your simulator setup to be portable and easy to set up and disassemble. Luckily, net setups offer a great deal of portability and ease of installation. Even full golf simulator setups under $5000 are portable and easy to install because of their small size and the fact that they usually use portable launch monitors like the Skytrak, Mevo + and Approach R10.
Final Thoughts
Finding a good and reliable simulator package for under 5000 dollars is not an easy task, as you need to do some research to find the right setup for you based on many factors and variables. Even then, you may need to make a few compromises and cut a few corners to achieve your goal.
It is not an impossible task, though, as we managed to compile a list of systems that don't go over our set budget of $5000. The packages on our list offer some of the best bangs for the buck you can get today.
As we mentioned earlier, investing a few hundred dollars more to get a better system will be fine if you think you get a better value. Still, if you can invest more (say, in the $10K/15K price range, you will certainly get more in terms of performance and quality.
However, we assure you that you will have a great time and will be able to practice and improve using any of the packages from our list. You will get much more than what you pay for!
If you still have questions or comments, feel free to contact us.
Thank you for reading!
WRITTEN BY

My name is Jacob, a self-diagnosed equipment and golf enthusiast. I've been golfing since I was 15. Golf has always been my passion. I'm a bit of a golf equipment nerd and I've been that way since the moment I picked up a club for the first time. As someone who's been on both sides of the game, I know what it takes to be a good golfer. Of course, you need good equipment, but you also need to know how to use it. I hope sharing my experience with you will help you improve your game.
You May Also Like