The 10 Best Golf Simulators for Game Improvement - Reviews & Buyer Guide
Last updated:
June 26, 2023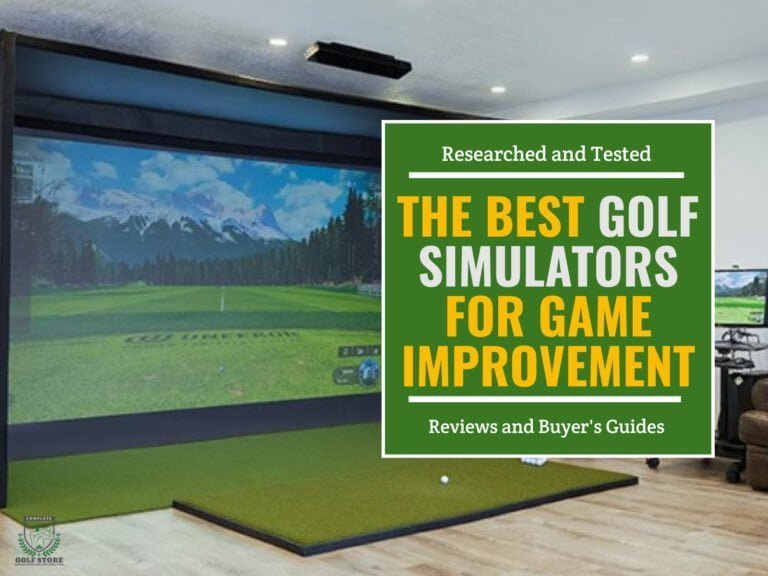 Disclaimer: We may earn a small commission from some of the links on our website. However, our reviews and comparisons remain fair and unbiased. Our goal is to help you make the best choice. For more information, please see our
disclosure statement
. Thank you for your support.
Key Takeaways
Our top pick for game improvement is the FlightScope X3 SIG12 Package, known for its precise measurements and Fusion Tracking Technology. The Uneekor Eye XO/EYE XO2 Perfect Bay Packages come in second with their accurate shot tracking and Refine simulator software. The budget-friendly option is the Uneekor QED SIG10 Package, offering excellent accuracy and game modes. Additional recommendations include the SkyTrak Golf Simulator Training Package and the FlightScope Mevo+ Training Package. Keep reading to learn more.
Regular practice is essential when it comes to improving your golf skills. However, it's not always possible to hit the course or driving range due to time or weather constraints.
This is where golf simulators come in handy. They provide a virtual experience that allows you to practice your golf game in any weather conditions and in the comfort of your home.
We have researched and tested various sim packages to bring you the 10 best golf simulators for game improvement. These simulators offer a wide range of features to provide an immersive and effective training experience.
Keep reading for the details!
No time to read the whole article? No worries. We've done the work for you and compiled a list of the top performers.
| Product | Features | Our Rating | |
| --- | --- | --- | --- |
The 10 Best Golf Simulators For Game Improvement
Based on our own testing, research and experience, the following are the best simulators you can get for game improvement purposes!
FlightScope X3 SIG12 Package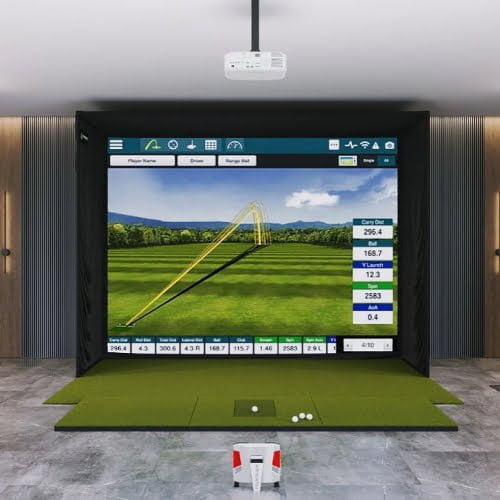 Looking for a high-quality golf simulator that can help you improve your skills both indoors and outdoors? Look no further than the FlightScope X3 SIG12!
One of the major strengths of the FlightScope X3 SIG12 is its state-of-the-art Fusion Tracking Technology, which combines radar detection with photometric technology to provide incredibly precise measurements of your shots.
This technology allows users to get accurate readings of every aspect of their game—smash factor, angle of attack, ball speed, club speed, club path, swing path, dynamic loft, launch angle, and more. You get over 50 metrics related to all game aspects.
But the FlightScope X3 SIG12 doesn't just put a focus on hitting--it also comes with a separate app called the FS Short Game app that can help players improve their short game. With putting support and other features to help players improve their short game fast.
The system also supports the best feature-rich simulation software options that provide impressive graphics and game mechanics for a more immersive and realistic experience. These include Trugolf's E6 Connect and TGC 2019.
Last, but not least, the SIG 12 enclosure is one of the best in the business; it is made of the absolute best materials that make the entire experience real-life-like. All hardware and software components work together to help you achieve the goal of improving your game fast!
Pros
Fusion Tracking Technology offers incredibly accurate measurements.
All game aspects are taken care of
Separate app dedicated to short play
Compatible with a variety of hitting mats to suit different needs.
The SIG12 by Shop Indoor Golf offers an immersive experience.
The optional SIG 12 Golf Simulator Flooring is perfect for putting practice.
Cons
The FlightScope X3 SIG12 is expensive.
The system may require professional installation for some.
If you're serious about improving your game, the FlightScope X3 SIG12 is an excellent option to consider.
With its advanced technology and range of features, it's the perfect choice for both serious amateurs and professional golfers alike. Both hardware and software components are geared toward serious practice intended for game improvement.
We highly recommend the Flightscope X3 SIG12 to anyone who can afford it!
Uneekor Eye XO/ EYE XO2 Perfect Bay Packages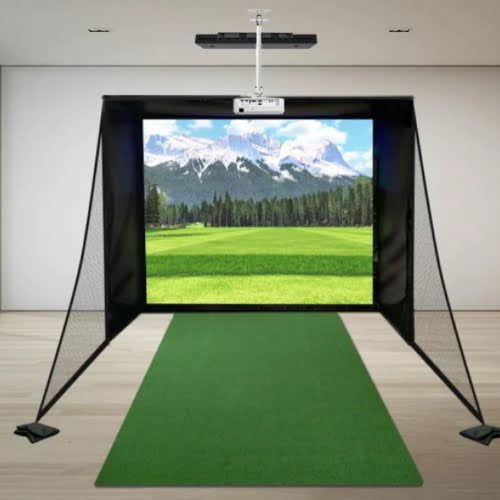 Note: The two packages are identical in both hardware and software components, except for the launch monitor. The EYE XO 2 is an upgrade over the EYE XO in that it embarks a third camera to increase accuracy (the EYE XO only has two), and it is $2000 pricier than the EYE XO.
The Uneekor EYE XO2 Perfect Bay package comes with everything you need to start practicing and improving your golf game at home, including a triple-camera system that accurately tracks over 25 metrics of your shot, such as club speed, club path, dynamic loft, and angle of attack, without the need for any markings.
The tracked information is displayed on the simulator screen, giving you valuable insights into your swing and shot data.
Out of the box, the system comes with the Refine simulator software, which is one of the best in the market for game improvement. It is exclusive for use with Uneekor's launch monitors.
You can also choose to upgrade to the optional Refine+ package, which provides access to several game modes, including full course play, driving range, stroke play, short game complex, and more.
The Refine software is aimed at improving your golf skills, and it includes features to help with that. For example, the software now includes a Quick Mode that has sections destined to work on correcting iron and driver hooks and slices, and another section dedicated to distance optimization. You also get wedge Practice and Random Wedge Practice modes, as well as plenty of other useful features.
The PerfectBay enclosure comes in three different sizes to fit any space requirements. Its advanced hitting area promotes a cleaner setup and obstacle-free putting, allowing you to focus on your swing and shot accuracy. The turf provides real feel to make your practice as authentic as possible.
Pros
Overhead design for cleaner setup so you can focus more on your game
Excellent software out of the box & support for 3rd party options
Triple camera system tracks over 25 metrics of your shot data
Optional Refine+ software package with access to additional game modes
Perfect Bay enclosure comes in three different sizes to fit any space requirements
Advanced hitting area promotes a cleaner setup and obstacle-free putting
No ball marking required
Cons
Cost quite more than the Uneekor QED
If you're looking for a high-quality golf simulator guaranteed to help improve your game, the Uneekor Eye XO2 PerfectBay is an excellent option. The EYE XO is another viable, slightly cheaper alternative with excellent playability and accuracy.
The triple camera system, software upgrade options, and advanced hitting area make it a top choice for serious golfers looking to practice and improve at home.
Uneekor QED SIG10 Package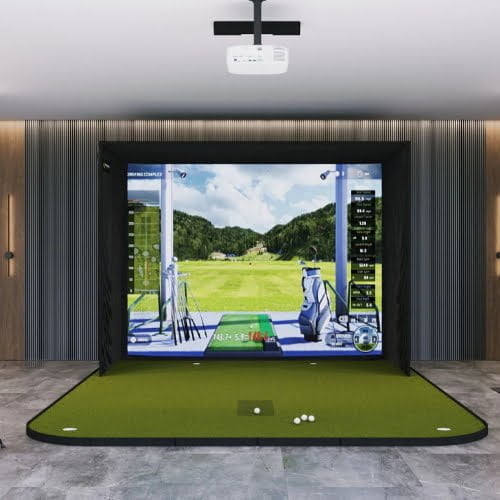 The Uneekor QED SIG10 Golf Simulator Package is a more budget-friendly system, compared to the EYE XO or EYE XO2. The QED is the launch monitor that started the entire Uneekor (very successful) journey, as it was the very first product they had built.
The QED provides excellent accuracy and plenty of features and game modes, even if it lacks a few options present with the EYE XO (nothing major). It is a very good system to consider.
The biggest difference between the QED and EYE XO is that the latter uses non-ball marking technology, allowing you to use any balls you prefer for your practice sessions. The former, on the other hand, requires marked balls for optimal tracking. This might not be a big deal, as the package comes with a pack of special Bridgestone balls that will serve you for a long time before you'll need to buy them again.
You can expect the same software features, options, game modes, and playable courses found in the EYE XO2 package reviewed above, albeit with a slightly lower price point. The package offers great value compared to the other Uneekor systems. You can also upgrade to the Uneekor Refine + and enjoy all the additional perks.
Shop Indoor Golf's SIG10 enclosure is a very good option for game improvement. The premium materials ensure durability, comfort and immersiveness. The screen/ projector combo provides excellent image quality, and the hitting mat and turf feel like playing on the real thing. If you can invest in the SIG10 Simulator Flooring, the entire setup will be much cleaner and obstacle-free so you can practice all your game aspects without any worries or issues.
Key Features and Benefits
Specially marked balls allow for accurate shot tracking.
The SIG10 enclosure provides a high-quality simulation experience.
The software includes a variety of game modes, practice modes, and skills challenges, helping you improve your game while having fun.
The ceiling-mounted system saves space and offers a more professional feel.
The SIG10 enclosure provides ample space for golfers of all skill levels.
Pros
Very accurate system, but more affordable than the EYE XO
Cleaner looks thanks to the overhead design
Wide range of game modes and practice options.
The SIG10 enclosure provides plenty of room to practice any shots.
Cons
The specially marked balls may require replacement over time and can be more expensive than regular golf balls.
Overall, the Uneekor QED SIG10 Golf Simulator Package offers a high-quality, versatile, and effective game improvement option for golf enthusiasts.
It is a more affordable option that will provide an excellent experience in case you have budget limitations.
SkyTrak Golf Simulator Training Package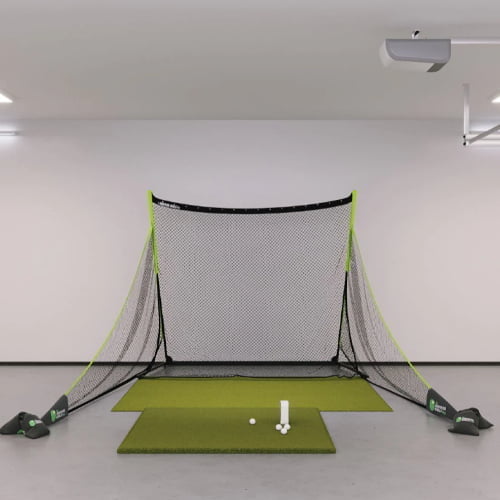 The SkyTrak Golf Simulator Training Package is probably the best option to consider if you want a cost-effective golf simulator that is portable and will definitely help you improve your game without breaking the bank
The Skytrak launch monitor is among the best-value golf launch monitors available in the market, which makes it perfect for those looking to improve their game without spending too much money. In fact, Skytrak is immensely popular thanks to the multitude of features and game modes it incorporates, all destined to help you make the most out of your practice sessions.
One of the SkyTrak's main selling points is the accuracy it guarantees. It can provide different types of valuable readings, including smash factor, angle of attack, ball speed, club speed, and club path, among others.
The best thing is that you can use the package indoors or outdoors without the need to buy anything else. Just set it up, hook the system to your laptop or smart device and start practicing; the data will be displayed on your device along with a 3D render of your shots on a virtual driving range. If you wish, you can upgrade to the Game Improvement Plan ($99/ year) and get plenty of additional features to help you improve your game.
Additionally, the Play & Improve software ($199/ year) offers some very cool features. It allows you to practice various shots, select different playing or practice conditions, and even compete with other golfers around the world on virtual courses through WGT Golf (included in the upgrade). WGT is also compatible with IOS, so you can practice by hitting into the net and checking virtual renders of your shots on your IOS device (like an iPad Pro).
The package also pairs the SkyTrak with the Rukket Sports Premium or GoSports hitting net, making it a very portable setup that can be moved around easily and set up anywhere you want.
Pros
Portable and easy to set up.
Provides accurate readings for multiple data points.
Offers an immersive experience with ball flight simulation.
You can practice without any additional investment, or you can upgrade to get more features
SkyTrak & Rukket Sports Premium or GoSports hitting net = maximum portability.
Cons
Just a practice package- No screen or projector included. If simulation is your thing, then this is not the right package for you.
If you are looking for an affordable system that delivers high value, the SkyTrak Golf Simulator Training Package is an excellent option that will provide you with everything you need to improve your game faster from the comfort of your home (or your backyard- if you want to use it outdoors).
FlightScope Mevo+ Training Package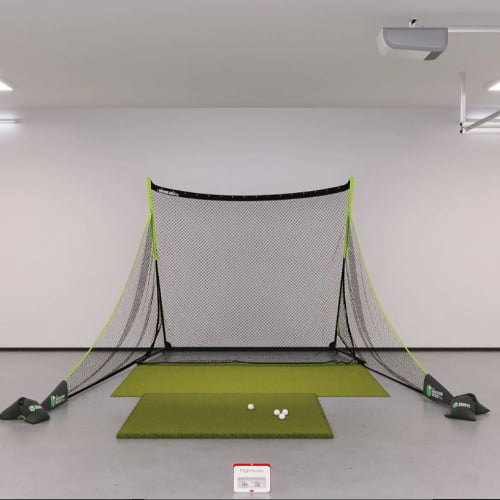 The FlightScope Mevo+ Training Package is a mid-range golf simulator that offers both portability and accuracy, making it an excellent option for indoor and outdoor use. In fact, the Mevo+ launch monitor is a direct competitor to Skytrak, and both offer great value for the money.
One of the standout features of the Mevo+ is its Doppler Radar tracking system. This technology tracks the golf ball mid-flight, providing accurate stats such as carry distance, clubhead speed, and angle of attack. It also tracks your club and provides extremely useful data points.
Combined with the included E6 Connect software, you'll have a superb experience that can help you improve your game.
The Mevo+ Training Package also comes with a Net Return Golf Net and Side Barriers, which can withstand shots up to 225 M.P.H. This makes it a safe option for use at home or outside.
Pros
Highly accurate stats for ball and club metrics
Comes with E6 Connect software for a superb virtual experience
Can be paired with smart device to get your data
Portable and lightweight
The Net Return Golf Net is very durable
Cons
Practice package- not for those looking for a full virtual simulation experience
Overall, the FlightScope Mevo+ Training Package offers excellent accuracy and portability, making it an ideal option for game improvement.
With the included software and net, you'll be able to get unlimited practice time (both indoors and outdoors) that can help you improve your golf swing and technique in a safe environment.
SkyTrak+ Practice Golf Simulator Package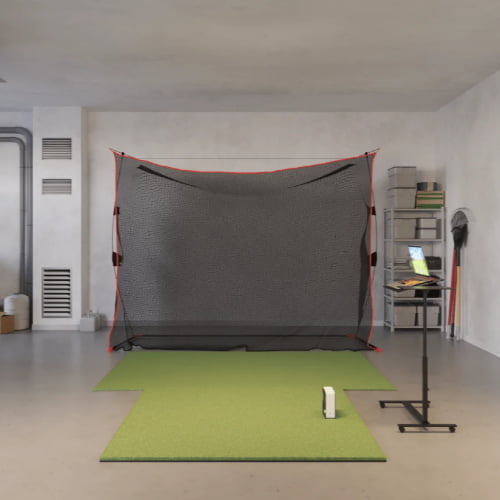 This package includes the new Skytrak +, now based on a combination of photometric and radar tracking for pinpoint accuracy. Now, the unit is capable of tracking both the ball and club (as opposed to its ball-only predecessor).
The SkyTrak+ offers incredible accuracy at a fraction of the price of commercial units. It measures carry distance, total distance, clubhead speed, ball speed, smash factor, club path, club face angle and more. Also, it comes with an easy-to-use app so you can track your progress over time.
In terms of indoor setup requirements, this simulator requires a minimum room size of 8' 6" H x 9' W x 12' D.
The SkyTrak+ Practice Golf Simulator Package is perfect for the serious golfer who wants to take their game to the next level without spending a fortune on expensive equipment. With its detailed shot data and compact design this simulator is designed to help you play better golf regardless of space or budget constraints.
In fact, the new Skytrak+ uses the same software options and features as the original unit; this means that both units shine in terms of accuracy and game improvement software features. The new version is still more accurate thanks to the new dual radar system and enhanced photometric tracking.
And best of all it comes with a 1st Year Game Improvement Software Upgrade so you can track your progress over time and make adjustments as needed. After the first year, the software will cost 99 dollars a year.
Pros
Affordable system
Combination of radar and camera detection
Ability to track both ball and club
Accurate measurements
Easy-to-use app
Compact design for more portability and ease of setup
Cons
Training & game improvement package- not for full virtual play
I highly recommend the SkyTrak+ Practice Golf Simulator Package for anyone who is serious about improving their game without breaking the bank. Skytrak used to reign over the budget section, but the Skytrak + seems to have brought competition to a whole new section
The accuracy and ease of use make this simulator perfect for players at any level from beginner to advanced.
Full Swing KIT SIG10 Golf Simulator Package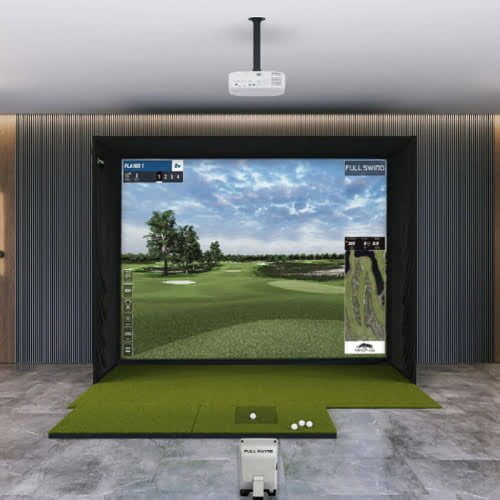 The Full Swing KIT SIG10 Golf Simulator Package is an all-in-one solution for golfers looking to improve their game through simulation.
The package includes the Full Swing KIT radar launch monitor, which is endorsed by none other than Tiger Woods himself, as well as the SIG10 enclosure, which can fit into most spaces and provide an immersive experience.
One of the key benefits of the Full Swing KIT SIG10 Golf Simulator Package is its accuracy, which is comparable to top-end launch monitors.
This means that you can trust the data you're getting to help you improve your game, whether you're working on the smash factor, angle of attack, ball speed, or any other metric.
The Full Swing KIT is known for being a reliable and high-performing launch monitor that's built to Woods' exacting standards. It captures data using the powerful radar unit, and a built-in high-speed camera can even record videos of your shots for comparison and future reference, giving you the most accurate data possible.
The processing of data is lightning fast because the processor assigns cores to individual tasks (radar, media, etc) so that processing is done in a heartbeat, and your simulated shots are displayed as soon as you swing your club.
The package also comes with other accessories like a hitting mat, projector, and screen. Everything is beautifully housed in the SIG10 enclosure; but if you can afford the SIG10 flooring, the setup will look (and feel) much better!
Full Swing offers a variety of software options for its products, as well as a range of virtual courses and games to keep things interesting.
Pros
Accuracy that rivals top-end launch monitors
Endorsed by Tiger Woods
Premium SIG10 enclosure
Wide range of accessories and options available
Powerful hardware and software
Portable monitor for outdoor/ indoor use
Cons
Accuracy is perfect outdoors, but it tends to decrease indoors
The Full Swing KIT SIG10 Golf Simulator Package is an excellent choice for golfers looking to take their game to the next level. With its accuracy and Woods' endorsement, you can trust that this system will help you make progress toward your goals.
If you have the budget for it, this package is definitely worth considering. You will get much more than what you pay for!
Trugolf Apogee SIG10 Golf Simulator Package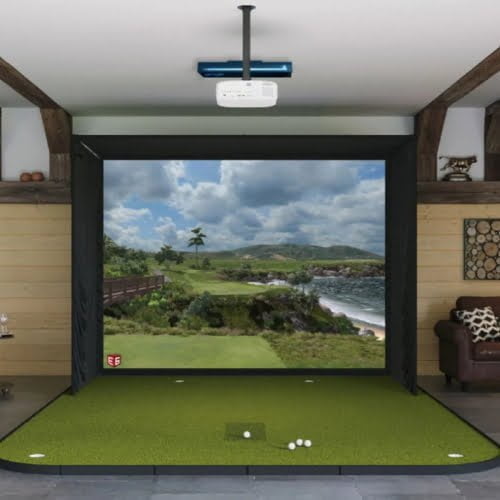 Featuring advanced technology and immersive software, this simulator package offers an excellent game improvement experience.
The Trugolf Apogee SIG10 Golf Simulator Package is a photometric device that uses ultra-high-speed cameras to capture every angle of your swing. This allows for precise tracking of shot types, club speed, ball speed, and other important shot metrics, all displayed in real-time on the simulator screen.
In addition, the INSTANT IMPACT image analysis algorithm provides instant feedback on ball flight, spin rate, and launch angle, allowing you to analyze and improve your game right away.
The Package also includes access to E6 Connect software, which is feature-rich and includes a library of playable courses in stunning graphical quality. The software includes a range of short games, providing endless opportunities to practice your skills and improve your game.
Additionally, the simulator screen provides a fully immersive experience, putting you in the game and allowing you to enjoy a virtual driving range or play on some of the world's most famous courses like Pebble Beach.
The SIG10 enclosure, monitor, and projector can be attached to the ceiling, creating a clean, unobstructed playing area. You can also purchase the SIGPro hitting mat, which features a realistic turf surface and an adjustable stance area for maximum realism.
Additionally, there is an optional SIG10 simulator flooring, which can be upgraded to include putting and short-game practice, allowing you to take your game even further.
Pros
Advanced photometric technology for precise shot tracking
INSTANT IMPACT image analysis algorithm for instant feedback
Access to E6 Connect software with a range of virtual courses
Ceiling-mountable SIG10 enclosure, monitor, and projector for a clean playing area
Optional SIG10 simulator flooring for additional putting and short-game practice
Cons
The Trugolf Apogee SIG10 Golf Simulator Package is a top-notch option for dedicated golfers seeking to improve. The launch monitor is technologically advanced and provides plenty of options and features; it is also very accurate thanks to its dual-camera system attachable to the ceiling.
This is a great way to practice your skills indoors and improve your game.
Foresight Sports GCQuad Retractable Screen Package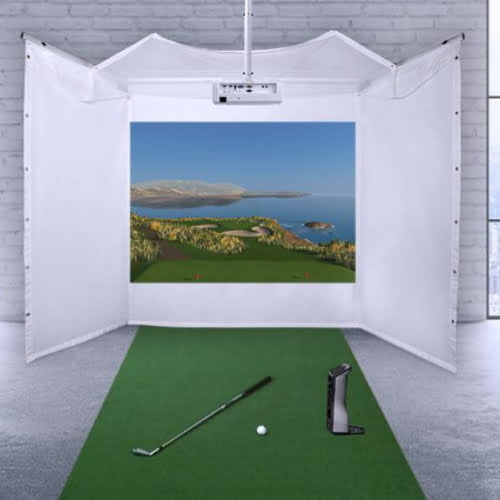 Foresight Sports' GCQuad Retractable Screen Package uses one of the most accurate launch monitors on the market, thanks to its quadruple camera and infrared sensor configuration.
This technology enables you to receive instant feedback on factors such as ball speed, club speed, angle of attack, launch angle, dynamic loft, club path, and much more.
The package includes FSX 2020 and FSX Play software, which are packed with useful features and enhance the immersive experience with high-quality graphics. You can play on virtual courses, practice on the driving range, or enjoy a game of golf with friends. The software also provides data analysis and training programs customized to your needs.
Designed to be portable, the retractable screen package can be used both indoors and out (thanks to the GCQuad's built-in battery). It comes with a hitting mat and screen designed to be easy to set up and put away (with a retractable screen), making it suitable for smaller spaces or the garage.
In addition, you can purchase optional software add-ons, such as the Essential Putting Analysis or Clubhead Measurement software, to enable you to receive more metrics and improve different areas of your game.
The Essential Putting Analysis software provides precise details on your putting stroke, while the Clubhead Measurement software enables you to measure clubhead speed, path, and more. Both can be activated via software, as no additional hardware is required to use them.
Pros
Quadruple camera and infrared tracking
FSX 2020 and FSX Play software with high-quality graphics and training features
Suitable for smaller spaces
Portable tour-level launch monitor
Additional software add-ons can be purchased for more metrics and training
Cons
Very expensive (mainly due to its premium launch monitor)
The Foresight Sports GCQuad Retractable Screen Package is an excellent option for golfers of any skill level looking to improve their game.
The package's quadruple camera and infrared sensors provide accurate feedback on all your game aspects, while its FSX software offers immersive virtual courses and useful features and game modes.
Additionally, the retractable screen makes it possible to use the simulator in any available space without permanently dedicating it to the sim, making it a great choice for those who have limited space.
Foresight Sports GC3 SwingBay Golf Simulator Package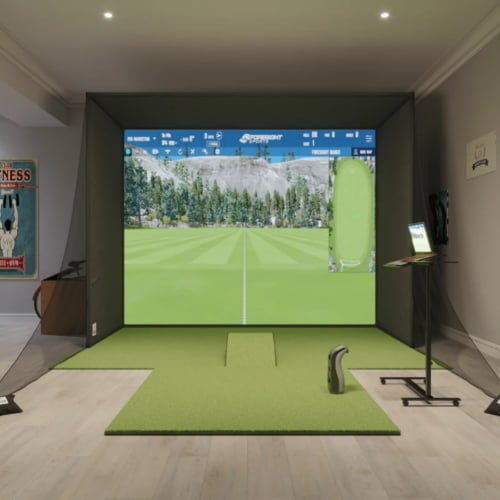 This Foresight Sports GC3 SwingBay package provides you with a professional-grade launch monitor, as well as an enclosure that helps you get the most out of your golf simulator experience.
The launch monitor features custom high-speed camera lens technology and a state-of-the-art calibration protocol to provide tour-level data accuracy, so you know you're getting accurate feedback on every shot. The triple-camera system ensures no important data is missed.
In addition, the package contains real-time video analysis tools which allow you to view your swing in slow motion from any angle - making it easier than ever to improve your technique. It also has detailed club performance metrics so you can compare different clubs and find the best one for your swing.
Out of the box, the system comes with FSX 2020 and FSX Play, both of which include game-improvement features, challenges and games. FSX 2020 provides plenty of features, while FSX Play offers higher-quality graphics, so the two complement each other.
Pros
Accurate tour-quality data
Real-time video analysis tools for improved game
Detailed club performance metrics
Easy setup – suitable even for small spaces
Swingbay enclosure completes the realistic and immersive experience
Cons
Setup instructions may be difficult to understand in some cases
Overall, the Foresight GC3 SwingBay Golf Simulator Package is an excellent choice for anyone looking to take their game up a notch.
With its accurate tour quality data and detailed club performance metrics, the Foresight Sports GC3 SwingBay Package can help even experienced golfers identify weaknesses in their swing and make adjustments accordingly - helping them achieve better scores in no time!
In addition, its easy setup makes it ideal for those with limited space or time available - allowing them to enjoy a realistic virtual experience without having to leave home.
Buying Guide: Things You Should Consider When Buying a Golf Simulator
With a wide range of options available on the market, it can be overwhelming to decide which golf sim is right for you.
To help you make an informed decision, here are the essential things you should consider when buying a golf simulator for game improvement.
Technology and Features
Technology and features are crucial for game improvement. High-end golf simulator packages include launch monitors and other tracking systems, hitting screens, projectors, and simulator software that simulate every aspect of the game.
Launch monitors are essential for gathering ball flight information, including smash factor, angle of attack, ball speed, club speed, club path, launch angle, and dynamic loft. These parameters help golfers and instructors analyze and develop swing techniques and improve ball flight.
Moreover, some simulators offer unique features such as swing path, impact angle, ball position, and apex measurements to help golfers and club fitters accurately assess their performance.
Before buying a specific model, check what tracking technology(ies) it uses and the features, challenges and modes it includes to ensure it will help you improve.
Tracking
Tracking systems are crucial components that impact the quality of your feedback and game improvement.
There are two main types of tracking systems used in golf simulators today - photometric and radar. Photometric tracking systems (1) use sensors to detect the movement of the club and ball, while Doppler radar systems (2) use radio waves to track ball movement.
A third tracking technology is Infrared, which is the oldest and cheapest of the three. It's not as advanced as radar or photometry, but it still provides very good tracking capabilities. It is usually used in conjunction with another technology (usually Photometry).
Both types of tracking systems have their pros and cons, but they all provide instant feedback on the player's game performance.
The price of the simulator is directly related to the quality of the tracking system. Therefore, it is important to weigh the importance of game improvement against entertainment.
Two of the top tracking systems in golf simulators are SkyTrak and Trackman 4. SkyTrak is known for its accuracy and affordability, while Trackman 4 provides highly advanced technologies at a much higher price point.
SkyTrak is considered the best choice for recreational players who want to track their game performance. It is also known for its affordability, making it a great option for beginners and golfers on a budget.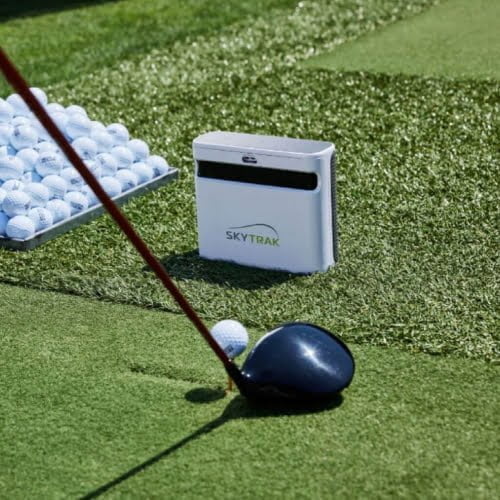 Trackman 4, on the other hand, uses a high-end radar tracking system that is used by many professional golfers. The advanced technology of the Trackman 4 makes it a pricey choice, which is more suitable for professional golfers or players with a bigger budget.
One tracking system that stands out for its advantages over other systems is the TruTrack2 tracking system by Trugolf (found in their Vista series of sims). The system provides shot tracking and feedback for club path and face angle, making it an excellent option for those looking to improve their club swing. The simulator is known for its accuracy and is widely used by golfers worldwide.
Accuracy
With virtual golf and indoor practice, accuracy is just as important as it is on the golf course itself. Without accurate measurements and feedback, you won't be able to identify weaknesses in your swing and make necessary adjustments.
When evaluating golf simulators for the purpose of game improvement, accurate data is a must. Look for models that provide precise performance stats. Additionally, it's important to choose a model that can provide this level of accuracy even under various conditions, including different lighting and ball types.
The accuracy of a simulator is largely dependent on its motion tracking and graphics capabilities. The motion tracking is responsible for capturing every detail of your swing, while the graphics recreate the feeling of playing on an actual course. Look for simulators with high-speed cameras or advanced radar that can track each move accurately.
It is also worth knowing that accuracy costs. While there are more affordable options available, investing in a high-end simulation system will provide more accurate readings and a more immersive experience.
Quality
Investing in a high-quality simulator can make all the difference for your game, while a subpar simulator can lead to frustration and a disappointing experience.
Choose a simulator from a company with a proven track record of producing reliable products. A reputable brand typically offers quality construction and durable electronic devices, ensuring that your simulator will stand up to regular use.
Sturdy construction is another essential component of a top-notch golf simulator. A strong frame and high-quality materials will prevent wear and tear and help your simulator last longer. In addition, a durable simulator is less likely to experience technical difficulties, which can interrupt your practice time and potentially damage the device.
Finally, the graphical quality of the simulated content will help achieve a more realistic and immersive experience.
Software
Your simulator software is responsible for rendering the golf course, capturing data on your swing, and providing feedback and analysis to help you improve.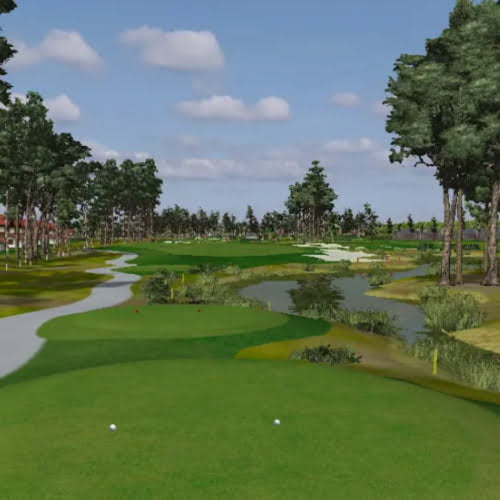 Different simulators support various software options, so it's essential to ensure compatibility when selecting a system.
Several golf simulation software options are exclusive to a particular platform, such as FSX 2020 and FSX Play on the Foresight Sports simulator. This software features over 100 courses, realistic ball physics, and data on different game aspects.
HD Golf simulator software is unique for its proprietary Swing Dynamics Analysis with integrated high-speed cameras for measuring multiple parameters of your swing.
Other software options work across multiple platforms, as is the case with TruGolf's E6 Connect, which is compatible with all TruGolf's systems and the majority of other sims. Other popular launch monitors such as SkyTrak or Uneekor have their own software with a variety of features, but they also support other 3rd party software like E6 Connect, TGC 2019, etc.
When selecting a software plan, it's important to consider the number of courses available, the accuracy of data capture, and the level of analysis and feedback provided. Investing in premium software can provide significant benefits for improving your golf game.
Portability
Having a portable simulator brings a lot of benefits to your training. You can easily move it around to different locations, set it up quickly, and get your training started in no time. With a portable golf simulator, you can train anywhere and anytime, whether indoors or outdoors.
To evaluate the portability of different systems, look at the weight and size of the components in the package. Consider how many pieces there are and if they are easy to set up and disassemble.
Full simulator setups vary in portability due to the different components of the package. For instance, a setup with a portable launch monitor (and a built-in battery) provides some degree of portability. If the other components are also easy to transport, then it provides great portability.
On the other hand, huge systems like HD Golf's, FS GCHawk, Uneekor EYE XO, EYE XO2 and QED, Trugolf's Apogee, etc. use overhead launch monitors that must be attached to the ceiling, thus providing zero portability.
If portability is something you need in your system, check before choosing a specific one to avoid surprises.
Your Room Size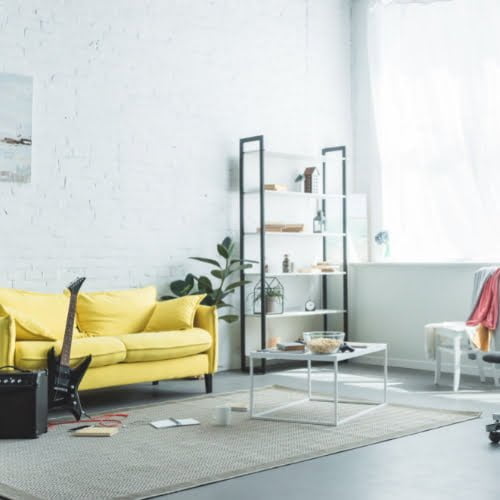 Before making any purchase, it's essential to measure the room where you plan to set up the simulator. This will help you determine the size of the indoor package to buy and guarantee that you have enough space to swing comfortably and accommodate any additional equipment.
To get the most out of a golf simulator and improve your game, consider opting for a full setup. However, keep in mind that these setups require ample space to operate correctly. The dimensions of your dedicated space will ultimately dictate the size of the simulator you can buy.
Minimum space requirements vary depending on the simulator, but most require a width allowance of at least 12 feet and a depth allowance of 16 feet.
Additionally, you'll need a minimum ceiling height of 8 feet. It's crucial to take note of these requirements and compare them to the dimensions of your available space before making your purchase.
If you have limited space, there are many ways you can go. We encourage you to go through our detailed review of The best golf simulators for small space; you will find everything you need to know there!
Your Budget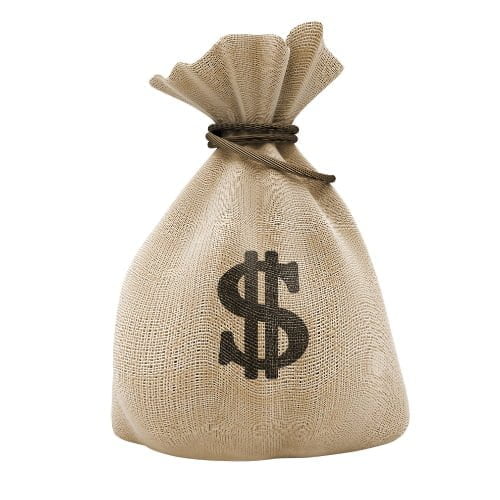 It's important to consider your budget before making a decision on which system to get. Start by determining the maximum amount you are willing to spend. Keep in mind that a higher price tag usually means better hardware, software, and accuracy.
However, don't be discouraged if your budget is limited, as there are affordable packages that offer most necessary features. It's all about finding the right price/performance ratio. We do have dedicated articles to the best sim packages for under $5000 and another dedicated to the best systems that cost $1000 or less.
When balancing affordability with performance, prioritize key features such as accuracy, durability, and usability. Virtual games and playable courses are fun extras, but shouldn't be the sole focus if you're looking for improvement on the course.
If the upfront cost is still too much, some companies offer financing formulas to spread payments over several months. The interest rates can be as low as 0%.
Check out Shop Indoor Golf's financing options
Check Rain Or Shine Golf's Financing offers
Find out about Top Shelf Golf's financing
Conclusion
Owning a golf simulator can be an excellent investment for game improvement. By providing a wide range of data and feedback, simulators allow players to identify areas of weakness and work on improving them in a comfortable, convenient setting.
Additionally, golf simulators provide an immersive experience, with virtual courses and a variety of gameplay options that can keep practice exciting and engaging.
As you consider purchasing your own system, be sure to take into account your specific needs and preferences. Consider factors such as space, budget, and desired features like software options, playable courses, and available challenges. With a little research, you can find a simulator that meets your needs and preferences.
If you have any questions or comments about choosing the best golf simulator for game improvement, please don't hesitate to share your thoughts below.
Happy golfing!
---
References:
Photometry (Optics). Wikipedia.org. https://en.wikipedia.org/wiki/Photometry_(optics)
How Radar Works. National Weather Service. https://www.weather.gov/jetstream/how
WRITTEN BY

My name is Jacob, a self-diagnosed equipment and golf enthusiast. I've been golfing since I was 15. Golf has always been my passion. I'm a bit of a golf equipment nerd and I've been that way since the moment I picked up a club for the first time. As someone who's been on both sides of the game, I know what it takes to be a good golfer. Of course, you need good equipment, but you also need to know how to use it. I hope sharing my experience with you will help you improve your game.
You May Also Like