15 Best Golf Accessories, Must-Have Gadgets And Tools
Last updated:
July 3, 2022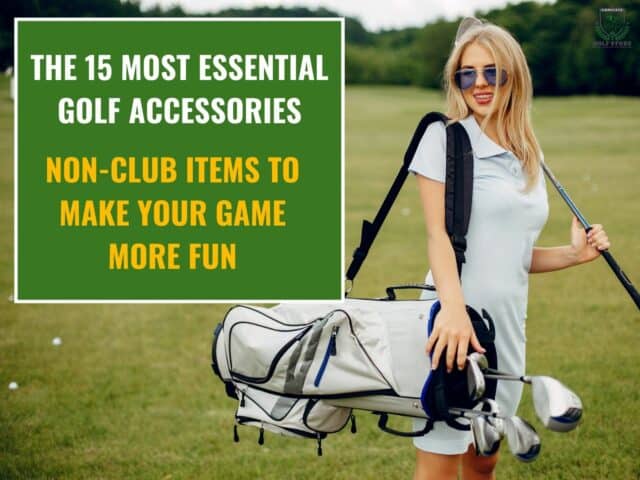 Golf clubs are the only essential things in your bag, right? No, just like any other sports, Golfers also need the perfect gear, and it is much more than the clubs and tees. Some of them are essential while playing the game, whereas others can make the game more enjoyable. If you want to raise your game level while making it fun, you should be ready with all types of gadgets for every situation. But that doesn't mean you can stuff your bag, making it difficult to carry from one place to another.
There are so many tools to choose from, how to decide which ones are essential? We will make it easy for you; this article has a list of the 15 best golf accessories that will make you a skilled golfer and explain why they are crucial for your game.
What tools do I need for my game?
Usually, a golf game lasts for four hours, sometimes more than that also. There is so much that could happen in these four hours; you could get cold, hot, or hungry. Find yourself with torn golf gloves, or bugs on the golf course. Apart from the golf clubs, you need to carry a towel, a water bottle, some snacks, an umbrella, a cap, or even a golf jacket; the list can be unending.
Choose the tools based on the weather, if you are going to use the cart, adding a few extra gadgets might not be a big deal. Here are our top golf cart recommendations that can help you carry your clubs and accessories with ease.
But if you are going to walk, stick to the essential ones. Making a checklist can help you to see what you packed without struggling to go through the fully packed golf bag.
Frequently asked questions
Check out this question and answer section if you are looking for more information or looking for what you can give to your golfer friends. It is designed to resolve some of the queries new players and golf enthusiasts might have.
What is the golf gadget that can make a difference in my comfort and playing capabilities?
Technology has taken over the game of golf. Thankfully you still have to swing the club yourself, but there are so many gadgets that can help to make your game comfortable while improving your skills. To list a few, Laser Rangefinders, GPS watches, electric golf caddies, and solar charging kits are gadgets that can make a difference for golfers.
Swing Analyzer is another such gadget that can help to improve your swing. It is a small device that is attached to your glove or the club. It is linked to your mobile to send a detailed analysis of the club plane, hand position, hip rotation, and much more. It can also record videos, and store the history for you to analyze later. Various stroke or swing analyzers are available in the market to choose from.
Are all those gadgets really necessary?
While a set of clubs and balls is all you need to start a round of golf, some essential tools can make your time on the course comfortable. You surely don't want to carry all your clubs in your hand, so the first essential thing you will need is a Golf Kit or a bag.
Having sunglasses, Towels, Umbrellas, Jackets, and other essential gadgets are required to prevent you from the hot weather, rain, and other climate changes. The Rangefinders and GPS devices will help you to improve your game. So, while you can skip a few of them, carrying at least the essential tools is important.
Do I need to wear gloves?
Wearing gloves is not compulsory for the game, though it is highly recommended. Wearing the gloves provides the golfers a better grip on the club. The golfer's palms can be sweaty, making it tricky to grip. The gloves prevent your hands from sunburn and blisters as well.
While it is recommended, many pro golfers do not wear gloves, but they are rare, and they still recommend using them. Gloves can be worn in both hands but are usually worn on the lead hand. Gloves can be worn for all strokes, but some golfers remove them for putting. Putting is a very slow stroke, so the chances of the putter flying in the air are minimal. To sum it up, yes, it is recommended to wear gloves, and can they be removed for some shots.
What is an excellent gift to give a golfer?
Thinking of gifting something unique to a golfer friend or family on Christmas or birthday? Here is a list of gifts to choose from for the game enthusiast:
Gifts with personalized touch are top. You can gift Ball markers, caps, jackets, or other gadgets customized with their initials.
Swing sensors or Swing Voice Caddie are great gifts for those new learners who want to practice their strokes.
Stylish leather Driver headcovers are a perfect gift to protect expensive drivers.
Golfing T-shirts make another smart gift for golfers to use in tournaments, parties, or other events.
Cooler bags make a great gift, storing water and drinks, making the sunny days a little breezy.
Laser Rangefinders, GPS watches, and other such gadgets also make an excellent gift option.
What is a golf ball marker?
While playing, your ball might come very close to that of your buddy's ball. Your friend cannot play the shot because your ball is in his ball line. This is where the etiquettes come in the picture, and let your friend take his shot without disturbing your ball.
You can remove your ball and place a marker there to mark the position. A ball marker is a small object like a coin, that can reserve the spot without obstructing other players' ball line. You can find various magnetic metal ball markers in the market if you don't want to use the coins. There are rules and guidelines about what you can use as a marker.
What are the best golf towels usually made of?
The Towels are mainly made up of two materials 100% natural cotton or microfibre that comprises two-third polyester and one-third nylon. Both materials are suitable for the long run, even with multiple washes, and can be used for different purposes.
The cotton ones can clean your clubs, and you can use them for your face and as a cooling towel too, whereas the microfiber ones are often better for cleaning purposes only, and more practical than cotton ones.
Whatever material you choose to use, a towel should have excellent absorbency and cleaning capacity. The towels with the clip-on option are more accessible as you can attach them to your kit and use them without having to scan through your bag every time.
Conclusion
Being prepared is the key to making your golf game enjoyable. While it is not required to carry a bunch of accessories, a few essential ones will certainly make a difference in the game. Some accessories are needed every time, helping aids like GPS watches or ball markers, while a few you can skip based on weather conditions like umbrellas or jackets. So before you buy any accessories, make sure that you determine that you will benefit from it.
We hope that this guide brought your attention to golf accessories that you might want to add to your collection.