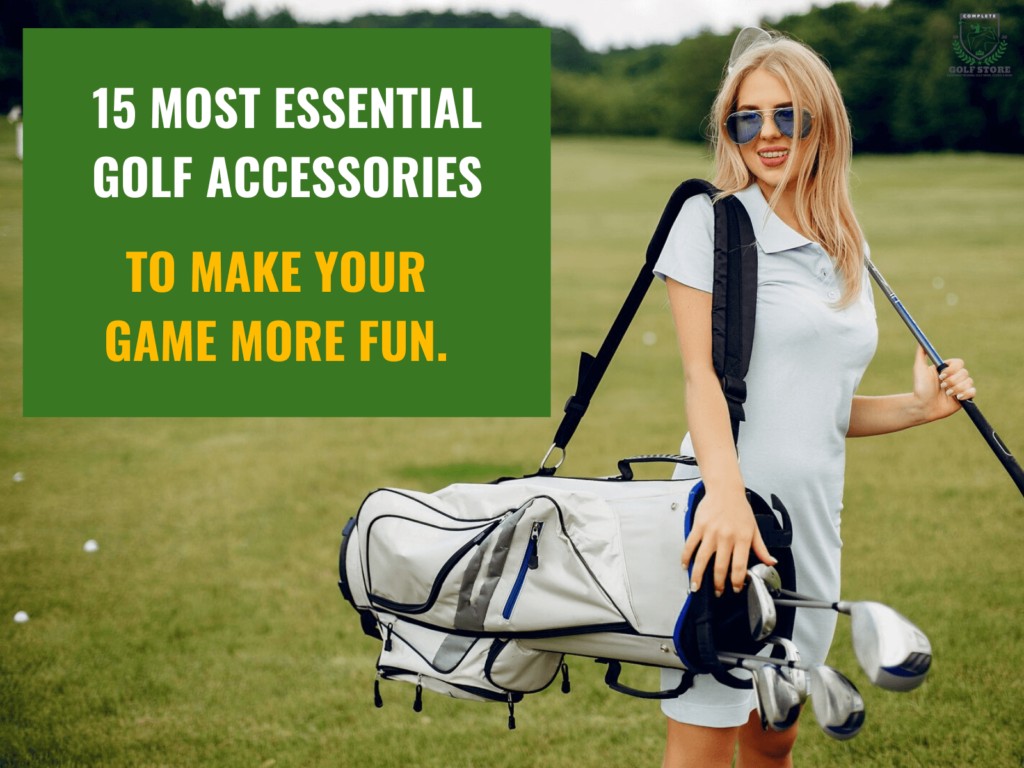 15 Essential Golf Accessories, Best Gadgets You Need In 2021
First Published:
May 27, 2020
Last updated:
April 6, 2021
The Golf clubs are the only essential things in your bag, right? No, just like any other sports, Golfers also need the perfect gear, and it is much more than the clubs and tees. Some of them are essential while playing the game, whereas others can make the game more enjoyable. If you want to raise your game level while making it fun, you should be ready with all types of gadgets for every situation. But that doesn't mean you can stuff your bag, making it difficult to carry from one place to another.
There are so many tools to choose from, how to decide which ones are essential? We will make it easy for you; this article has a list of the 15 best golf accessories that will make you a skilled golfer and explain why they are crucial for your game.
Check Also: Best golf Push Cart
What tools do I need for my game?
Usually, a golf game lasts for four hours, sometimes more than that also. There is so much that could happen in these four hours; you could get cold, hot, or hungry. Find yourself with torn golf gloves, or bugs on the golf course. Apart from the golf clubs, you need to carry a towel, a water bottle, some snacks, an umbrella, a cap, or even a golf jacket; the list can be unending.
Choose the tools based on the weather, if you are going to use the cart, adding a few extra gadgets might not be a big deal. But if you are going to walk, stick to the essential ones. Making a checklist can help you to see what you packed without struggling to go through the fully packed golf bag.
The best accessories are those that come in handy when much needed. they must be picked carefully, good quality tools last for a long duration. Here is a detailed list of accessories to help you select the best.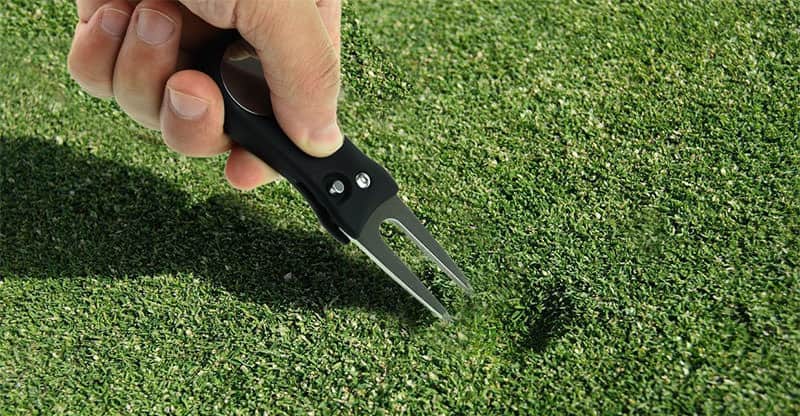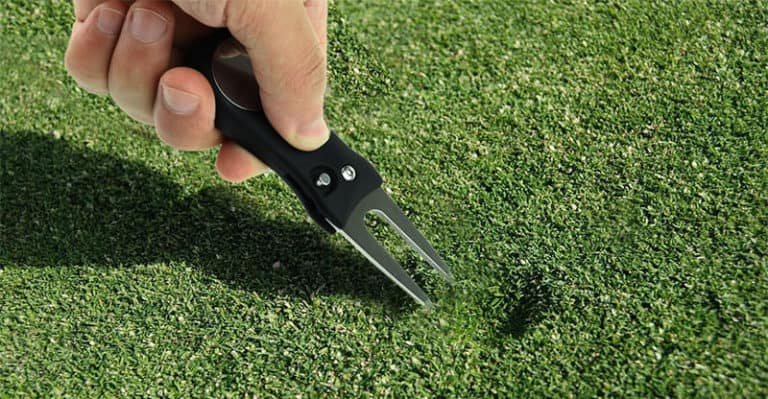 When it comes to golf etiquettes, every golfer understands the importance of repairing the pitch marks, also known as ball marks. Pitch marks often appear when a golf ball bumps down on the golf field, making an uneven surface, a small dent or hole. 
Golf divot repair tools are small devices, usually made of metal or plastic, with a grip end and one or two prongs. A divot repair or fixer tool helps the golfers to fix the pitch marks by pricking the device in the greens and lifting the grass around it to make it even. It helps the golf course to stay in the best condition for you and the fellow golfers.
The divot repair tools are not very expensive and often provided by golf course owners for free. Divots can be of different sizes, so repair tools also differ, best to carry two different sizes with you.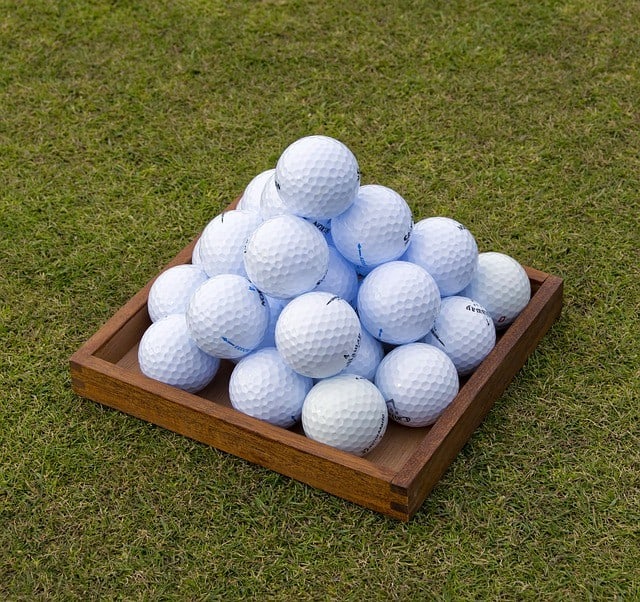 Practice makes everything perfect, even a Golf shot. In golf, practicing your swinging technique can help you understand the grip on the club and adjust your stance. Practicing needs a lot of repetition, so it is not ideal for practicing on a golf course. Actual golf balls are heavy; they can damage the spaces you use for practice.
Hence you need golf practice golf balls made of foam or plastic; those are light and can be used without damaging the space or hurting anyone around you. Carrying practice golf balls in your golf kit will help you practice your shots before the actual game to improve your putt and strikes. You can find different types of plastic or foam practice golf balls, based on cost, durability, weights, and style of how they mimic actual golf balls.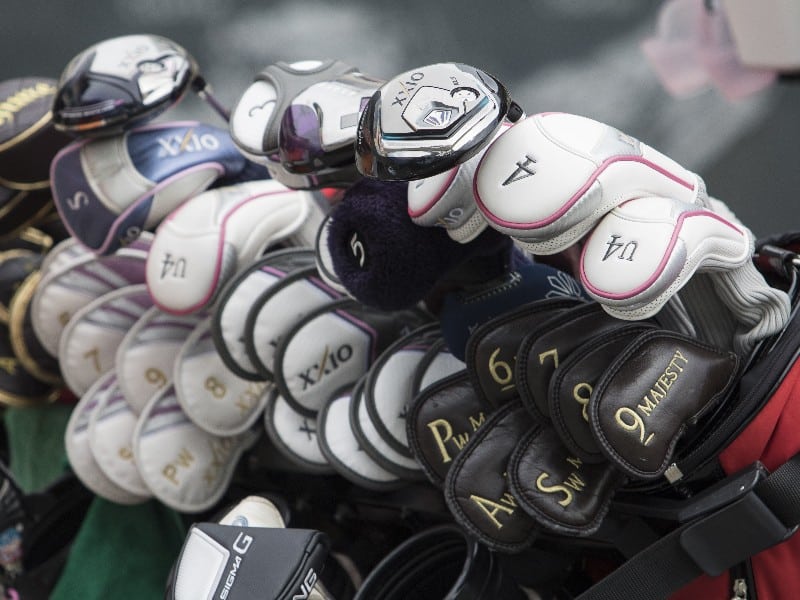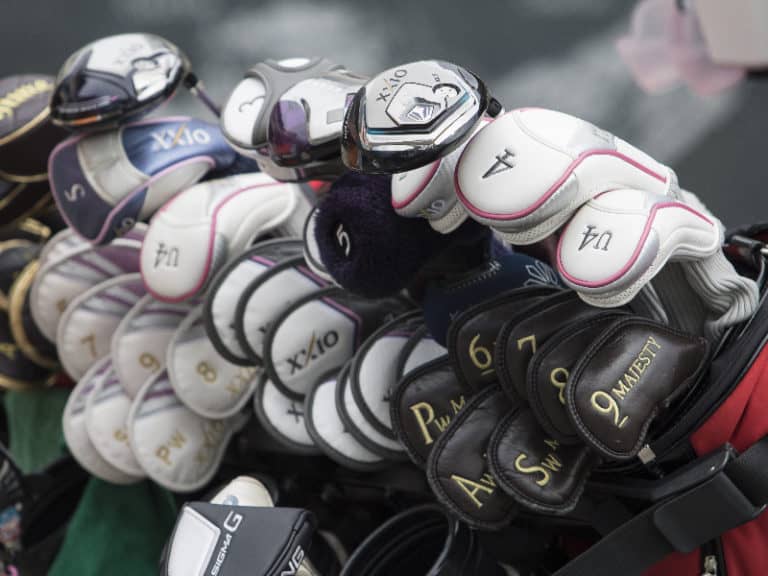 The Driver is usually the most expensive golf club in your bag, costing around $500. Using golf driver headcovers are highly recommended to protect your investment in the club. The headcovers to protect your gear from damages like scratches, scrapes, and dents.
Usually, the driver covers are made of materials like cloth and neoprene and can have a latex or rubber lining inside. The driver headcovers are generally included along with the driver club purchase, but the golfers can also select other styles off the shelf.
The novelty or specialty golf covers are made especially for the drivers. There is a wide variety of headcovers to choose from, ranging from puppet style stuffed animal covers like frogs, lions to logos of NFL teams and universities. You can also find headcovers with Popeye or a cover shaped like a boxing glove.
Golf players know that they cannot hit straight shots all the time. Have you experienced hitting your lucky ball accidentally into the water? Even though losing a ball once in a while is not that expensive, regular golf players can lose a lot of money on golf balls this way. Retrieving the golf balls from the water or awkward positions can be a bummer.
Thankfully, golf ball retrievers can help you to recover them. There are several golf ball retriever models in the market, some having a scoop design while others have a clip mechanism. Scoop style is suitable for soft mud, while the chip on one is useful in other tricky places.
The shaft length and sturdiness is another crucial factor in ball retrievers. The short shaft length might not be beneficial all the time, while, if not sturdy, the retrievers can snap when using.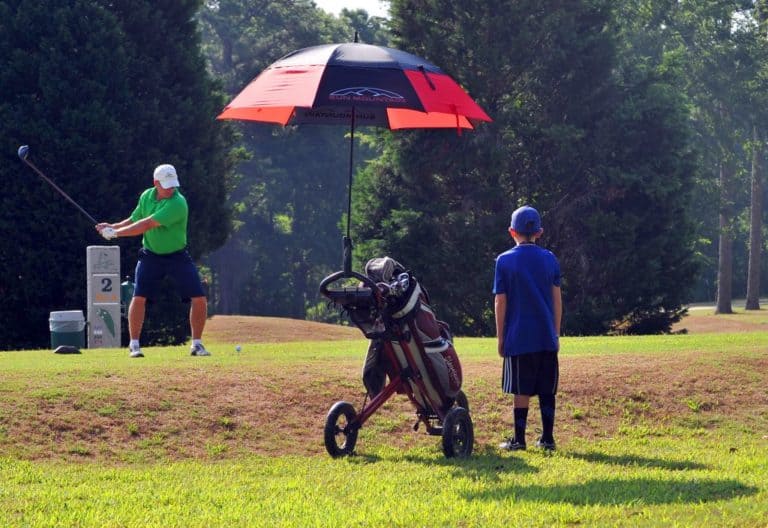 Golf Umbrellas are another essential element in your golf kit, especially if it is either very hot or when it is raining. Rain can damage the golf gear. Also, the golfer cannot focus on the game, with the water dripping all over.
Golf Umbrellas are bigger than ordinary umbrellas, so it can easily cover the golfer and the golf kit. Umbrellas are also often used as a corporate gift for promotions. Golf umbrellas come in different sizes and shape like a canopy or round shape. Different fabric materials used are polyester, pongee, nylon, or a PVC transparent umbrella.
Because the golf umbrellas are larger, they can be slightly heavy. To eliminate this problem, these umbrellas use a fiberglass drum for axles and separators. This material is resistant to lightning, hence protecting the golfers while playing even during thunder. Most umbrellas have ergonomic handles, so the golfers can play their game without affecting their swing.
Check Also: 10 Best Golf Umbrellas Reviews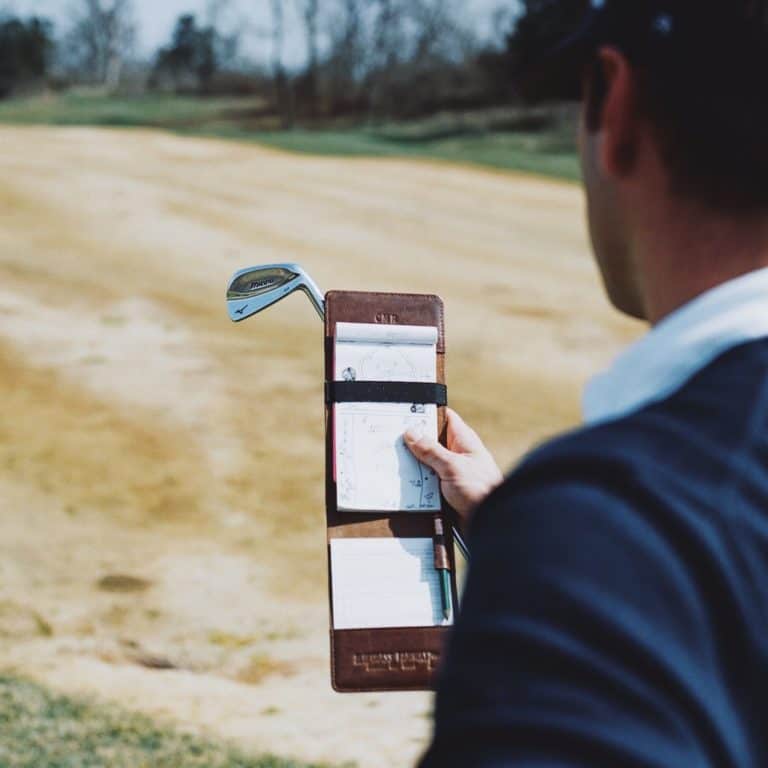 If you are walking and carrying your golf kit, keeping a golf scorecard holder can come in very handy. You don't want to keep the scorecard in your kit and take it out after every strike, diverting your focus from the game. The scorecard can get lost or damaged while doing so. Instead, you can put it in the holder and keep the scorecard holder in your back or front pocket.
The scorecard holders come in different varieties and materials. They are usually made up of waterproof synthetic leather to prevent it from rain and sweat. The scorecard holders commonly have an elastic loop to hold a pencil. The holders can also have statistic sheets to keep a record of your hits and putts. You can also get a stylish custom-made scorecard holder with your initials on it.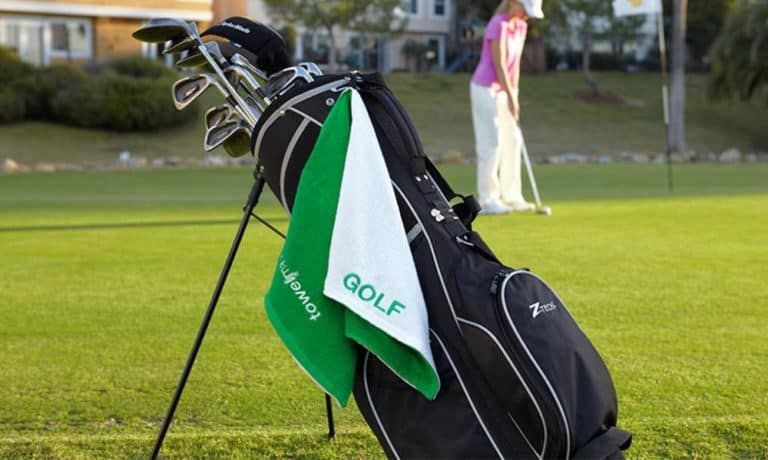 Another essential element in the kit, after your six iron or your hybrid, is a Towel. Yes, the inexpensive, easy to carry, but very versatile tool is the golf towel. You can use it for various purposes, cleaning your clubs, drying the grips, cleaning the muddy balls, wiping your face, or even protecting the back of the neck on a hot scorching day. You can also use the towel for extra grip on the golf club in case you are not wearing your gloves.
A white golf towel is great, but it can look very messy. Instead, a dark-colored golf towel will keep your golf gear clean and conceal the dirt too.
A regular towel can also do the job, but a microfiber towel can clean your gear without scratching it. Getting a clip-on towel to put on your bag will save you from losing it while on the course.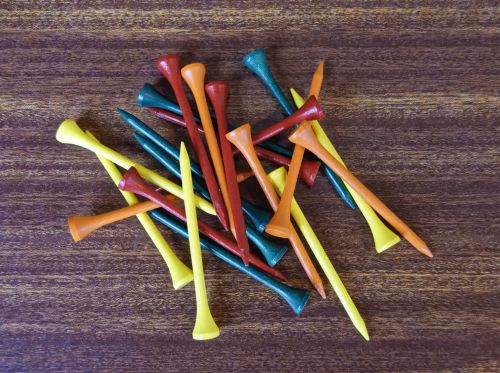 Often, the golf tees receive less attention, but to hit the perfect drivers, the ball needs to be adequately high to make that impact. A Golf Tee is a stand used to elevate the ball at a suitable height for the golfer to strike it. Many golfers will agree that they carry many Golf Tees in their kit as most of them lose the tees frequently.  
Tees are made from either plastic or wood. Wooden tees usually break faster than the plastic ones, and so the later is preferred more. Tees come in a variety of styles and height, making it a little tedious to find the right one. Different size tees are suitable for various clubs like the 4-inch tee is perfect for large-head drivers, whereas the fairway woods and irons can work with 2.125-inch tees, best to carry a few different size tees and use them as required.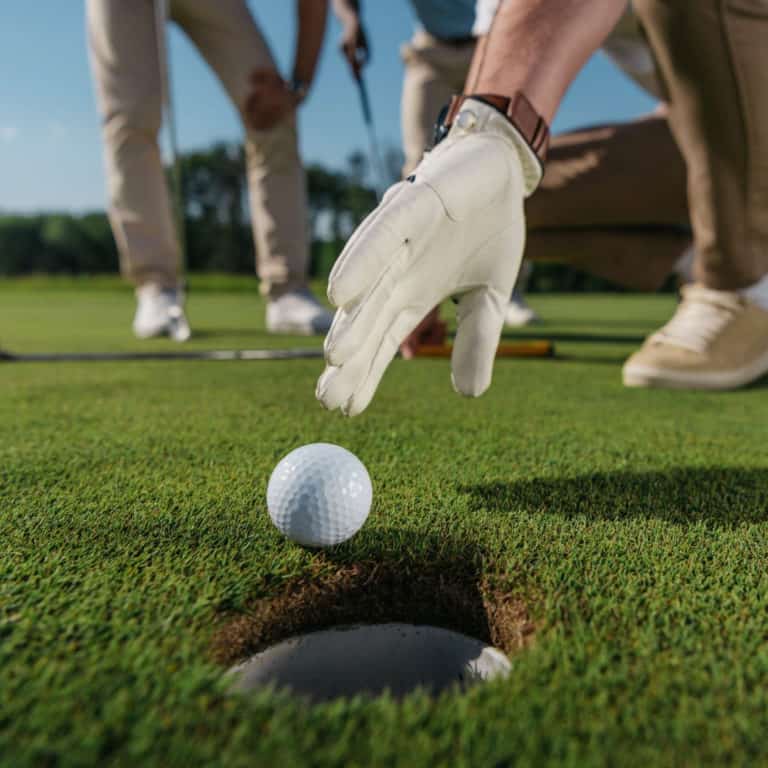 To hit a perfect shot, the golfer needs the perfect grip on the club. That is why golf gloves are the essential tool of any game. Buying suitable quality gloves can improve your game. Golf gloves protect your hands from blisters and other weather conditions. 
By using gloves, the players can concentrate on the game without worrying about the grip. The holes on golf gloves help the air to flow, keeping your hands and gloves dry. 
Golf gloves generally come in three varieties, Leather, Synthetic, and Hybrid. Leather gloves are the softest ones, but wear out faster. The synthetic ones are more flexible and last longer than the leather ones but are not as breathable. The hybrid gloves are a combination of the first two, leather on the palm for grip and synthetic on joints for flexibility. The glove fitting can vary based on the material used, choose the right size by trying them on. Check out our Best Golf Gloves guide to find out detailed reviews of the best options for every condition.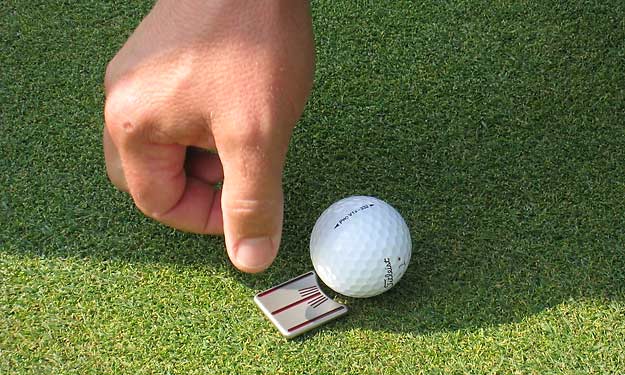 Golf ball markers are flat, small objects used to mark the position of a player's ball. The ball markers are used to remove the golf ball from its position so that another player can play his or her game without obstruction.  
The golf game rules suggest that the ball makers can be anything like a coin or paper marker unless it is not obstructing another player's position. We can find a lot of different golf ball markers in the market today; some are metallic, custom made to give it a personal touch like a company logo or your initials.
You can also find the combination of ball marker and divot tools, a perfect two in one accessory. The hat clip and ball marker combo are also viral where the magnetic ball marker sticks to the hat clip making it easy to carry.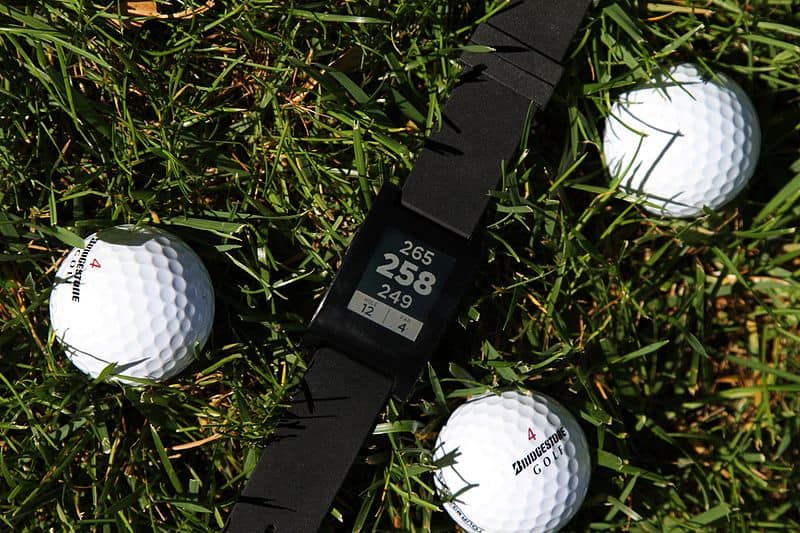 In golf, the difference between a few yards can make a huge impact on your game. That is why  a Golf GPS Watch is an essential device in your golf kit.
The GPS watches can tell you all the details from the shape of the green to yardages, water hazards, and bunkers just at a glance at your wrist. GPS watches can be used on courses that are mapped, so you can download the information before starting the game. Some GPS watches lack in accuracy and can miscalculate the distance.
The GPS system uses satellite technology to determine the distance between you and the flag post. For using the GPS devices, you will need a subscription, that may come at an extra cost to keep the course information updated. Though this is easy, using a GPS device may have some inconsistencies in the measures.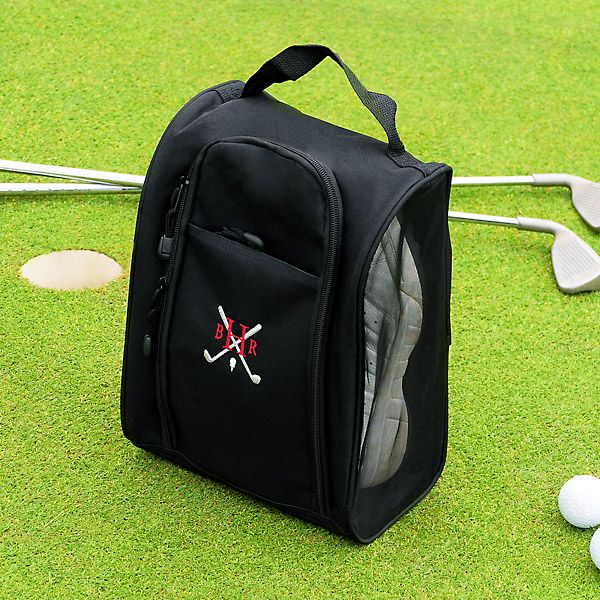 Your shoes can be very messy after you finish the round, and you may not want to walk around. Using a shoe bag is smart etiquette, no matter whether you are traveling to another part of the world, or just going to your car.
The shoe bags are available in plenty of options; you need to decide what suits you better. You can find shoe bags big enough to fit other gadgets, or small enough to fit a pair of shoes.
You can use the extra space in the shoe bags to put other essential things like socks. Or you can carry another pair of shoes to put on before and after the game. Shoe bags come in different fabrics like nylon, leather, and polyester. While choosing a shoe bag, check if it is well ventilated so that the wet shoes can dry quickly.
13) Retractable Club Brush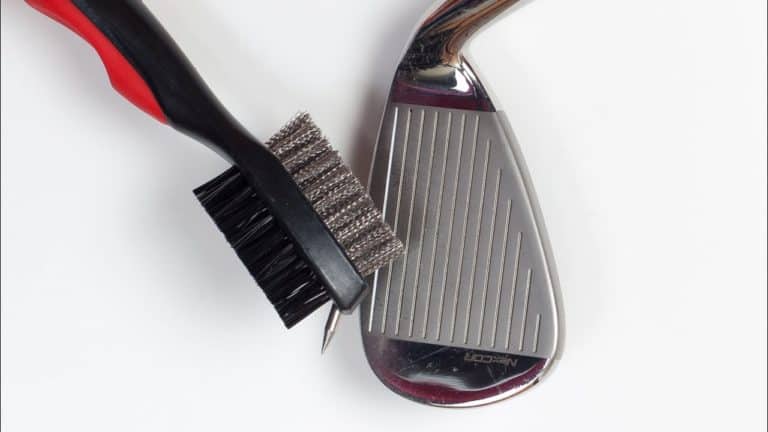 Golf clubs are an expensive investment, if you want to keep them looking like new, it is essential to clean them frequently. You can clean the club with a golf towel, but sometimes the dirt can be too stubborn to clean only by the towel. 
A Retractable Golf Club Brush can do this job in a better way. The best brushes in the market have two sides, one with hard bristles for cleaning the rust, while soft one to clean delicate parts or to clean with water. The retractable club brush has a huge chord, which helps to clean the entire club, even when the brush is attached to your golf bag. 
It is a good option to choose retractable brushes that attach to the bag, so you don't lose them, and can access easily after every round. You can find various types of retractable club brushes with different styles and quality of bristles.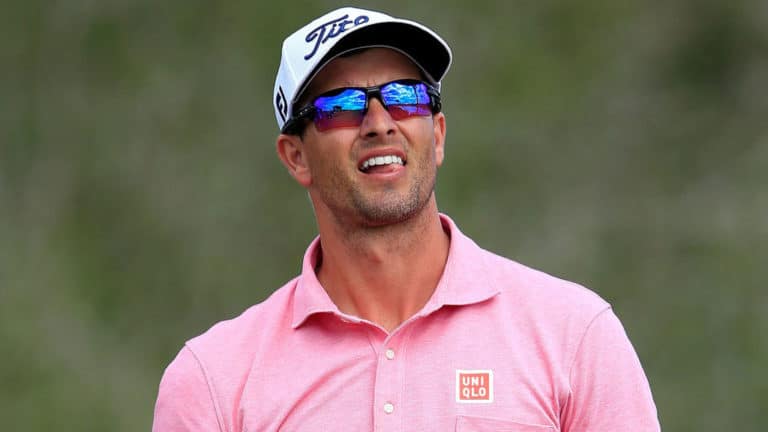 Golf Sunglasses are designed not just to look cool but improve your game too. Sunglasses protect your eyes from harmful sun rays, and also prevent wind, dust from blowing into your eyes. 
Golf sunglasses should be chosen to make sure they are not distracting you during the game. The sunglasses with stable wraparound bands, non-slippery nose pads prevent them from slipping down while watching the ball.
Since you will be on the course for a long duration, the sunglasses should be comfortable and lightweight, so you do not feel burdened by them. Sunglasses made with material like polycarbonate or Trivex are lightweight as compared to the glass lens.
When choosing the sunglasses, make sure they fit your eyes comfortably and do not block any sight of the ball line. Many varieties of sunglasses like polarized lenses, Bifocal, or Progressive Lenses and mirror coating reflect the excess sun rays and keep your eyes cool.
15) Golf Rangefinders + Batteries
In the early days, we had to walk off the distance to measure the yardage, but it has become very simple now thanks to the golf rangefinders. Laser Rangefinders are the most accurate and simplest way to measure the distance. When using such a handheld device, you just have to look through the viewfinder and click the button. It might take you a few tries to find and measure the right target, but once done, you will get the perfect measure.
 The Rangefinders are popular for their accuracy, they are the best devices that you can use to calculate the distance. Rangefinders can be used on any golf course, and you do not have to download any information before using them. The only drawback is it is time-consuming to use the Rangefinders during the game. Check out our detailed review of the 10 best golf rangefinders available in the market.
Frequently asked questions:
Check out this question and answer section if you are looking for more information or looking for what you can give to your golfer friends. It is designed to resolve some of the queries new players and golf enthusiasts might have.
Being prepared is the key to making your golf game enjoyable. While it is not required to carry a bunch of accessories, a few essential ones will certainly make a difference in the game. Some accessories are needed every time, helping aids like GPS watches or ball markers, while a few you can skip based on weather conditions like umbrellas or jackets. So before you buy any accessories, make sure that you determine that you will benefit from it.
We hope that this guide brought your attention to golf accessories that you might want to add to your collection.