10 Best Golf Gloves For Sweaty Hands, Elegance, Comfort, And Grip Strength
First Published:
October 3, 2020
Last updated:
October 29, 2021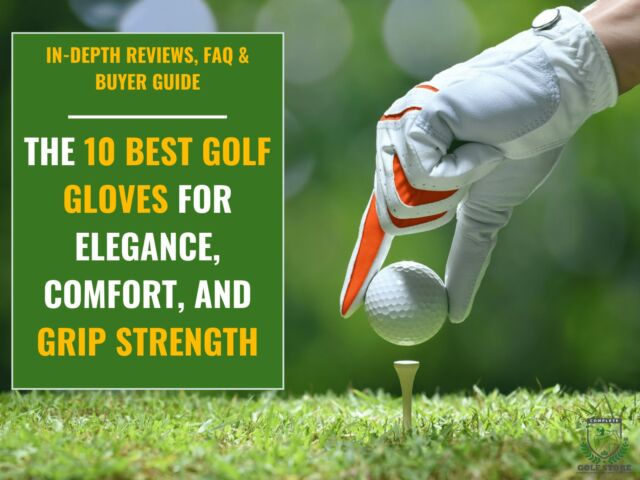 Are you ready to play golf? Have you checked all your gear? One piece of equipment which is frequently overlooked is the golf glove. Some players, especially new golfers, think that golf is not very hard on the hands; Also, the grips on the modern clubs make it easy to hold them securely.
However, most players, beginners, and professionals often use them as must-have golf accessories since there are still chances of blisters or calluses forming on your hands. A sweaty hand is also a problem that can make your club slip, making the shot go off target. Picking the right golf glove may seem like a difficult task.
There are several types of gloves available with their unique features. Some are good for particular weather conditions, while some are meant explicitly for right or left-handed people.
The number of available options can be overwhelming. Don't let this stop you from getting the best golf gloves that will help you elevate your game to the next level. We will be providing tips and advice on what to look for in your golf gloves to get you closer to the right decision.
We will also be narrowing the options to only ten golf gloves that we consider to be the ten best golf gloves that money can buy today. They are some of the best on the market, and we guarantee that you will be happy with your final choice no matter which one it will be.
The products in our list are made by some of the most renowned brands in the world of golf using the best possible materials; the gloves you choose will undoubtedly serve you for a very long time and help you improve your game. Happy reading!
Check Also: Best Golf Umbrellas
Featured Recommendations

Manufacturer
Finger Ten
Bionic
Glove It
Material
Synthetic fabrics
Leather, Lycra
Cabretta Leather
Top Features
Great Solution to sweaty palms
3D finger pads give support to the grip
Soft, flexible, and comfortable to wear
Material
Synthetic fabrics
Top Features
Great Solution to sweaty palms
Top Features
3D finger pads give support to the grip
Material
Cabretta Leather
Top Features
Soft, flexible, and comfortable to wear
Last updated January 12, 2022. Those are affiliate links, we may earn a small commission when you click on the links at no additional cost to you. Product images are served from Amazon Product Advertising API.
5 Tips on choosing your golf glove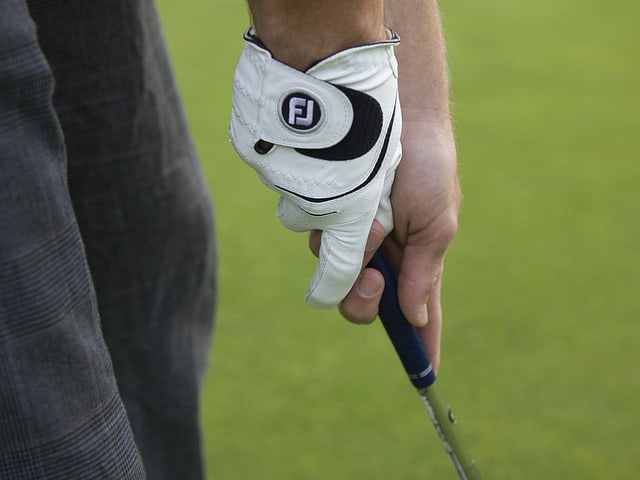 The only thing that stands between you and your grip when you hit a shot is your golf glove. Therefore, it is crucial to think carefully about the gloves you purchase. It must fit perfectly, neither too big nor too small. Here are some tips to help you make this crucial decision with ease.
Fabric – The price of the gloves depends mainly on the materials used. Natural leather, synthetic materials (especially rubber) and mesh fabric are the most commonly used materials.
Sometimes, all three are combined. As a result, the more expensive options contain more leather, while the cheapest gloves contain more synthetic materials.
Natural leather is still considered the most popular high-quality material for making a good golf glove. Good-quality leather gloves are the more expensive option, but they offer the best grip strength and durability as well as excellent protection against cuts and abrasions on your hands. Leather can be easily cleaned with soap or water.
Synthetic gloves with materials such as polyester, nylon, neoprene, etc., have become very common these days because they provide better comfort than leather.
However, they do not give you much grip strength. Mesh fabrics are usually less durable than other types of gloves. But if you want something that looks stylish, then this type of glove will suit you well.
Fit – Size does matter when choosing the right golf gloves! They need to fit your hand perfectly. If they don't, they will cause many problems that may cost you strokes.
Also, the right-size gloves will help greatly with comfort, as using them will provide a better feel that will affect your swings and improve your game. 
Manufacturers, like Mizuno, are now offering some stretchy gloves made with a combination of leather and synthetic materials that bring you the best of both worlds and, more importantly, adapt to different hand sizes.
Comfort – The best golf glove for comfort is the one that fits your hand perfectly without any excess material, especially at the end of the fingers.
If you have a large or small hand, it's important to find gloves with an appropriate fit and feel. You should also check whether the gloves allow enough air circulation around your fingers so that sweat does not get trapped inside them and cause discomfort during long rounds.
If you prefer wearing lightweight gloves, choose those without any padding.
Grip – A strong grip is essential when playing golf. A lighter grip makes it difficult to hold onto clubs properly. In addition, a poor grip affects your swing speed and accuracy.
A good pair of gloves must provide a strong and comfortable grip and help you achieve maximum control over the clubhead at impact.
Usually, natural leather gloves are the ones to offer the best handgrip strength compared to other alternatives; they can also be handy for people with sweaty hands.
Rain and Cold – If you're playing in the rain or cold weather, it can be difficult to keep your hands warm or have a good grip on the golf club. It's therefore advisable to wear waterproof gloves. These will keep your hands both warm and dry by preventing water from getting inside the gloves.
An adjustable wrist closure is usually used to keep the heat in. Gloves for cold or rainy weather usually combine a padding material like fleece, water-resistant suede or leather palm for enhanced grip, and extended cuffs for added warmth.
The 10 Best Golf Gloves Review
Golf gloves may not seem critical to a new player, but the wrong ones can do a lot of harm. Buying the right gloves requires you to do some research and also understand your needs better.
Weather, right or left-handed, size, gender, etc. are all essential factors. We give you information about the best golf gloves that you may find helpful while making a choice.
Suggested Reading: 10 Best Golf Rangefinders
#1- OUR TOP CHOICE -

Men's StableGrip Bionic Golf Glove
The Bionic Glove has a patented technology that has pads along with the fingers as well as the palm. This anatomical pad relief system evens out the surface of your hand and provides even pressure on the club.
It will make the glove feel like a part of your hand. The pre-rotated design follows a hand's natural curve to make the glove fit like a second skin. For a golfer, it is essential to have a well-fitting glove.
Your grip will be strong & secure, making you entirely in control of your game. Made with genuine Cabretta plus terry cloth material, this glove will easily take care of sweaty palms with Lycra. These are among the best golf gloves for sweaty hands.
Moreover, you do not have to worry about wear & tear because this premium glove is made with the best quality materials. Lycra is used strategically between the fingers, top of knuckles, as well as up the pointer finger. So, you will find the glove extremely breathable, which is perfect on a humid day.
Playing with sweaty palms is neither comfortable nor easy. The terry cloth inner lining, especially in your hands' high-risk zones, takes care of excess sweat without affecting the grip.
Cleaning the glove is relatively easy because you can put it in the washing machine on a delicate wash program. For drying, it is advisable to put them down flat on a towel and let them dry.
Check Also: Best golf Push Cart
Pros
3-D finger pads give support to the grip

Web zones let air circulate to help hands breathe keeping them cool and dry

Patented pad technology makes the gloves more durable
Cons
They are full of features but are somewhat pricey.
Sweaty palms can cause even a good player to make mistakes. The StableGrip Bionic golf gloves will help you in keeping the grip strong while keeping your palms dry. Made with very high-quality materials with a lot of design innovations, they are perfect.
#2 - BEST FOR HOT OR RAINY WEATHER:

Titleist Men's Perma Soft Golf Glove
Any product from a well-known company like Titleist is sure to be good, and these Titleist Perma Soft gloves are no exception. A smart, conventional style glove with just a small hint of flair is also high on performance. A Cool Max mesh strip across the back of the hand enhances breathability as well as flexibility.
Made with Cabretta leather, which is specially tanned to make it more resistant, it is exceptional in all weather conditions. It does not matter if you wear these in winters or summers; you will get the same comfort levels.
These are among the best golf gloves for hot weather, as well as for winter. They will not lose their shape over time after multiple uses.
Titleist is known as a conservative brand, so their products are not flashy but more elegant. They only offer a color choice in the thin strip of mesh across the back. You can pick red, green, or fuchsia for a little pop of color.
When it comes to comfort, with Cabretta leather, you are assured of softness, smoothness as well as lightness. Slipping them on or off will not be a problem for you.
With Titleist, you expect the feel to be good, and so it is. Light on the palm; it feels good on your hands. Many gloves lose grip with wear & tear, making you hold the club harder, but Perma Soft will stay grippy even after several rounds.
Pros
You can use them in all kinds of weather, be it hot or rainy

Enhanced flexibility with an excellent fit for comfort

Satin reinforcement at cuff & thumb for added strength
Cons
If you don't take proper care, the gloves may not last very long
If you are looking for a premium quality glove with the right fit, then look no further! With an elegant look, you will be comfortable wearing these while playing in black or white colors with an elegant look. One great plus point is that it is available for both men and women in a wide range of sizes.
#3 - BEST FOR RAIN, WATERPROOF, INCLUDES BALL MARKER:

FootJoy Men's RainGrip Golf Gloves
These RainGrip gloves from FootJoy are among the best that you can find for wet weather. With these gloves on, you will be able to play at your highest level, even in rainy conditions. On top of it, these are also very reasonably priced. So think of them as a must-have item in your golf bag if you are expecting rain.
The reason it is so effective is the Autosuede used in the palm and the index finger. When it becomes wet, the fibers stand up, enabling the glove to have a good grip on a wet club. You will notice that the glove works even better when it is wet.
Designed with comfort as the top priority, these gloves offer high levels of breathability as well as flexibility. Elastic bands on the back give you a customized fit with a lot of control.
One tip that can work for you is not taking it off for putting or after a shot. Instead, leave it on all the time so that it retains whatever warmth is there.
This rain glove is equally effective on a hot, humid day, so using it on a sweaty day can work in your favor. The RainGrip has one more advantage: a ball marker and a tee placed in a loop.
Players love this feature of a golf glove with a ball marker because it is a nice touch, as they don't have to carry it separately.
Pros
Excellent in wet weather conditions

Removable ball marker to easily mark your ball

Makes for an ideal gift. It comes as a set with a towel
Cons
Some people find them too heavy and miss the feel
These gloves are sold in pairs and come with a towel, so they are a good gifting option. The quick-dry feature in these excellent waterproof golf gloves is the just-right one for playing in wet weather.
Also, you get a precise fit with its angled closure. Equally useful in humid conditions, these gloves come with a ball marker as well.
#4 -

BEST FOR GRIP PERFORMANCE:

Callaway Men's Dawn Patrol Golf Glove
Callaway is a well-known, reputed company in the golfing world. All its products are first class, and the Dawn Patrol gloves are no different. Full-leather construction with a great feel & fit is the hallmark of this product. Perforations on the palm, fingers and thumb reduce moisture in addition to increasing breathability.
The Opti Fit Adjustable Closure is a unique feature, which ensures a thin, light, secure, and comfortable fit. It is also adjustable, so you get a snug feeling while wearing the glove.
There is no unwanted movement or discomfort while playing when wearing them. Its cuff is a Cotton Terry material, which is perfect for moisture absorption.
This all-leather glove comes from a reputed company, so you are assured of its genuineness. It is available in all main sizes ranging from small to extra-large, perfectly fitting any and every golfer's hands.
Moreover, despite its high-quality construction & durability, it is quite reasonably priced.
With their smooth, shiny finish, these leather golf gloves are attractive to look at apart from being durable and comfortable.
You can continuously wear them for a few rounds without taking them off but still feel comfortable. These are so thin and soft that some players don't take them off even when putting.
It is almost like having a second skin with a lot of free movement possible.
Pros
Soft, thin, comfortable with an all leather construction

Offers excellent grip while playing with no slippage

The well-placed perforations provide a roomy feel
Cons
The stitching may come undone after some use
A sharp-looking glove from Callaway, the Dawn Patrol is high on looks as well as quality. Some excellent features like the perforations, Opti Fit closure, cotton terry cuffs, etc. make it one of the best golf gloves available in the market. You will not go wrong if you choose this as part of your golfing gear.
#5 - BEST FOR WINTER & COLD WEATHER:

HJ Glove Men's Winter Performance Golf Glove
Cold weather can be a problem for an avid golfer, but you can keep playing even in very low temperatures thanks to the best winter golf gloves, the HJ Winter Performance gloves.
Perfect for winter months with excellent construction, these gloves offer your hand good protection.
Made with 50 % Cabretta and 50 % synthetic leather, they offer the best of both worlds. You get an excellent feel, control, and softness with Cabretta, while with synthetic leather, you get more durability.
It also features thermotex fleece parts, which offer extra warmth without compromising flexibility. Cabretta leather is used in the palm but only after a unique tanning process to make it ideal for colder weather.
A reinforced and fully lined wrist cuff ensures that your hands remain warm while not letting cold air seep in. HJ Glove has been at the forefront of designing and manufacturing golf gloves for decades, and their expertise shows in the well-crafted product you get.
Unlike many other winter gloves that make playing golf quite difficult, these gloves offer great flexibility and a secure grip.
The gloves have an elegant and sleek look and make an excellent gift to any golfers playing in cold conditions. Stitching and finishing are of top class.
Innovative as well as original technology makes this an ideal choice in winter. With the adjustable Velcro tab closure, you can expect a perfect snug fit.
Available in all sizes for men and women, these gloves are a must-have item for golfers playing in difficult conditions.
Pros
Weather Tan Cabretta in the palm adds extra insulation

Lined wrist cuffs offer excellent protection against cold winds

A combination of synthetic and genuine leather is perfect
Cons
Though extremely useful in winters, they are not waterproof
Designed for keeping your hands warm even in icy conditions, these are among the best cold weather golf gloves. They will not hamper your movements or limit your swing.
Well constructed with high-quality materials, these could be an ideal option if you plan to play a round of golf when the temperature is very low.
#6 - BEST VALUE FOR MONEY:

Nike Dura Feel VIII Men's Golf Glove
If you are looking for golf gloves that are of good quality but not very expensive, then the Nike Dura Feel gloves are an extremely suitable option. With Nike, you can rest assured that you will get a good product of high standard quality.
These gloves have a mix of genuine and synthetic leather. You will get natural leather on the palm & thumb, but it will be synthetic leather on the back.
It is this kind of innovation in design that makes it affordable even with high-quality performance.
Comfort and fit are both excellent, which is a plus at this price point. Customized fitting is perfect for hands of all sizes and shapes.
Apart from genuine and synthetic leather, there is stretch fabric placed in the fingers and back to make it more comfortable.
The back panels also have several strategic perforations, which will keep your hands sweat-free as well as dry. Its closure tab is designed well, which closes at an angle for a better fit.
It will not hinder your movement while you play. All the different materials used are of good quality so that a budget-conscious golfer will appreciate the product.
They are made with 85 % polyurethane, 10 % nylon and 5 % goatskin leather for durability, comfort, and softness.
Pros
You get excellent quality at an affordable price

The angled closure tab makes for a perfect & secure fit

More durability and comfort with the mix of synthetic and real leather
Cons
May not last long if you use it regularly
The Nike Dura Feel gloves are popular not only with beginners but also with more advanced players because of their price and good quality.
The different materials used in the construction are placed strategically to give the users maximum comfort with excellent fit.
Availability in all sizes with an adjustable tab makes it a perfect choice. It can fit hands of any size and shape.
#7 - BEST FOR COMFORT:

Srixon Men's Z Cabretta Leather Golf Glove
These stylish gloves are made with Cabretta leather to give the wearer the ultimate feel and performance. After undergoing a silicon tanning process, the gloves come to you super soft and very supple.
These are among the best Cabretta leather golf gloves.
Perforations on the glove are strategically placed on top of the hand, fingers, and between the fingers. As a result, users will get a firm grip with comfortable hands.
Another technical innovation is the Lycra inserts, which are placed across the knuckles in the gloves. They give better fit and flexibility.
Though the gloves are made with fine Cabretta leather, it is both water and sweat resistant. The fine, thin leather ensures that a user performs with consistency without any interference.
These gloves are available for both left and right-handed players. You can get them in a range of sizes from small to extra large.
The construction of this glove is of top quality with meticulous sewing. The reinforced cuff & thumb extend its life and also make it more durable.
With leather, you need to take proper care while wearing or taking off as well as while cleaning it.
While wearing, just smooth it gently over the fingers without pulling too hard. Dry it well after every use before storing it. Proper drying, cleaning as well as storing will prolong the glove's life.
Pros
Premium Cabretta leather is thin, flexible, as well as breathable

Well located perforations make for comfortable gloves

Coolmax Spandex knuckle inserts provide a better fit
Cons
If not stored or used correctly, it is prone to stretching
The Cabretta leather construction and many cool features make these gloves one of the best and much in demand.
Lycra inserts, which are positioned across the knuckles, give more flexibility while retaining the fit. The Srixon Finger Venting Technology is used to make the gloves more breathable even in humid weather.
These gloves are available in both left and right-hand options in a range of sizes.
#8 - BEST FOR LADIES:

Glove It Soft Cabretta Leather Ladies Performance Grip Gloves
Designed specifically for women, the Glove It Women's golf gloves are both functional and fashionable. Top-quality materials & excellent design, in addition to the custom prints, make these a favorite among female golfers.
Women have smaller hands compared to men, apart from differences in shape and texture. The Cabretta leather material in this glove makes it both soft and light to use.
Stretch lycra is used to make it more stretchable, which is suitable for smaller hands. If you have sweaty palms or are playing in hot conditions, these gloves will keep your hands dry.
There are built-in sweat vents through the perforations to keep free air circulation and leave you feeling comfortable.
The pull tab makes it easy to adjust according to your hand and wrist size. Additionally, the wristband is anti-microbial and moisture absorbent.
These also make perfect gifts for women golfers; they are available in a wide range of colors and patterns. They also offer complete UV 50 sun protection, which all women will appreciate when out golfing.
You can get it in multiple sizes from small to extra-large, that too in both left and right-hand options. The Classic Mod Dot pattern is popular, and it is even possible to get all your golf gear in the same print.
Women like to be stylish, and with the best golf gloves for women, they will be.
Pros
Soft, flexible, and comfortable to wear

Available in a wide range of hand sizes

Well designed product line with fun and unique prints
Cons
It is a bit on the expensive side
Ladies will love these fashionable gloves, which are stylish as well as comfortable. Well designed to fit women's hands, they come in all sizes.
The soft Cabretta leather is an excellent choice for a day of golf. The UV 50 sun protection feature makes it an attractive option for hot weather and for women with softer, more sensitive skin that requires more care.
#9 - BEST FOR RAIN AND SWEATY HANDS:

FINGER TEN Men's Golf Glove
When you want an unbeatable grip, even in wet weather, you need to have the perfect gloves, and that is what you get with the Finger Ten golf gloves.
The best golf rain gloves for wet days, humid weather, or sweaty palms, these gloves will help you perform well without any problems.
A high-quality 3-D performance mesh provides a good fit and makes the glove comfortable to wear. You can wear the gloves on one hand or both because it is available as a pair in various sizes from small to extra large.
You also get a discount when buying more than one pack, which is a good idea, especially in wet conditions.
It is neatly packed in double layers to reach you in good condition. The best part is that it is eligible for a 30 day return or replacement policy.
So, there is no risk while buying this product. These gloves are a must-have piece of golf gear for players who don't want to miss a single day's practice or play in all weather conditions.
Rainy weather or sweaty, humid conditions can be handled better with this product.
The club will never slip from your hands. A skin-like fit is what you need on bad weather days, and you will get it with this precision-fitted product. It will stay put on your hands with no need for constant adjustments.
Pros
Suitable for all weather conditions

Fast-drying feature

Great Solution to sweaty palms

Made of High-quality materials
These are ideal gloves for wet or humid weather. You will be happy to note that your performance will not suffer.
Exquisite quality materials with emphasis on perfect construction make this product very attractive to players. Choose it if you are looking for excellent all-weather gloves.
#10 - VEGAN FRIENDLY NON-LEATHER-

PUMA Golf Men's Flexlite Golf Glove
Both comfortable and lightweight, the Puma Flexlite is a good golfer choice. Made with synthetic leather, this tight-fitting glove is a great option for players looking for vegan golf gloves.
Its construction is top class with a 52 % polyester ratio, 42 % polyurethane and 6 % spandex. In addition, this synthetic glove is mixed with 4-way stretch lycra, which gives it strength and flexibility.
An engineered stay grip feature provides a comfortable and secure grip. One good feature is the strategically placed tiny holes for better breathability. They ensure that the moistness is expelled, and you feel comfortably dry. In humid conditions and hot weather, this is very helpful.
One thing which attracts many golfers is its affordable price. With great design in addition to all the glove features, it makes a good bargain at this price point.
On top of everything else, it is also very durable. It can easily last you a couple of seasons, even if you play regularly.
You also get an angled Velcro tab fastening, so the tab does not interrupt when you play. It is also easy to adjust, and you can make it fit your wrist. You will also notice the famous puma logo on the Velcro closure, which gives it a nice, sporty look.
This subtle yet stylish look is what most golf players prefer. With more and more people turning vegan nowadays, these gloves could be an ideal choice.
Pros
Great choice in humid or hot weather.

Vegan-friendly gloves

Players with large hands will find it comfortable.
Cons
Some people don't like the spandex-like material in the fingers
Not only very stylish but also an excellent choice for golfers with large hands, these non-leather golf gloves are an affordable option. It can keep your hands dry even in humid conditions because of the well-placed perforations. Nicely designed and constructed for the left-hand players, these gloves come with a secure grip.
Questions And Answers About golf Gloves
Gloves are a vital piece of equipment in your golf bag, and choosing the right ones can be challenging.
We have compiled a list of the most commonly asked questions about golf gloves here, and we will be continually adding new questions to this list as we receive further queries.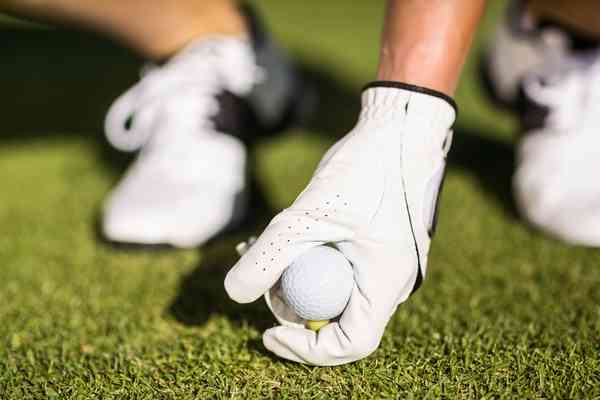 Do Golf Gloves Make A Difference?
Yes, wearing golf gloves definitely makes a difference, the same way golf shoes make a difference for your swing, giving you a good grip on the ground. Some people feel it can affect the swing weight because it is close to the axis of rotation.
This could be a little thing, but for professional golfers, it could mean a big difference. There are many reasons why golfers wear gloves, but they do it because it makes a difference in one of the following ways.
Improves grip by providing extra friction

Easier to hold the club because there is no slippage

Protect hands from wear & tear

Preventing callus and blisters from forming on hands

Weather specific gloves for hot, cold, or rainy conditions

Gloves look stylish, and golf is, after all, a stylish game
So, the clear answer is yes, gloves make a difference in various ways for different players, so start saving yourself shots on the golf course and tons of money by picking the right gloves for your grip.
Do You Need Two Golf Gloves or Just One?
A very common question, especially among new players, is: Do I need to buy one or two golf gloves? And if I only need one, which hand should I wear it on?
Usually, players only wear one glove, and that too on their weak side. So, a right-handed golfer will use a left glove while a left-handed golfer will wear a glove on the right hand.
However, not all golfers wear single gloves all the time. Some golfers prefer wearing both gloves, which is usually the case in extremely cold conditions.
It all comes down to personal preference and seeing how things feel. As a beginner, you may choose to buy only a single glove and see how it feels. Then, try with two gloves and see which option works better.
If you think that playing with two gloves helps improve your game, then go with that; otherwise, you could choose to use one glove or even no gloves at all. Choose whatever works best for you.
Some professional players like to wear both gloves at all times. It could be their personal choice and habit. This is the case of professional golfers Aaron Rai and Tommy Dale Gainey (also known as Tommy "Two Gloves").
In fact, Tommy Gainey explicitly stated that he had tried to play with a single glove and with no gloves at all, but the only thing that worked for him was using two gloves.
Many gloves are available as pairs, while some come in single pieces. Depending on your style of play, weather conditions, skin, and many more factors, you can decide whether to buy a single glove or two.
What is the difference between cadet and regular golf gloves?
A novice golfer may confuse the term "Cadet" with its more widely used meaning. For example, in the military, the term refers to a 'novice'; almost all other meanings of the word in different disciplines refer to a beginner. However, in golf, it has a totally different meaning.
The terms "regular" and "cadet" are simply glove sizing terms. A regular golf glove is made to fit most golfers' hands, while cadet gloves are specifically designed to fit a minority of players that have hands that are a bit different. 
Cadet golf gloves differ in terms of having shorter fingers and a wider palm. Players who always feel that regular gloves are too tight or that the fingers are always too long are more likely to find their suitable gloves in the cadet section.
What size golf glove should I wear?
Size is a crucial factor that determines which glove size will suit your hand. It must be a perfect fit with no excess material whatsoever.
The glove needs to feel like a second skin and not cause any discomfort during the game. That's why most golf glove manufacturers provide a product size chart to help customers find their perfect fit.
You must start by measuring your weak hand, including the palm circumference just below the knuckles (without including the thumb) and the height of the middle finger.
Some manufacturers, like HJ, also recommend measuring the hand from the top of the middle finger to the wrist. After that, you can pick the suitable glove size according to the manufacturer's chart. 
Manufacturers usually include different age and gender categories in their glove size chart: Kids, women and men. Each category is, in turn, divided into different sizes.
Most manufacturers include fewer sizes for kids and women _two to three different sizes per category. On the other hand, many more different options are available for men ranging from small (S) to extra-extra-large (XXL); on average, manufacturers include a total of six different sizes for men.
Moreover, some manufacturers, like Nike, offer a few men cadet options to fit people with different hand shapes. They provide a wider palm circumference and shorter fingers. Cadet gloves are also made in various sizes, depending on the manufacturer.
To pick a suitable golf glove, first choose a manufacturer and then go through their size chart and measurement methods. After that, measure your weak hand. Finally, select your glove accordingly.
Why are golf gloves white?
If you ask any golfer about the color of their golf glove, you will probably get white as the answer. Golfers got so used to their white gloves that any other color, especially black, won't seem right to them.
It simply doesn't fit. Why is that? one may ask. The answer for most golfers is it's just a preference or habit. However, there are some exceptions, like Aaron Rai's pair of black gloves or Ricky Barnes and Charley Hoffman's choice of a single green glove. 
How can we explain this? Some golfers say that a white golf glove will be noticed when it gets dirty and replaced before causing blisters or nasty infections.
Others would argue that a white glove will stand out in the middle of the golf course and will be easier to find if dropped accidentally.
A third explanation is that black gloves will make the player feel hotter, especially during the hot sunny days of summer, and most players opt for white gloves.
What glove does tiger woods use?
Tiger woods has always been faithful to his oldest endorser; that's why he always uses Nike golf gloves. He always wears the Nike Dri-Fit Cabretta leather glove and very rarely uses other gloves, like when playing in the rain.  
The number of gloves that Tiger Woods always keeps in his bag is the real surprise here! During an interview with Henni Zuel from GOLFTV, he revealed some of his wet weather habits.
Woods said that he constantly keeps about 16 gloves in his golf bag. The reason behind this is that he hates using an umbrella, and whenever it rains, he gets wet, so he needs to replace his gloves many times whenever it rains.
Why Do Pro Golfers Take Their Glove Off To Putt?
You may have noticed that most golfers in professional tournaments or otherwise will take off their gloves before putting. They use gloves while swinging from the fairways or off the tee.
However, as soon as they come near the putting greens, they remove their gloves. This is because a player needs a better feel on short-game shots.
The direct feel of the club on the skin is more intimate and more revealing as well. Gloves tend to inhibit this feel and not give the actual picture.
A player does not need any extra speed or power for short-game shots, so their hands are safe even without gloves. However, some players prefer not to take off their gloves even while putting.
It is a good practice, though, because it gives a chance for the glove as well as your hand to dry out a bit.
How Long Do Golf Gloves Last?
The answer to this question depends on the following:
Quality:

A good quality golf glove will last longer because it has better materials and construction.

Conditions:

where you play and in which weather condition also affects the life of a glove. Hot conditions can badly affect a glove.

Kind of grip:

a lot will depend on the type of grip you have. If there is too much friction, then gloves will wear off faster.

Taking care:

how you take care of the gloves between as well as during the rounds will directly affect their life.

Gloves fitting:

how the gloves fit on your hand is essential. If they are too big or too small, they will get damaged faster.
How To Clean Golf Gloves?
Golf gloves have a place of importance in a golfer's gear, and like every other piece of golf gear, it requires good cleaning as well as maintenance.
Cleaning the gloves can be a bit tricky because most of them are made of leather. Any washing or excess moisture can damage them easily. At the same time, the gloves tend to get dirty quite easily every time you use them.
The best way to clean them is to soak them in cold water with some detergent. You can use a stain remover for specific stained areas.
Make sure that you are gentle while scrubbing and avoid using any harsh chemicals. Rinse the glove thoroughly and make sure all soap is gone.
Let the glove air dry for a couple of hours. Some people wear them when they are slightly wet to form the desired shape and prevent shrinking. Take it off and let it air dry completely.
Final Thoughts
Do you have enough information to find the best golf glove? The main thing is its fit. Unless you and your hands feel comfortable, the other factors like price, brand, material, etc., do not matter at all.
There are other decent products on the market that we did not include in our top ten list, such as the TaylorMade Tour Preferred Flex Golf Glove.
However, you must also remember that you only get what you pay for. The market is full of cheap, attractive products, so, regardless of the brand, it is essential to do proper research before you make a decision.
In this article, we provided all the necessary information about golf gloves and tried to answer as many questions as possible.
We also made a list of the best available gloves ranging from the more premium golf glove to the more affordable options with a reasonable price.
Our list contains the best quality products that you can purchase based on personal preference. We believe that, in the end, you will be able to choose your gloves without any problems.
As a beginner, you may not want to spend too much money, but cheaper gloves may adversely affect your game. High-quality leather gloves are generally higher priced, but they last longer as well, and that is why they are the best selling golf gloves.
The good thing is that with so much variety available, you will be able to find the golf glove that matches your needs best. All the effort you put into selecting a golf glove will reflect on your game, so make the right choice!