10 Best Golf Umbrellas Reviews and Buyer Guide
Last updated:
July 13, 2023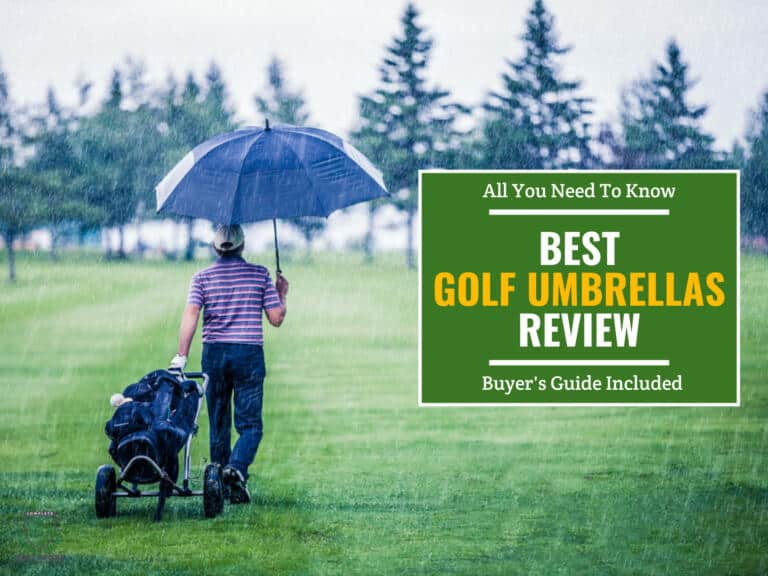 Disclaimer: We may earn a small commission from some of the links on our website. However, our reviews and comparisons remain fair and unbiased. Our goal is to help you make the best choice. For more information, please see our
disclosure statement
. Thank you for your support.
Key Takeaways
According to our conducted tests, the G4Free Automatic Open Golf Umbrella is our top pick, with its 210 T pongee fabric canopy and fiberglass ribs and tips. Second on the list is the stylish and compact Procella Golf Umbrella. The Gustbuster Pro series Gold is the best windproof option. The rest of the list comprises high-quality umbrellas that will serve you well on the golf course and beyond.
Golf umbrellas are specially designed to give you maximum protection from rain, sun, and wind while you play your best game on an open golf course.
They are much larger than regular umbrellas and are available in different shapes and sizes, using various materials. Manufacturers also offer many color options and different price tags.
The objective is not to buy the priciest product or the most affordable umbrella. Instead, you need to look for a durable, high-quality umbrella without breaking the bank.
That's why we tested a lot of products to bring you the 10 best golf umbrellas you can buy today.
For now, all you need to do is keep reading to have all your queries answered.
No time to read the whole article? No worries. We've done the work for you and compiled a list of the top performers.
| Product | Features | Our Rating | |
| --- | --- | --- | --- |
The 10 Best Golf Umbrellas
The following is our selection of the ten best golf umbrellas available today.
The following are our top selections based on our own testing, research, and experience:
G4Free Automatic Open Golf Umbrella
This black-colored and elegant golf umbrella is at the top of our list because of the top quality in every aspect of its manufacturing. Right from its features to the materials used and its design, everything is perfect.
You can choose the canopy size from 54, 62, and 68 inches depending on your requirement. It is both heavy-duty and sleek at the same time. The dual canopy design ensures that even in strong winds the umbrella will not blow away.
The canopy is made with 210 T pongee fabric, which is ultra water-resistant. It also provides excellent sun protection with an SPF of 50+ levels.
The frame, ribs and tips are constructed with fiberglass. Another fine detail is how its canopy is created with chain stitching and nine stitches per inch.
You can open the umbrella with just one hand by pressing the button on the ergonomic handle. The bigger size can easily shelter 2 to 3 people, and even with 54 inches, you will be able to protect your gear.
Pros
A double canopy design with vents allows the wind to pass through
Two Velcro straps on each canopy help to secure it well
Fiberglass body and reinforced fiberglass ribs for more flexibility & strength
Cons
Though it is assembled with a case, it does not fit well in the golf bag
The G4Free Automatic Open is the ultimate golf umbrella for every situation. It was engineered and manufactured after a lot of research. A lot of attention has been paid to the fine details like stitching.
All the materials used in the construction are of very high quality. Not only can you get it in one of the three size options, but you can choose from 20 different colors. All in all, a great product and worth every penny!
Procella Golf Umbrella
A great combination of style, performance, and convenience. The Procella golf umbrella comes from a trusted company with a solid reputation. The company was founded by golf players who managed to create this premium umbrella that can withstand harsh weather conditions.
A lot of R&D, testing, and constant design upgrades have gone into producing this 62-inch oversize umbrella made with 210 T pongee micro-weave fabric. It is completely water-resistant, which makes it one of the best golf umbrellas for wind and rain.
The Procella umbrellas are top-quality with many features and several awards won over the years. The reinforced fiberglass frame, tear-resistant inner mesh, and vented dual canopy make this a virtually unbreakable umbrella. In addition, it has stood up perfectly against wind speeds of up to 46 miles per hour under tests in wind tunnels.
Though it is quite large, it fits easily into its 38.7-inch sleeve. It weighs just 1.7 pounds and is easy to carry anywhere and will fit perfectly in your golf cart.
You only need to push a button to use the umbrella and then gently slide it down to close. It has a pinch-free open and close mechanism, which is very smooth. The rubberized grip on the handle adds to the comfort.
Pros
Excellent quality and durability making it a good value for money
Ultra-Strong Fiberglass Ribs & durable Construction
Unique non-slip and exhaustion-resistant rubber-protected handle
Cons
Water can leak down the shaft in a very heavy downpour
This product is built to last and has some great features to stand against harsh weather. Fiberglass is used for the inner ribs and shaft, making it more durable and lightweight.
The vented dual-canopy design has a mesh interior that strengthens it while keeping it airy. It will make for an excellent gift to any golf player.
Gustbuster Proseries Gold Golf Umbrella
Nothing is more important than an umbrella for a true golf lover because it can protect them from the harshest weather conditions without interrupting the game.
This 62-inch umbrella is correctly called the GustBuster and can withstand gusts up to 55 miles per hour. Its double canopies allow the air to pass quickly and keep it stable.
Many professional golfers prefer the GustBuster because of its reliable construction. Its canopy is 100 % nylon and is completely waterproof. So both rain and wind are not a problem.
The three words which can describe the product are 'unflappable,' 'unflippable,' and 'unleakable'! It also features a pinch-less open and close-release system, which is very easy to operate.
In this umbrella, the fiberglass shaft is lightning resistant and safe to use in rainy weather. The fiberglass is also
not very heavy to carry and super strong.
Though it is so large, it only weighs approximately two pounds. Surprisingly, it is easy to carry around. In addition to black and navy blue, the umbrella is available in other colors as well.
Pros
Award-winning dual canopy design can take on strong winds
Fiberglass body and hand contoured rubber grip add to the stability
Tested to not invert in winds of 55+ mph
Cons
Rubber grip can wear off if repeatedly left wet
The name GustBuster itself tells you all about this umbrella! It can withstand the strongest of winds without flipping over and the heaviest of rains without leaking.
Its design and construction have been researched and tested and show the superior quality of the product. In addition, this umbrella is backed by a 30-day money-back guarantee as well as a limited lifetime warranty.
ACEIken Golf Umbrella
If you want complete protection for yourself and your golf equipment, the ACEIken golf umbrella is one of the best. With its 62 inches of extra-big canopy, it will shield you from rain, strong wind, sun, sleet, and even snow. It is large enough for two to adults.
The EVA grip is comfortable and secure. By pushing a button on its handle, you can open the umbrella smoothly. High-grade fiberglass is used in the construction of the tips and ribs, making them flexible and robust.
It does not weigh too much for such a large golf umbrella and is quite comfortable on the arms and hands. Moreover, its canopy comprises ultra water-resistant 210 T pongee micro-weave fabric, which makes it effective in downpours.
This quick-drying silk-derived material is lightweight and can shield you from the harsh rays of the sun with SPF 50 + protection. Moreover, the dual canopy design stabilizes the umbrella in case of heavy wind. It ensures that the wind can easily pass through without flipping or blowing it away.
Pros
Lifetime warranty with easy product replacement
Very high-quality construction with top-quality materials
Double canopy design with steel frame to keep it stable
Cons
It may be too large and not very easy to carry around
Among the best extra-large golf umbrellas available in the market, this product is sturdy and flexible enough at the same time. Even in the worst of weather, it is possible to be entirely shielded under this umbrella.
Its design and construction give it a streamlined look. Though most people prefer the standard black or navy blue, it is available in other colors.
Titleist Tour Double Canopy Golf Umbrella
The Titleist Tour Double Canopy Golf Umbrella is a high-quality product. With its tour-inspired design and durable construction, this umbrella provides excellent coverage and protection from the elements.
The Umbrella boasts several notable features that make it a reliable choice for golfers. First and foremost, it provides an impressive 68 inches of coverage, ensuring that you stay dry even during heavy rain showers. The double canopy design is inspired by professional golfers and provides added stability in windy conditions.
Additionally, the umbrella features a premium anti-inversion system, preventing it from turning inside out in strong gusts of wind. The UV protection offered by this umbrella is also commendable, providing an extra layer of defense against harmful sun rays.
Lastly, the proprietary Titleist handle adds a touch of elegance and comfort to the overall design.
Pros
Ample coverage of 68 inches for maximum protection.
The tour-inspired and double canopy design enhances stability during windy conditions.
Premium anti-inversion system.
UV protection shields users from harmful sun rays.
The proprietary Titleist handle offers a comfortable grip and adds a stylish touch to the umbrella.
Cons
Higher price compared to other golf umbrellas on the market.
The black/red color scheme may not appeal to all golfers.
The Titleist Tour Double Canopy Golf Umbrella offers excellent coverage, stability, and protection from the elements. Its tour-inspired design and durable construction make it a reliable choice for golfers who prioritize performance and style.
While the price may be a deterrent for some, the umbrella's impressive features and advantages justify the investment for serious golfers who value quality and durability.
Zomake Golf Umbrella Windproof Umbrellas
This windproof golf umbrella is slightly different because it fits perfectly for summer storms. Zomake umbrellas offer UV ray protection of 50 + to players who want to play golf even when the sun is beating down.
Its double canopy design allows hot air to rise through, so you will not feel hotter under the umbrella. In addition, it has a large canopy of 51-68 inches that effectively protects you from rain, wind, and the sun. The canopy is made with super water-resistant, anti-slump, and high-tech fabrics.
The fiberglass shaft is lightweight and sturdy. The joints and ribs in the frame are a mixture of metal and fiberglass, making it very strong. Moreover, the high-quality EVA grip offers a comfortable and controlled hold.
It is a multi-purpose product, and you can use it for daily travel or a day at the beach, or while doing any other outdoor activity. It looks elegant and is available in a variety of colors and sizes.
Pros
All products are 100 % quality checked and backed by 24-hour service support
Available in multiple sizes and colors
It offers a high level of UV protection with an SPF of 50 +
Cons
Some customers found the size and measurement wrong
This large canopy golf umbrella will stand firm against strong winds and give good sun protection as well. Its thick pongee fabric will keep the rain off you, and the metal fiber mesh and fiberglass will resist the wind. The one-touch push button makes for a quick and smooth opening.
Bagail Golf Umbrella
You may have noticed this umbrella very often on the golf course, most often used by professionals. It has some great features that make it one of the best choices.
Most golf players need to keep replacing their umbrellas because they don't last long. With the BAGAIL golf umbrella, you get a product that is durable and very effective.
All the features like the double-vented canopy, comfort grip, auto open, and high-quality material all come together to give you a golf umbrella that checks all the right boxes. The Dual canopy ensures that even in stormy weather it is easy to handle.
It is both flexible and strong. The 190 T pongee micro-weave fabric-made canopy dries quickly and is lightweight and easy to carry. The 62-inch canopy material is fully mold-resistant, and because it dries quickly, you don't have to worry about storing or carrying it in a bag.
The shaft, hub, and ribs are also made of fiberglass, which adds to this product's overall durability and strength.
An ergonomic holder with PU covering and a rubberized grip are ideal for a comfortable & convenient grip even on wet days. You need to push one button, and it will open fully without any delay.
The company offers a lifetime replacement warranty, which is rare. It just shows how confident they are in their product.
Pros
Durable, effective, high-quality product
Canopy material is mold and mildew resistant
The ergonomic holder with PU covering and the rubber grip are comfortable
Cons
Nylon sleeve is not adequate for the umbrella and does not fit properly
A durable and long-lasting golf umbrella suitable for all kinds of weather. A comfortable, rubberized, and lightweight grip allows you to carry it easily without hurting your wrist or hand.
The canopy material is waterproof and dries quickly. Fiberglass and stainless steel are used in the frame's construction, and you will find them strong and stable.
Prospo Oversized Golf Umbrella
Come rain or shine; you will be able to play golf without any problem, thanks to the Prospo golf umbrella. You get good UV protection of UPF 50 + with the silver coating on the inside, which can block almost 99% of sun rays.
Also, the 210 T ultra-high density pongee fabric repels water and dries quickly. This makes for convenient storage as well because you don't have to worry about mold or mildew.
The 62-inch canopy is very wide, and up to 3 people can be shielded under it. It also has a double-vented design. The straight, vertical handle with EVA non-slip foam grip is comfortable even for long periods. A double canopy makes it windproof as well; it will not flip in strong windy conditions.
The main structure of the umbrella has a fiberglass body and eight ribs. The total weight is 1.54 pounds. It is sturdy, stable and easy to carry and use.
This umbrella will shield you against rain, sun, wind, hail, or anything else that mother nature can throw at you. It is very easy to open with the push of a button.
High-quality and prompt customer service will take care of any problem and queries, as the umbrella comes with a one-year replacement and an 18-month warranty.
Pros
Top-quality UV, rain, and wind protection
62 inches extra-large canopy for complete protection
Lightweight construction with fiberglass parts
Cons
Some of the plastic connectors are of bad quality and break easily
This umbrella will be most useful if you live in an area with unpredictable weather. Whatever the weather, sunny, rainy, or windy, you will feel fully protected.
It is large enough to accommodate two or three adults, and the design and construction are top-class with its fiberglass body and ribs and double canopy.
EEZ-Y Portable Golf Umbrella
Designed and created to be super resilient in all weather conditions, the EEZ-Y golf umbrella has an unbreakable, strong design and construction, thanks to the use of quality materials.
This folding umbrella is available in 9 attractive colors and has an extra-large 50-inch diameter canopy. It is also extremely lightweight at only 1.2 pounds.
You can fold the umbrella and keep it in small places up to the size of a mere 23 inches. Fiberglass and stainless steel are used in the frame, making it very durable and reliable.
Moreover, the specially coated waterproof fabric canopy provides total protection from rain and keeps the umbrella in good condition even after many seasons. The ergonomic design of the EVA foam handle makes it very comfortable to hold even for a long time in wet conditions.
Pros
Features a vented dual canopy
Made with super water-repellent fabric and EVA handle
Efficient customer service with an easy replacement policy
Available in a variety of attractive colors
Cons
If you want to remain safe and dry while playing golf in bad weather, the EEZ-Y golf umbrella is a good option. With its premium double canopy design and construction, it is one of the finest to pick amongst the best golf umbrellas.
We highly recommend this umbrella for all its useful features, and the excellent customer service is a plus that makes it the perfect choice!
TaylorMade Golf Tour Double Canopy Umbrella
This classical stylish vented double canopy umbrella is an excellent choice for golfers who want protection from harsh weather. It has a timeless look with a black & white design. The TaylorMade logo in large white letters is eye-catching.
The manufacturers have used technology at its best to make it user-friendly as well as durable. For example, the WindPro technology allows the umbrella to withstand heavy winds and rain without flying away. There is no way that the umbrella will break or bend even against the strongest of winds thanks to its dual canopy design.
The canopy is 68" wide, so it is easy to remain dry and keep your clubs dry as well. You can even find space for a friend or two under the umbrella. It combines both light weight and durability, thanks to the fiberglass body and 100 % nylon material canopy.
Moreover, the ergonomically designed gel handle is easy on the hands while offering a solid and comfortable grip, essential on a rainy day.
Pros
Great quality, as you'd expect from Taylormade
Strings are sturdy and hold the rod tips tightly
Large enough to cover you and your golf clubs
Easy to reach automatic release button
Cons
The TaylorMade golf umbrella combines style and functionality to give you a useful umbrella that can be used on the golf course. It comes in different sizes to choose from based on your requirement.
The WindPro technology allows you to continue playing even in very windy or stormy conditions. In addition, its 100% nylon construction helps to keep you dry while it rains.
An excellent umbrella for both on and off-course use!
Buyer Guide: Things To Consider When Buying A Golf Umbrella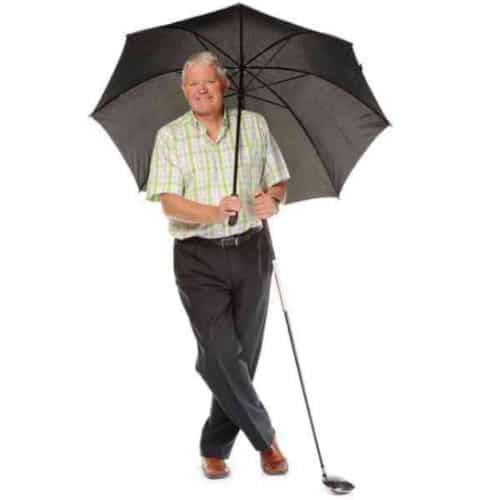 A golf umbrella is a very useful accessory that offers protection to the player and golf gear from the harsh elements of nature. So, how do you choose the perfect umbrella for you?
To pick the right one, first, you need to understand your needs and then look at the options available in the market and find a match. The best golf umbrella company will give you all the key information you need. Most good golf umbrellas are made with top-quality materials and have premium features like double canopy construction and an anti-inversion system to stand rough weather.
Generally, buying a golf umbrella from a reputed brand that has been tested and constructed with high-quality materials is the best thing to do.
Here are a few key features that you need to pay attention to when choosing your golf umbrella:
Canopy structure: single or double layer
Number of folds: 2 or 3 folds or a straight umbrella
Canopy shape: round or square-shaped
Deployment: manual or auto-open
Material of Canopy: nylon, pongee, polyester, PVC
Material and shape of handle: straight or curved handle
Size & Coverage
Most commonly, golf umbrellas have a 62-inch canopy, but you can find them ranging in size from 46 to 68 inches. Smaller umbrellas are meant to shield one adult plus the golf clubs, while the biggest golf umbrellas can provide maximum coverage and protect up to 3 adults.
The length of the umbrella is also essential as it has to fit into your golf bag. Some foldable ones are easier to carry but not very effective. It would be best to choose an umbrella based on the size and weight because you will need to carry it for long periods.
Bigger umbrellas require a sturdier frame and thus become heavier. However, the bigger the umbrella, the better coverage you will get.
Wind Resistance
Have you been in a situation where you have had your umbrella blown inside out? Usually, the wind blows at high speeds on any open golf course, and most golfers start to struggle with 20 MPH winds. The majority of golf umbrellas are tested to be heavy-wind resistant [1] and are marked with the level they can tolerate.
Some even feature a double canopy (as we will see in the reviews below) to prevent them from being blown away altogether.
Here are a few tips to keep your umbrella from being blown away by the high-speed gust of wind on the golf course:
When you are not using it, keep it closed and secured
Buy umbrellas that have vents to allow air to pass
Ensure that all the ribs are in good condition.
The fiberglass [2] body and ribs make the umbrella stronger
Take notice of the direction in which the wind is blowing
Make sure that the handle is slip-resistant
Buy products that have been extensively tested
Maintain your umbrella well so that it does not become weak and break easily.
Handle
The handles in golf umbrellas can be made using different materials like plastic, bamboo, aluminum, rubber, wood, etc. You should look for something that feels comfortable in your hand. A rubberized grip makes the umbrella more durable and easy to hold. It is also slip-resistant and provides a good grip in wet conditions.
Umbrella handles can mainly be straight or curved. Still, there are many companies that offer customizable and personalized handles for golf umbrellas in different shapes and with different materials, just in case you want to stand out from the crowd!
Mechanism & Deployment Speed
This is another criterion to keep in mind while choosing a golf umbrella. Most people prefer folding models since they are lighter than non-folding types. They are usually faster to deploy too. There are also two deployment mechanisms: automatic and manual.
The auto-open feature automatically deploys the umbrella with the push of a button. These mechanisms work great because they are easier and faster to deploy as soon as it starts pouring on the course. On the other hand, a manual umbrella needs to be deployed manually and will be slower.
If you decide to go for an automatic umbrella, you must ensure that the mechanism works properly. If it doesn't, you might end up spending hours trying to fix it or having to replace the entire thing. A good quality umbrella from a famous brand is more likely to provide a better mechanism that will last longer and cause no problems compared to cheaper alternatives.
Will the Golf Umbrella Attach to a Push Cart?
If you own a golf push cart or an electric golf caddy, you need to pay attention to whether the umbrella provides some kind of attachment system to facilitate its use while using the cart.
Most golf umbrellas come equipped with some sort of attachment system. Some include hooks, straps, rings, clips, magnets, suction cups, etc. Those can be useful when the umbrella is not in use.
However, most umbrellas are sold without any special attachment systems to attach them to a pushcart while being used. Luckily, you can still buy an umbrella holder for your cart; these are available online from different manufacturers at affordable prices.
Material & Fabric
Golf umbrellas made of high-quality materials tend to withstand harsh weather conditions better than those made of cheap fabric. The latter may tear easily due to their poor construction. You should look into how durable the umbrella is after long periods of usage. It shouldn't fall apart even after several months of heavy rains.
All the umbrella parts need to be made with durable top-notch materials, but special attention should be paid to the canopy fabric, as it's the part that will constantly be in direct contact with the elements like the sun and rain.
If you plan to play in cold or humid climates, you should choose a waterproof umbrella instead of a regular one. Different materials are used to make the umbrella canopy, including nylon and other plastic-based materials. Still, the most widely-used fabric today is pongee fabric because it is rain and sun-resistant. It is also much more durable than other fabrics that degrade relatively faster under the sun and rain.
Frequently Asked Questions About Golf Umbrellas
Does An Umbrella Count As A Golf Club?
The majority of golfers will find this question a little comical and the answer too obvious. However, since this article is meant for golfers of different levels or even people who are still thinking about taking up golf, we feel obliged to give an answer. Believe it or not, this is one of the most frequently asked questions among new golfers and is considered by the USGA as a common misconception about golf rules [3].

The answer is no! You don't have to worry about your umbrella being counted as a golf club and causing problems because of the limited number of 14 clubs that a player can carry in his/her bag during a golf round. 

According to the USGA, For any golf equipment to count as a golf club, it needs to specifically meet two requirements: It must have a shaft and ahead. As a result, even though the golf umbrellas (and ball retrievers) do have shafts and sometimes club-like handles, they are simply not considered clubs because one of the two requirements is not met. So, if you intend to play in a tournament, you can confidently take your umbrella and ball retriever with you without any worries or concerns.
Where Do You Put Umbrellas In A Golf Bag?
Some golf bag manufacturers devote some departments, slots or even straps to the umbrella (s). If you do have a slot designed for this purpose, then it would be best to put the umbrella there.

If your golf bag doesn't have such a slot, there are many other places where you can put your umbrella. For example, you can put it in the section devoted to the putter and the woods. Just make sure you don't put the umbrella back with the clubs if it's wet, as this will get the club grips wet and negatively affect your swings and performance.
What Is The Difference Between A Regular And A Golf Umbrella?
Golf umbrellas are much bigger compared to regular umbrellas, with very large canopies that can measure up to 70 inches. They [4] are designed for golfers but are often used in other sports such as fishing or bird-watching activities.

The most obvious difference between golf and a regular umbrella is the size. Golf umbrella sizes are 10 to 30 % larger than regular umbrellas.

Two things are generally considered when talking about size. One is the length of the rib and the other is the canopy diameter. The size differs from model to model, and some are large enough to protect three people simultaneously.

Secondly, the regular umbrella mostly has a curved handle, while a golf umbrella usually has a straight handle that makes it easier to place in a golf bag.
How Big Should A Golf Umbrella Be?
Basically, a golf umbrella must provide plenty of coverage to protect the player and their golf bag at the same time and prevent them from getting wet when it rains.

It should also provide enough shade during hot days to ensure the player is safe and the gear doesn't get too hot to use. In general, the average size of a golf umbrella is about 60 inches; it will work just fine regardless of the conditions you play in. The player may opt for a smaller or larger size for many reasons.

In general, the bigger the umbrella, the better. However, keep in mind that larger umbrellas tend to weigh more. Also, remember that the bigger the umbrella, the harder it is to control. This means that you might want to consider using smaller umbrellas if you're planning to play in windy areas. On the other hand, if you plan to play in very sunny locations, you'd probably need something large to be well covered.
How To Carry A Golf-Sized Umbrella On Flights?
The T.S.A [5] or the Transportation Security Administration permits golf umbrellas in both checked and carry-on baggage. However, the decision will rest with the specific airline you choose.

Most airlines allow only a small, compact golf umbrella to be carried in the luggage. If you can keep it in your hand luggage, then it is better.

On the other hand, if you carry them separately, some airlines will put them in the accessories category and allow you to carry a specific number of items.

For bigger golf umbrellas, it will solely depend on the airline policies. Some will count it as a piece of luggage and only allow it to be carried in the luggage hold.
Final Thoughts
Golf umbrellas come with many features, and you have to pay attention to select the most suitable one. Do your research and read our golf umbrella reviews carefully to understand all the features like size, material, ease of use, design, and construction to ensure you make the best decision possible.
In this article, our task was to test and review a wide range of golf umbrellas so as to come up with a list of the best ones available today. In addition, we tried to simplify your task by including a buyer's guide and answering frequently asked questions.
If you still have any questions or comments, feel free to contact us or leave your comment in the comment section below! We will make sure we assist you the best we can!
---
References:
Merriam-Webster Dictionary. Retrieved from https://www.merriam-webster.com/dictionary/wind%20resistance
Learn About the History of Fiberglass and How It Is Manufactured. ThoughtCo. Retrieved from https://www.thoughtco.com/what-is-fiberglass-or-glass-fiber-820469
Misconceptions About Rules. USGA. Retrieved from https://www.usga.org/articles/2010/09/misconceptions-about-rules-2147490162.html
Golf Umbrellas: Everything you need to know. American Golf. Retrieved from https://www.americangolf.co.uk/news/golf-news-golf-umbrellas-everything-you-need-to-know.html
Transportation Security Administration. Retrieved from https://www.tsa.gov/
WRITTEN BY

My name is Jacob, a self-diagnosed equipment and golf enthusiast. I've been golfing since I was 15. Golf has always been my passion. I'm a bit of a golf equipment nerd and I've been that way since the moment I picked up a club for the first time. As someone who's been on both sides of the game, I know what it takes to be a good golfer. Of course, you need good equipment, but you also need to know how to use it. I hope sharing my experience with you will help you improve your game.
You May Also Like