The 10 Best Golf Push Carts 2023 Review & Buyer Guide
Last updated:
December 14, 2022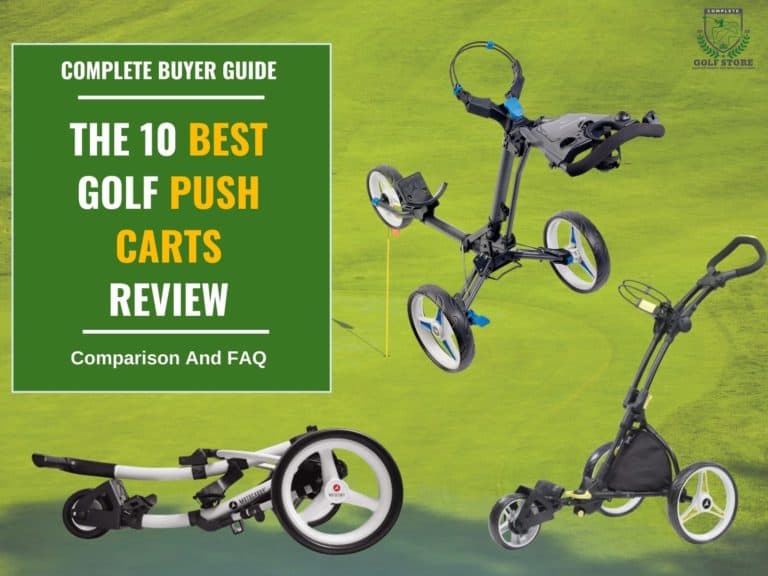 Disclaimer: We may earn a small commission from some of the links on our website. However, our reviews and comparisons remain fair and unbiased. Our goal is to help you make the best choice. For more information, please see our
disclosure statement
. Thank you for your support.
Key Takeaways
Topping our list is the SereneLife 3 Wheel Golf Push Cart followed by the SereneLife SLG3W as our second pick and the Janus Golf Push Cart as the third. Those are the top three products we loved during our tests, but we assure you that the rest of the list is also worth considering.
According to Dr. Wolkodoff's study [1], and as stated in his Physical Golf book, carrying a golf bag on your shoulders is two times more tiring than pushing or pulling a cart. This affects your performance adversely on the green.
Golf courses worldwide, barring very few, allow you to use a push or a pull golf cart.
There are many varieties of push and pull carts available on the market today, and you will likely become confused.
That is why we decided to review the 10 best golf push carts you can buy today.
Now, choosing the one that is suitable for you will be a breeze.
In a Hurry? Here Are the Top 3 Golf Push Carts We Like the Most
Brand
SereneLife
JEF WORLD OF GOLF
Morinome
Weight
18 pounds
0.22 pounds
20 Pounds
Top Features
Made from a heavy-duty aluminum frame
Folds neatly and uses very little floor space
Ergonomic handles and padded
Wheels have a clip-on facility and are easy to remove and fit
The scorecard is waterproof
It comes with a contoured bottom that helps in strapping more oversized bags
Adjustable handle so universally useful
Convenient design
Ultra-lightweight
Top Features
Made from a heavy-duty aluminum frame
Folds neatly and uses very little floor space
Ergonomic handles and padded
Top Features
Wheels have a clip-on facility and are easy to remove and fit
The scorecard is waterproof
It comes with a contoured bottom that helps in strapping more oversized bags
Top Features
Adjustable handle so universally useful
Convenient design
Ultra-lightweight
Last updated June 3, 2023. Those are affiliate links, we may earn a small commission when you click on the links at no additional cost to you. Product images are served from Amazon Product Advertising API.
Are Golf Push Carts Worth It?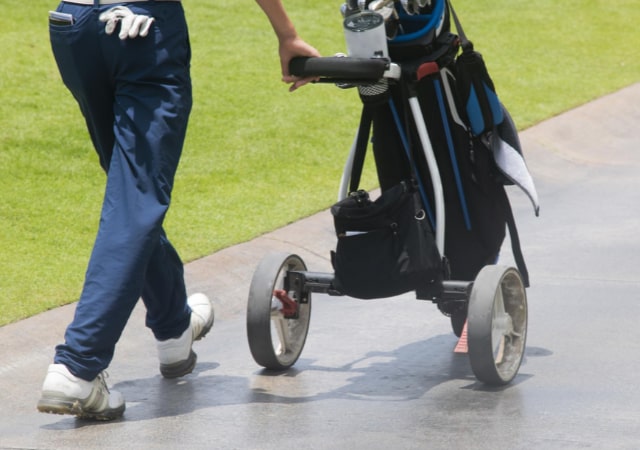 If you are at a crossroads in your golf journey and seriously wondering if you should invest your money in a golf push cart, let us tell you the advantages of going with your heart.
You must ask yourself this one question, "Why should I carry when I can push in style?"
Gone are the days when you had to walk the greens with 20 pounds of weight lugging on your shoulders. The new innovative way of doing things is to push all your clubs and accessories with elegance. Say bye-bye to sweat on your back and say hello to staying fresh and hydrated all day.
Have you ever tried a motorized golf cart? It runs electronically, can accommodate a maximum of 2 adults, and has more than enough space for their gear. The more luxurious power carts also come equipped with an AC chamber, golf ball cleaner, lift kit, and other thrills like speed cart controls.
However, our vote will still go to the golf push carts because they are ideal for flat and hilly golf courses. Affordability-wise, push carts to take the cake too. They are also easy to set up and collapse and fit easily in the trunk of your car.
You have no worries about charging batteries, maintaining them, or taking them regularly for services with a push cart. Push carts are not just healthy for your health, but they are environment-friendly because they do not pollute the atmosphere.
Which Is a Better Push or Pull Golf Cart?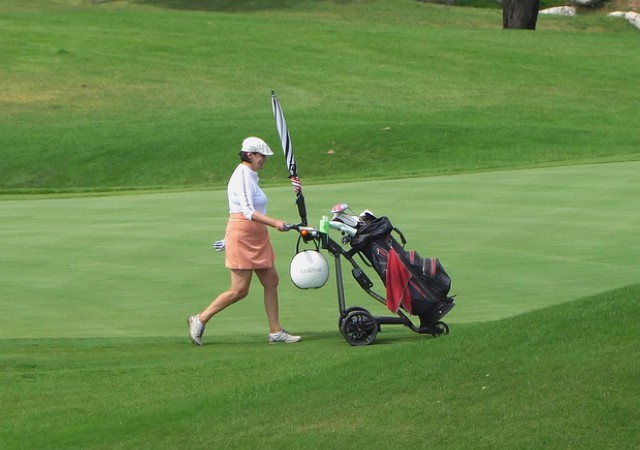 The big difference between the push and pull golf carts is the number of wheels they come with. The pull cart has two wheels, whereas the golf push carts have a third wheel for ease of pushing it around. Some push carts also come with four wheels. Both serve their purpose of lightening the golfer's burden. Pushing is way easier than pulling and can be less exerting on the shoulders and arm muscles.
The science behind it is that a golf push cart can leverage the forward momentum of walking and efficiently transfer energy to the wheels, making movement effortless. They come with ergonomic handles that reduce strain. They roll straight, thanks to their extra wheel.
The pull cart with two wheels zigzags and often strains the golfer's arms and shoulders. Golfers that have tried both usually lean towards the push cart, which has evolved to take a natural lead over the pull cart.
What to Consider While Choosing a Golf Push Cart?
The best way to choose the golf push cart is to read up on them. Check them out at physical stores before you buy online. Push carts come with certain accessories like umbrella holders and cup holders. If there is anything that you like, you could check if they come along with your choice cart. Otherwise, they can always be bought separately.
Here is a great video (16 minutes 46 seconds) from Ryan Ballengee - Golf News Net discussing the main differences and advantages between push carts, including setup, storage, handling, and a few more other things to consider.
One of the best golf carts of all time will be something akin to the Bag Boy Quad XL because it has excellent storage, is light in weight, and does not require you to break the bank; it is an intelligent alternative to the old-school lugging your golf bag around everywhere.
Our advice to the first-timers is not to become impulsive when buying. Give a lot of time to choosing a golf push cart that suits your personality and lifestyle. Since you will be using it for quite some time on the greens, you must be comfortable using it.
Here are a few things to evaluate when choosing the best golf push cart:
Ergonomic handle
Good brakes
Front-wheel aligned not to touch the bag
Compact size when folded
Minimum storage
Space for important gear
Lightweight design and portable
What Should I Look For in a Golf Push Cart?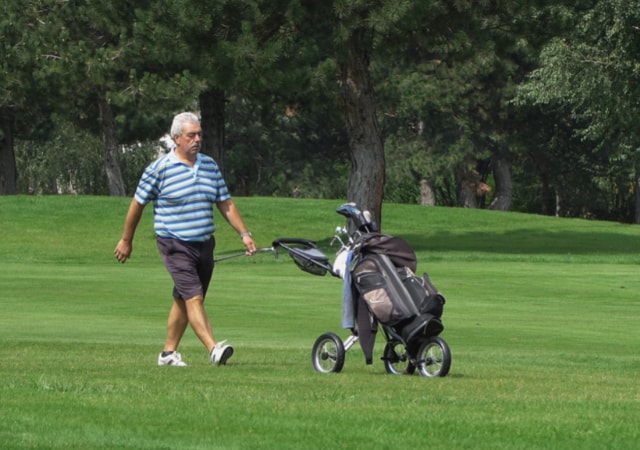 There are a few things to look for when buying a golf push cart. Golf push carts come in a wide range of sizes, shapes, and prices. But, in summary, here are the most crucial things you should consider before making your choice:
Ease of Collapsibility: The push cart must fold with ease and save a lot of floor space when stored away in the storehouse or the garage.
Braking System: Go for push carts with robust parking brake technology and additional pairs of hand brakes.
Storage: If you like to take it all with you, go for the XL-sized stand bag that boasts more storage space. Look for many dedicated storage compartments for cell phones, keys, beverages, food, smartphone, and a pen.
Accessories Availability: Look for tee holders, umbrella mounts, and drink holders. Golf carts come with additional features like cooler bags for cold beverages and a seat too.
Material of Construction & Durability: Most three-wheel push carts have a sturdy aluminum frame. The cart is sure to last you a good number of years.
Wheels: Go for high-quality airless tires that require zero maintenance.
Warranty: Look for an extended warranty. Check to see if there is a money-back guarantee on the product in case you don't like it.
Stability: Go with the model that inspires the most confidence in you. Wheels with 360 degrees of rotation offer more stability on various types of terrain.
The 10 Best Golf Push Carts: Detailed Reviews
With all that information on what to look for in your golf cart and what to steer away from, here are our picks of the top ten best golf push carts for this year.
#1 - SereneLife 3 Wheel Golf Push Cart
When you are scouring the marketplace for a golf push cart, you must go for the lightest option available in the market. Let us recommend SereneLife 3 for your golfing comfort. It is one stylish and popular push cart that will have all your playing partners ogling at its beauty.
Pushing this lighter cart makes it a more effortless and enjoyable chore to carry your golf kit and accessories, such as GPS devices and rangefinders, without having to strain your back and arm muscles. Also, in case you want to lift your push cart on wet or rough terrain, you can do it quickly.
It comes with a spacious golf bag holder with a foot and a hand brake for added safety. It comes with upper and lower brackets to secure the golf bag properly. The adjustable elastic strap is of excellent quality and secures bags of any size. There are other accessories like the height-adjustable scorecard, cup holder, and a big bag storage holder.
The cart comes with three ball-bearing wheels for balance and smooth-rolling on practically any kind of terrain. It also prevents the cart from rolling away.
Pros
Made from a heavy-duty aluminum frame
Folds neatly and uses very little floor space
Ergonomic handles and padded
Cons
It may seem pricey, but it is value for every buck
The push cart height is adjustable, and that is why it is always in demand. The maximum weight capacity is 33 pounds!
#2 - SereneLife SLG3W
A few brands such as SereneLife have made a mark for themselves in the golf push cart market. The parameters of the cart are just suitable for anyone and everyone.
The SLG 3W in the series is not just light in weight, but it is feature-rich to the hilt. It is a beautiful product, and this is obvious from the positive reviews and testimonials that verified purchasers leave on reputed e-commerce sites.
The cart comes in 3-wheel configurations and has many accessories, including a scorecard holder, cup holder, and storage bag holder. The upper and the lower brackets of the cart securely hold a bag of any size, and the elastic strap at the bottom fastens it securely.
The cart folds up small and is also very easy to fold and store away. The aluminum frame is sturdy and well-built. The wheels used are Eagle V2 Black Core which is 11.5 inches high. The brakes are there on the rear wheels. It has a simple braking system that ensures that the cart does not roll away whatever terrain it is standing on.
Pros
Very durable
Lightweight and easy to maintain
Comes with height adjustability
Cons
We are very impressed, so nothing at all
The handles are ergonomic and come with pads to ensure that your wrist and palms do not get strained, pushing it upwards on hillier courses. The maximum weight that it can hold is 33 pounds.
#3 - Janus Golf Push Cart
Have you been looking for a golf push cart that has three wheels and folds neatly into a corner? You are in luck. Janus golf push cart is the right place to store and transport your golf gear. It is a unisex push cart and comes in solid colors that look great for men, women, and kids.
The body is made of heavy-duty aluminum and also has upper and lower brackets for added durability. The elastic straps on the sides can help fix any golf bag's size to the cart. The handle is adjustable according to the player's height, and the cart collapses in a couple of seconds and requires very little storage space when not in use.
Are you looking for something not very pricey? Janus fits that bill too with elan. Despite being the best golf push cart in its category, the price is so affordable; you can buy two; one for practice golf and the other for the tournaments you attend.
The push cart received great reviews on all golf forums. Stocks are forever flying off the shelves, so if you are seriously into getting a great push cart for yourself, go for this one.
Pros
A best-selling model that lasts long
Sturdily built and wide base with three wheels
Affordable
The push cart weighs only about 16 pounds and can take a whopping capacity of 36 pounds! It has a beverage holder and storage compartment too. A light pull is enough for a smooth ride on any terrain.
#4 - JEF Wolrd of Golf - Deluxe Steel Push Cart
For someone on the green field for 5 out of 7 days a week, they must have an additional golfing cart that they can use for practice. JEF World of Golf is a mind-blowing choice, especially for inclement weather.
Apart from the fact that it is pocket-friendly, the push cart is also light in weight and excessively sturdy. The push cart is made of deluxe quality steel and high-quality wheels that offer the best mobility on the course, whether flat, hilly, or wet!
It comes in two versatile colors of black and silver and is a hot favorite with women golfers. The open and close motion is so simple that it is incredible. It folds in half and easily squeezes in the tightest of places. The wheels are wide, and that is what gives the cart stability. If you are looking to gift a push cart to an elderly gentleman, this is what you must be choosing.
Pros
Wheels have a clip-on facility and are easy to remove and fit
The scorecard is waterproof (not water-resistant)
It comes with a contoured bottom that helps in strapping more oversized bags
Cons
Stocks fly off the shelves; hard to find at stores
Now transport your clubs on the green golf course without having to worry about back or shoulder pain. The lightweight steel frame is so easy to maneuver that you will wonder why no one told you about it any earlier!
#5 - CaddyTek SuperLite 15.3 V2 - Deluxe Quad-Fold Golf Push Cart
Are you someone that is looking for a push cart with sterling reviews? Look no further than Caddytek Superlite. The summery colors and the patented quad-fold mechanism are not only two of the great reasons why you must invest in it.
The folding size is so compact you will hardly need any space in the trunk for it! It folds up in three steps and is highly compact. The strong aluminum frame is exceptionally light in weight, around 15 pounds!
The three big wheels are virtually maintenance-free. They measure about 12 inches each and come with high-quality roller bearings for added durability. The cart's body is 28 inches, and the wide-body design helps to move the cart effortlessly and is easy to maneuver.
The foot brake is as efficient as the hand brake. The upper and lower brackets and the elastic strap to secure the bag are of top quality. It is easy to push around, and with all the added accessories like the drink and umbrella holder, we doubt you will settle for anything less after using this one. It is the number one selling brand across the stores in the USA.
Check Also: The 10 Best Electric Golf Caddies
Pros
Lightweight cart
Comes in lovely colors
Sturdy wide base
Cons
Nothing that we could find despite the best scrutiny
Its patented folding mechanism is one of its main draws. The design is unique and elegant. It will be the cynosure of all eyes when they see you sporting this on the course.
#6 - Mearteve 4-Wheel Golf Pushcart
We have an excellent recommendation for a 4 Wheel Golf Push Pull Cart. Its one-click folding mechanism is fantastic. It is compact and comes with accessories such as an umbrella mount, cup holder, and scorecard holder. It has an adjustable handle, and the elastic strap at the bottom fastens bags of the biggest size. You also get a free umbrella with it!
The golf cart has garnered excellent reviews everywhere. The green color is lovely. It is a fact that it will take the tiniest place in your car's trunk.
But the biggest draw is its handle which is adjustable into five different positions! It is for this reason that it is helpful for people of different heights. There are only 1-2 and 3 steps to adjust the height of the handle. First, you need to turn and release the button placed on the right-hand side of the handle. Next, you need to adjust the handle at the height required and finally turn the same switch again to tighten it. Easy!
Pros
Very easy to maneuver and stop on any terrain
Made with the highest quality materials
Lightweight and easy to maintain.
Durable
Four wheels of the push cart make it very stable. The scorecard holder has a fantastic design. The storage stand bags are double layered and have lots of space in it. The outer bag has a reflective tin foil coating that maintains temperature stability.
#7 - BANIROMAY Golf PushCart
This upgraded golf cart comes with four wheels and an extensive base which ensures its stability on the wettest or the steepest terrain. It is light in weight and collapses in a heartbeat. The push cart has fantastic reviews everywhere, with most customers giving it five stars on quality and performance.
While the four-wheelbase ensures stability, the foot brake ensures that the cart does not roll away on steep courses. The ride is easy and consistently smooth everywhere. The braking system may not be as complicated as the most expensive brands, but it is very effective. Isn't there more beauty in simplicity!
The handle is adjustable for everyone of any height. The choice of colors and the material finish are such that it is suitable for women golfers too. The handles have pads and an ergonomic design. There is a minimum of 37 inches and a maximum of 43 inches between the handle and the ground. The handle has rubber costing, which gives it a comfortable grip.
Pros
Step foldable
Compact and space-saving when folded away
Has insulation bag for hot and cold use
Cons
People may find it a bit expensive
The push cart comes with a free umbrella and holder. Whether it is sultry hot or pouring, you have a reason never to miss your golf. The umbrella keeps you and the entire gear dry even in heavy downpours.
#8 - KVV 3 Wheel Compact Push Cart
This flat folding golf cart is what you need when you want to squeeze it in the smallest of places after returning from the game. The sturdy aluminum frame will ensure that it lasts for the longest time possible.
The pricing is just right, and people who have invested in it are beaming with happiness about its quality and looks, and functionality that they cannot stop recommending it to others. It folds to a 23.4"*7.3"*27.4 size and is ultra space-saving. This is amazing because it is one of the widest push carts that we have seen in storage and accessories when it is open.
It weighs a little less than 15 pounds and comes with adjustable height handles. The handle design is suitable for both children and adults. The brake system is simple, with a push-on and off the pedal that engages and releases the brakes. The cart comes pre-installed.
Pros
Has a good quality ball bearing for a smoother ride
Two-step folding
Has EVA cover wheels and handles made with TPE handles
Cons
Customers do worry about non-rubber tires. But rest assured, the tires are pretty durable and will present no difficulties if prudently cared for.
The packaging consists of an already assembled golf cart, three wheels, and a front-wheel adjusting tool. It has a complete manual in English that helps to understand the push cart and how it works.
#9 - Morinome Golf Push Cart
This four-wheeled beauty of a push cart is what you will love to hang out with when you are golfing. It has an umbrella holder, a beverage holder, and a host of other accessories that will allow you to concentrate on your game without any worries in the world.
The cart folds nicely with a single click of a button and is only about 16 and a half pounds weight when not filled. The folded size is about 17 inches by 15 inches roughly, one of the sleekest push carts to fit in your car's trunk, and still has lots of places there.
The cart is made of very high-grade aluminum material that is very lightweight too. The material used is oxford cotton which is thick and water-resistant. The cart takes a lot of load up to a maximum of 35 pounds.
The EVA wheels are virtually maintenance-free and provide balance and traction on the trickiest of terrains. It is easy to park the cart by engaging the foot brake. The brakes work great even on the steepest slopes.
Pros
Adjustable handle so universally useful
Convenient design
Ultra-lightweight
Cons
The only drawback is that the brand is not as well-known as it should be
The packaging consists of a pre-assembled golf cart, one large storage bag for golf gear, an umbrella holder, and a cup holder. The tires are wide and sturdy and need no maintenance at all.
#10 - MOLANEPHY Golf Push Cart
Suitable for everyone, irrespective of their age, height, and gender. The ergonomic handles have a TPE rubber armrest that is very convenient. If you haven't decided whether a push or a pull cart is your preference, play safe and go for this cart.
The cart comes with a free umbrella and an umbrella holding stand. If you get stranded in the middle of the course, and it's raining cats and dogs, you will have virtually no worries because the umbrella is big enough to keep both you and your gear completely dry.
The scorecard holder is very well-designed, and you can store your card there without worrying about the world that it would crumble. The huge storage bags are twin-layered. The product comes with deep pockets that you can use to keep your golfing gear like balls, golf gloves, etc.
The cart has swiveling wheels, which is one reason why the ride is non-bumpy. 4 wheels instead of 3 make it very stable, easy to move, and a treat to maneuver.
Pros
Made with high-quality materials
Very well ranked
High on comfort parameters
Cons
Comes in only two colors - black and blue
The storage bag is big and can fit all your golf gear without feeling stuffed. The quality of the fabric used is excellent. It is a good product overall and highly recommended.
Frequently Asked Questions About Golf Push Carts
Which Is a Better Three or Four-Wheel Cart?
A 4-wheel push cart is more stable because it has a wider base to accommodate the extra wheel. But by no stretch of the imagination is a 3-wheel cart less stable. Most three-wheel cart manufacturers also make them with a wider base. A 3 wheel cart is more accessible to maneuver than a four-wheeled cart, especially around sharp corners. They also move faster. Both carts come with robust elastic straps to hold the golf bags in place without touching the ground. But a four-wheel cart folds more compact and also uses up less storage space.
How to Travel With a Golf Push Cart Easily and Safely?
A travel-friendly golf cart is lightweight and compact. Resist buying motorized carts as they are not a good choice for travel. If you are flying, make sure you fasten the golf bag tightly to the cart and secure it inside the cabin. The handle grip must be strong. Tie the solid elastic belts to the golf bag so that it does not accidentally fall on someone.
How to Fold a Golf Push Cart Easily?
Different companies have different folding mechanisms for their golf push cart. Some of them have a click button that folds the cart effortlessly. Some of the golf push carts have levers to pull to fold them down. To fold the cart easily, read the manual or watch a tutorial on YouTube to understand its nuances.
Why Should You Buy the Best-Rated Golf Push Carts?
Most golf clubs require their patrons to walk when they are playing. This they do by simply limiting the number of electric golf trolley carts on their premises to encourage golfers to walk the course. With golf carts from Clicgear model, Sun Mountain, CaddyTek coming out with some of the best-featured carts at reasonable prices, we see no reason why every golfer should not own a golf cart.

A basic push cart with two wheels and low storage can cost you anything below $80. If you are looking for a stable base, great brakes, and more space to store all your golf gear, then it can cost you between the ranges of $200 to $250. If you are looking at electric features such as a motorized cart, the cost can go up to $2000. The more costly the cart, the better designed it is with generous storage compartments. Premium carts fold down to take only a square foot of space.
Are Golf Push Carts Lame?
Golf push carts are definitely not lame. Do your golf buddies point and laugh at you when you pull your cart out of the trunk, but all the leg-pulling is inconsequential if you feel comfortable. You look at them carrying bags on their backs and wonder why they don't switch. Electric carts are nothing less cumbersome because you need to park them before hurrying back to your shot.

Push carts are not lame. They allow you to walk, getting you to exercise vis-a-vis riding in an electric golf push cart. You don't carry pounds of weight on your shoulders, and you save all that energy for your best shot on the course. More and more golfers see that a push cart is a better approach than an electric golf cart.
- It lets you walk
- Socialize on the green
- Connect with nature
- Stylish and
- Improves the game exponentially.
Do Golf Push Carts Need Maintenance?
With time, they will need maintenance. Here is a quick list of what to expect:
1. Wheels: Wheels wearing out unevenly in airless tires or tires that look deflated? You must attend immediately because they form a crucial component for your cart to do its job continuously well. Replacing wheels is an easy job. In the case of inflatable tires, patch the tire so that it can hold air again.
2. Brakes: brakes wear down much faster on manually push-type carts. If you notice that the brake is not as tight, consider replacing the complete brake line. Keep checking on the handle too.
3. Locking mechanism: if the lock is sticking out of the frame when you fold it, adjust it with a screwdriver. If the mechanism looks rusted, use WD 40 or similar anti-rust oil to clean it and then try the lock again.
Don't forget to read the manual before you attempt repairs on your own.
 Do Golf Trolleys Include All the Accessories I Need?
The beauty of golf push carts is that you can buy accessories separately and attach them!
1. Cooler bag is a reusable freezer pack with an insulated pocket and handles for easy storage of 6 cans of 12 ounces cold drinks.
2. Smartphone holder and mount: most golf equipment and gear manufacturers want you to be not wired, and that is why it is not a standard accessory. You can buy one easily.
3. Heater: in the winter, a heater with a capacity of 4000 BTUs is excellent for 5 - 6 hours on a single propane gas cylinder.
4. Scorecard holder keeps the scorecard clean and easy to read. It can mount directly to the carts, and the height can adjust too.
5. Seats are for you to rest between the shots. Golf push carts can also come with a spring-operated seat that opens and closes quickly. They give much-deserved rest to your weary feet. 
6. Storage holder helps when you want to carry it all. Only make sure that they are compatible with the cart you use.
Should I Be Using Golf Push Carts if I Suffer From Back Pain?
Golfers mostly suffer from back pain and often rue that they made a mistake carrying gear on their backs. This is precisely why it is strongly recommended that you invest in a push cart. But before you zero in on the right push cart bag for you, it pays to take notes from experts. 

Go for the light-in-weight variety. Even if you are playing a hilly course, it is okay to lift your golf bag for a bit and then use the push trolley cart when you are back on the flats.

Steer away from pull carts if your back is already showing signs of fatigue and pain. Pull carts need more exertion on certain types of rough terrains, and they can end up aggravating your back pain.
How Do You Choose a Golf Push Cart for a Junior Golfer?
The first thing you need to consider when choosing a golf push cart for junior golfers is whether you would prefer to have a specifically designed cart for kids or if you would be happier with a model for adults.

Obviously, the former should be smaller and more lightweight, which can be ideal for juniors who are not strong enough to push a heavy cart. However, if your child is too small for such a junior-sized model, you may find that the adult-sized one is the better option.

Choosing a golf push cart for junior golfers might seem like an easy task, but it's actually a bit of a minefield. There are many things to consider. The wrong pushcart will be uncomfortable and can even cause injuries, so learning how to pick the right one ahead of time is a huge plus.
Final Thoughts
Whether you are an amateur or a professional golfer, a golf cart is no longer a luxury. If you are someone that carries the entire gear on any given day on the golf course, then it is about time that you put your money in a great golf cart. There is no point burdening your shoulder and spoiling your gait when you can push the trolley or pull it in style!
Most golf courses have carts like bagboy quad x 1 and high-end Tangkula golf push carts that patrons can rent. But the rent can be relatively high; at the end of the year, you could easily afford to purchase the best golf cart on the market yourself.
After all, pushcarts are made to speed up the pace of play, not necessarily for comfort. But if you're willing to do a little research, you can find some really comfortable push carts that will provide you with a more pleasant experience on the course.
With the help of our reviews choosing between push and pull golf carts does not have to be a daunting task for you now.
Happy shopping!!!
---
References:
About Us, Colorado Center for health and sports science. Colorado Center for Health and Sports Science. Retrieved from https://cochss.com/about-us/
WRITTEN BY

My name is Jacob, a self-diagnosed equipment and golf enthusiast. I've been golfing since I was 15. Golf has always been my passion. I'm a bit of a golf equipment nerd and I've been that way since the moment I picked up a club for the first time. As someone who's been on both sides of the game, I know what it takes to be a good golfer. Of course, you need good equipment, but you also need to know how to use it. I hope sharing my experience with you will help you improve your game.
You May Also Like