The 10 Best Golf Push Carts 2023 Review & Buyer Guide
Last updated:
October 6, 2023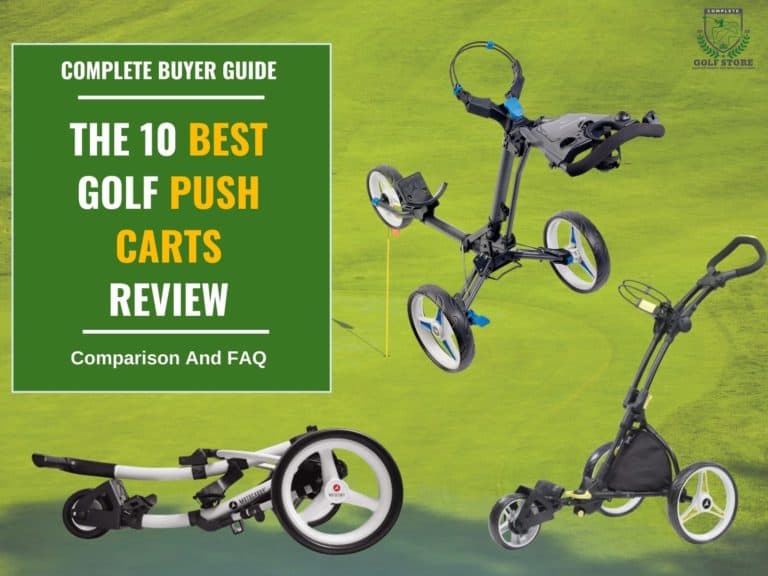 Disclaimer: We may earn a small commission from some of the links on our website. However, our reviews and comparisons remain fair and unbiased. Our goal is to help you make the best choice. For more information, please see our
disclosure statement
. Thank you for your support.
Key Takeaways
Our top pick for the Best Golf Push Cart is the SereneLife SLGZ48 Golf Push Cart. It is made with a heavy-duty aluminum frame, folds neatly and uses very little space, and has an ergonomic and padded handle. It also comes with a spacious bag holder, foot and hand brakes, upper and lower brackets to secure the bag, a height-adjustable scorecard holder, cup holder, and a big bag storage holder. The cart has three ball-bearing wheels for balance and smooth rolling on practically any kind of terrain. It is also very portable, thanks to its flat fold design.
According to Dr. Wolkodoff's study [1], and as stated in his Physical Golf book, carrying a golf bag on your shoulders is two times more tiring than pushing or pulling a cart. This affects your performance adversely on the green.
That's why golf courses worldwide, barring very few, allow you to use a push or a pull golf cart.
There are many varieties of push and pull carts available on the market today, and you will likely become confused trying to find the best one. That's why we decided to review the 10 best golf push carts you can buy today.
Keep reading for the details.
No time to read the whole article? No worries. We've done the work for you and compiled a list of the top performers.
| Product | Features | Our Rating | |
| --- | --- | --- | --- |
The 10 Best Golf Push Carts: Detailed Reviews
The following are our selections of the top ten best push carts based on our own testing, research, and experience:
SereneLife SLGZ48 Golf Push Cart
The SereneLife 3 is one stylish and popular push cart that will have all your playing partners ogling at its beauty.
Pushing this lighter cart makes it a more effortless and enjoyable chore to carry your kit and accessories, without having to strain your back and arm muscles. Also, in case you want to lift your push cart on wet or rough terrain, you can do it quickly.
It comes with a spacious bag holder with a foot and a hand brake for added safety. It comes with upper and lower brackets to secure the bag properly. The adjustable elastic strap is of excellent quality and secures bags of any size. There are other accessories like the height-adjustable scorecard holder, cup holder, and a big bag storage holder.
The cart comes with three ball-bearing wheels for balance and smooth rolling on practically any kind of terrain. It also prevents the cart from rolling away.
The cart is also very portable; thanks to its flat fold design, its dimensions are 19.1"L x 14.6"W x 22.8"H when folded.
Pros
Made with a heavy-duty aluminum frame
Folds neatly and uses very little space
Ergonomic and padded handle
Cons
It may seem pricey, but it is value for every buck
The push cart height is adjustable, and that is why it is always in demand. It is our top pick thanks to the many features it provides and its tiny folded size that makes it very easy to transport and store. The maximum weight capacity is 33 pounds!
Bag Boy 2018 Quad XL Push Cart
The Bag Boy 2018 Quad XL Push Cart is an exceptional piece of golf equipment that combines functionality, stability, and convenience for golfers of all levels. Constructed with quality in mind, this push cart is built to last with a sturdy yet lightweight aluminum material. Its overall design is aimed at enhancing the experience on the course by making it less physically demanding and more enjoyable.
The first thing that strikes you about this push cart is its compact size. Despite its robust construction, it has a surprisingly small fold size, making it easy to store and transport. This makes it an ideal choice for those who often find themselves struggling with storage space. On top of that, it has a 4-wheel design that offers superior stability, making it ideal for any terrain you might encounter.
An added feature that sets this push cart apart is the handle-mounted parking brake, which adds an extra layer of safety when using the cart on sloping terrains. The handle design itself is ergonomic, which provides excellent grip and control over the cart, thereby reducing strain on the hand during prolonged use.
One of the main selling points of this push cart is its comprehensive feature set, which includes a full-featured, extra-deep scorecard console with an integrated beverage holder, mobile device holder, and ball storage. The presence of Top-Lok technology – an exclusive bag-to-cart attachment system – ensures a secure hold of your bag.
Pros
Superior stability thanks to the 4-wheel design
Built-in accessory bag and beverage holder for convenience
Compact design for easy storage and transport
Handle-mounted parking brake
Lightweight, making it easy to maneuver
Cons
The umbrella holder should be longer
Overall, the Bag Boy 2018 Quad XL Push Cart scores highly in terms of design, functionality, and user satisfaction. The minor cons don't detract from the overwhelming approval of users, who appreciate the thoughtful design and convenience it brings.
SereneLife SLG3W
A few brands such as SereneLife have made a name for themselves in the push cart market. This cart is the same as the one in our top pick, but it is smaller in size and lighter in weight to suit younger golfers.
The cart comes in 3-wheel configurations and has many accessories, including a scorecard holder, cup holder, and storage bag. The upper and lower brackets of the cart securely hold a bag of any size, and the elastic strap at the bottom fastens it securely.
The cart folds up small and is also very easy to fold and store away. The aluminum frame is sturdy and well-built. The wheels used are Eagle V2 Black Core which are 11.5 inches high. The cart has a simple braking system on the rear wheels that ensures that the cart does not roll away whatever terrain it is standing on.
Pros
Very durable
Lightweight and easy to maintain
Comes with height adjustability
Cons
We are very impressed, so nothing at all
The handles are ergonomic and come with pads to ensure that your wrist and palms do not get strained when pushing the cart upwards on hillier courses. The maximum weight that it can hold is 33 pounds.
Janus Golf Push Cart
Janus's push cart is the right place to store and transport your gear. It is a unisex push cart and comes in solid colors that look great for men, women, and kids.
The body is made of heavy-duty aluminum and has upper and lower brackets for added durability. The elastic straps on the sides can help secure any bag's size to the cart, with a max capacity of 60 lbs. The handle is adjustable to the player's height, and the cart collapses in a couple of seconds and requires very little storage space when not in use.
Despite being one the best push carts in its category, the price is so affordable; you can buy two; one for practice golf and the other for the tournaments you attend.
This push cart received great reviews on all golf forums. It comes with multiple accessories, including an insulation bag, a storage bag, a mesh bag, a drink cup/bottle holder, and a mobile phone holder and selfie stand (in case you want to take pictures on the go). You get plenty of additions for a very reasonable price.
Pros
Long-lasting cart with great design
Lightweight materials
Sturdily built and wide base with three wheels
Reasonably priced
You get many accessories with your purchase
Cons
Excellent overall; nothing we could think of
The Janus push cart weighs only about 16 pounds and can take a whopping capacity of 60 pounds! It comes with multiple accessories, too. A light pull is enough for a smooth ride on any terrain thanks to the excellent build quality and materials.
JEF Wolrd of Golf - Deluxe Steel Push Cart
The JEF World of Golf is a mind-blowing choice, which is also one of the cheapest models on our list. At around $43, you can buy two or more of these for half the price of other competing models.
The push cart is also light in weight and extremely sturdy. It is made of high-quality steel and has sturdy wheels that offer the best mobility on the course, whether flat, hilly, or wet!
One fluid movement allows the cart to open and fold, making it easy to use without any complicated mechanisms. For the price, you can't expect the card to be loaded with extras, but you still get a waterproof scorecard holder, which is a good free thing to have.
The cart uses a simplistic approach and folds in half and easily squeezes in the tightest of places. The wheels are wide, and that is what gives the cart stability. If you are looking to gift a push cart, this is something worth considering.
Pros
Wheels have a clip-on facility and are easy to remove and fit
The scorecard is waterproof (not water-resistant)
It comes with a contoured bottom that helps in strapping more oversized bags
unbeatable price point
Transport your clubs on the course without having to worry about back or shoulder pain. The lightweight steel frame is so easy to maneuver that you will wonder why no one told you about this amazing cart earlier!
CaddyTek SuperLite 15.3 V2 - Deluxe Quad-Fold Golf Push Cart
The summery colors and the patented quad-fold mechanism of the Caddytek Superlite are only two of the many great reasons why you should invest in it.
The folding size is so compact you will hardly need any space in the trunk for it! It folds up in three steps and is highly compact. The strong aluminum frame is exceptionally light in weight, around 15 pounds!
The three big wheels are virtually maintenance-free. They measure about 12 inches each and come with high-quality roller bearings for added durability. The cart's body is 28 inches, and the wide-body design helps to move the cart effortlessly and is easy to maneuver.
The foot brake is as efficient as the hand brake. The upper and lower brackets and the elastic strap to secure the bag are of top quality. It is easy to push around, and with all the added accessories like the drink and umbrella holder, we doubt you will settle for anything less after using this one. It is the number one selling brand across the stores in the USA.
Pros
Lightweight cart
Comes in lovely colors: Green, black and silver
Sturdy wide base
Cons
Nothing that we could find
The CaddyTek SuperLite cart's patented folding mechanism is one of its main draws. The design is unique and elegant. It will be the cynosure of all eyes when everyone sees you sporting this eye-catching cart on the course. We truly love the design (and performance) of the cart and highly recommend it.
BagBoy Nitron Golf Push Cart - Superior Innovation and Convenience
The BagBoy Nitron Push Cart is a remarkable innovation in the sports and outdoors category. The well-thought-out design and convenient features make it stand out among other carts in the market. Its key features incorporate the perfect blend of functionality and simplicity, intended to make your golfing experience smoother and more enjoyable.
The Nitron Push Cart boasts a simple one-step fold mechanism, allowing it to fold in seconds. This hassle-free feature significantly reduces the time and effort required in setting up and packing away the cart. Enhanced by Nitro Piston technology, the cart is nitrogen-powered, enabling it to open automatically. The compact folded size of 19" x 13.5" x 22" ensures that storage and transportation are no longer a concern for you.
Aside from its innovative folding mechanism, the cart comes with a full-feature scorecard console, integrated with a beverage holder, mobile device holder, and ball storage. These additions add an element of comfort and organization to your game. In addition, the cart is equipped with an extra-large accessory bag located under the scorecard console, providing ample storage for your golfing necessities. A handle-mounted parking brake adds to the convenience and safety, keeping the cart in place when stationary.
Pros
Hassle-free one-step fold mechanism.
Full-feature scorecard console for added convenience.
Nitrogen-powered automatic opening.
Handle-mounted parking brake for safety.
Extra storage with an accessory bag.
Cons
Potential difficulty fitting oversized golf bags.
The BagBoy Nitron Golf Push Cart has been highly rated by its users, garnering an impressive 4.8 stars out of 5 on Amazon. The majority of users applaud its easy setup, sturdy construction, and user-friendly features.
BagBoy's Nitron Push Cart is an impressive piece of equipment that enhances the overall golfing experience. With its convenient features, user-friendly design, and positive customer feedback, it is definitely a worthy investment. While it has minor drawbacks, its advantages significantly outweigh them, making it a highly recommended purchase for those seeking a smooth and organized game.
Clicgear Model 4.0 Golf Push Cart
The Clicgear Model 4.0 brings significant improvements to the golfing experience. The cart is well-known for its compact and lightweight design. Made from aircraft-grade, scratch-resistant aluminum, this cart combines sturdiness and portability, ensuring the utmost durability and easy maneuverability for golfers.
A stand-out feature of the Clicgear Model 4.0 is the universal fit it provides for bags of virtually all sizes. This is made possible through the infinitely adjustable silicone strap system and an adjustable upper saddle. Additionally, the cart has a lower saddle support, which prevents the bag from rubbing against the front wheel.
Storage on the Clicgear Model 4.0 is generous and well-considered. The built-in storage console features holders for scorecards, balls, pencils, and tees, while the large storage net is excellent for keeping additional accessories and personal items.
Furthermore, it features a simple-to-use parking hand brake system that prevents the cart from rolling away when parked. Lastly, the cart comes with a standard cup holder, an umbrella mount, and accessory tabs that can accommodate a wide range of official Clicgear accessories.
Pros
Universal fit for bags of all sizes
Compact and lightweight for easy maneuverability
Simple, effective parking hand brake system
Ability to accommodate official Clicgear accessories
Generous storage space for golfing essentials and personal items
Cons
The folding mechanism is a bit complex
Relatively pricey for some budgets
The Clicgear Model 4.0 Push Cart is overall an excellent choice for those who seek durability, ease of use, and practicality in their equipment. While its price tag might be a bit steep for some, the features and quality it offers justify the cost. In conclusion, with its versatile design, abundant storage space, and high-quality build, the Clicgear Model 4.0 is a worthwhile investment for avid golfers.
KVV 3 Wheel Compact Push Cart
This flat folding cart is what you need when you want to squeeze it in the smallest of places after returning from the game. The sturdy aluminum frame will ensure that it lasts for the longest time possible.
The pricing is just right, and people who have invested in it are beaming with happiness about its quality, looks, and functionality that they cannot stop recommending it to others. It folds to a 23.4"*7.3"*27.4 size and is ultra space-saving. This is amazing because it is one of the widest push carts that we have seen in storage and accessories when it is open.
It weighs a little less than 15 pounds and comes with adjustable height handles. The handle design is suitable for both children and adults. The brake system is simple, with a push-on and off pedal that engages and releases the brakes. The cart comes pre-mounted.
Pros
Good-quality ball bearing for a smoother ride
Two-step folding
EVA cover wheels and handles made with TPE handles
Cons
Non-rubber tires. But they are pretty durable and will present no difficulties if prudently cared for.
The packaging consists of an already assembled cart, three wheels, and a front-wheel adjusting tool. It has a complete manual in English that helps to understand the push cart and how it works.
Tangkula Golf Push Pull Cart
The Tangkula Push Pull Cart delivers a number of notable features that make it a go-to choice for avid golfers. Crafted with meticulous attention to detail, the cart offers a convenient way to carry your gear around the course with minimal effort.
The Tangkula Cart has a foldable design, which allows you to collapse the cart into a compact size. This feature simplifies storage and makes transportation a breeze, especially for those who regularly golf on different courses. Moreover, the lightweight nature of the cart, made possible by its high-quality aluminum pipes and steel construction, enhances its portability without sacrificing durability.
In addition to its structural attributes, this Cart stands out for its practical features. It boasts adjustable handle positions catering to a variety of height preferences, enabling easy maneuverability. The cart also includes a functional foot brake for quick and easy stops.
Furthermore, the integrated storage compartment, complete with a scorecard holder and cup holder, provides a convenient solution for you to keep your essentials close at hand.
Pros
Convenient foldable design for easy storage
Integrated storage compartment for necessities
Lightweight and durable material
Functional foot brake for increased safety
Adjustable handle positions
Tangkula's Push/Pull Cart offers a range of beneficial features that make it a reliable and convenient choice. The foldable design, lightweight construction, and practical additional features contribute to a product that caters to all your needs.
This cart is certainly worth considering for anyone in the market for a practical, easy-to-use golf cart.
Are Golf Push Carts Worth It?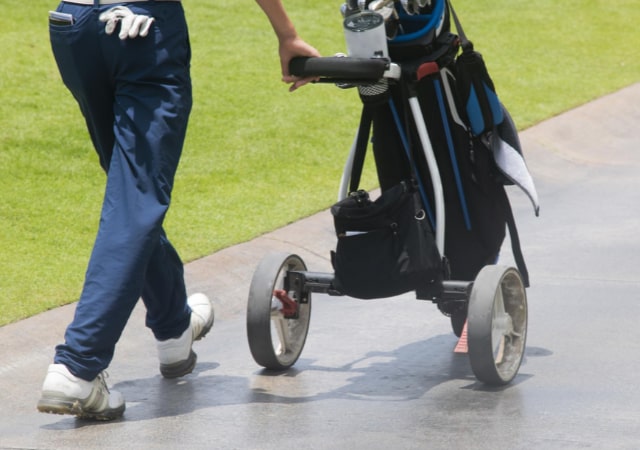 You must ask yourself this one question: "Why should I carry when I can push in style?"
Gone are the days when you had to walk the greens with 20 pounds of weight lugging on your shoulders. The new innovative way of doing things is to push all your clubs and accessories with elegance.
Have you ever tried a motorized golf cart? It runs electronically, can accommodate a maximum of 2 adults, and has more than enough space for their gear. The more luxurious power carts also come equipped with an AC chamber, golf ball cleaner, lift kit, and other thrills like speed cart controls.
However, our vote will still go to the golf push carts because they are ideal for flat and hilly courses. Affordability-wise, push carts take the cake too. They are also easy to set up and collapse and fit easily in the trunk of your car.
You have no worries about charging batteries, maintaining them, or taking them regularly for services. Push carts are not just good for your health, but they are also environment-friendly because they do not pollute the atmosphere.
Which Is a Better Push or Pull Golf Cart?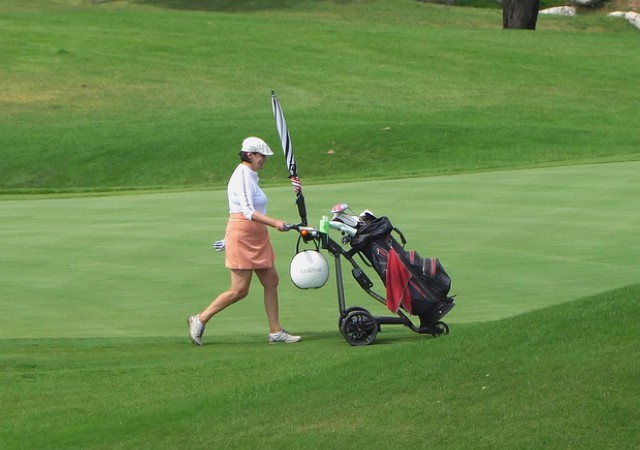 The big difference between the push and pull golf carts is the number of wheels they come with. The pull cart has two wheels, whereas the push carts have a third wheel for ease of pushing it around. Some push carts come with four wheels. Both serve their purpose of lightening your burden. Pushing is way easier than pulling and can be less exerting on the shoulders and arm muscles.
The science behind it is that a push cart can leverage the forward momentum of walking and efficiently transfer energy to the wheels, making movement effortless. They come with ergonomic handles that reduce strain. They roll straight, thanks to their extra wheel.
The pull cart with two wheels zigzags and often strains your arms and shoulders. Golfers that have tried both usually lean towards the push cart, which has evolved to take a natural lead over the pull cart.
Buying Guide: Things To Consider When Looking For a Golf Push Cart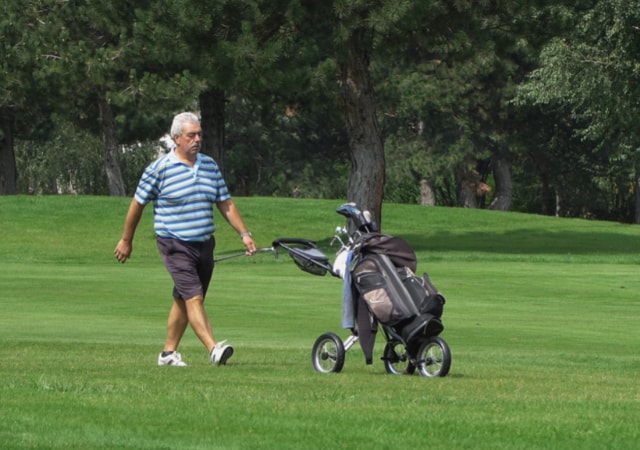 When seeking a perfect push cart, there are several key factors to bear in mind. Our advice to first-timers is not to be impulsive when buying. Give a lot of time to choosing a push cart that suits your personality and lifestyle. Here are the main considerations to assist you in your search:
1. Size
The dimensions of a push cart, both folded and unfolded, play a crucial role in its convenience. Choose a cart that suits your height and body type when unfolded. Likewise, the folded dimensions should be compact enough for easy transportation and storage, ideally fitting comfortably in your vehicle's trunk.
2. Weight
A push cart's weight can significantly impact its manageability on the course. While lightweight carts are more portable, excessively light ones might compromise on durability and stability. So, it's wise to opt for a cart that strikes a balance between weight, sturdiness, and durability. Common materials used are aluminum, steel, and occasionally, carbon fiber, each offering a different weight-to-durability ratio.
3. Number of Wheels
The number of wheels on a push cart can affect its maneuverability, stability, and cost. Two-wheel models are budget-friendly but demand more effort to balance and move. Three-wheel models provide a good balance between stability and maneuverability, while four-wheel models offer superior stability but can be pricier and less flexible in changing direction.
4. Color & Design
While functionality is key, a push cart's color and design can add an aesthetic appeal. Choose a style that suits your preference and aligns with your personality, making your golfing experience more enjoyable.
5. Electric Vs. Non-Electric
Consider whether you want a manual or an electric model. Non-electric carts are budget-friendly and rely solely on your pushing power.
Conversely, electric models, equipped with a motor and remote control offer easier maneuverability but come at a higher price (and require more frequent maintenance to keep them going). Your choice should depend on your budget and physical capabilities.
If you want to know more about electric models, we do have an article with the top 10 electric golf caddies along with a detailed buyer guide to further help you out.
6. Features & Accessories
Examine the cart for useful features like adjustable handles, hand or foot brakes, bag straps, and bag brackets. Additionally, check the available accessories such as drink holders, removable seats, carry bags, mesh baskets, and GPS holders. These extras can significantly enhance your golfing experience.
7. Budget
Finally, align your choice with your budget. The cost of push carts varies significantly, with electric models tending to be more expensive. While higher-priced carts often deliver more features and durability, it's possible to find quality options at lower prices. Make sure to read customer reviews to ensure you're getting value for your money.
Here is a great informative video (16 minutes 46 seconds) from Ryan Ballengee - Golf News Net discussing the main differences and advantages between push carts, including setup, storage, handling, and a few more other things to consider.
Frequently Asked Questions About Golf Push Carts
Let's now answer the most frequently asked questions related to push carts.
Which Is Better, Three or Four-Wheel Cart?
A 4-wheel push cart is more stable because it has a wider base to accommodate the extra wheel. But by no stretch of the imagination is a 3-wheel cart less stable. Most three-wheel cart manufacturers also make them with a wider base. A 3 wheel cart is more accessible to maneuver than a four-wheeled cart, especially around sharp corners. They also move faster.
Both carts come with robust elastic straps to hold the bags in place without touching the ground. But a four-wheel cart folds more compact and also uses up less storage space.
How to Travel With a Push Cart Easily and Safely?
A travel-friendly cart is lightweight and compact. Resist buying motorized carts as they are not a good choice for travel. Make sure you fasten the golf bag tightly to the cart and secure it inside the cabin. The handle grip must be strong. Tie the solid elastic belts to the bag so that it does not accidentally fall on someone.
How to Fold a Push Cart Easily?
Different companies have different folding mechanisms for their push carts. Some of them have a click button that folds the cart effortlessly. Others have levers to pull to fold them down. To fold the cart easily, read the manual or watch a tutorial on YouTube to understand its nuances.
Why Should You Buy the Best-Rated Push Carts?
The best-rated carts have been tested and reviewed by other customers who left positive feedback for the product they actually used. You will simply benefit from other customers' experiences and feedback.
In addition, the best-rated push carts are guaranteed to offer several benefits, including durability, smooth maneuverability, convenience with added features, stability, portability, and health benefits.
These carts are constructed with high-quality materials, providing a reliable and easy-to-use option for transporting your bag on the course. With improved stability, adjustable features, and compactness, they enhance your golfing experience, reduce physical strain, and allow you to focus on your game, making rounds more enjoyable and efficient.
Are Golf Push Carts Lame?
Push carts are definitely not lame. They allow you to walk, still getting you to physically exercise vis-a-vis riding in an electric cart. You don't carry pounds of weight on your shoulders, and you save all that energy for your best shot on the course. More and more golfers see that a push cart is a better approach than an electric cart.
I'd say push carts are the middle ground between carrying all your club around the course, thus exhausting yourself physically, and the other electric options like electric caddies or driving carts, with the former being a bit more cumbersome and not very portable, and the latter removing the physical exercise part of the game altogether.

Do Golf Push Carts Need Maintenance?
With time, they will need some basic and easy maintenance. Here is a quick list of what to expect:
1. Wheels: Wheels wearing out unevenly in airless tires or tires that look deflated? You must attend immediately because they form a crucial component for your cart to do its job continuously well. Replacing wheels is an easy job. In the case of inflatable tires, patch the tire so that it can hold air again.
2. Brakes: brakes wear down much faster on manual push-type carts. If you notice that the brake is not as tight, consider replacing the complete brake line. Keep checking on the handle too.
3. Locking mechanism: if the lock is sticking out of the frame when you fold it, adjust it with a screwdriver. If the mechanism looks rusted, use WD 40 or similar anti-rust oil to clean it and then try the lock again.
Don't forget to read the manual before you attempt repairs on your own.
 Do Golf Trolleys Include All the Accessories I Need?
You need to check the product description and included accessories before finalizing your purchase. Some options may come with all the accessories you personally need, while others may not include any accessories at all. The beauty of push carts is that you can buy accessories separately and attach them (and the prices are usually very affordable)!
Should I Be Using Push Carts if I Suffer From Back Pain?
Golfers mostly suffer from back pain and often rue that they made a mistake carrying gear on their backs. This is precisely why it is strongly recommended that you invest in a push cart. But before you zero in on the right push cart bag for you, it pays to take notes from experts. 

Go for the light-in-weight variety. Even if you are playing a hilly course, it is okay to lift your bag for a bit and then use the push trolley cart when you are back on the flats.

Steer away from pull carts if your back is already showing signs of fatigue and pain. Pull carts need more exertion on certain types of rough terrains, and they can end up aggravating your back pain.
How Do You Choose a Push Cart for a Junior Golfer?

When choosing a push cart for a junior golfer, consider factors such as size and weight to ensure it is appropriate for their age and height. Look for a lightweight and easy-to-maneuver cart that the junior golfer can handle comfortably.
Adjustable handlebars can accommodate their height as they grow. A compact and foldable design will make transportation and storage more convenient. Additionally, check for features like a secure bag strap system and durable wheels for stability and longevity. Overall, prioritize simplicity, ease of use, and a cart that complements the junior golfer's needs and capabilities.
What Accessories Can I Add to My Push Cart?
There are countless accessories that you can purchase from online retailers like Amazon; these include the following:
1. Cooler bag is a reusable freezer pack with an insulated pocket and handles for easy storage of cold drinks and snacks.
2. Smartphone holder and mount: most golf equipment and gear manufacturers want you to be not wired, and that is why it is not a standard accessory. You can buy one easily.
3. Scorecard holder to keep the scorecard clean and easy to read. It can mount directly to the cart, and the height can adjust too.
4. Seats are for you to rest between the shots. Push carts can also come with a spring-operated seat that opens and closes quickly. They give you much-deserved rest. 
5. Storage holder helps when you want to carry it all. Only make sure that they are compatible with the cart you use.
6. Heater (& attachment): in cold weather, a heater with a capacity of 4000 BTUs is excellent for 5 - 6 hours on a single propane gas cylinder. Perfect while waiting for your turn to play.
Final Thoughts
Whether you are an amateur or a professional golfer, a golf cart is no longer a luxury. If you are someone that carries the entire gear on any given day on the course, then it is about time that you put your money in a great push cart. There is no point burdening your shoulder and spoiling your gait when you can push the trolley or pull it in style!
With the help of our reviews, FAQ's and buyer guide, choosing a great push cart does not have to be a daunting task for you anymore.
Happy shopping!!!
---
References:
About Us, Colorado Center for health and sports science. Colorado Center for Health and Sports Science. Retrieved from https://cochss.com/about-us/
WRITTEN BY

My name is Jacob, a self-diagnosed equipment and golf enthusiast. I've been golfing since I was 15. Golf has always been my passion. I'm a bit of a golf equipment nerd and I've been that way since the moment I picked up a club for the first time. As someone who's been on both sides of the game, I know what it takes to be a good golfer. Of course, you need good equipment, but you also need to know how to use it. I hope sharing my experience with you will help you improve your game.
You May Also Like