10 Best Electric Golf Caddies With Remote Control - Reviews & Buying Guide
Last updated:
October 27, 2023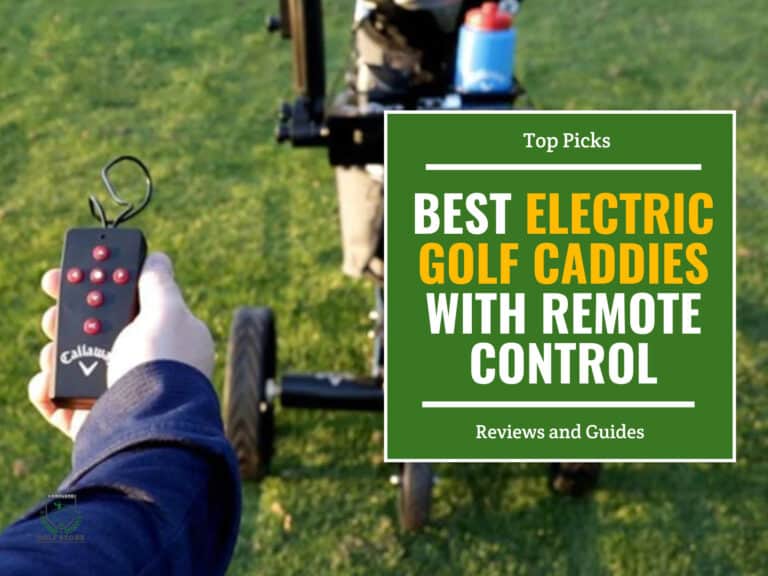 Disclaimer: We may earn a small commission from some of the links on our website. However, our reviews and comparisons remain fair and unbiased. Our goal is to help you make the best choice. For more information, please see our
disclosure statement
. Thank you for your support.
Key Takeaways
Our top pick for the best electric golf caddy is the Motocaddy M7 Gps Remote Electric Golf Caddie due to its class-leading GPS functionality and responsive remote handling. The embedded GPS provides detailed views of each hole with drag-and-drop pin placement for precise yardages. It also responds immediately to commands from the compact remote. The folding design packs down small with adjustable wheels and an upright stand. For golfers who want a feature-packed trolley with excellent GPS, the Motocaddy M7 GPS is a top pick.
Ever feel your energy sapped after lugging around a heavy golf bag for 18 holes? You're not alone. Carrying that extra weight can take a real toll, draining your stamina and hurting your game.
But technology now provides a solution - remote-controlled electric golf caddies. These ingenious devices liberate you from physically bearing the burden, taking nearly all of the work out of transporting your clubs with an electric motor.
While regular push-cart style electric caddies are a step up, remote control models offer a truly hands-free experience that maximizes convenience.
As technology has progressed, high-performing and affordable remote-operated caddies have hit the market, transforming the game for golfers of all abilities. We'll review and compare our top picks in this article to help you find the perfect buddy for cruising the fairways.
Say goodbye to fatigue and hello to a revitalizing round of golf with a remote control partner carrying your cargo.
No time to read the whole article? No worries. We've done the work for you and compiled a list of the top performers.
| Product | Features | Our Rating | |
| --- | --- | --- | --- |
The Best Golf Caddies with Remote Control
The following are our best picks for the best electric, remote-controlled golf caddies, tested by our own team to help you choose only the best items in the market.
Motocaddy M7 GPS Remote Electric Golf Caddie
Our top pick - The Motocaddy M7 GPS electric caddie delivers a premium remote-controlled golf experience with its class-leading GPS functionality and responsive handling. With a robust feature set, thoughtful design, and intuitive controls, this caddie is a top pick for golfers seeking the convenience of remote operation paired with high-tech shot tracking and course management tools.
The embedded GPS really sets this trolley apart, providing detailed views of each hole and green with drag-and-drop pin placement. You'll have precise yardages to hazards and targets at your fingertips to dial in your distances. The included Performance Plan trial unlocks even more in-depth course mapping, stat tracking, and updates. For golfers who value technology, the M7 GPS leads the pack.
In terms of handling, the caddie responds immediately to commands from the compact remote. With reliable Downhill Control, you can confidently send it to track down wayward shots without losing control. The folding design also impresses, packing down small with adjustable wheels and an upright stand.
Pros
Best-in-class GPS with excellent detail
Intuitive and responsive remote handling
Compact, convenient folding system
12-month Performance Plan trial
Reliable downhill speed control
Cons
Anti-tip wheel not integrated into chassis
The wired battery connection is a bit outdated
For golfers wanting a feature-packed remote trolley with excellent GPS capability, the Motocaddy M7 GPS hits the mark. It combines high-end technology with intuitive controls and handling for a premier overall experience.
MGI Navigator Ai GPS+ Electric Golf Cart
Right out of the box, I was impressed by the sturdy yet lightweight aluminum frame and smooth-rolling all-terrain wheels of MGI's Navigator Ai GPS+ Electric Golf Cart. Assembly took just a few minutes thanks to the clever single-action zip fold design.
On the course, this cart really shines. The high-torque 230W motors conquer hills with ease while remaining whisper-quiet. We appreciated the adjustable handlebar and dual front swivel wheels, which provide customized comfort and impressive stability even on uneven terrain. The remote control allows you to walk casually next to the cart and focus on your game.
The built-in GPS system is a game changer. The bright, responsive 4" touchscreen displays distances to greens, hazards, and pins with just a tap. It also includes hole flyovers, scoring, and stats like fairways hit. The yardages were extremely accurate after comparing them to my laser rangefinder. With 40,000 preloaded courses, it worked flawlessly at every track we visited during our tests.
Other handy features are the USB charging port, drink holder, and dedicated phone mount to keep your devices powered up and protected. We also like the removable 36-hole lithium battery which clicks in and out with ease. Fast charging means less downtime between rounds.
Pros
Powerful dual motors conquer any terrain
Ultra-stable dual front wheels and rear 5th wheel
Easy to fold and transport
Intuitive touchscreen GPS with excellent accuracy
36-hole battery for marathon golf sessions
Fully adjustable handlebar and bag support
Cons
Minimal storage apart from drink and phone holders
App connectivity issues in some cases
Struggles slightly on very steep slopes
Overall, the Navigator Ai GPS+ is one of the most advanced electric carts I've tested. It's packed with features to help you monitor your stats, dial in distances, and ride in comfort. This high-tech caddie enhances the walking experience so you can focus on your game, get great exercise, and have more fun on the course. It earns our wholehearted recommendation.
Alphard Golf eWheels Club Booster V2
The Alphard Golf eWheels Club Booster V2 is an ingenious kit that transforms your existing regular push cart into a remote-controlled electric cart, delivering hands-free navigation without the cost of a dedicated electric model.
Having tested the Club Booster first-hand, we can attest to its seamless integration with our Clicgear push cart. The installation process was intuitive, simply attaching the motorized wheels and syncing the remote control. Within minutes we were cruising the fairways at up to 6 mph without touching the cart. The ability to precisely control direction and speed from over 50 yards away is a great and useful feature.
The Club Booster's upgraded features in the V2 version make the experience even smoother. The 6-axis gyroscope automatically keeps the cart tracking straight, preventing deviation from your intended path. The hill brake provides added control ascending and descending slopes. Meanwhile, the redesigned remote with handy presets and lithium-ion battery enhances functionality.
In terms of performance, the dual 130W motors handle inclines up to 30 degrees with ease. The 5.2Ah battery lasts a full 18 holes per charge, even on hilly terrain. For frequent golfers, supplemental batteries may be needed for 36+ hole days. The battery conveniently detaches for charging without moving the entire unit.
You'll also appreciate built-in cruise control for constant speed over long distances. The free-wheel mode lets you manually push the cart when desired. With cold temperature operation down to -10°C, this kit can handle the harshest conditions.
Pros
Transforms existing push cart into remote-control electric cart
Intuitive installation and syncing with compatible brands
Precise direction/speed control from over 50 yards away
6-axis gyroscope keeps cart tracking straight
Hill brake adds control on slopes
Great build quality
Cons
May need extra batteries for 36+ hole days
Ensure your push cart model is compatible
For any golfer wanting to add power and freedom to their manual push cart, the eWheels Club Booster V2 is an excellent choice. With an affordable price below $1000, it provides a remote-control upgrade unmatched for convenience.
Cart-Tek 1500 V3 Lithium Electric Remote Control Golf Caddy - 2023 Model
The Cart-Tek 1500 V3 is an excellent electric golf caddy option for golfers looking for a lightweight and maneuverable cart with advanced features like slope control, downhill braking, and a long-lasting lithium battery. Weighing only 30 pounds, you'll appreciate how easy it is to navigate this caddy through any type of terrain on the course.
The onboard electronics provide slope control to maintain direction even on uneven ground, making it effortless for you to keep the Cart-Tek 1500 V3 on path. When going downhill, the cruise control feature allows you to comfortably descend without having to constantly adjust your speed. Maneuvering the cart is a breeze thanks to the included remote control that allows you to adjust direction and speed with the press of a button.
With its compact and foldable design, the Cart-Tek 1500 V3 can be conveniently stored in your car trunk and set up quickly when you arrive at the course. The 36-hole lithium-ion battery delivers an exceptionally long run time, letting you easily complete multiple rounds between charges. The 230W motor supplies plenty of power to handle hills and uneven terrain without slowing you down.
Pros
Lightweight and highly maneuverable
Advanced slope control and downhill braking
Handy remote control for direction and speed
Compact, foldable frame for easy transport
Powerful 230W motor handles hills with ease
Beautiful design - available in black and silver colors
Cons
The battery takes 4-5 hours to fully recharge
Cart-Tek's 1500 V3 comes with advanced electronics combined with a lightweight yet sturdy construction to make this an ideal caddy for navigating the course with ease. With all of its advantages, the Cart-Tek 1500 V3 is highly recommended for any golfer looking to upgrade their caddy.
Wingscaddy Electric Golf Push Cart with Remote Control
Next on our list is the Wingscaddy Electric Golf Push Cart, which impressed us right out of the box with its sleek, lightweight design and intuitive assembly. Once charged, the long-lasting lithium battery powered the cart smoothly up even the steepest hills on the local course we tested it in thanks to the dual 200w motors.
The three different operating modes - remote control, push cart, and free wheel - provide versatility no matter what the situation. Cruising effortlessly down the fairway using the handy remote is a breeze. Yet when needed, you can also manually push or pull the cart like a traditional model. The adjustable 9-speed timed drive is handy for sending the cart ahead 10, 20 or 30 meters without holding the remote, allowing you to focus on your game.
Stability and maneuverability are excellent due to the widely spaced 3 wheels and anti-tip design. The accessories like the drink, umbrella and scorecard holders provide nice conveniences. We also appreciate that it folds down easily for storage or transport.
Pros
Great price point
Intuitive controls and 3 operating modes
Long battery life up to 36 holes
Lightweight but stable 3-wheel design
Handy remote control operation
Powerful dual motors
Available in two colors - Black and silver
Cons
The scorecard holder is flimsy
No dedicated parking brake
The Wingscaddy electric caddy is a superb choice that enhances your game and takes the effort out of walking 18 holes. This cart has become our new favorite caddie, and it is cheaper than the other models reviewed here.
BATCADDY X8R Advanced Lithium Remote Control Electric Caddy
Right off the bat, we were impressed by the lightweight yet sturdy aluminum frame and smooth-rolling dual anti-tip wheels of the BATCADDY X8R cart, which provide great stability even on hilly terrain. The easy one-step folding mechanism makes this cart a breeze to set up and transport.
Once on the course, the dual quiet 200W motors and 9 variable speed settings give you complete control over your pace. We love using the intuitive directional remote to steer the cart - it allows you to focus on your game rather than maneuvering the cart. The cruise control feature lets you lock in your desired speed hands-free. Downhill speed control provides added safety and stability when traveling down slopes.
Battery life is excellent, easily lasting multiple rounds even for fast walkers like myself. The USB charging port is a handy bonus for keeping devices powered. The included holders for your drink, holder and umbrella nicely round out the accessories.
Pros
Dual motors provide power and control
Intuitive directional remote
9-speed settings for customized pace
Cruise control locks in speed
Downhill speed control adds stability
Excellent battery life
USB charging port
Included accessories
Cons
Higher price tag
Remote signal may intermittently drop
Wheels may need occasional tightening
In summary, the BATCADDY X8R offers a good walking experience thanks to its smart design and array of technological features. With power, control, and stability, this cart makes it easy and enjoyable to walk 18 holes. If you're looking to invest in a top-tier electric golf cart, the X8R is a leading choice that delivers on all fronts.
Foresight Sports ForeCaddy Smart Follow Remote Control Lithium Golf Caddy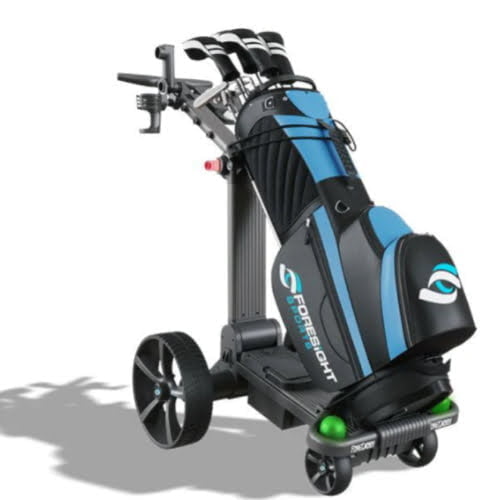 ForeCaddy, by renowned company Foresight Sports, is a high-tech cart packed with features. Its smart tech allows the cart to follow you automatically, freeing up your hands. Simply clip the remote to your waist and start walking. Sensors and algorithms keep the cart a safe distance behind you without the need for steering. Switch to manual mode to push uphill and get power-assist on steep climbs. Or use the remote to precisely position the cart where needed.
This lithium-powered cart folds down quickly for storage and transport. Despite the compact size, it can handle two full rounds on a single charge. Dual motors deliver the power to handle hills and uneven terrain with speed control and auto-braking for safety.
ForeCaddy comes equipped with built-in amenities for convenience. Keep balls and scorecards handy in the mounted holder. Store phones, rangefinders and valuables in the secure compartments. And stay hydrated using the adjustable drink holder. With the included umbrella holder, storage racks and extra bag straps, this cart provides the total package.
Pros
Hands-free remote follow mode
Power assist and precision control
Built-in storage and electronics
Compact yet durable construction
Lithium battery lasts up to two rounds
Cons
Expensive premium model
Not intended for off-road terrain
With its advanced remote operation and integrated features, ForeCaddy delivers luxury and convenience for the ultimate golfing experience. This smart cart takes the hassle out of lugging clubs and gear across the course. You also can rest assured knowing that this cart was made by Foresight Sports, a brand renowned for excellent quality in the world of golf equipment and technology.
Callaway Traverse Remote Control Push Cart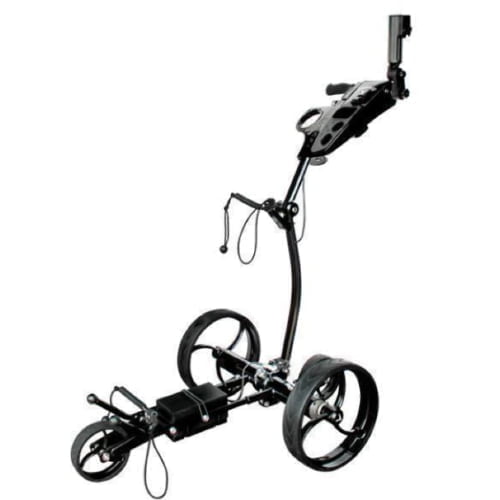 The Callaway Traverse offers smooth performance and intuitive controls in a lightweight yet powerful package.
At the heart of this caddie is a high torque dual motor system, which delivers quiet operation and steady speed. It folds down quickly for storage but can power the cart for up to 27 holes per charge of the lithium battery. Adjust speed on hills using the variable speed control knob. Or utilize the preset speed settings and steering controls on the remote.
The remote allows precision navigation of the cart from up to 75 yards away. Easily steer left or right, move forward or reverse, and preset distances for the cart to travel on its own. This gives you control while keeping your hands free. The adjustable handle ensures comfort for golfers of all heights.
The Traverse features an aluminum frame paired with durable ABS plastic components. The sealed motors and gearbox provide smooth, quiet power across varied terrain. Safety features like auto-braking on hills give peace of mind. And the battery is good for 800 full charges over its lifetime.
Pros
Intuitive remote control operation
Powerful lithium battery that lasts 27 holes
Smooth and quiet motor system
Durable aluminum/ABS construction
Adjustable handle and braking system
Cons
Premium price for remote features
Battery range lower than some models
Not intended for off-road use
With its smart design and intuitive controls, the Callaway Traverse Remote makes walking the course effortless. This premium cart provides hands-free convenience without skimping on power and durability. We just wish the battery life could reach the 36-hole mark; that would have made it the perfect cart.
MGI Zip Navigator All Terrain Electric Golf Cart
The Zip Navigator folds down into a compact size but delivers powerful performance. It's equipped with twin 230-watt motors for whisper-quiet operation up to 36 holes on a single charge. The lithium battery clicks into place for fast swaps when needed. You can adjust speed using the variable control dial or through the remote's preset speeds and steering.
The remote allows precision control of the cart from up to 75 yards away. Easily steer left/right and reverse, preset two distances for automated travel, or lock in cruise control. This gives you control while keeping hands free to focus on the game. The adjustable handle ensures a comfortable fit for all heights.
Despite its portable size, the Zip Navigator handles all-terrain with its sturdy aluminum frame, dual front wheels for stability, and treaded rear tires. Safety features like auto-braking provide peace of mind on hills. And it includes a fold-down 5th wheel for added stability on uneven terrain.
Pros
Folds into compact portable size
Powerful dual motors for 36 hole range
Equipped for all-terrain use
Adjustable handle and braking system
Easy to operate with remote control
Cons
Tight space for extra accessories
With smart design in a lightweight package, the MGI Zip Navigator makes walking effortless with hands-free remote operation. This premium cart delivers power and convenience without sacrificing portability.
BAT-CADDY X4R Powered Golf Push Cart w/Remote
Despite its reasonable price compared to the other options, the X4R cart boasts many high-end features. It utilizes a sleek aluminum alloy frame paired with stainless steel components for durability with minimal weight. The remote allows control from up to 100 yards away to steer left/right, reverse, and dial in exact speeds.
While compact, the X4R handles hills with ease thanks to its dual 200W motors. It folds down quickly into a portable 33" x 21" x 10" size for car trunk transport and storage. Still, the power and stability are evident when in use, with the ability to climb 30 degree inclines at speeds over 5mph.
To fit any golfer, the cart's handle adjusts from 33" to 45" in height. The remote offers preset distance timers and cruise control for hands-free operation. And amenities like USB charging keep phones powered up. When the round is done, the entire pack-up process takes just seconds.
Pros
Lightweight yet durable frame
Impressive remote with a 100-yard range
Powerful dual motors
Folds into ultra-compact size
Affordable price point, compared to the competition
Cons
Small wheels less ideal for off-road
Bat-Caddy's X4R is reasonably priced and provides premium features like long-range remote control, durable construction, and serious power. It makes walking 18 effortless without breaking the bank.
Buying Guide - What to Consider in Your Next Electric, Remote-Controlled Golf Caddie?
Purchasing an electric golf caddie with remote operation can take the effort out of walking 18 holes. With so many options available, it's important to weigh certain factors to find the best model for your needs. Here are key considerations when choosing your next remote-controlled golf caddie:
Battery Life & Type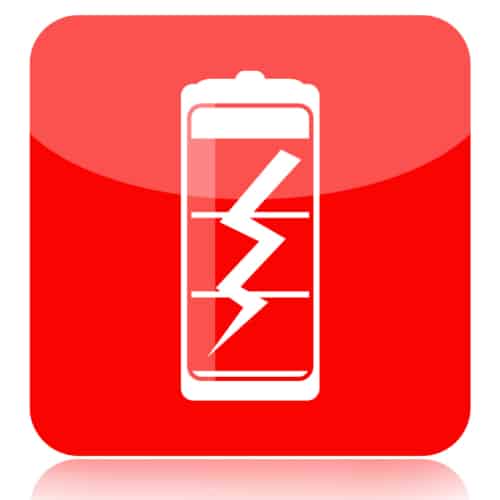 Range per charge should allow completion of 18 holes minimum, with lithium batteries typically allowing up to 36 holes per charge.
Lithium batteries are lighter, charge faster (2-3 hours), last over 500 charges, and weigh dramatically less than lead acid. This makes them ideal if you'll be frequently lifting the caddie in and out of your vehicle.
If opting for lead acid, look for at least a 12V 35Ah capacity to come close to lithium range. But expect longer 5-8 hour charging times and frequent replacement needs.
Additionally, calculating total caddie weight with the battery installed is helpful for lifting and transport considerations. Lithium battery models are typically under 30 lbs total.
You may want to check out our comprehensive guide on the top-rated golf cart battery options for more in-depth information.
Remote Range & Capabilities
Look for remotes that function reliably up to at least 50-60 yards away (with the best models reaching 100 yards), giving you maximum flexibility of movement.
Also, speed adjustment, timed distance settings, reverse, and cruise control allow for precise control and hands-free operation while playing.
Simple, intuitive controls are vital for ease of use when navigating the course. Large buttons and an LCD screen also provide helpful feedback.
Additional features like USB charging, magnetic holders, and storage trays add convenience you'll appreciate.
Weight, Size & Folding Mechanism
Consider overall weight for frequent loading/unloading. Models under 30 lbs total are preferred for portability. Also, check dimensions when folded versus your vehicle trunk size to ensure optimal fit.
Compact folding size, around 30" x 20" x 10", ensures easy storage in a car trunk or at home, and sturdy yet lightweight aluminum or alloy frames minimize weight while maintaining stability when unfolded.
Quality and Sturdiness
Durable frames of aluminum, titanium or magnesium alloys hold up to regular use for years. Aircraft-grade wiring resists wear.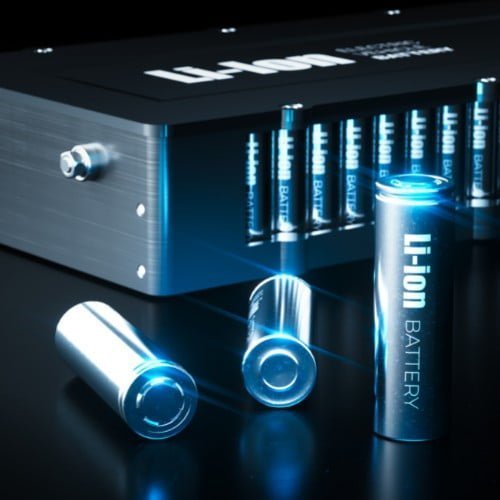 Waterproof lithium batteries, sealed motors, and anti-rust treatments contribute to longevity in variable weather.
Moreover, sturdy wheels with tread or all-terrain capability provide stability on hills and rough terrain. Anti-tip wheels and auto-braking technology also prevent tipping on steep inclines, which will keep your cart safe and usable for a long time.
Maneuverability
Swiveling front wheels paired with tread wheels allow better control of steering and stability. Multiple speed settings, up to 9 on some models, help navigate inclines and various turf conditions.
Higher torque motors, 200W+, handle hills and challenging terrain with power to spare. Look for these specifications in your chosen model to ensure it is greatly maneuverable across all types of terrain.
Included Accessories
Check what accessories come with your golf cart out of the box, and which available (and useful) ones can be purchased separately.
Scorecard holders, headcovers and other accessories customize your caddie to your needs and preferences, while add-ons like seats also provide comfort and the ability to ride if desired on flatter holes.
Budget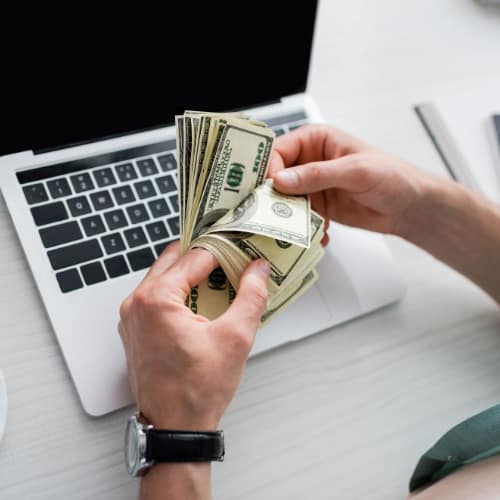 Costs can range from under $1000 for lead acid battery models to $2000+ for feature-packed lithium versions.
Remote operation, aircraft-grade aluminum frames, lithium batteries, and premium brands come at a higher cost.
If you need to save money with your purchase, you may consider battery replacement needs and total lifespan value with cheaper lead acid battery models.
Final Thoughts
After reviewing the top remote-controlled electric golf caddies of 2023, it's clear there are excellent options for every budget and preference. While prices can climb into the thousands, we've shown reliable models exist even below $1,500. Consider key factors like build quality, battery life, accessories, and ease of control when deciding on the best investment for your needs.
Ultimately, choosing a remote-operated cart comes down to maximizing convenience while golfing. Any of our recommended picks will provide an effortless experience cruising the fairways hands-free. With innovative follow modes, precise maneuverability, and downhill braking, today's caddies take the strain out of transporting and steering.
We hope this guide has given you the information to select a model tailored to your gameplay. If you have any questions or comments, feel free to contact us.
Thanks for reading!
WRITTEN BY

My name is Jacob, a self-diagnosed equipment and golf enthusiast. I've been golfing since I was 15. Golf has always been my passion. I'm a bit of a golf equipment nerd and I've been that way since the moment I picked up a club for the first time. As someone who's been on both sides of the game, I know what it takes to be a good golfer. Of course, you need good equipment, but you also need to know how to use it. I hope sharing my experience with you will help you improve your game.
You May Also Like