10 Best Golf Cart Batteries - Reviews & Buyer Guide
Last updated:
October 27, 2023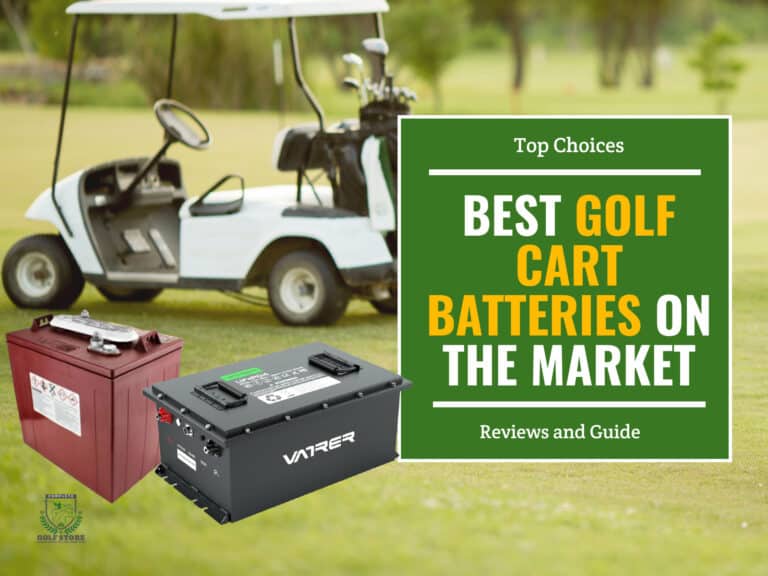 Disclaimer: We may earn a small commission from some of the links on our website. However, our reviews and comparisons remain fair and unbiased. Our goal is to help you make the best choice. For more information, please see our
disclosure statement
. Thank you for your support.
Key Takeaways
Our top pick for the Best Golf Cart Battery is the VATRER POWER 48V 105AH LITHIUM GOLF CART BATTERY. With its powerful 10.24kW output, 4000+ recharge cycle longevity, and built-in BMS protection, this lithium iron phosphate battery provides reliable, long-lasting performance to enhance your golfing experience.
Many golfers dream of cruising their favorite course in their own personal cart. But before buying and operating a golf cart, it's important to understand the ins and outs of golf cart batteries. Choosing the right battery type and properly maintaining it can impact performance and extend battery life.
This article will provide golf cart owners with the key information they need to select, use, and care for golf cart batteries. We'll explore the most common battery options—flooded, AGM, and lithium-ion—and compare their voltage, charging time, duration of use, and maintenance needs. You'll learn the manufacturer's recommendations for battery selection and maintenance. And we'll recommend top battery choices to keep you rolling from tee to green.
Properly understanding golf cart batteries helps ensure your cart will provide years of reliable performance. Let's start by looking at the different battery types and their key characteristics.
No time to read the whole article? No worries. We've done the work for you and compiled a list of the top performers.
| Product | Features | Our Rating | |
| --- | --- | --- | --- |
How We Tested the Best Batteries for Golf Carts
When evaluating batteries, we focus on capacity, lifespan, maintenance requirements, and value.
The battery's capacity - its ability to store and deliver energy over time - depends on technical specifications like voltage, current, and c-rate. More capacity means longer runtimes between charges. The battery's lifespan is also critical, as you want a battery that will perform consistently over years of use.
Maintenance needs among battery chemistries also vary. Some require regular inspection of electrolyte levels, while sealed options like AGM eliminate this task. Of course, you also want a battery that gives you strong value through high performance at a reasonable price.
In our analysis, AGM batteries (a type of VRLA lead acid - more on them below) stand out for offering a compelling balance of power, longevity, and affordability. Though lithium-ion boasts advantages like light weight, AGM excels in value. And while cheaper, flooded lead-acid features shorter lifespans.
Still, we do have to admit that Lithium is the future. It's only a matter of time before it reigns supreme over golf cart batteries.
The Best Golf Cart Batterie of 2023
We have tested and reviewed the best golf cart batteries available on the market today to provide you with a list of nothing but the best options you can purchase today. Let's go through our selection one by one.
Please note that we reviewed specific models of the batteries below; if you need different capacities (voltage, amperage, etc.), the majority of our reviews (except one or two) provide the possibility to choose different specifications for the same battery to ensure compatibility with all golf carts.
VATRER POWER 48V 105Ah Lithium Golf Cart Battery - Best Lithium Battery
Having a reliable battery to power your golf cart is essential, and our top pick- The Vatrer Power Lithium Golf Cart Battery delivers excellent performance and longevity to keep you cruising across the course. With its high-grade prismatic lithium iron phosphate cells, this battery packs an impressive 10.24kW of power output. That's 50% more power than comparable lead-acid batteries, providing the extra juice needed to handle demanding terrain or heavy passenger loads.
Despite the compact size, the 5.37kWh capacity equates to 4 lead-acid batteries, giving you extended drive time between charges. The built-in 200A BMS provides comprehensive protection against common issues like overcharging, overcurrent, and short-circuiting. This hands-off monitoring ensures safe, reliable operation while eliminating maintenance. Moreover, the battery is easy to install in tight golf cart compartments. The included fast charger and touchscreen LCD monitor make usage straightforward.
With an exceptional lifecycle of over 4000 recharge cycles, this lithium battery will far outlast lead-acid alternatives that degrade after 300-500 cycles. That exceptional longevity saves you from frequent costly replacements. Ultimately, this high-performance lithium battery will enhance your golfing experience by providing reliable long-lasting power to handle every round.
Pros
Powerful 10.24kW continuous output
Built-in 200A BMS for protection
4000+ recharge cycles for longevity
Excellent build quality
Fast charger and touchscreen included
Cons
Expensive upfront cost
May require professional installation
For golfers seeking a long-lasting lithium battery to power their cart, the Vatrer Power 48V 105Ah is an excellent choice. With excellent power output and integrated smart monitoring, this battery delivers reliable performance round after round. It is also available in a 36v / 105 Ah capacity.
Trojan T-125 6V 240Ah Flooded Lead Acid GC2 Deep Cycle Battery x2 - Best Lead Acid Battery
The Trojan T-125 deep-cycle flooded lead-acid battery is an excellent choice for golf carts seeking reliable power and long battery life. With 240Ah capacity and a robust build, this 6-volt GC2 battery from Trojan is a top performer for golf cart applications.
You can depend on the T-125 to deliver exceptional cranking power and continuous energy to handle long days on the course. Its deep-cycle design is optimized to provide power for extended discharges, rather than short bursts needed for engine starting. This makes the T-125 well-suited for running accessories and supporting long rounds of golf.
With dimensions of 10.3 x 7.13 x 11.15 inches and a weight of 66 pounds, the battery has a compact footprint that fits well in most golf cart battery compartments. The embedded low-profile terminals further aid installation while reducing corrosion.
When it comes to golf cart batteries, Flooded lead acid remains a tried and true chemistry. The T-125 gives you the longest service life and the best value for money. With proper maintenance like regular watering, this battery can serve faithfully for years.
Pros
Durable construction and reliable deep cycling
High capacity rating at 240Ah
Compact size fits most golf carts
Low cost per amp-hour
Long lifespan with proper maintenance
Cons
Requires more maintenance than sealed batteries
Can spill acid if overturned
With decades of experience manufacturing deep-cycle batteries, Trojan is an established leader in the industry. For golf cart owners seeking stable power, the Trojan T-125 is undoubtedly one of the best flooded lead-acid batteries available today. Its balance of performance, lifespan, and value makes this a battery you can depend on to power your golf cart for years of reliable service.
FLLYROWER Lifepo4 Battery - Best Longevity
The FLLYROWER 48V-100AH lithium iron phosphate battery is an excellent choice for upgrading the power and performance of your golf cart. With its high capacity 48V 100AH design, this battery pack provides extended runtime to keep you playing hole after hole.
Constructed using safe and stable LiFePO4 cells, the FLLYROWER battery withstands over 10,000 cycles for an approximate 10-year lifespan. This far outlasts the average lead acid golf cart battery's 1-4 year lifespan. The built-in BMS actively monitors and protects each cell from damage while allowing the flexibility to connect multiple batteries in series or parallel.
Charging is simplified with the included 48V lithium ion charger that plugs into any wall outlet. Recharging from solar panels or alternators is also supported through the standard M8 terminals.
For those wanting to enhance their cart's power, speed, and range between charges, the 100AH capacity provides a very noticeable upgrade over the typical 48V 20-40AH lead acid battery pack. Runtime improves from 15-30 holes to 45-60+ holes depending on your cart model and use of accessories.
The sealed lithium iron phosphate composition is maintenance-free, spill-proof, and produces no harmful lead or acid fumes. Backed by a 5-year warranty, the FLLYROWER battery brings the latest in lithium technology to upgrade your golf cart's performance and experience.
Pros
100AH capacity provides 2-3x runtime vs lead acid
10-year lifespan is impressive
Flexible connectivity and charging options
Advanced lithium technology
Maintenance-free and environmentally safe
Cons
To get the most holes, speed, and power out of your cart, the FLLYROWER 48V 100AH LiFePO4 battery is the top choice to upgrade from older lead-acid batteries. With extended runtime, rapid recharging, and stabilized lithium power, this battery transforms your golf cart for superior performance.
ExpertPower 12 Volt 33 Amp Hour Sealed Lead Acid Battery - Best Budget Option
Our best budget option- The ExpertPower 12 Volt 33 Ah Sealed Lead Acid Battery is designed to be one of the best batteries for golf carts and other electric vehicles. As an established brand, ExpertPower is known for producing high-quality sealed lead acid batteries that are durable, long-lasting, and offer reliable power.
This particular model stands out with its sturdy construction and use of absorbed glass mat (AGM) technology. The rugged plastic battery case is resistant to shock, vibration, heat, and chemicals. Internally, the AGM separators allow the battery to withstand a wide temperature range and deep discharge cycles. Once installed, the valve-regulated and maintenance-free design means you can essentially "set it and forget it" for years of hassle-free performance.
With 33 amp hours of capacity, this battery provides ample runtime to handle long days on the golf course. The 12-volt output works seamlessly as a replacement battery for most golf carts and electric vehicles. Installation only takes a few minutes since no maintenance is required. Overall, the ExpertPower battery aims to deliver power, reliability, and longevity in a convenient, user-friendly and affordable package.
Pros
Rugged and durable construction
AGM technology for temperature resistance
33 amp hour capacity
Easy one-time installation
Valve-regulated and maintenance-free
Cons
No variable capacities to choose from
The ExpertPower 12 Volt 33 Amp Hour battery offers time-tested AGM technology in a rugged housing that can withstand harsh conditions. If you want reliable power and minimal maintenance, this sealed lead acid battery delivers on all fronts.
CHINS 48V 100AH LiFePO4 Bluetooth Lithium Battery
Next on our list, the CHINS 48V 100AH LiFePO4 battery is an excellent choice for golf cart applications. With its high capacity and long cycle life, this lithium iron phosphate battery can handle the demanding power needs of electric golf carts.
Compared to traditional lead acid batteries that may only last 300-500 cycles, this LiFePO4 battery provides over 2000 cycles. You'll get up to 10 times the lifespan from this battery, saving you money and hassle with fewer replacements. The LiFePO4 chemistry is also safer and more stable than lead acid alternatives. It won't burn or decompose, even in extreme conditions.
The rugged construction of this 48V lithium battery complements golf cart use. At 20" x 10" x 8", it fits standard battery dimensions while shaving off 30% of the weight of equivalent lead batteries. Your golf cart will benefit from the improved power-to-weight ratio.
You'll stay informed on vital statistics thanks to the built-in Bluetooth module. Connect your smartphone to monitor real-time voltage, current, and state of charge data. The integrated battery management system protects against common issues like overcharge, over-discharge, and short circuits.
With 100 amp-hours of capacity, a 100A maximum continuous discharge rate, and a 300A peak current output, this battery delivers ample power for 36V-48V golf carts. It can run accessories like stereos, lights, and USB chargers with room to spare. Expect a range of 18-25 miles, depending on your golf cart model and use.
Pros
2000+ cycle lifespan
30% lighter than lead acid
Safer and more stable
Real-time app monitoring
High 100AH capacity
Cons
If you are looking for extended range, lightweight power, and worry-free operation, the CHINS 48V 100AH LiFePO4 Battery is an excellent investment. With a good lifespan, built-in protections, and Bluetooth app integration, this lithium battery delivers outstanding performance and value for your golf cart.
OGRPHY 3 Pack 12V 100Ah LiFePO4 Lead Acid Battery
When it comes to finding the best golf cart battery, you want one that provides long-lasting power, safety, and reliability. The OGRPHY 12V 100AH LiFePO4 Battery pack is an excellent choice for golf carts.
This lithium iron phosphate battery is constructed using premium grade A battery cells rather than lower-quality automotive cells. This ensures exceptional performance and a long 10+ year lifetime with 5000+ cycles. Compared to a similar capacity lead acid battery, this LiFePO4 option is one-third the weight, provides double the energy, and lasts 4-10 times longer.
In addition to outstanding longevity, the OGRPHY battery provides stable, efficient power output exceeding 90% efficiency. It maintains a low self-discharge rate below 3% and is protected by an advanced battery management system. The battery can handle a wide temperature range from -4°F to 131°F for charging and 32°F to 140°F during discharge. With an IP65 waterproof rating, it can withstand all types of golfing weather.
When you need reliable, long-lasting power for your golf cart, the OGRPHY 12V 100AH LiFePO4 Battery delivers. It's an ideal replacement for lead acid batteries, providing more cycles, efficiency, and stability. The premium LiFePO4 chemistry also makes it much safer than a lead acid battery.
Pros
Grade A LiFePO4 cells for exceptional longevity
10+ year lifetime with 5000+ cycles
One-third the weight of comparable lead acid
Twice the energy and 4-10x longer lasting
Efficient 90%+ energy conversion
Advanced BMS for protection and monitoring
Cons
Higher upfront cost than lead acid
The battery pack requires proper installation
With outstanding performance, safety, and an industry-leading 10-year warranty, the OGRPHY LiFePO4 Golf Cart Battery is the best choice for reliable and long-lasting power. Investing in this premium lithium battery pack will provide you with the ultimate golf cart energy source. You can also choose different configurations and capacities of the same battery.
PUPVWMHB 12V 100AH Lithium Golf Cart Battery
The PUPVWMHB 12V 100AH lithium golf cart battery is one of the best options for upgrading your golf cart's power and performance. This automotive grade LiFePO4 battery utilizes high energy density cells that deliver stable power output and greater longevity compared to traditional alternatives.
With its built-in BMS for protection, you can safely discharge this battery to 100% of its capacity, unlike lead acid batteries which can only be depleted to 40-50% before performance degrades. The BMS also provides cell balancing, temperature control, overload protection, and other functions. At just 24.3 pounds, the PUPVWMHB weighs only a third of an equivalent lead acid battery, making it easier to install and more convenient to transport.
In testing, this lithium battery has lived up to its promised performance specs. It maintains constant voltage even under heavy loads, unlike lead acid batteries which experience voltage drop after repeated use. You'll enjoy up to 4,000 charge cycles from the PUPVWMHB versus just 300-500 cycles from lead acid. That's over 10 years of daily use before any capacity degradation.
Pros
High energy density for long runtimes
Stable voltage output under load
Ultralight design at just 24 pounds
Safer chemistry than lead acid
4000+ charge cycles for longevity
Cons
With its excellent power delivery, long service life, and lightweight yet durable construction, the PUPVWMHB 12V 100AH lithium battery is a smart upgrade for golf cart owners seeking the best performance and value. If you're looking to electrify your golf cart, this LiFePO4 battery will be a great choice.
Enjoybot 48V 100Ah Lithium Iron Phosphate Battery
Built with high-grade lithium battery cells and an integrated battery management system, the Enjoybot 48V 100Ah Lithium Iron Phosphate Battery is engineered for longevity, efficiency, and reliable power delivery.
Offering a hefty 5.12kWh capacity, the Enjoybot battery can handle extended runs on a single charge. You'll spend less time plugged in and more time out on the course. The 48V voltage output also enables quick power transfer to efficiently run accessories and electronic systems on your golf cart.
A key advantage is the battery's ability to connect in parallel up to 4 units. This allows you to create a robust 48V 400Ah system with 20.48kWh capacity to meet demanding power needs. Whether you operate a small fleet of golf carts or a heavy-duty utility vehicle, this modular and scalable battery system has you covered.
Bluetooth connectivity and a power switch provide smart control and monitoring. You can check real-time status and metrics through the mobile app from up to 5 meters away. With one click you can also power the battery on/off as needed.
Compared to equivalent lead-acid batteries, the Enjoybot battery charges 4 times faster and takes up half the space. It also lasts over 5 times longer - up to 10 years and 5000 cycles. The rugged lithium iron phosphate chemistry withstands repeated deep discharges without capacity or performance degradation.
Pros
Large 5.12kWh capacity
48V high voltage output
Connectable in parallel up to 4 units
Bluetooth app provides battery monitoring
4x faster charging than lead-acid
Cons
Heavy weight at over 80 lbs
With its abundant power, intelligent features, and long-lasting lithium technology, the Enjoybot 48V 100Ah Battery is one of the best choices for upgrading and supercharging your golf cart. You'll gain extended runtimes along with smart battery management in a high-voltage package built to withstand heavy cycling. It is also available in different capacities with voltages ranging between 12, 36 and 48 volts and 12 or 100Ah.
Miady 12V 100Ah Lithium Iron Phosphate Battery
The Miady 12V 100Ah Lithium Iron Phosphate Battery is an excellent choice for upgrading and replacing the lead-acid batteries commonly used in golf carts and other power sports vehicles. With a price tag of $279.99, it offers superior performance and safety at a competitive cost.
This lithium-iron-phosphate battery is much lighter and more compact. Yet it outperforms lead-acid with over double the capacity for only half the weight and size. This translates to longer runtimes and range without being weighed down.
You'll also appreciate the battery's exceptional cycle life. It can deliver over 2000 cycles. This means dramatically lower maintenance and replacement costs over the battery's lifespan. Even after hundreds of cycles, it maintains charge capacity instead of degrading like lead acid.
Pros
Very safe lithium phosphate chemistry
No leakage or explosion risk
High 2000+ cycle count
Lightweight and compact
18 month warranty
Cons:
Large capacity - can be overkill for some
For golf carts and power sports, this Miady battery hits the sweet spot of performance, safety, longevity, and value. The advanced lithium technology and high capacity provide lasting power even on long rounds or trips. You'll get the range and responsiveness to handle anything on the course or trail without compromise.
VMAXTANKS 6 Volt 225Ah AGM (Lead Acid) Battery
Last on our list (but definitely not least), the VMAX Golf 6V AGM Battery delivers solid performance and longevity as a golf cart battery option. Utilizing absorbed glass mat (AGM) technology, this 6-volt deep cycle battery offers durable construction for handling frequent discharges. Its spill-proof valve regulated lead-acid design also makes maintenance a breeze.
This VMAX battery hits the key criteria for golf enthusiasts seeking a reliable battery. Its deep cycle capacity allows it to provide ample power throughout your round of 18 holes or more. The AGM design enhances overall lifespan, resilience, and safety compared to standard flooded lead-acid alternatives. Also, the completely sealed AGM construction eliminates the need to check electrolyte levels or add water, saving you a lot of time and energy.
Pros
Long-lasting performance - up to 10 years with proper care.
Charges quickly and provides strong cranking power.
AGM and sealed lead-acid technologies add spill-proof, leak-proof durability.
Installation is straightforward with removable lift handles and terminals.
Cons
Carries a higher price tag than basic flooded lead-acid models.
Overall, for a low maintenance battery with excellent cycling capacity, you will find a winning option in the VMAX Golf 6V AGM. It delivers the stamina and safety for smooth driving across the course.
If you want a long-lasting, durable golf cart battery without hassle, the VMAX Golf Battery is a top choice to power your games. It is also available in a 4-pack of the same battery.
Golf Cart Batteries: Types, Advantages, Disadvantages & Buying Guide - Everything You Need To Know
Choosing the optimal battery type for your golf cart is crucial to ensure proper performance, long lifespan, and reliability. In this section, we will examine the primary types of batteries used in golf cart applications so you can select the best option for your needs and budget.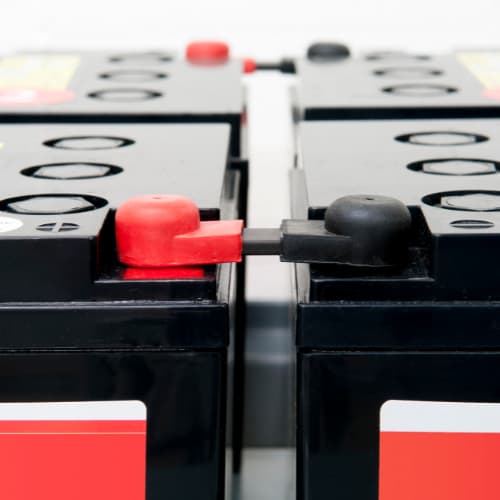 Lead-Acid Batteries - The Most Common Chemistry
Lead-acid batteries represent the oldest and most widely adopted rechargeable battery technology. They have been used to power golf carts since electric models first gained popularity decades ago. There are two main types of lead acid batteries.
Flooded Lead Acid Batteries
The standard flooded lead-acid battery contains liquid sulfuric acid electrolyte and lead plates that undergo chemical reactions to produce electricity.
While inexpensive and reliable, flooded lead-acid batteries have some downsides. The liquid electrolyte makes them prone to leaks and water loss through gassing. They also require regular maintenance, like checking fluid levels and equalization charges. Flooded batteries have a shorter lifespan and lower power density compared to newer battery chemistries.
VRLA Lead-Acid Batteries - Reduced Maintenance
Valve regulated lead acid (VRLA) batteries provide an alternative to traditional flooded types. In VRLA batteries, the electrolyte is immobilized in either an absorbent glass mat (AGM) or a gel, preventing leaks. This allows VRLA batteries to operate in any orientation without fluid loss.
Popular in golf cart applications, VRLA batteries are more expensive than flooded but provide higher performance and require less routine maintenance. Without liquid to check and refill, they are much more convenient to own and operate.
Newer Lithium-Ion Batteries Offer Advantages
In recent years, lithium-ion (Li-ion) batteries have become a popular choice for golf carts requiring more range and power. Compared to lead-acid, lithium-ion cells offer:
Higher energy density and much lighter weight
Longer overall battery lifespan with more charge/discharge cycles
Faster recharging capabilities
Improved performance in cold weather
However, lithium-ion batteries also have some disadvantages:
More expensive initial purchase cost
Possible fire risk if overcharged or damaged
Shorter shelf life than lead acid when stored
Performance and capacity decrease in very high temperatures
Many Types of Li-Ion Chemistries Are Available
There are several different lithium-ion battery chemistries on the market, each with unique advantages and drawbacks:
Lithium iron phosphate (LFP) - lower energy density but very safe and stable
Lithium nickel manganese cobalt (NMC) - high energy density but more volatile
Lithium titanate (LTO) - fast charging and excellent safety
Lithium nickel cobalt aluminum (NCA) - high capacity but requires careful management
Key Factors In Choosing Batteries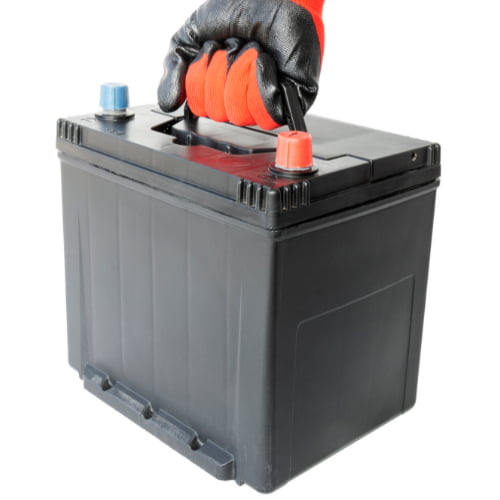 When selecting batteries for your golf cart, there are several important considerations:
Usage patterns - Frequent deep discharges and regular use over long distances favor lithium-ion. Infrequent use may be fine with lead-acid.
Operating conditions - Lead-acid tolerates temperature extremes better. Lithium-ion will outperform it in cold weather.
Budget - Lithium-ion has a higher upfront cost. Lead-acid is more affordable but requires more maintenance.
Performance needs - Lithium-ion provides a longer range and more power but may exceed requirements for intermittent, short trips (potentially making it unnecessary for certain use scenarios).
Maintenance - Lead-acid requires more preventative care and monitoring. Lithium-ion is mostly "set and forget."
Try to decide on which type of battery to use based on your own needs, preferences and potential restrictions.
Battery Management Is Critical
To get the most out of lithium-ion batteries, an advanced battery management system (BMS) is critical. The BMS monitors battery status, prevents issues like overcharging, provides diagnostics data, and helps ensure safe operation.
Quality BMS technology has helped make lithium-ion batteries practical for golf cart use.
Careful Charging Maximizes Battery Lifespan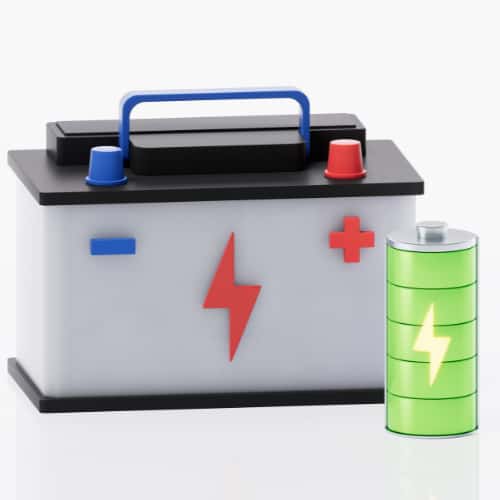 Proper charging technique is vital for maintaining the health and longevity of all battery types. Charging considerations include:
On-board vs. external charging
Charging levels, rates, and duration
Accounting for temperature impacts and ventilation
Usage of smart chargers that adapt based on battery conditions
With the right charging process, both lead-acid and lithium-ion batteries can meet or even exceed their designated lifespan.
Choosing the optimal golf cart battery technology involves weighing factors like upfront cost, long-term maintenance, required performance, and operating conditions. With an understanding of the different battery options available, you can choose the best fit for your specific golf cart application. Consult with vendors and technicians to select batteries that will provide reliable power and endure years of use.
Frequently Asked Questions
The following are some of the most frequently asked questions to help you make the best decision while choosing a battery for your golf cart.
Is a higher Ah battery better in a golf cart?
Generally speaking, yes; but,

The amp-hour (Ah) rating indicates how much energy the battery can deliver over time. A higher Ah generally translates to more power per hour of use. However, the minimum Ah requirement specified by your golf cart's manufacturer should be followed as the baseline.
Beyond meeting that need, choosing a battery with higher Ah can extend runtimes before recharging, allowing for longer play between charges. But higher capacity comes with increased size, weight, and cost.
Can a 48V golf cart run on 4 12v batteries?
While it is technically possible to power a 48V golf cart with four 12V batteries connected in series, this setup is not ideal. Standard 12V car batteries are designed to deliver short bursts of high current, not the deep cycling capacity golf carts require. Though wired to provide the correct voltage, using multiple 12V car batteries can result in short runtimes and frequent recharging.

For optimal performance, it is best to use batteries designed specifically for golf cart use. The deep cycle construction allows these batteries to withstand the repeated discharges from long rounds of golf.
What battery requires the least maintenance?
When it comes to low maintenance batteries, absorbed glass mat (AGM) lead-acid and lithium-ion are top options requiring minimal upkeep.

AGM batteries are sealed, valve regulated lead-acid batteries that utilize glass mat separators to absorb electrolyte.

Lithium-ion batteries provide even greater advantages, including higher energy density, lighter weight, and no sulfation issues.

Either can be charged and discharged without routine maintenance. Both AGM lead-acid and lithium-ion batteries offer set-it-and-forget-it convenience compared to flooded lead-acid options.
Should I upgrade my golf cart to lithium?
Upgrading your golf cart to lithium-ion batteries can provide worthwhile benefits, but also comes at a higher upfront cost.

Lithium batteries offer better performance through increased range per charge, lighter weight, and reduced maintenance needs compared to lead-acid. Converting when your current batteries show age or capacity loss maximizes those advantages over time.
What Voltages and Ah do golf carts operate on?
Most electric golf cart motors operate at either 36V or 48V. To generate these system voltages, individual 6V or 8V batteries can be connected together in series wiring.

While cruising at typical speeds of 15mph, the motor will draw 50-70 amps of current on average. However, the amperage demand rises significantly during acceleration or hill climbing.

With this in mind, deep cycle batteries with sufficient amp-hour ratings must be selected to withstand the repeated current draws. Determining your specific cart's voltage and amperage needs will guide proper battery selection and wiring configuration.
Final Thoughts
When it's time to replace your golf cart's battery, choosing the right model for your needs and budget is key. The best golf cart batteries combine high cycling capacity with resilience and low maintenance. Top-rated options offer deep cycle performance to handle repeated discharges out on the greens.
Opt for Lithium, AGM or gel batteries over flooded lead-acid for enhanced durability and spill-proof operation. Also, consider battery voltage. Measure your battery compartment to ensure a proper fit. Finally, go with reputable brands known for quality construction and power. Taking the time to find the right battery will pay off for years down the road with smooth, uninterrupted play on the course.
For an in-depth guide on the top electric golf caddies in the market, check out our guide on electric golf caddies with remote control. Having the perfect combination of a reliable battery and a state-of-the-art caddy can transform your golfing adventures.
We hope this overview has provided insightful guidance to help you choose the ideal battery for your needs. Please share your own experiences, questions and recommendations in the comments section below.
WRITTEN BY

My name is Jacob, a self-diagnosed equipment and golf enthusiast. I've been golfing since I was 15. Golf has always been my passion. I'm a bit of a golf equipment nerd and I've been that way since the moment I picked up a club for the first time. As someone who's been on both sides of the game, I know what it takes to be a good golfer. Of course, you need good equipment, but you also need to know how to use it. I hope sharing my experience with you will help you improve your game.
You May Also Like