Golf Dress Code: What to Wear on the Course
Last updated:
April 7, 2023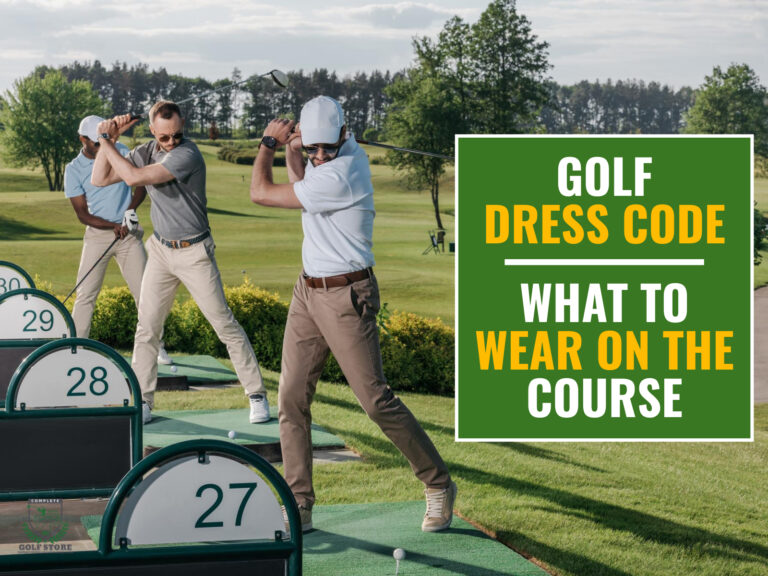 Disclaimer: We may earn a small commission from some of the links on our website. However, our reviews and comparisons remain fair and unbiased. Our goal is to help you make the best choice. For more information, please see our
disclosure statement
. Thank you for your support.
Key Takeaways
In general, you need a collared shirt and dockers-style slacks or shorts to get into the majority of courses, even though some lower-priced courses permit denim shorts or blue jeans. If you invest in golf shoes, make sure they use soft spikes, as metal spikes may get you kicked out of some clubs. Golf skirts or skorts are also good for women. You can also take outerwear with you, like a sweater, windbreaker, fleece vest or jacket, in case of cold days. Additionally, golf gloves, sunglasses and hats are permitted on most golf courses.
Golf has long been associated with royalty and sophistication. That is one of the reasons why, even in today's society, there is still a sense of formality when playing golf. This is evident, for example, in the apparel that people wear while they play.
The majority of golf clubs and courses in the US (and other parts of the world) have dress restrictions to follow. So, if you're going to play golf with your mates or conduct business with one of your clients on the course, it's great to know the basic principles of golf dress etiquette that you should never break. Don't assume that you can dress casually simply because you're playing on a public course.
This article will explore the golf dress code to help you avoid potential issues!
Tops
First of all, never wear a plain T-shirt like the one you would wear to kick some ball with the guys. The proper choice of tops is crucial when shopping for clothing for golf. Just think about a golf player – what is the image that first pops into your mind? Yes, that's right, it's a person wearing a type of polo shirt.
A collared shirt is the most important piece of golf clothing and one which all golf clubs and courses are serious about. If you want to play golf, consider wearing a special polo shirt. Women, on the other hand, are strongly recommended to wear a collared shirt with a modest front opening that does not reveal the midriff.
The typical golf shirts are usually a little longer than polo shirts to stay tucked in even after swinging at the ball repeatedly. Avoid patterns that are noisy and splashy. Maintaining a low-key appearance will draw attention to you and your game rather than your attire.
Also, to ensure you stay comfortable, be careful when choosing fabrics. Cotton is always ideal in cooler climates, while a synthetic material will allow sweat to dissipate and keep you dry and cool in warmer and more humid environments.
Bottoms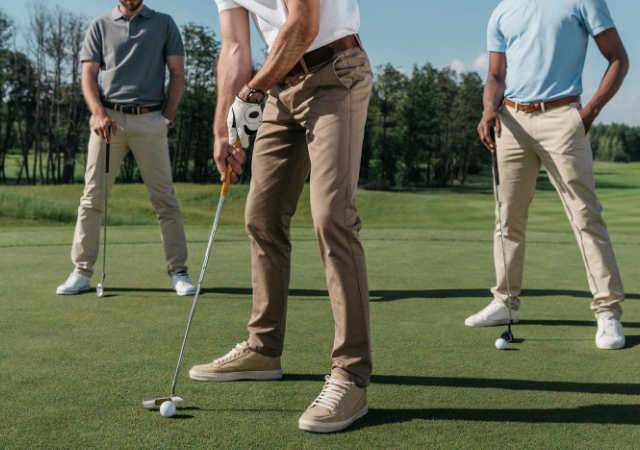 If you don't know if jeans are permitted at the place where you'll be playing, avoid wearing them. That said, a pair of chinos is considered the most appropriate choice. They should be roughly knee-length. And whatever you do, avoid wearing three-quarter shorts which are often not allowed. Drawstring shorts may also be prohibited, but regular slacks with a belt and belt loops are always okay.
When it comes to women, a common option is a skirt or skort (shorts with a front and back panel to look like a skirt). Culottes and capri pants are also very popular. There are also some women who prefer to wear special golf dresses with collars just like polo shirts.
When it comes to design, cream, beige, khaki, gray, and tan are the safest colors for golfing pants, shorts, and skirts. As you rise through the golf ranks and establish yourself as a flashy, snappy dress, you can feel free to advance to white and pink, as well as really bright colors.
You will be mocked if you wear white trousers and your handicap is not less than three. For the time being, be the regular guy and stick to the safe shorts colors.
Outerwear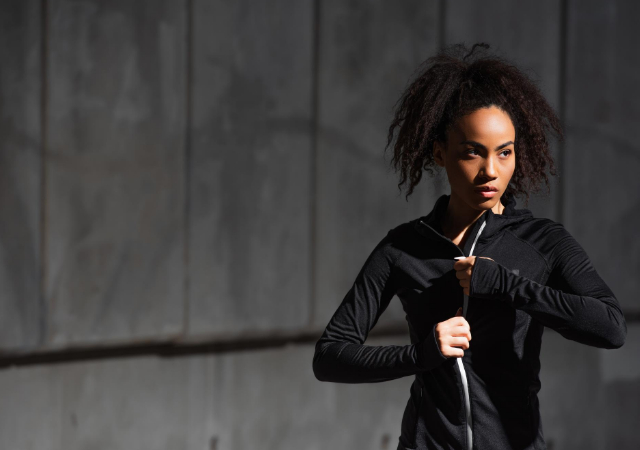 If you're going to play on a cool or even cold day, layer up with a sweater, windbreaker, and/or fleece vest or jacket, as well as a cap and scarf. When the temperature dips below 10 degrees, you can comfortably play wearing long underwear and a warm hat.
While a torrential rainstorm may force you to abandon your plan to golf, a gentle shower won't be able to drive you from a course if you come prepared. There are jackets and other pieces of clothing for golf made of water-resistant materials to keep you dry while allowing you to breathe and comfortably play. Bottom line: If rain is in the forecast, be prepared for the worst.
Shoes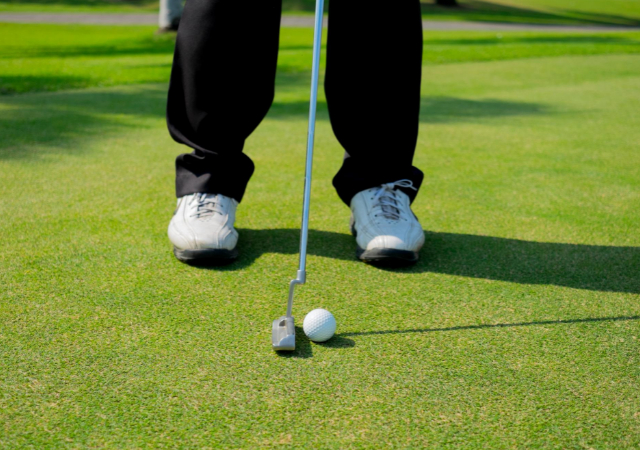 If you have golf shoes, they are ideal. Soft spikes, rather than metal spikes, are now required by most clubs. If you use metal spikes while playing at a soft spike facility, you risk being asked to leave.
That said, it's best to invest in a good pair of soft-spike golf shoes; you'll be OK at any location. In a pinch, a good pair of sneakers will suffice if you don't have golf shoes. But wearing street shoes with a heel can leave marks on the grass, which can cause a putt to go off line.
Golf shoes are notoriously difficult to maintain, so invest in a good pair to prevent having to replace them too frequently. Men's shoes are typically confined to white, black, or brown, but a trendy sock complements the rest of your ensemble. Women's golf shoes typically come in a wider range of colors.
Accessories
Gloves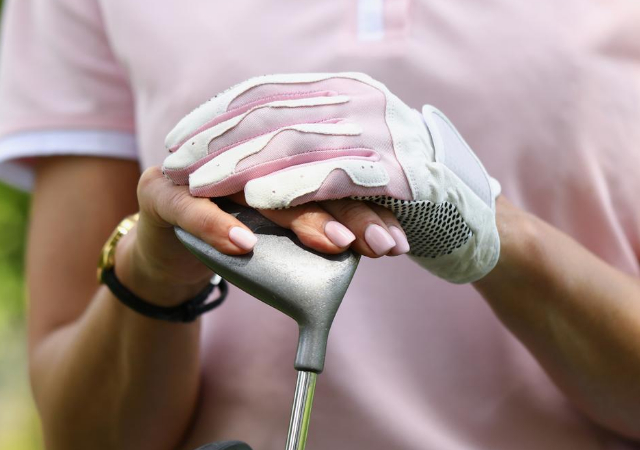 While some players do not use golf gloves, most believe them to be extremely useful. If your hands are sweaty or there's a light drizzle, a nice glove will come in handy, especially when driving. They also provide some security. When putting and chipping, most golfers remove their gloves.
That said, even though they're optional, you'll ultimately use gloves if you play long enough. The goal is to pick the proper size and to keep one thing in mind. Because they are not one-size-fits-all, you must select the appropriate size for your hands.
Golfers who are right-handed use gloves on their left, while left-handed golfers wear gloves on their right. You should only ever wear one, but if you want to look like a complete rookie, you can wear two, one on each side. But don't do it!
Sunglasses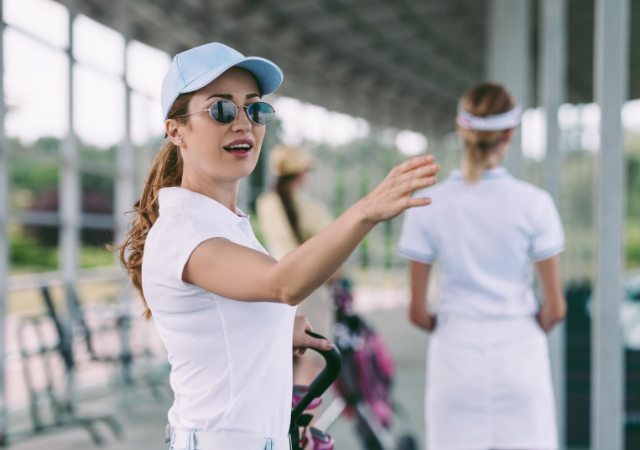 Although not everyone requires or desires sunglasses, many people cannot live without them. Get high-quality glasses that will not only relieve strain and protect your eyes but will also provide a clear and accurate picture.
Certain glasses have a tendency to distort angles or distance and should be avoided. Those created with golf in mind will perform better.
Hats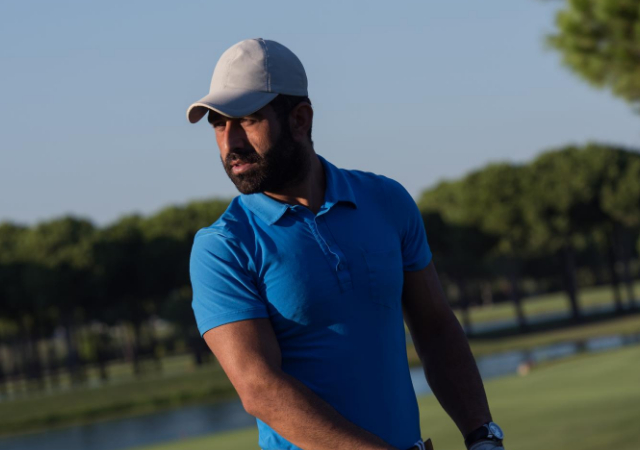 Golf is a sport that is nearly entirely played in direct sunlight, so sun protection is essential. Visors and baseball caps are popular among men and women, although straw hats, bucket hats, and beanies (if the weather permits) are also suitable.
Just leave your cowboy hats and fedoras at home, and remember to take your hat off while entering an enclosed facility. Hats must also be worn forward-facing at all times.
Final Thoughts
And that's about all you should know about golf apparel. You may even have some of the items already in your wardrobe. Once you're equipped from head to toe, all you need is to get out on the course and have fun.
Good luck hitting that hole-in-one!
WRITTEN BY

My name is Jacob, a self-diagnosed equipment and golf enthusiast. I've been golfing since I was 15. Golf has always been my passion. I'm a bit of a golf equipment nerd and I've been that way since the moment I picked up a club for the first time. As someone who's been on both sides of the game, I know what it takes to be a good golfer. Of course, you need good equipment, but you also need to know how to use it. I hope sharing my experience with you will help you improve your game.
You May Also Like