10 Best Golf Clubs for Kids and Junior Golfers
Last updated:
May 4, 2022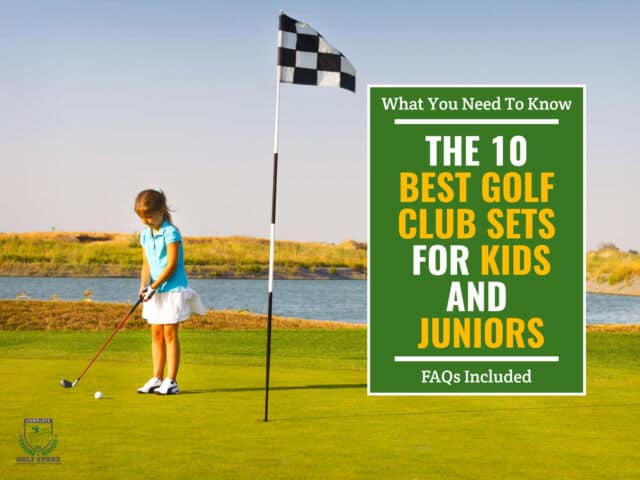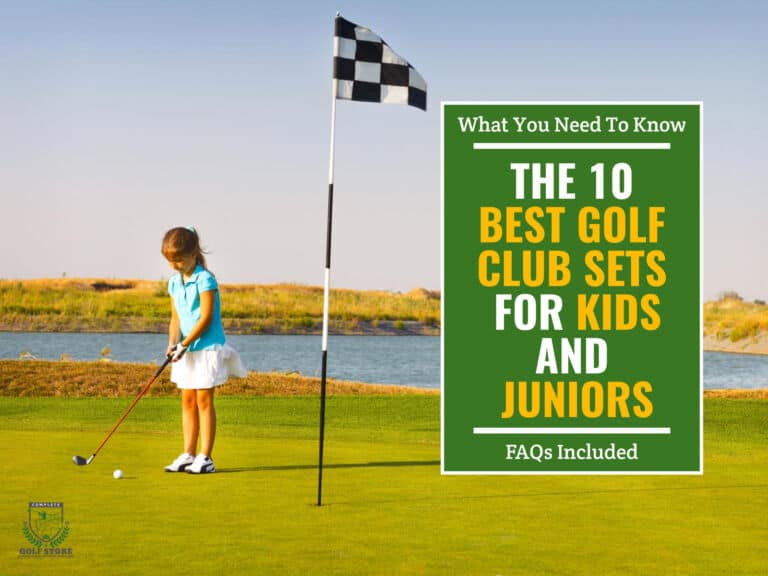 Do you have a little one who shows an interest in playing golf? Well, your junior golfer needs the right gear to start the game. Here we will guide you on how to choose the best clubs for kids and juniors.
Golfing is a sport that people of all ages enjoy, including children [1]. Just like adult players, kids require golfing gear and equipment to get started. In fact, the kid's golf club set is quite different from the adult options.
Their club sets are smaller in size, making them suitable and safe for the juniors to develop their swing speed and improve their performance.
As parents, you may find it tricky to find the right option for your child, as they come in a wide variety of prices and quality. When it comes to the junior height ratio, a specific standard golf club length does not exist.
Each manufacturer sticks to its own criteria for age and height recommendations. We get it - this can leave parents pondering and scratching their heads.
Having a positive first-time golfing experience is significant for your young golfer to enjoy the sport in the future. To make things easier, we have put together a list of the top golf club sets for juniors and kids to choose from.
Featured Recommendations

Manufacturer
Tour Edge
Wilson
Precise Golf
Age Range/Sizes
3 - 14 Yrs
5 - 15 Yrs
3 - 12 Yrs
Hand Orientations
Left/Right
Left/Right
Left/Right
Top Features
Makes use of high flying technology
Affordable price range
Made using high-quality components
Suitable for right-handed players
Available in multiple sizes
Best option for beginners
Exceptional quality From Wilson
Stand-bag is lightweight, easy to carry, and dependable
Comes with an additional wedge
Premium Brand
Contains ergonomic lift handles
Light-weighted
Stylish and made using high-quality components
Suitable for right-handed players
Clubs are high lofted
Age Range/Sizes
3 - 14 Yrs
Hand Orientations
Left/Right
Top Features
Makes use of high flying technology
Affordable price range
Made using high-quality components
Suitable for right-handed players
Available in multiple sizes
Age Range/Sizes
5 - 15 Yrs
Hand Orientations
Left/Right
Top Features
Best option for beginners
Exceptional quality From Wilson
Stand-bag is lightweight, easy to carry, and dependable
Comes with an additional wedge
Premium Brand
Manufacturer
Precise Golf
Age Range/Sizes
3 - 12 Yrs
Hand Orientations
Left/Right
Top Features
Contains ergonomic lift handles
Light-weighted
Stylish and made using high-quality components
Suitable for right-handed players
Clubs are high lofted
Last updated July 7, 2022. Those are affiliate links, we may earn a small commission when you click on the links at no additional cost to you. Product images are served from Amazon Product Advertising API.
10 Best Golf Clubs For Kids And Junior Golfers
Before the time comes to buy a golf club set for your child, make sure he or she is genuinely interested in golfing. If they are into golfing only for fun, you need not go for an expensive club set with different clubs.
If your child is serious and interested in practicing the game regularly, you can opt for a high-quality kid's club set, but you can expect they'll need more clubs as they grow in the future. Please go through our top 10 list to find out which one is the perfect choice for your child, depending on their interest, age, and game level.
#1 -

Wilson Youth Profile JGI Golf Club Set
Wilson Profile JGI Golf Club Set is the best starter golf club set for slightly older young players. This kit contains high-quality clubs that enable taller and novice players to swing the clubs at better speeds.
You will notice both the woods have a low profile with a flatter and round sole. This prevents the young players from topping the golf ball as the club lies in close contact with the ground.
The hybrid and the driver in this kit display a stunning look with a dark blue and black finishing. This instills a great deal of confidence and motivation among the young golfers who are starting out.
The large sweet spot of the hybrid enables your kid to make accurate shots. The dynamic wedge in this kit helps in developing a high spin that creates softer landing shots.
The two irons feature large hittable faces that are perimeter weighted and cavity-backed. As a result, it enables the player to have more solid contact while hitting the ball with impact. It also provides incredible forgiveness for creating excellent swing speed.
Both the short iron and the long iron are graphite shafted, enabling the golfers to play from any spot on the course. It also ensures a solid introduction for your minor player into the iron game.
This little kids' golf club set is specially engineered using super game improvement technology and is suitable for 14 to 17 years.
The kit contains:
Driver, Putter, Wedge, Hybrid, iron, and a carry bag.
Pros
The best option for beginners.
Made of incredible quality, especially the irons and woods. 
Stand-bag is lightweight, easy to carry, and dependable.
Comes with an additional wedge, which is beneficial for experienced players. 
Available for both right-handed and left-handed players.
Cons
The grips are slightly thin. 
The carry bag does not come with a rain hood. 
Loft degrees for the clubs are not provided.
The club range has limitations.
For each of these game improvement clubs, the weight lies at the clubhead in order to lower the center of gravity. This helps the player to make high shots both from the fairway as well as the tee. The manufacturer provides a one-year limited warranty in case of any breakages or defects.
#2 -

Precise X7 Junior Complete Golf Club Set
Precise X7 Junior Complete Golf Club Set is a dynamic collection of lightweight clubs suitable for a wide range of young golfers. The club sets are apt for players who have a height that ranges between 4'4" to 5'0".
Each of the clubs in this kit is light in weight and produces solid contact with the ground, enabling the young player to get the ball into the air.
The putter offers a mallet-style with a synthetic insert on the clubface for solid contact and a pure roll on the greens. The woods consist of graphite shafts and large sweet spots, which help build significant distance and speed. This allows the player to swing well, thereby, boosting the young golfers' confidence.
Like adult clubs set, the driver contains a 15-degree loft, enabling the juniors to make a high flight path. In addition to the large sweet spot, even an off-center strike on the driver will allow the budding golfer to use the club with reduced sidespin.
The hybrid displays a large clubface and a graphite shaft for solid contact and stands at a 22-degree angle.
The set contains two irons – a 6/7 iron and a 9/PW. The 6/7 iron provides stellar contact in the impact zone. The 9/PW iron has just enough loft, which is essential on approach shots to the green.
These kids golf clubs are uniquely designed for junior golfers between the age of 9 to 12 years and contain the following:
Putter, driver, Iron, hybrid, two head covers, a deluxe carry bag, and a rain hood.
Pros
Contains ergonomic lift handles, making it easy to use. 
Best suited for right-handed young golfers.
Stylish and made using high-quality components.
The irons and woods have a graphite shaft, which is light-weighted. 
Clubs are high lofted, which works great for novice players.
Cons
Users have reported durability issues, such as broken clubs.
Precise golf kit contains a prepackaged club set that's technology-approved for juniors. They provide the necessary forgiveness and are easier to hit which results in high launching and inspiring shots for your little golfer. The shoulder strap carry bag included in the package makes it easy for young enthusiasts to carry their golf equipment without any burden.
#3

-

Paragon Golf Youth Golf Club Set
Are you in search of the perfect golfing equipment for your upcoming golfing enthusiast? Young golfers require the right equipment and gear to stay focused on the game and build their confidence.
Luckily, Paragon Golf - one of the leading golf brands, has come up with a Youth Golf Club Set for your little players. Their products consist of high-quality items that both customers and experts agree on.
The clubs in this set are custom optimized to suit the junior players with regard to flex, length, weight, and swing speed. The extra-long driver consists of a titanium matrix, which is quite sturdy and has maximum forgiveness. This enables the young players to make perfect swings each time they hit the ball.
The durable stainless steel iron in this kit displays a full sole and is slightly oversized. This lowers the center of gravity and keeps your kid motivated as it enables them to play easily.
The putter looks more like a mallet that increases the chance of hitting the golf ball correctly every time. The shafts contain premium graphite material, which provides excellent durability and a firm holding. Also, the manufacturer offers a lifetime warranty for the shaft in case of any damages or breakages.
This golf club set for kids is the best choice for children aged between 11 to 13 years and consists of the following items:
Fairway wood, iron, driver, putter, and matching carry bag.
Pros
Contains all the essential clubs. 
Suitable for left-handed players.
Available in blue color.
Light in weight, enabling the novice players to swing easily. 
All the clubs provide great playability and optimum forgiveness.
Cons
The carrier bag does not come with a stand. 
High-quality materials might be quite heavy for some kids.
Having the right gear will help you to improve the skills needed for the game. Paragon golf kit comes with a carry bag that allows you to keep your golfing equipment well organized.
This 31-inch golf bag is light in weight and allows your kid to lug it around the course with convenience. Moreover, it comes with a stand so you can place it in a standing position and not worry about your bag toppling over.
#4

-

Wilson Profile Complete Junior Golf Set
Are you looking for a comfortable golf club set for your junior golfer? Wilson Profile Complete Junior Golf Set is one of the best junior golf club sets for your little one who is starting out in the world of golf.
With a combination of versatility, functionality, and quality, Wilson is one of the best golf sets available on the market. Due to their reasonable price, they're apt for parents who are on the hunt for the best affordable club set for their child.
The cavity back iron is quite useful for new players as it comes with a large circumference weight on the head. This ensures more forgiveness with mishit shots. Though the blade putter holds strong, it does not offer much tolerance as the mallet-style and may cause slight issues on the course.
When it comes to the graphite shaft, it offers the right weight and flex, making it suitable for the little ones. The driver has a slightly small clubhead, but that does not impact the quality of the ball contact in each swing.
The hybrid stands around 25 degrees and displays a high-quality finishing with a classic appearance. Due to its flat sole, it stays low on the ground while making shots to the green. The woods display stunning speed for all its swings and boost the shot height and distance in this set.
This kids' left-handed golf club set is suitable for children between the ages of 11 and 14 and consists of nine pieces. This includes:
Long iron, hybrid, shot iron, putter, driver, wedge, two head covers, and a stand bag.
Pros
Well-built clubs that can handle the roughness of inexperienced players.
Available in large size and teal color.
Suitable for right-hand-oriented players. 
A great choice for novice players. 
Provides great value for the money paid.
Cons
Club shafts offer too much flex. 
Beginners may find the forgiveness of the blade putter is not up to their expectations. 
Left-handed golf clubs are available only in blue color.
Wilson's custom-fitted selection of junior golf clubs produces incredible club speed for great distances, making it one of the best amateur junior players' options. The light-weighted stand bag comes with a comfortable dual strap carrier, padded top, and lots of zip pockets. All these aspects make it dependable and easy to walk around.
#5

-

Tour Edge HL-J Complete Golf Club Set
Tour Edge HL-J Complete Golf Club Set is one of the best golf sets produced by leading golf club manufacturers for experienced junior players. This helps raise the junior enthusiasts' standard by enabling them to improve their skill level using incredible gear and equipment.
The kit contains a 350cc driver that offers a low center of gravity, which helps the player to create high flying and longer drives. Its round face ensures forgiveness on the off-center strikes that aligns the ball with the target line.
The Hybrid uses advanced technology and displays a low center of gravity and a wide sole, making it easy to hit each shot. The low-profile clubhead gets under the ball and works great for hitting from beyond 150 yards.
The oversized irons come with cavity backing and extreme perimeter weight. They provide a large sweet spot, which ensures incredible forgiveness that helps in lifting the ball. This is best suited for junior golfers who usually have very slow swing speeds.
The balanced mallet putter's presence helps in developing outstanding balance and offers smooth strokes for accurate putting. The fairway wood maintains a low profile and helps in launching the ball easily into the air.
This high-performing golf set is uniquely designed for boys and girls of age 11 to 14 years. The set consists of the following:
Hybrid, fairway wood, Putter, Iron, driver, two head covers, and a carry bag.
Pros
Makes use of high flying technology, which gives a higher launch.
Has an affordable price range. 
Made using high-quality components. 
Suitable for right-handed players.
Available in multiple sizes.
Cons
Some users found that the carrier bag is not durable in nature.
Tour Edge kit comes with a stand bag with a dual shoulder strap and various zip pockets and headcovers. This mid-level set is suitable for beginners, and as your little one improves their skills, you may have to include more clubs. The grips on these clubs are accurately sized, and tailor-made to suit each age group.
#6

-

Young Gun Zaap Eagle Junior Kid Golf Club Youth Set
On the hunt for that perfect starting golf set for your young player? Young Gun Zaap Eagle Junior Club set is one of the best kids' golf club sets with an affordable price tag.
The Young Gun set contains a large 18-degree driver with a loft apt for junior beginner players. The wood includes a graphite shaft. It's light in weight and easier to swing, giving a solid start to the game. The feel and the incredible response of the sweet spot that enables the ball to go down the fairway are noteworthy.
The 7 iron in the kit gives a solid feel at the point of contact. It features a wide sole with a cavity-backed look and perimeter weight for lowering the center of gravity. This keeps the ball going straight irrespective of the swing speed of the amateur golfer. As for the club sole, it moves smoothly through the grass when you strike the ball.
The putter with a mallet style completes the club set of Young Gun. Ensuring a solid balance allows the junior player to putt from different distances.
This golf club set for kids is uniquely designed for 9 to 11 years and consists of 3 items. This includes: 
7 iron, 3 wood, a semi mallet putter, and a carrier bag.
Pros
Clubs are light in weight with Graphite shafts.
Perfect choice for novice players.
Comes in a bright red color. 
Best suited for right-handed junior golf enthusiasts.
Cons
Not suitable for golfers who are above 5 ft, 1 inch tall. 
Club heads do not last for long.
The stitching on the carry bag frays away quickly.
The set contains only three clubs.
With the help of the Young Gun ZAAP Eagle set, you can get your kid to focus mainly on developing their swinging skills. This golf club set for kids is specifically designed for true novice young players who haven't used a golf club yet. Hence, this three-piece collection would be an inexpensive way to get them into golf.
#7

-

Wilson Deep Red Junior Complete Golf Club Set
Wilson Deep Red Junior Golf Club Set is one of the top choices for your kid to get into the world of golf. The entire golf kit consists of advanced items made using premium components with the latest technology.
The Deep Red woods consist of a hybrid and a driver. The Fairway hybrid comes with a low center of gravity, which provides a high launch angle after each impact. The shots for these young players have lots of topspin to create longer distances. 
The driver features a wide sole that enables the ball to launch smoothly through the air. The driver's size enables your little player to focus mainly on understanding the fundamentals and developing their swing speed.
The oversized irons are cavity-backed with large sweet spots to give a solid response and feel. This is suitable for the little players as it's easier to hit, resulting in a higher flight path with a longer distance. Also, the graphite shafts fitted on the irons are light in weight and generate greater swing speed.
The putter comes with a classic blade style and excellent alignment that enables a straightforward roll on the green. Moreover, it comes with a junior paddle grip that allows you to lock the wrists and make a solid putting stroke.
This little kids golf club kit is specially created for young golfers of the age group 14 to 17 years. It's best suited for right hand oriented players and consists of the following:
Driver, iron, wedge, putter, hybrid, and golf bag.
Pros
Incredible construction and performance.
Makes use of the latest technology. 
User-friendly for beginner players.
Has a soft grip alignment.
Cons
Not suitable for advanced players.
Not great if you're planning to shape your shots.
Bag handles have poor construction.
Like the other Deep Red Junior kits, this version also contains a wide array of club choices. It's also available in different sizes for young players of different heights. The Wilson set is a foundational kit that will help your kid to advance the golf ball to the hole and learn how to swing the club.
#8

-

Callaway Boys XJ Hot Junior Kids Golf Club Set
Want to surprise your kids with a stylish golf club set? Callaway Junior Boys XJ Hot Kids Golf Club Set is another great option on the market. Callaway's adult golf clubs have made a remarkable reputation in the golf world, so opting for their junior golf gear would not be a risky decision.
This kit's top pick is the driver, ensuring a reasonable consistency and distance off the tee. The light weighted driver has an incredible hitting area, which produces a precise performance.
This left-handed golf club juniors set contains a 9 iron, 7 iron, and a cavity back iron that improves each swing's stability. The Hybrid has a length of 35" and around 30 Degrees loft—both the hybrid and the cavity back iron display a great level of tolerance.
The fairway wood allows your little player to hit the ball without much effort. This helps in improving the performance of novice golfers.
The classic odyssey putter will get your kids more interested in the game. It helps in providing the right ball alignment, great accuracy, and putting with the correct balance. Also, it fits perfectly into any golf carrier bag. The stylish and useful carrier bag consists of a double strap, 5 zipper pockets, a water bottle holder, and a rain hood. 
This golf kit addresses the age group of children between 9 to 12 years. The set consists of the following:
Putter, Driver, wedge, fairway wood, hybrid, iron, and carrier bag.
Pros
Light in weight.
Suitable for left-handed golfers.
Ideal for young golfers who take the sport seriously.
Comes with great quality clubs.
The best aspect of this junior golf club set is that it's uniquely designed for both boys and girls. Each of the junior golf equipment has an overriding theme that displays its incredible performance. It's also the ideal option for a junior who wishes to transition into an adult golf set.
#9

-

Intech Lancer Junior Golf Set
The Intech Lancer Junior Golf Set is designed to be a great starter pack that contains all the essential golf equipment and comes in handy for young players that take the game seriously.
The flexible shafts' presence enables the kids to develop their gaming skills and find their way through the sport. The design is similar to the adult golf club sets but smaller in size to suit the young players' height.
The mallet putter comes with a steel shaft and helps in ensuring stability and proper alignment. The irons and woods are specially equipped with soft graphite shafts. Such shafts are durable, light in weight, and provide great flexibility with the young players' swing speeds. This motivates your child to make consistent swings and hit easily without causing any strain.
The cavity back irons have more forgiveness, and the pitching wedge helps get the ball into the air during each consistent shot. Additionally, the wedge is essential for doing chipping drills.
Additionally, it's easy to use, clean, and maintain. This is one of the best options in the market and is mainly designed for kids between the ages of 8 and 12.
The package consists of the following:
Putter, Iron, hybrid, driver, putter, 2 headcovers, and a stand bag.
Pros
Best suited for young and novice players.
Light in weight and flexible.
Easy to use and maintain. 
Suitable for right-handed golf players.
Cons
The carrier bag may not last for long.
Users reported the clubs to tend to break or dent.
The stand bag is light in weight with a dual belt and 4 top dividers. This makes it easy for the kids to carry it around comfortably. Each club in this kit is uniquely equipped with a higher loft to give the young golfers a good start, which is quite tricky for beginners.
#10

-

Confidence Junior Golf Club Set
If your child is passionate about playing golf, Confidence Junior Golf Club Set is the best junior golf set for those who regularly use the clubs. Each of these toddler golf clubs is lighter in weight and made using sturdy materials suitable for daily use.
The driver comes with significant loft, enabling the slow swing speed players to increase their ball contact. The titanium head of the driver helps in producing a solid feel and contact during impact.
The 7 irons and 9 irons have a graphite shaft, which accelerates the swing speed to give maximum distance. Due to the iron's low center of gravity, novice young players will enjoy the game. The hybrid iron material has a loft, which generates an incredible flight path that produces a super trajectory.
The putter enables your kid to make more precise shots while hitting the ball. Since the putter is quite heavy and huge, it stays close to the ground and makes consistent putts.
This golf club set for juniors is uniquely designed for young players between the ages of 4 to 7 years. The package consists of the following:
Putter, hybrids, Iron, fairway woods, and a stand bag.
Pros
Made using incredible materials.
Available at an affordable price range.
Easy and comfortable to use.
Meets the versatile requirements of the young player.
Best suited for right-handed players.
Cons
Slightly heavier for small kids. 
Not suitable for players about 5 feet, 1-inch height.
The handle of the carrier bag may fray easily.
By using the Confidence Golf Clubs kit, your kid will acquire better golfing skills very quickly. The Stand bag comes with a double shoulder strap, which enables your kid to carry it with ease.
What You Need to Know When Shopping for Junior Golf Clubs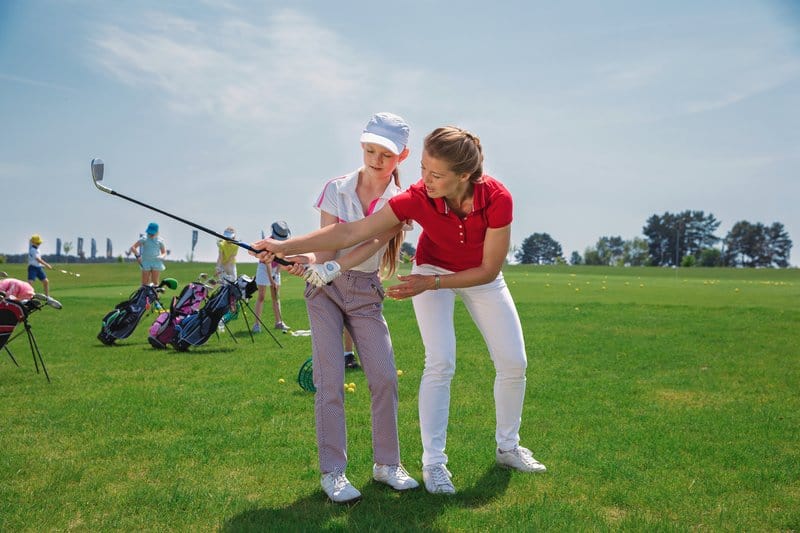 Appropriate junior golf clubs are essential for young golfers. Too heavy or poorly designed clubs can damage a child's confidence or even lead to injury. If you are purchasing the first set of junior golf clubs your child will ever own, there are many factors to consider.
Excellent and convenient clubs will help your kids enjoy golf and learn the fundamentals of the game while simultaneously immersing themselves in the related culture.
However, finding the right clubs for your child can sometimes be confusing. With all the clubs and equipment on the market (like wood and hybrid clubs), it seems the best way to make a good choice is to get them involved in the process. You can usually find some good advice on the internet. You need to decide what size club you want them to use. That can be determined by age or by body size. Getting them involved in picking out the equipment to use will help them learn the basics of the sport.
Choosing the right golf clubs for your child can be a daunting task. There are so many factors to consider that it can feel like you have nothing to base your decision on, so here are some things you should consider:
Quantity: How many clubs do I need to buy for my kid?
There's no need for a kid to carry 14 clubs. My 6-year-old son enjoys hitting golf balls; Initially, I gave him a wedge and a putter and slowly added irons, hybrids, and a driver.
Because longer clubs are harder to control and can create frustration, he only practices with a wedge, as he enjoys getting the ball up in the air, which is easiest with typically pitching or sand wedge. Children's swing speeds are so slow that 14 clubs seem to be a waste when they finally get onto the course. 
Junior golfers can only swing so hard based on their height and strength since you need swing speed to establish distance between clubs. With kids, distance gaps are usually minimal or unnoticeable. Therefore, a driver, a hybrid, a 7-iron, pitching or/and sand wedge, and a putter are the perfect set for them. When a kid turns ten, becomes capable of swinging harder, and can see a distance gap of five yards or more between clubs, then it would be reasonable to have 12-14 clubs.
Size: How to measure golf clubs for kids?
Golf is among the most popular sports in the world, especially with kids. However, if there's one thing that golf fans, including kids, can agree on, it's that golf clubs are not as easy to understand as the game itself and the issue is further complicated by the fact that kids can be notoriously unreliable in their measurements. So, how do you know the correct kids' golf club length?
Start by measuring the child's height. The junior should be measured with their shoes ON. Three inches equals one size. The height is critical because you don't want the club to be too long.
It is also essential to measure the player's swing speed (for his or her driver) after establishing the height in order to determine which club should be selected for the child. Children under 7 will always choose the Ultralight, but older children can choose the Tour Series.
One of the best ways is to use the US Kids height fitting [2] chart to determine what size golf clubs your child needs. You can use the chart to define your child's age and height range and whether the clubs you are considering buying are suitable.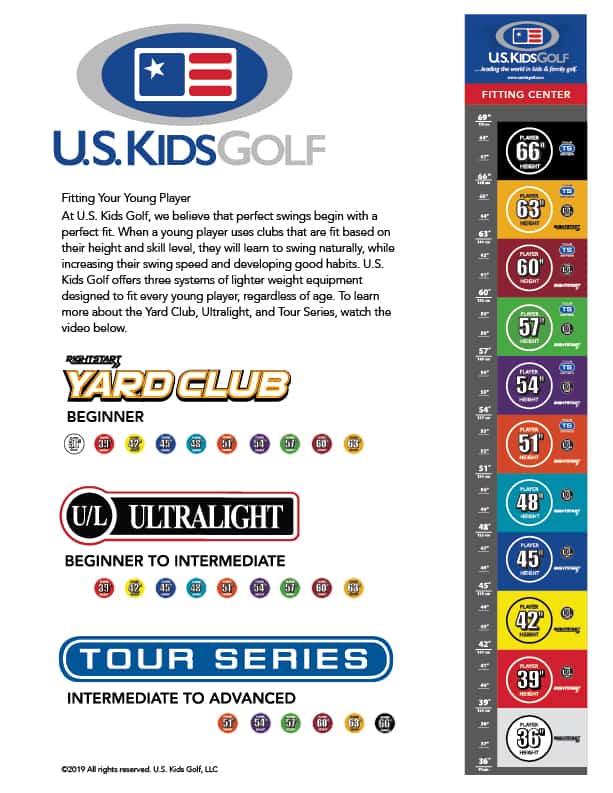 A child's height, weight, and athletic ability must be considered when determining the length of the club. If the clubs are too long, the golf junior will automatically choke down on the club, which will not help his swing. Some young golfers may be able to use longer clubs because of their build and athletic ability.
A larger child will have more body mass, which may qualify for a slightly longer club than would be suitable for lighter-weight juniors. Furthermore, some youth golfers will have better hand-eye coordination, so a longer club could be in order.
Weight: What weight should the clubs have to be tailored for kids & junior golfers?
Some parents, particularly the ones who are good golfers themselves, are concerned with the swing weight of junior golf sets. Clubs for kids 3-5 years old, such as those shown below, may have a very low swing weight. However, the overall club weight is more critical for the golf junior.
The heavier the clubs, the harder they will be to swing with any control and make it more challenging to hit the ball solid and up in the air a high percentage of the time.
Since graphite shafts can be made lighter than steel, they are the only option to decrease the golf club's weight by manufacturers. In our experience, some expensive junior clubs from well-known brands are sometimes too heavy, so it is certainly not just about spending a lot of money!
For very short youngsters, it is essential to keep the club's overall weight low so that they can swing more efficiently.
Taller golfers may need relatively heavier clubs to allow for a more natural swing. If the clubs are too light, the junior golfer may develop bad swing habits.
Grip Size: What grip should I pick for my kid's golf clubs?
Gripping a golf club for the first time feels strange for adults, but even more so for children because their hands are smaller. Therefore, golf club grips (and grip replacements) should be chosen to fit the hands of the children. The grip needs to be soft enough to avoid pressure on the hand, and at the same time, it will also make the young golfers grip the club firmly, but not too tightly, to ensure their proper control of the clubhead.
The problem of oversized grips is the same for kids as adults. If it is adjusted to suit their swing, the ball flight will be maximum speed and accuracy, and they will have the power to hit the ball further than ever before. The grip will also determine how easy the golf club is to swing, and therefore how hard the young golfer will have to swing, which in turn will affect their ball flight speed and swing performance.
A grip that feels like a baseball bat will change the mechanics of your swing. The suitable grips will make a big difference in your kid's game.
Why should you encourage your children to play golf?
Golf is a great way to get the kids physically active in a safe environment and a sport they'll love. One of the best things you can do for your children is to introduce them to golf.
Golf is a great way to teach children the value of hard work, discipline, and perseverance. It teaches them the power of patience and how to keep a good attitude when things don't go their way.
Some studies [3] have shown that it grows their attention and reaction times, enhances their short-term memory, and can even improve their coordination.
Children can gain powerful and life-long benefits from these activities right up until adulthood.
There is a reason people pay good money for golf lessons for their children. It teaches them valuable lessons about life, patience, discipline, and self-confidence. It also gives them a skill that will last a lifetime.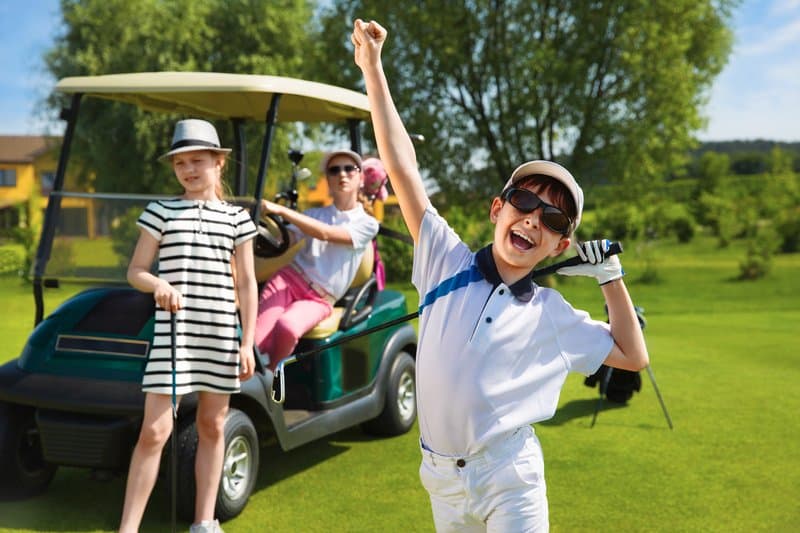 How do I make golf fun for juniors?
Many parents find it a hassle to get their children out of the house during school holidays and even on the weekends, so laziness can easily set in.
You may want your kids to play sports, but playing a sport they have never tried before is totally different. The idea of playing golf may sound to them like a nightmare, but it doesn't have to be that way. The more kids start playing golf at a young age, the more they will like the sport. So here are a few tips to get your kids into golf.
Kids as young as 2 or 3 can play in the backyard with plastic toy clubs, bamboo poles, or any long, straight object. Children learn most effectively by doing - they are experiential learners.
So let them hit the ball as much as they like and don't worry about how many mistakes they make. It is not necessary to worry about what they are doing wrong just yet. Too much criticism can be off-putting if your child is not yet comfortable with the game.
Golf usually becomes more serious for youngsters when they hit their teens. Until then, let it simply be fun rather than focusing on their technique.
Another thing you should consider is to equip your kids with the right clubs for their size. A child must be comfortable with the club in order to enjoy the game. The clubs should be sized to suit the child. Too long or too heavy are some of the common problems with clubs for children.
Make trips to the golf course stress-free by giving junior golfers a clear schedule and time for play. 
In addition, you should take caution when teaching them golf etiquette.
Even though you want them to behave politely, it will quickly stop being fun if you surround every trip with a set of rules.
Gradually and gently introduce them to the spoken and unspoken rules of the course.
Children need to comprehend an idea before they can attempt it. A parent or adult guiding a child around the course must learn to be patient when explaining how to play the game in childlike terms. Try using more age-appropriate vocabulary rather than complicated golf terminology.
How do I get my kid to play golf?
If you are a passionate golfer and have a child in your life, you would be quite excited about introducing your kid to golfing.
Whether you're planning to make their pro or not, take them along with you to the golf course and let them watch you play. Seeing you play will spark an interest in them to give it a try.
You can also tune in to a sports channel or go for golf tournaments along with them to hike their interest. This helps in creating an awareness in them about the beauty of golf.
Also, allow them to make mistakes and learn from them. Never criticize them for the wrongs, instead be patient in correcting them, and they will outgrow these mistakes soon. PGA has listed some of the top reasons [4] why you should get your mini golfer into the game.
Here is a great video (7 minutes 44 seconds) from Scratch Golf Academy showing the right way to teach kids and young golfers the game properly.
Frequently Asked Questions About Golf Clubs for Kids and Juniors
Should I buy individual clubs or a set of golf clubs for my kid?

Your child's interest in the game and experience should be the first thing to consider. It doesn't make sense to run out to your local pro shop or head to Amazon and spend a fortune on clubs for a child who may not even enjoy golf when you aren't sure if he will like the sport.
The golfer's age is another factor that will determine whether to buy individual clubs over a complete set. Is a full set necessary for a 3-year-old? Perhaps not, but you can still get them started with a putter and iron that are appropriate for their ages. Introducing your child to golf at their own pace could be a more effective method than hoisting a large collection of clubs upon them. If you do decide to buy individual clubs, you can consider the stealth driver series of TaylorMade. Here's our review of those drivers.
My recommendation is to start small. Enroll your child in a beginner golf course where clubs are provided and let them learn the basics for a minimal cost. Consider purchasing a used or new set of clubs only after your child has learned the basics and has a desire to play outside of class! 
Beginner golfers will require different gear than veterans, particularly as children will grow rapidly and will outgrow their equipment at different times. If you're buying for a younger child who isn't yet ready for a set of clubs, you're likely better off going with individual clubs made especially for kids.
Remember that golf clubs are not a one-size-fits-all endeavor, which means you should tread lightly when choosing where to begin with your child.
Can adults use junior golf clubs?

Absolutely! Many petite women find that clubs geared towards youth are an excellent option for improving their skills.
Golfers whose height falls within the range of Juniors will even be recommended to use those clubs.
Junior golf clubs are designed specifically for our younger golfers with a few advantages over their adult counterparts. For one, these clubs are designed for kids to handle the ball better, which makes them easier to control. They also come with different grips to better grip the club, and the shafts are lighter, so they swing easier.
Many adult golfers use junior golf clubs designed with smaller grips and heads, which are easier for smaller hands to hold and swing. They're also lighter and more forgiving for beginners.
What is the appropriate place to teach a kid how to play golf?

When it comes to teaching kids how to play golf, you want to make sure you are doing it in the right place.
Many golf courses across the country offer times for junior and family tee-offs. Ask a golf course in your area what club packages they offer for your young golfer!. You might also want to consider starting with him or her on a course that is closer to your house.
In order to ensure your child gets taught the best-golfing techniques and foundations, we recommend you find an experienced instructor or program to help guide them through the process.
When should I teach my child to play golf?

Golf is a great family sport [5]. As parents, you might be wondering when is the right time to get your kids into the world of golf. Just like any other sport, it's advisable to start at a very young age.
Kids develop and progress at a different pace. Some children may start swinging correctly by the age of three or four. At the same time, some may take years to get a good grip on the club.
Parents can bring their kids into formal golf lessons by the age of 5 or 6 years. Certain manufacturers believe that kids can start even earlier and have developed special types of golf clubs for kids as small as 18 months.
Is there any risk of injury for kids playing golf?

Golf may appear to be a safe sport as the chances of getting hurt on a course are less likely than playing a game of football or basketball. Though the game can be a challenging activity, it does not require much running around or jumping.
However, the chances of getting hurt may happen. In particular, when kids play golf, the chances of getting injured are relatively high and can even be dangerous.
The most reported cases of injuries among junior golfers are wrist strain, back pain, knee pain, and shoulder pain. So make sure your mini golfers are getting their golfing lessons with proper care and attention.
What age is a junior in golf?

Junior golfers refer to boys and girls who have not reached 19 years of age. It also includes those young players who are still in secondary school.
To be more specific, a junior golfer is any individual who comes under the above categories and has played the game of golf at least for one round in a particular year.
Most of the manufacturers have junior golf club sets that range from size 0 (for age group 2 – 3) all the way up to equipment for teenagers (for age group 17 – 19).
How often should junior golfers practice?

Practice makes a player perfect! It's also the key to success for any sport. Even professional-level athletes spend hours after hours on the practice field before they go for the actual competition. The same goes for golfing as well.
Practice becomes even more significant for the young and enthusiastic golfers who are developing their skills and performance.
Sign up your child for golfing lessons and get them a good coach to practice on a daily basis. Experts suggest that junior players should practice short putts daily. The young players should find time for one or two practice sessions weekly to enhance their drills.
Conclusion


Golf is a wonderful sport for kids that provides an excellent activity for children's growth and development. Not only to reach their physical potential, but it also provides a healthy outlet for their energy.
Most parents would say that their children's first experience playing golf is a special one, one they will remember for the rest of their lives. However, for many of these kids, it may not be the adventure they had hoped for, but with the right equipment, some patience, and a little guidance, you may be able to make their experience much better.
Purchasing a junior golf club set would be an ideal gift choice for your children, nephew, niece, friends, or grandchildren. Make sure to go through the golf club size chart before deciding which size would be apt.
Our best choice goes to the Wilson Youth Profile JGI Juniors Complete Golf Set. These kid's golf clubs are uniquely designed to match the weight and length of the junior players. It also makes sure that they do not undergo unnecessary strain as they make the shots. It's suitable for children between the ages of 11 to 14 years. This little kid's golf club kit contains a sturdy carrier bag, which is quite large enough to carry all the pieces in the set. 
Go through the above list to choose the perfect option for your little golfer.
We value your personal feedback and suggestions. Get in touch with us by sharing your thoughts in the comment section below.
References
The Top 10 Reasons Kids Should Play Golf. Retrieved from https://www.pga.com/story/the-top-10-reasons-kids-should-play-golf
Golf Club Fitting Guide. U.S. Kids Golf. Retrieved from https://uskidsgolf.com.au/fitting-charts/golf-club-fitting-guide/
Engaging Young People in Golf: a Delphi Expert Consensus Study. International Journal of Golf Science, 7(2), 10464. https://www.golfsciencejournal.org/article/10464-engaging-young-people-in-golf-a-delphi-expert-consensus-study
The Top 10 Reasons Kids Should Play Golf. Retrieved from https://www.pga.com/story/the-top-10-reasons-kids-should-play-golf
Kids golf: What are the benefits? Retrieved from https://blog.visitacostadelsol.com/en/kids-golf