TaylorMade Stealth Driver: The Ultimate Review
Last updated:
April 12, 2023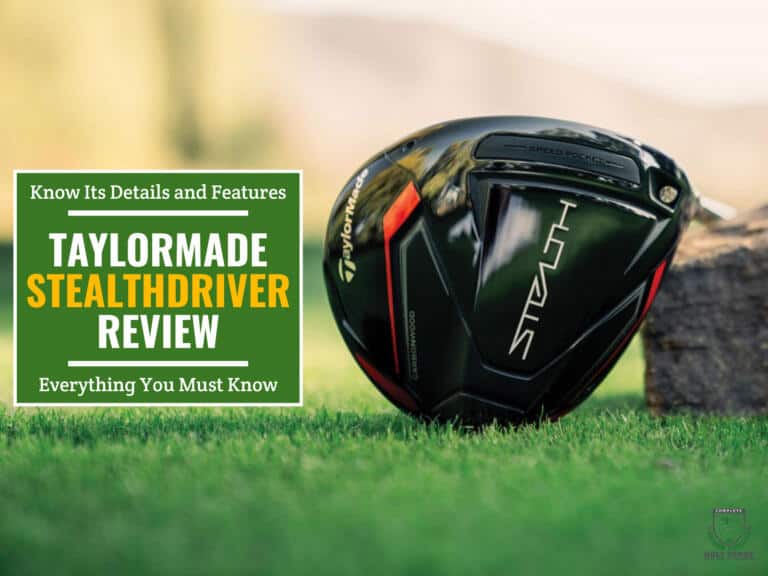 Disclaimer: We may earn a small commission from some of the links on our website. However, our reviews and comparisons remain fair and unbiased. Our goal is to help you make the best choice. For more information, please see our
disclosure statement
. Thank you for your support.
Key Takeaways
The Stealth is Taylormade's fastest driver to date. It combines forgiveness with excellent sound and launch. The use of the X60 Carbon Twist face is the main innovation brought by the new drivers, which was combined with technology such as Thru Slot Speed Pocket and Asymmetric Inertia Generator from older drivers like the SIM and SIM2.
The result is an excellent driver that will satisfy players of different levels!
Golfers have become accustomed to TaylorMade introducing new driver innovations to increase distance off the tee. This promise comes in the form of an all-new carbon fiber face for 2022.
Over two decades of work went into developing Stealth Carbonwood drivers. However, the rapid acceptance on the Tour and the ensuing buzz throughout golf imply that the Carbonwood Age was well worth the wait [1].
This article is a detailed review of Taylormade's Stealth driver, tested by our own team to help you decide if this driver should be on your next shopping list!
The New TaylorMade Stealth Drivers Overview
While one might believe that modernizing the driver's face is sufficient, TaylorMade went one step further by encasing the all-new 60X Carbon Twist Face in a polyurethane cover boasting ground-breaking nanotexture technology. Engineers were able to fine-tune launch and spin, maximizing total distance regardless of the playing circumstances or the location of the ball on the face.
According to Brian Bazzel, vice president of product development at TaylorMade, "this breakthrough design of a lightweight carbon face in Stealth has established a new starting point, a new era of drivers, a new performance threshold, and a new platform for future innovation." Further, Tomo Bystedt, the company's senior product creator explained there has always been a way to improve driver technology and face design at TaylorMade.
The 60X Carbon Twist Face saves an incredible amount of weight when compared to the regular layer of titanium, and TaylorMade maximized the weight savings by placing the weight low and deep in the head shape. The Stealth Driver has a 15% higher MOI than the Stealth Plus+ Driver, making it significantly more stable than its low-spin sibling.
You May Also Like: Best Golf Club Brands
Stealth Driver Details and Features
TaylorMade began pushing the boundaries, and now abandoning the old race to embark on a new one. A race that pushes the boundaries of what is possible.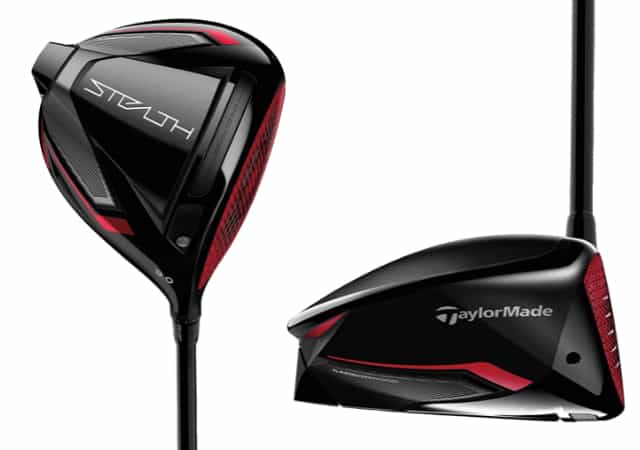 Technology and Design
The Stealth drivers' faces are made of 60 layers of carbon fiber, the result of nearly two decades of development in carbon fiber technology. This is possible because some of the latest shafts, such as TPT (Thin Ply Technology), are constructed using incredibly thin graphite plies. The driving faces are then coated with an innovative nanotexture to generate the optimal amount of spin. And, of course, the head shapes are aerodynamically optimized for maximum speed just before impact.
Looks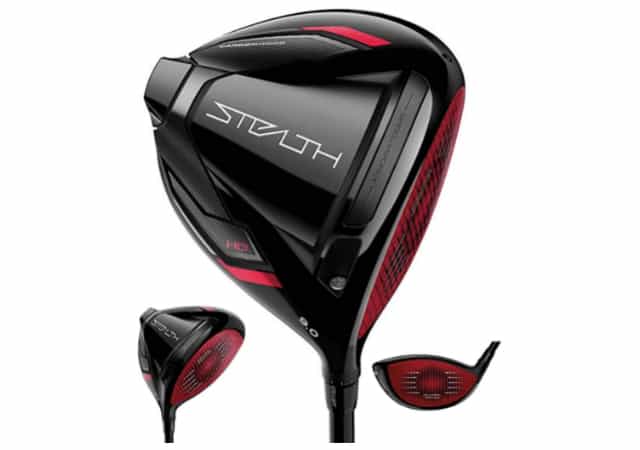 TaylorMade is back to manufacturing some of the best-looking drivers in golf with its return to an all-black crown. While elements from its previous generations remain, most notably the big carbon crown, the Stealth driver's absence of distinct colors lends it a more traditional appearance. The heel of the crown features Stealth branding, yet it plays up to its name by blending in almost completely.
The Stealth driver's most eye-catching feature is the crimson Carbon Twist Face. We appreciate how much visual "pop" it has without being distracting at first glance.
Sound & Feel
TaylorMade's drivers have been the best in terms of sound and feel for several decades. I was worried that the feel would be compromised by the carbon fiber face, but I was proven wrong. Striking a Tour-quality ball with the Stealth Plus driver results in a really solid feel. While the sensation is a little softer than in prior generations, it is nonetheless robust and quick.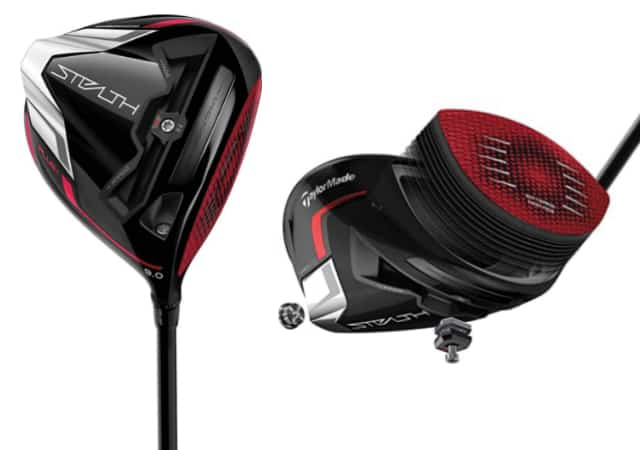 The Stealth Plus has a suppressed and staccato sound, even when used in a hitting bay. Excellent audio feedback, with mishits being louder and more discordant.
When we learned TaylorMade was employing carbon fiber in the driver's face, we instantly became concerned about the acoustics.
Fortunately, the engineers at TaylorMade recognize the critical nature of their metalwoods' feel. If anything, we thought the Stealth models had a somewhat higher pitch than the SIM2 ones from the prior generation. The good news is that the new models continue to sound powerful and pleasing regardless of where they are struck.
Performance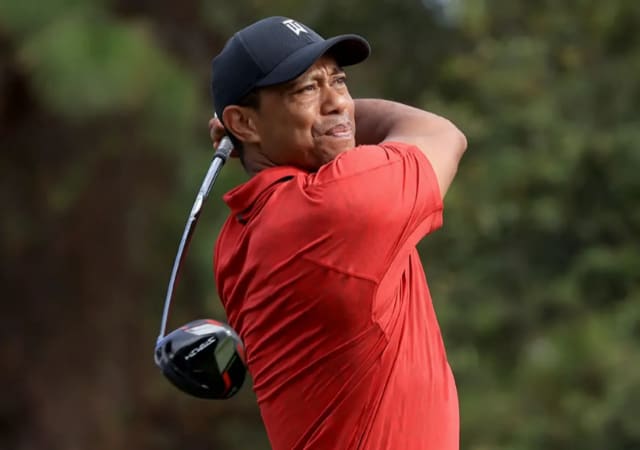 The Asymmetric Inertia Generator created the groundbreaking form that inspired the whole SIM driver lineup, and it continues to be the primary source of Stealth's enhanced aerodynamic qualities. This results in a slippery-fast head shape that aids in swing speed development during the downswing's most vital phase – right before contact. Additionally, it provides increased forgiveness due to the additional weight positioned low and back.
Comparison of Available Models
Here's everything you need to know while choosing the best Stealth driver for your game. Three basic models are available: Stealth Plus, Stealth, and Stealth HD. (In addition, we'll examine Stealth Women's Driver and MyStealth.) Each is designed to meet the performance requirements of particular players. All three are distinguished by a 60X Carbon Twist Face, which provides more efficient energy transfer upon impact to the golf ball, resulting in faster ball speeds.
Since TaylorMade drivers have included speed pocket for years, the Stealth series maximize face flex and ball speeds while providing greater forgiveness on low face strikes.
There is little differentiation between the three versions under consideration. Each is 460cc in clubhead volume with the Stealth driver and the HD bearing a slight pear shape while Stealth Plus has a more rounded shape. This enables golfers to make purchasing decisions based on performance rather than appearance, which we admire.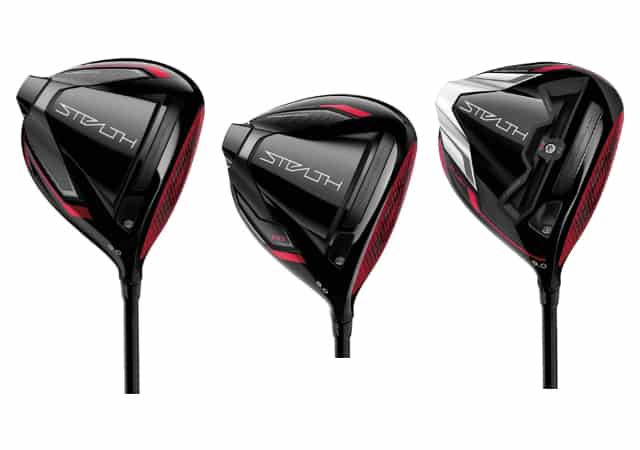 Stealth Driver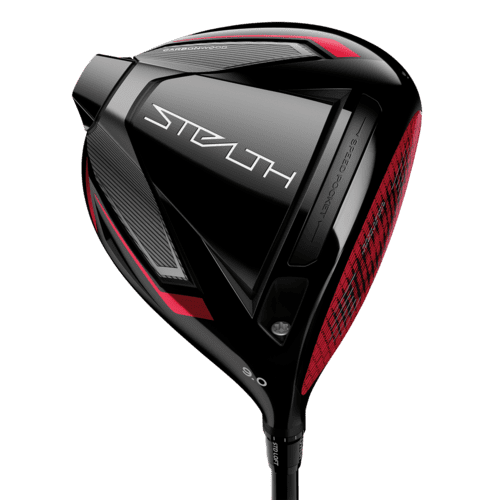 A carbon-fiber face replaces the titanium structure that has been the industry standard for practically every driver. On the other hand, TaylorMade discovered considerable benefits in novel material construction. By reducing the weight of the face by 40%, designers were able to expand the face size by 11% (vs SIM2) and add weight to the body, maximizing momentum transfer upon impact by putting more mass behind the face for a higher COR.
To achieve the optimal amount of spin under optimum launch conditions, a polyurethane layer was added to the carbon fiber face, which incorporates full-face scorelines to boost spin in wet conditions.
A microtexture was placed between the grooves to minimize spin at impact for an excellent spin in dry conditions.
Stealth High Draw (HD) Driver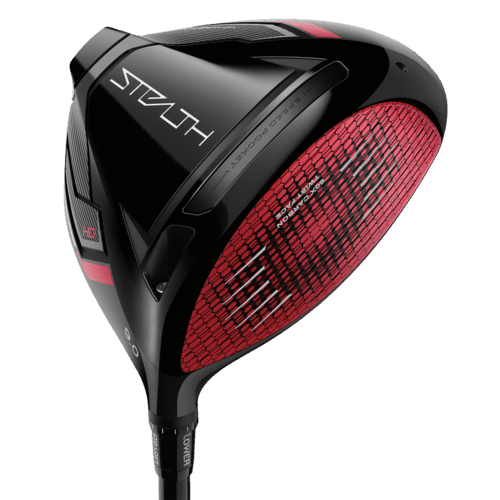 Golfers who frequently strike the ball from the center and upper-center quadrants, including the heel and toe, will notice no distance loss.
The significant addition to the draw-biased Stealth HD is a higher heel weight. The remainder of the technology remains unchanged.
The instantly recognizable red Carbon Fiber Twist Face accelerates the ball, while the interior sound ribs provide a titanium-like sound at impact. The driver is offered in three lofts, including a 12-degree option for players who occasionally want a greater launch.
Stealth Plus Driver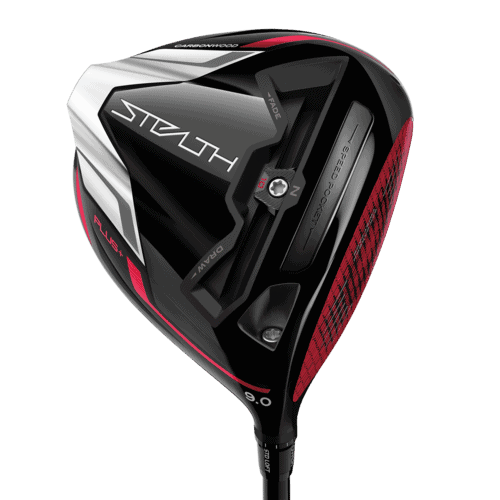 The average ball speed increased by two miles per hour across all nine points examined when compared to SIM2. On all models, this is one of the best distance balances for off-center hits.
The Plus version of the Stealth has the same carbon-fiber face as the standard Stealth but adds a weight track with an adjustable 10-gram weight that may be placed in the heel or toe for shot shaping purposes.
Spin-reducing Stealth Plus is the answer for golfers. Testing on the GCQuad launch monitor by Foresight showed that on average, golfers observed a reduction of 200-400 RPMs in a spin.
This season, the Tour will include a significant number of Stealth Plus drivers. Dustin Johnson, Rory McIlroy, and Tommy Fleetwood are just a few of the prominent staff members currently utilizing the driver. Additionally, The 15-time major champion Tiger Woods took to Instagram to let his 2.8 million fans know that he was indeed using the Stealth Plus driver during the PNC Championship. He also described it as a "truly amazing product".
During early player testing, the majority saw an increase in ball speed of over 2 mph – a figure confirmed by GOLF's robot testing data. Even more impressive: the increase in ball speed was consistent across all nine spots examined on the face. [2]
Why Is It Called TaylorMade Stealth?
A driver with a bright red face is unlikely to fly under the radar or sneak up on anyone, thus the Stealth moniker may appear weird in that regard.
The name refers less to the driver than to what it represents. The name "Stealth" is intended to reflect the idea that, despite a long and illustrious history in the golf equipment industry, TaylorMade continues to develop in surprising ways.
What Is Carbonwood?
A stealth carbonwood driver is one that has a complete carbon clubface. TaylorMade's Stealth family of drivers are the first mass-market carbonwoods. Indeed, these drivers' club faces are composed of an astounding 60 layers of overlaying carbon.
TaylorMade revolutionized the driver market in 1979 with the release of the Original One, the first metal wood driver. 43 years later, they've done it again, launching a ground-breaking new driver to their lineup — the TaylorMade Stealth – a carbonwood. Engineers worked with golf ball chemists over the following five years (approximately 2008-2013) to produce a brand-new polyurethane material exclusively for carbon drivers, drawing on their substantial urethane knowledge (think TP5, TP5x, and Tour Response).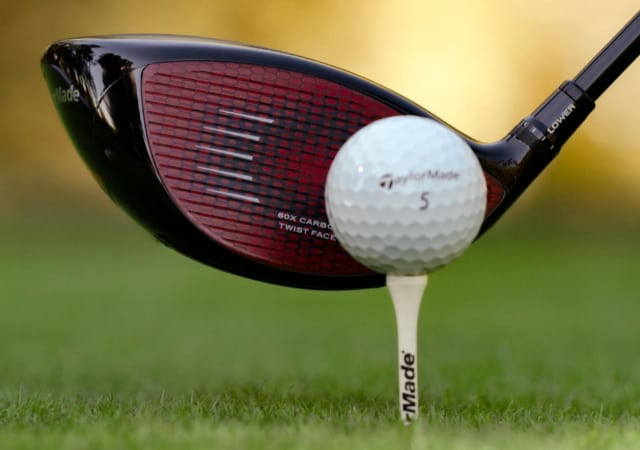 By the stats, the Stealth's carbon-fiber face is 40 percent lighter than titanium equivalents, which has been the predominant material used in driver's heads for the last two decades. Since the mid-1990s, the titanium face driver has been a golf industry staple. So says TaylorMade's team of engineers, who have worked in fits and starts over the last two decades to develop something that is not just completely different from titanium, but also fundamentally superior [3]. TaylorMade used the weight savings from material swaps to add weight to other regions of the clubhead for greater performance [4].
In terms of toughness, the underside of the cap's red-and-black face patterns resemble those found on golf ball covers. (TaylorMade's MyStealth program adds extra color options for the finish, body, sole decal, and headcover; these are all part of the company's six color options). On a side note, its quality build material requires additional care and cleaning.
To be clear, TaylorMade is not claiming to be the first company to introduce a carbon-fiber face driver to the market. Callaway accomplished this feat with the C4.
TaylorMade's Stealth is not the company's first carbon-faced driver. That honor is held by the 2013 Japanese market Gloire Reserve driver. We've been here before. The Gloire Reserve was hardly a game-changer, but TaylorMade feels that technology has improved to the point where carbon-faced drivers can not only compete on a mass-market level but also dominate in terms of performance.
Of course, none of this is certain, but the Stealth driver will surely be the most daring golf club to hit shelves in 2022. This time, TaylorMade has provided another great option for golfers.
Frequently Asked Questions
Here are some of the frequently asked questions regarding TaylorMade Stealth Driver models.
Final Verdict
TaylorMade intends to change the rules of driver production, as the new carbon face material ushers in a new age of club manufacturing. It has shifted its focus away from titanium after more than two decades of development in order to further improve the existing remarkable technology.
Although performance will always be the primary consideration, aesthetics play a significant role in the design process. When you address the ball with the TaylorMade Stealth driver, you will have supreme confidence in your ability to execute your shot exactly as you visualized it.
---
References:
Starks, T. (2022, January 4). A 20 Year Journey to the Carbonwood Age. TaylorMade. https://www.taylormadegolf.com/clubhouse/244644-a-20-year-journey-to-the-carbonwood-age.html?lang=en_US
Golf Editors(2022, February 14). ClubTest 2022: The inside story behind TaylorMade's Stealth driver line (plus reviews!). Golf. https://golf.com/gear/drivers/taylormade-stealth-drivers-reviewed-clubtest-2022/
Stachura. M. (2022, January 04). TaylorMade Stealth drivers: What you need to know. Golf Digest. https://www.golfdigest.com/story/taylormade-stealth-drivers
Holden, H. (2022, January 04). It's TaylorMade's new era-defining technology – but what is carbonwood?. National Club Golfer. https://www.nationalclubgolfer.com/news/taylormade-carbonwood-era-explained/
WRITTEN BY

My name is Jacob, a self-diagnosed equipment and golf enthusiast. I've been golfing since I was 15. Golf has always been my passion. I'm a bit of a golf equipment nerd and I've been that way since the moment I picked up a club for the first time. As someone who's been on both sides of the game, I know what it takes to be a good golfer. Of course, you need good equipment, but you also need to know how to use it. I hope sharing my experience with you will help you improve your game.
You May Also Like