Best Time to Buy Golf Clubs + 7 Signs You Need An Upgrade
Last updated:
October 6, 2023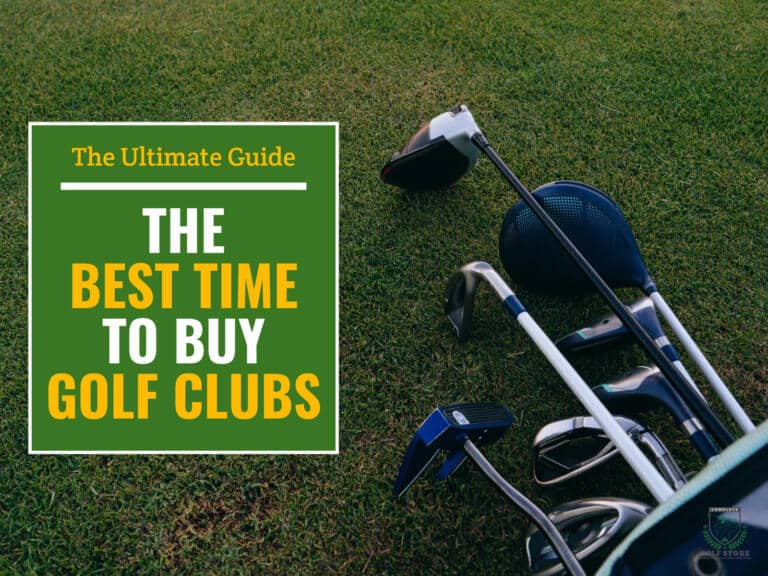 Disclaimer: We may earn a small commission from some of the links on our website. However, our reviews and comparisons remain fair and unbiased. Our goal is to help you make the best choice. For more information, please see our
disclosure statement
. Thank you for your support.
Key Takeaways
Golf clubs can last anywhere from 3 years to a lifetime, depending on how often you play and how well you care for them.
There are a few reasons why you might need to replace your golf clubs, such as if they are physically deteriorating, not performing well, or causing you to make unexplainable changes to your game.
The best time to buy golf clubs is during holiday sales, such as Amazon Prime Day, Black Friday, New Year's Eve, and the winter months. You can also find great deals on golf clubs during manufacturers' demo days.
Are you keen on updating your golf equipment more often to help you with your scores? When is the best time to buy clubs? Do you always get the best deals while going in for new clubs? Well! It may not always be in your favor, as they are quite expensive.
However, not upgrading might cause you to fall behind in the game. We will tell you how you can upgrade your clubs and ensure you get the best value for your money.
Even if you just found out about your new love for the game and are looking for some fantastic deals, this article is a must-read. Scroll through to learn how and when to upgrade your clubs to make your golfing experience more rewarding.
How Long Do Golf Clubs Last?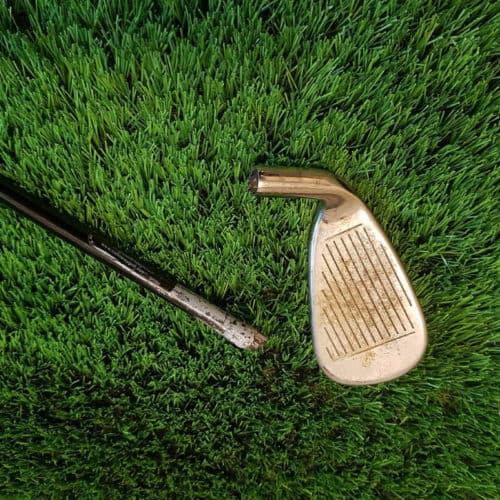 As a golfer, you must have asked this question quite a few times to the game's pros. Golf clubs, if appropriately cared for, last anywhere between 3 years to a lifetime. If you happen to play frequently, it can reduce the effective lifespan of the club.
However, prompt maintenance and repairs are sure to give it an extended life. Today with the help of advanced technology and high-quality raw materials used, they may easily last for about 20 years or more. Softer golf balls usage rather than the old wooden ones have considerably increased the clubs' lifespan.
Since clubs usually last for a longer time, you will more often end up buying new equipment when you want to keep up with the latest trending designs and styles.
Whether you want to fancy a new look or want to go in for an upgrade, it will surely cost you a bomb.
When Should You Replace Your Golf Clubs? Top Reasons to Upgrade
There can be many reasons you might want to go for a replacement. For instance, if you happen to notice that the grips are getting worn out or the shafts are getting soft.
The deterioration of the club faces or changes in the lofts and lines can also warrant a replacement. Let's look at the different scenarios which might ask for a golf club replacement.
1. Just Starting Out Playing Golf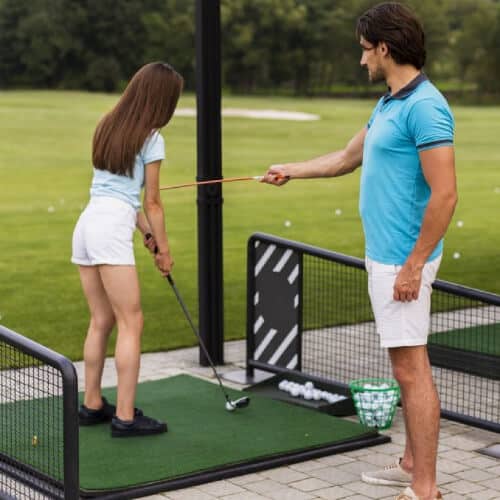 Are you a beginner keen to start with the game? Wouldn't you want to begin with the right equipment? You should be a lot more careful when you are purchasing golf equipment for the first time.
As a beginner, it would be best if you had a clear picture of what you are expecting from the game. For instance, if you are only playing a few times a year, you might want to invest in some basic equipment.
On the other hand, if you tend to take the sport more seriously and would be playing a lot throughout the year, then it is worth investing in more expensive clubs.
As a beginner, starting with the right clubs will help you lower your handicap and aid in faster learning. Most beginners consult with professionals before buying new equipment. You can also check out our detailed reviews of the Best Golf Clubs for Beginners to have a clear idea of what you should look for.
2. Condition of Your Clubs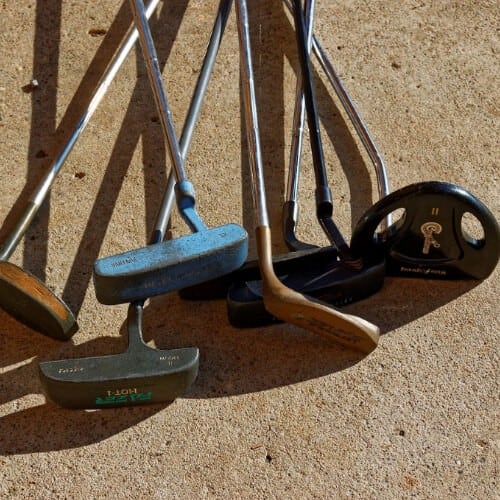 If you've been playing the game for quite some time, pay attention to the clubs' overall look and feel. As we said earlier, equipment can easily last for more than 5 to 10 years, even if you play the game more frequently. They tend to deteriorate based on how much time you spend playing the game and how frequently you have used them.
However, if you do notice a change in the way you feel about grip or the impact while you strike, it is just about time to move on to a new club.
You do not have to necessarily go for brand new ones if you notice the shafts are beginning to wear out. Rather you can have the shafts replaced without spending a lot of money and still have a decently performing club. Consider the benefits and costs of both replacing and going in for new clubs before making a choice.
Furthermore, keeping your clubs clean means they perform optimally. If you want, you can read our guide on How To Clean Your Golf Clubs Properly.
3. Unexplainable Change in Your Game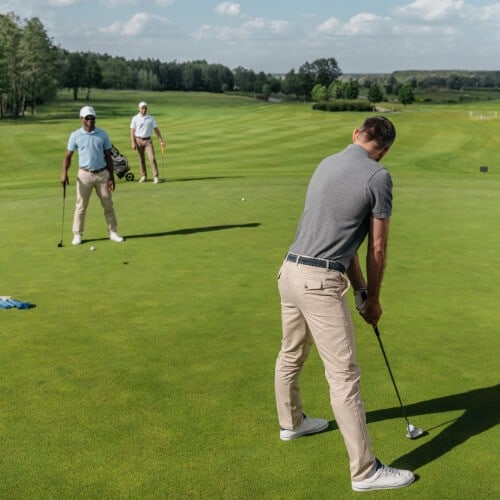 When we talk about unexplainable change in your game, it refers to changes you notice in your swing patterns, ball trajectory, score, or distance.
A club that is worn out or doesn't have sufficient grip can cause these changes in your game despite you being in good shape. Replacing the grips on your clubs may help, but If it doesn't, it is possibly the right time for new ones.
Suppose you cannot attribute the change in the game to your age, swing style, or any other reasons. Closely examine your clubs for any wear and tear. Examine the shafts, wedges, or irons for possible signs of damage to see if the performance change is due to the faulty accessory. Voila! Your golf skills are intact, and the golfing equipment is what needs a change or replacement.
4. Too Much Spin on Your Golf Ball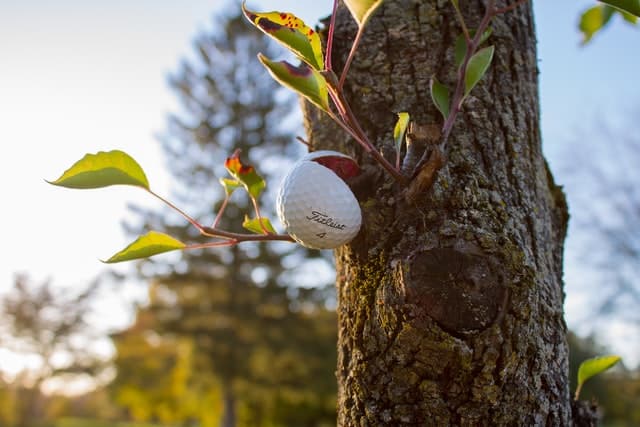 Clubs can also influence the spin of the ball. Beginners who are not aware of how to use them might end up with too much spin. However, as an experienced player, if you happen to notice a lot of spin in your shots, your clubs' condition may be the culprit.
Suppose you could hit consistent shots with low spin previously and of late notice too much spin while using the same club. It may be one of the signs that your club needs to be replaced.
Not getting the right amount of spin can ruin your game in many ways. You can end up with slices, hooks and all other types of issues. Replacing your old clubs might do the trick if you are confident that your swing styles and patterns are not the reason for the spin going out of control. You can take the clubs to a professional fitter to check if they are to be blamed for the spin issues.
5. Taking Huge Iron Divots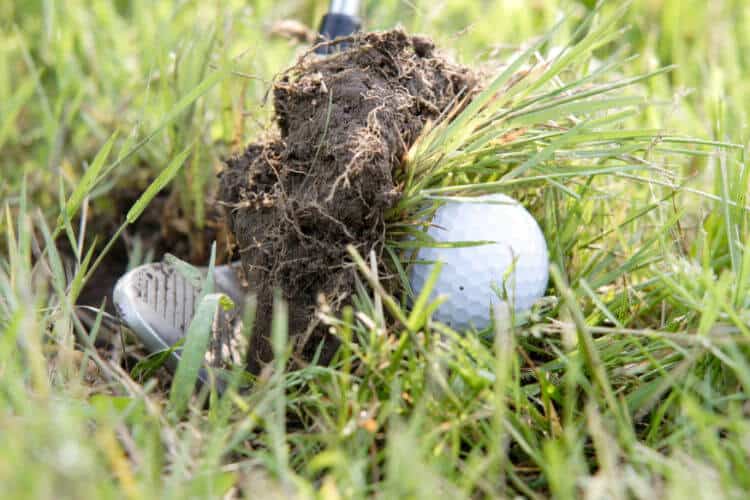 Players going in for the deep divots can impact the ball flight negatively. It can lead to thin or fat shots and may not earn you a good reputation with the greenkeeper. Having a faulty club can be one reason you might be getting to a steeper angle of approaching the ball.
However, poor divot patterns can also be due to other reasons, and professional advice is required to know if the issue is related to the club or your style of playing.
Huge Iron divots can also harm your hand and shoulder. It is best to correct this faulty approach so your scores and health do not take a beating. Going in for the right club as per your playing style can help you overcome the divot patterns' issues. Of course, you will also need a lot of practice.
6. Your Buddies Are Outperforming You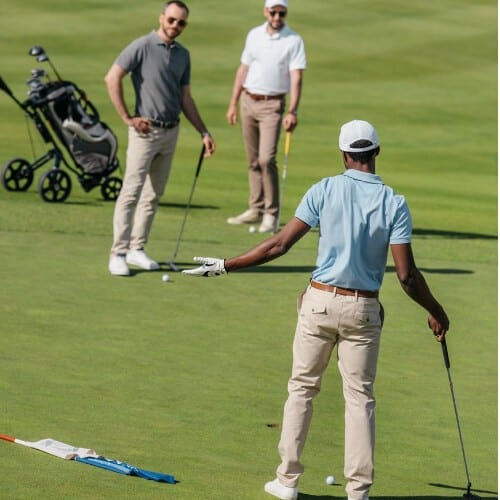 Golfers often hold on to their equipment for a longer period as they grow used to playing with a particular brand or bond with their clubs. While it is not a bad thing to hold on to your golfing companions, it may not always be advisable to cling to the old ones if they are affecting your game.
Replacing or buying a new set of clubs is definitely an expensive affair. However, the simple reason why most players go for replacement may be to keep up with the co-players.
With the golf equipment industry constantly evolving to cater to the golfers' needs, having the most modern gear will give you an edge over your buddies in the game.
If you feel you are not performing on par with your buddies, buying new clubs can improve your game. However, you might also want to check on your golfing skills to make sure you stay ahead of them.
7. Your Age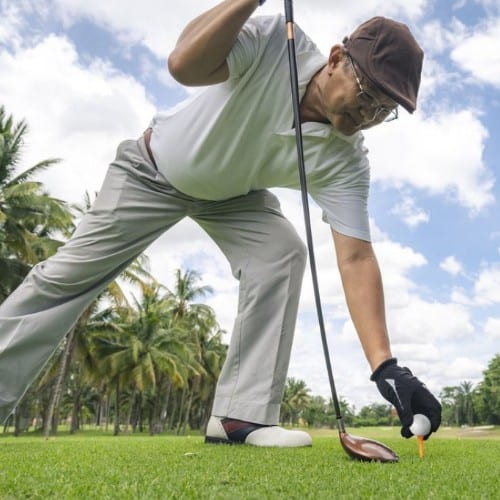 Golf is one of the most relaxing games compared to other field sports. However, it also does require a good amount of stamina to set the ball in motion. As you age in the game, you will start noticing a gradual change in your skills and abilities, which is mostly due to decreased stamina.
How many clubs do you need to get your game, right? The answer is not the numbers but getting the right ones. You will need to try a few to make sure you get the ones that suit your age.
Players will have to choose a different set of equipment that will help them overcome aging challenges. For instance, you will do well with a hybrid golf club, which is a cross between an iron and a fairway wood. We have a review of the Top Hybrid Clubs for High Handicappers, so make sure you check it out.
If you started playing in your 50s, you would notice that you need a different set of clubs as you move to your 60s or 70s.
Best Time to Buy Golf Clubs (And Get the Best Deals)
While looking for an upgrade to your clubs, it is certainly worthwhile to wait for the right time to get some amazing deals. Who knows, you might end up with the most premium models at attractive prices.
Most club manufacturers tend to introduce their recent models at the beginning of the year. There are also times when sellers offer huge discounts for the prior models. Look out for these sale days to buy clubs and make sure you get the best value for the money you spend on this sport.
Amazon Prime Day - July 11-12
Best time to buy new golf clubs - Got an Amazon Prime membership? Then you automatically get access to some special deals. These special purchase arrangements are only for Prime members. So, you will need to get a paid membership to avail of these offers.
You should be able to get those premium clubs at a great price besides free shipping, express delivery, etc. on selected products. Every year, Amazon's Prime Day brings some great deals from leading brands such as Callaway, Bridgestone, etc.
The 2023 Amazon Prime Day is yet to be finalized. However, you can start a 30-day free trial of Prime membership. You could get lucky if the dates are announced within your trial period.
Black Friday - Varies Between November 23 and 29
Going by last year's deals on Black Friday, this year, too, you can expect some amazing discounts from leading brands.
You can save up to 60% on a good range of clubs and other accessories as well. All major retailers offer great discounts on some of the top golf equipment brands.
In 2022, Black Friday fell on the 25th of November, and in 2023 the 24th of the same month. The sale starts at 12:01 am local time. So, gear up to grab your favorite brand at reasonable prices. Many leading E-commerce giants also happen to have Black Friday sales on their online stores.
If you are really not a fan of all the hues and cries in the physical stores, you can always opt for the online sales on Black Fridays.
Winter Months
Golf is a game that is usually not played all through the year owing to the local weather conditions in many places. That's why the off-season (winter) can be a great time to replace those old clubs of yours.
Most manufacturers and sellers want to get rid of their current year's stock. They are more likely to offer special seasonal discounts on golf equipment. The period between November and December is when sellers would want to do away with their old club models.
Also, most vendors will go for clearance sales during these months to make way for the new stock. This can mean a lot of savings on the top brands in the market. Off-season will also see fewer buyers in the shop, which means that you will get your hands on a wide range of options. It is the holiday season, and the prices also seem to drop significantly in the previous year's models.
New Year's Eve
Come December 31st, every seller will have something to offer in terms of discounts and clearance sales. You might end up with some old models. However, it will definitely be a safe choice at reduced prices if it is coming from your favorite brand. You should be able to find some attractive packages on closeout drivers, fairway woods, iron sets for men, etc.
Keep your new year's resolutions for the game going strong while you prep yourself with the best equipment from New Year's Eve sales. There is no better way to start the new year than to start with your favorite sport by making some huge savings on equipment.
Manufacturers Demo Days
Golf demo days are the best opportunity to try out equipment and talk directly to manufacturers. The best part is you can test the clubs that you intend to buy.
You can choose your favorite and most compatible clubs after you have got a chance to try them outdoors. These events also have in-display all the previous year's models from the manufacturer, which makes it easy for you to compare the prices and choose the best.
Tips to Increase Your Golf Club's Lifespan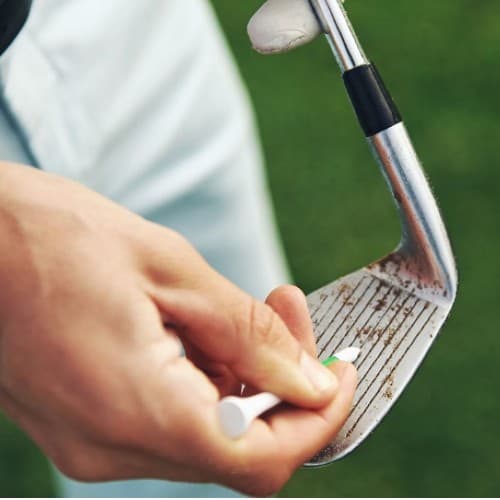 As we discussed earlier, clubs are expensive equipment, and they are often viewed as a one-time buy due to the high prices. So, you must care for them in the right way to make sure they have an effective life span, and their performance is not compromised over the years.
Here are some tips to help you improve the lifespan of your golf clubs:
Clean your clubs after each round.
Use a wet towel to clean the dirt or mud.
Use a dry towel to wipe away the moisture.
Consider using a metallic brush or a specialized cleaner to remove the grooves' stubborn dirt if you happen to use irons.
Club Grips can tend to wear out sooner, so you can replace them once a year.
Cover the clubs using the headcovers when you are not using them.
Frequently Asked Questions
In the FAQ section, we have included some of the commonly asked questions, so you can get them out of your mind.
Do Golf Clubs Lose Distance Over Time?
Yes, clubs can lose distance over time due to wear and tear on the clubface, grooves, and shaft. Frequent use, hitting from different surfaces, and exposure to the elements can gradually affect the club's performance.
Additionally, the materials used in club manufacturing may also deteriorate with age, leading to a loss in distance. Regular maintenance, such as cleaning the clubs, regripping, and replacing worn-out components, can help preserve their performance and ensure they maintain their distance as long as possible.
Can You Repair a Golf Club?
Yes, golf clubs can be repaired in many cases. Common repairs include regripping to replace worn-out grips, replacing broken or damaged shafts, and fixing dents or blemishes on the club head.
Professional club repair services can address issues like loose clubheads, bent shafts, or damaged clubfaces. However, the extent of the repair depends on the severity of the damage and the club's overall condition. Regular maintenance and timely repairs can extend your clubs' lifespan and ensure they continue to perform well over time.
Do New Golf Clubs Really Make a Difference?
Yes, new golf clubs can make a significant difference in your game. Modern advancements in club design and technology can improve distance, accuracy, and forgiveness, leading to better overall performance.
New clubs often feature improved materials, clubhead designs, and shaft technology, allowing you to achieve more consistent and optimal ball flight. Upgrading to new clubs tailored to individual swing characteristics can enhance confidence, provide better feel, and result in improved scores on the course.
However, selecting the right clubs that suit your skill level and preferences is essential to fully realize the benefits of new equipment.
How Can You Make Sure Your Golf Clubs Last?
To ensure your golf clubs last, try to do the following:
- Practice proper maintenance and care. 
- Regularly clean the clubheads and grips after each round to remove dirt and debris. 
- Store your clubs in a cool and dry place, avoiding extreme temperatures and humidity. 
- Avoid hitting the ground or hard surfaces during swings, as this can cause damage. 
- Invest in headcovers to protect the clubheads when not in use. 
- Have your clubs checked and serviced by a professional club fitter or repair specialist to identify any issues early and address them promptly.
By following these practices, you can extend the lifespan of your golf clubs and maintain their performance over time.
How Often Do Pro Golfers Change Their Golf Clubs?
The frequency at which professional golfers change their golf clubs can vary widely depending on individual preferences, playing style, and sponsorship agreements.
Some professional golfers may change certain clubs, such as drivers or wedges, more frequently to take advantage of the latest technology and ensure optimal performance.
Others may stick with their trusted clubs for longer periods, especially if they are comfortable and confident with their current equipment. Golfers sponsored by equipment manufacturers may receive new clubs regularly as part of their contract, leading to more frequent changes.
Ultimately, the decision to change clubs is a personal one, and pro golfers will make changes based on what they believe will improve their game and enhance their performance on the course.
Conclusion
Golf clubs are an important component to getting your shots right, and it is very crucial for your game to have the right one. Many considerations such as age, style of playing, and frequency of playing go into deciding the right golf gear for you. The whole reason why we have the question of what the best time is to buy a golf club is the fact that this sport's equipment is quite expensive. While you may not have the liberty or finances to go in for new clubs often, this article will help you choose the right time to land up in a killer deal.
Look for the best deals during the off-season or lookup deals with the leading E-commerce giants that are there all through the year. Black Fridays and demos can also be ideal times to make an upgrade to the latest clubs available.
If you still happen to have questions on what clubs to buy or the right time to buy them, write to us in the comments section.
Thanks for reading!
WRITTEN BY

My name is Jacob, a self-diagnosed equipment and golf enthusiast. I've been golfing since I was 15. Golf has always been my passion. I'm a bit of a golf equipment nerd and I've been that way since the moment I picked up a club for the first time. As someone who's been on both sides of the game, I know what it takes to be a good golfer. Of course, you need good equipment, but you also need to know how to use it. I hope sharing my experience with you will help you improve your game.
You May Also Like