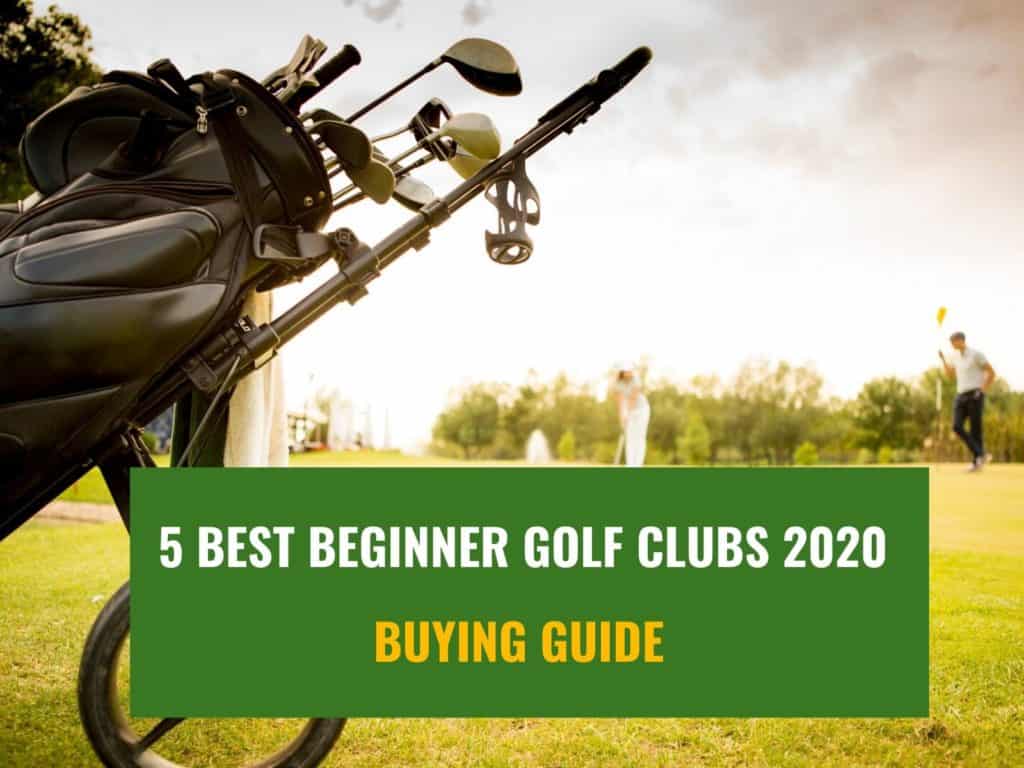 The 5 best golf clubs for beginners review and buyer guide
First Published:
April 24, 2020
Last updated:
February 23, 2021
Golfing has become one of the popular sports that people love to speculate and get involved in. With the ease of finding better golf equipment nowadays, anyone can start learning and mastering solid golf skills. Today we will introduce you with the 5 best golf clubs for beginners from 5 types of golf clubs.
For starters, you need to get your hands on the best equipment designed for novice players. You will find that various types of golf clubs are essential for playing in different areas. By using quality equipment, you will be able to hit easily, attain better forgiveness, and get the ball easily in the air.
Related: Best Golf Clubs For Kids and Juniors
Quick Overview – In A Hurry? Here Are The Top 5 Best Golf Clubs For Beginners We Reviewed In This Article:
DETAILED REVIEWS OF THE TOP 5 BEST GOLF CLUBS FOR BEGINNERS
Looking for a User-friendly option from a trusted parent? Callaway Men's Strata Complete Golf Club Set is a great option. This set is specially designed keeping the beginners in mind and consists of clubs that they require.
You would find that each club contains high-quality components that are capable of providing maximum performance on the course. The 12 pieces include driver, fairway woods, irons or wedges, hybrids, and putter.
The Forged driver of about 460 cc offers a large sweet spot that is apt for starters. Here you will get more forgiveness in the club than most other drivers. Just like the driver, the 3 wood provides extreme forgiveness as it comes with an aerodynamic head. This ensures sufficient height and length to the golfers' shots.
As for the irons, it consists of stainless steel material and is suitable for novice players. It also gives a great deal of forgiveness and better control. The hybrids act as alternatives to the long irons and help in boosting confidence while taking the first shots. As it's boosts of high-quality standards, it will surely last for a long time.
Check also: best time to buy golf clubs
The standing bag consists of 5 storage pockets and a matching rain hood.
The drivers ensure high consistency and reasonable distance.
The backstrap on the bag makes it easy to carry about.
The putter has a T-Style that will help you to make perfect shots with high accuracy.
Some users find the grip to be quite a rough on their hands; hence it's advisable to use a pair of gloves.
The sand wedge is not available in this set, so you may have to get it separately.
It comes in standing bags that have vast storage space even to keep your valuables. Moreover, they are light in weight and offer excellent durability.
In need of a straightforward and complete package that will help you play golf smoothly? Wilson Men's Ultra Complete Golf Set is the right option.
The golf clubs are specially designed to function to a high-level with excellent performance. This permits those who are starting to play the game to enhance their skills within a short period. The fairway wood and the drivers consist of a graphite shaft. This material is well known for its exceptional durability and provides a very light-weighted feel. As for the irons and the hybrids, it consists mainly of steel shafts.
You will find that the steel shafts ensure an enormous amount of control that will further boost the power of your swings. The putter that comes along is an excellent option for novice players. It's known for providing high precision and also assists in enhancing your putting skills quickly.
As for the stand bag, it comes with numerous storage pockets and helps in carrying your clubs safely.
The affordable set consists of all the clubs that are essential for a beginner.
Due to the presence of 3 club covers, you will be able to shield your expensive clubs.
As they are available in standard sizes, It's a perfect fit for most men.
Users find that the drivers head tends to break away easily.
Does not contain a sand wedge hence you may have to get it on your own.
The set consists of 3 headcovers, 9 clubs, and a stand bag. This includes a fairway wood with graphite shaft, a driver with graphite shaft, hybrid with steel shaft, putter, zinc irons, 3 headcovers, and bag.
Cleveland Golf Men's Launcher CBX Iron Set Is an option that is well appreciated by beginners and skilled high handicappers equally. Though this brand is usually famous for their wedges and drivers, they also have come up with a vast range of impressive irons.
These high-quality irons are available at a great price range, and you're sure to experience the value it provides.
This makes it more suitable for beginners as they already have to deal with costs like green fees and various other golfing expenses. It's a popular option among most golfers due to its appealing and more traditional appearance. When you address the ball, they look inches solid top line that enhances your confidence.
Moreover, it's neither too thin or thick, and the cavity back provides better control and super forgiveness. The progressive design of the iron will help you to get different actions from the shorter irons when compared to the longer options. The longer ones have more distance and forgiveness, whereas the shorter ones offer more workability and control.
Weighting will further assist you in making a simple and forgiving launch.
As for the weight, it's suitable for beginners since it's positioned back and low.
It makes use of zip grooves that combines with the milling pattern to enhance forgiveness and launch.
The V sole assists turf contact to help launch well, especially from a poor lie.
The distance for each swing may not be consistent throughout.
As for the distance of the iron, it appears to be quite impressive. This is because they're capable of hitting quite long and hard.
In need of the right set of gadgets to kickstart, you are going to experience? Cobra Golf Women's Fly Z S 2017 Complete Set would be an ideal choice. By owning this stylish set of clubs, you will be well prepared to take on the course.
This set is also one of the top options that are available for a woman golfer. The driver is specially designed to provide great distance and comes with a long shaft and a large head. The fairway wood is the best option to use after your tee off.
Looking for better control without losing out on distance? The hybrid available in this set does a great job. The cart bag comes with ample divisions to place all the clubs and has extra storage pockets to keep the golf accessories.
It's best suited for right-handed players who have handicaps ranging from mid to high levels.
As for the cart bag, it comes in a great color combination that is not striking as the other bright colors.
Forged E9 Zone Face offers greater distance by removing the weight from key spots across the hosel and face. It further enhances the pace and size of the sweet spot.
Back CG Weighting provides more forgiveness, thereby reducing bad swings and poor ball contact.
The club covers are available only for the woods and not the irons.
This beginner set consists of a golf cart and a combination of 7 golf clubs. It includes a driver, hybrid, fairway wood, pitching wedge, sand wedge, 7, and blade putter.
Are you a golfer who wish to enhance your skills without creating a dent in your pocket? Pinemeadow Excel EGI Hybrids is an excellent option to start with. You will find them in 8 different lofts, making it easy to replace the irons with these hybrids.
Each of them displays great weight balance all through the clubhead. This, in turn, widens and enhances the sweet spot for a dependable ball flight and better contact. It helps you to improve your golfing skills rapidly. This is because it provides greater distance and more forgiveness. You will also find that the sole is quite extensive, with a relatively low profile.
This solid hybrid has excellent construction and comes with a large sweet spot.
This hybrid shaft is perfectly combined with a club made of stainless steel to create a great combination.
Due to the perfect shape of the clubhead, you can use it for numerous lies, be it good or bad.
This club consists of a graphite shaft, which increases the speed and offers a light weighted feel.
The overall profile may tend to exhibit a cheap appearance but is not disappointing in performance.
Does not offer consistent spots.
Adjustment options are not available as the club is permanently fixed onto the hosel.
This beginner set consists of a golf cart and a combination of 7 golf clubs. It includes a driver, hybrid, fairway wood, pitching wedge, sand wedge, 7, and blade putter.
OUR BUYING GUIDE FOR THE BEST GOLF CLUBS FOR BEGINNERS
As a novice golfer, you might be more concerned about what type of golf club to use and when to use. Before you get to know that you need to consider the fundamental aspects of a golf club. You will find that a golf club consists of three components. This includes:
1. Grips:
Your grip on the golf club will be mainly affected due to the weather conditions and the size and texture of the item. Make sure that they are waterproof to get a good grip even during a slight shower. Also, see to it that it won't get scorching during the summer months. Go for easy choices with excellent texture to avoid getting dry skin, blisters, and sores.
2. Golf Club Length:
Are you a tall person? Do you find it difficult to get clubs with sufficient length? No one should struggle hard to make the perfect shot. You will find clubs that are specifically designed for short as well as tall individuals. Short people must opt for ones with large club faces and short shafts.
3. Shaft Material:
You will find shafts made using steel and graphite components. Steel options are mostly found among the top models across the globe. They are much heavier and generally preferred by players who are more used to it. As for the graphite options, they are comparatively light in weight. This, in turn, helps you to swing easily to make great shots.
4. New vs. Used:
This decision is something you need to make based on your budget. If you run on a low budget, used options would be much cheaper and appealing. However, for those who can afford it, it's better to get a high-quality club set that is brand new. Wondering how many golf clubs in a bag? Most of the best models range between 12 – 18 pieces for you to choose from.
BENEFITS OF CHOOSING THE MOST BEGINNER FRIENDLY GOLF CLUB
Getting a good golf club can create a massive difference in your game. Let's have a look at some of the benefits of using the best beginner golf clubs:
It creates a better affinity as they have a high moment of inertia and a low center of gravity.
It provides enhanced golf swings if you go for options equipped with higher handicaps.
It gives you a better depth into the game by laying out your foundations well.
By using the right set, you will be able to attain great training results.
Choosing the best amateur golf club with sufficient training will boost your confidence level.
Our best pick goes to Callaway Men's Strata Complete Golf Set. This is mainly because it consists of 12 pieces that are specifically designed for beginner's use. Each of the clubs in this set offers maximum performance as it's made using high-quality materials. This set includes putter, Hi birds, wedges or iron, driver, and fairway woods. Out of these, 10 clubs provide great forgiveness in each shot. The irons make use of Progressive Sole-Width technology, which offers better control and exceptional forgiveness. This set won't disappoint you in making the best shots for the price paid.
What's The Difference Between Men And Women's Golf Clubs?
Amateur players among both genders generally have different swing speeds. You will find that men have higher swings, typically when compared with lady golfers. Hence, the weight of the clubhead and shaft flex will vary for both genders. You will also find a variation in the degree of the driver's left. Female players have more fabulous loft compared to the male players.
How To Maintain The Golf Clubs Clean?
Golf clubs must be periodically cleaned. For this, you need to get a plastic bucket, mild dishwashing liquid, a toothbrush, and a towel. Pour warm water into the bucket and mix the dishwashing liquid and into it. Make sure that the level of water is sufficient enough to cover the iron heads. Place the irons in the water and soak it for a few minutes.
Submerge only the club heads of the iron in water and not the ferrules. It is the plastic cover portion where the shaft meets the clubhead. Once the irons are entirely soaked, take each of the clubs and scrub the grooves using a toothbrush. Get rid of all the dirt and debris between the back and sole of the clubhead. Rinse it under running tap water and tap it dry using the towel. Avoid splashing water towards the shaft.
Should A Novice Golf Player Opt For An Individual Club Or A Complete Golf Club Set?
The best option would be to go for a complete set of golf clubs that is quite simple and not too expensive. It is because to play golf at the primary level, you need a putter, irons, driver, and few edges. Also, as an amateur player, you have to increase the speed of your swing. For this, you would require clubs that are light in weight with proper shaft flex. Moreover, a complete set is more affordable than an individual golf club.
How Many Golf Clubs Can You Carry in a Golf Bag?
As per the 
USGA,
 the golfer is limited to have up to 14 clubs in his bag. This may include three woods (conductor, 3 woods, and 5 woods), eight boards (3-9 iron wedge and pitch), and putters. These are the 12 standard clubs in many golf bags. If the golfer starts with a number of clubs in his bag of less than 14, he can increase the number of clubs to 14. Golfers are allowed a maximum of 14 clubs in their bags during tournament rounds. This is in accordance with the rules. You can bring less than 14 clubs but no more than that.
Selecting the best golf club can be a daunting task for beginners. It is because you hardly have any idea as to what makes a good club. However, once you get your hands on the best golf set, you will be able to enjoy a great golfing experience.
We hope the above reviews helped you in choosing the best option. If you already have one, do share your feedback with us. Don't forget to share this post with your fellow golfers.
Happy golfing!