The 10 Best Golf Clubs for Beginners Reviews and Buyer Guide
Last updated:
December 7, 2022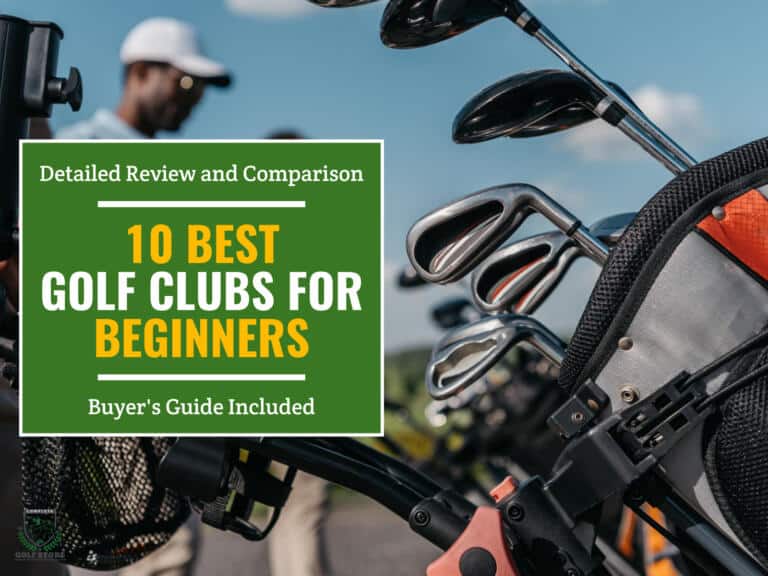 We are supported by our readers and we may earn a small commission when you click on some of the links at no additional cost to you. Our full disclaimer can be found
here
. Thank you.
Key Takeaways
Based on our testing and experience, the Callaway Golf Men's Strata Complete Set took the top spot for its great quality and value for the money. The Wilson Men's and Teen Complete Golf Set is our best budget option, and the Precise M5 Men's Complete Golf Clubs Package is the best choice for tall golfers.
In recent years, technology has significantly improved golf clubs [1], and the industry has shifted its focus from the club's design to technology and performance.
As a beginner, choosing a golf club set can be intimidating. You should be prepared and know what to look for if you're buying your first set of golf clubs.
The golf market is filled with a wide range of starter golf clubs - from the basic to the ridiculously overpriced. That is why we have put together this guide to help you make the best decision.
In this article, we will take a look at 10 of the best beginner golf clubs on the market to choose the most suitable one for you.
In a Hurry? Here Are the Top 3 Golf Club Sets for Beginners We Like the Most
Manufacturer
Precise
Callaway
Wilson
Hand Orientations
Right/Left
Left/Right
Right/Left
Top Features
No Need to Buy Any Additional Clubs
Oversized, User-Friendly Club Heads
Stylish Looking
Suitable for Tall Golfers
Durable and Well Made
One of The Best Brands in The Market
Complete Starter Set for Beginners
Made using high-quality components
Beautiful Design
Improved Accuracy and Distance Control
high Quality Brand
very Forgiving Irons
includes Premium Carry Bag and Headcovers
affordable Price Range
marked for Easy Gripping
Who is this set for?
If you want the most complete set without needing to buy anything extra
If you are ready to invest for the long run and serious about golf
Golfers on a budget who are looking to getting started in the game
Hand Orientations
Right/Left
Top Features
No Need to Buy Any Additional Clubs
Oversized, User-Friendly Club Heads
Stylish Looking
Suitable for Tall Golfers
Durable and Well Made
Who is this set for?
If you want the most complete set without needing to buy anything extra
Hand Orientations
Left/Right
Top Features
One of The Best Brands in The Market
Complete Starter Set for Beginners
Made using high-quality components
Beautiful Design
Improved Accuracy and Distance Control
Who is this set for?
If you are ready to invest for the long run and serious about golf
Hand Orientations
Right/Left
Top Features
high Quality Brand
very Forgiving Irons
includes Premium Carry Bag and Headcovers
affordable Price Range
marked for Easy Gripping
Who is this set for?
Golfers on a budget who are looking to getting started in the game
Last updated March 21, 2023. Those are affiliate links, we may earn a small commission when you click on the links at no additional cost to you. Product images are served from Amazon Product Advertising API.
Why Do I Need Golf Clubs Specifically Aimed at Beginners?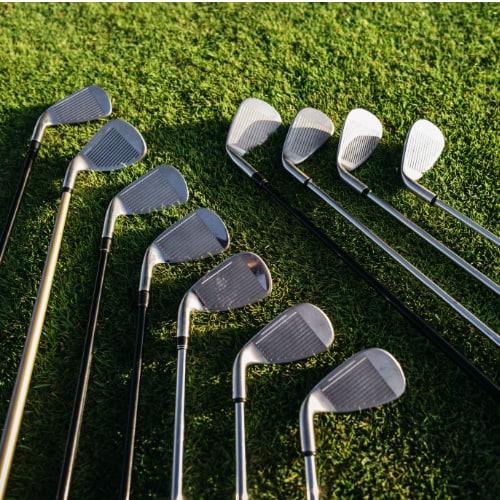 Getting good golf clubs can create a massive difference in your game. Let's have a look at some of the benefits of using the best beginner golf clubs:
It makes a better affinity as they have a high Moment of Inertia (MOI) [2] and a low center of gravity.
It provides enhanced golf swings if you go for options equipped with higher handicaps.
It gives you a better depth into the game by laying out your foundations well.
By using the right set, you will be able to attain great training results.
Choosing the best amateur golf clubs with sufficient training will boost your confidence level.
In a perfect world, every golf club would be the same. Everyone would have the same weight, length, grip, shaft, face angle, swing weight, and perfectly balanced weight.
You and I know that this is not the case. Some golf clubs are better for starters, others are designed specifically for women, and seniors, while others can be great for kids and toddlers. So, what we have to do is to find out which golf clubs are better for your case.
Every brand makes golf clubs that are specifically geared towards beginners, which all have the same thing in common: more forgiveness.
These clubs are typically made to compensate for the lack of precision and accuracy of beginners. Without forgiveness, beginner golfers would have trouble hitting the ball correctly even when they do everything right.
What Do You Mean by Forgiveness?
Forgiveness in golf [3] is a term that determines how well the club distributes the power you put into the ball and how well the club reacts to a miss-swing.
Playing golf is all about forgiveness, especially if you are a beginner.
You are always looking for forgiving golf clubs that will give you a lot of room for mistakes. It won't matter if you do not hit the ball that far. You will still be able to complete the hole.
You'd be surprised by how forgiving modern golf clubs are. This means that a beginner has a lot less to worry about when it comes to how they hit the ball.
Here is a great short video (3 minutes 46 seconds) from the PING channel, where some of the best players in the game, like Bubba Watson, Harris English, Tyrrel Hatton, Andrew Ladrey, etc. talk about forgiveness in golf clubs.
While professional golfers might spend hours practicing nothing but their swing, a beginner doesn't need to worry about that, yet. Instead, they can spend their time learning the smaller details that can be just as important when it comes to success on the course.
The general rule of thumb in golf is that one should always play to their handicap. This means that a 10-handicap golfer should always be looking for the clubs that will make their game easier.
Golf clubs for beginners are made explicitly with this in mind. They aim to make a game that could be frustratingly difficult into something that is fun and relaxing.
Detailed Reviews of the Top 10 Best Golf Clubs for Beginners
#1 - Best Overall: Callaway Golf Men's Strata Complete Set
Topping our list is the Strata Complete Golf Club Set as the easiest way to get into the game.
This set has Callaway's most forgiving driver in the company series. Easy for players of all skill levels to implement current technology and improve golf scores.
The key features of the Strata Complete Golf Club Set that make it so easy to use are:
The Strata Complete golf club Set has the lightest clubhead in its class. The cavity-backed irons have a large sweet spot giving them a low center of gravity.
The Strata Complete golf club Set has a Large 460cc driver with a titanium clubhead and a wide sweet spot for better forgiveness. Therefore, it allows for those with slower swing speeds to make solid contact with the golf ball without much effort.
The Men's Strata Complete Golf Club Set lets you get involved in the game of golf without spending a fortune on a complete set of clubs. You get the same technology and performance as Callaway's top-of-the-line clubs but at a discounted price.
This club set features high torque long irons and cavity back irons, which maximize forgiveness and distance. The perimeter-weighted irons are designed for improved feel and stability. The 6 to 9 Iron through pitching wedge offers an optimum trajectory to maximize every shot. The 3-wood, 5-wood, and hybrid clubs are great choices to fill in the gap between your short irons and long irons.
What's included in this set: 1 driver, 4 and 5 hybrid, 3 wood, 6 to 9 irons, pitching wedges, mallet putter, stand bag, and 4 headcovers.
Pros
Callaway has been one of the strongest, most popular, and well-known brands in the industry for a long time.
Complete starter set for beginner and high handicapper-no need to buy anything separately.
Has a beautiful design that will not go unnoticed and will make you feel like a pro.
Best value for money
The mallet putter is designed for improved accuracy and maximum distance control.
Cons
Only red and blue colors are available
A sand wedge is not included in the set
Some users are missing lower irons
The set offers a budget-friendly option for players looking to get into the sport and is available in both right-handed and left-handed sets.
The golf bag itself is made out of sturdy material and has a rain cover, a waist belt, and a shoulder strap to carry it in many different ways.
#2 - Best Budget Option: Wilson Men's and Teen Complete Golf Set
Wilson Men's and Teen Complete Golf Set is an excellent choice for any beginner golfer or even experienced players looking for a backup set. This set has many features that help it stand out from other Wilson products, not the least of which is the price.
Many sets that look almost identical to this one cost twice as much and don't even offer the self-regulating weights that will help you improve your swing.
Wilson Men's and Teen Complete Golf Set are tough to beat when it comes to entry-level golf clubs. Made of premium components, advanced materials, and the latest technologies, this set contains everything you need to start your golfing journey.
The Wilson Men's Complete Golf Set is a low-priced set known for its classic, traditional design. It may be not the most high-tech set in the market for experienced golfers, but it makes an excellent option for a beginner.
The clubs are made with graphite shafts. The cavity-back irons are made from undercut stainless steel, which is light and durable, and the grips are made with a traditional, tacky rubber that is easy to grip.
The Wilson Men's Set includes several of the most common clubs needed for the sport of golf: a driver, fairway wood, a hybrid, and 6 through 9-irons. Pitching wedge and putter is also included.
One disadvantage of this product is the lack of a sand wedge. Another fairway wood and longer irons would have added more value to this set.
The Wilson Men's and Teen Complete Golf Set also comes with a Lightweight, premium Carry bag that features adjustable shoulder straps, a rugged handle top, numerous pockets, and a self-activating stand.
Pros
Comes from a quality brand
The irons in this set are very forgiving
Irons have steel shafts for better accuracy
Specifically valuable to beginners
Includes premium Carry bag and headcovers
The grips are marked for easy gripping
Made with advanced technology
Cons
Not suitable for experienced golfers
No sand wedge included
The shaft of the hybrid club could be made of graphite
If you count the pitching wedge in this set, it consists of five cavity-backed irons, each of which has perimeter weighting that keeps the ball airborne straight and provides maximum forgiveness. Also, the 460cc driver, with its large sweet spot, makes teeing off easier for beginners.
#3 - Best For Tall Golfers: Precise M5 Men's Complete Golf Clubs Package
Every golfer knows the importance of having a quality set of golf clubs. Whether you're just getting started or would like to upgrade your current set, you want to find a package that delivers a solid combination of performance and price. Precise M5 Men's Complete Golf Clubs Package is an excellent choice for the average golfer since it offers a wide range of clubs in an affordable and high-quality package.
For golfers who are looking for a budget-friendly package that includes a 460cc driver, #3 wood, 21deg Hybrid, 5, 6, 7, 8, 9, PW stainless irons, a mallet putter, deluxe stand bag, and 3 headcovers, Precise M5 Men's Complete Golf Clubs Package seems to be a good choice.
With a complete set, precision and forgiveness will never be a problem for you as you will always have the right clubs to play at your best. In addition, the kit is perfect for beginners who are just picking up the game as it contains everything you need to improve your game.
The Precise M5 Men's Complete Golf Clubs Package is a professional quality set of golf clubs that provides a high-quality golf experience for users of all abilities!
With this set, you pay less than you would for the individual clubs, and you get more than you would with a starter set. The golf clubs are designed to last for years of regular use.
The Precise M5 Men's Complete Golf Clubs Package is the best golf club set for beginners and intermediate golfers. This fantastic set features the latest technology and the highest quality materials to bring you the best of golf.
Besides the significant putting mechanisms included in this set, the mallet putter may be a little heavy at first, but you will get used to it after playing a few rounds.
Included with this set is an extraordinary deluxe stand bag that features a double shoulder strap, spacious pockets, three matching head covers, and a kickstand.
Pros
Oversized, user-friendly club heads
Large sweet spot driver
Has marks on grips for beginners
Stylish looking
Nice set of clubs for a reasonable price
Includes headcovers
Durable and well made
A great choice for tall golfers
Cons
No sand wedge included
Some users reported club head broke off if not swung correctly, if this happens, we recommend contacting them for a replacement.
Includes only one hybrid in the set
When it comes to golf, height can be a significant advantage, especially for long drives. However, it's a bit more difficult to find clubs that are made for tall people. The good news is that the Precise M5 club sets are available for taller right-handed golfers in addition to the standard length.
#4 - Great Starter Set For Ladies: Wilson Women's Complete Golf Set
If you need a straightforward and complete package that will help you play golf smoothly, Wilson Women's Complete Golf Set is the right option.
Wilson has an outstanding rating on the board among women's golf clubs, and customers are sure to be pleased with their purchase.
As one of the best options available for ladies, these golf clubs are specially designed to function at a high level with excellent performance, which allows ladies who are starting to play the game to enhance their skills within a short period.
The fairway wood and the drivers consist of a graphite shaft. This material is well known for its exceptional durability and provides a very light-weighted feel. As for the irons and the hybrids, it consists mainly of steel shafts.
You will find that the steel shafts ensure an enormous amount of control that will further boost the power of your swings. The putter that comes along is an excellent option for novice female players. It's known for providing high precision and also assists in enhancing your putting skills quickly.
The set has excellent color combinations like gray and pink, gray and teal, purple and white, tan and white, and full green. It comes in both hand orientations so that you can choose the right clubs. The cart is stylish and small. The clubs are made from composite materials.
Pros
Premium cart bag with double padded shoulder straps
Designed specifically for women players
The affordable set consists of all the clubs that are essential for a beginner.
Due to the presence of 3 club covers, you will be able to shield your expensive clubs.
Deep, perimeter weighted 431 stainless steel irons
Includes sand wedge
Cons
Some users find that the driver's head tends to break away easily.
No stand attached to the bag
Some female golfers reported that the clubs were "super-long" for them
The Wilson Women's Complete Golf Set includes a driver, irons, woods, wedges, putter, and stand bag. The goal was to create a set of clubs that gives female golfers the opportunity to play the same game as men.
This Wilson set features some design elements that make it easy for women to use. Lightweight graphite shafts (except a putter), women's sized soft, and all-weather grips. The set also includes:
A lightweight Premium Cart bag that features a double padded should strap.
Rugged handle top.
Fleece-lined valuables pocket.
Three roomy pockets.
#5 - Best for High Handicappers: Nitro Golf-Blaster 13 Piece Complete Set With Bag Graphite/Steel
The Nitro Golf Blaster 13 Piece Complete Set is an excellent budget-friendly choice for golfers just getting into the sport or those looking for a set to bring out to the occasional game with friends.
It comes with a driver, 3 woods, 6 irons, a putter, and a stand bag. The graphite shaft on the drivers and woods provides a lightweight feel, and this set is easy to carry when you want to walk the course.
The putter has a matching graphite head and features a standard grip.
It also has a helpful alignment marker for a proper fit for golfers about 5'7 to 6'5". It's also delightful that the putter has a half-moon shape on the back, which is another added value that our testers remarked during our practice sessions. The first highlight of the putter is its design which is very low to the ground and supports a steady forward ball roll on the green.
The second feature of this putter is the large face area. We noted our putts consistently stayed in the sweet spot and more online on off-center hits than they would with even a budget-level putter.
The driver in this set is your standard graphite-shafted wood that features a 460cc head with a large sweet spot which is excellent for beginners who need distance right from the tee. Despite not having much feel at impact, it is able to propel the ball down the fairway.
The same goes for the fairway wood and hybrid in the Pinemeadow set. It features a low and rear-oriented center of gravity which is friendly for longer shots. Both clubs are appropriate for starting golfers due to their loft, which will help the novice improve his lift on the golf ball.
The irons have graphite and steel shafts and large sweet spots printed on the clubface. They also feature steel shafts and widened soles for increased accuracy while maintaining forgiveness.
The Nitro Golf-Blaster is a complete set. It comes with a stand bag that can hold all of the clubs and keep them protected. The bag has pockets for extra storage and features 3 headcovers Rain hood.
Pros
460cc driver head for distance and forgiveness
This putter is well suited for accurate rolling and smooth strokes
The fairway wood features a low and rear-oriented center of gravity
The irons feature steel shafts and widened soles for accuracy
The stand bag has a limited storage capacity
Comes with a stand bag with a carrying strap and rain hoods
Cons
The set does not include the longer irons
The pitching wedge has little control over the greenside spin.
Not as well made as those made by Callaway and Wilson
Some other sets in this list would be suitable for both beginner and intermediate players
The Nitro Golf-Blaster 13 Piece Complete Set has been designed to make everything about the game of golf more effortless for you. It features a 460cc head, which is excellent for beginners who need distance right from the tee.
The shafts are graphite, and the grips are made of rubber, making the clubs comfortable and easy to control. The driver and 3 wood are designed to provide you with more distance, accuracy, and ball control, and the irons are softened to give you a soft feel and maximum control.
If you are just starting out, this is the complete set you need to make your game better.
#6 - Best Iron Set For Beginners: Cleveland Golf Men's Launcher CBX Iron Set
Cleveland Golf Men's Launcher CBX Iron Set Is an option that is well appreciated by beginners and skilled high handicappers equally. Though this brand is usually famous for its wedges and drivers, they also have come up with a vast range of impressive irons.
The Cleveland Golf Launcher CBX Iron Set is designed for players who are looking to improve their game. This set is packed with the best technology Cleveland can offer, and it's able to provide a great deal of forgiveness on off-center hits. In addition, the Launcher CBX irons are very versatile and can be used by a range of levels, from complete beginners to intermediate players.
Cleveland has combined two wedge technologies to build the Launcher CBX irons, and they claim to be more forgiving than other sets of irons.
This premium irons set is available at a great price range related to their quality, and you're sure to experience the value it provides.
This makes it more suitable for beginners as they already have to deal with costs like green fees and various other golfing expenses. It's a popular option among most golfers due to its appealing and more traditional appearance.
The new long irons in this set have a lower profile, larger blade length, and a lower launch angle. In order to increase its performance, Cleveland has redesigned their irons to be thicker, longer, and compact.
Moreover, Cleveland removed weight from the hosel in their irons to improve feel and ball speed, and the cavity back provides better control and super forgiveness. The iron's progressive design will help you get different actions from the shorter irons compared to the longer options. The longer ones have more distance and forgiveness, whereas the shorter ones offer more workability and control.
Pros
Weighting will further assist you in making a simple and forgiving launch.
As for the weight, it's suitable for beginners since it's positioned back and low.
It makes use of zip grooves that combines with the milling pattern to enhance forgiveness and launch.
The V sole assists turf contact to help launch well, especially from a poor lie.
Cons
The distance for each swing may not be consistent throughout.
Cleveland offers a wide variety of golf iron sets for players at different levels. The CBX is built for beginner and intermediate golfers, but that doesn't mean it's not a quality set. If you are looking to get into the sport of golf at a beginner or intermediate level, the CBX is a great place to start.
#7 - Cobra Golf 2021 Women's Fly XL Complete Set
The Cobra Golf 2021 Women's Fly XL is one of the best complete sets on the market. With a reasonable price tag, high-tech features, and fantastic performance, it is designed to provide professional results for both beginner and intermediate female players.
If you are a beginner female golfer looking for a high-quality set of clubs without breaking the bank, this set is a great option.
This beginner set consists of a golf cart bag and a combination of 7 golf clubs. It includes a 125 titanium driver in ladies flex, shallow profile, and heel-biased weighting 3,5 and 7-wood, 5-hybrid, 6-Pitching wedge, and Sand Wedge irons.
Cobra Golf has always been a premium brand at the forefront of golf club design. So it's no surprise that the Cobra Fly XL Driver is also high-end. The driver is made of titanium and feels nice in the hands.
It is designed to create a large sweet spot for greater forgiveness and has a unique design that helps to maximize the performance of the clubs. The shaft is lightweight, and the head is heavy to improve the club's performance. The grip is designed specifically to promote a smooth swing.
The 5 hybrid is an excellent bridge between the woods and long irons. It's a low, rear-weight hybrid that is easier to hit from tough lies. It has a large, deep head that's shaped like an iron with a wide sole. It's a perfect club for attacking the pin from the rough.
The Cobra XL Speed golf club set also features a deep undercut, perimeter weighting, and cavity-backing, resulting in great height and forgiveness for beginners.
Cobra Golf is one of the most respected names in golf equipment, and they've been making excellent clubs for over four decades. In that time, they've consistently introduced new technologies that have helped players of all skill levels get better at the game. The latest technology introduced by Cobra Golf is their Fly design. We have a detailed Cobra Fly XL Review if you want more details.
The brand has a reputation for making high-quality golf clubs, and the Cobra Golf 2021 Women's Fly XL Complete Set is no different from one of the top options available for female golfers. The driver is specially designed to provide great distance and comes with a long shaft and a large head. The fairway wood is the best option to use after your tee-off.
Pros
Long-lasting and durable
Complete set; includes everything you need.
Stylish design
Excellent grips
The bag has plenty of storage space
Excellent for beginners
available in cart and stand bags
Cons
The stand bag does not have a backpack strap.
Not suitable for fast swing speeds
The Cobra Golf 2021 Fly XL Complete Set is built for golf beginners and advanced players. It has been designed to help you be more efficient when playing the game by offering longer clubs, lighter clubs, and higher-quality clubs. With this set, you will be significantly more efficient and accurate with your game once you get used to the clubs.
#8 - Callaway Unisex's Edge 10 Piece Golf Set-Right Handed
Callaway is known for its high-performance golf clubs, and this golf set is no different.
With the Callaway Edge, you don't get 14; it includes 11 (including the putter). But I'd still consider it a complete set because as a high handicapper or beginner, I think you don't really need (or use) 14 clubs at this stage.
The club set comes with the Titanium Driver, 3-Wood, 5-Hybrid, and 1 Odyssey White Hot Pro Putter with SuperStroke grip, all of which come with a head-cover. In addition, a 4 Cavity back Irons (6-9i), 1 Pitching wedge, and 1 Sand wedge come with the set as well.
We consider this set a great value for money for the following reasons:
First of all, even a cheap driver will cost you $200, and the one included in this set isn't a cheap-looking or performing one.
Furthermore, Odyssey putters cost approximately up to $150, so it's like getting the irons for free. Knowing you need a bag (a decent one costs $100), it's like getting the putters for free.
The most notable feature of the set is the sweet spot technology that absorbs shock for enhanced control, forgiveness, and a longer distance reach.
We wouldn't describe Callaway's Edge driver as "oversized" now, which is just standard on most drivers these days, so it's not really "oversize."
In terms of materials, the driver is made of titanium, so you should be able to pick up a little speed, and the (graphite) shaft is pretty feathery, so again, slower swingers will enjoy some more whip and distance.
We'd have preferred the loft to be 12 degrees (instead of 10.5) since Callaway Edge is designed for beginners (more loft = less slice), but the low center of gravity should provide a higher launch.
Callaway Edge set come in a cavity back design, making them easy to hit and keep the ball in the air. Like most game improvement irons, Callaway Edge irons come in 6, 7, 8, 9, PW, and SW.
Taking a shot off-center can result in fewer lost yards because the faces are forgiving on off-center hits.
Pros
The edge driver features an oversized titanium head
Graphite shaft offers fastball speed and extra distance
Extremely forgiving
Excellent quality
Its putter is one of the best in the market
Ideal for men and women
Perfect for intermediates, beginners, and especially high handicappers
Cons
You will need to add at least one extra wedge to this set
The bag is not included
Expensive compared to other beginner sets
It comes in standing bags that have vast storage space even to keep your valuables. Moreover, they are light in weight and offer excellent durability.
#9 - Robin Golf The Essentials Men's Set
Robin Golf's 'The Essentials" is a premium golf club set specifically designed for right-handed players who are 5'6"-6'2" tall. They are made using high-quality, durable materials such as stainless steel, graphite, and titanium. They come in a classy, matt black finish with a stylish golf bag.
The set includes nine different clubs: a driver, a fairway wood, a hybrid, three irons (5, 7, and 9), a pitching wedge, a sand wedge, and a putter. The included bag is lightweight and slim, making it easier to carry your clubs around. There are also four head covers to protect your clubs.
Robin Golf's club set is designed to make your shots easier and more comfortable, thanks to a larger sweet spot and a more comfortable handle that uses Robin Proprietary Black Tour Velvet. As a result, swinging your golf clubs has never been simpler, regardless of your skill level!
The idea behind The Essentials golf club set is that everyone should be able to play golf easily and without any complications. They are designed with the perfect balance between performance and ease of use, making golf more accessible to a wider range of people. Everyone can start swinging and playing golf with the right equipment. That's exactly what Robin Golf managed to achieve with this premium golf club set.
Pros
Premium quality golf clubs.
Stylish color and sleek design.
Durable materials are used to make the clubs.
Can help players (even beginners) improve their game faster.
Easy to use and comfortable.
Excellent customer service.
Cons
The club set is a bit expensive (but definitely worth the price)
Robin Golf's golf club set is one of the most stylish sets we have ever tested. With their matt, all-black finish, they look as good as they perform. They are designed to help players of different skill levels improve their game without pushing it too hard.
The quality and design of the clubs guaranteed extremely positive feedback from satisfied customers. Everyone who tried the club set seemed to love it! Robin Golf's outstanding customer service is the cherry on top; they are certain professionals that know how to treat their customers with the respect and friendliness they deserve.
We highly recommend trying this golf club set. Once you try them, we are sure that you will be hooked!
#10 - Pinemeadow Golf PGX Set
The Pinemeadow Golf PGX set is designed to appeal to golfers who want a set of clubs that is easy to use and versatile enough to allow for a complete game. While their collection misses a few things, such as a sand wedge, a putter, and a travel bag, this set may still be considered a reliable value for the beginning golfer.
The driver in this set is your standard 460cc graphite-shafted wood with a larger sweet spot. Like the majority of Pinemeadow clubs, this driver is built for beginners and high handicappers. For golfers who struggle with consistency, the sweet spot is designed to be larger and offer more forgiveness.
The stainless steel shaft is a half-inch shorter than the standard length of 43 inches, but the smaller size makes it easy to line up the ball without having to compensate for an overly long driver. Although it may not be as long as some drivers on the market today, it does produce an impressive amount of distance considering its size.
As for the fairway wood and hybrid in this set, both are better suited to beginners and high handicappers as both clubs have more loft to help improve your lift on the golf ball.
The PGX golf set includes a 460cc driver, 3 wood, hybrid, and 6 Irons from 5 to PW. The driver, fairway wood, and hybrid all have a white finish for easy visibility during the address position. The large wide sole irons were designed for perfect launch and spin. This set also includes 3 custom headcovers.
Pros
Large driver with an extended sweet spot
High level of forgiveness
Incredible value for money
Fairway wood is at 15 degrees
Cavity-backed and perimeter-weighted irons
Includes 3 headcovers
Cons
Does not include a bag, putter, or sand wedge
Quality can not be compared to higher items in this list
Some users reported broken club heads from 1st usage, make sure to ask for a replacement if this happens
Our testers' major complaint which most users have is not including a sand wedge, a putter, and a bag in this collection, which adds some items to your shopping list before you become ready for the course. In general, Pinemeadow PGX Golf Set offers good value at this price point for a beginner looking to save some cash before getting into golf.
If you are an experienced player, you might find that the Pinemeadow Golf PGX set is not as durable as you would like, and the clubs are not able to withstand the pressures that more experienced golfers can put them under.
Buying Guide: Things to Look For in Golf Clubs as a Beginner
Golf clubs have a massive impact on the way you play this game of a lifetime. If you want to get serious about the game of golf, you'll need to have the appropriate gear.
Although the purchase of a complete set of golf clubs can be quite a significant investment, investing in a high-quality set of clubs will allow you to play better and have more fun on the course. Golfers who transition from a set of low-quality clubs or who upgrade from starter clubs often wish they had done so earlier.
As you begin your journey to find the right clubs for your game, you will quickly notice many options out there.
When buying beginner golf clubs, you want to look for quality clubs that offer you good value, but many novice golfers are unsure how to spot a good set of beginner's golf clubs from the bad. Luckily, you've come to the right place. Here are the things to consider when purchasing your first golf clubs:
Forgiveness
Forgiveness is a crucial component of any golf club because it ultimately affects your distance off the tee. While forgiveness in most golf clubs is a relative term because it depends on your skill level and ability to hit the ball consistently, you will want to steer away from irons with little forgiveness.
Beginner golfers should shop around for clubs that are forgiving of errant swings so that if you're a beginner, you won't be discouraged or injured from hitting the ball poorly.
Each club is made of different materials and has a different head shape and design, which means the degree of forgiveness varies from club to club. The most forgiving clubs also tend to have a larger clubface, which means they have more of a "sweet spot."
Golf Club Length
Are you a tall person? Do you find it difficult to get clubs with sufficient length? No one should struggle hard to make the perfect shot. You should find clubs that are specifically designed for short as well as tall individuals.
The golf club length is one of the most critical factors you need to consider when buying beginner's golf clubs. To get the most out of your golf game, you need to choose golf clubs suitable for your height, weight, and golf swing.
If you're trying to decide on the type of golf club to buy, first consider your height.
For Example, You would need a standard length driver if you are a tall individual six feet tall with a 35-inch wrist-to-floor measurement. If you are on the shorter side, five feet four inches tall with a 35-inch size, the club should be a quarter-inch longer.
Golf Club Weight
The weight of the golf club changes the effective balance and the swing arc, which affects the trajectory of the golf ball. The more weight added to the clubhead, the heavier it feels and the lower the center of gravity will be.
In general, the weight of golf clubs for beginners refers to their weight relative to their size. The golf swing weight [4] describes how heavy a club feels during the swing. It is related not only to the weight of the club but also to its distribution.
The golf industry has a standard for what is considered a "normal" club weight. (Approximately around 25-30 pounds set of 14 clubs in a standard-sized golf bag.)
Weight is an important factor in golf clubs for beginners. While a light club is not necessarily more forgiving, it can help you generate more clubhead speed. A lighter-weight club will definitely help you achieve higher shots.
Shaft Material
As you've probably heard, the shaft is what determines how forgiving a club is going to be. If you're looking for clubs for beginners, you'll want to start with a shaft that is labeled as "Lady", "Senior", or "Junior", otherwise known as "lofted".
The type of material that the shaft is made from will also affect how forgiving the club is. For example, a club with a graphite shaft will be more forgiving than one with an aluminum shaft but may be more expensive. If you have the budget for it, you can check out the stealth drivers from TaylorMade as well as the other clubs they offer.
You will also find shafts made using steel and graphite components. Steel options are mostly found among the top models across the globe. They are much heavier and generally preferred by players who are more used to them. As for the graphite options, they are comparatively light in weight. This, in turn, helps you to swing easily to make great shots.
Are Steel or Graphite Shafts Better?
While both steel and graphite shafts are designed to flex and "give" when you strike the ball, each has its own set of pros and cons that can affect your game.
Graphite shafts, for example, are often preferred by golfers with slow swing speed because they are able to absorb more of the shock associated with a slower swing and help golfers maintain their swing tempo better. On the other hand, Steel shafts are hard and can sometimes feel harsher during a swing.
New vs Used
When you are buying golf clubs for beginners, you have to decide whether you will buy a used or new set. This decision is something you need to make based on your budget.
Both have their benefits. Used clubs can be purchased very cheaply and sometimes even complete with a golf bag and other accessories. You will be able to get a set for a very reasonable price if you look at online classifieds or do your research. The downside to used clubs is that you have no idea how well maintained they are.
The other alternative is to purchase a brand new set. This is often the best option for a new golf player. New clubs are going to be the best quality clubs that you could purchase. They will have a feel that is easy to learn.
If you run on a low budget, used options would be much cheaper and more appealing. However, it's better for those who can afford it to get a high-quality club set that is brand new.
Which Brands Offer Beginner Clubs and How Do They Differentiate Themselves?

Nowadays, several major brands offer a wide range of clubs for beginners, both individually and as complete sets. Some of them have been around for some time and have gained a good reputation. Others are just new to the industry and are offering something new. In contrast, others have brand new designs.
Some of the most forgiving beginner golf clubs are made by Callaway, Wilson, Precise, and Taylormade. In terms of design and technology, the main emphasis in beginners' clubs is on forgiveness. What separates each manufacturer from the other is their approach to producing more forgiving clubs.
It's been said that forgiveness in a golf club is the most critical feature to consider as a beginner. But what does this mean? As opposed to spin rate and trajectory, forgiveness in golf club design is a little less precise. For most players, forgiveness means that the shape of the club makes it easier to make poor contact with the ball and still get a decent result.
There are two principal methods of achieving forgiveness in golf clubs:
Clubs are shaped to make it easier for the ball to fly straight by making the area of impact larger, giving more "moment of inertia". So that the head of the club automatically guides the ball into the fairway.
To manipulate the center of gravity position. The center of gravity is the point in a golf club where the club head's weight is concentrated. Lowering the center of gravity will also make the clubhead more forgiving because it will be harder for the beginner golfer to mishit the ball.
While these are two of the main approaches to producing forgiveness in golf clubs, manufacturers are constantly working to find new ways and technologies to improve the quality of golf clubs and find the perfect one for their customers.
Frequently Asked Questions
The right golf clubs can make this sport all the more exciting and fulfilling. However, we are pretty sure that beginner golfers will have several questions lingering in their minds. Here we aim to answer some of the common questions most amateur golfers might have about these golf clubs.
How Long Should Golf Clubs Last?
If you're looking to get into golf, or you already play, and you're looking for something to replace your old clubs, you might be wondering how long golf clubs should last. It's a simple question with a complicated answer. 

A golf club's lifespan is a tricky thing to calculate since there are so many different factors that can adversely affect a club's durability over its lifetime.

A golf club's lifespan may vary, depending on the frequency it is used. If you maintain your golf clubs properly then you can extend their lifespan. As a rule of thumb, a well-maintained and played-with golf club should last anywhere from 3 to 10 years, including an occasional beating and a full regrip every six months or so. However, a golf club can live a bit longer if it is only taken out once in a while for a round or two.

If you're a very casual player, you can get away with playing with a set of clubs until they're too old for you to use.

Do you think it may be time for you to get new golf clubs? If so then this page can help you find out the best time to buy new golf clubs.
Should I Buy Expensive Golf Clubs?
If you are new to this, we usually do not recommend buying expensive golf clubs. Most of the golfers who want to start this sport are actually unaware that they need to consider the price range. And the best thing you can do is to read some of the reviews and get an idea of how much you should spend. On the other hand, if you still want to buy expensive golf clubs, you should know that it is always best to buy good quality as soon as you get better.

For many first-time golfers, golf clubs may be one of the most significant expenses associated with taking up the sport. But just how much should you spend on your first set of clubs when you are just starting out?

There are many things to consider, including the type of clubs you need, the brand, and the materials. And while there is a wide range of prices for golf clubs on the market, it can be tempting to buy the most expensive set you can find. Even if you can afford them, we don't necessarily recommend you go for costly individual clubs or sets as a beginner.
Golf clubs are the most obvious expense, but you don't necessarily need to buy the most expensive clubs to get started.

When you first start playing golf, you don't know if you'll like it enough to continue. (Even though the game is addictive). Also, as a beginner, you will need to practice often, and there's a lot of experimentation necessary, too. Breaking expensive clubs is not fun.
What Types of Golf Clubs Will Come in a Beginner Set?
A beginner golf club set usually comes with five clubs: a driver, irons, fairways, a putter, and Hybrids.

There are two main types of golf clubs used by everybody, with a couple of variations. The first type is the most commonly used: the "fairway woods", which are long-handled clubs used to hit the ball off the tee. These are also known as "drivers".
Most beginners' sets contain a driver, a 3 wood, a 5 wood, a 7 wood, and an additional club called an "iron". The other type of club is the "irons" (iron "heads"), which are used to hit the ball off the fairway. They are smaller than the woods, generally shorter, and they are typically numbered 1 through 9, with the higher numbers being shorter.

You also don't need 14 clubs to start out as a golfer. The best way to learn golf is to start slow with a set of golf clubs that have the basic clubs needed to play the game.
What Is the Right Golf Clubhead Size for Beginners?
Before you can even think about purchasing a golf club, you need to know what size golf club head you need. While some beginning golfers may assume that the bigger the clubhead, the better, that is not always the case. Oversized golf club heads give you more room for error when it comes to swing paths, but the more room you have to miss, the more likely you will miss. Not only that but the bigger the clubhead, the heavier and more unwieldy it becomes.

To have a good golf swing, you need to have a good golf club head. It doesn't matter what type of club head you have, but for beginners, the essential things to consider are clubhead size, weight, and the angle of the clubhead's face.

You should know that the shape of the clubhead is vital in creating ball height as well as the backspin. If your clubhead has more loft, you will be able to hit the ball a lot higher off the ground. If you want more backspin, you can choose a club head with a smaller face.

So, what is the "correct" golf club head size for a beginner? The best bet is to start with a mid-size, forgiving golf club head. Companies like Callaway Golf and TaylorMade have developed their fair share of irons, and wedges explicitly made for beginner golfers.
Should a Novice Golf Player Opt for an Individual Club or a Complete Golf Club Set?
The best option would be to go for a complete set of golf clubs that is quite simple and not too expensive. It is because to play golf at the primary level, you need a putter, irons, driver, and a few wedges.

Also, as an amateur player, you have to increase the speed of your swing. For this, you would require clubs that are light in weight with proper shaft flex. Moreover, a complete set is more affordable than an individual golf club.
Golf Club Set or Separate Golf Clubs?
A complete set can cost quite a fortune, so you must consider it seriously. If you are going to dedicate a lot of time to the game of golf, then a golf set is what you need. Otherwise, it is good to invest club by club to build your ladies' beginner golf club set.

While starting, it is difficult to understand the strengths and the weaknesses. That is why you must set out buying clubs that match your skill levels. Start with a few hybrids. Continue adding to the set as and when you learn new skills or improve on the existing ones.

There is a good market for the best golf clubs for beginners. Don't always sell your old ones to invest in new ones. It will be a great idea to speak to a pro or your trainer about what you must start investing in.
Final Thoughts
In its simplest form, golf is a game that involves hitting a ball with a club into a hole in the ground, but it's also an entire sport, a way of life, and a favorite pastime of millions of people around the world.
For many, the first club they buy is a driver. It's the club that gets the ball going the fastest and longest, but it's also the most difficult to control and the one that gets beginners into the most trouble.
Many beginners shy away from drivers with their oversized heads and pro-level shafts, and they're not willing to take the time to learn how to use them.
There is no better place to start than with a set of nice beginner golf clubs if you are new to the game. Easy to hit, forgiving, and versatile, these are the clubs that will help you learn the game the right way while also ensuring that you have a lot of fun.
Selecting the best golf club can be a daunting task for beginners. It is because you hardly have any idea as to what makes a good club. However, once you get your hands on the best golf set, you will be able to enjoy a great golfing experience.
We hope the above reviews helped you in choosing the best option. If you already have one, do share your feedback with us. Don't forget to share this post with your fellow golfers.
Happy golfing!
---
References:
What is Face Angle? TrackMan Golf. Retrieved from https://blog.trackmangolf.com/face-angle/
What is Carry? TrackMan Golf. Retrieved from https://blog.trackmangolf.com/carry/
How Do Radars Work? | Earth Observing Laboratory. Ucar.edu. Retrieved from https://www.eol.ucar.edu/content/how-do-radars-work
What is swing weight?. TGW. Retrieved from https://www.tgw.com/golf-guide/what-is-swing-weight/
WRITTEN BY

My name is Jacob, a self-diagnosed equipment and golf enthusiast. I've been golfing since I was 15. Golf has always been my passion. I'm a bit of a golf equipment nerd and I've been that way since the moment I picked up a club for the first time. As someone who's been on both sides of the game, I know what it takes to be a good golfer. Of course, you need good equipment, but you also need to know how to use it. I hope sharing my experience with you will help you improve your game.
You May Also Like