Cobra Fly XL Complete Golf Set Review 2023
Last updated:
April 7, 2023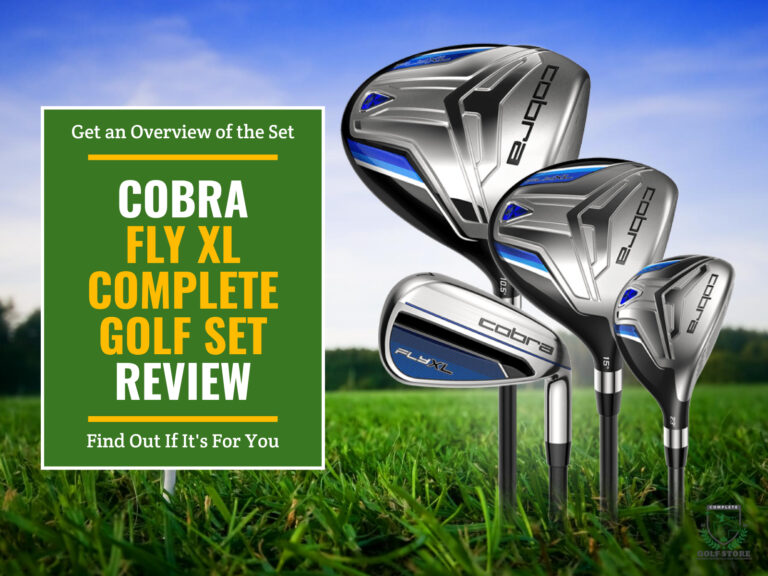 Disclaimer: We may earn a small commission from some of the links on our website. However, our reviews and comparisons remain fair and unbiased. Our goal is to help you make the best choice. For more information, please see our
disclosure statement
. Thank you for your support.
Key Takeaways
The Cobra Fly XL set is a must-have if you're in the market for a complete set of golf clubs. Forgiveness and distance are built into the clubs, and you get to choose the shaft material and flex to help you develop your game and realize your greatest potential in the sport.
The clubs fall between entry-level and premium grade, with a slight lean toward the latter.
Every aspect of the performance was well planned, which is a significant step up from the starter sets.
You get a 13-piece set with a driver, hybrids, a blade putter, and fairway woods. Also, a stylish cart bag and head covers (for the driver, hybrids and fairways) are also included free of charge.
Read out our in-depth review to know more!
Selecting a Cobra golf club set can be a challenge. Most of them have many advanced features and stunning visual appeal and are an excellent bargain for mid - handicappers.
Here, we'll dispel several myths about Cobra Fly XL Golf Clubs, one of the company's most popular intermediate sets. We tested the clubs on the Cypress Point golf course and loved both the set and the course.
Keep reading to find out why the Cobra Fly XL golf club set is one of the best club sets we have ever tested!
Overview of the Club Sets
Golfers will find everything they need in the Cobra Fly-XL Complete Golf Set. The clubs in this package are lightweight and forgiving, allowing for a smooth launch and plenty of distance.
By offering a high-quality intermediate set at a reasonable price, Cobra Fly XL hopes to build on the success of previous sets. Men's and women's flex golf clubs are included in this impressive set.
Golfers may use the Cobra Fly XL Golf Club Set to improve their game by using the included driver, three- and five- fairway woods, golf irons 6 through 9, and a blade putter.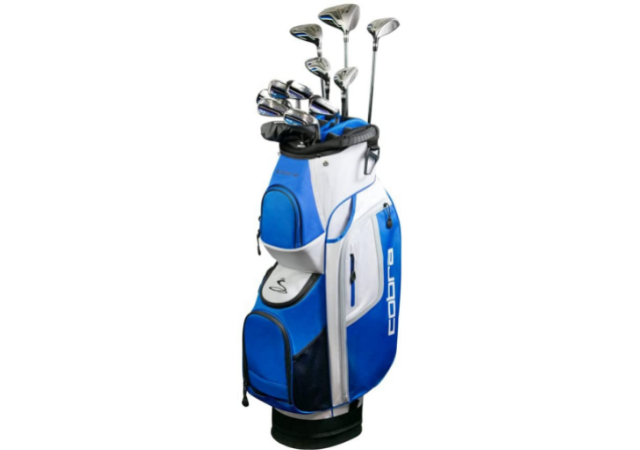 But there's more. To transport these golf clubs, a cart bag with a 14-way top divider and a lot of space will be given to you. In most cases, the entire set will cost you roughly $800.
An oversized driver that consistently produces straight shots, especially on strikes closer to the heel, is the first piece of equipment in the set.
The 3, 5 and 7- fairway woods are designed with a shallow profile and heel-biased weighting to increase accuracy and distance off the tee and from the fairway.
You can use the hybrids included in the Cobra Fly XL Golf Club set to get used to longer irons.
The putter that comes with the Cobra Fly XL package is excellent. This is a blade-style putter with a precisely machined face for an amazing feel and feedback.
The Cobra Fly XL Women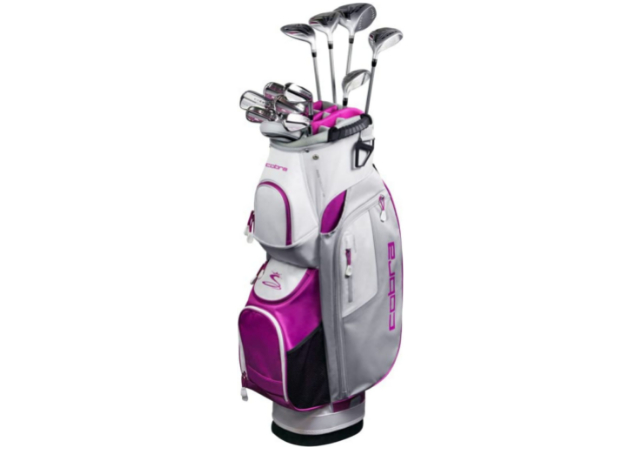 Women's Cobra FLY-XL complete set is great for novices because it makes it easy to achieve long distances, thanks to its forgiving clubs.
The women's FLY-XL driver, fairway, hybrid, and 6-9 irons are lightweight, have wide soles and sweet spots, and sport perimeter weighting to provide maximum forgiveness, even on mishits.
However, the men's clubs are a little larger, and the women's golf set is a little more Ladies Flex in design. Check out our detailed buying guide if you are looking to expand your options for a women's golf club set.
First Impressions
The 2021 Cobra Fly XL set is even better than the 2020 Cobra XL set in terms of all-around performance, thanks to Cobra's spot-on modifications.
It's an improved version of some of the Cobra Brand's earlier clubs, with a ton of performance to boot.
We'd say the clubs fall between entry-level and premium grade, with a slight lean toward the latter, and they're definitely designed to help you develop your game or go to a new level from where you are now.
Every aspect of the performance was well planned. This is a huge step up from the starter sets out there. There's even a choice between a stand bag and a cart bag for your convenience.
Driver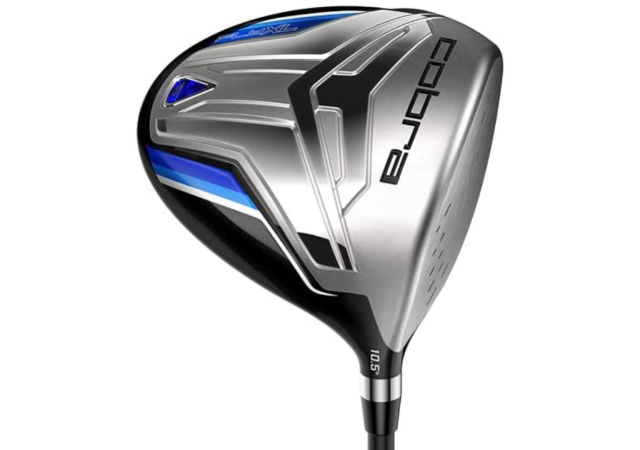 The driver is a standout piece in the set, as Cobra announced that it was their most forgiving driver to date. It features a thin but strong titanium face. In the regular flex, the club has a loft of 10.5 degrees, while it is set at 11.5 degrees in the Lite flex to help propel the ball higher and longer.
The offset design will enhance ball speed, flight trajectory, spin, and moment of inertia as a result of moving the center of gravity backward. The weight is placed low in the heel area for an easier square face and more draw-biased shots to achieve straighter ball trajectories with any swing speed.
The Cobra Fly-Z XL is one of the greatest long-distance drivers on the market, thanks to its forged E9 zone face structure, crown zone weighting technology, and speed channel face.
Woods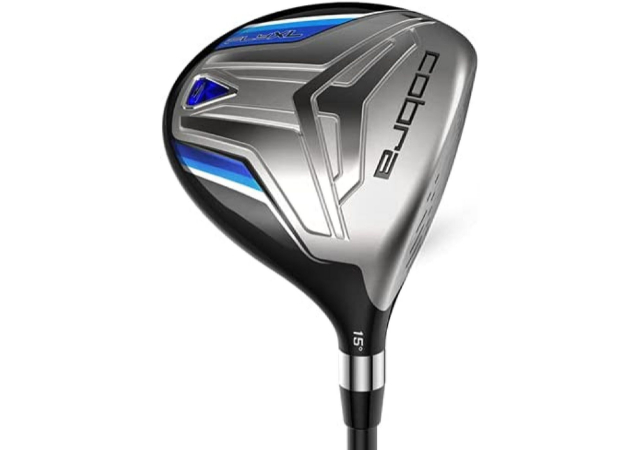 Three and five-wood Cobra Golf Fly XL sets are included.
Easy to manage in the hands and when swinging because of their low profile. The 3-wood has a loft of 14.5 degrees (18.5 for women), and the 5-wood has a loft of 18.5 (24.5 for women).
The set's crown jewel is the 3 wood. It is perfect on the fairway or off the tee if you have difficulties with the driver.
Hybrids
Both 4 and 5 hybrids are included in the set (only the 4 hybrid is in the women's set), with lofts of 20.5 degrees and 23.5 degrees, respectively. The hybrids are exceptionally forgiving, offering the ideal apex ball flight.
Maximum forgiveness on off-center hits is achieved via a greater launch and higher moment of inertia (MOI). If you find yourself in a tough situation, the hybrid club will be there for you.
We particularly enjoy the sound and feel of solid contact with the golf ball, which instills confidence and encourages players to make consistent, high-quality contact.
Irons
Cobra Golf Fly XL 6–9 undercut cavity back irons are less intimidating for beginners and mid-handicappers because of their larger design. Forgiveness and MOI are aided by the hollow back and perimeter weighting structure.
The Cobra Fly-Z XL irons are about average length compared to other irons; yet, mis-hits still travel a long distance. You can say that Cobra Fly XL's irons are game-improvement irons.
Putter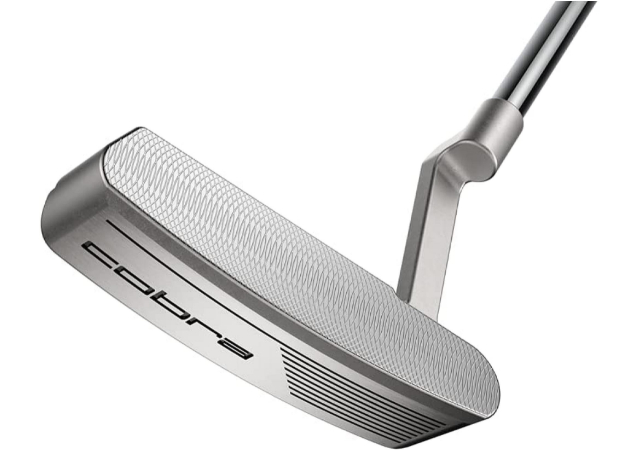 Finally, the Cobra Golf Fly XL package comes with a putter with a machined face blade design.
This club offers a great deal of feel and control. The heel and toe perimeter weighting provide superb balance and smooth flow on long and short putts.
Men's set includes a 34.25" blade putter, while women get a mallet putter (33.25" standard & 32.25" 'petite' size).
Shafts
For slower swing speeds, alloy steel or graphite iron shafts are one option. In addition, you have the option of standard or senior flex, which gives the clubs a great deal of flexibility in terms of design.
Pros
High-quality clubs for beginners & those looking to improve their game
The weighting of the rear perimeter for a lower Center of Gravity and higher MOI
Excellent distances achieved with the driver
Premium cart bag with a cooler compartment that's a little bigger
A complete set of clubs with no distance gaps in between
Cons
The hosel is not adjustable
No sliding weight
Who is the Cobra Fly XL Set For?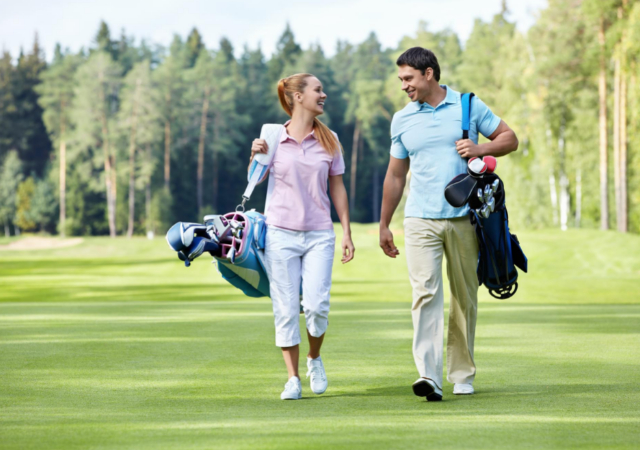 Beginners and Intermediate players who aren't as concerned about distance will find the Cobra Fly XL to be an excellent choice. Accuracy from the tee to green is what they were made for. The Cobra Fly XL Golf Club set is designed to help the beginner to intermediate-level players hit straighter and more accurate shots.
Lofts of 10.5 and 11.5 degrees are available for the Cobra Fly XL driver. A variety of shaft options are available, including graphite and alloy steel shafts in standard and senior flex.
It comes with Cobra Fly XL shafts and Lamkin Crossline REL 360 grips.
What Does "XL" on a Cobra Golf Club Actually Mean?
A 46-inch driver is the longest permissible under the Rules of Golf, and XL stands for "extra long," referring to the driver's distance rather than the club's length—though the phrase may have a double meaning for a 46-inch driver.
What Is the Difference Between Cobra XL Speed and Cobra Fly XL?
The Cobra XL Speed set is an excellent choice for golfers looking to improve their slow swing speeds.
Players with faster swing speeds can gain more distance with the Fly XL set, which was released in 2021, while still maintaining the highest level of forgiveness.
Cobra Fly XL VS Callaway Edge
If you're looking for something a little better than the plethora of beginner sets on the market, then the Callaway Edge and Cobra Fly XL sets are definitely worth a look.
Golf Set
Cobra Fly XL
Callaway Edge
Category
Beginners/Intermediate Golf Club Set
Beginners/Game Improvement Club Set
Set Composition
13 Piece (Driver, 3 Wood, 5 Wood, 4 Hybrid, 5 Hybrid, 6 – 9 Irons, PW, SW, Putter, Premium Cart Bag)
10 Piece (Driver, 3 Wood, 5 Hybrid, 6 – 9 Irons, PW, SW, Putter
Advantage
The Fly-XL set is more expensive, but you get a lot more customization for the extra money you spend. A driver, fairway wood, and hybrids can all have regular or stiff shafts installed according to your personal preferences. Depending on the shop, you can also choose between graphite or steel shafts, as well as a cart or stand bag.
Those who are new to the game of golf or have a high handicap seeking a set that is both inexpensive and well-performing might consider the Callaway Edge. Good but not the greatest titanium driver out there. In spite of this, the fairway wood and hybrid as well as the irons, wedges, and putter are excellent value for the money.
Target Market
Beginner to mid-handicap players will find this to be a good starting point. Those who already know how to play the game and are looking for a set of clubs with no distance gaps should give the Cobra XL a try.
The set is ideal for players with higher handicaps or those who have outgrown their starter clubs and need a second set. Golfers with high handicaps can benefit from the Edge's ability to bring them down to a mid-handicap level.
The set is designed for someone who doesn't want to spend thousands of dollars on high-end clubs but wants a similar level of performance in a more affordable package.
Alternatives
If the Cobra Golf Fly XL does not convince you, have a look at some of these alternative beginner and mid-handicap sets.
Precise M5 Complete Golf Club Set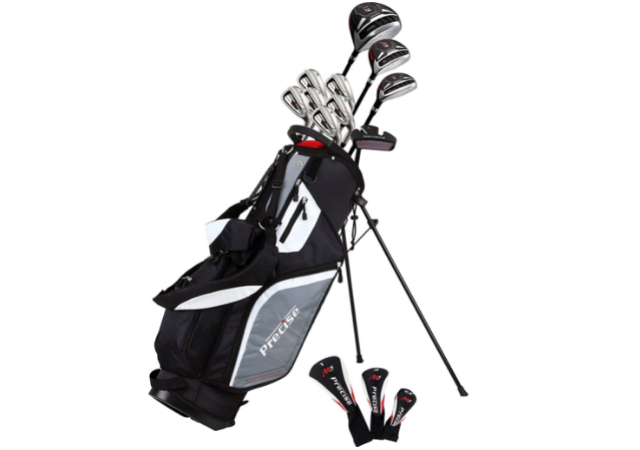 The Precise M5 set comes with a terrific mix of distance and forgiveness! The woods' aerodynamic shape and the highly forgiving stainless steel irons make it easier to strike straighter shots. A grab handle is included on the golf bag to make moving your clubs simpler.
The Precise M5 Men's Complete set costs between $360 and $490, and has all of the necessary clubs for beginner golfers. Your long game is well-equipped with a driver, a fairway wood, and a 21-degree hybrid.
The set is an excellent option for golfers searching for a cost-effective package that contains a 460cc driver, #3 wood, 21-deg hybrid, 6-9 & pitching wedge irons, a mallet style putter, a premium stand bag, and three club head covers.
Each club in the set is constructed of stainless steel and provides high forgiveness. Having a low center of gravity and a large face (and sweet spot), the driver provides ample room for first-time range use.
If you're a beginner searching for a set of clubs to get started, this one contains everything you could possibly need.
Wilson Profile SGI Package Golf Club Set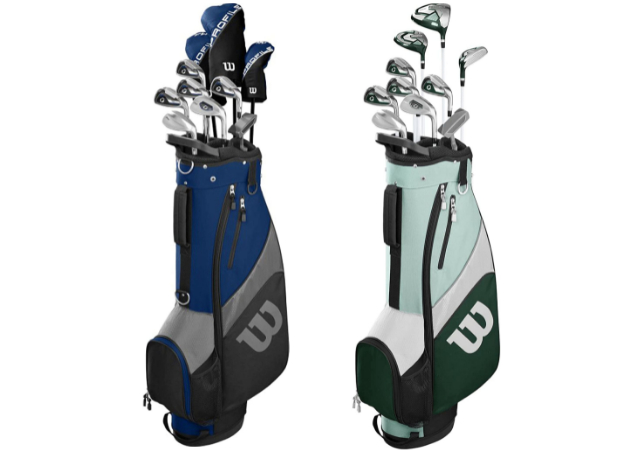 Wilson's latest introductory set is the affordable Profile SGI. The 10.5 Profile SGI driver, 5-wood, 5 hybrid, 6 – 9 irons, pitching wedge, sand wedge, putter, and golf bag are included.
The 460cc driver offers considerable forgiveness for golfers who struggle to find the center of the clubface. The Driver, 5-wood, and 5-hybrid have graphite shafts, making them lighter and faster. Irons and wedges have steel shafts for improved control around the green.
The large hollow back provides forgiveness and aids in launching shots high. The stainless steel irons and wedges in this kit will serve a beginner for many years.
For female golfers, lightweight graphite shafts and soft, all-weather grips in women's sizes have been included.
The sale price of the SGI set ranges between $400 and $450 for men's clubs, and $370 - $430 for the Ladies' set.
Have you decided on a golf club set for yourself? Find out next when's the best time to purchase your clubs to get the best deal.
Final Verdict
In golf, a good rule of thumb is to always play to your handicap to assist in your golf journey. The Cobra Fly XL set is a must-have if you're in the market for a full set of golf clubs. Forgiveness and distance are built into the clubs, and you get to choose the shaft material and flex to help you develop your game and achieve your greatest potential.
No doubt about it, Cobra is a top-notch brand. A vast selection of entry-level clubs that rival other good brands is available, and most of them are well-placed. Their clubs can compete with the best in the business at an affordable price!
Happy golfing!
WRITTEN BY

My name is Jacob, a self-diagnosed equipment and golf enthusiast. I've been golfing since I was 15. Golf has always been my passion. I'm a bit of a golf equipment nerd and I've been that way since the moment I picked up a club for the first time. As someone who's been on both sides of the game, I know what it takes to be a good golfer. Of course, you need good equipment, but you also need to know how to use it. I hope sharing my experience with you will help you improve your game.
You May Also Like